Arriving in San Diego
Hello everyone, and welcome to my new blog! As you can tell from the title, this year I'm going to be living in San Diego as I've got myself a place to study in San Diego State University. I will tell you guys about all of my adventures so that you can live through this trip with me, and above all I will try to make as many recommendations as I can, just in case you cross over to that side of the world one day and you fancy knowing what there is to do or see. For the time being, let's start from the very beginning: how did I get to San Diego?
I live in Spain, so obviously the only form of getting here was going by plane. There's an airport in San Diego, however, my recommendation would be to fly to Los Angeles as the flights tend to be a lot cheaper. Also there are now several airline companies (Norwegian and Level) that do direct flights: Barcelona - LAX or Madrid - LAX. The prices are moderately cheap.

When I booked my flight, I waited for too long and the direct flight went up a lot in price, so much so that it didn't seem worth buying and it was better to stop-over somewhere. Because of this, I got a cheaper flight that stopped in London. In the beginning, I thought a stop-over for 4 hours would feel like ages and difficult to cope with, because I flew alone as well and I didn't know what I'd do for that amount of time. However, it flew by. To begin, I had to go through various controls, as the controls to go to the United States are a lot more exhausting than when you travel to Europe. I enjoyed some breakfast as my flight from Madrid had left at 6am and I wasn't hungry right then. Also, I made the most of finishing my blog entries about my trip to Croatia. If you haven't read them, I encourage you to do so.
Something very odd when I arrived in London, was that the screens indicating the flights were broken, so there was a gentleman with a whiteboard and he was pointing at the boarding gates of the different flights. I was getting impatient waiting for mine to finally be announced. I was getting impatient at him pointing at the boarding gates of the various flights. I was getting impatient to find out my gate. And as soon as I knew, I ran to it. I don't know if you know me, but if you're reading this and you know who I am, you'll know that I get very overwhelmed when it comes to the topic of "planes". I always arrive stupidly early and I try to make sure I'm well prepared as missing a flight really panics me.
Once I was at the boarding gate, they asked me some questions and then I was allowed to board the plane. The plane took around 11 hours if my memory serves me well, and I made the most of it by watching a fair few films, as I can't sleep because of my nerves.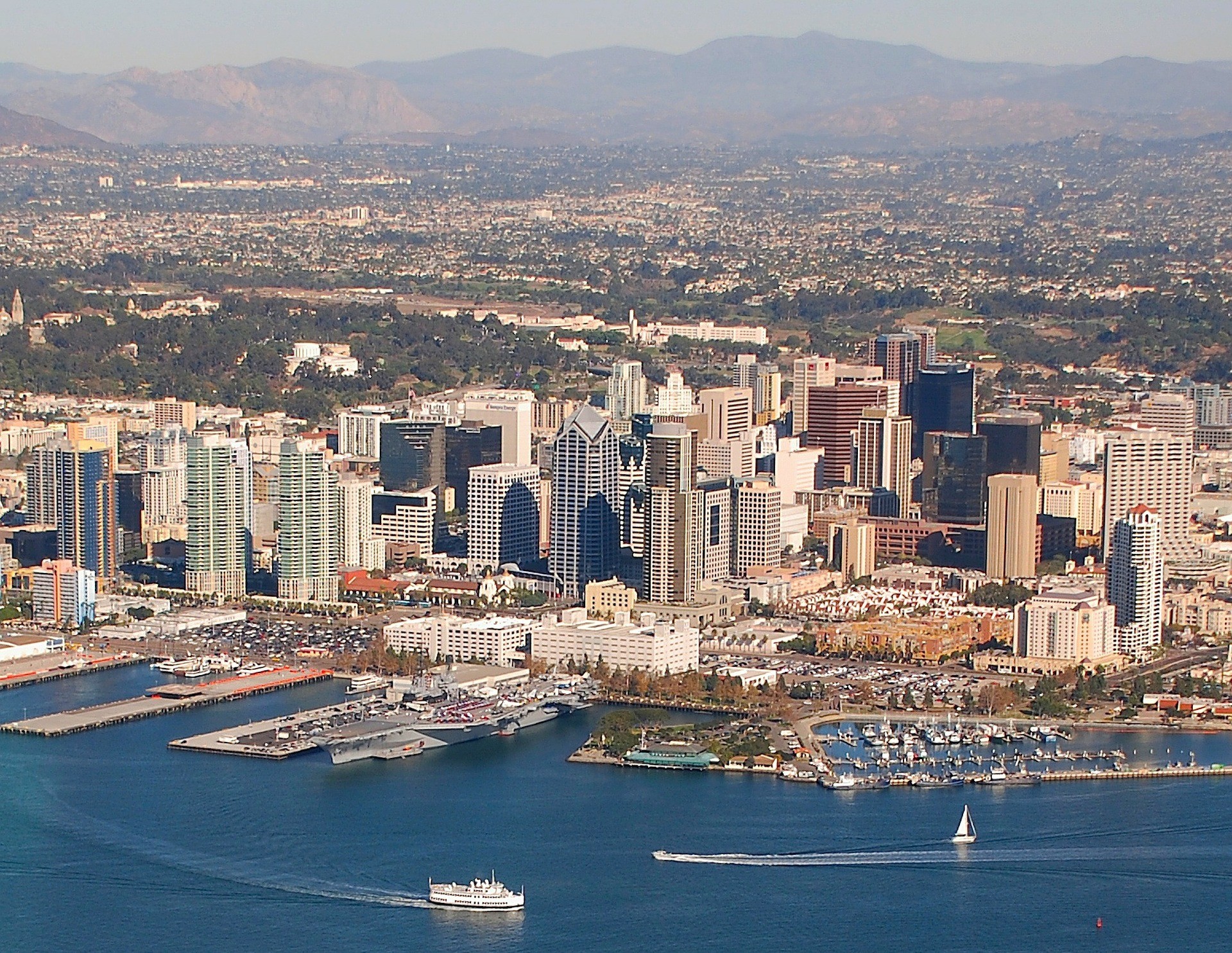 When it comes to food, they give you more options when the flight is longer. I do not recommend it. I flew with Norwegian and the food isn't worth it. I think it's better to buy something from the menu that they offer on board as it'll cost you the same in the end, and it'll be a lot more tasty.
After I don't know how long, I landed in Los Angeles. Once there, you find yourself in an enormous queue to be able to leave the airport. First waiting to get off the plane, as an umpteen amount of people are trying to get off too (because I was actually shocked at the size of the plane, it was definitely the biggest one I had ever travelled on). After you go through the police control where they look at your passport, the visa and ask you a thousand questions... So, in total I spent nearly 2 hours just waiting to finally get out of the airport.
Once there, there are plenty of options to help you get down to San Diego.
The first option is by train. The first thing you do, is nothing more than leaving the airport, and directing yourself to the bus stop that takes you to the train station. This bus is that of the company, FlyAway and it has various services that take you to the centre of Los Angeles. You have to be careful and make sure that the bus that you got is the one that takes you to the station and not anywhere else. Normally, it doesn't say anywhere and you have to ask the driver directly. The inconvenience of this bus is that sometimes you have a lot of time to wait, as a lot of the time it's full and there are always loads of people waiting as well as you. When it comes to the rest, the service is pretty good and it's very cheap (if you compare it to a taxi it costs you even more than half). I seem to remember it was about 6 or 7 dollars. You don't have to buy it way in advance either, just when you're on the bus you pay in cash and that's that. Once you arrive at the train station which is called Union Station, you go to the ticket machines and buy a ticket for a train to San Diego. I recommend buying it at that point, as you never know how late you'll get to the station or if you bought it at home, you might lose it on the way. The price doesn't increase and the offices in the station are very well signposted. I literally took me 5 minutes to get my ticket, because I arrived just as the train was about to leave... The price of a ticket from Los Angeles - San Diego cost 35 dollars, which changes independently depending on where you're going in San Diego itself. There are three stations and you can choose which suits you better, in terms of where you're staying. I chose to take the train, and the good thing is that as soon as I arrived in the station, there were loads of taxis waiting to take you to whatever hotel or apartment you were staying in, so it was all very well organised and comfortable.

The second option is by bus. The bus is cheaper than the train, as I think it costed around 20 dollars. The problem is that it takes so much longer. Also, the buses from Los Angeles airport don't take you directly to the bus station. Because of this, in the end it's worth getting a taxi to take you to the station. And although the Los Angeles - San Diego is cheaper than the train, in general the whole price ends up being the same after accumulating all the extra costs when you get a bus. The total price will more or less be exactly the same as the first option.

The third option is the bus company, FlixBus. I don't know whether you know this company, but if you don't know it, you're missing out on buying your tickets with them. It's very cheap and it offers a service with a multitude of comforts. The Los Angeles - San Diego ticket costs between 5 and 10 dollars, and they let you take as much luggage as you want, so without a doubt this will be the option to choose when you're going back. To get to the bus station with this company, you have to get a taxi or a bus like I spoke to you about in the first option, as they drop you in the centre of the city. And, the station is right in the middle of the city.

Another option is to have friends that will look for you or get to know someone on your flight that could coincidentally be going to San Diego too. I wasn't that lucky, but my roommate knew two girls that were going to San Diego from Los Angeles and they had a car parked in the airport. This way it was really comfortable and I didn't have to pay for anything else but petrol. To give another example, another friend of mine came to look for her two flatmates who had the car.

The third option is to catch a flight. The price of a flight from Los Angeles to San Diego varies a lot depending on the time, time of year... But as I have already told you, nothing is cheaper than the options I gave you before. Just to point out that if you do choose this option, you have to be very careful to have enough time to change planes (well, don't get the Los Angeles - San Diego flight as there is an hour time difference, which is probably why it's better to forget this option).

The last option is taxi. This is without a doubt the most expensive way to get there, but also the most comfortable. The taxi from Los Angeles to San Diego costs between 100 and 200 dollars, and the good thing is that take you from door to door. I'm a young girl that always travels looking for the cheapest way of getting anywhere, so I would never ever choose this option. But I'll leave this option here just in case it interests you...
After choosing whichever method of get to San Diego, and once you're in the city, the only way to arrive anywhere is with a taxi or UBER. I totally recommend that you download the UBER app if you have thought about coming here and although you don't have it in Spain, in America they use it a lot and the prices are pretty affordable. The only problem is that you need the internet to use it, and the majority of foreigners that come to this country can't use their phone if they don't want to pay a barbaric amount for it. Because of this, I didn't have a solution to be able to get a taxi until now as I have just bought a new SIM card and I can use the internet like I'd be able to in Spain. But, about this and another thousand things, I have had to make this place my new home, and I'll talk about it in my upcoming posts...
---
Photo gallery
---
---
Content available in other languages
Want to have your own Erasmus blog?
If you are experiencing living abroad, you're an avid traveller or want to promote the city where you live... create your own blog and share your adventures!
I want to create my Erasmus blog! →