Disneyland Paris
Of all the trips I've been on in my 23 years, one of the ones I've enjoyed the most has to be Disneyland Paris. Whatever the worries or problems you have running through your head, when you arrive at the park, you'll forget all about them and be inundated with the magic of the place. Lots of people think that Disneyland is just for children, but in my honest opinion, I think that an adult could even enjoy themselves here more than a child!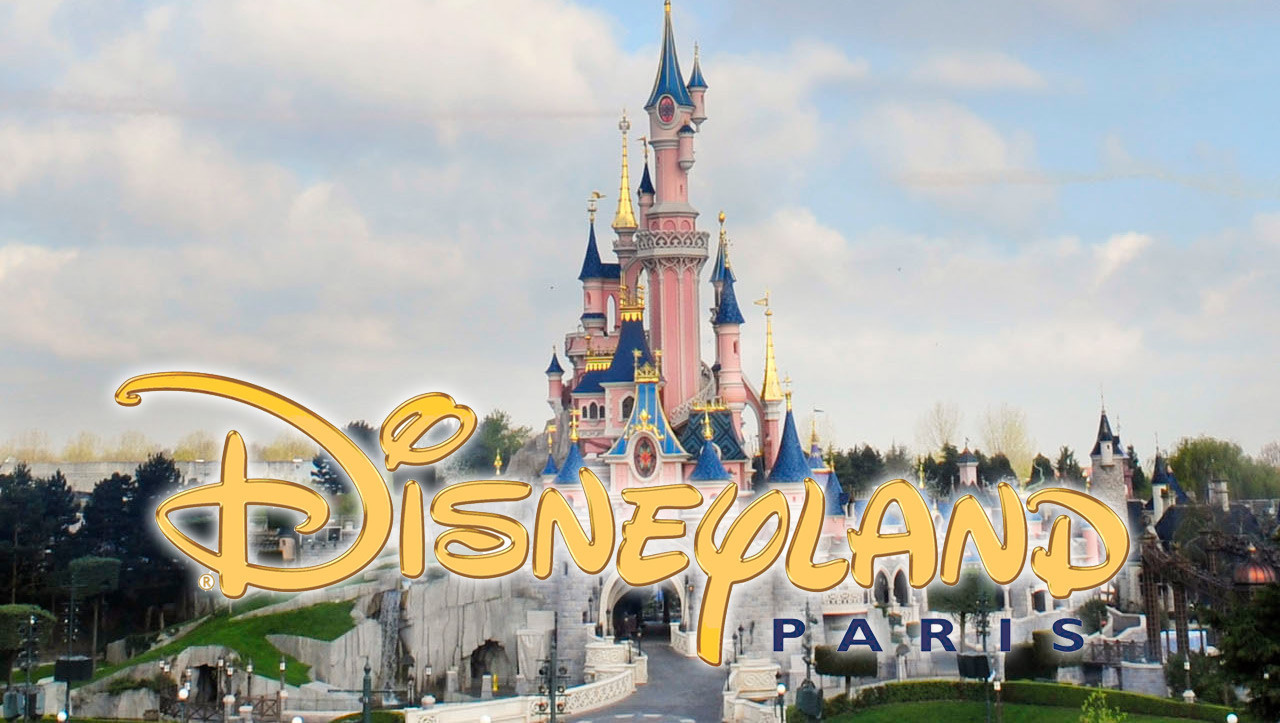 I was nine years old when I came here for the first time, and the trip was a present from my parents for my first communion. My aunt and cousin came too, as always. The second time I was about thirteen or fourteen years old, and this time my grandparents came too. It was the first time they'd been on a plane and they didn't like it much at all. Despite the big age differences between us all, from my little brother to my granddad, we all had a brilliant time.
The last time I went to Disneyland Paris was when I was seventeen, and I went alone with my cousin. My grandma had just come into some money, I can't remember what the situation actually was, but she gave each of us grandchildren a present. My cousin and I decided to use this to go to Disneyland, and went on our first holiday alone. I needed permission from my parents to leave the country unaccompanied, being underage, but we didn't have any problems with this.
The first time we went to Disneyland, we stayed at Hotel Cheyenne. It was one of the cheapest hotels, but really cool for staying in as a family with children. My brother was the one who enjoyed it the most due to the design of the hotel, which is Wild West themed. There are Indians, horses, pistols and sombreros everywhere... I remember my parents bought my brother a toy cowboy shotgun, and he loved it. At the airport however, we were asked if we had any weapons in our hand luggage at security control. My dad tried to explain that it was just a toy, but they confiscated it. I'll never forget the sad little sight of my brother crying because he couldn't have his shotgun back.
I'll start from the beginning of our trip. I'll tell you about the most recent time I went to Disneyland Paris with my cousin, above all because it's the most recent trip and there were new rides which weren't there the other two times I visited. I'm sure more have been added in the past six years, too.
We stayed at Sequoia Lodge, which was a better quality hotel than the one we had stayed in the first time we were there. My brother and I had been younger then, of course, and so my parents had chosen a smaller hotel and one suitable for my brother. He was nine years old by this point, so we chose a hotel that was less child-orientated.
Hotel Sequoia Lodge is situated in a small wood full of sequoia trees next to a lake, allowing guests to enjoy the relaxing atmosphere of the surrounding mountains. The rooms were better than the rooms in Cheyenne, though the breakfast buffet was brilliant in both hotels. There was everything you could possible think of on offer at these breakfast buffets. I suppose because Disneyland is a place which welcomes guests from all over the world, or at least from all over Europe, the breakfast needs to suit all tastes. I remember that my granddad ate fruit salad every morning, hehe.
What Hotel Sequoia had which the other hotel didn't have was an incredible swimming pool. The second time I visited Disneyland, when the whole family came, we didn't even go to the swimming pool once, although my brother, my cousin and I really wanted to after having seen the photos of it online. The last time I went to Disneyland, my cousin and I went to the pool in the afternoon for a siesta or just to relax a bit. We went to the jacuzzi too, which was brilliant.
We went on this trip in September. Remember that in Seville and Huelva it's pretty hot at this time. We were still going to the beach every day, and the temperature was good for going in the sea. Being totally inexperienced in this kind of thing, we brought clothes with us which were only a little bit warmer than what we had been wearing at home, but it wasn't even nearly enough for how cold it was in Paris.
We flew with Iberia, and only took hand luggage, else we would have had to pay more. I don't remember it having to be very small hand luggage though; they must have a larger allowance than Ryanair. I haven't flow with Iberia for a long time, so I can't really remember what rules and regulations they have, hehehe.
I don't remember us having any problems with the outward flight, and I definitely wasn't as scared of flying as I am now after so many news stories about Ryanair. We had booked a package through El Corte Inglés which included shuttle bus transport from Charles de Gaulle airport to the park, which is on the outskirts of Paris. The shuttle bus stops at every hotel in Disneyland: specifically, at every hotel within the park, since there are also other cheaper hotels which are slightly further away. Personally, I wouldn't want to choose a hotel which wasn't part of Disneyland, not just because of their proximity to the park, but for the great atmosphere. It really sets the scene for the rest of the trip.
There are shuttle buses which run between all the Disney hotels and the park itself all day. From some of the hotels, the park is within walking distance. The best of them all is Hotel Disneyland, inside the park.
I think I'm right in remembering that our hotel, Hotel Sequoia, was around ten minutes from the park by bus, but sometimes we just walked the distance. Although the park isn't very far away at all, I recommend getting the bus simply to save time, since there's so much to do and see inside the park, and regardless of how many days you're staying for, you'll be doing a lot of walking anyhow! On each of the occasions I've been to Disneyland, I stayed for around four days, and each time I spent a lot of the day walking around so that I got to see everything, though we did go on some rides several times.
When we got to the hotel, we checked in with a nice guy at the reception who spoke Spanish. In the rest of France, it's hard to find people who speak a language other than French, but at Disneyland, all the employees speak different languages and are always very pleasant to you.
When we had put our suitcases in our room, we went straight to the park. On this trip, our package included a offer which meant we were given wristbands at the park entrance which would allow us to stay for an hour after the official closing time. This meant that we could enjoy the rides without having to wait in queues, or at least that if there were queues, then they were very short.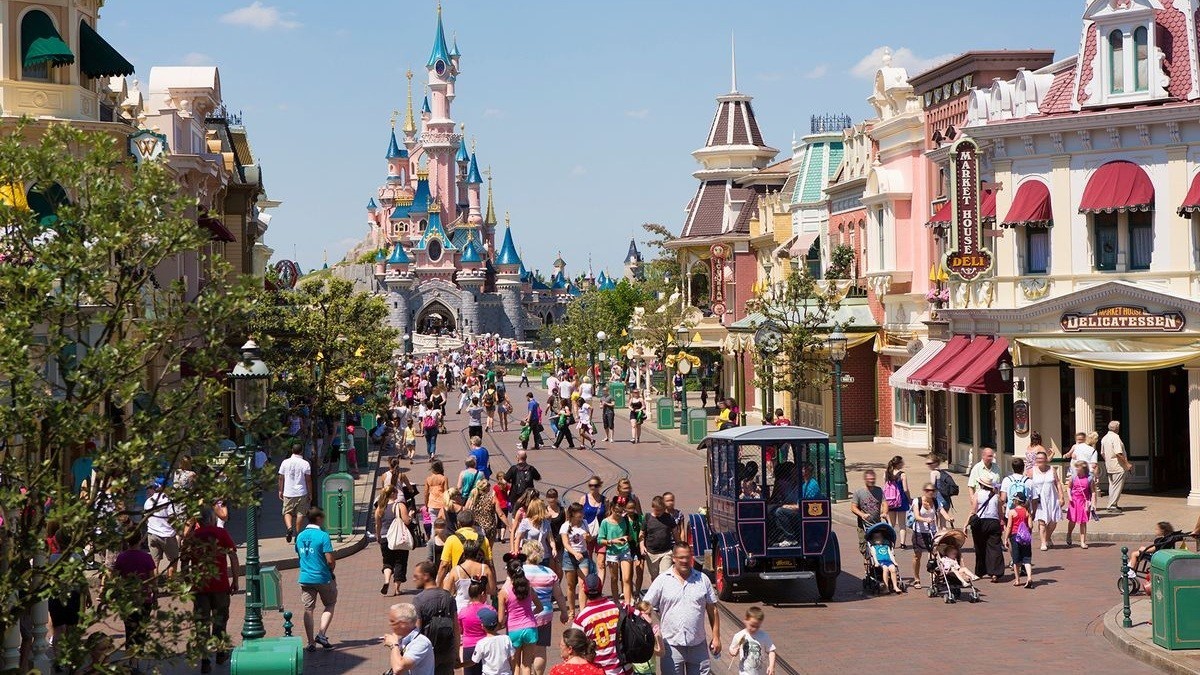 No sooner had we entered the park than this magical feeling I mentioned at the start took hold of us. When you're there, the only thing you think about is having a good time, and the problems you've brought with you just disappear into thin air. For those of you who don't know anything about the park, it's divided into several different areas called Main Street USA, Frontierland, Adventureland, Discoveryland and Fantasyland. I'll tell you about each different area and the rides which are in each of them.
The first area, Main Street, is - what a surprise! - the main street, which starts at the entrance to the park. There's a little train here, which as well as being a ride transports you through the park, and stops in every area. It doesn't go very fast, so children can also enjoy the ride.
On Main Street, there's also a huge array of gift shops, sweet shops and ice cream cafés. It's a beautiful 1900-style street where you can have fun looking for a present for a friend or family member. You can also ride around on a cute little tram pulled by horses. There are also old-fashioned cars, though it's normally Disney character who ride in them, instead of visitors.
We wandered around this area looking for presents, and I bought myself a scarf, since it was actually far too cold for the clothes we'd brought with us. If I'd had a jacket with me, I would have worn it, and this is the reason why I bought the scarf. I'm not exaggerating when I say that you'll need it in September!
From here, we went on to Frontierland, which is Wild West themed and has some really cool rides. One of my favourites is in this area. It's called 'Phantom Manor' and it's a haunted house, but don't think of it as the typical haunted houses they have at fairs - it's different to those. You enter in small groups and pass through a room full of strange pictures on the walls with a guide. They begin to tell you a story and you realise that the room is actually a lift, and you're going downwards. If you look up, you'll see the pictures disappearing and the decoration of the walls changing. You then arrive in a darker area, where there are some little black closed-top cars, but which still allow you to see what's happening out of their windows. You travel through the manor in these little cars, which can fit two to three people in them, and discover the story of the couple who lived here. At first, you see a happy couple planning their wedding, but later see the poor bridge waiting at the altar for the groom who doesn't arrive. Among other things, you pass through a circular room where you see the other cars and all of you circle around a round table with a crystal ball on it. You also pass by a wall of mirrors which make it look like there's a monster inside of your car, hehehe. It doesn't scare you at all - instea, this ride is just really cool, although perhaps unsuitable for really small children.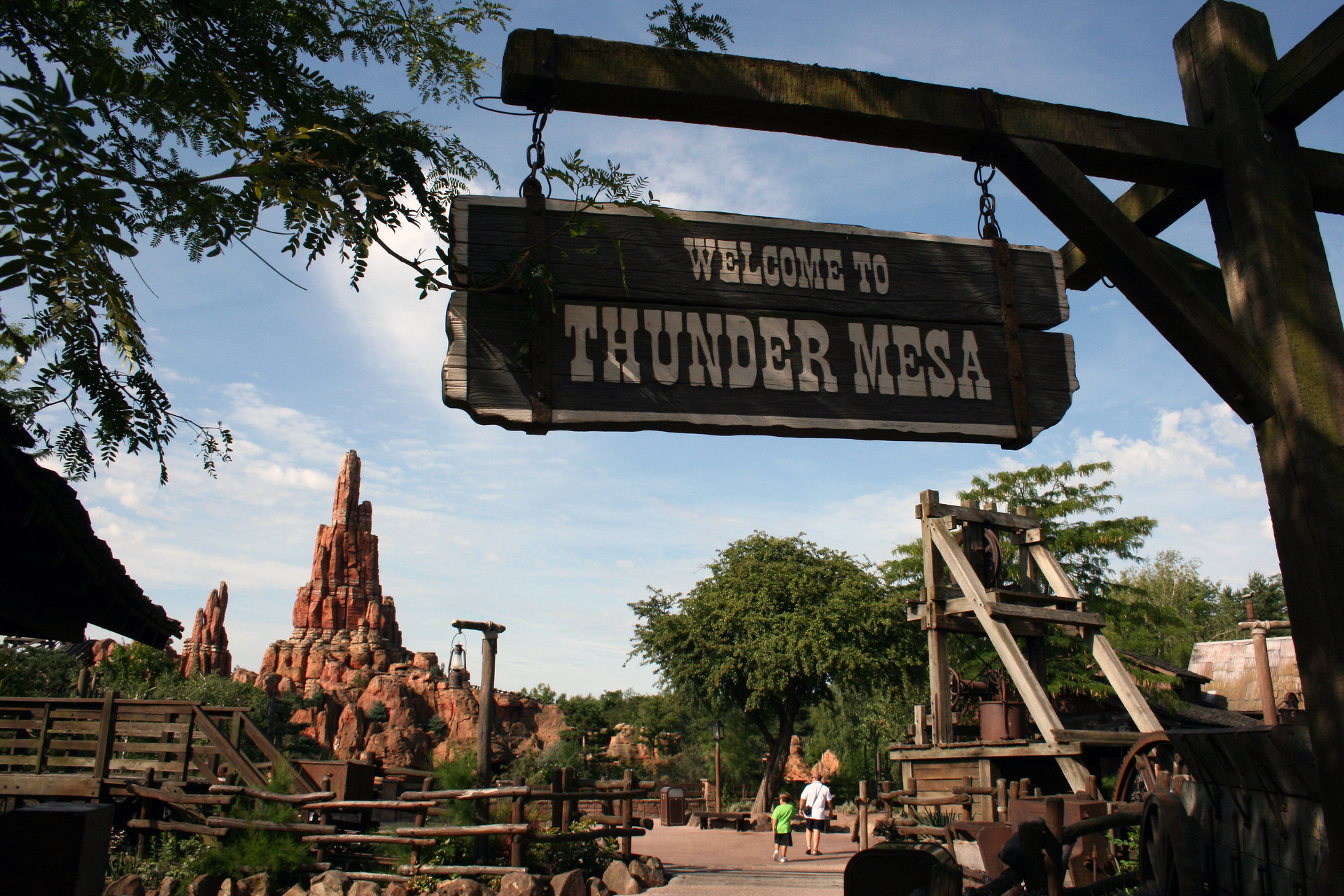 Another of the rides in Frontierland is 'Big Thunder Mountain', which is a mining train. It's a little rollercoaster, but nothing dangerous, and it's not one of the ones which leave you gobsmacked. It's great because you can see the inside decoration of the mine, and get to sit in one of the mining carriages. Apart from a few sharp turns, children would love this ride. You also get some great views of the river from above.
Lastly, you can enjoy a relaxing trip down the river in this area on 'Thunder Mesa Riverboat Landing', a beautiful steamboat which allows you to get to know Frontierland better, or just take a trip down the Mississippi river.
We moved on to Fantasyland, my favourite area and perhaps the best area for children. It's the most magical of all of them, and the one most full of colour and excitement, and above all, the most full of the best-known and traditional Disney characters.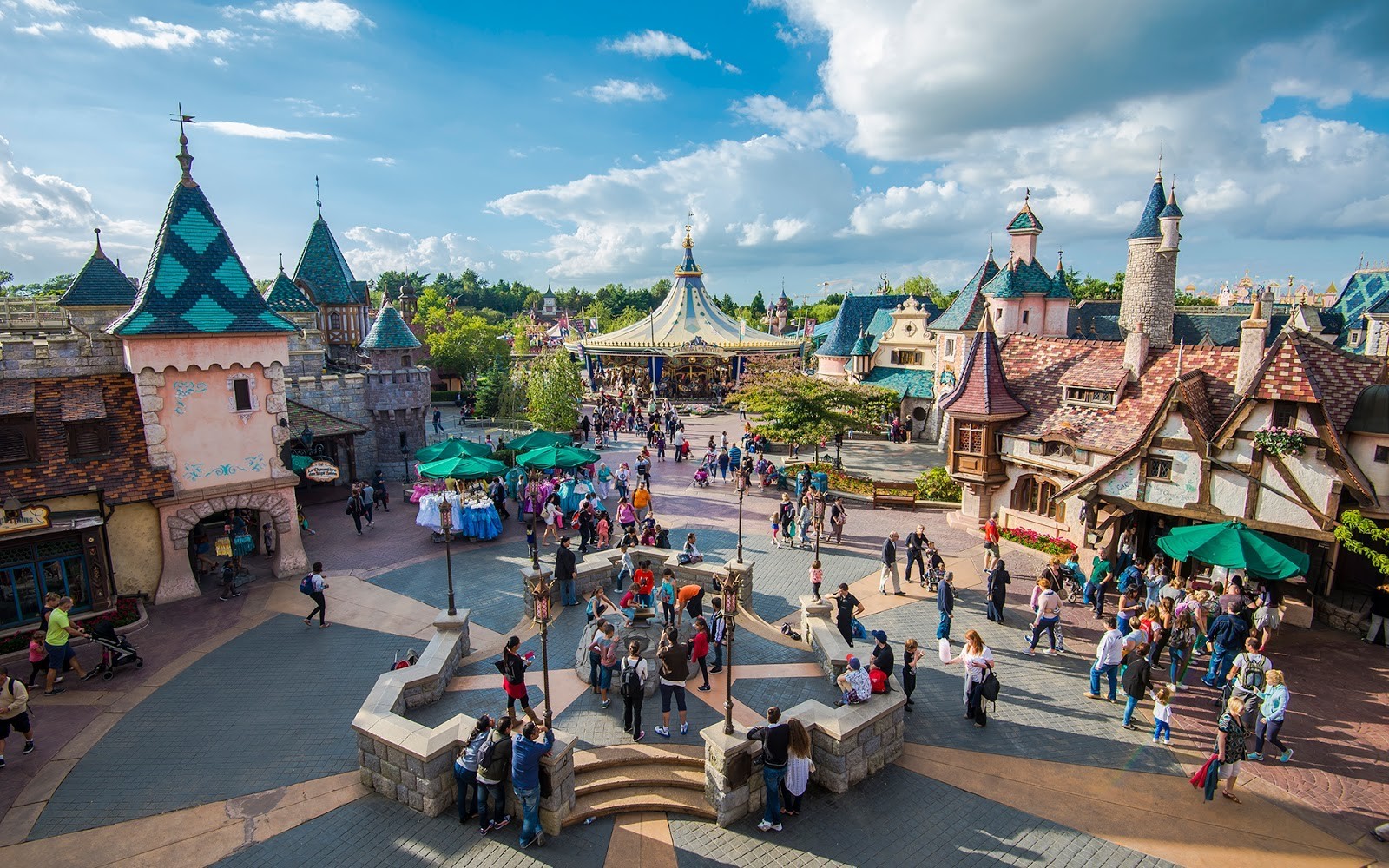 We'll start with the Small World ride. It's a ride for all the family where you drift down a river on little boats and are surrounded by little dolls from all over the world which sing and dance. Although it sounds like it could be boring, it's really beautiful seeing everything so colourful and lit up. The 'It's a Small World' song is also really catchy and when you leave, you'll want to buy the CD to take it home with you.
We then went on the Peter Pan ride, which was really fantastic. You get on the pirate ship that everyone knows from the story or from the film, and relive the story of Peter Pan: from when he appears in the children's room in London, with the children all in bed with their pyjamas on, to the dog Nana, everything is just like it is in the film. The ship you're sitting in flies, so you can see everything from up above. You then see how the children fly to Neverland, Captain Hook with his crocodile, the pirates, the mermaids... if you like the story of Peter Pan, you'll love this ride.
In this area you'll also find 'Alice's Curious Labyrinth'. This is a real labyrinth made out of hedges, which you stumble through until you find the grinning Cheshire cat in the centre. On your way, you come across the white rabbit, the Queen of Hearts and the caterpillar with his biscuits...at the end, you find the Queen's castle, which you can go up inside of.
We moved on to the marvellous Sleeping Beauty castle, which everyone knows as the Disney symbol. It's actually much more impressive and pretty from the outside, as inside there isn't that much to see, apart from some glass windows with stills from the film telling the story of Sleeping Beauty. Everyone wants a photo outside the castle though. Sometimes Sleeping Beauty herself comes to the castle, accompanied by the prince, and the children take photos with them and get autographs, hahaha.
The only thing I remember there being inside the castle is an enormous dragon that seems to be sleeping, but wakes up now and again and belches fires at visitors. The dragon is inside a cage and there's a small lake separating it from visitors, but it's very well done.
At the entrance to the castle there's a stone with the sword of King Arthur stuck in it, which of course all the children try to pull out, hehe.
Another ride in Fantasyland is the 'Mad Hatter's Tea Cups', which are tea cups you can sit in which spin around and turn in a circle. It's nothing special, and to be honest rides like that which spin around so much make me feel sick, so I can't tell you much more about this ride.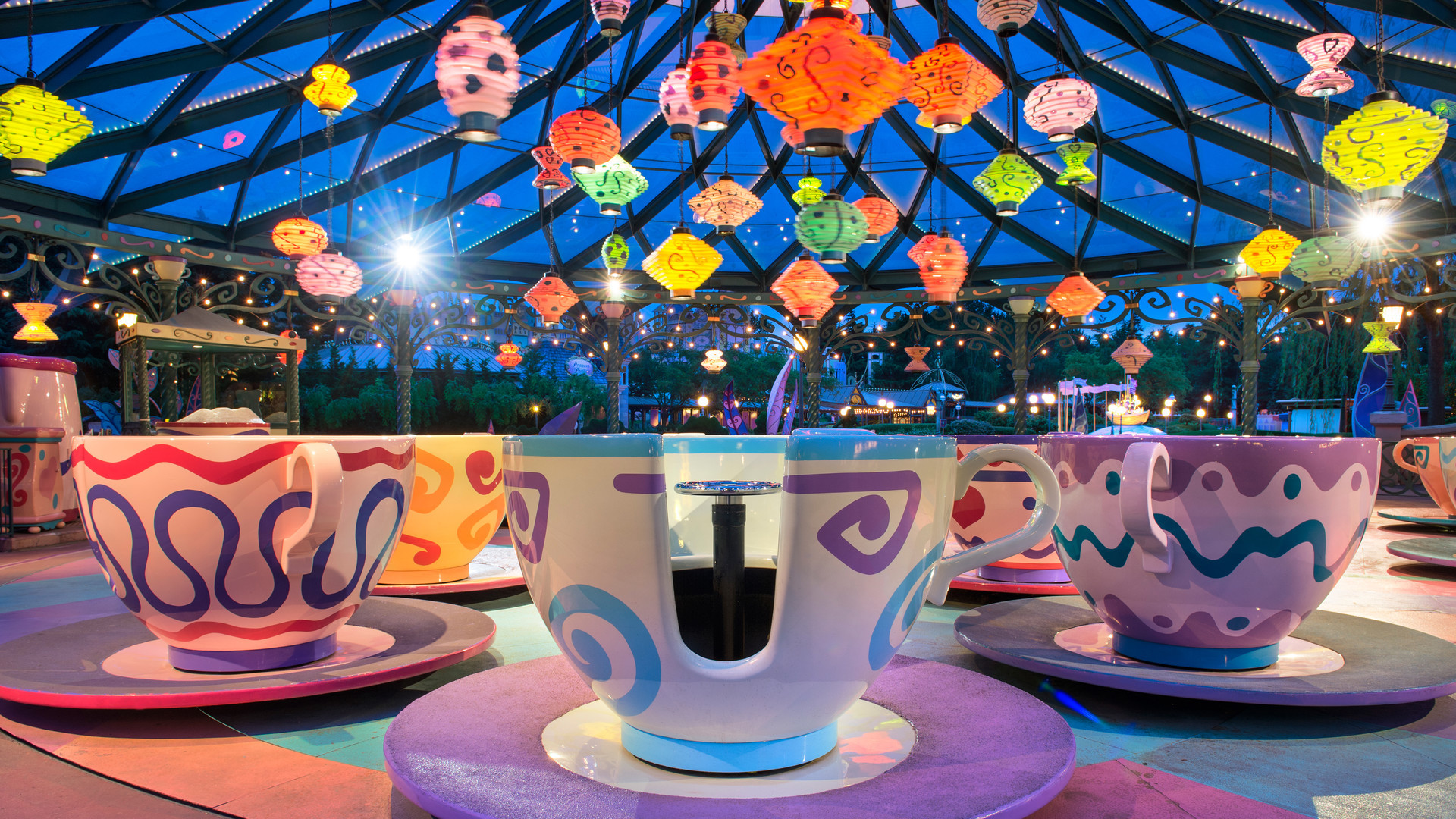 There's a similar kind of ride to this for smaller children with Dumbos (small elephants) which swoop you up and down. This is only for very young children however.
Other rides suitable for all the family are the ones based on the Pinocchio and Snow White stories, where you sit in a car and the story plays out before you. The Snow White ride is a bit scary even for adults, as the queen-turned-witch jumps out at you really unexpectedly and gives you a fright, hahaha.
There's also a carrousel in this area called Carrousel de Lancelor for young children.
Another ride suitable for all members of the family is 'Le pays des contes de fées', or in English, Fairytale Land. On this ride, you sit in large boats and drift down a river, watching a display of the works which inspired Disney to create his stories and characters. It's really beautiful and peaceful to watch.
The final ride we saw in Fantasyland was a small train from Dumbo's circus which takes you around a small track, but I didn't go on it, so I can't tell you any more about this ride.
So that I don't bore you by talking about too many rides, I'll now tell you about the places you can eat at around the park. The truth is that there are the same things on offer in most places. It's also the case that nobody spends very much time eating inside the park, as there's just too much else to do. There are food places that look decent from the outside, depending on what area you're in, too, but inside they almost all just serve fast food, so hamburgers, hot dogs, and individual pizzas. It's perhaps true that the prices vary slightly depending on what area you're in, but not so much. The cheapest places are the hot dog stands which stand on the streets. The sweet shops on Main Street, for example, are expensive when compared with the shops in other areas. In general, the food is expensive for what it is, which is pretty poor quality. It's not really worth eating outside of the park, however. Most visitors only stay for four or five days, at most for a week, and no-one gets tired of fast food within a week. For dinner, we could have eaten at the hotel, but it's definitely more expensive to do that, since the dinner prices in the hotels are very high.
There are also some proper restaurants inside the park, like for example one in Adventureland where you can see inside the Pirates of the Caribbean ride, which seems like a good place for couple to eat at. The good thing is that the menu, and therefore the prices, are on display at the restaurants' entrances, so you can decide whether to go in or not. You're also paying for the location though, so whether you decide to eat at one of these restaurants or not really depends on your financial situation. When I went with my cousin, we had to be careful about how much money we spent. One day, we were hungry and were a bit sick of always eating the same thing: hot dogs and pizzas. We decided to eat in the hotel because it was too cold at night to go back to the park. We looked at the menu, and realised that the only things we could really afford were the starters, and this was in the bar and not even in the restaurant. In the end, we shared a plate of different starters between us, with nuggets and little nibbles. This cost us 20 euros alone.
Returning to the different areas of the park, it's now time to move on to Adventureland which, as its name suggests, is a place of adventure, and the location of some really fun rides such as the Pirates of the Caribbean one. On this ride, you sit in a moving boat, and the whole ride is easier to explain and to imagine if you've seen the Pirates of the Caribbean film, although this ride actually opened before the film came out. On the ride, you get to see the famous Isle of Tortuga, with escorts and pirates drinking rum everywhere. There are scenes with pirates sword fighting, very realistically done, and you can see pirate skeletons. I won't tell you any more about this ride because it's one of my favourites, and I want you to discover it by yourself. Be careful though - it seems like quite a tame ride, but when you least expect it, the ship dips suddenly, hahah.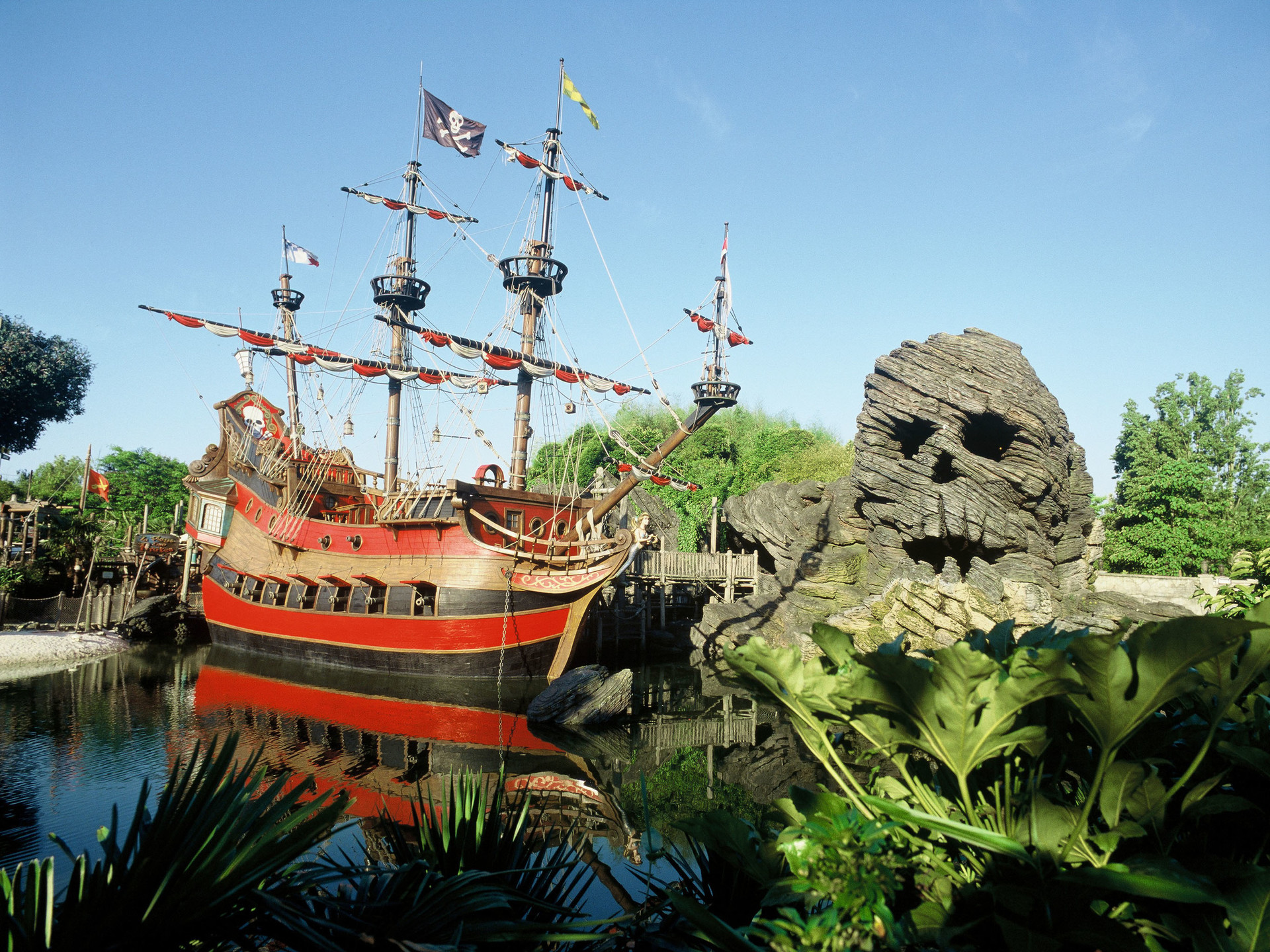 Another ride for adventurers in this area is the 'Indiana Jones and the Temple of Peril' ride, which is just a rollercoaster which passes through Indiana Jones's temple, though I don't actually remember having gone on this one, so I think it's probably very fast or goes upside down. These kind of rides make me feel ill and I don't enjoy them, so I can't tell you much more about this one.
There are also rides for smaller adventurers in this area, such as a brilliant pirate ship where the Peter Pan characters sometimes put on shows.
Let's not forget about Aladdin! We found some streets in this area which looked like they were from the Aladdin film, so like the city of Agrabah. There's an alleyway here which tells you the story of Aladdin, and you can peer through the windows to see the scenes from the story.
There's also the cabin of Robinson Crusoe, which is amazing as it's set up in some trees - a tree house! We had to cross a bridge made of swinging wooden planks and ropes to go in. There are also the remnants of the boat he was shipwrecked in. It's a place that will definitely fascinate children and adults alike.
There's a children's ride called Adventure Isle, an island which you have to crawl on all fours and climb various obstacles to get to and have your own adventures.
Finally, we arrived in the last area of the park, Discoveryland. We discovered a really cool Buzz Lightyear ride, which I only saw the final time I visited and not before. It involved shooting with laser pistols from little cars. It's most fun when you go on it with someone else in your car too, since you both have a points screen in front of you, and the aim of the game is to shoot the baddies with your laser pistol and have more points than your friend by the end of the ride. The pistol has a crosshair so that you can focus better and win more points. My cousin and I went on several times one after the other, because I kept winning by a large margin and she said it was because her gun wasn't working, but it turned out that it was, hahaha. We actually had a great time on this ride, and it's suitable for all ages.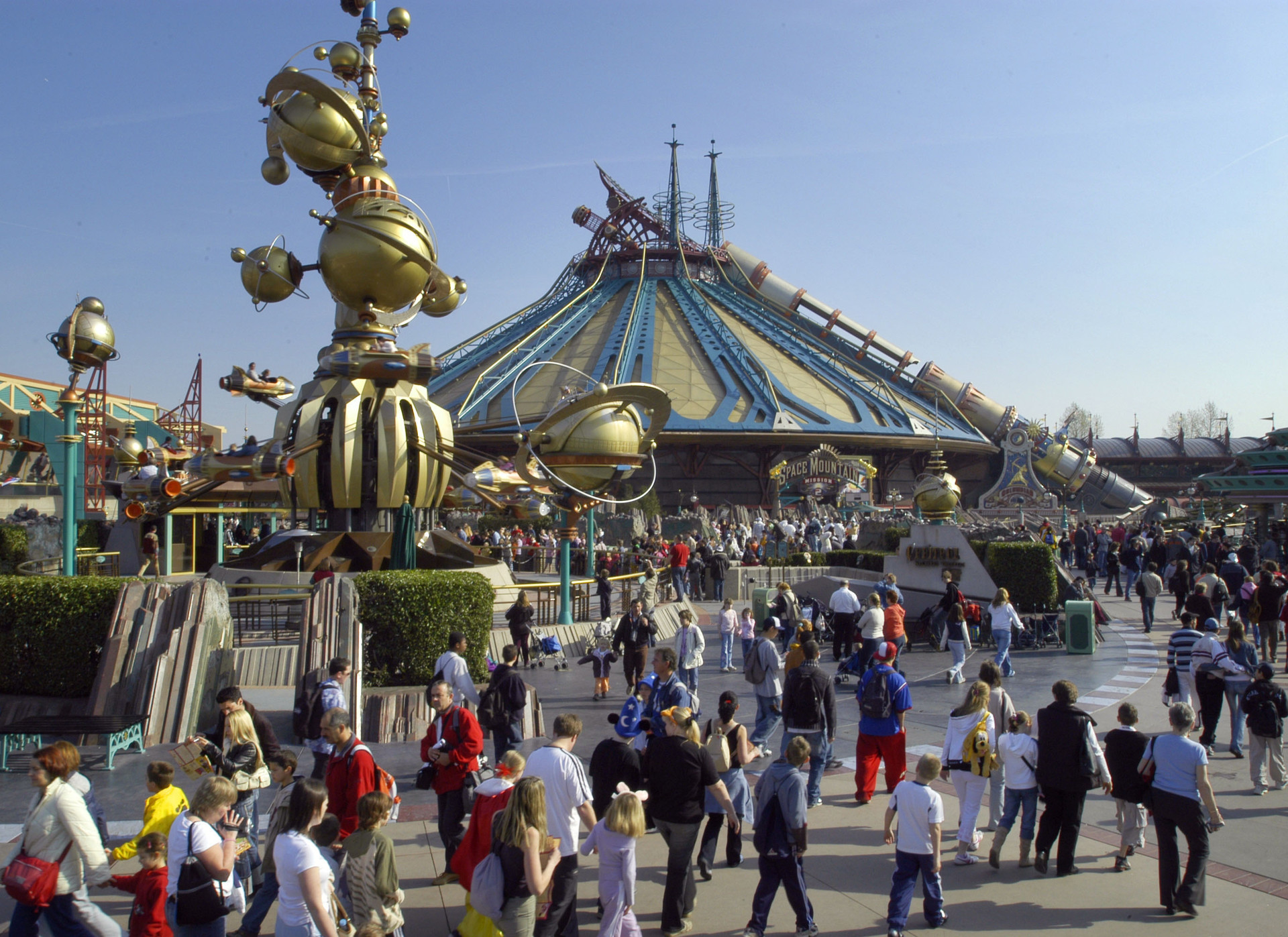 In this area there's also 'Space Mountain', a special roller coaster. The roller coaster launches you into the area like a rocket taking off, and though it only lasts for a few seconds, believe me, it feels like a long time. During the ride, you often flip upside down and are tossed from side to side every few seconds, and around you, you can see the outside and views of the universe. It's not your typical roller coaster where you sit down and don't actually see very much; what you see on Space Mountain is actually really cool.
There's also 'Star Tour' which, for those of you that don't know, is similar to Star Wars, but older. The ride is fun, but the queue to go on is always unbearably long. They anticipate this, so while you queue, you can admire all the props and scenery from Star trek, with R2D2 and the Death Star. When you finally reach the front of the queue, you go into a cinema-like room where a movimax-type film is put on. This is where it gets fun, as your seat moves and there are numerous special effects in the room which make you feel more involved in the film. The huge queue you have to wait in is not great though. If you do managed to get in without queuing too much, make the most of it!
There are other rides in this area for children, such as 'Orbitron', which involves rockets that fly in circles (nothing special), and 'Autopia', where you can drive some small cars from the 1950s.
There are also rides suitable for all the family, such as 'The Mysteries of Natutilus', which is a submarine like the famous Julio Verne's, which traveled a thousand leagues underwater. The ride itself allows you to enter the submarine and see a huge octopus out of the window, which makes it seem as if you're underwater.
So that's all the areas of the park finished. Though I haven't mentioned them all, there are of course lots of gift shops inside the park, where you can find everything you could possibly want. I loved spending time looking at gifts for family and friends and for myself, hehehe.
There are other features of the park which I haven't mentioned because, in all honesty, I can't remember where they are, like the concerts. I remember the first time I went to Disneyland, there was a place where the Mickey Mouse shows were always on, and Minnie, Pluto and other characters were there too. It was so boring, I think they're just aimed at really little kids. The concert itself though was fabulous: I don't remember whether we paid extra for it or not, but it was the Pocahontas concert. It was held in a large marquee, and it was very well done and well acted. I remember at the end when she sang 'You can paint with all the colours of the wind... ' different coloured leaves rained down on us. When I visited Disneyland for the second time, I remember that the show on at that time was the Tarzan one, but we didn't go for some reason. Because of this, I'm not sure whether to tell you that the shows are only on certain days of the week, or if you have to pay separately for them. If you want more information however, ask at the park, because the concerts are really wonderful.
Another thing I haven't mentioned but which I really liked was a movimax showing the film 'Honey, I Shrunk the Audience', based on the film 'Honey I Shrunk the Kids'. It was really cool since everything is totally normal until the kids's dad (the same actor as in the original film) shrinks the public using his new machine, and then you start to see everything bigger. There are other special effects too. The dog sneezes, for example, and drool drips onto the audience. There's another part which involves mice, and I don't know how they do it, but you can feel them tickling your legs! An enormous lion and snake also appear, which is so cool, and look like you're going to eat the audience. I loved this show, although I suppose they might have changed the film over the years.
Something else which I don't remember the location of is a cowboys and Indians show, which you definitely pay separately for. It includes a meal with an open bar or something similar. I remember they were always refilling our glasses. The show itself was quite cool, with cowboys and Indians shooting at each other on horseback.
Don't think that our visit ended here though, since years ago Disneyland opened a new section named Disney Studios, another park next to the main one which you can also visit using your ticket. There aren't actually any individual tickets, but our package included everything anyway. I don't remember exactly what year Disney Studios opened in, but when I went for the first time in 1999, it still hadn't opened yet, and when I went back four years later, it was there. I can't tell you the exact opening date then, but it must have been sometime between 2000 and 2003.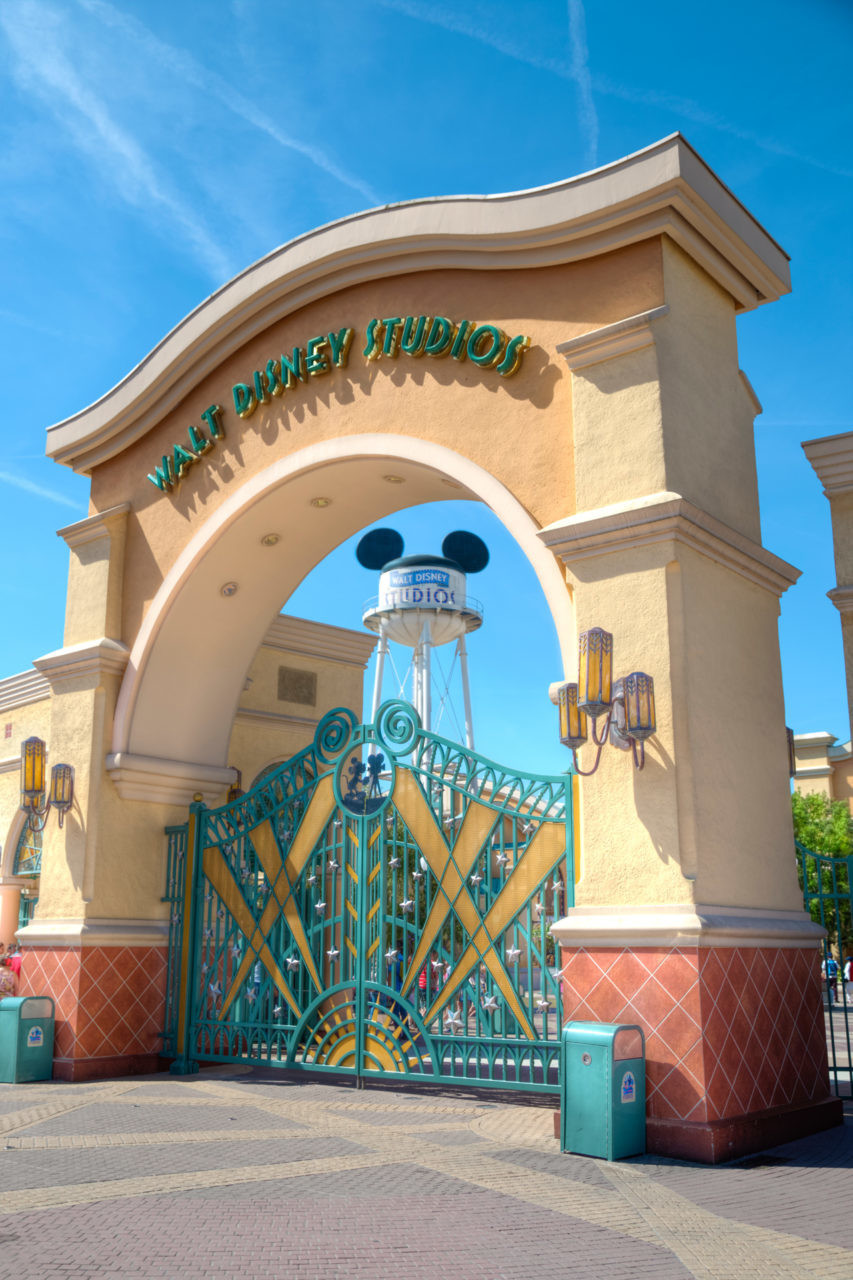 The best thing about the Disney Studios is that it's more adult-orientated, but this does mean that it's not as magical as the normal park. Despite this, I'll tell you about what we saw there to give you an idea of what it's like.
In the same way that the Sleeping Beauty castle is the symbol of the Disney park, Mickey Mouse holding a film camera is the symbol of the Disney Studios.
As I've mentioned before, the Disney Studios have changed a lot in the past few years, so there are a lot of new rides I can just name and not say much about.
The Disney Studios are divided into four large main areas, called Toon Studio, Back Lot, Front Lot and Production Courtyard.
Inside Toon Studio, there's an area called Toy Story Playland where there's lots of toys from Andy's room in the film, but giant-sized so you feel like you're suddenly the same size as the toys.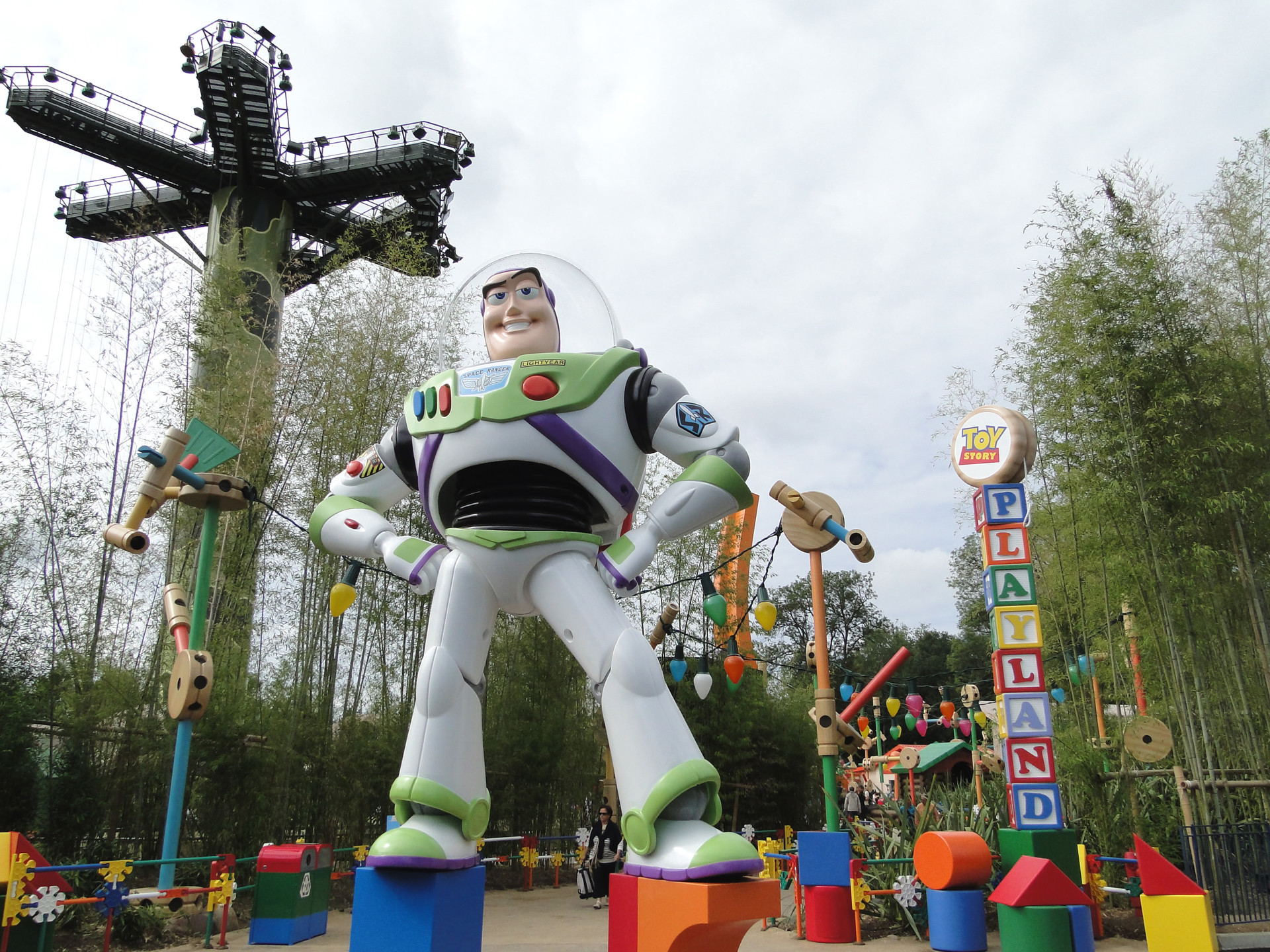 There's a ride in Toy Story Playland called 'Parachute Drop', based on the little green soldiers from the film, but I don't know what it involves since it's only been there a couple of years.
There's also 'Slinky Dog Zigzag Spin', a children's ride where Andy's toy dog Slinky tries to catch his own tail. For those of you who don't know, Slinky has a spring for a body, so the ride involves little cars for children to sit and drive round and round.
The last Toy Story ride is called 'RC Racer', which is just like the dodgems but everything is radio controlled. This ride is more for adults than for children, since the car can go really fast.
Another ride in Toon Studio is called 'Crush's Coaster', based on the film 'Finding Nemo', though I don't know what it is. It's likely that it's suitable for children and families.
'Cars Race Rally' is also here, obviously based on the 'Cars' film, which children love - or my cousins did at least! You can drive crazy cars on this ride, and each one is a character from the film. Ideal for entertaining younger children.
'Animagique' is the place where magic is created, showing how different Disney films are made. You'll also find 'Art of Disney Animation' here, a room where you can create your own Disney characters, and find out how your favourite characters were created and designed.
Last but not least, there's 'Flying Carpets Over Agrabah' which is one of the oldest rides, since it was there when I went to Disneyland for the very first time. It's a typical flying ride, but the cool thing is that you sit on Aladdin's magic carpet and fly around the magic lamp.
We've covered Toon Studio now, and will move on to Back Lot, where there are some really cool rides which I also saw for the first time the last time I was there, such as 'Armageddon: les Effets Spéciaux'. On this ride, you sit in a little car which takes you through different scenes from the film, and demonstrates how the special effects work. At first you pass very close to a fire, which feels really hot and strong from your carriage, and then through an area where lots of water falls on you, so you get wet even inside your carriage. It's very cool though, and I'm sure you'll like it.
Another ride or show in Back Lot is 'Monteurs...Action! Stunt Show Spectacular', which is a show with cars and motorbikes involving some amazing special effects. In a scene which recreates a small town, two mafia-like gangs face each other off. You follow the storyline while you watch the drivers's amazing somersaults. I remember that I really liked it, and that there was a car which split itself down the middle and carried on driving alone. It turned round eventually and we could see that there had been a hidden driver inside it. I also remember a driver going up in flames. It's a really cool show, and I won't tell you any more about it so as not to spoil it for you.
The last ride in this are is the 'Rock 'n' Roller Coaster starring Aerosmith', which is a roller coaster they say travels at the speed of light. I didn't go on it, because really fast roller coasters are just too much for me, but my uncle went on it. From what I could see, you listen to Aerosmith the whole time you're on the ride and you go from 0 to 100 kilometres per hour in three seconds.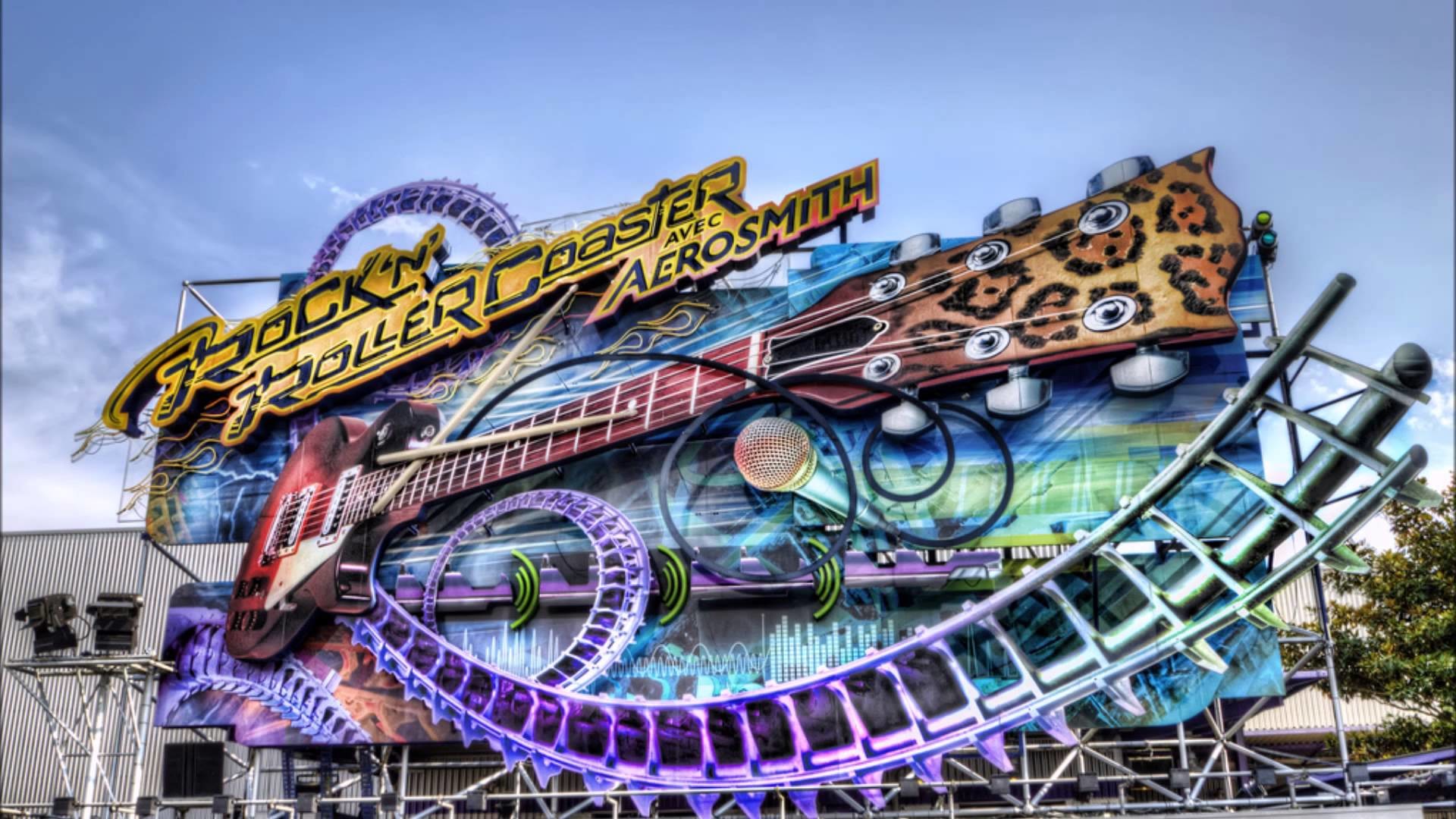 We then moved on to Front Lot, where Disney Studio 1 is located, which deals with the Hollywood film industry from the 1920s onwards. There are sometimes small shows on here, and you can take photos of the great sets.
Last but not least is Production Courtyard, where there are several different rides to enjoy. We started off with one called 'Stich Live', based on the film 'Lilo and Stich', which I must admit is one of the few Disney films I haven't seen, so I don't have that much to say about the ride itself. I remember that during the ride, children get the opportunity to talk to Stich, but not much else.
Another ride in this area is 'The Twilight Zone Tower of Terror'. This is a really cool ride, and mainly aimed at adults. The best part about it is that you have no idea what the ride actually involves until you get on it inside the building. The first thing which will freak you out is the porter who greets you at the door, haha, and when you first go in, it looks like an old abandoned hotel inside. You have no idea what to expect. You then go into a lift which takes you upwards, and then freefalls.
There's another ride for kids called 'Playhouse Disney Live! ', where children can have fun with the Playhouse characters. It's very much aimed at younger children though, so I've not got much more to say about it.
We also went to 'CineMagique', a type of 3D cinema which mixes scenes from different films, or something similar. It didn't exist when I visited, so I have nothing else to say about it.
Lastly, there's 'Studio Tram Tour: Behind the Magic', which is a little train you sit in and watch the production process of a film, but suddenly the train derails and the adventure becomes more exciting. I don't really remember what happened during the rest of the ride, but I remember really enjoying it.
This marked the end of our visit to both parks. I don't remember what order we saw everything in, obviously, so I've just explained them to you in the best ordered way I can. Depending on how much time you have at the park, to see everything, you have to hurry about.
Since we had been to the park before and knew it quite well, we knew what we liked best and so didn't end up wasting too much time. Due to this, we were able to spend an hour or so every day relaxing at the brilliant pool in our hotel. I remember that you had to bring your own towel with you for the pool and if not, then rent one there, which was pretty expensive. There also weren't any lockers or secure places to leave your clothes while you went in the pool, so we had to just go down with our bikinis already on and with towels in hand. The problem wasn't that this was embarrassing, it was just really cold when you had to walk outside from one building to another in just your bikini with your towel wrapped around you! The pool building wasn't far from our rooms, but it was so cold outside that the walk seemed never-ending. On the first day, we realised that towels weren't provided, so we had to rent them for three euros a day. This wasn't that expensive, but paying for a towel when you already have one in your room for showering seems a bit stupid. This wasn't the worst of it though, since when we got out of the water, we realised that they'd taken away the towels we'd paid for. We didn't have any more money, as we'd only brought exact change with us. On the first day, we just went down to see what it was like and thought we had to pay for the towels and couldn't bring the ones from our room down with us. So, as you can imagine, we were wet with no towels and no money. The only thing we could do was the same they'd done to us, which was secretly grab the first towels we saw and run to our room. We were so cold on the way back because we were soaking wet. Our plan was not to get our hair wet, so we wouldn't be as cold on the way back to our room. The pool was deeper than it looked though, and that didn't work out! There's a really cool toboggan ride in the pool, and beautiful plants decorating it. The water is the perfect temperature, but the jacuzzi is really warm, and you have to take turns every so often to let everyone who wants to have a go, hahah.
We spent a few hours there over our four day visit, though on the second day we learned of course to enter the pool slowly so we could go back to our rooms with dry hair and not freeze to death on the way.
Another funny thing is that we almost missed out flight home. We didn't need to check in for the flight, so we didn't need to be at the airport well before our flight, but we did need to check how much time it would take to get to the airport on the bus from the hotel, since it doesn't run all day. Since we'd never traveled alone before and were only 17, we weren't very switched on with this. We decided to enjoy our last few hours in the park and go on our favourite rides one last time, such as the Pirates of the Caribbean ride, which we both loved. Luckily, we caught the last bus to the airport by the skin of our teeth and nobody knew how close we came to missing our flight, hehehe.
Our trip ended here, and we went home to Seville.
---
Photo gallery
---
---
Content available in other languages
Want to have your own Erasmus blog?
If you are experiencing living abroad, you're an avid traveller or want to promote the city where you live... create your own blog and share your adventures!
I want to create my Erasmus blog! →