Darling Future Erasmus...
He just quoted Nerea from # erasmussinmaletas:Why Birmingham? , and I already explained the Perché Padova, but what I did not say was eat Padova.
One of the fears of the Erasmus is, surely, the language. In my school, you can see clearly that in the list of Erasmus destinations, they ask for a language level according to the country you're going to. My purpose with the Erasmus was to improve my English, but as they asked me for a B1 level to go to a place with English classes (title in hand) I had to discard it.
I had the option to improve my French to get a title, learn Italian or face German. With Italian, in fact, it only required an A2 level, and as I saw it easy I faced it.
I risk saying that ETSIT-UPM is the only school that asks you for a compulsory degree of the required level before you go to your Erasmus destination, but once here and seeing the view, I'm almost glad I studied it in time.
How to get an Italian title in a short time
It is not, precisely, something too difficult, given that a Spaniard and an Italian can understand each other perfectly without having any idea of each other's language, but it is necessary to know a little grammar and syntax. I am a maniac with Spanish grammar, I put great interest in knowing how Italian was, and I have to say that it does not differ much from ours.
I started studying the language on my own with this book: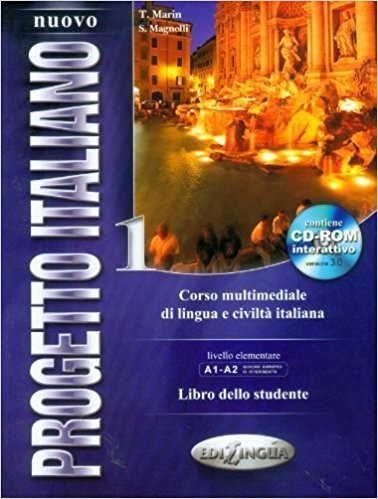 Book used to learn Italian
They recommended it to me in a bookstore in Madrid, and I saw it quite useful. I dedicated Christmas to swaddle it well, combining it with studying for the February exams and I did learn something.
Without knowing, even if they were going to give me the place to come to study in Italy, I was super excited to learn the language and tried to practice it whenever I could.
In February, after the exams, we all did the UPM a level test to see if we could take the place we wanted, and I had a good time, so my experiment did not go so badly!
I could also practice it on my first trip to Italy, where I went to Milan and Parma, although the Spanish accent betrayed me quite quickly, like anyone learning a new language.
Shortly after, back in March, I learned that Padua had been given to me as a destination, and they offered me an Italian online course (from Tell me more ) at about € 20 to be able to continue practising it. With this course, I learned a lot but I think that the most I learned was when looking for a flat in Padua.
I was exchanging emails with Italians for a while and using an online dictionary and a website of conjugation of verbs (I still have them in favorites) and I was able to understand them, until I found the perfect flat (soon I will make a video from my house so that you can get to know her a bit and get your teeth stuck in, which is beautiful! ). I leave you an taster of the photos that the owners of the apartment sent me when they offered it to me, which they did enough so that now I am writing to you from here.
Soggiorno
Terrace
Continuing in the line of learning the language, without enough, I still had to obtain the A2 certificate from the Istituto Italiano di Cultua de Madrid, the CELI 1, whose call would be in June 2010 (just after the ETSIT exams). And there I was.
It was not a difficult test, as far as the written part is concerned, but the oral part was somewhat broken. They gave me some silent vignettes that I had to describe (before the exam, so that I had time to prepare them a bit and look up the necessary words in a dictionary), but I did not know how to describe them in Spanish, so I had a bit of difficulty to do it in Italian.
A few days before I came to Padua, I knew that I had passed the written exam, but not the oral one. When I return to Madrid, I guess I'll have to examine myself again for the oral part and this time (I'd better, after I've been here for two months) I hope to pass it.
Add that coexisting with Italians at home and it is helping me a lot. It is inevitable to get together with Spaniards in Italy, since we are the majority and run the risk of running out of friends, but you can also learn by talking on the street, in the university or at home.
The people who are in residence are not practising it as much, although they do more than those who share a flat with Spaniards, most of them are enjoying the free Italian course offered by the University of Padua.
Due to the incompatibility of schedules, I can not attend the classes of that course but according to my roommates I'm fast, and I am better as all my classes are in Italian, of course!
It is not bad to say that I could have learned even more (and possibly pass the oral test of the CELI) if I had enrolled in my own school at IAESTE language courses , which give you the opportunity to learn or improve a language with quality teachers at a student price (around € 250 / quarter). This is what the guys who left for Italy from my school did and who are now in Turin or Rome, two cities that I will add to my travel calendar.
Without wanting to get bored with my advice on Italian, I leave you to continue studying in English, understanding in Spanish and examining myself in Italian from my great friend, Elaborazione di segnali.
Have a good day!
---
Photo gallery

---
---
Content avaiable in other languages
Want to have your own Erasmus blog?
If you are experiencing living abroad, you're an avid traveller or want to promote the city where you live... create your own blog and share your adventures!
I want to create my Erasmus blog! →