Erasmus experience in Nantes, the France of Eva
Architecture and landscape

10 / 10 points

Entertainment

10 / 10 points

Culture and customs

8 / 10 points

Transport

8 / 10 points

Gastronomy

10 / 10 points

Prices

6 / 10 points

Party

6 / 10 points

Weather

6 / 10 points
---
Why did you choose to go to Nantes, France?
The main reason that I chose to go to Nantes is because of the language, I had studied French before and I saw it as an opportunity to be able to learn more and get to know this part of France which was completely unknown to me.
How long did the scholarship last?
How much money did you receive to help you with living costs?
My scholarship lasted 5 months and I received 300 euro per month. Also, this year my university (University of Valencia) gave us extra help of 350 euro. So in total, I received €1, 450.
What is the student lifestyle like in Nantes?
The student life is noticeable in every way. Nantes is a city where the majority of people you pass on the street are young.
There are a lot of student halls, where you meet people from every country in the world.
Would you recommend the city and the University of Nantes to other students?
Personally, I would recommend Nantes as an Erasmus destination, I don't regret my decision at all.
In terms of the University, in mine it is Law, if you have a base of French you are not going to have much problems. Erasmus students have all oral exams and the tutors are usually quite understanding. Even if, I know that in other degrees the Erasmus students were not treated as well.
What is the food like?
I love the food. It is very typical here to eat, galettes, which are a kind of crepe, but made with a darker flour with a stronger taste. They are usually made with ham, cheese and egg and they are amazing. Nantes is full of crêperies where you can try them with any ingredients you could imagine.
Moreover, if you like cheese, you are going to find a lot of variety here and at a very good price.
Did it cost you to find your accommodation in Nantes?
The truth is that it didn't, the university designated me a hall residency in Crous and I was grateful of the financial help that French offers you (CAF), the halls were of a very affordable price in comparison to the prices in this country.
Although, for the people that come with the idea of finding a flat, I advise you that it is practically impossible, so I recommend that you ask for halls so that you don't go without accommodation, because the last option I will give you is a private residency which is much more expensive.
How much does it cost to live in Nantes?
Well it depends if you live in a flat or halls. For example, for halls I paid 160 euro per month (due to getting help from the CAF) and bills were roughly 300 euro per month. These bills include the transport voucher, TAN (38 or 27 euros per month according to which voucher you choose). In total with 450-500 euros you can live perfectly in Nantes.
Is the language easy to get to grips with? Are there language courses available at the university?
Well I came with level B1 in French.
The university of Nantes offers students the so-called "cours du soir". It is a 40 hour course in total that is given two days a week from 18:00 to 20:00 and at the end you have an exam and they give you a certificate with the level you achieved. I recommend that you go, because you meet people from other countries and learn more French.
What's the easiest or most economical way to travel to Nantes from your city?
From Valencia, the most economic way is to fly directly with a airline called VOLOTEA.
Where would you recommend to go on a night out in Nantes?
Hangars a Bananes, which is an area with only pubs in the most famous island of Nantes, where each one has a different style of music, for me the best were Australian and La Calle (with Latin music).
As for clubs, the three most important are LC CLUB (also on the island), COLORS and LOFT (both in the centre of the city).
I will warn you, that the party is not like it is in Spain, here they go out earlier and the pubs close at 3.
Clubs are open until 6.
Is it good to eat out in Nantes? What are some of your favourite places to go?
To go out to eat in Nantes, the best area is Bouffay, where you have millions of places to choose from.
For me, the best places are L´Epicerie, and any crêperie to eat galettes.
What good cultural sites are there to visit?
As a cultural visit, Nantes has a lot of options, from the castle in the middle of the centre, the island where you will find the famous elephant and the coloured rings. You can also see the Opera square where you will find one of the best restaurants in the city, Place Royale, the cathedral, Torre Bretagne, the old biscuit factory, and the gardens (with Japanese plants).
Personally I recommend that you go to the little fishing town, that you get to by boat from the Gare maritime. To get there, you cross part of the river Loira on the boat and you can go as many times as you like because the transport voucher can also be used on the tram or bus.
What advice would you give future students heading to Nantes?
That Nantes is an amazing place to live for your Erasmus experience.
Although, I warn you that you need to have patience with the French bureaucracy.
Also, I recommend that if you come to Nantes, put your time into getting to know this part of France, cities like Le Mans, Vannes, Rennes, Saint Malo or regions like Normandía or Bretaña, they are a complusory visit and they are very very connected to Nantes.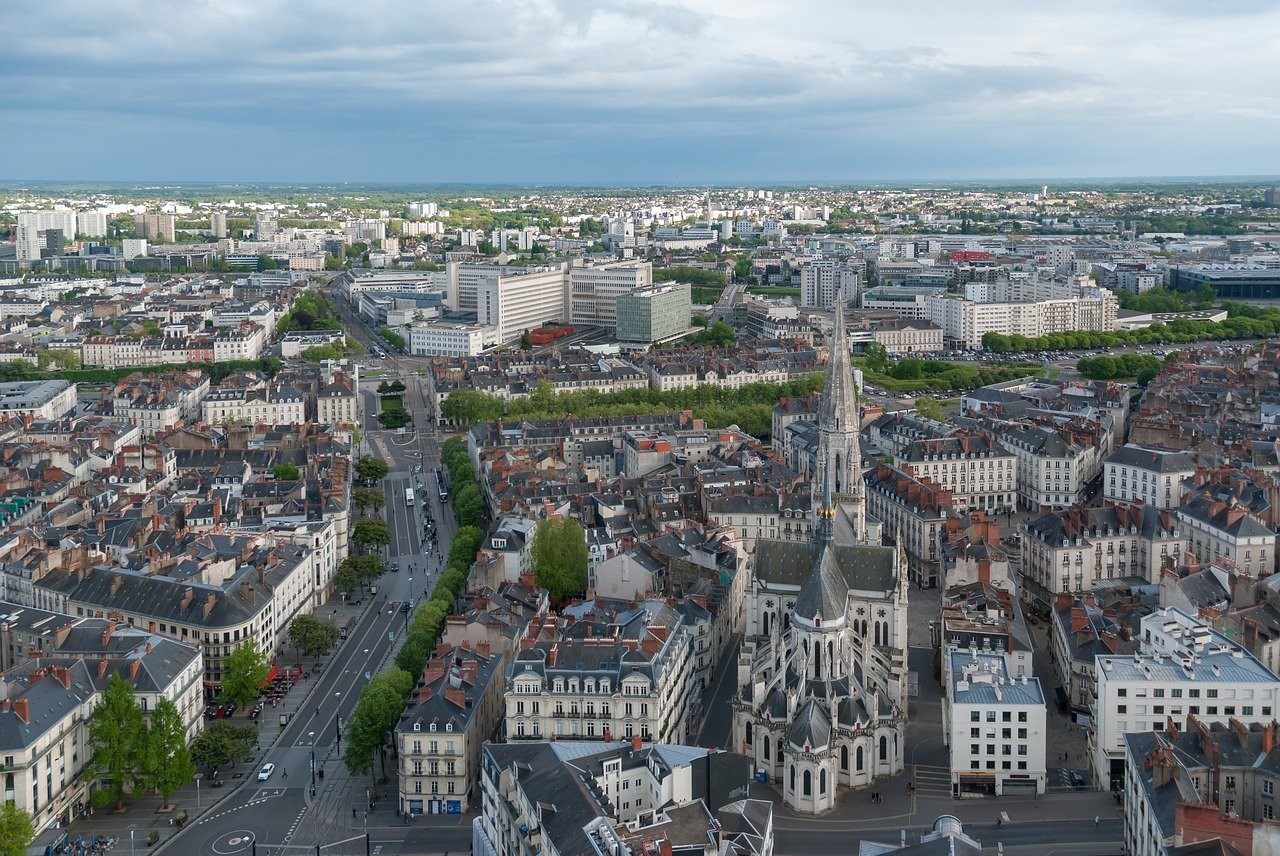 ---
Photo gallery

---
---
Content available in other languages
Share your Erasmus Experience in Nantes!
If you know Nantes as native, traveler or as exchange student... share your opinion on Nantes! Rate different characteristics and share your experience.
Add experience →