What to Eat and Where to Eat it - Madrid
Architecture and landscape

10 / 10 points

Entertainment

10 / 10 points

Culture and customs

10 / 10 points

Transport

10 / 10 points

Gastronomy

10 / 10 points

Prices

10 / 10 points

Party

10 / 10 points

Weather

10 / 10 points
---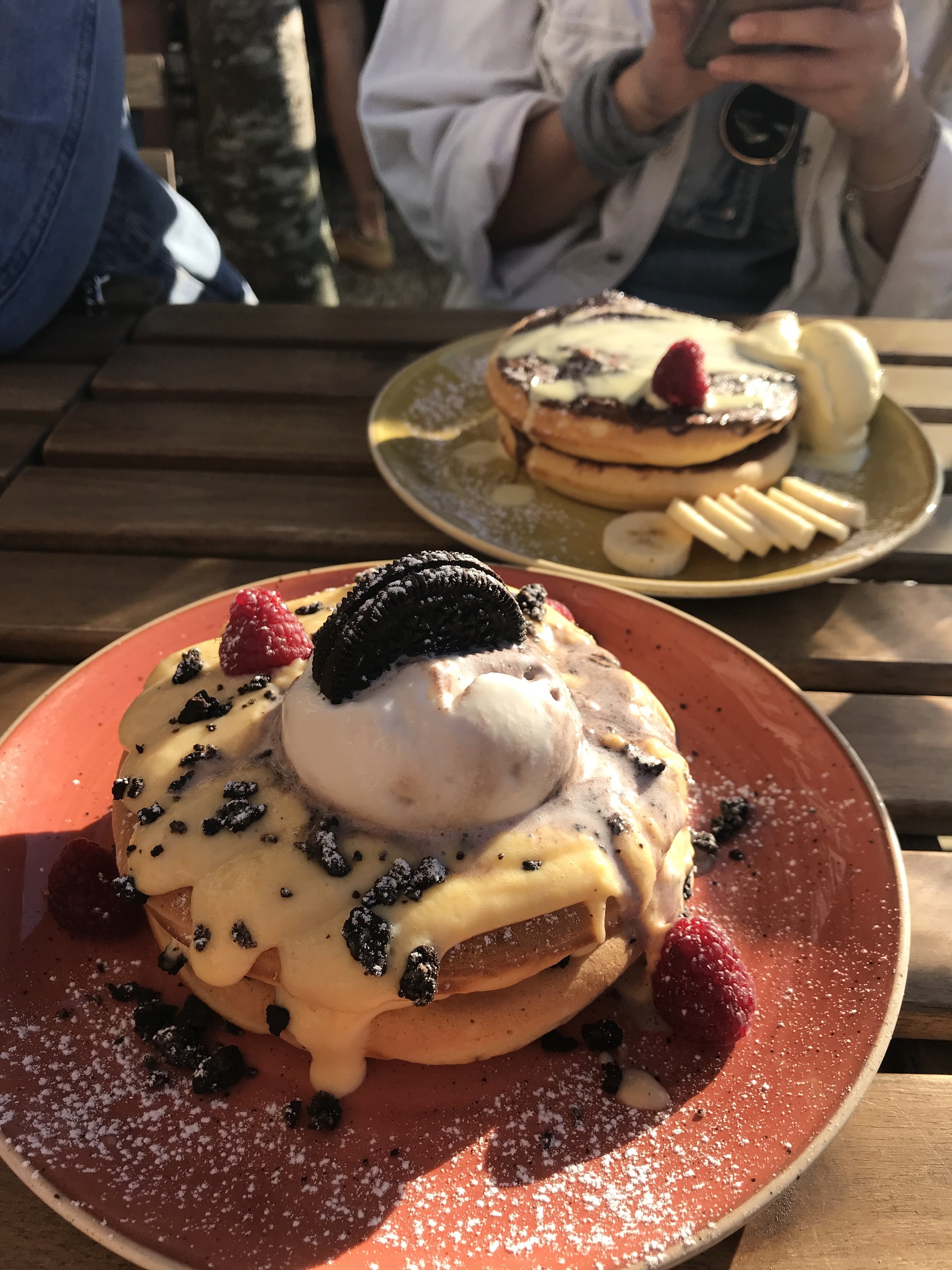 When visiting a new city, searching TripAdvisor and numerous online websites to find the best places to eat and drink can be long and tedious. I usually spend a large majority of time trying to find "authentic" eateries and avoiding the tourist traps. Because, who really wants to pay 10 euro for a dry piece of Spanish tortilla just because you're in Spain? I have compiled a list of the top food spots in Madrid where only locals go, for those either travelling for a few days, or spending the whole year in this great city.
1. Coffee Spots
Can coffee be classified as a hobby? Without sounding like a pretentious idiot who spends a fortune every day on overpriced Starbucks and Nero?
But, instead of heading to the big chains that really don't care if you want that frap topped with cream or not, try out some of the great (and cheaper) independent coffee shops in the heart of Madrid.
Toma Café
A tiny independent café with trailing plants and wall art where only the locals can be found. Partly because they know good coffee when they taste it, but also because even when typing this café into google maps, you will probably, like myself, walk straight past it.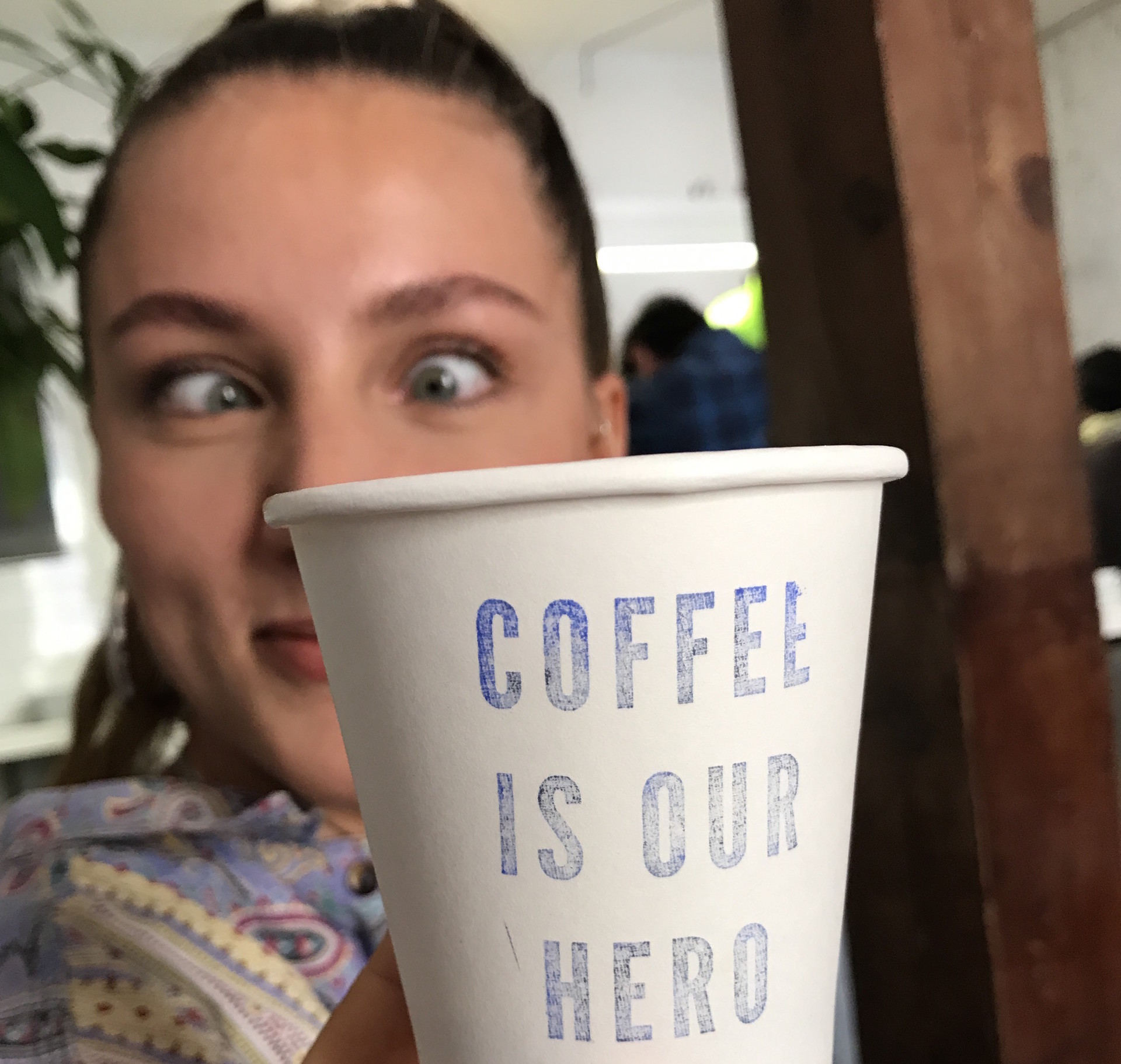 2. Brunch Spots
Federal Café
This was a two second walk from my house and this was… dangerous. The best brunch you've ever tasted in a great working environment. Instead of heading to the library to complete those dull assignments, go straight to Federal who dedicate specific tables for those wanting to work in peace.
Here, the brunch is Australian inspired; think avocado, poached eggs, turmeric lattés.. (if you know what that even is, because I didn't. ) The food at Federal is moderately priced, an average plate of food with a drink would come to around 10euros; but when you put this into perspective considering that it is located in the HEART of the city, it really isn't that expensive after all.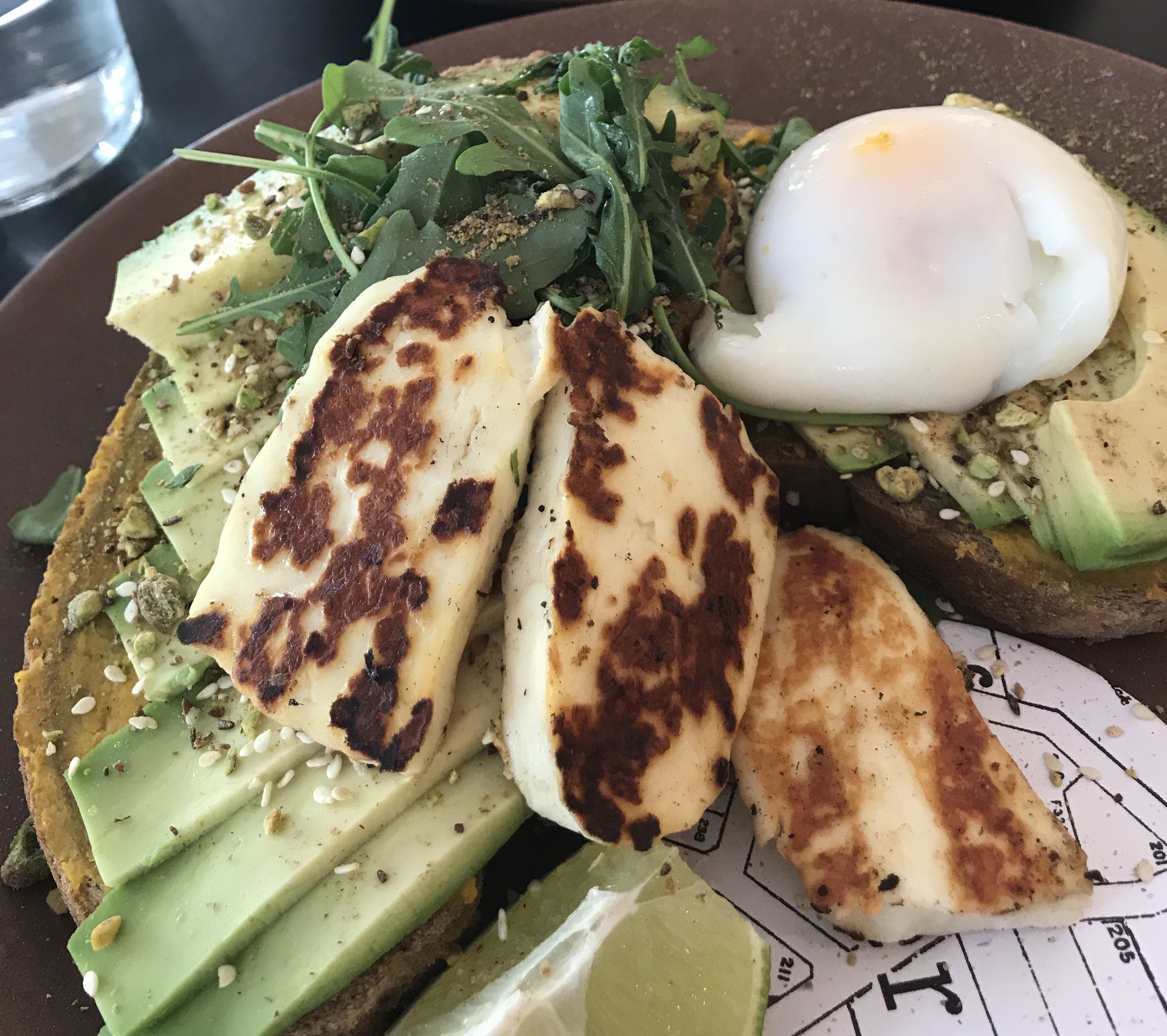 3. Cheap Lunch Spots
If you are a student reading this, I know that you're probably thinking that I'm deluded for recommending 10euro brunches and 4euro flat whites, so here are some of the best cheap eats around the city.
Takos Al Pastor
Takos Al Pastor is located in Plaza Mayor, one of the famous historic landmarks of Madrid. Here you will find a Mexican eatery that sells the best tacos you've ever tasted, and every single one costs 1euro.
You can't miss this spot, mainly because the queues are huge. I would recommend going any time before 7 p. m. to avoid the masses of Spaniards who flock to grab their tacos after work..
100 Mondaditos
The Mcdonaldization of Spain! This is a fast food chain that serves spanish style tapas. You really can't miss it; it is located in every corner of many Spanish cities. The chain is famous for having over one hundred different flavours of "bocadillos" (sandwhiches) all for 1euro each.
Not to mention you can get pints of sangria for 1,2 € and beer for 1 €.
Calamari Sandwiches
Available pretty much everywhere (but mainly around Plaza Mayor) are the world famous 3euro Calamari Sandwiches.
Some might think fried squid rings in a white bread bun is questionable; but you have to try it first.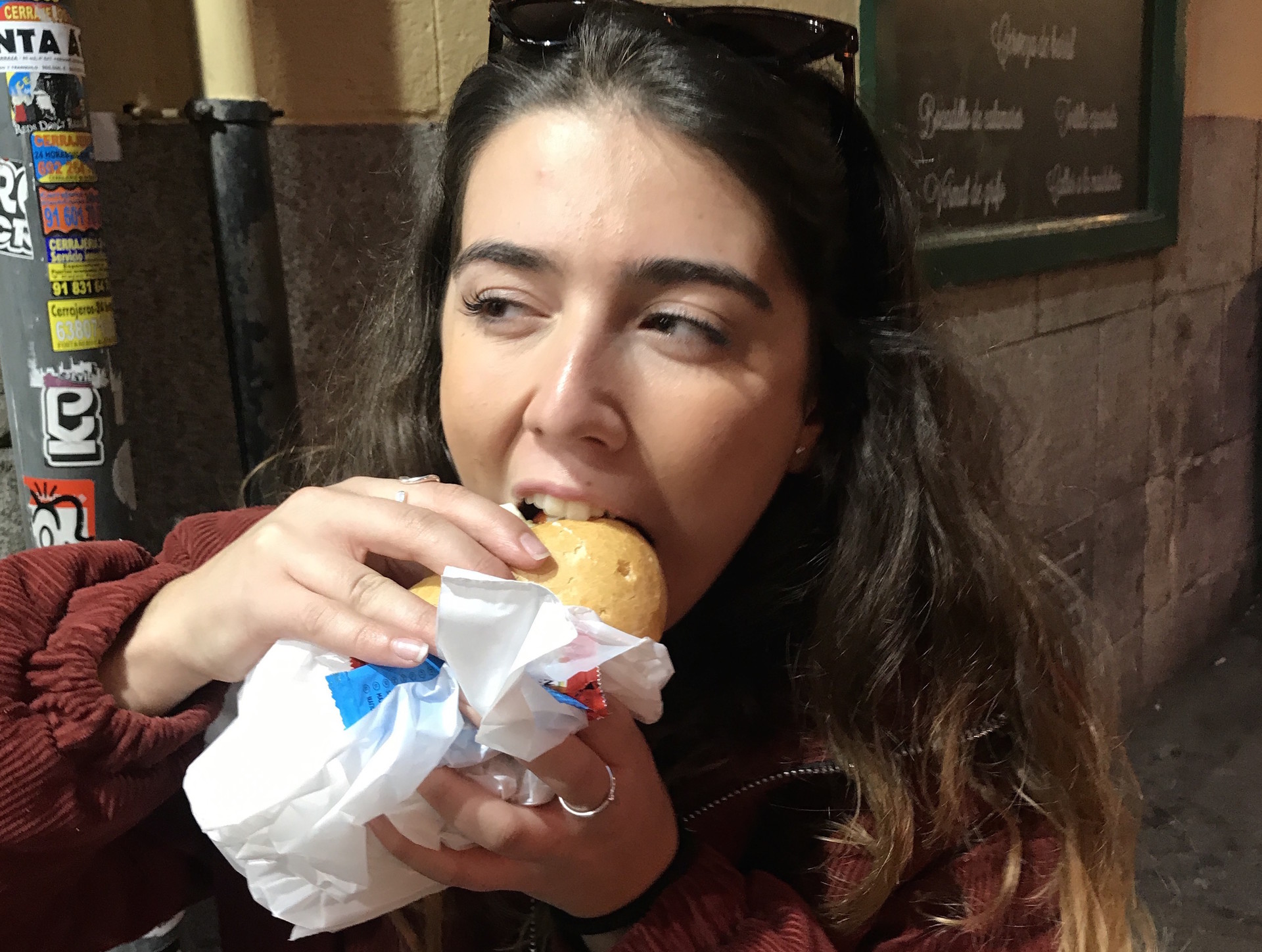 Food Markets
Mercado de San Miguel
The San Miguel market is a classic. I can't lie, this SCREAMS tourist trap, but I really would recommend this one. You can buy everything from fresh macaroons to stuffed olives and handmade sushi. There are also Aperol Spritz bars for those wanting to make those afternoons slightly more exciting.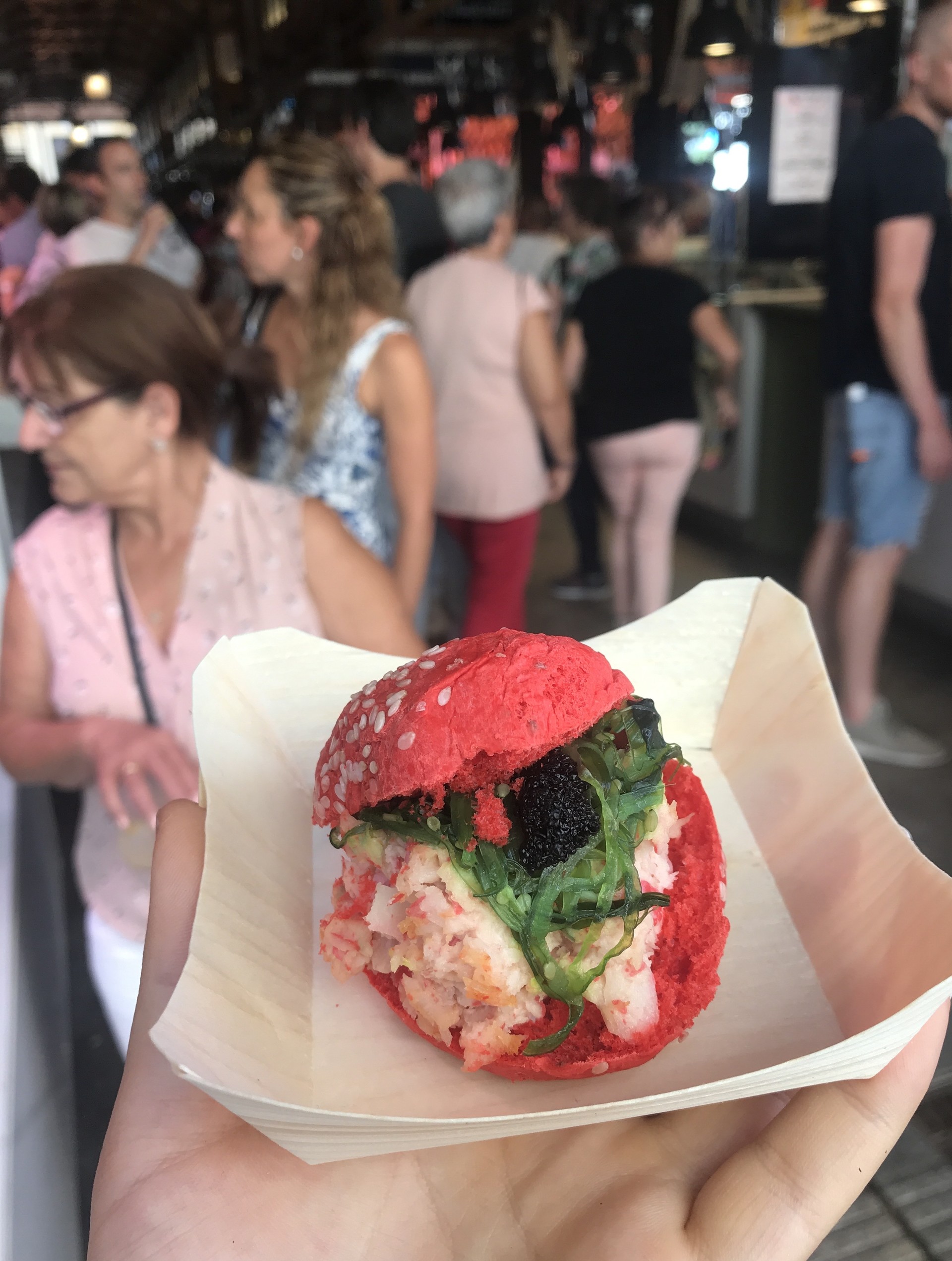 Yatai Market
This is a favourite of mine - it is an oriental inspired food market and I highly recommend the Bao Buns.
Mercado de San Idelfonso
Another great market located in Malasaña, my favourite neighbourhood in Madrid, famous for it's shopping and independent cafés and shops. This is where students are saturated and there's lots of culture to see.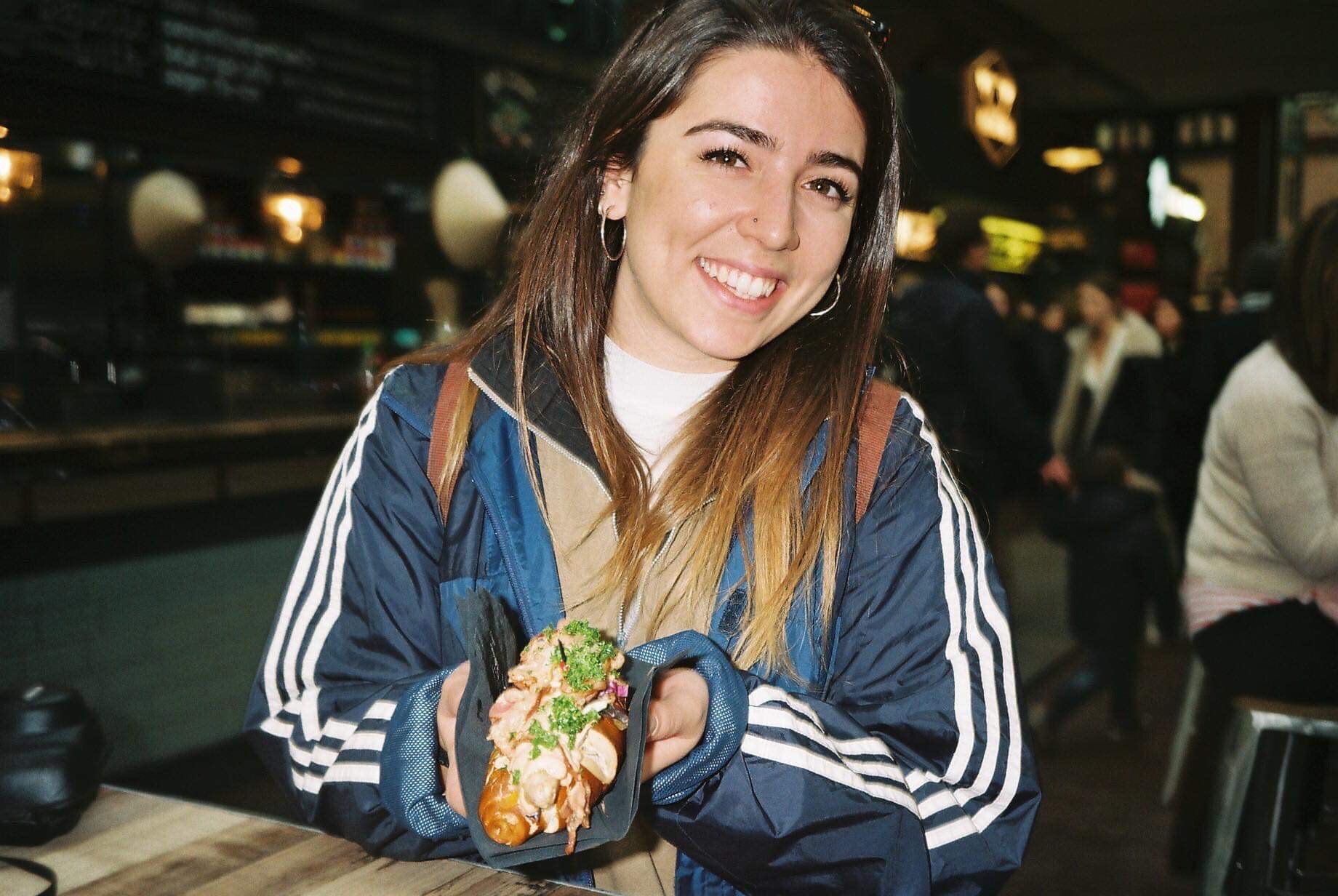 4. Vegetarian/Healthy Spots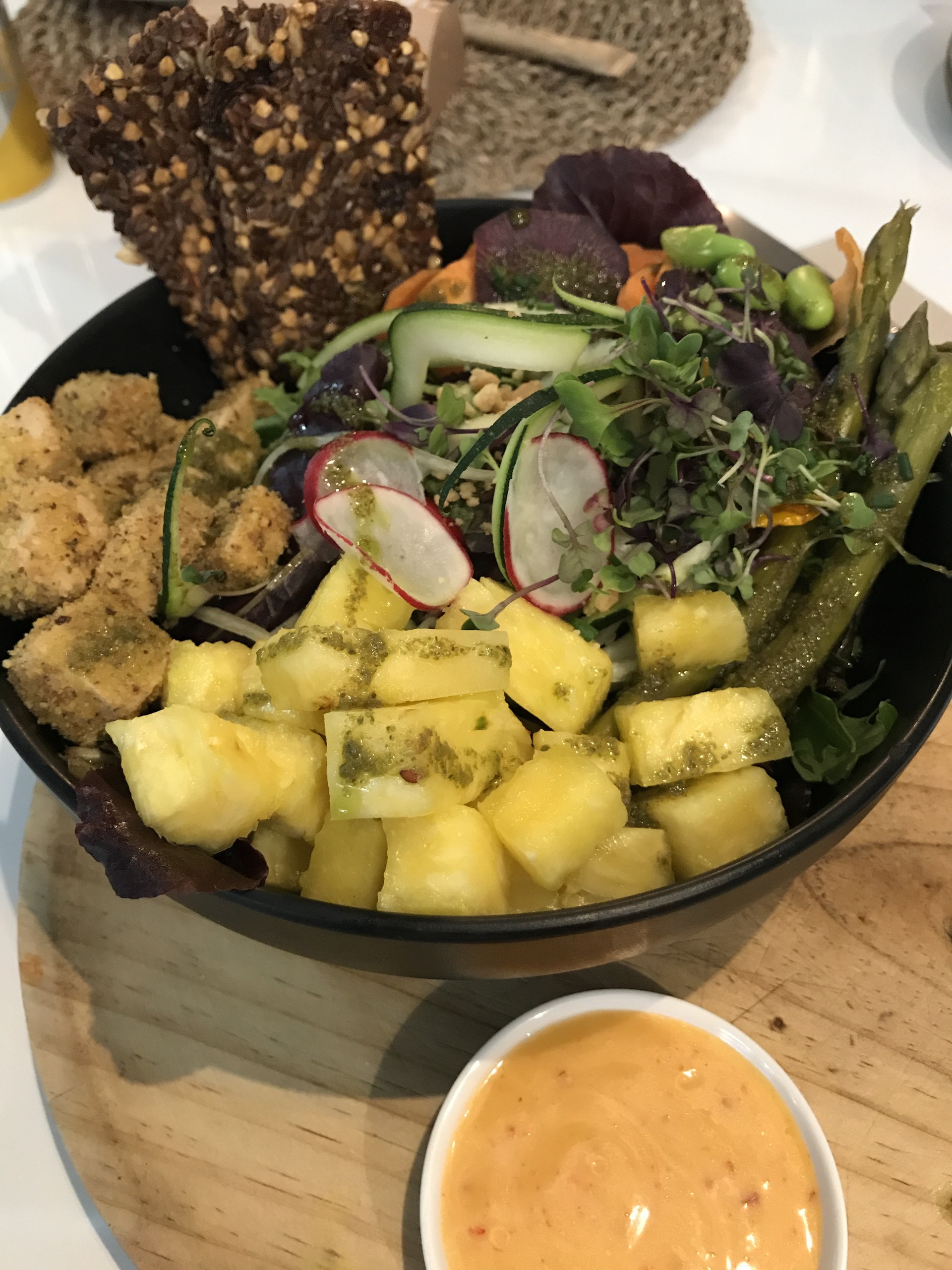 Superchulo
Literally translating to "supercool". This is a complete vegetarian restaurant and whether you are veggie or not, the food is incredible. The menu is so creative and diverse that you really would never even notice that you are skipping out on meat at all.
Honest Greens
Huge bowls of fresh locally sourced vegetables, with the option of meat, and healthy kombucha, freshly infused water and (really) great tasting coffee.
There is also a café and bakery serving healthy sweet treats made from polenta and natural ingredients.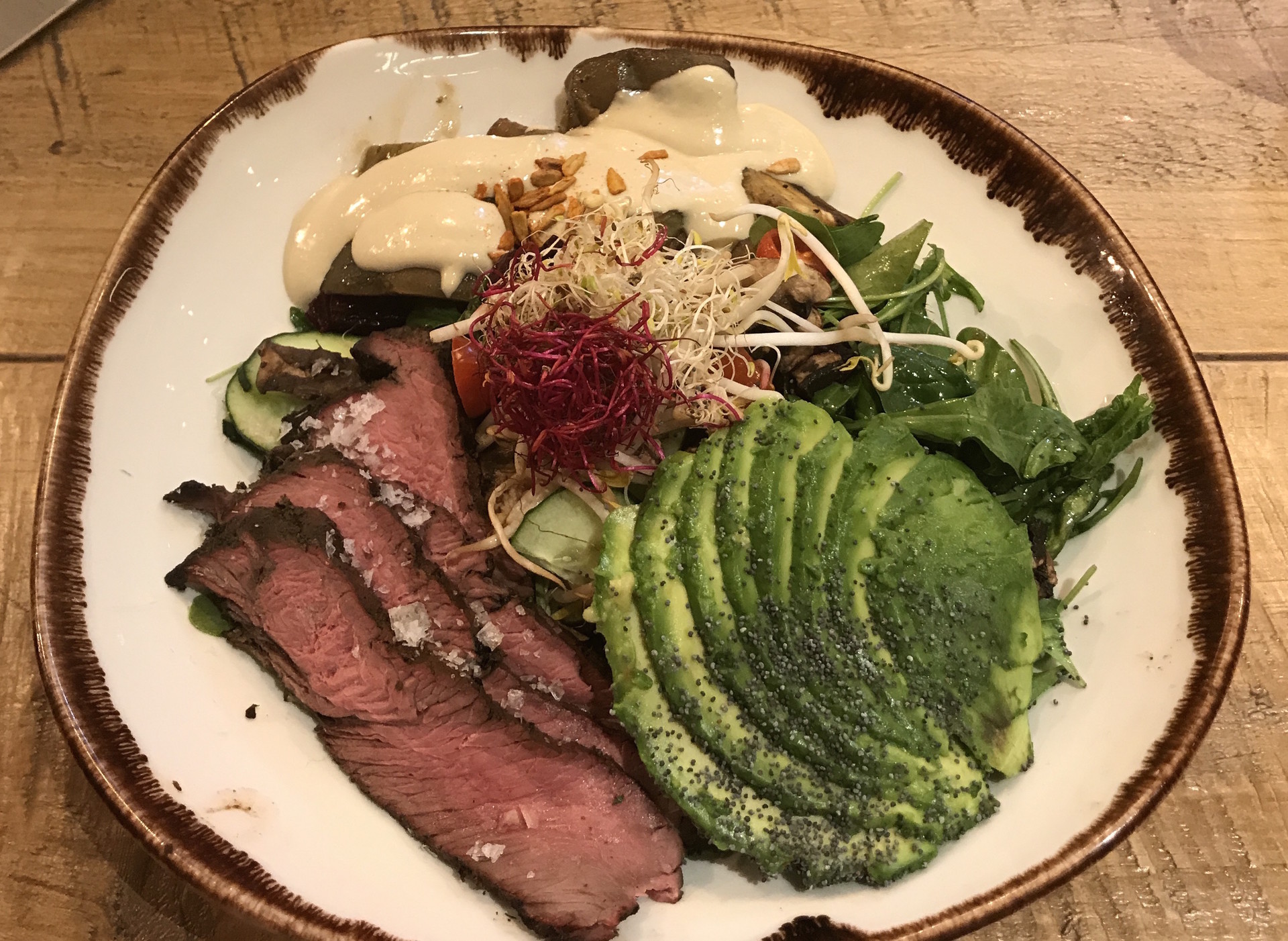 5. Fancy Shmancy Dinner Spots
Toga
My All. Time. Favourite.
When living in Madrid I had several visitors come and see me, including both friends and family. Each time I would take my visitors to Toga. It was my absolute favourite and I would honestly go back to Madrid just to eat here one last time.
This is a dinner time spot and it is not overly fancy but has an aura about it that oozes sophistication. It is very small, and those who aren't told about it will definitely walk straight past it. The interior is simplistic and minimalistic, allowing the food to really speak for itself. I highly recommend Toga.
Juana la Loca
Another great dinner time spot, the most amazing tapas you have ever tasted. Admittedly it is slightly on the pricier side, but again, when you consider that these are all located in the heart of Madrid- you really cannot complain.
I would take a date to Juana la Loca- make sure to book first!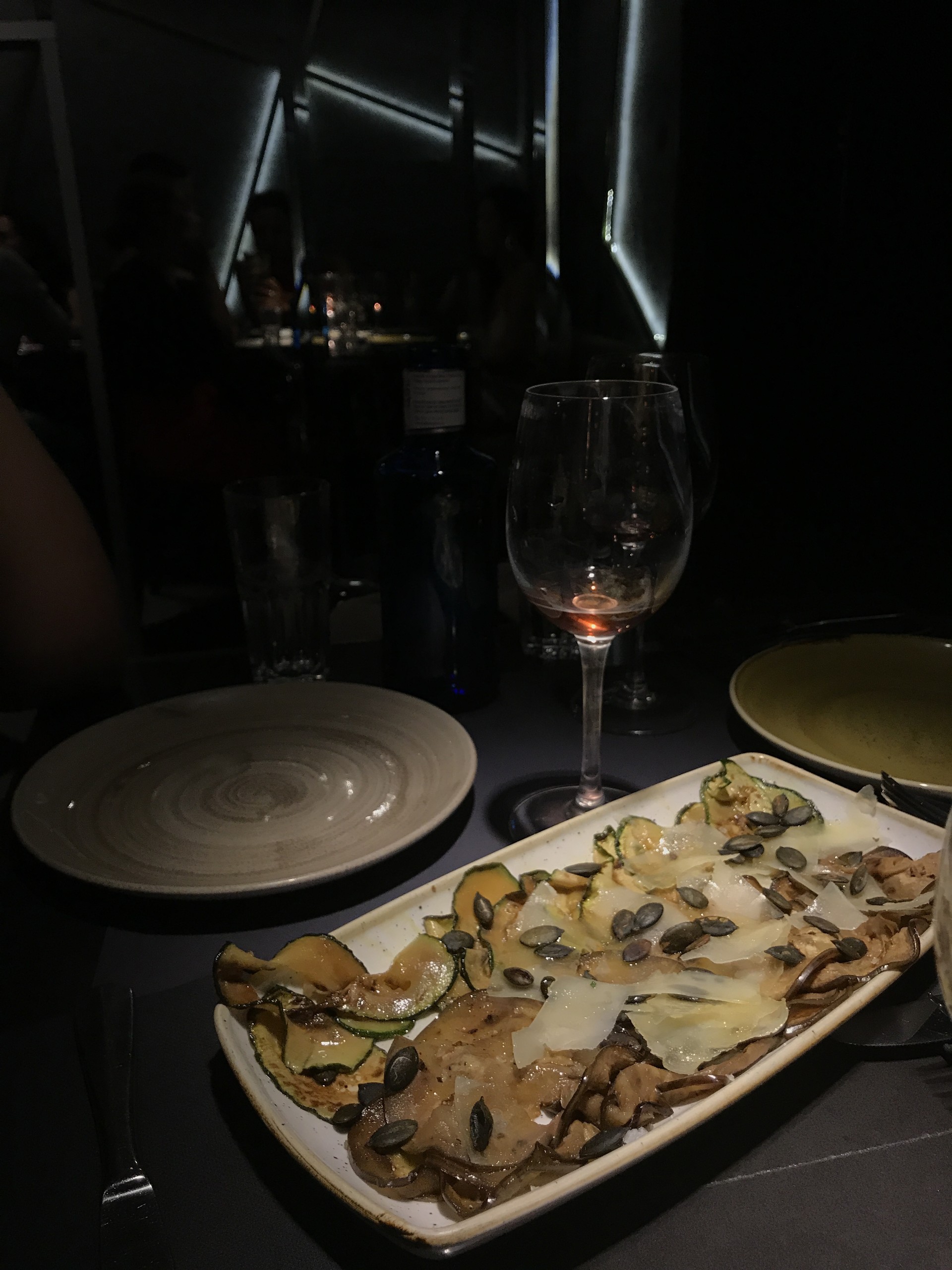 Salvador Bachiller's Greenhouse
This is a secret restaurant. From the outset, this may simply appear as a luggage shop, but once you reach the top floor of this shop, you'll find the most beautiful rooftop surrounded by plant's and fairy lights, and the most exquisite menu. This really was an experience.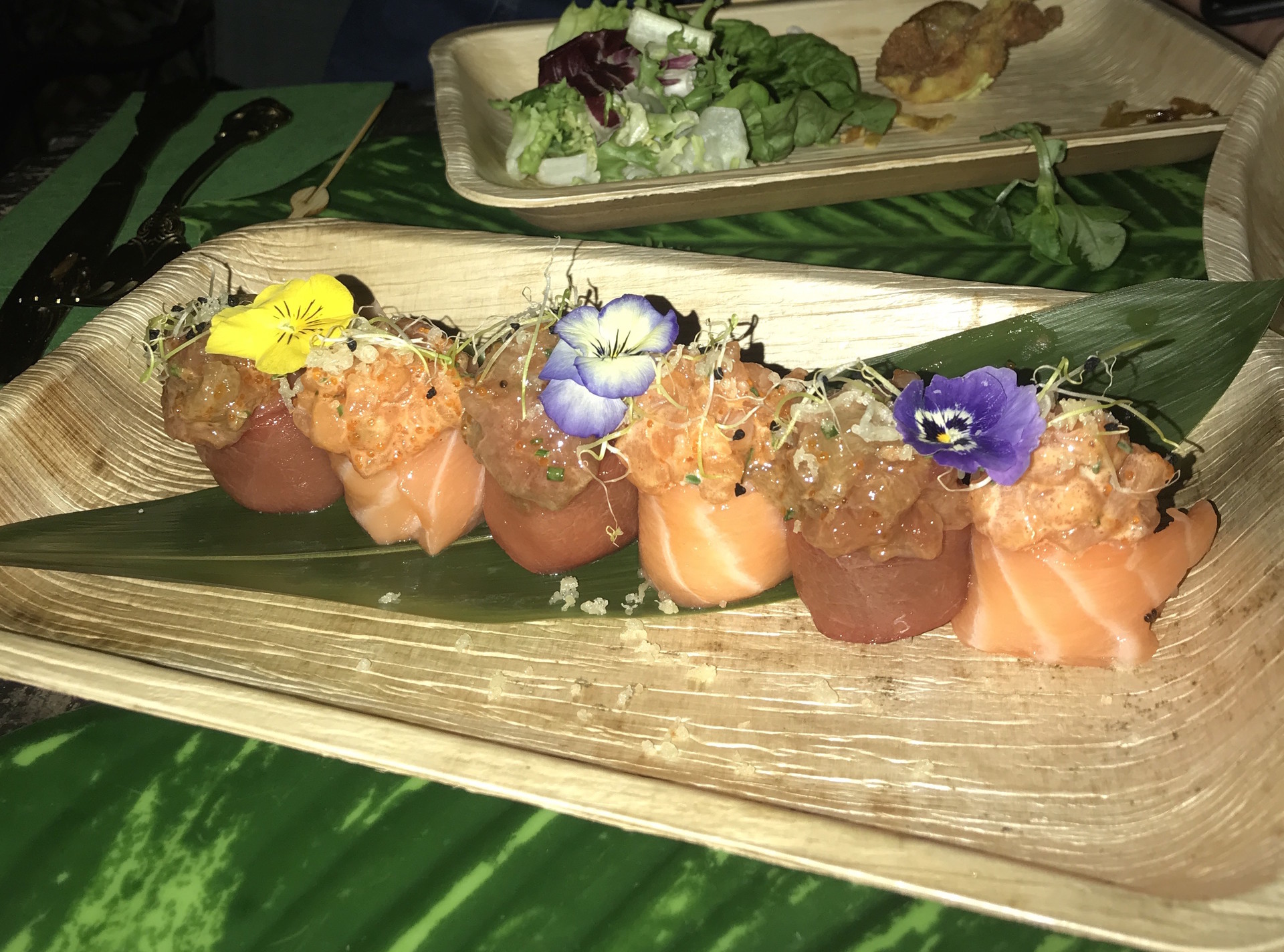 That is all, for now at least.
¡Buen provecho!
---
Photo gallery
---
---
Content available in other languages
Share your Erasmus Experience in Madrid!
If you know Madrid as native, traveler or as exchange student... share your opinion on Madrid! Rate different characteristics and share your experience.
Add experience →