The hardest thing about going is coming back
Going on an exchange certainly does not start when you arrive at your new country, but many months beforehand. It is right at the moment when you are filling in the forms to apply to the universities that your heart begins to break a little, thinking of all of the changes in your life which are going to occur. We are very used to being in our comfort zone that going on an exchange is not just going out of it a little, but leaving this zone which we are very comfortable in by several metres, this routine that we know with our eyes closed and that we don't have any problems following.
It is a shame and very fortunate at the same time that life is not something static. There are cycles in everything, ups and downs in life and going on an exchange is filling yourself with all kind of emotions like when riding a roller coaster. One thing that I was told before going is that they were going to miss me a lot, to which I responded: "of course, a year is going to seem like an eternity", but I was very surprised when they replied saying: "you don't understand, you are going to come back and you will be a different person. " I knew that this could be true, but as the saying goes: "you have to learn from your own experiences", basically that nobody knows what the other person wants to say until they have lived through it themselves, and this is what happened to me.
Relationships
There are lots of very difficult and painful things involved in an exchange. If you have a boyfriend/girlfriend or just a partner in general, there is the fear of "what is going to happen between us?" and "can we survive the distance?". There are some relationships which can tolerate being apart for a long time, however, there are also others which can't make it through it or realise that they want different things. At the start, it can be a bit difficult to understand, but it also helps to be far away; to evaluate what you already have or to realise that you want something different. Whatever your decision is, let me tell you that everything always changes for the better. A very close friend of mine had a relationship of two and a half years, which unfortunately after only two months of them being apart ended.
My friend was devastated, but she looked for the good side, she decided to go from Valencia to Madrid to get to know new things and not spend her time crying. She made plans and focused on meeting new people, she made lots of friends and now she has her heart in different parts of the world. Time gave way to a beautiful relationship with one of her best Chilean friends, which of course, she had got to know through the exchange. Now he goes to Mexico to see her, and she goes to Canada to see him. The fact that they manage to spend so much time apart says something important, as this is one of the most difficult tests.
Family
One of the hardest things to tolerate when you go to a different country is being without those people who took you to the airport and who will most definitely be waiting for you at the door of the same airport when you return. Friends come and go, so do relationships, but one of the hardest things of being far away is being without your family, especially without your parents or siblings. There are really small things that they do that you will miss, but they make all the difference in the world. When you are ill, you will miss the tea with the thousands of weird concoctions that your mum makes. When you burn your first meal or when you are sick of eating pizza everyday, you will realise how difficult it is to grow up. When you have to do your own paperwork and you don't know what to do, you will want to run back home to call your mum and cry, because it would be so much easier to do all of these things with her help. The truth is that everything is a crisis and tears in the first few weeks, sometimes it is hard work to get used to being "a bit more adult. " At the start, Skype video calls will happen every day but bit by bit you will be distancing until they start to claim that you don't talk to them as much as you did before, but don't worry, because it is a natural process. After the month you will already know the papers that you have to take to immigration as well as you know your own name. you will learn that pizza is not the only food that you can cook. The most beautiful thing is that you will acquire new brothers and sisters, disguised as friends, which will bring you this "tea" when you are ill, that will buy you inflated balloons on your birthday, that one day that they will cook for you and they will give you a genuine hug that you truly needed, because the thing that took me the longest to receive on my exchange was a sincere hug. When you go back, you won't only have your unconditional, forever family, but also a new extended family from all kinds of nationalities. (Oh! And free accommodation in lots of places over the world).
Friends
Part of our comfort zone is made up by our friends. All of us have that typical friend who, when he arrives at our house seems like a brother since he already knows where the milk is and he helps himself like he's in his own home. However, that friend has a home, a mum who will call him hysterically if he doesn't come back early and a jealous girlfriend who wants to know where he is all the time. Exchange friends don't have any of this, they won't have parents, they won't be in relationships (some will) and they will need your company. They won't go to your house for a few hours a day, they will be friends who will sleep with you for many days, who will stick with you in Christmas so that it is not so lonely and there will be friends who you will bring in the new year with. That bond was not created in a lot of time like it was with your friends from your home country, but the bond is just as strong. I still stay in contact with a lot of them, all of us miss being together and we hope to be back together really soon.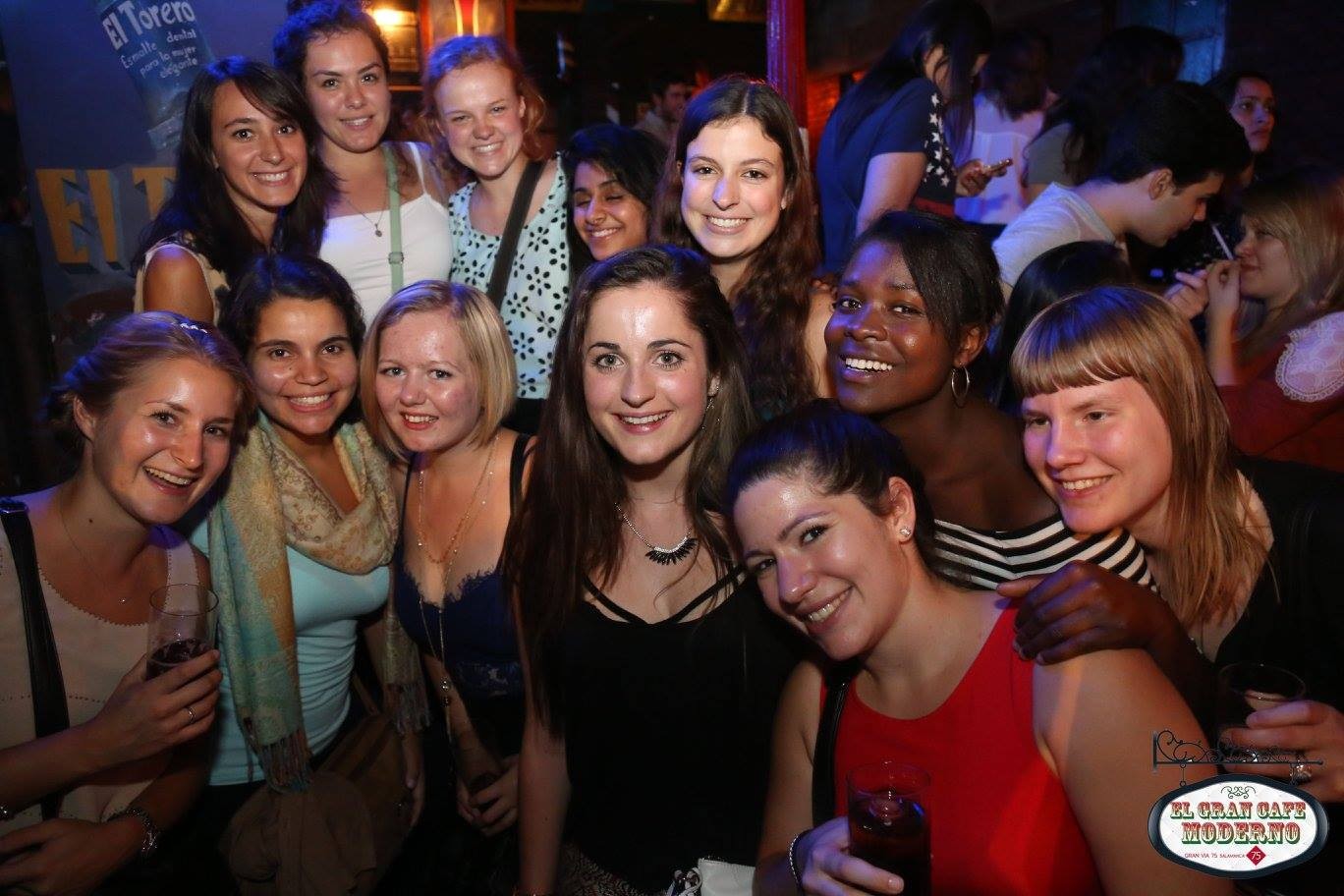 (Unforgettable trip to Salamanca. I went on this trip alone and came back with a family. October, 2015)
Trips
Previously, trips abroad were mostly organised by your parents, you didn't have to worry about paying for anything, you already knew that you would be sleeping in a hotel and that all that you had to do was to follow them wherever they went because "they already had everything under control. " However, with the exchange it will be difficult the first time that you buy a low-cost flight due to the fear that the plane will fall. You don't know what the airport is like which you are going to, you don't know the language that they speak very well, and you are even more uncertain of your itinerary. However, you will be a master of this by the end of your exchange and you will realise that travelling is your new favourite hobby. A lot of the trips are organised by the university and even the most confident person is going to be scared that nobody will want to sit next to them on the coach. When we went to Salamanca, I didn't know anybody on the trip, but going back I had 5 best friends with whom I hung around with a lot and that went to my first birthday away from home; and let me tell you that I am not the most extroverted person in the world.
I managed to organise a trip for my mum, cousin, a friend and I to go through 5 cities and 4 countries for only 500 euros each, which included absolutely everything (transport, food, accommodation, museum entrance and even presents). If you want to know how I did it, don't hesitate to look up my blog entries about London, Paris, Dublin, Bremen and Berlin, which were the cities that we visited. After a while, travelling will not be intimidating, moreover, each trip that you do will contribute to going on to plan future trips because discovering, overcoming and learning about other cultures will turn into a necessity for you.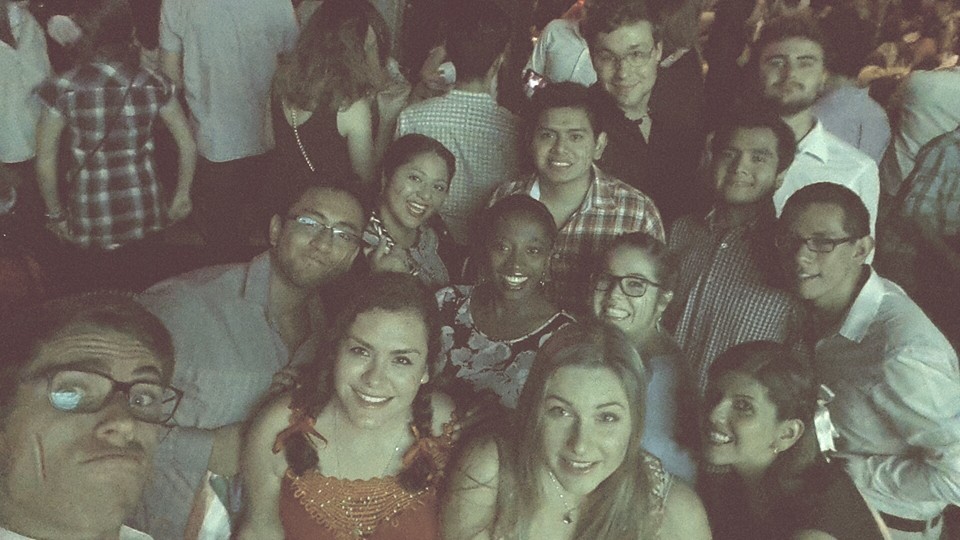 (Celebration of Mexico's Independence Day in Madrid. September, 2015)
The food
I am a proud Mexican and I have to admit that one of the most difficult things for me was the food. Not to show off, but Mexican food is the most delicious food that I have tried in the whole world and finding a place where they can match the seasoning is one of the hardest things. You will realise that a lot of "Mexican food" places have the concept wrong; you'll get excited when you see a restaurant called "El mariachi" and then get angry when you see that their idea of "tacos" includes pico de gallo and cream (a total abomination). You will jump from restaurant to restaurant until you find one which matches the taste, however, satisfying your cravings will not be at all cheap. Due to the above, you will realise that the famous kebabs will be your best friend for now, the spinning meat will be familiar and for a second your stomach will be happy. I don't think that you need to be Mexican to go through a similar kind of situation, since there is not food from our home countries which would taste the same when eating it elsewhere.
You are going to learn to cook a lot, and if you don't like that (like me) you will love the feeling when your new foreign friends ask you what Mexican food tastes like and they tell you that they want to try it. It will be at this moment when you start wholeheartedly searching recipes to satisfy their desires. They will also fill you up with food that you never knew existed and much less that you would end up liking.
At the start, you will feel a bit lost in the supermarket not knowing many of the fruits or products that are there, but with a bit of fear you will end up daring to try new foods little by little, and in the end you will wonder how you managed to live without these foods in your life for so long. In my case, I still miss tapas, tinto de verano and the Neapolitans with chocolate that were in every corner and that aren't here, even though I have looked for them everywhere.
But the hardest part of them all is going back home
When you get on the return plane, you remember the tears that were rolling down your cheeks on the way there, with lots of expectations, fears and with a broken heart due to missing your family. When you go back you don't know how you are going to survive knowing that it will take years to see your new friends again who were your family for so long. There's no doubt that more tears are shed on the way back than on the way there. Everything will make sense for you, you will realise how lucky you are and that the best medicine for any problem is travelling. You will be incredibly happy to see your family and to meet up with your old friends, you will be pleased when you are able to try the food that you had missed so much. However, there is something that nobody tells you, that days and months will pass and you will still feel like you haven't gone back completely because the truth is that you never go back, because you don't return back home as the same person that you were when you initially left.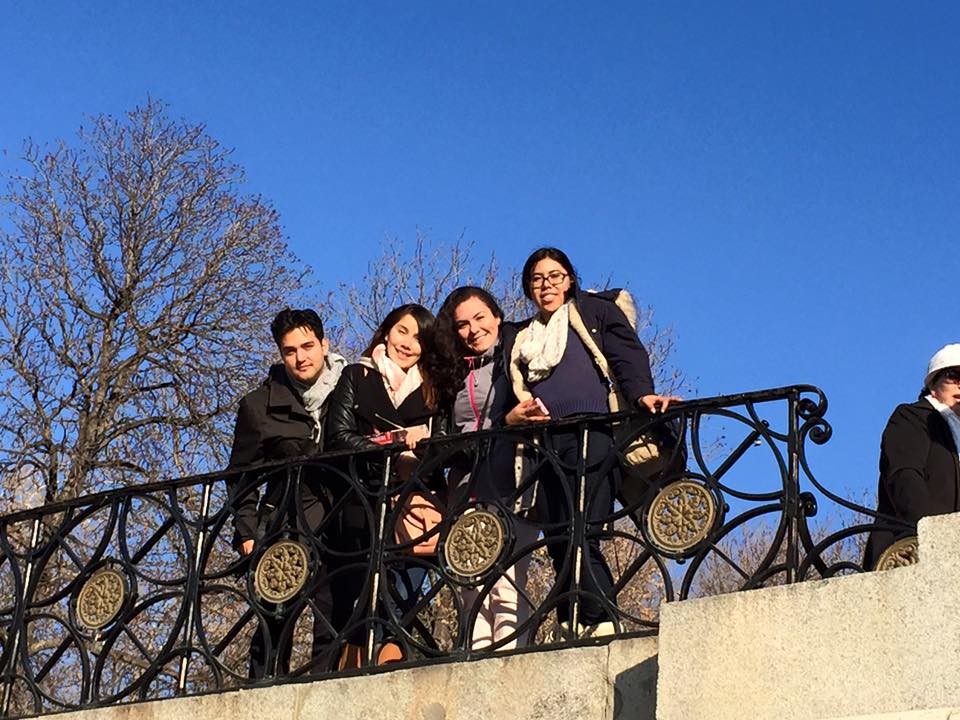 (Retiro Park, Madrid. December, 2015).
You will feel like you no longer fit in, that your friends are a little different, that your Mum and Dad are too, but the truth is that the person who now sees the world differently is you. A lot of us still hear the echo of the parties, of laughter, remember the parties in the party bus as if they were yesterday and a lot of us have to even go to a psychiatrist to realise that we are back, that we are no longer on the exchange. After a few months of sadness we start to get back on our feet, to work, but with an objective in mind: I need to do everything I can to go back there.
An exchange is an experience that every person should have, it is one of the most difficult and enriching experiences in your life, one of those "now or never" experiences because we are not working and we do not have children, because a lot of things are free or very cheap for students. Along the journey we go and learn everything, we overcome all of our fears, but there is one thing that everyone shares: the only thing that we didn't learn was how to go back home.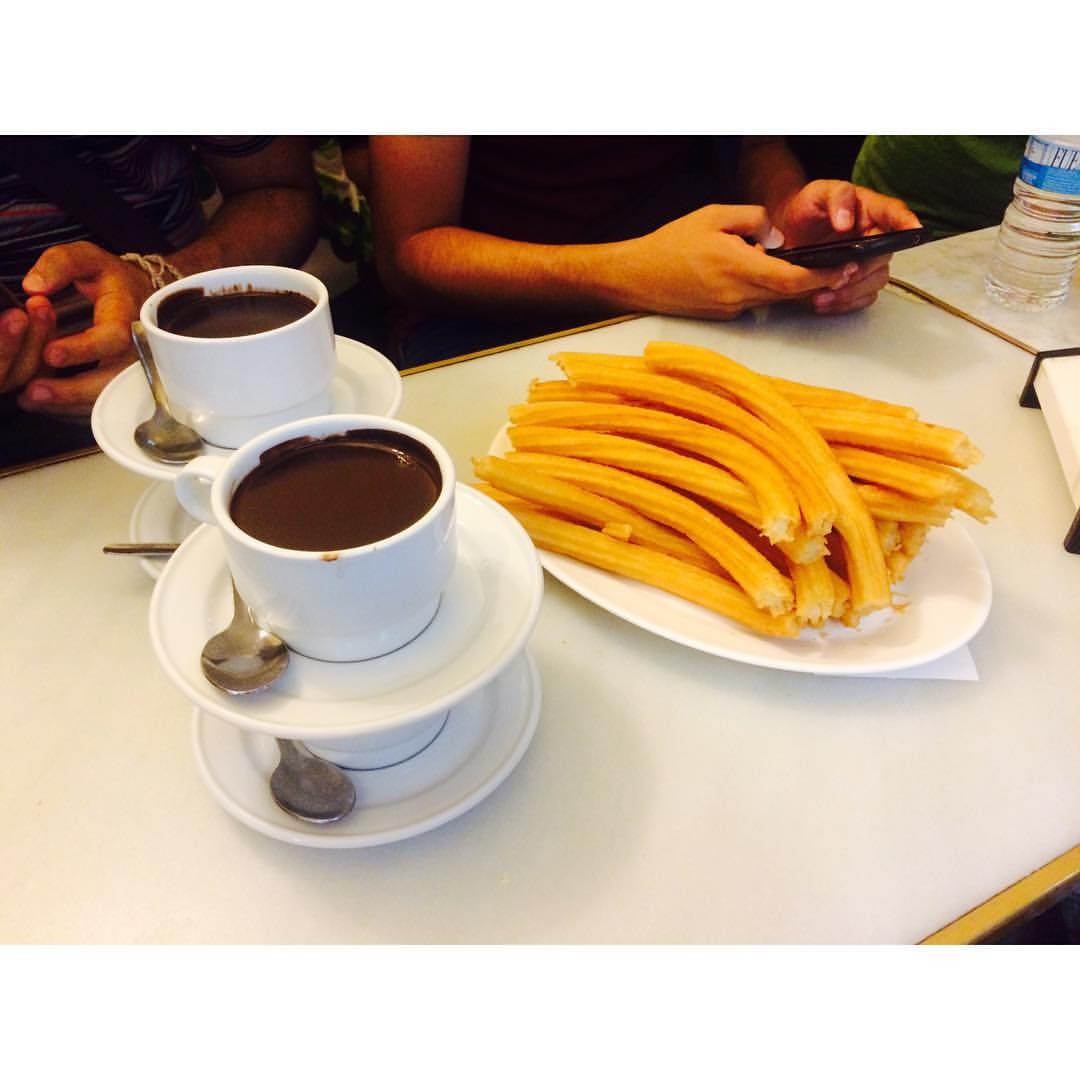 (Churrería San Ginés, Madrid. August, 2015).
This blog is dedicated to all of those who carry a little piece of my heart with them, for those who constantly dream that they were still there, dedicated to my family and dedicated to Madrid; the city that saw me grow in a way that I wouldn't have been able to if I had stayed in my home country.
---
Photo gallery
---
---
Content available in other languages
Want to have your own Erasmus blog?
If you are experiencing living abroad, you're an avid traveller or want to promote the city where you live... create your own blog and share your adventures!
I want to create my Erasmus blog! →