An abandoned village very close to Madrid
Hello everyone!
Today I'm going to talk about a very different place from all the others and one that I don't think everyone will like but I'm sure that if you do, you'll love it.
I'm really nerdy when it comes to abandoned things, things that are a bit scary, although they don't have to be. I find it really interesting when time passes and there's no one there to look after things.
I'm the typical person that sees some ruins or an abandoned house in the middle of the road or on the mountain and has the urgent need to go and have a look around for a while so when I heard about the existence of this place, I had to go and visit.
Oreja is a little village that is literally isolated, raised up on a mountain. Below is Colmenar de Oreja, the village that emerged when this one disappeared.
What most intrigues me when I see a place like this is thinking about why it's abandoned. Here, before telling you how my trip went, I'm going to talk about how it disappeared. I don't know the exact dates, but it wasn't too long ago that people left this place. Initially the location, at the top of the mountain, was a privileged place to have a village and castle that guarded it. However, with the years and advances, the place became obsolete. They didn't have water or light. They got the water from the river below and all the light they had came from candle lamps and when things advance and electricity arrived, the residents refused to pay the high amount that it would have cost to raise the cables up to them and they began to move down the mountain, both in Colmenar de Oreja and in Aranjuez, a village very close by.
From that moment the village began to be abandoned, apart from one day a year, the day of festivities for the village, which are still celebrated there.
Now I'm going to tell you how my trip and experience was.
First of all, the town is in Toledo, but only a few kilometres from Madrid, next to Aranjuez.
The only way to get there is by car and the last climb you have to do on foot. You even have to go past a private farm, but they'll be used to the flow of people, because, although it's not well known, quite a lot of people go to visit it.
You can reach the village and the castle from many different paths. We left the car on one of the ascents because we saw that it would be impossible to keep going on four wheels and we started to go up on foot. However, being up there we saw that off-roaders could get up there, so if you go with one of those you'll almost reach the castle.
The walk wasn't too hard or too long. The thing that stood out the most was that it is a climb without a single tree or shadow (it's used as a shooting range, so there are no obstacles of any kind on the whole road) and, if you go in Summer or when it's hot, it can get a bit difficult or tedious. (I don't think I need to say that the village doesn't have any tree shade or roofs that you can take shade under).
When you finally get to the village, the first thing you'll see are the ruins of two houses of which all is left is rubble and the occasional wall, they were probably for livestock, because there was no evidence of furniture. I don't know when they got there, but there are quite a few torn posters of the 2013-2014 Goya awards and I was told that they recorded some of them there, although I'm not sure which.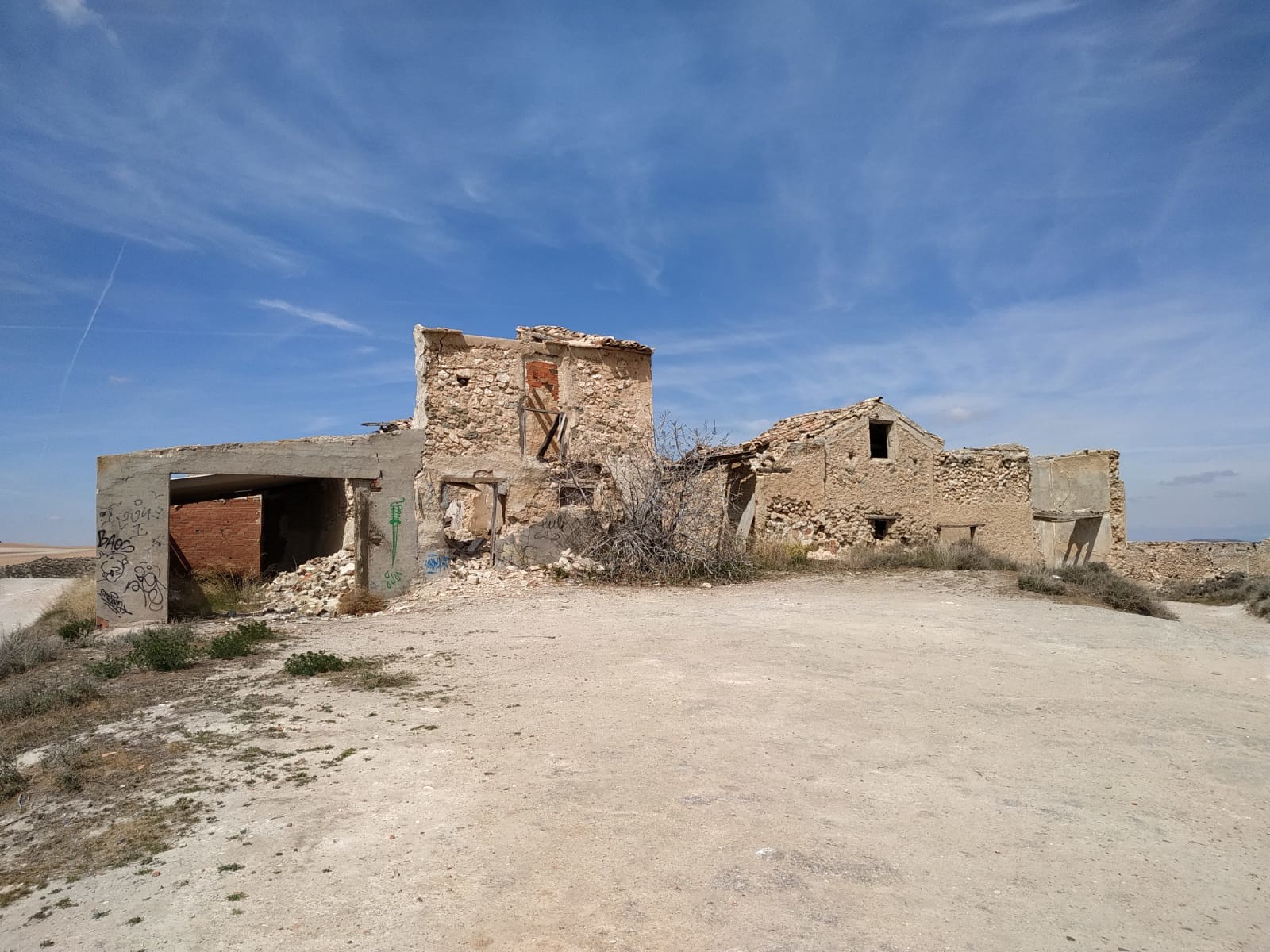 When you pass by these two ruins you'll get to what would be the main street (and only street). The first house that you see is destroyed just like the other two, but, from here, the rest have held up a lot better.
On both sides are the entrances to the houses. Luckily, all the walls are still standing, and even the second floor on some. The best thing is that none of the doors remain so you can go inside everything and discover everything inside. And me, as nosy as I am, went in each one door by door.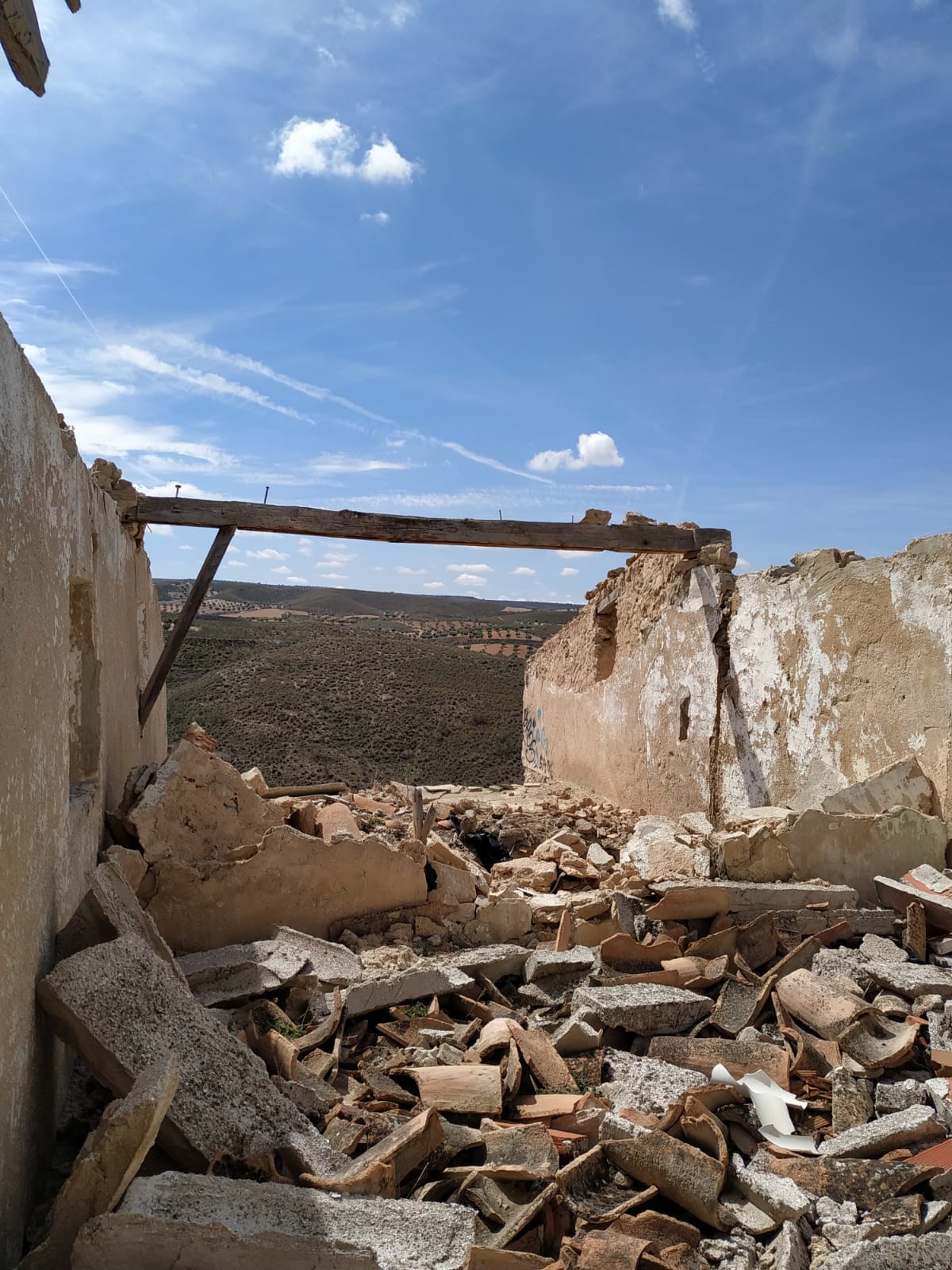 They are all low-rise houses, with at most two floors and an interior garden. One of them especially caught my attention because, as well as all of this, it had a large underground cellar that had been filled with rubbish over the years.
There's no furniture in any of the houses, only the structure and, in some cases, the chimney, given that it's attached to the wall, and what's more is that they've been used after having been abandoned as well.
They're not all in equal states of ruin, it wasn't possible in some to reach the second floor, but in others you could easily get up there to investigate.
Despite being abandoned for so long, there's hardly any graffiti on the walls. Only in one of the houses was there a few drawings on one of the bedroom walls, as if done with pencil, but they were quite interesting and good. If by chance there's a graffiti artist reading this, please, don't take advantage of this place as a blank canvas, it's quite well preserved and this would detract from its beauty. Some have even kept the tiles on the walls and floor, although others have had them ripped out and nothing remains.
As I've said they all have their own garden where the plants have taken over and in almost all you can reach the second floor from there.
The village isn't that big, I don't think there's more than ten houses and, once you've gone past them, you'll find a small chapel.
The chapel is in great condition, it's where they still celebrate the festivities of the village each year and for this reason they keep it closed off and you can't go in. It stands out by how well it's looked after in comparison with the rest of the village, full of rubbish, especially big water bottle (honestly there were so many).
Further on, if you leave the village behind, theres a narrow path that leads you to the castle, one of the structures that stands out the most. It's a short and narrow path, but for me it couldn't be and I went up the mountain to see the remains of the other buildings that there were. Some were literally built into the rock of the mountain, subterranean and I couldn't understand what function they would have had in their time, especially because they weren't exactly next to the houses of the village, but a bit more removed from them.
When you go past these structures you'll finally get to the castle. Only the structure remains of this building. You can enter it by going down some stairs that are pretty much intact and you'll arrive at the hollow interior, nothing remains of the castle now. There are also some stairs that go up to the top, but I really don't recommend that you try and climb them. They're in total ruin and, because the interior is hollow and there aren't different floors, they don't go anywhere. They looked dangerous, even to me.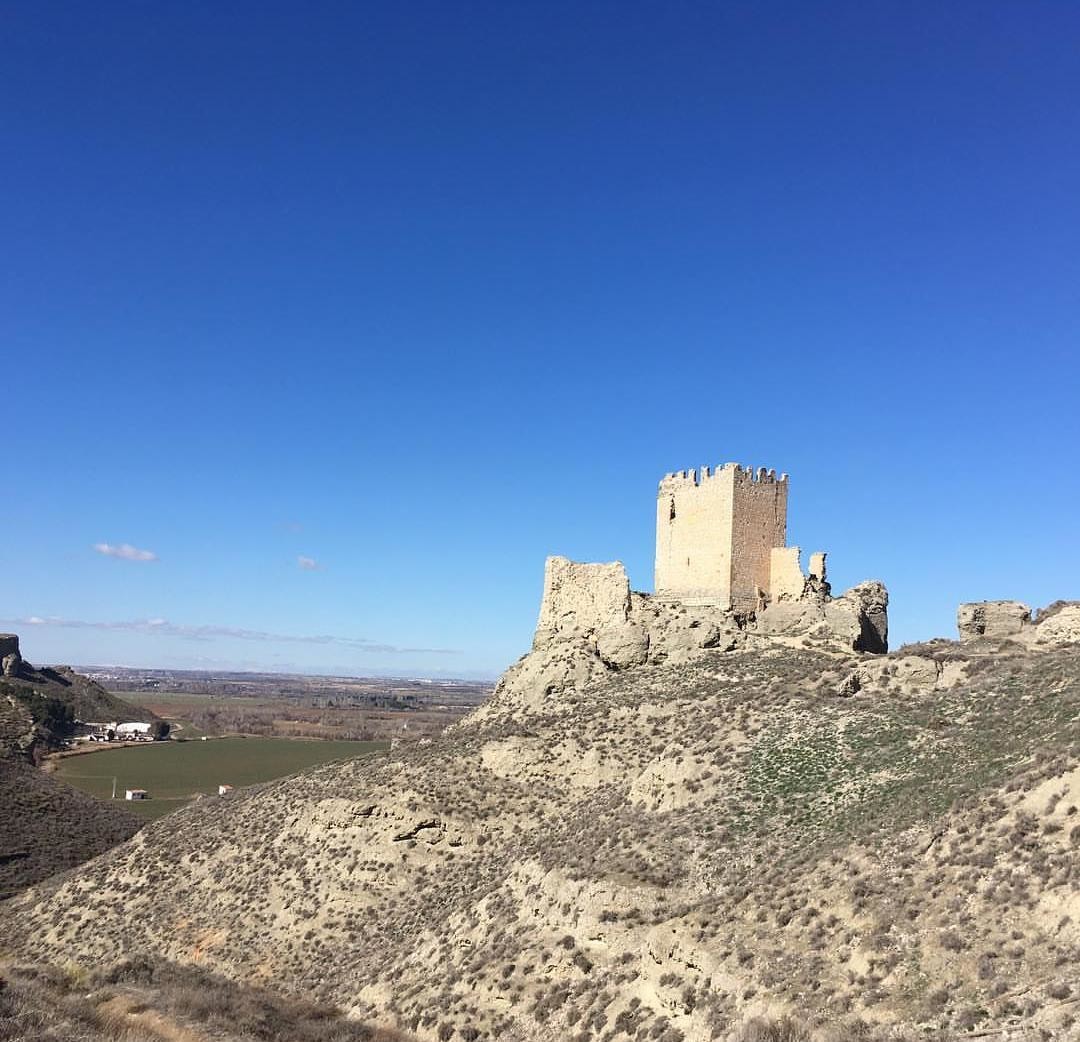 From here, the views are spectacular, you can see all of the private farm and all the different coloured crops and in the distance you can even see a bit of Aranjuez. The views are incredible, the fall as well, especially keeping in mind that there's no type of security, there are even some massive holes in the floor that would be impossible to get out from. So, if you go, be very careful where you walk and keep an eye open.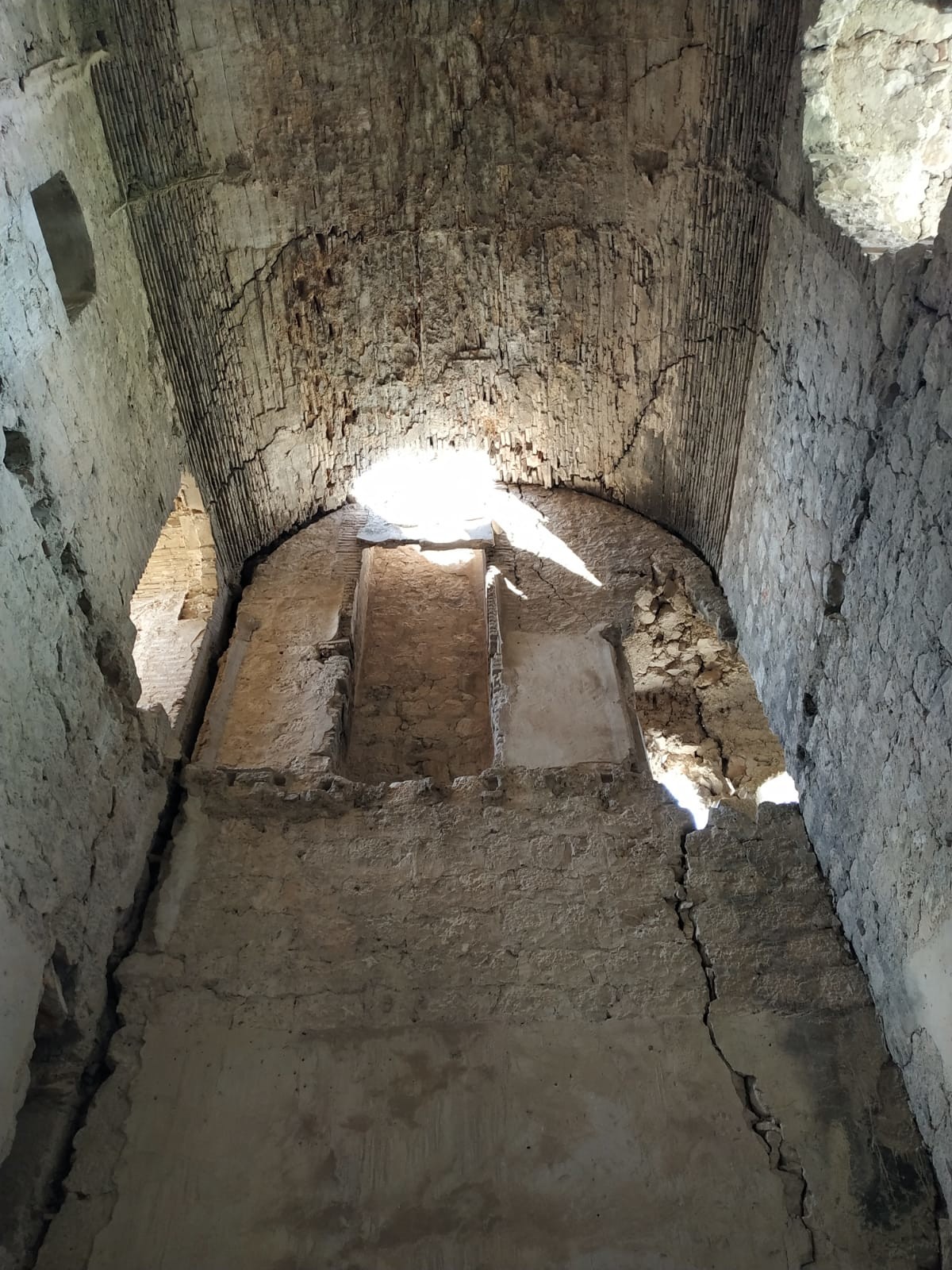 This being the case, if it's a hot day, this would be the best place to stop and rest. It's very airy and comfortable. For me, we made the most of sitting and eating in the shadow of the castle.
To get back, we didn't need to go back the same way. Like I said, there are lots of paths to take to get up there, although if you go down the same way you'll find it easier to get back to your car.
Like I've already said, the village is really close to Aranjuez, so if your visit has been too short or if you want to stop for a drink or do some sightseeing (a bit more conventional), you could go and spend some time there. I'll soon tell you what you can do there in another post.
If you like this type of thing and these types of places, in my opinion it's one of the best places I know of, especially because it's an entire village and not just one or two buildings. So, if you have the opportunity, I encourage you to come and, if you know of a similar place, let me know so that I can visit it too and write about it later.
I hope you've enjoyed the read.
Thanks for reading!
---
Photo gallery
---
---
Content available in other languages
Want to have your own Erasmus blog?
If you are experiencing living abroad, you're an avid traveller or want to promote the city where you live... create your own blog and share your adventures!
I want to create my Erasmus blog! →