Why you should visit Ribadeo
Why you should visit Ribadeo
Hello everyone! I wanted to start the first post by talking about Galicia, since today I am going to tell you about a getaway that I went on in January 2019, right at the start of the year, to the North of Galicia. I really wanted to visit this area of Galicia, unexplored and unknown by me, except for a few places that I could count on my fingers that I had visited when I was little. We went by car and we decided to spend a night in Ribadeo. This is why today I am going to tell you about the places that you can visit in this area which is surrounded by the Cantabrico sea, both in the city and in the surrounding nature. I hope that you like them and let's get started!
Ribadeo
Restaurants and bars
We honestly visited Ribadeos without many expectations. We just decided to stay there to sleep because it was nearby to the places that we wanted to visit the next day, such as Playa de las Catedrales. We got there at around 8pm in the afternoon and it was already nighttime. As we didn't have any idea where to have dinner or where to go, we decided to meet up with a friend from university who lived there so that she could give us a tour. We were walking around the historic quarter of Ribadeo, but as it was nighttime, she recommended that we visit it in the morning to be able to see the Indian houses. Then, we went for dinner.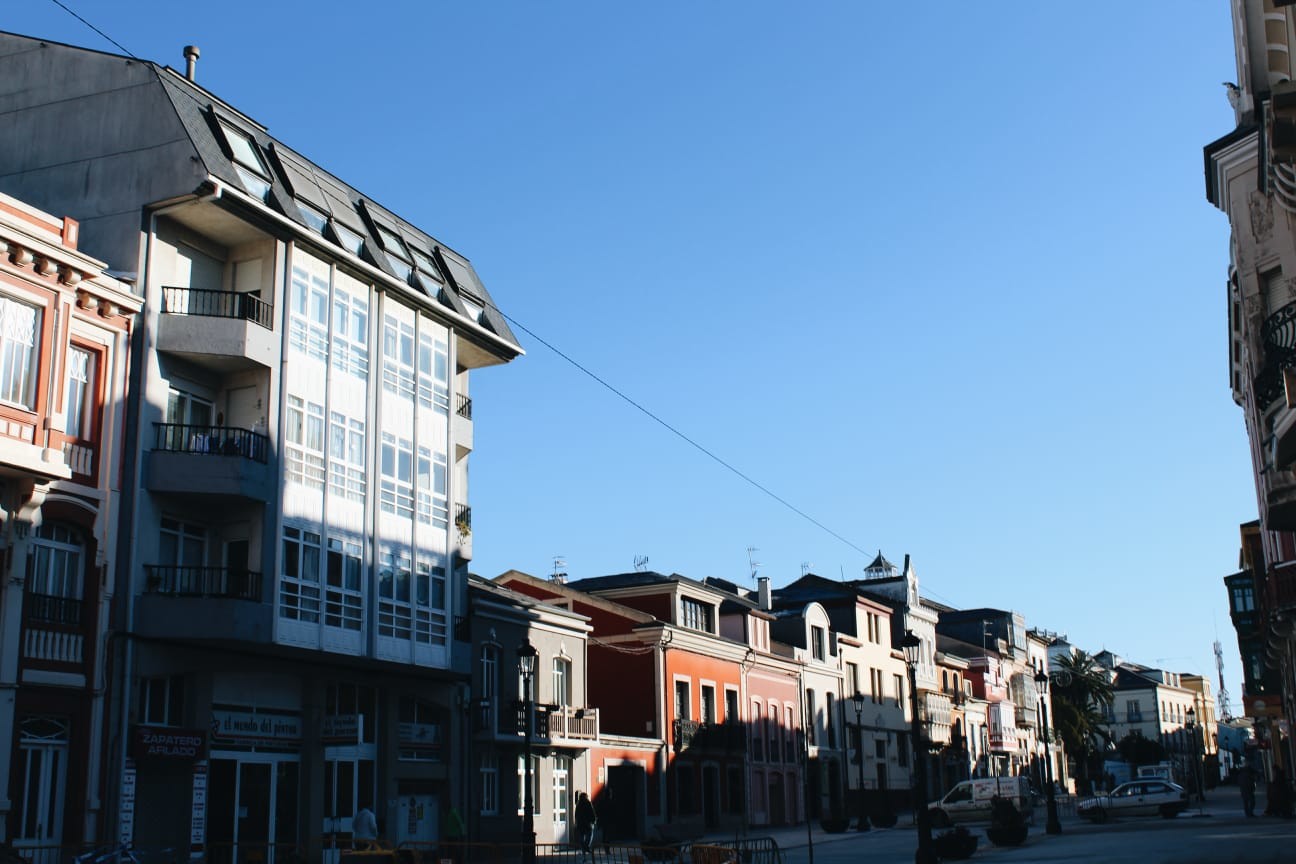 We went to a restaurant which was called O Indiano where we had several tapas, between them one sirloin steak and a whole salad. The atmosphere really surprised us because it was full of people as if it were a special day or something. After dinner, we went to have a drink at a pub called Cienfuegos which I also recommend. I will say it again but this place was packed with people and this kept surprising us because Ribadeo isn't very big and we didn't expect this kind of atmosphere. In fact, our town, Bueu, has 5,000 more habitants than Ribadeo and it is only ever this full three times per year: New Years Eve, New Years Day and for carnaval. Therefore, if you like this kind of vibe, it is worth visiting Ribadeo in the evening. It has a great atmosphere.
As for the accommodation, we stayed in Hotel Rolle, which was located on a really narrow street. The room was quite big and it was fit with wifi and a TV, even though we never watched it. The bathroom was quite big with a shower. In the morning, we had breakfast which was included and there were several options: crossaint, toast with olive oil or tomato and coffee. It lacked some fruit but it was still quite good.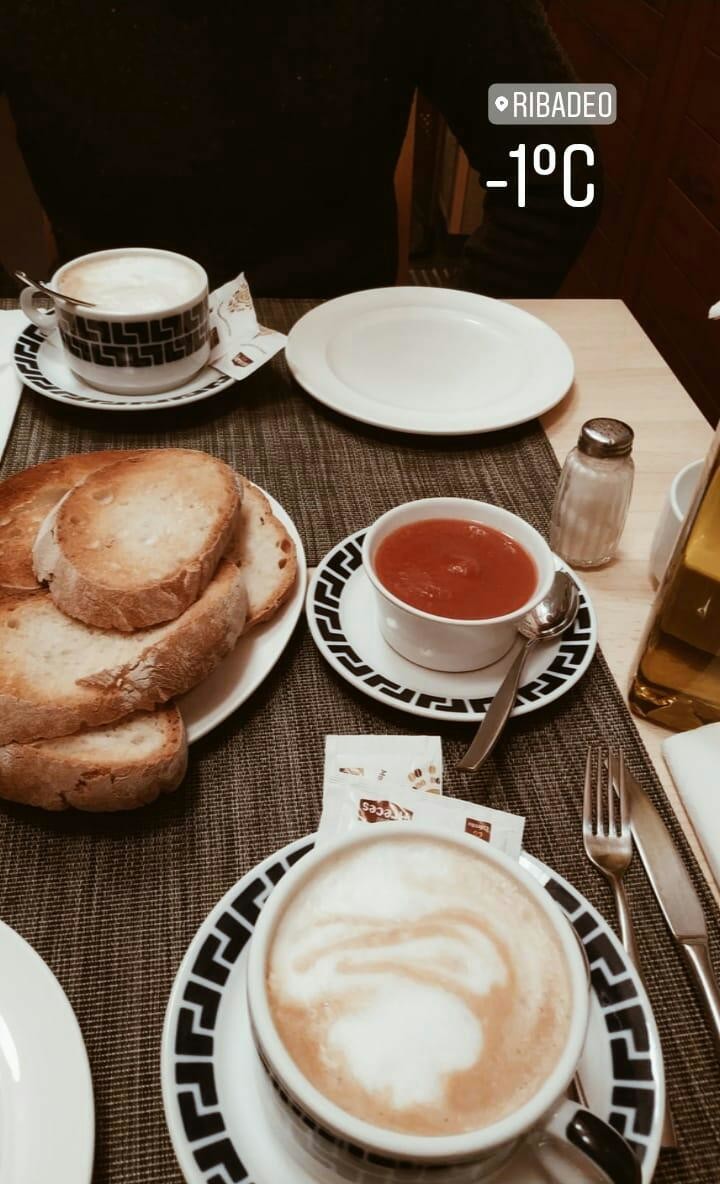 Visit the historic district
Route of the historic district
When we neared the old quarter, we could see the famous Indian houses whose architecture most certainly stood out from the others. These houses hide the history of migration behind them. Like a lot of other Galicians, the Ribadeo locals decided to leave home to have a better future and thus, emigrated to different countries in Latin America. Some immigrants decided to stay in the continent since they had their new life there and were already settles. However, others decided to go back home, with all of their riches; to show off their wealth, they decided to build these attractive houses. These houses don't only reflect a more modern style of architecture, but they also represent the boom and economic success of the people that came back from America.
So, you can go on the route of Indian houses through Ribadeo. As a consequence, quite common in lots of Galician families, lots of citizens who are in Ribadeo still have, today, family members who are on the other side of the pond. Here is a photo of one of the most significant Indian houses, along with the famous Moreno Tower. We visited the historic quarter the following morning after checking out of the hostel, since the day before we could barely see anything because it was nighttime.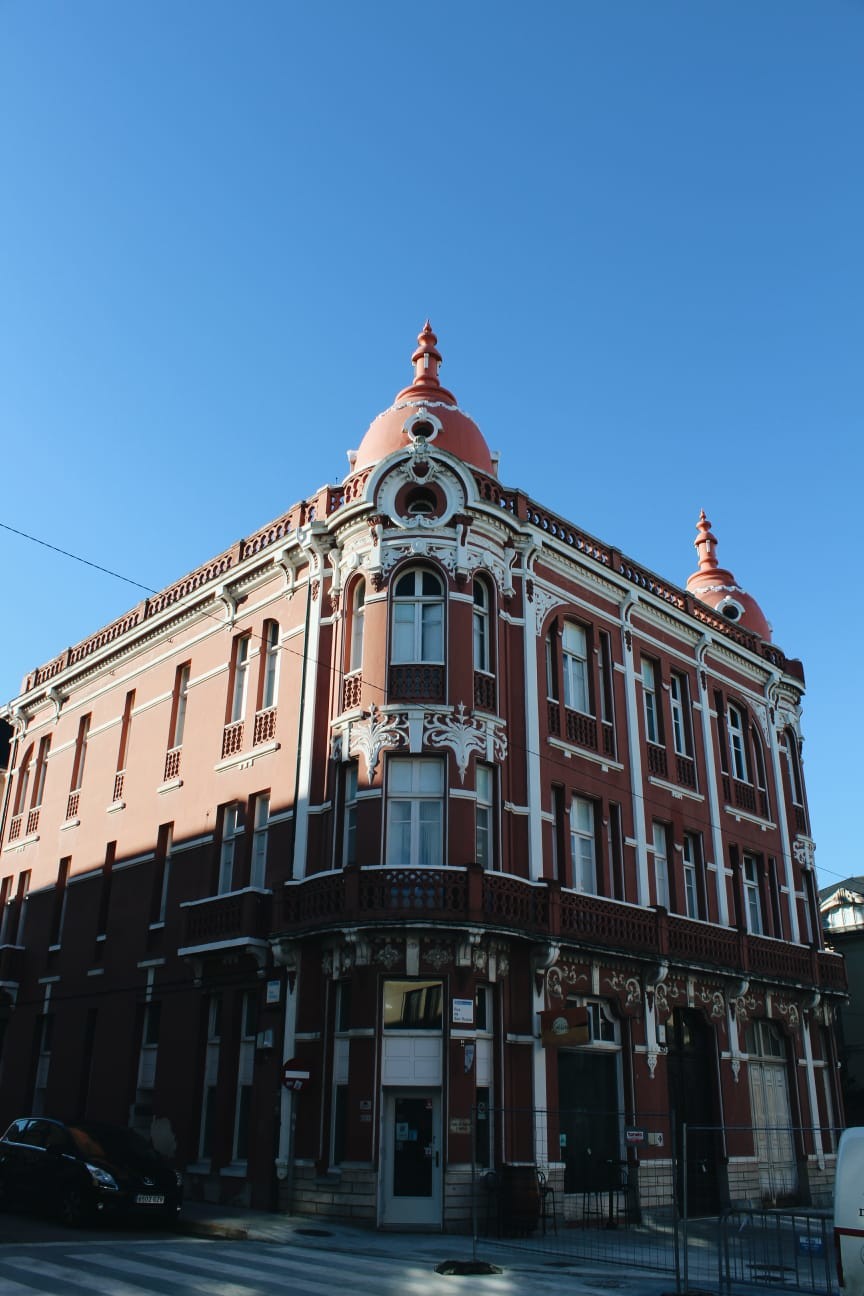 The nature of the Cantabrian Sea
Visit Illa Pancha
For me this area is one of the prettiest ones in Ribadeo. It is quite near to the centre and even though you can walk there, along the coast, we decided to go there by car. This tiny island is the perfect place to admire the sea. It is connected by a bridge, which unfortunately was closed when we went there so we couldn't go to the lighthouse which is located on one end of the island. In this place, not only the island itself is pretty, but all of the surrounding nature too. Near to the island there are small beaches and coves which must be great to sunbathe and go swimming in.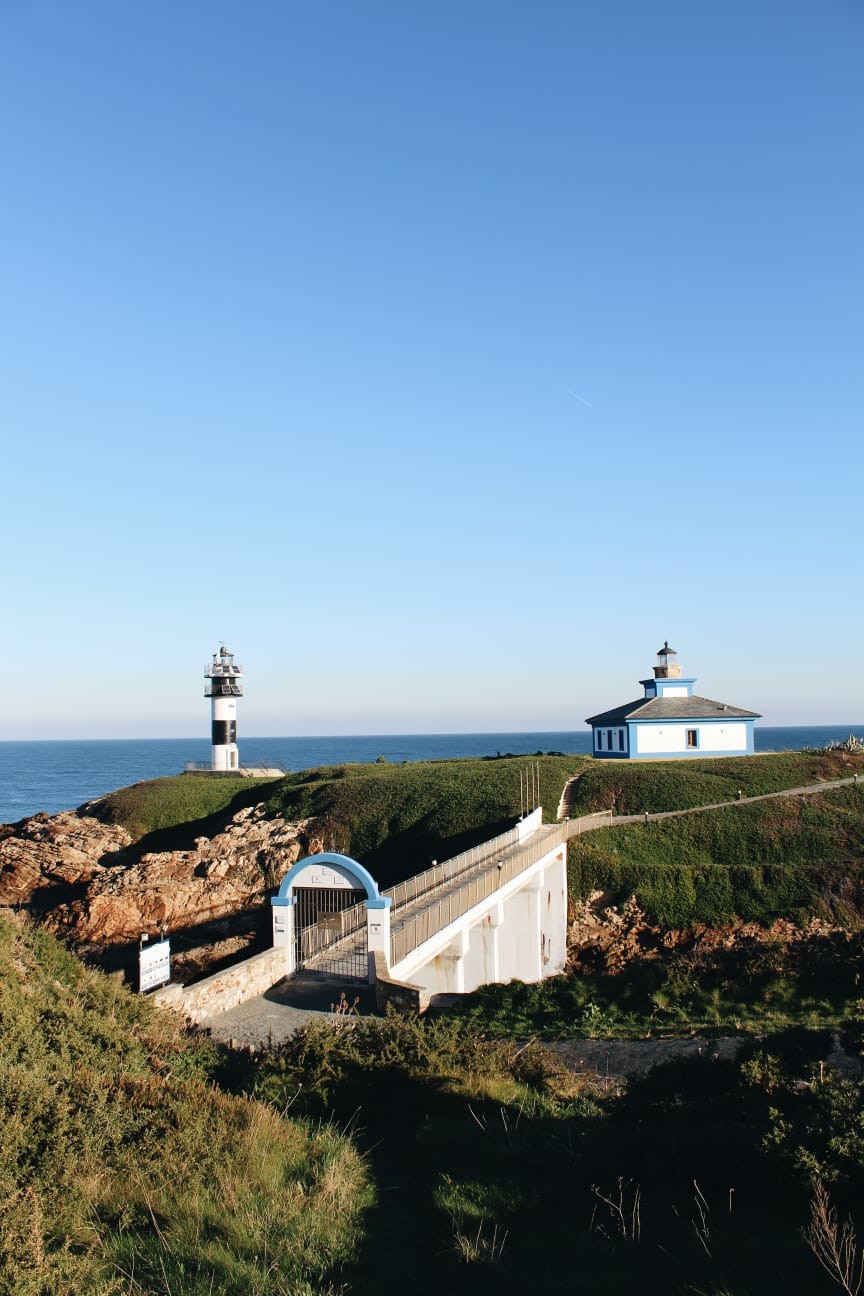 When we went, it was right in the middle of winter and everything was an intense green colour; along with the steep cliffs in the surroundings, it created a beautiful marine landscape. That day it was quite windy so the waves were breaking with quite a lot of force. As an interesting fact, the Illa Pancha lighthouse is now used as a hotel. I imagine that by paying a higher price you would be able to enjoy waking up to sea views.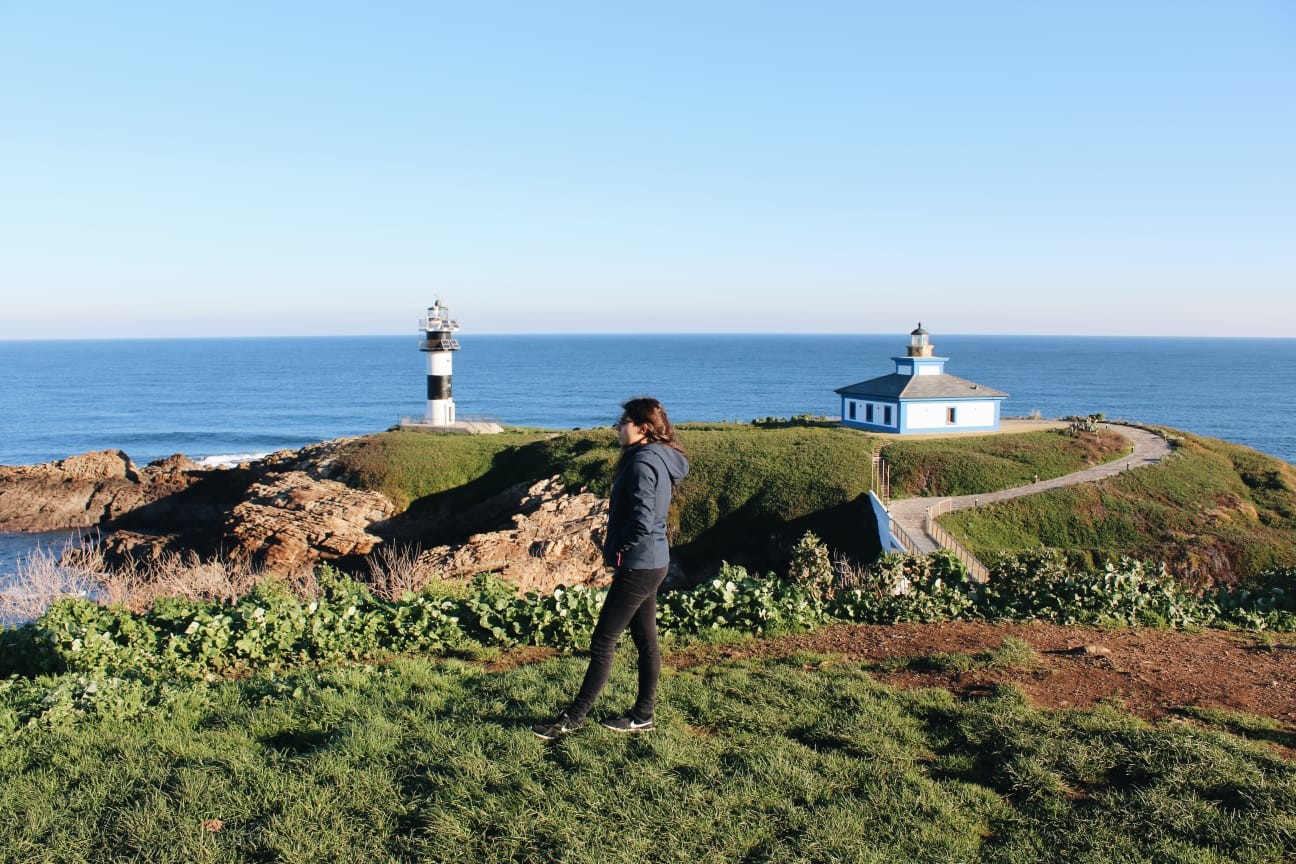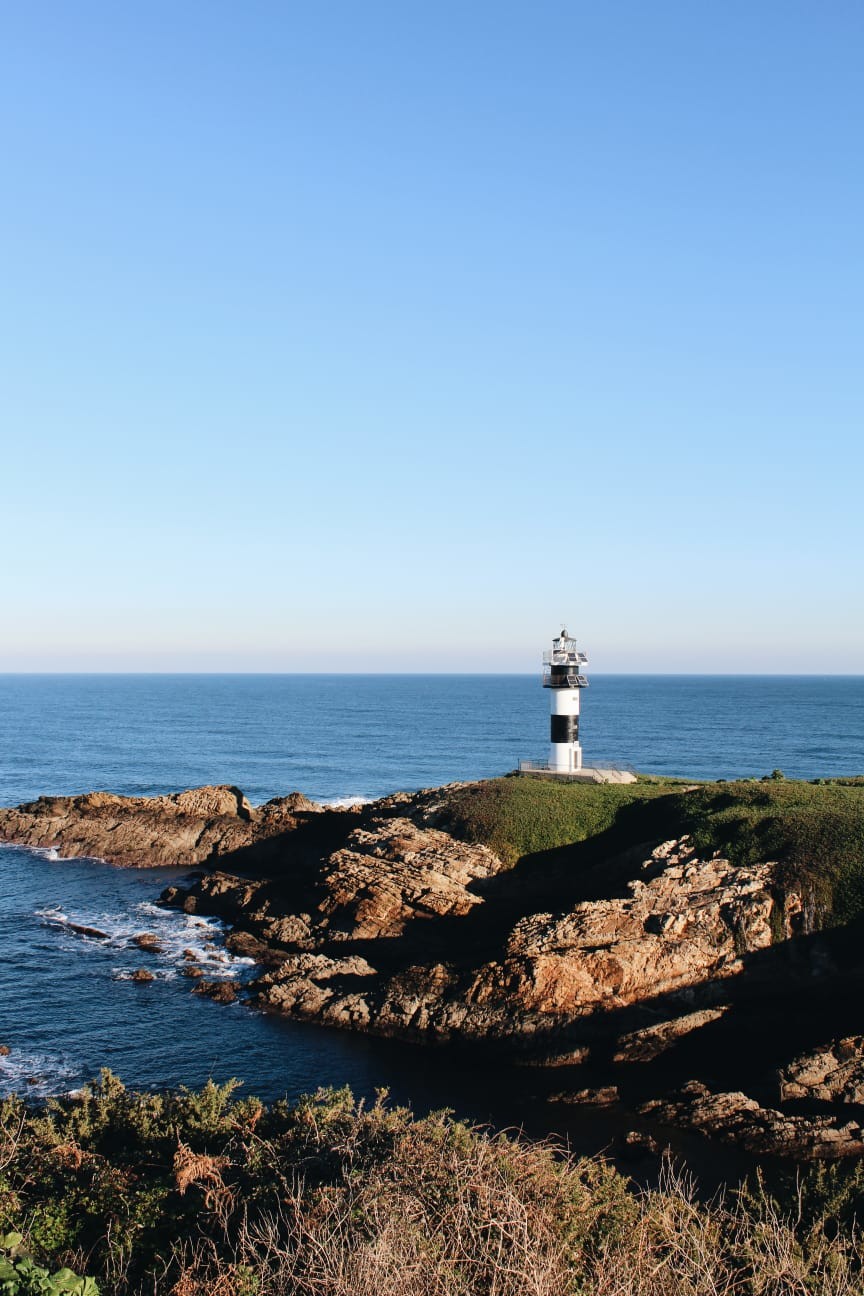 Playa de las Catedrales
Most definitely the jewel of Ribadeo. It is one of the most famous places in all of Galicia and thus, in the summer it is full of tourists. The first thing that you have to know about the Playa de Catedrales is that you have to take the tide into account to be able to visit it. I recommend you looking up the tide timings on the internet, as we did, so that you can go there when the tide is low so that you can walk along the beach. However, if the tide is high, it covers the whole beach and you can only see the rocks from the top of the cliffs. It is equally amazing but being able to walk peacefully along the beach is a lot better.
We went very early, we woke up super early and we were there at 8am. Not even the sun lit up some parts of the beach. The tide was low and there were no more than 2 people who soon after left, so we had the beach completely to ourselves. Here I'll show you some photos that I took that day.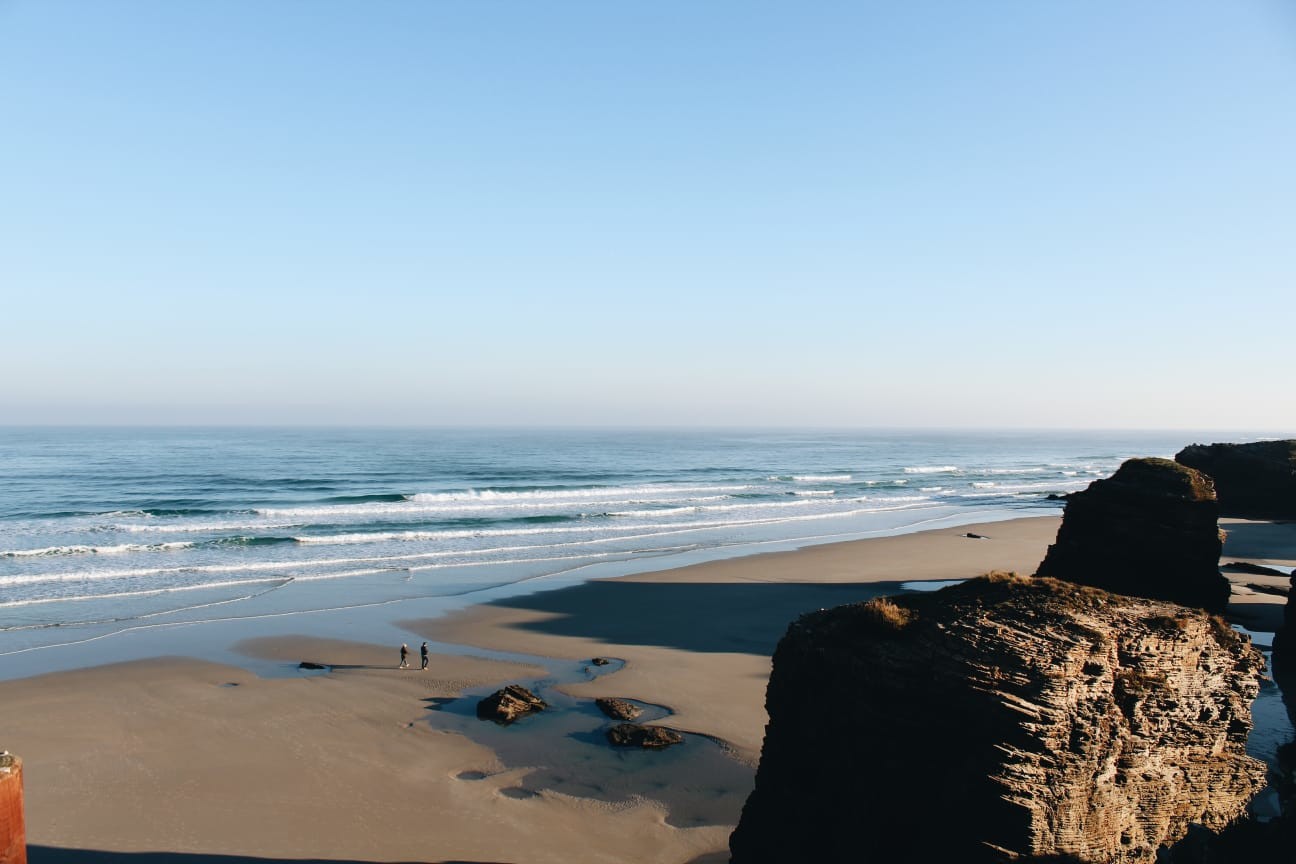 To access the beach, there are some stairs and you have to respect this access point, since any other way is forbidden and it is likely you will end up receiving a fine. In fact, you can't go around the whole area which is near the cliffs, which is a shame, since I really wanted to be close to them to be able to have different views.
As you can see, the rocks that make up this beach are what makes it special and unique. These rocks have been impacted over time by th sea which is what has given them such a unique shape today. The continuous erosion from the sea is what causes them to form these rocky arches. In fact, this beach is called Playa de las Catedrales due to the rock arches, which are really similar to the gothic architecture style of the cathedral. Most definitely, these arcs are the most incredible thing about the beach, since some reach up to 30 metres high. However, be careful going under them since last year, unfortunately a girl died since a stone came down and hit her head and led to her dying. Thus, the beach and the rocks which make it up are in danger of falling, so it is better to be cautious.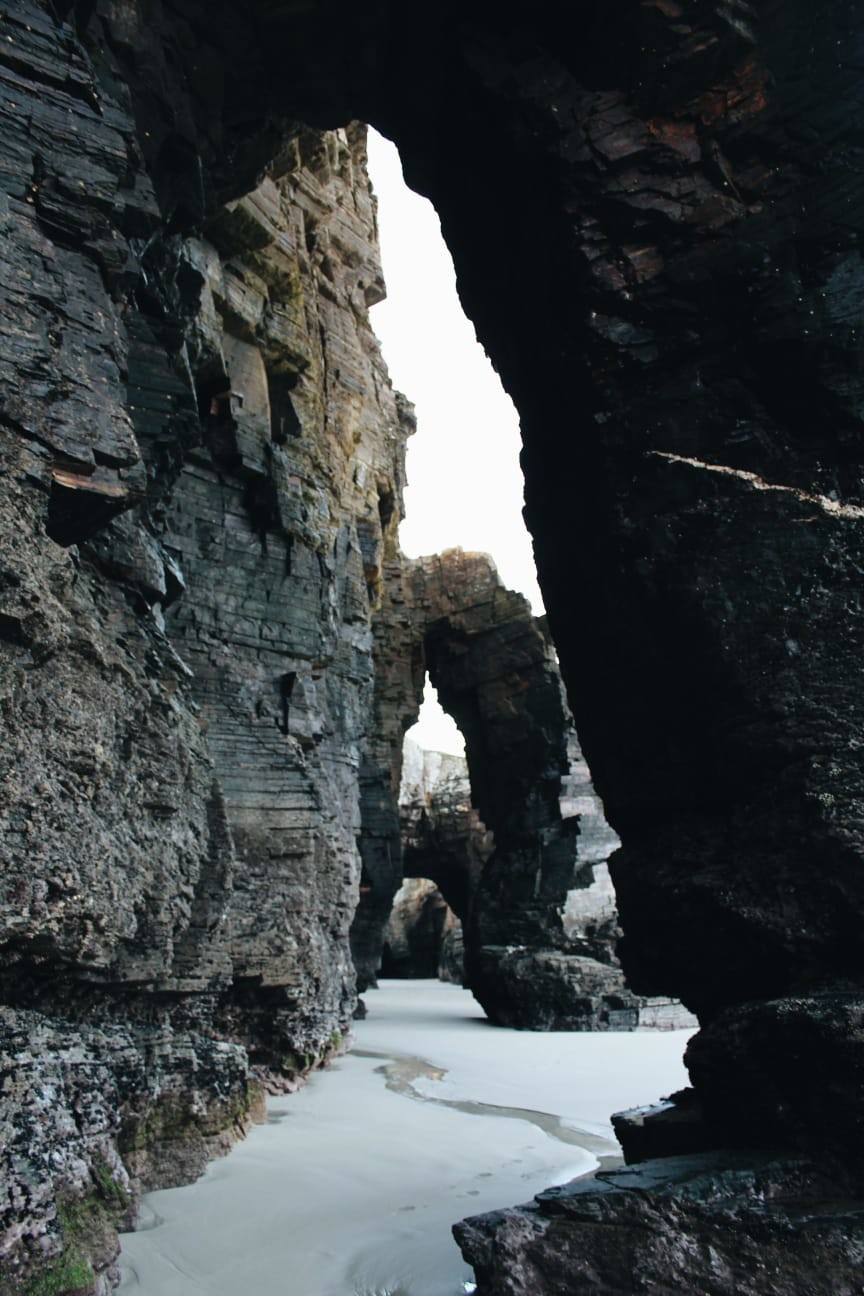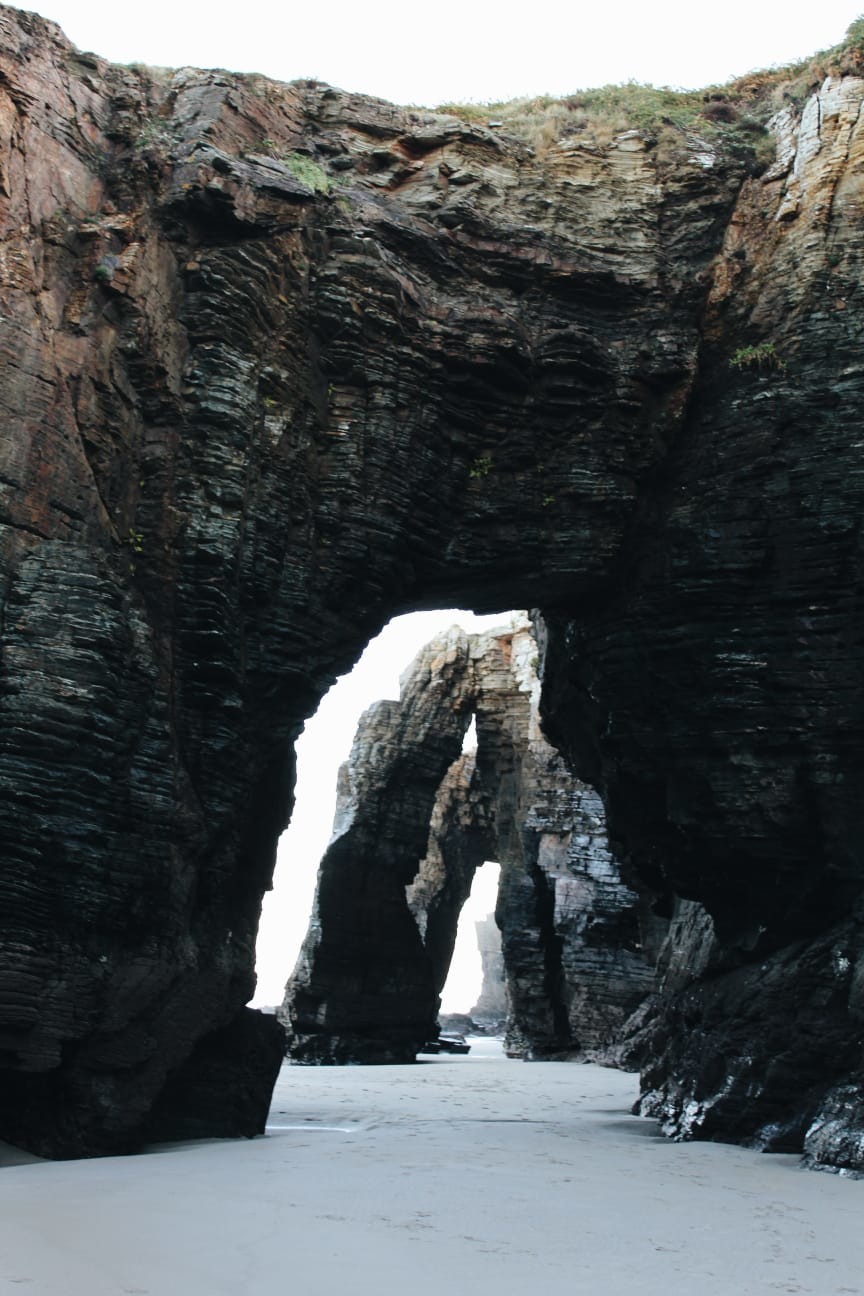 As I was telling you, we were really lucky since we were able to enjoy this beach on our own. In recent years it has got so famous that the Galician council has limited its access at certain times of year, like they did with the Cies Island. Therefore, I know that there is a visitor limit per day during certain months, so if you want to see this marvel of nature, it is better that you check whether you will need to get permission and how in advance you need to do that.
We were there for an hour and a half admiring this landscape and we were walking along the beach, which is enormous, since it is around 1.5km long. Also, its sand is fine and hard, which makes it perfect for walking on for an extended period of time, which I like.
One of its most famous arcs is the one that I will put here, whose shape is practically perfect, it looks as if it is handmade. In short, go around the crevices, exploring the caves and going under these arcs can be one of the most enriching experiences of Galician nature. I don't think that anyone won't feel overwhelmed and surprised by this landscape, honestly.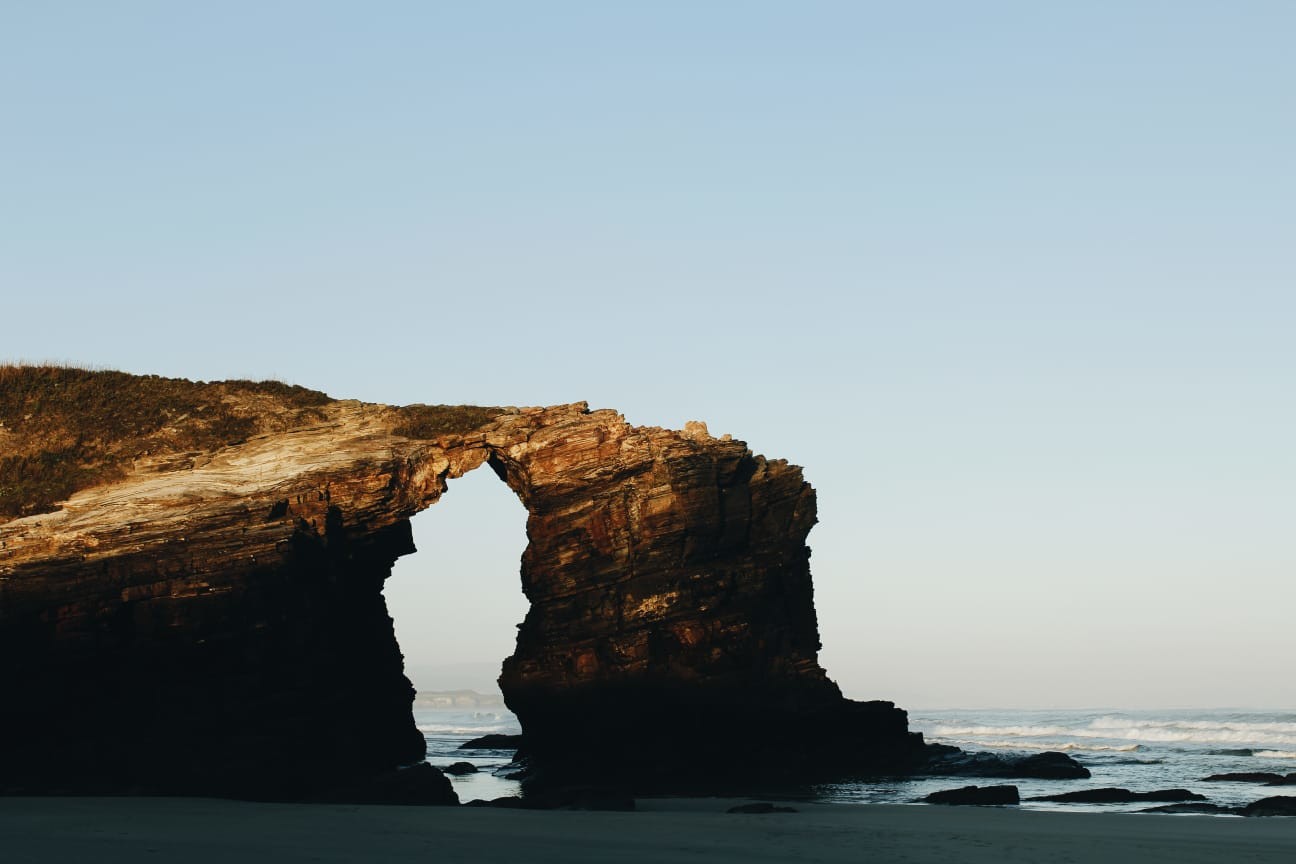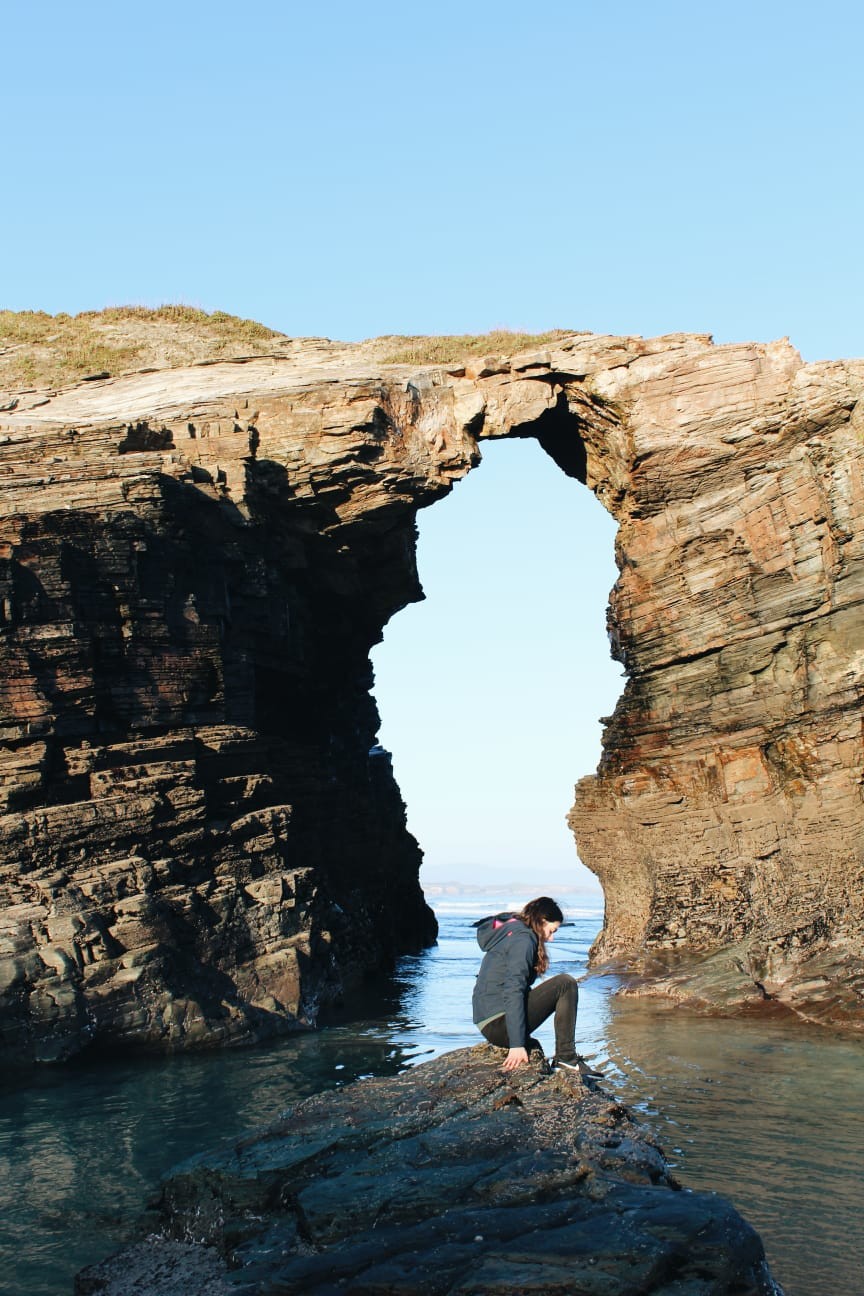 In conclusion, there is no doubt that this is one of the most original and surprising Galician landscapes! If you live in Galicia, you must definitely have to visit.
And this is the end of the post, I hope that you have liked all of these places in Ribadeo, bathed by the Cantabrian sea. I have combined the urban with nature, which is the perfect combination in my opinion. I will read your recommendations in the comments for future trips and visits. I hope that you have liked this first post and I will see you for the next one. Thank you for reading until the end.
---
Photo gallery
---
---
Content available in other languages
Want to have your own Erasmus blog?
If you are experiencing living abroad, you're an avid traveller or want to promote the city where you live... create your own blog and share your adventures!
I want to create my Erasmus blog! →