London calling: Markets
In this post, I'm going to concentrate on one of the most famous and diverse tourist attractions in London: the markets.
Brick Lane: The market in Brick Lane is perhaps beforehand less well-known, but it's right next to Shoreditch, and is up and coming. It's in the borough of Tower Hamlets. Despite this, it's been around for nearly 400 years, and you can find everything there, from fast food stalls to antique stalls.
Something peculiar about this place is the excessive number of Indian restaurants, where you'll find many reps standing at the doors trying to entice you to go inside, telling you about "special" offers you can get if you go in with them. We have to remember that this is the Bangladeshi area, so the large influx of people coming from that community is not incidental. Right at the entrance to the market, you can see the original sign on the walls, which give it life as well as contributing to the breath of fresh air that this borough has experienced for decades.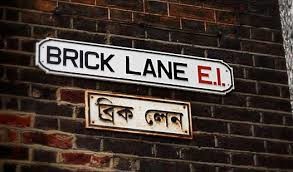 This market can be divided into two: While in the Blackmarket you can find antique stalls and second-hand stalls, in the Upmarket you can find the food and clothes stalls.
One of the things I liked most about this market was the diversity of cultures. And yes, London in itself is diverse in cultures, but I mean the different styles and fashions. In the porches of many houses, it's common to see African-American people playing cards with Indian or Asian people on sofas hardly anyone would want in their living rooms. In general, it's a theme which is common among markets in the city, although in some of them like in the Borough market, they only have food stalls.
At the same time, I would highlight that they have vintage clothes shops where you pay by the kilo, which in comparison to other places, they seemed much cheaper in this market (maybe because it's not such a famous tourist attraction). Despite this, you can also find a number of "mainstream" shops like Abercrombie and Fitch or Nike, and others. The best day to really appreciate this place is on a Sunday, because that's when the market is here.
Portobello: The Portobello market is the most heard of in the city, after Camden Town. I must say that I went there on a weekday, so perhaps I might not have seen what it really has to offer. This market usually has street stalls and it's always packed with visitors.
The main attraction of this market is the antique stalls. As a general norm, the types of stalls which dominate are the ones with objects like coins, old notes, dolls, books and even medals or war memorabilia. The main market takes place on a Saturday morning, so for the rest of the week, you will only see the shops and maybe a small souvenir stall.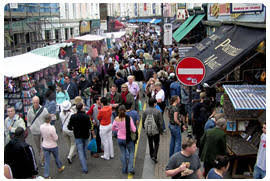 Landgrove Road, the street which I could not exactly tell you how long it is, but I can assure you that you'll tire yourself out by trying to find the end; has many big brand shops amongst others, such as Nike and others which I can't quote because it sounded like Chinese to me. I got the feeling that they were very unique (you'll see that they come at a very high price). For those who are looking to indulge themselves in the shops, I recommend going into one of the vintage shops, because generally speaking, you'll find something quite original.
As well as the shops I've mentioned, I would also like to talk about the permanent food stalls you can find (mainly at the entrance, at the beginning of the street). Despite this, on market days you can usually find all kinds of food stalls, although not as many as in other markets in the city.
From my personal experience, I would recommend only going to Portobello on a Saturday to be able to see everything in all its splendour. If you go on a weekday (which is what I did), you run the risk of being disappointed.
Camden Town: and finally, we come to the crown jewel of all markets in London. The market in Camden Town is one of the most well-known, not only on a European scale, but a worldwide scale. I can assure you that every step you take, you'll discover something new. I will try to summarise what it has to offer as much as I can but taking into account that it's one of my favourite areas in London, perhaps I'll go on for more than I should.
To get there, the closest metro station is Camden Town, on the Northern line; although there are many bus routes which will take you there too.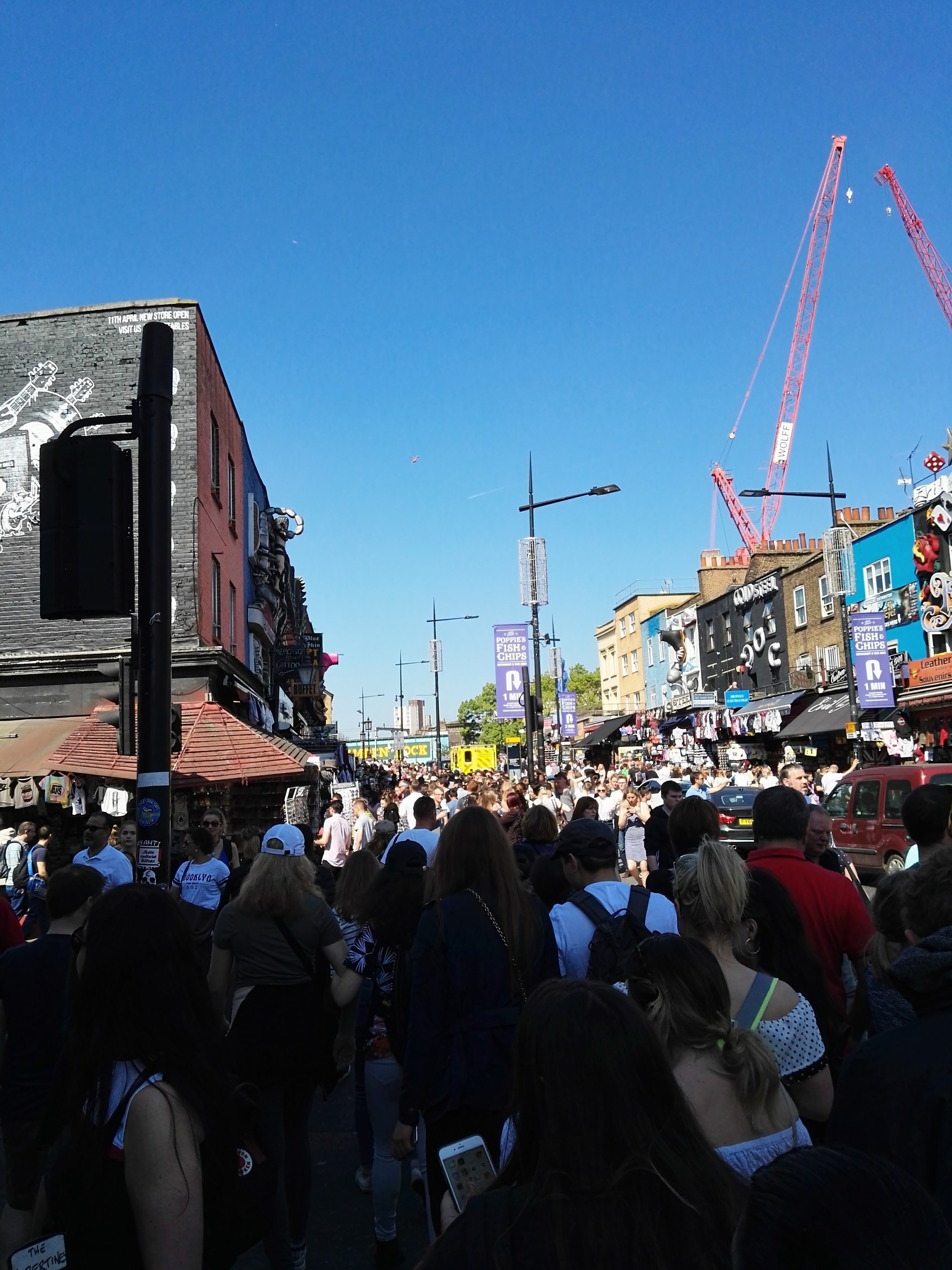 From the metro exit, the first thing you'll start to see will be well-known clothes shops (like JD or Footlocker, among others), as well as things like cash converters where you can buy and sell gold and electronic devices, and money-exchange offices. The first thing which surprised me was the influx of people as soon as you get off the metro and onto the street, which gave me a rough idea of what to be expected in the market.
After all the shops, you'll start to see the buildings you see on postcards and photos of the city: Facades with drawings, bright colours or even figures or piercings. This is by far the most popular destination to get a tattoo or piercing for any Londoner, although it's also popular amongst the foreigners too (including myself). I must say that, although you can't rely on it 100%, the fact that a tattoo parlour is normally a hair salon too, doesn't mean that they're going to do a sloppy job, it's only because the rent is so high in this area, they decide to team up and split the rent.
In my case, we went to find out how much it would roughly cost to have a tattoo done and honestly, it didn't seem too expensive (40 pounds for one and 60 pounds for two). In fact, my best friend decided to have two done because in Spain she hasn't found any studio which would do a small design.
Following on from this, you'll find clothes and souvenir stalls mixed with food stalls. Haggling is something very common in these markets, and if it helps at all, my trick was to get close to someone who was haggling the price down a lot so then after I would have been made the same deal. It was for the famous Fjällräven Kanken rucksacks, and while in Spain the minimum price is 80 euros, in the market we got one for 25 pounds (around 32 euros). And in the same way, we got many other things: Vans hats, Oxford or Cambridge University hoodies and I could go on for ages...
When you've got through the clothes market (in which we found a few huts and food stalls), you'll get to a square full of food from around the world (Indonesia, Thailand, Italy, China, Japan, India and many more), which I must say made it impossible to find some Fish and Chips. The food tends to be quite expensive to be just street food, although I'll give you a little tip: as the day goes on, the prices seem to go down. At one point we were able to buy a tray of Italian pesto pasta for 2 pounds 50, and I don't know if the price is influencing me to say this but, it was the second best pasta I have ever tried (the best is from la Tagliatella (a restaurant) and you can't really beat that). In addition to food, there's a section with cakes, desserts and juices.
Next, we came to a kind of old building which belongs to the market, where you can find photos and paintings done by their sellers, most of the time. There's a large number of vinyl records, like old disks and even fortune tellers reading your palm (some even speak Spanish).
Once you're finished with that part, you'll see how the old barns and stables were converted into shops of all kinds: from oriental lamps to anime or manga, and not forgetting about the very common vintage clothes shops.
At the end of this part, you'll come across what I would say is one of the most special things: The statue of Amy Winehouse. Lots of tourists make tribute to her by wearing her bracelets and even leaving flowers there, and it's usual to find an authentic altar around it. A few steps further, you'll find the original Cyberdog shop. At the entrance, there are two enormous silver robots, one on each side, and many people know it as the "fluorescent shop". They even have some Go-go girls dancing on the main floor and a sex shop on the ground floor, and it seems like an endless labyrinth (I discovered this place the third time I visited). At the exit, you'll see some Rock or Pop groups singing in a kind of garden with makeshift hammocks, and next to them there are some wooden tables where you find people at lunchtime. And before I finish, I couldn't end my summary without talking about the street performances throughout the borough. You can see mime artists and even authentic music groups, so I recommend spending a few minutes there if you get the chance, as I'm sure you'll be pleasantly surprised by many of them.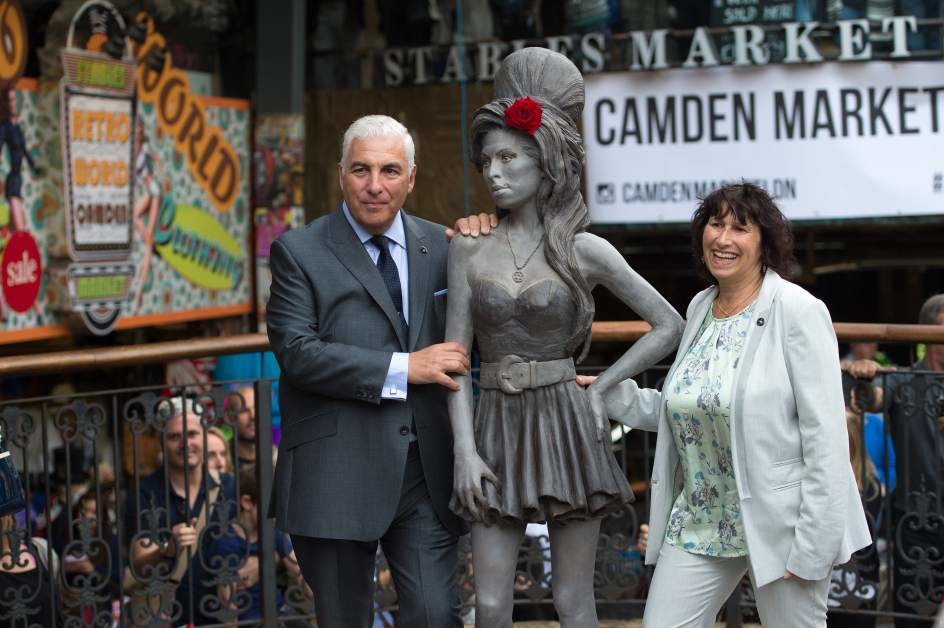 SOURCE:http://cdn.20m.es/img2/recortes/2014/09/16/189335-944-628.jpg
From everything I have mentioned, and from many more things I have experienced there, I would say that if you had to choose between all the markets, Camden Town is by far the most interesting and popular in London.
Borough Market: The Borough market is in the centre, a few metres from Tower Bridge. The unusual thing about this market with respect to the other markets is that it's the only market which offers solely food. You can find around 50 stalls which offer African food to Indian food. Personally, what really caught my attention was the mixture of smells there, as well as the vast number of people I saw eating in the street, with their phone and wallet in their hand. At the back of the market, you will see the desserts stalls, whereas in the main area you'll see the main food itself.
In addition, Borough market works with a Food Market, in which you can find natural smoothie stalls and even strange fruit like squared watermelon or different colour bananas. Also, there's the odd food stall which is even more expensive than the rest in the other part.
Covent Garden: different from the more urban vibe the other markets in the capital have, the market in Covent Garden is a unique market. Although until the middle of the last century it was a place dedicated to selling food (mainly fruit, like in the Apple market), nowadays you can find shops which sell all sorts of things, although predominantly antique shops like in Portobello.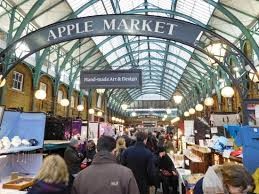 Therefore, if you're looking for a more traditional market with less of an urban vibe, don't hesitate to visit it. Just like in Camden Town, haggling is very common, and you can find real relishes (in my case, as a stamp, coin and note collector, I was able to get some things at a great price).
Finally, in terms of transport, the quickest way to get there is by taking the metro, as the blue line has a stop with its name (Covent Garden). Anyway, if I remember rightly, from Leicester Square, it's only about a 5-minute walk, or you can go there on foot from Chinatown without having to use public transport.
---
Photo gallery
---
---
Content available in other languages
Want to have your own Erasmus blog?
If you are experiencing living abroad, you're an avid traveller or want to promote the city where you live... create your own blog and share your adventures!
I want to create my Erasmus blog! →