My itinerary for Lisbon, Portugal
My itinerary for Lisbon, Portugal
Hello everyone! Today I am going to tell you about my itinerary for the capital of Portugal: Lisbon. I was lucky enough to visit the biggest city in this country when I returned from its most famous archipelago: the Azores. You can read some blogs that I wrote about the island by clicking here. From Lisbon, I had to take another plane which took me to Vienna, and from there, I finally got to Bratislava. With a stopover of almost 10 hours, why not do an express tour of the city? It is always more productive than sitting in the airport with nothing to do. Despite the fact that I only visited the centre in a few hours, I had a really good feeling about it, so I will probably visit again, with a longer and more spaced out visit. Even so, I want to tell you my small itinerary from Lisbon. Let's go!
How to get to the centre of Lisbon
After getting off the plane, we saw that there were several ways to get to the city centre. The airport isn't very far away from the centre if you compare it to those in other cities, but you still need to spend around 30 minutes on public transport. We decided that the cheapest option was the metro, so we got a ticket that was worth two trips, I think that it cost around 6 euros. The problem is that you also have to pay extra to get the rechargeable card, and in the end, it was around 8 euros. The good thing is that I am thinking of going back there one day, I already have the card made to get around and I would only have to top it up.
As for the metro, it works quite well, it is quite easy to understand as there aren't many lines. We used Google Maps as it showed us the different options that we had to get to the place that interested us.
First stop: breakfast
As we had travelled from the Azores to Lisbon at 6 am, we hadn't had breakfast so we were quite hungry. We decided to find somewhere to get something to eat, and we decided that the cafe Frutaria looked good. It was super central, barely a few minutes from the famous Praça do Comércio. We entered and there was a free table so we decided to sit down. Everything looked really good, the menu was quite extensive and the best thing is that everything was made with natural ingredients: fruit, eggs, oats, etc. The perfect ingredients to start the day energised.
This is what we ordered: a sweet and savoury dish each. A bowl of yoghurt with granola and fruit and after, toast with two poached eggs and rocket. There were also other options like natural fruit juices, freshly squeezed there. It wasn't very expensive, honestly. Without a doubt, I would recommend this cafe for breakfast. It was all delicious. Doesn't everything we ate look great?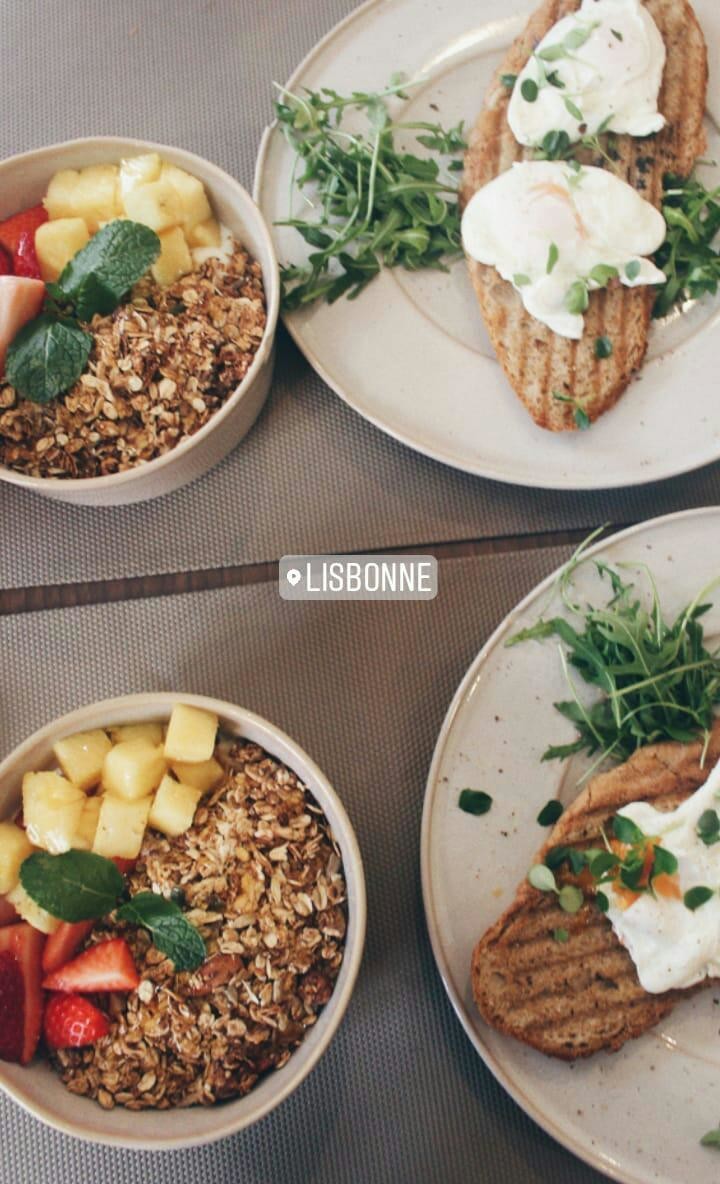 Second stop: Praça do Comércio
As I told you, Frutaria was super central so the first thing that we visited was the famous Praça do Comércio. It surprised us the number of people that were there, as being February, we weren't expecting to see many people. I can't imagine what it must be like in the summer, completely jam-packed, I suppose. There were quite a few sellers who had glasses stuck all over their body, showy watches and also selfie sticks. Despite it being winter, the weather was really nice, I was in short sleeves when the sun came through.
From this square, which was the most emblematic one in Lisbon, you can see the estuary of the Tagus river, which is completely taken over by the Atlantic Ocean. In the centre of the square, we could see the bronze Equestrian statue of Joseph I of Portugal, the King of Portugal. Formerly, this square was considered to be so pretty that it was used to receive monarchs and ambassadors. So, in this square, you can also find the Arc of Triumph where they also have sculptures of famous people such as Nuno Álvarez Pereira or Vasco de Gama. Also, the pretty clock which is in the arc and it's Latin inscription really stand out. Finally, as a fun fact, I have to say that the palace of the square was destroyed by an earthquake in 1755 and had to be rebuilt.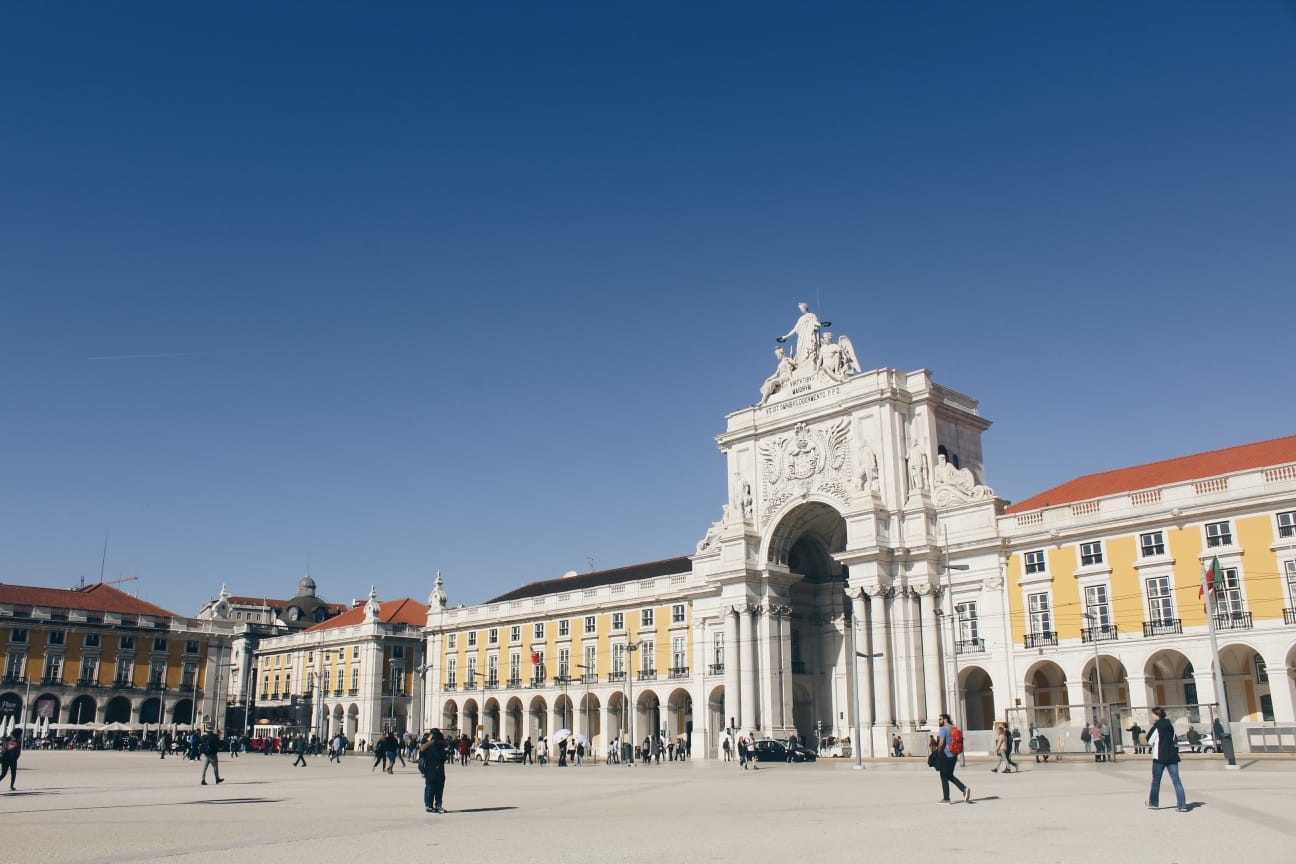 3rd stop: The 25 de Abril Bridge
This bridge crosses the Tagus River and is maybe one of the most famous monuments in the Portuguese capital. It has this name because after the Revolution of the 25th of April, the government returned to being a democracy in Portugal. The journey to the bridge is quite pretty, as you can go there by bike or simply by walking. Also, we could see lots of people running in full morning. Also, there are lots of cafes and restaurants, most of them aimed at tourists, but well, a lot of them looked really good. We decided to relax for a bit in the sun, even dip our feet in a bit, despite the fact that the water was freezing cold. After our moment of relaxing, we kept walking towards the bridge.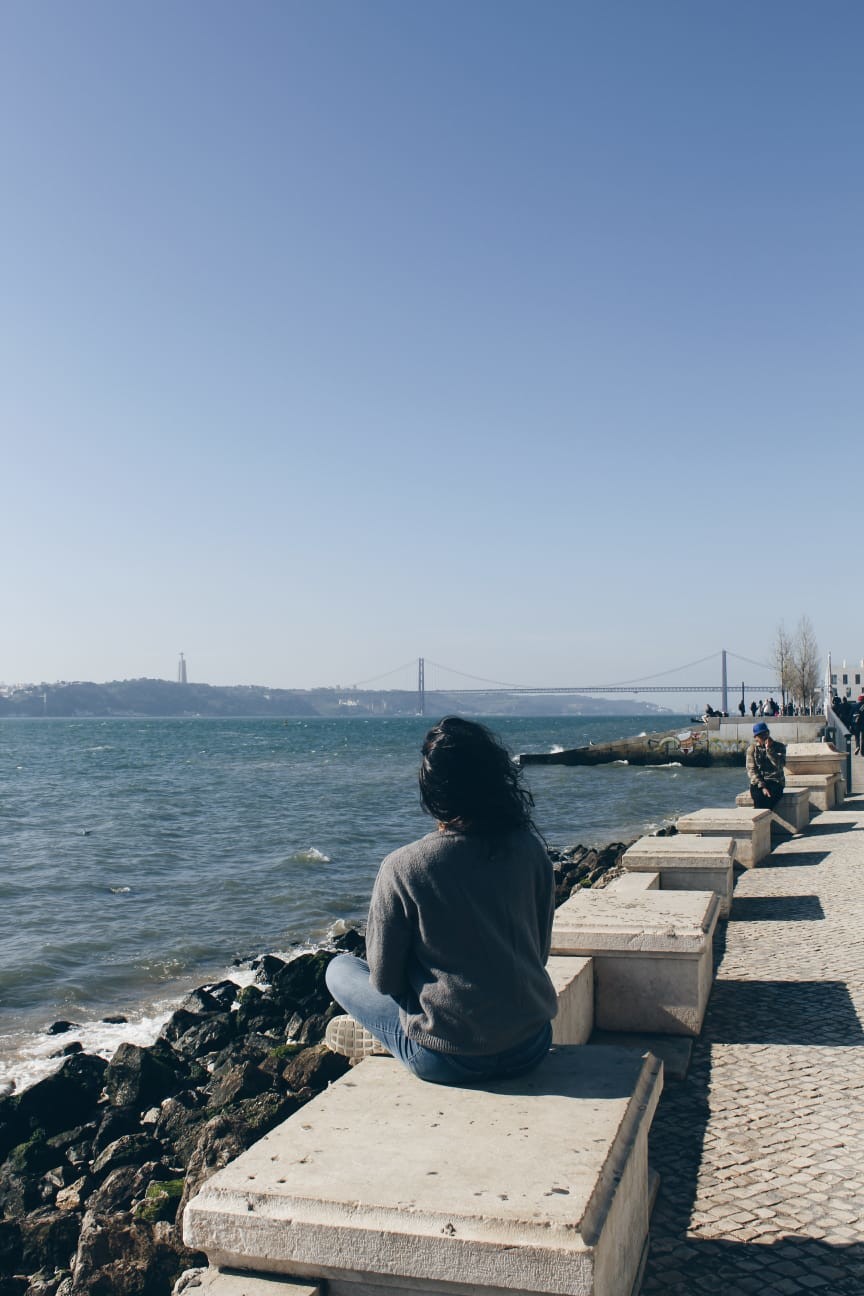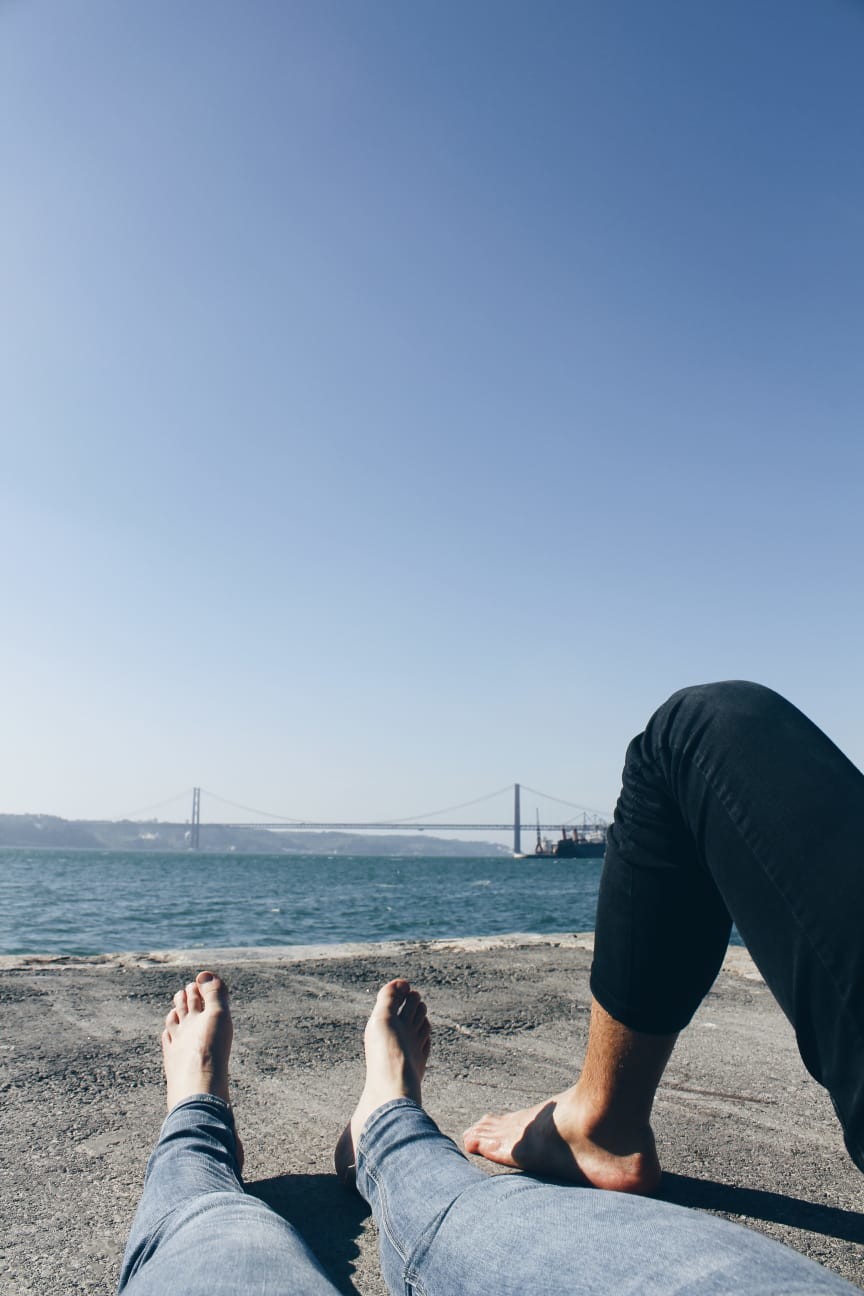 4th stop: Ascensor da Bica
This funicular railway is located on the Rua da Bica and I liked it a lot because there were barely any tourists there. Walking along these streets is magical, because it really feels like you are in a different era. This tram, which has a very small route, is used by the locals to get up a really steep incline, which crosses a whole street. I think that it comes every 10 minutes, so we went up by foot to the end of the street, and from there we saw how it slowly travels up.
The houses surrounding it are authentic. They are full of recently-made clothes, you could see the locals that were coming with bags from the market, people walking along the really narrow pavements, and the occasional person watering pots which were on the balconies. For me, it was the most picturesque thing that I saw this day in Lisbon, and I really liked it. Here, I will leave you the photos that we took and without a doubt, it is worth going there to see the little route of this funicular because I think that it is barely 200 metres long.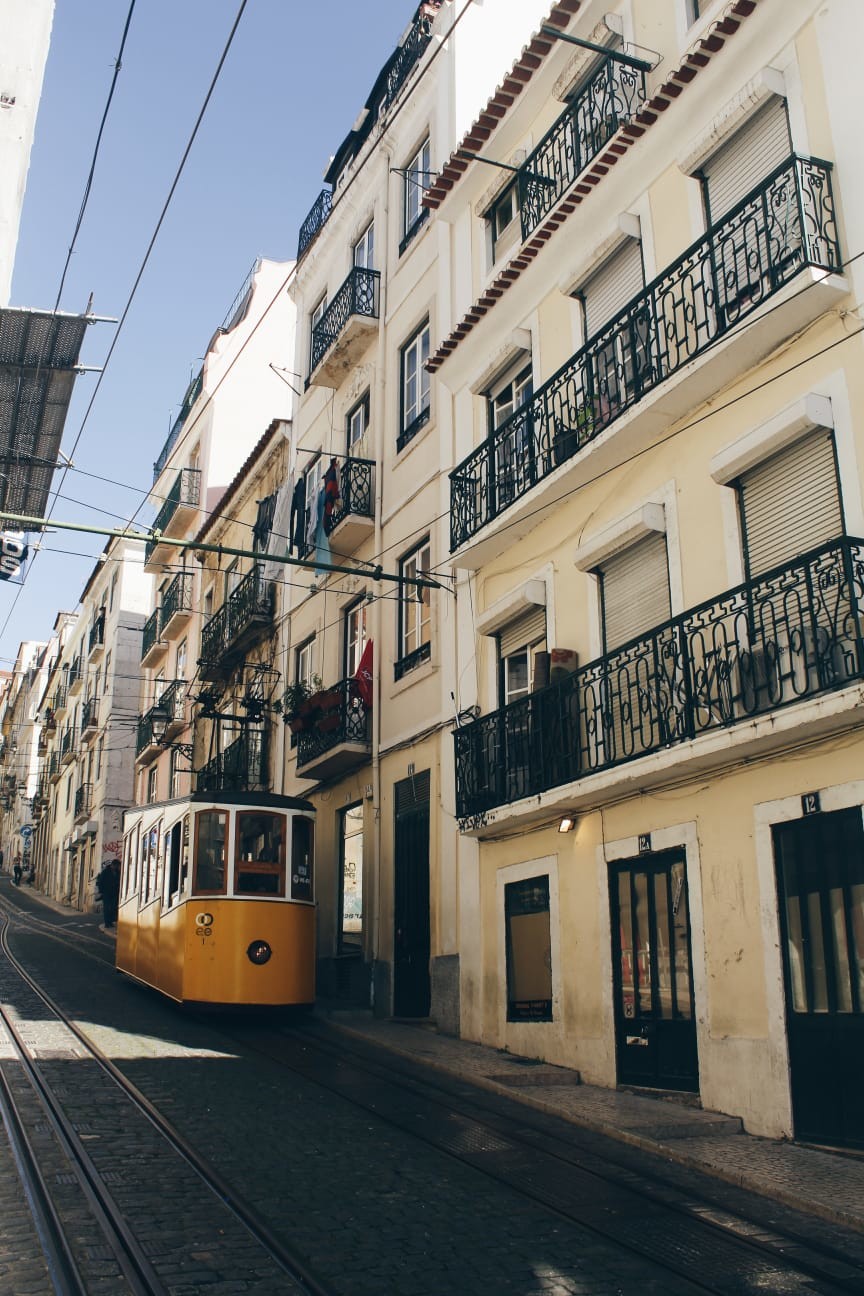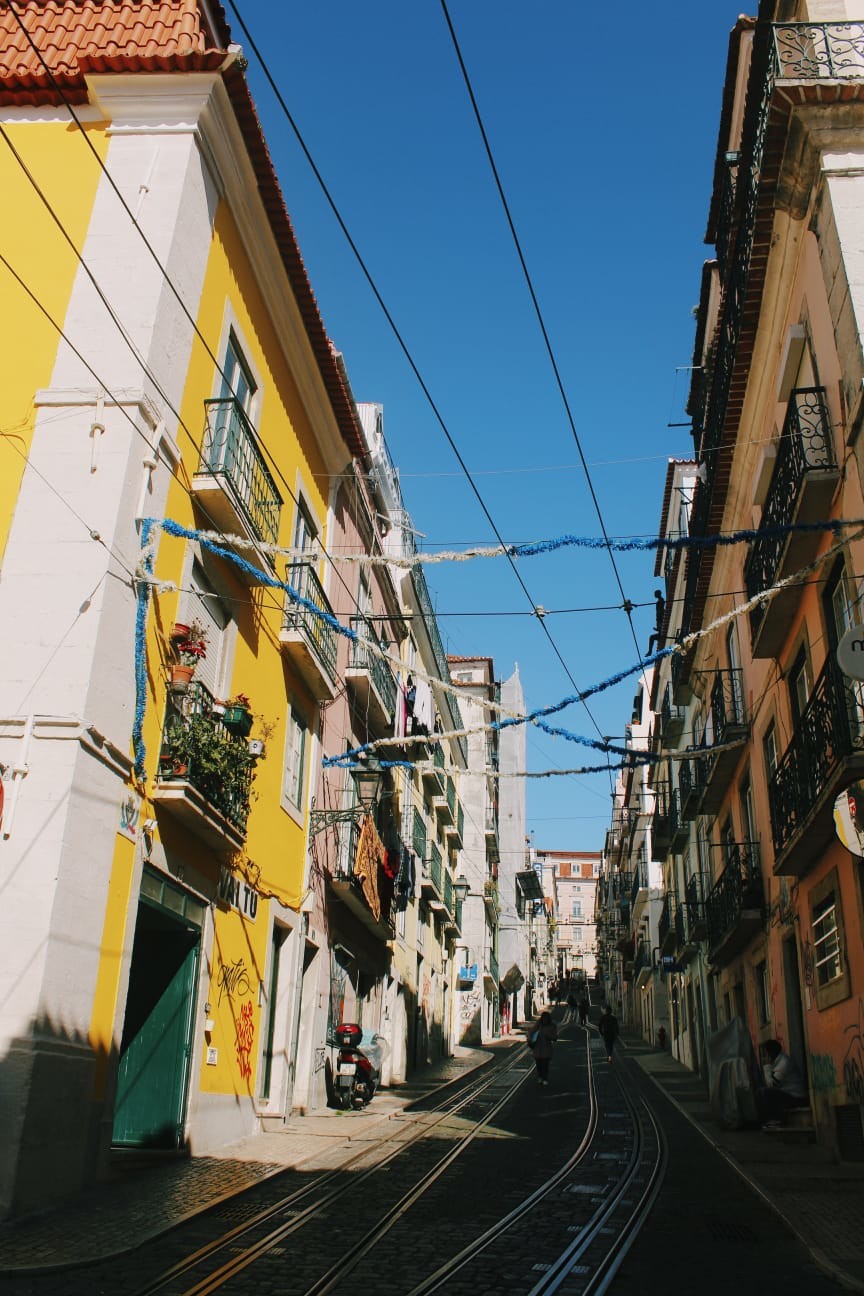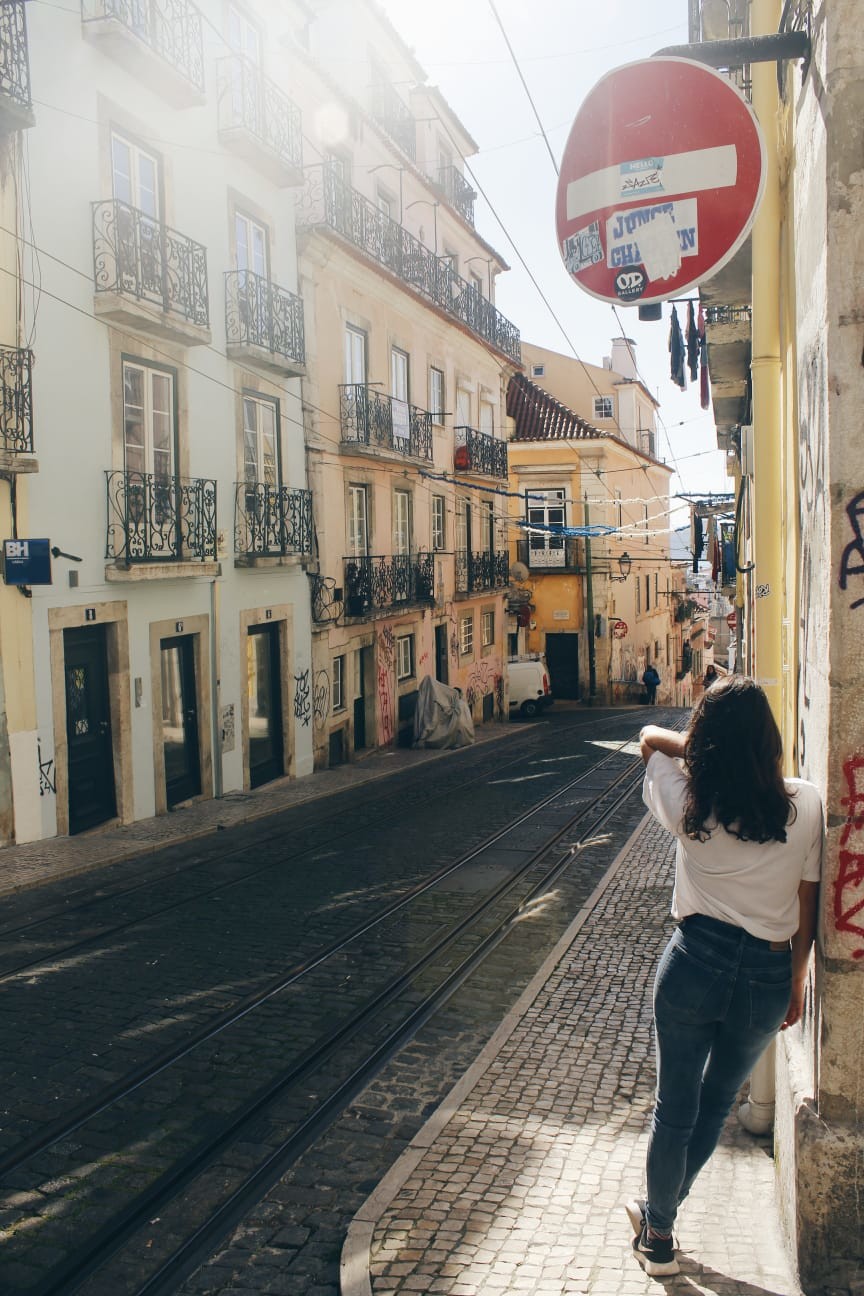 5th stop: Lisbon cathedral
We went by foot from the Ascensor da Bica. Here the heat was a lot more intense, it even seemed like the typical tiles of the Portuguese buildings had attracted even more heat. It was a bit of a long journey, I think that it took us around 30 minutes, although it wasn't boring. We were looking at the little shops and also we went in search of some treats from Lisbon, also known as Portuguese custard tarts, traditional pastries of this city. Really, you don't know how difficult it was to find a bakery where they sold them. Finally, we found one, and we paid 70 cents for each one. It was quite expensive really, usually for a euro you can buy three of them in most Portuguese towns.
Finally, dehydrated, backpacks on and after going up a steep incline, we got to Lisbon Cathedral, the oldest church in this city and of course, it was one of the buildings that survived the earthquake that I mentioned earlier. The most characteristic thing about it, without a doubt, is its rosette, which is the main thing joint with its two towers, in Roman style. From the look of it, it looks a bit decadent, like it could fall and break into little bits at any moment. This is largely because throughout the years, it has gone through various renovations, which in reality, the final result that we could see was a mix of several different architectural styles.
6th stop: walking along the streets
We decided that we'd have food and after, we had to go back to the airport, with extra time to spare just in case, and also we needed to go back to where we had left our suitcase, in the luggage office. We strolled again towards the centre and came across a really good pizzeria, on a terrace. It wasn't very cheap, but it was the last day of our trip so we didn't care too much. After filling ourselves up, we decided to go back to the airport. During this whole journey, we could see the streets of Lisbon, which stood out due to their slightly decadent buildings such as the cathedral, but this is the true charm of this city. Walking along the streets stopping at every little shop, listening to the screeching sound of the tram in the background, which was something constant in these final hours in the Portuguese capital.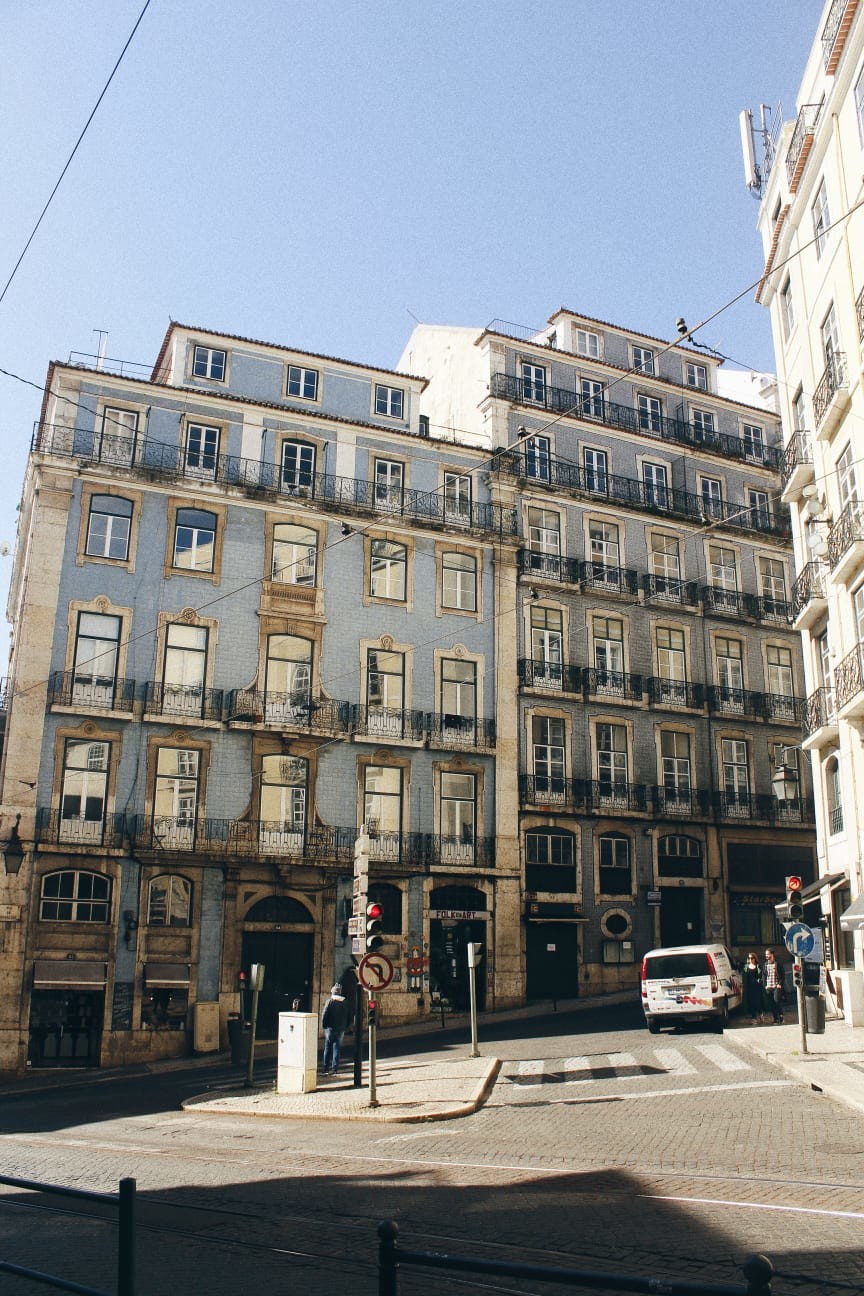 And this was my small itinerary from Lisbon. Without a doubt, I have to go back there because I only saw certain important monuments, such as the Belem Tower, from the plane at birds-eye view. Also, Cascais is really close to Lisbon, another area which I have been recommended to visit, especially for going for a swim in summer. And that is the post for today! So I'll end it here and I'll see you in the next post with more content. Thank you for reading until the end. See you soon.
---
Photo gallery
---
---
Content available in other languages
Want to have your own Erasmus blog?
If you are experiencing living abroad, you're an avid traveller or want to promote the city where you live... create your own blog and share your adventures!
I want to create my Erasmus blog! →