TET Holiday – Phase 3: Laos
From Bangkok we then flew to Vientiane in Laos.
I had been to Laos before, 2 years ago with another friend however this time round it was very different.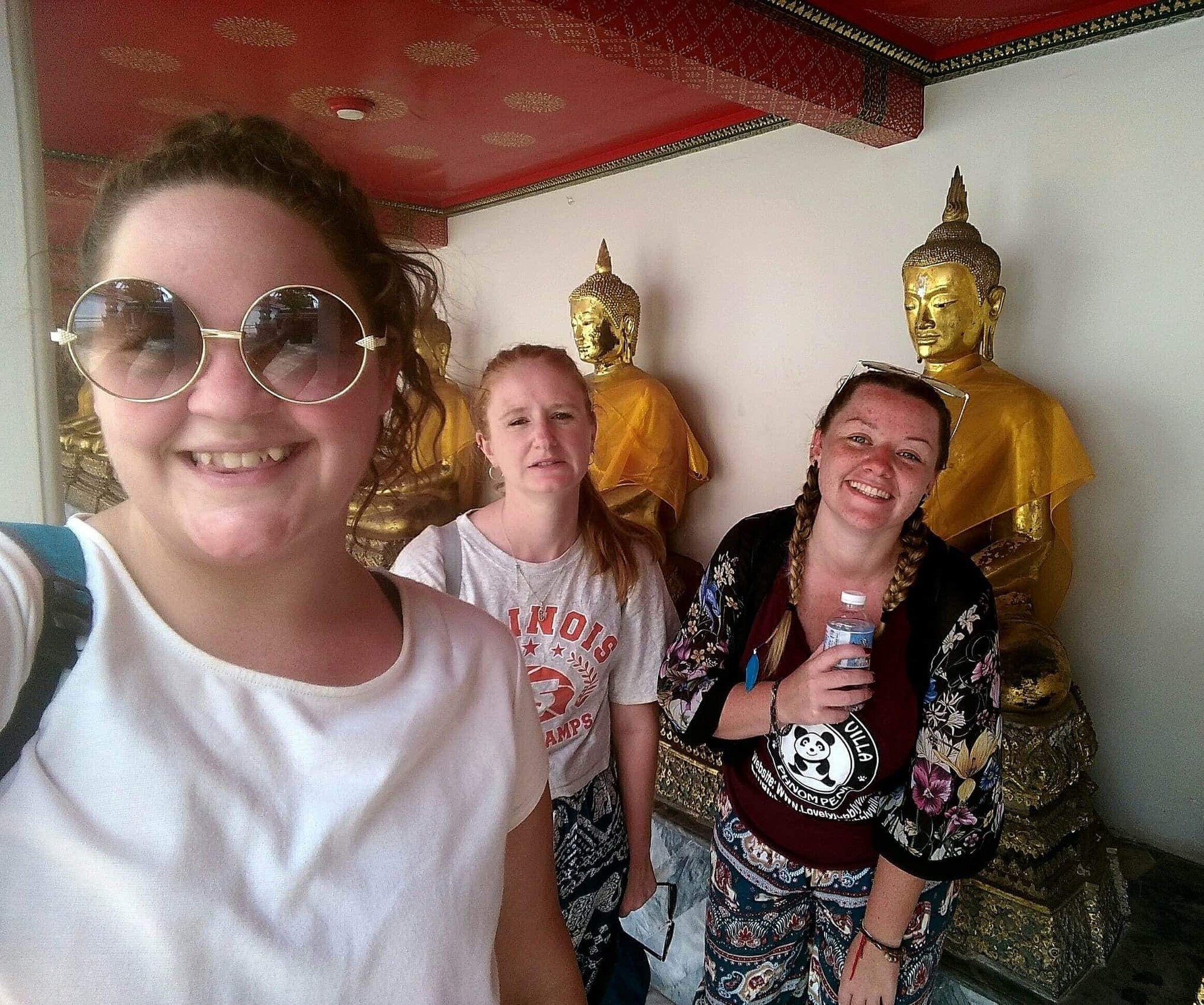 Vientiane:
Firstly, it seemed like perfection after Bangkok. Immigration was painless. The visa was 35$ each and the airport was so small that it was a quick process. There were no tuk tuks so we shared a fancy cab to the centre which then dropped us off at our accommodation. We stayed in a hostel called KwaHoom which had dorm above a cute café. We stayed in a female dorm which consisted of individual, curtained pods containing a bed, a light and plug. We also got given individual care bags including a cosy blanket, shampoo and body wash. It was a dream.
We went for a wander around the area. We were staying at the opposite end of the town from where I had stayed last time. On our venture out to get water we safe a cute street food area which fairy lights and cute, little stalls. We decided that was our go to after a dreamy nap in our little cubby holes.
Making friends:
Once we woke up, we thought we'd check out the night market which was a 10-minute walk away from out hostel. Once we got there it ended up only being one street of food, no souvenirs. After a little stroll we came across a small group of Laotian men playing bowls. After watching for 5 minutes or so, we were invited to sit down to join them. We spent the good part of 2 hours talking to a local who grew up in Laos but had travelled abroad. How he had lived in France and China and visited a tonne of countries. Lizzy and I even got to practice some of our French with him. He told us his life story and how he had daughters our age in University in Singapore and China. He kept topping up our Beer Lao and even let us try cooked crickets! They were not as disgusting as I thought they would be! They kind of tasted just like soy sauce. As the night went on, our new friends became drunker and drunker and started to repeat themselves. One in particular jept kissing my face and slapping us on the back. After some time we decided that it was maybe time to go.. It was a great laugh and it was amazing to meet such friendly locals who let us join them. We stumbled off back to the street market area, realising that we were all a bit tipsy after our encounter.
At the street food, we got to taste some Laos barbecued meats. It was such a nice atmosphere, and it seemed that we were some of the few foreigners there! It was mostly Laotians and everybody seemed so chilled and happy. It was such a contrast from Bangkok.
We headed back and had the best sleep of our holiday! The next day we had booked a night bus up to Luang Prabang but that let us have the full day to explore Vientiane. We arranged a driver from the hostel to take us to the Buddha Park, around half an hour away from the town. He offered to take us to the other cites of the city after for 150 Kip each.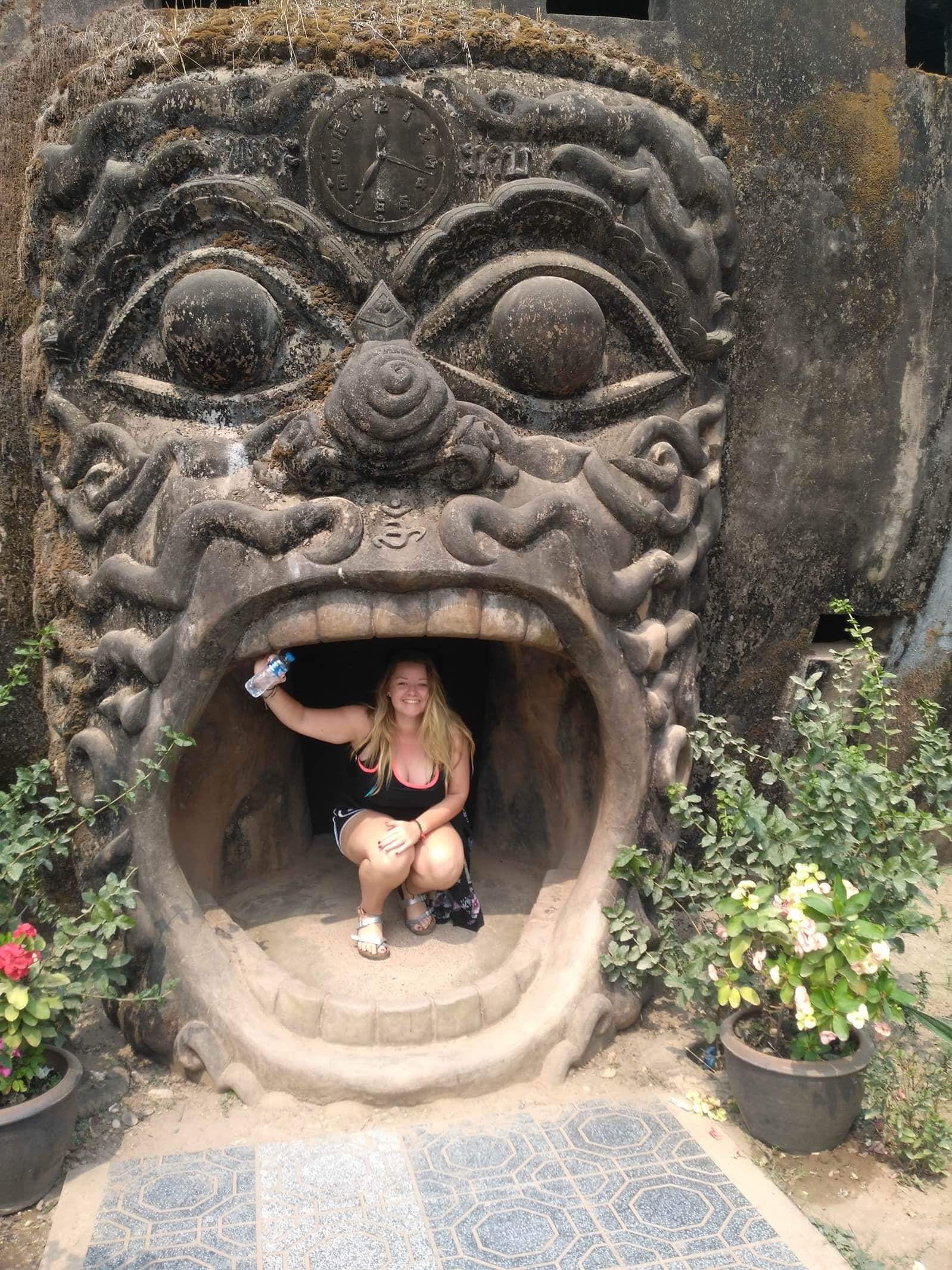 The Buddha Park was amazing! It was full of massive statues of different types of Buddha and a cool yet precarious dome to climb. It was fantastic!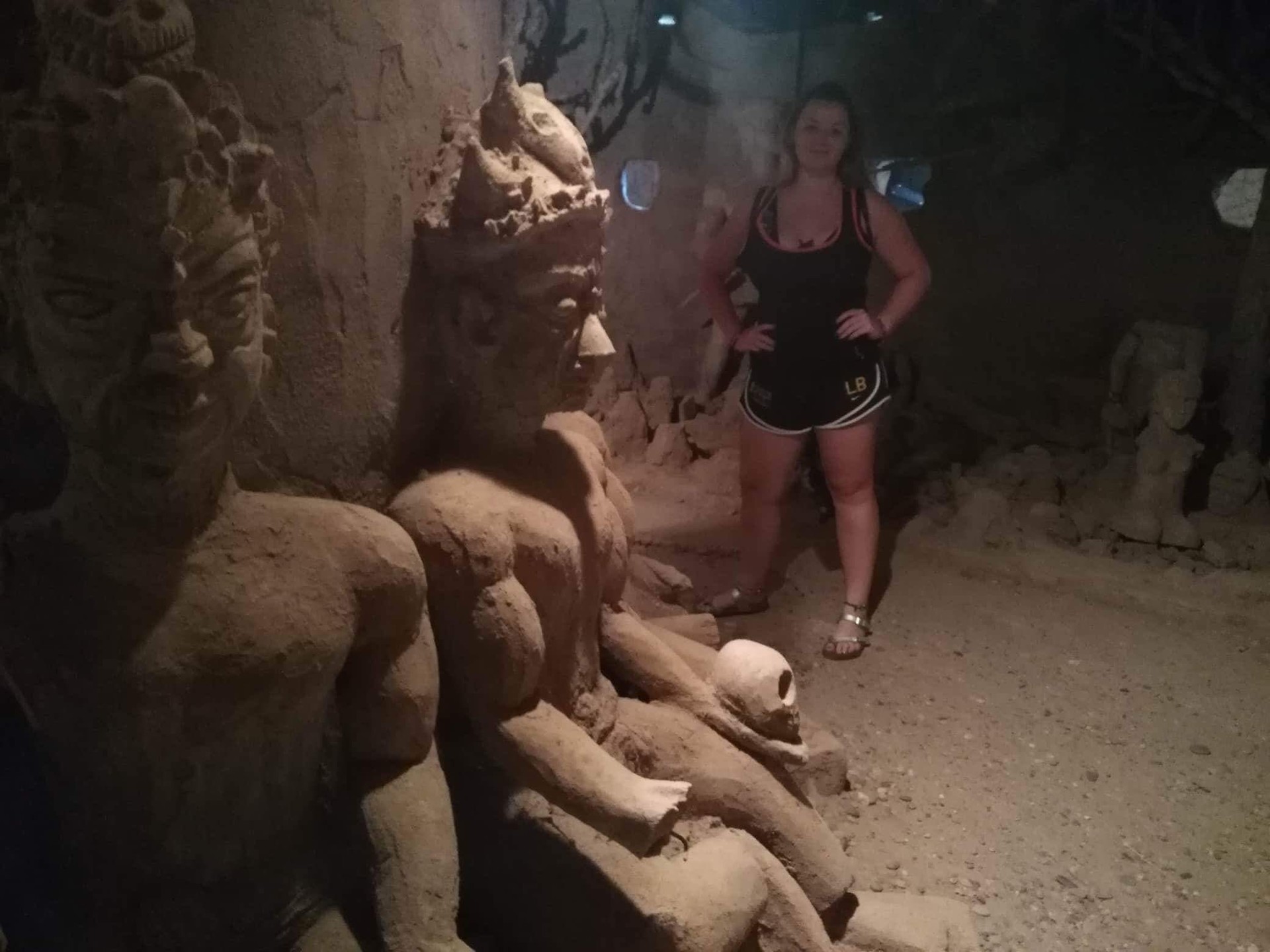 From, there we went to a bright gold temple called Pha That Luang. We spent an hour or so walking around, checking out all of the different temples. I somehow went over my ankle which then blew up like a balloon but it wasn't broken, thank God.
From there, we went to the famous Arc of the city. Similar to that of the Arc de Triomphe on the Champs d'Elysée in Paris. Which made sense as the French had been in Laos, which inspired a lot of the architecture.
After that, we saw some ore temples and pagodas, as well as the Royal Palace. Vientiane is such a cute and beautiful city. After our private tour, we stopped off for some food in the town centre. The three of us got a mix of food and shared it all between us. We then wandered about some more, found a street market that wasn't great but it was nice to see. We then got a tuk tuk back to our hostel and chilled until it was time for our night bus.
The infamous nightbus:
This time round, we all had our own individual reclining beds on the bus. Instead of the shared double beds in the night busses in Cambodia which, if your unlucky enough, forces you to share a bed with a complete stranger. The individual beds weren't as comfortable but at least we had our own space. It should have been an easy 12-hour journey where I had envisioned to sleep the whole way. Instead, we came across a broken down bus and our driver then took on around 20 passengers who had to sleep practically on top of each other in the two narrow isles between our reclining chairs. After an hour or so, everyone settles and I got a few hours' sleep in between the various pit stops where the driver would turn on the bright lights and talk loudly. At 3 am, he then decided to blast horrible, Asian music of screeching singing and a ridiculous volume. I was ragin, making it extremely difficult to sleep. Why would you blast music on a night bus, where everyone is trying to sleep?? Not only that, he was driving like a maniac on the long and windy Laos roads. I avoided looking out of the window as it was too nerve-racking watching him drive.
Luang Prabang:
We eventually made it to Luang Prabang alive at 6am. After a dodgy tuk tuk deal where they overcharged us, we had it to the town centre and memories flooded back. We found a Joma café where we had a coffee and cake to share. Aoife and Georgia came to meet us and we caught up on our holidays. Georgia and Joe had had multiple fall outs, an issue which proceeded to dominate the rest of the holiday but I'm skip that part as it did not ruin our time there. It was near impossible to find accommodation online in Luang Prabang, so Kayte, Lizzy and I spent 3 times the average price on a shared private room in a guest house. To be fair, it was nice to have our own space for a night. We were then lucky enough to be able to book three bed in a dorm for our three remaining days in Laos.
Once we dumped our stuff, we found the bamboo bridge which gets rebuilt every year after the rainy season. It was rickety and scary yet stable and actually really impressive.
From there, we checked out the walking street to scope out the different tour deals. We booked an Elephant Sanctuary tour for the next day, and hired bikes for the day after in order to explore the nearby waterfalls. Once we had organised everything, we went for some lunch in one of the restaurants on the main street. Then it was time to explore the night market. It's my favourite market in Asia. All of the souvenirs are very unique. I bought a pair of crazy slippers, a lantern, some tea and coffee.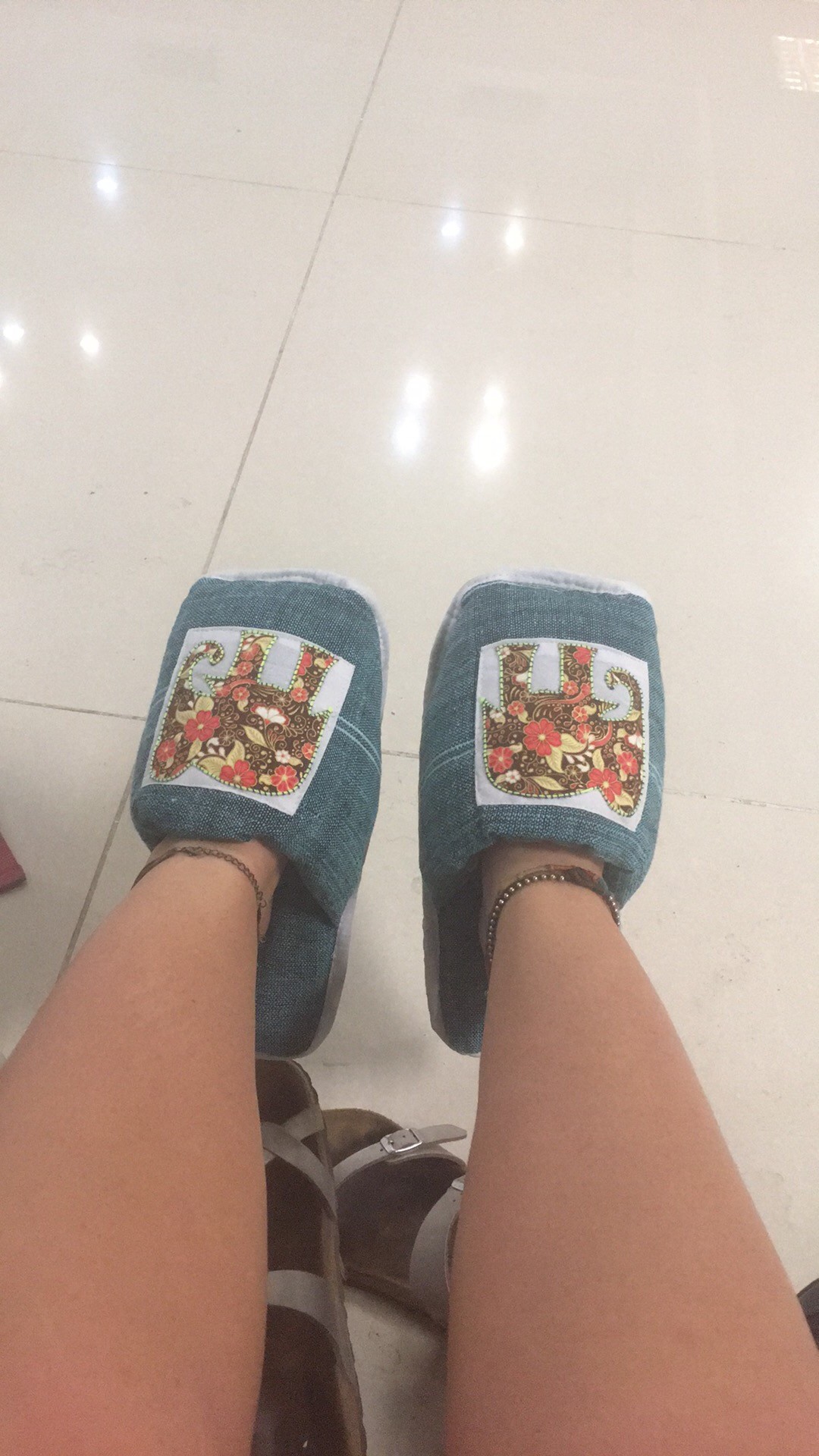 I had to refrain myself from playing blankets, scarves and pillowcases. Everything was so beautiful! We went for dinner by the river were I had cashew chicken. We then had some coconut pancakes for dessert from a street vendor. The next day, we got some spring rolls and some Thai Curry. The food in Asia is amazing. There is also a street food market just off the main street in Luang Prabang which has numerous dishes to pick.
The Elephant Sanctuary:
Our day at the elephant camp was amazing!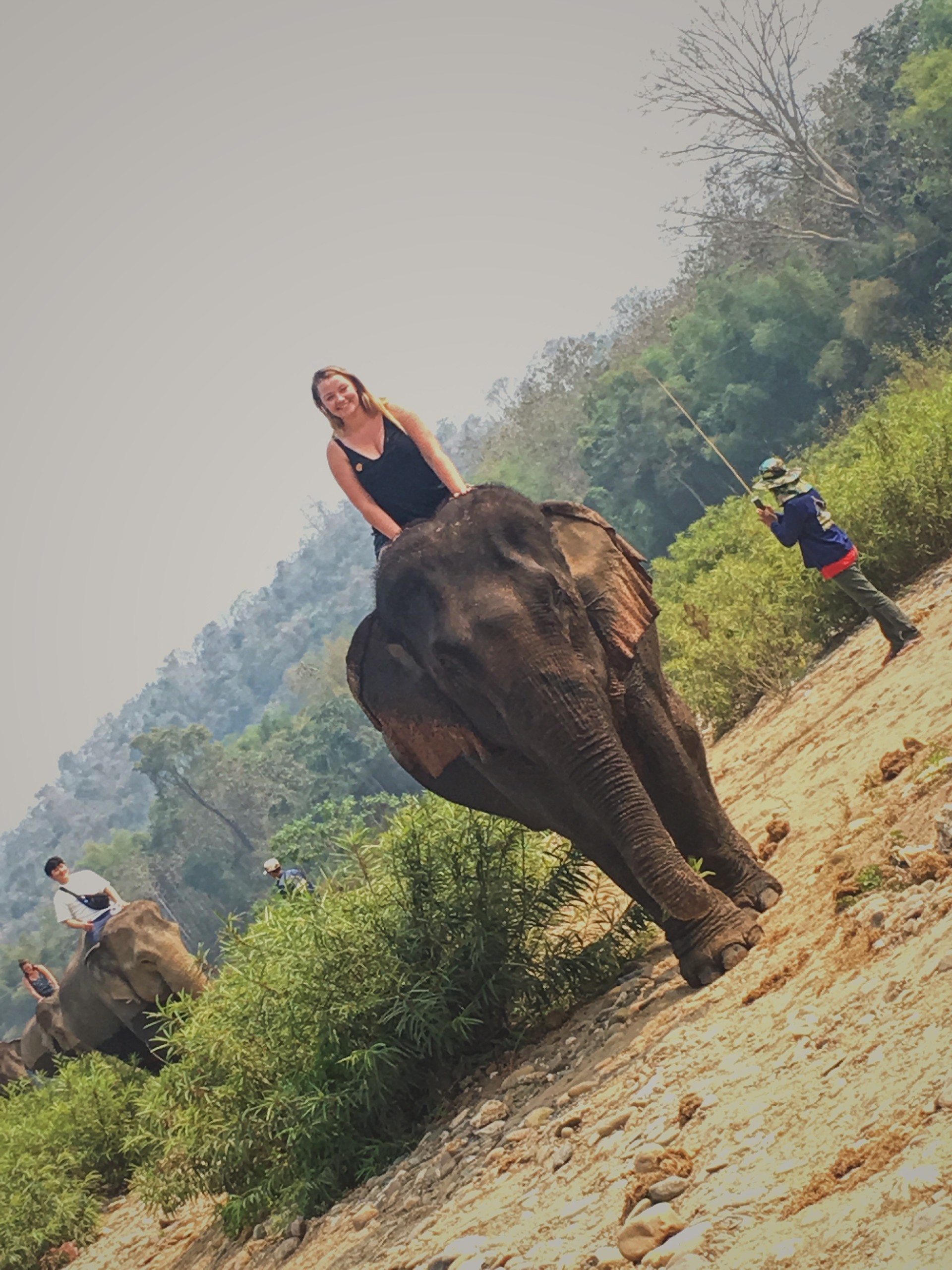 I have been to a sanctuary before, in Chiang Mai, but everywhere is a different experience. We got to feed the rescued elephants. We even got to go on a trek through the water with them and see the massive "baby" elephants!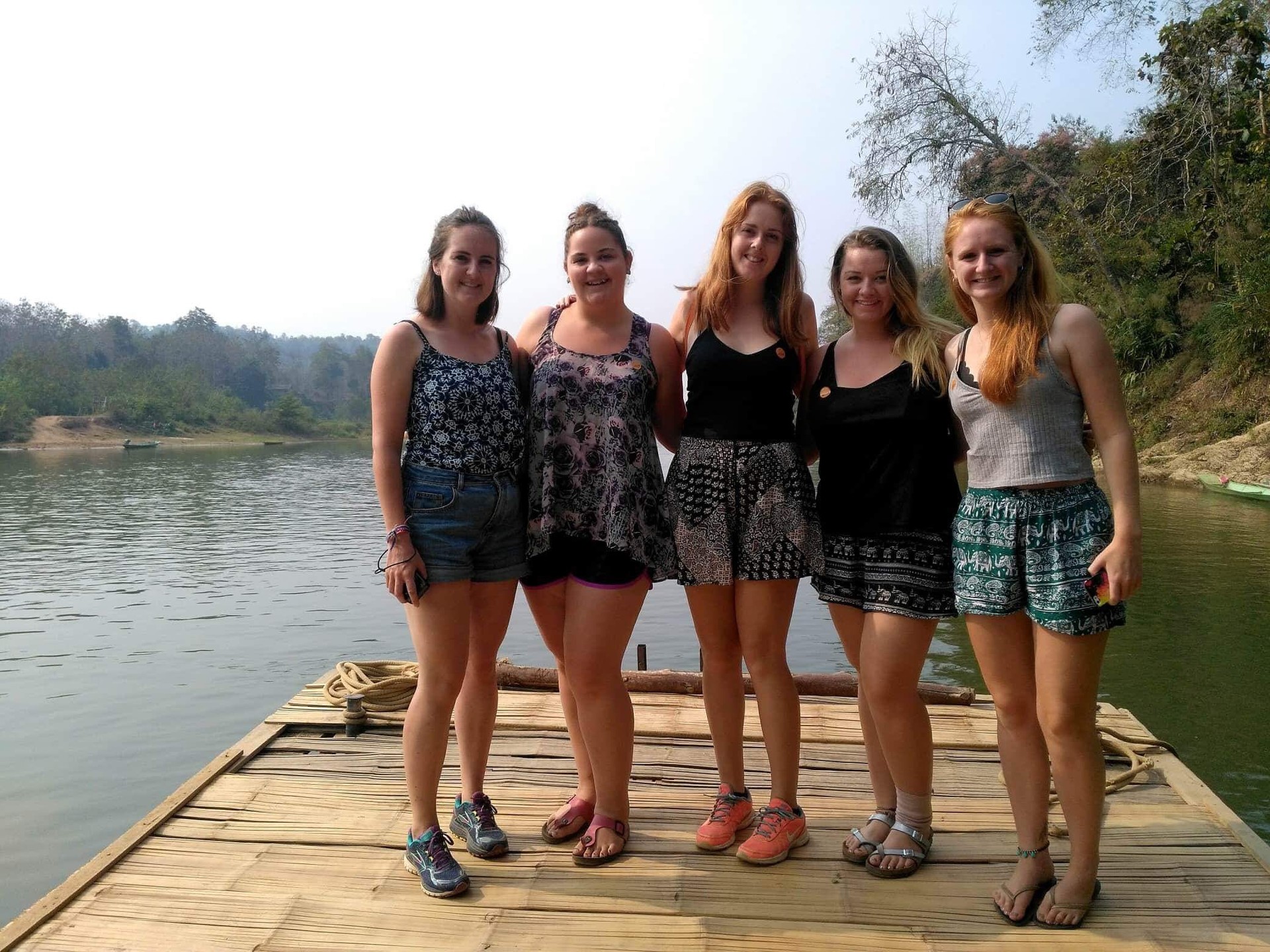 Nightlife in Luang Prabang:
That night we went to a bar called Utopia. Georgia and Joe had broken up, so we were having a mad wan. After having some delicious burgers, the big beer Laos kept coming. Five guys came over and asked if we wanted to play cards. There was a Dutch, a Swede and three Americas.
Luang Prabang has a curfew in the centre so once midnight hits, the bars close. Word on the street was that people go 'to the bowling' if they want to continue drinking. So that's what we did. In my head, I thought it was a code name for a cool bar, but no, it was legit a massive bowling alley… I hate the bowling. We all got progressively drunk, and my awful bowling skills just got worse. It even broke my nail! By the end, I had apparently hauled up a tuk tuk driver to play for me. We eventually made it back to our hostel with our new tuktuk driver team mate– far too drunk than we had intended.
Motorbike ride to the waterfallls:
On the Wednesday, we all hired bikes to explore the waterfalls. Slightly hungover, we drove to Kuang Si waterfalls where I had been two years previous. I loved the drive, I had Lizzy one the back, with the girls following behind. The scenery was amazing with massive green mountains and rivers, being surrounded by fresh air. Once we arrived at the park, around an hour later, we paid our entrance fee and started our walk through the forest. Within five minutes we came in contact with a Bear Sanctuary, where Black Bears were kept. They had been rescued from poachers who kidnap the bears, keep them in awful condition and extract bile directly from their stomachs using dirty needles, all used for ancient medicinal remedies. The Sanctuary was very educational and it was very warming to see all of the work undergoing to help the bears.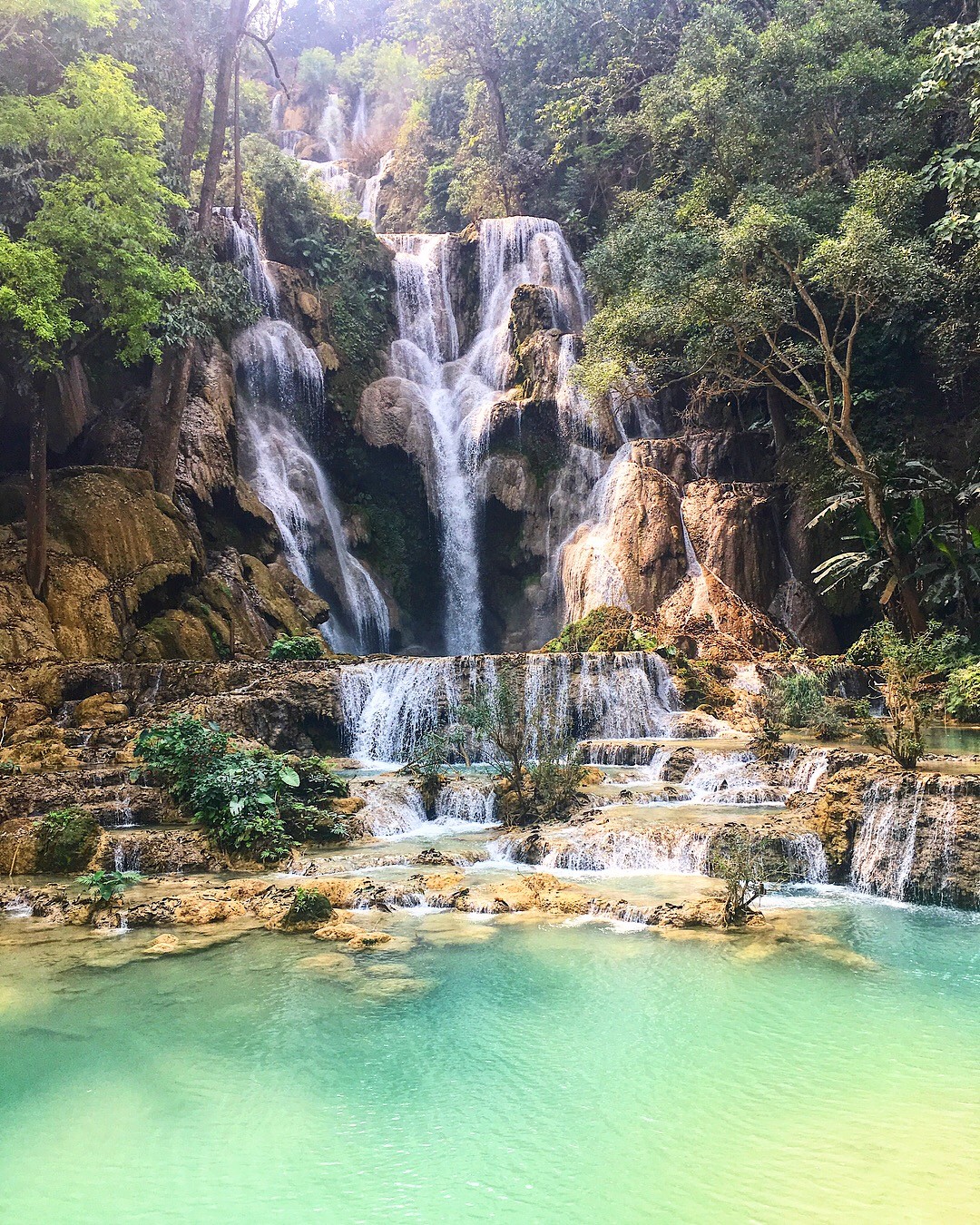 The falls:
A few more minutes walking and we saw the bright, blue pools of water. It was nothing like what I had seen two years ago! The water was murky and brown, this time round, it was spectacular! The water was so unbelievably blue that it looked artificial. We walked along the river, up to the different levels of waterfall.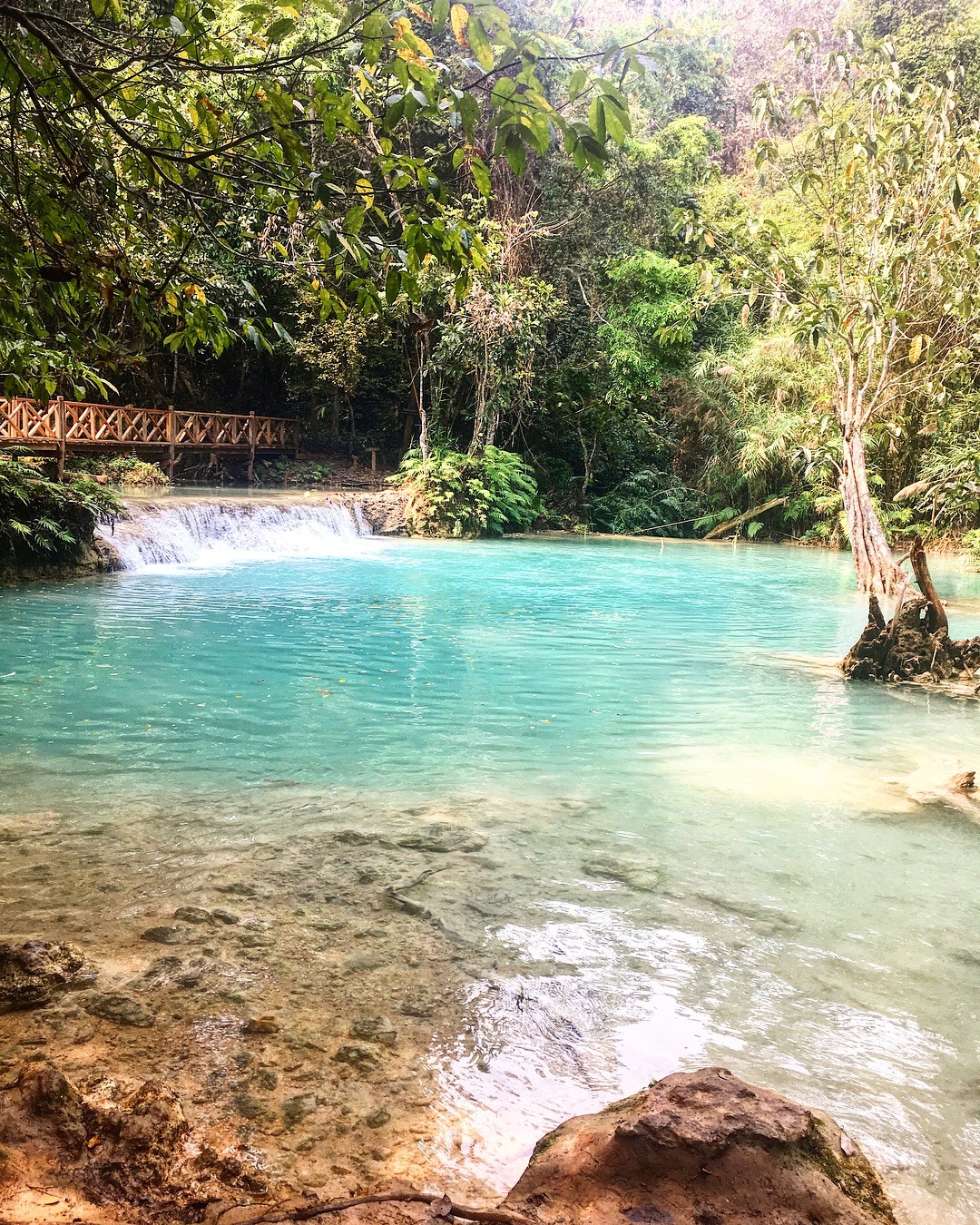 Aoife saw on Instagram that some girl had said to go to the top level. We found some steps and headed up – worst decision ever. It took ages, or endless uneven steps. I hate hiking on a normal day, never mind on a scorcher with a dodgy ankle. We were all sweaty and red. We had finally reached the top and it was a sight for sore eyes, to say the least. The water was stagnant and smelly, and we couldn't even see views of the blue waterfalls. Yes, the mountains looked great but it was not worth the climb. 100% would not recommend. We looked around for about 5 minutes before heading back down, which ended up being more treacherous than the climb up. The rocks were so sandy and slippy making it so easy to fall. We got stuck behind a group of older people who were even slower than we were – however, I was rather thankful as I preferred the glacial pace life. We eventually made it to the bottom, and we had finally earned a dip in the icey blue waters.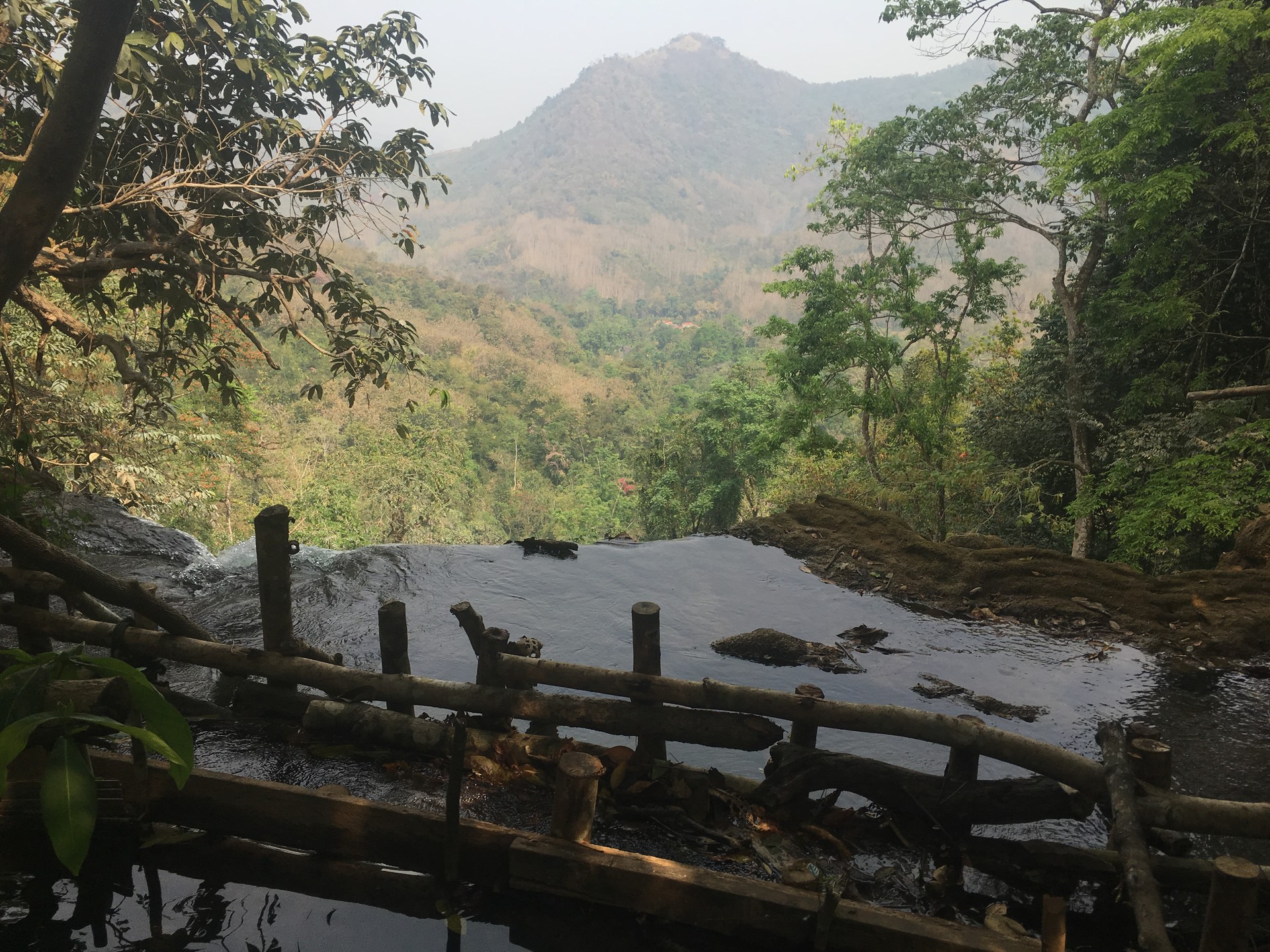 That was a whole other challenge that I didn't foresee. Despite the water being bring blue, it was also cloudy, thus it was impossible to see where you were stepping. One wrong foot and you'd find yourself submerged or with a subbed toe. Also, it was freezing! I expected at least tepid water with the weather and shallow waters. We found a rock to perch on and sat there taking in the experience. It was great and so beautiful up until the point when I felt something nibbling my feet. I'm not the biggest fan of my feet being touched but I most certainly do not enjoy being eaten alive by some unknown creature in the shallows. I swiftly clutched my knees to my chest away from the water. I soon discovered that it was little fish nibbling away, probably like those ones you see in the weird shopping centres that claim to get rid of your dead skin, when in reality they spread the HIV. I couldn't relax knowing that fish wanted to eat me, and what with all of the annoying backpackers trying to get the optimum Insta pic, we left shortly after.
After a quick lunch of fried rice and barbecued chicken and fish to share, we headed back to Luang Prabang. We thought about going to see some other waterfalls on the way home, but our road soon turned into a bumpy dirty track. After Kayt had fallen off her bike, we decided that it was best to call it a day. We drove back to drop off our bikes and chill for the evening – which involved more browsing at the night market.
The last day:
On Thursday, Kayt, Aoife and Georgia went kayaking. But Lizzy and I decided to stay behind and catch up by a public pool. It was such a nice day, we chatted about home and our future plans up until around 2 when the weans started to arrive making a racket. We then went for some friend rice and walked around. We then went to L'hibiscous; a spa were we got a full body Laos massage. It was perfect. Similar to a Thai massage but less intense. They gave us cute overalls to wear as the massaged each muscle with the sound of temple drums banging away in the back ground.
That night we went back to Utopia, but we didn't stay too long as Kayt and Lizzy had contracted what seemed like bedbug bites the night before from the floor cushions (beware). The next day our flight was at 7 so we slept in then chilled all day. Lizzy left around 1:30 which was an emotional good bye then Kayt and I left at 5 to get our flight at 7 back home to HCMC ready to go back to work the next week.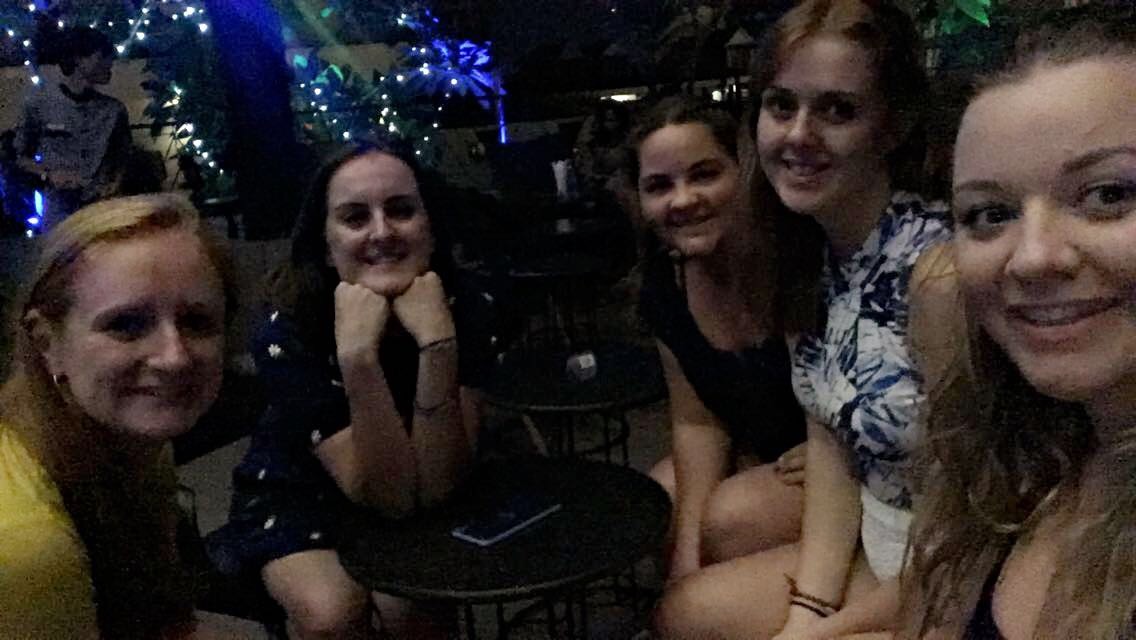 I was an incredible trip over the TET Holiday. We saw, tasted and tried amazing new things. Work was going to be hard on Monday.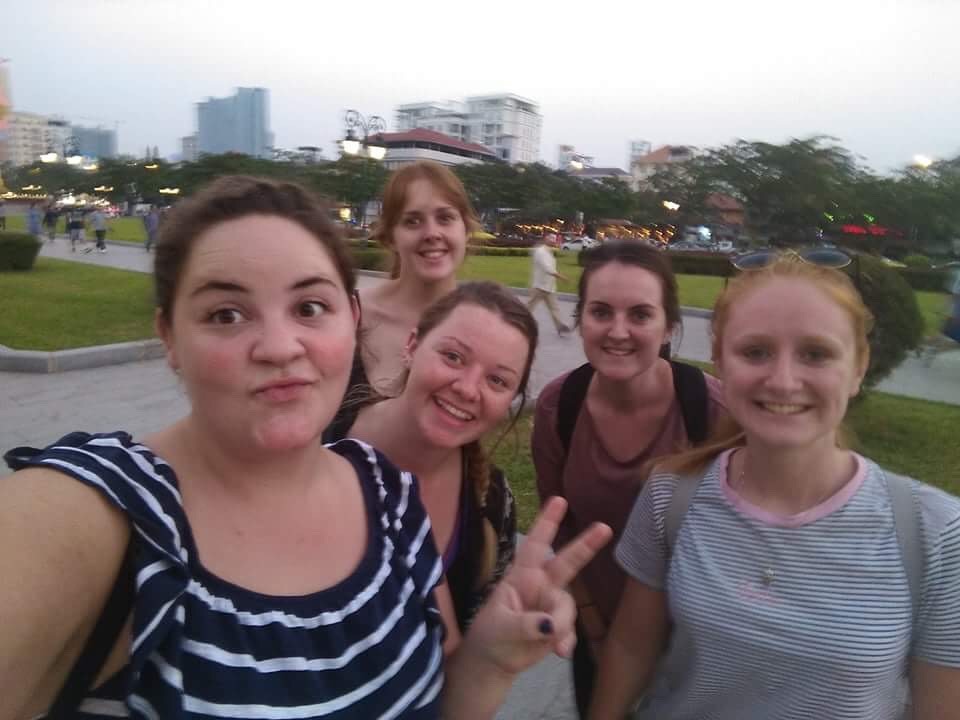 ---
Photo gallery
---
Want to have your own Erasmus blog?
If you are experiencing living abroad, you're an avid traveller or want to promote the city where you live... create your own blog and share your adventures!
I want to create my Erasmus blog! →