Touring Turkey (Part 3): A first glimpse of Istanbul
Hello everyone – I hope you're all doing well! I am completely in my element right now, sitting on a rooftop terrace and gazing out over the twinkling lights of Istanbul, as I munch on some delicious chocolate pudding. You'll have to wait until my next post to find out where it's from, though, because right now I'm going to be telling you about my first day (i. e. yesterday) in this incredible city. It's going to be another long one, so grab yourself a snack, get comfy, and let the storytelling commence!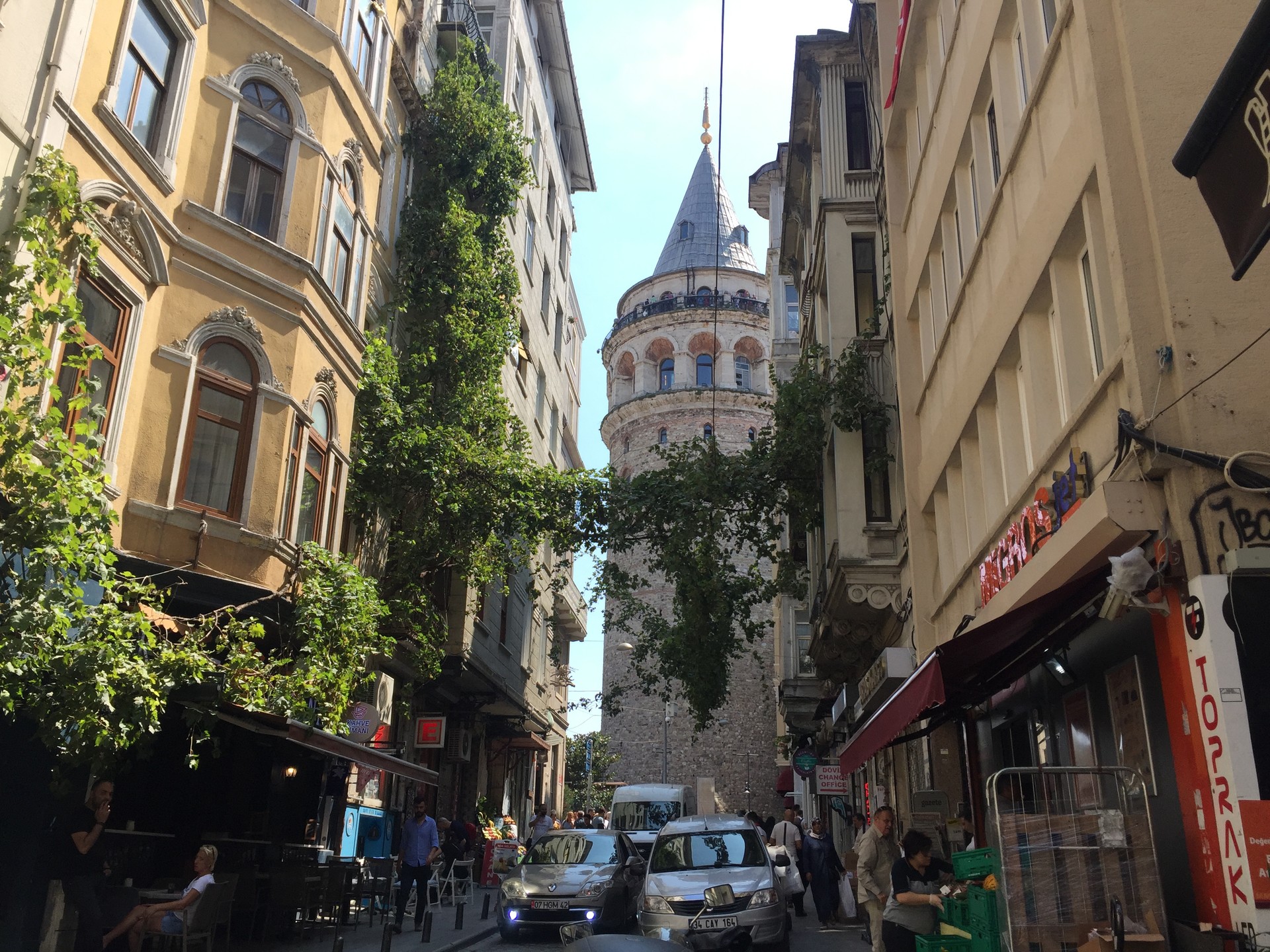 Day 6 (2nd September)
Not an awful lot happened on 2nd September after I'd landed in Istanbul. Quick summary: I took a Havabus to Taksim Square, got lost on the metro, was helped out by a sympathetic local (who proceeded to ask me on a date – why are men like this?!), and arrived two hours later than expected at my hostel. I'm staying at Cheers Vintage in the Sultanahmet district, and couldn't be more satisfied with the location. (Even better: I realised today that this pension is recommended in my guidebook!) Anyway, now that we've set the scene, let's move on to the more exciting part!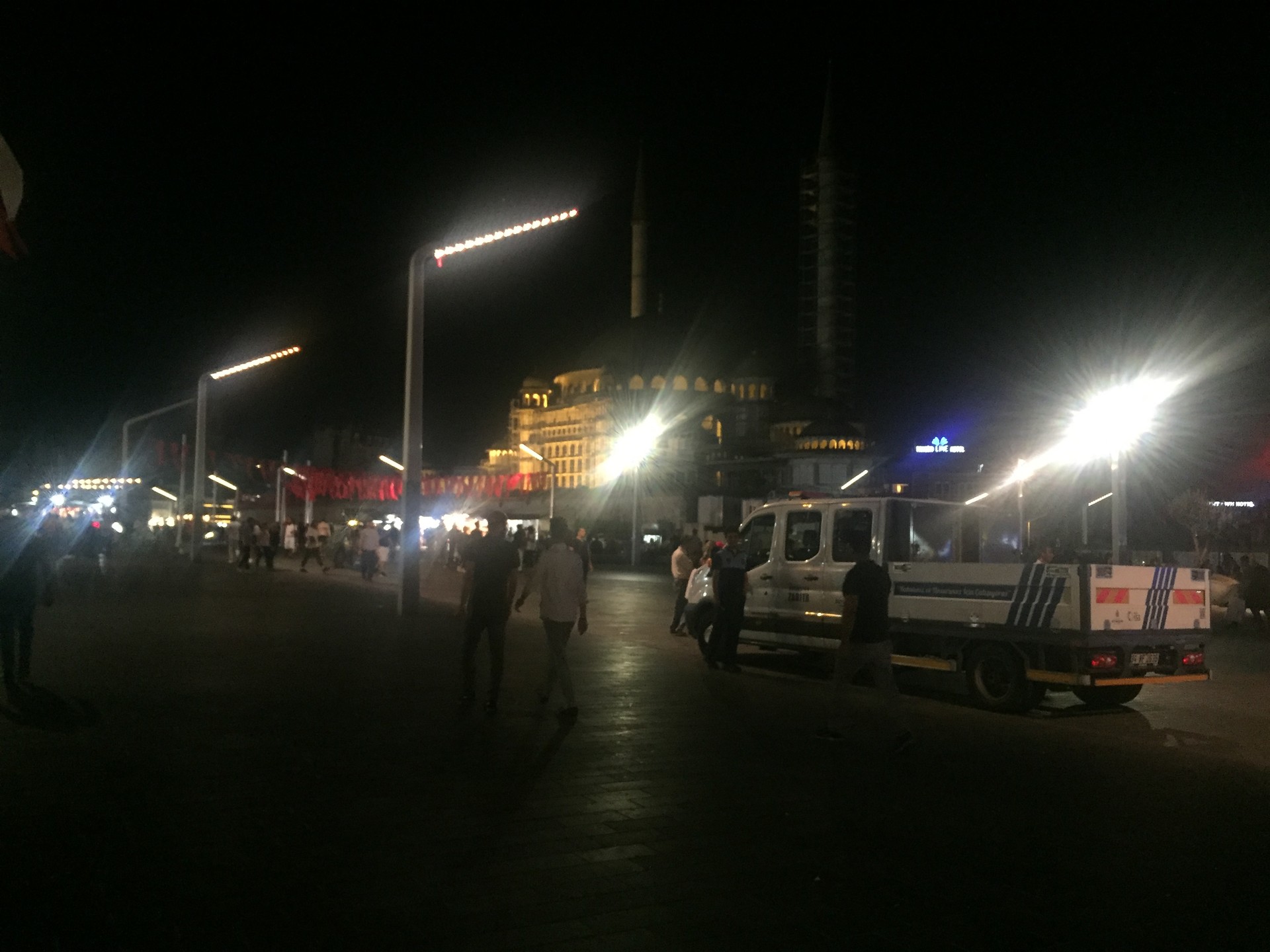 Day 7 (3rd September)
First impressions of Istanbul
If you've read my articles on solo travel, you may remember my having mentioned the Facebook group, Shut Up and Go (set up by the runners of the eponymous YouTube channel). It's a platform that allows travellers to ask each other for recommendations and advice, but also a medium through which to connect with fellow globetrotters, or locals in the places you're headed to. Yesterday, I met up someone from this group for the first time, and it was a huge success!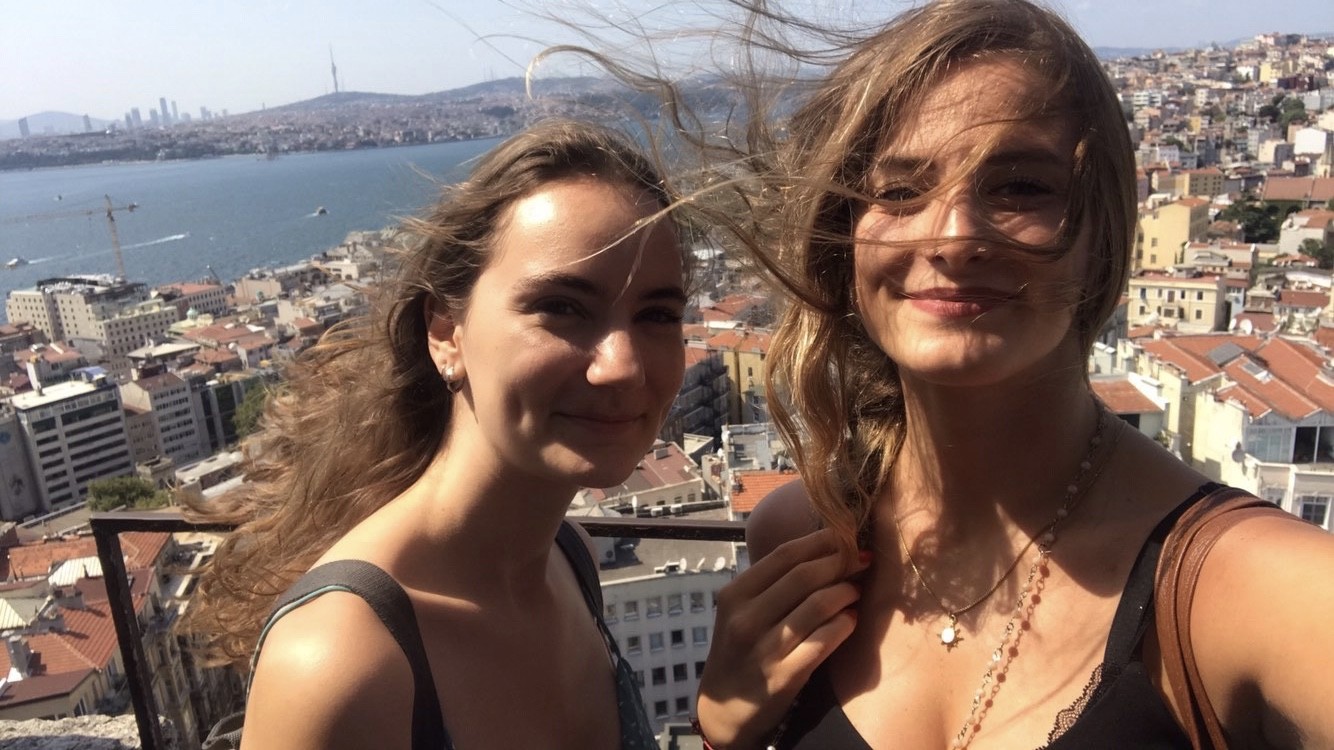 Ceren (pronounced Jerren, not Serren!) is a twenty-one year old girl, born and bred in Istanbul, and if there's one thing for certain, it's that she loves showing people around her city. Indeed, it turned out that I was maybe the fiftieth tourist she'd spent time with! We arranged to meet at noon on the Karaköy side of the Galata Bridge, so, after enjoying a late breakfast on the balcony of my hostel's rooftop restaurant, I set off in this direction.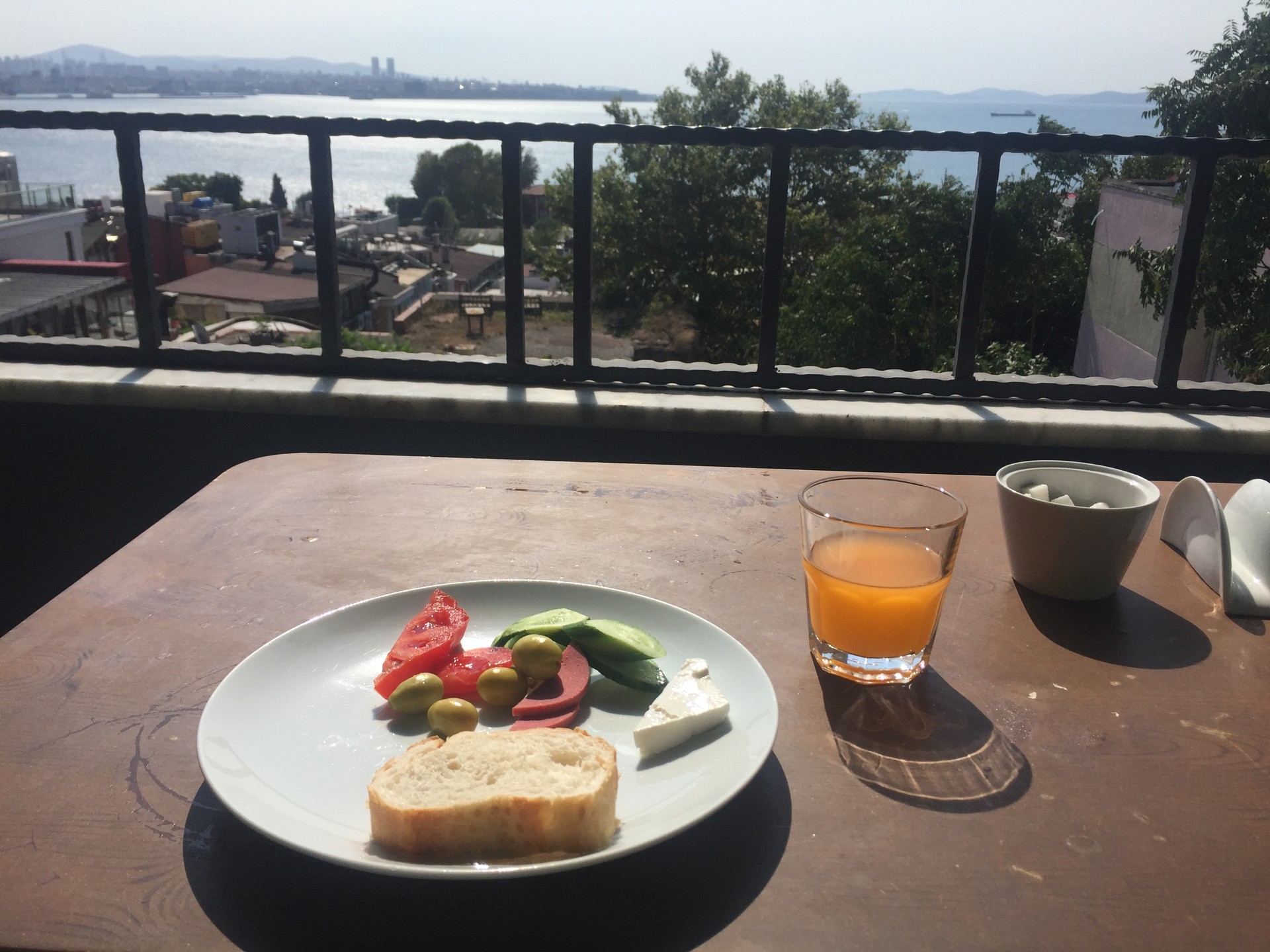 The first thing that struck me, as I began my stroll along its bustling streets, was the huge number of cats and dogs lying about on the pavements. If Ephesus was animal-ridden, this was something else! I stopped to stroke a few, but most of them heartbreakingly ran away.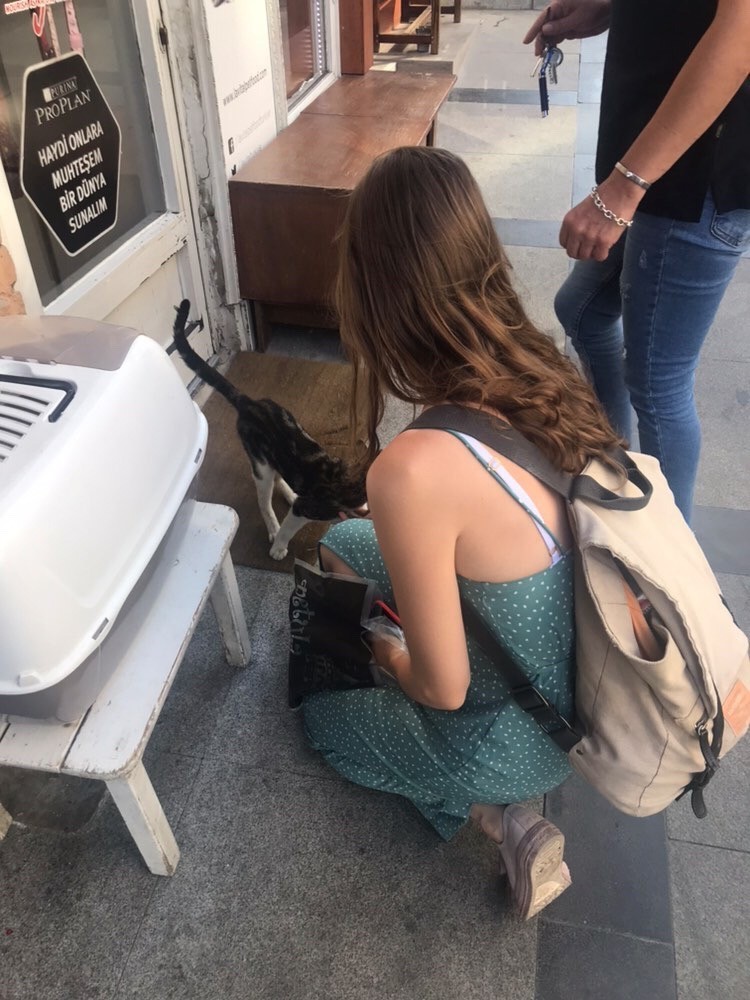 I took this as sign that I ought to be looking up and around, rather than down, so I began to take in my surroundings a bit more: the magnificent Hagia Sophia, the outer wall of the lavish Topkapi Palace, and – about half an hour later – the famous Galata Bridge. Here, I was enchanted by the rows of anglers who sat catching sea creatures from the Golden Horn below.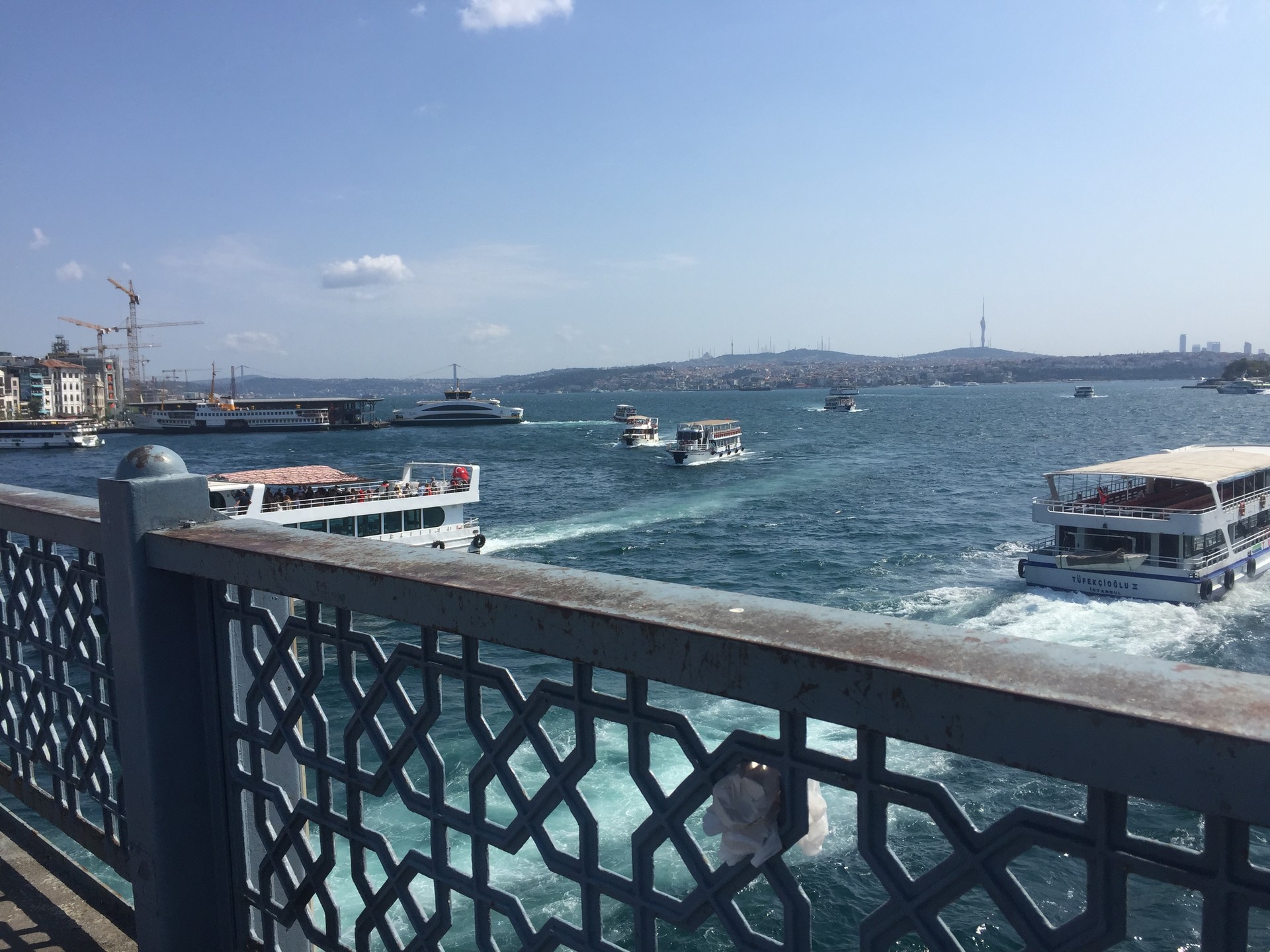 Luckily, I had no problem spotting Ceren – who had come over by ferry from her home on the Asian Side – when I arrived at our meeting point. Both happy to see that the other was who they said they were (you never know, do you?), we got chatting immediately, and quickly decided that we'd begin our day by climbing the medieval Galata Tower.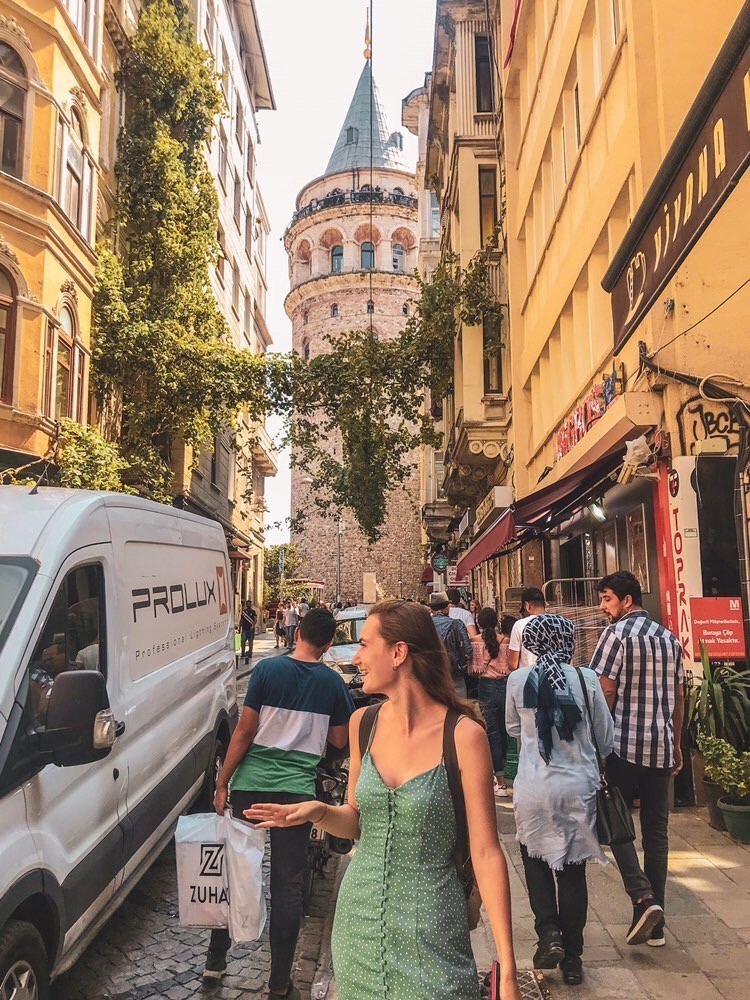 The Galata Tower
The queue was already halfway round the building when we arrived, but Ceren assured me that it would go down in no time. Sure enough, about fifteen minutes later, we were in – my ticket cost 35TL (about £5) – and rising up in a lift to the sixty-seven metre-high viewing platform. Towers are, by nature, pretty tall, but this one offered an even better outlook than usual, since it stood on top of a hill. From the top, we could see for miles around: every mosque, cruise ship, and rooftop terrace that the city had to offer.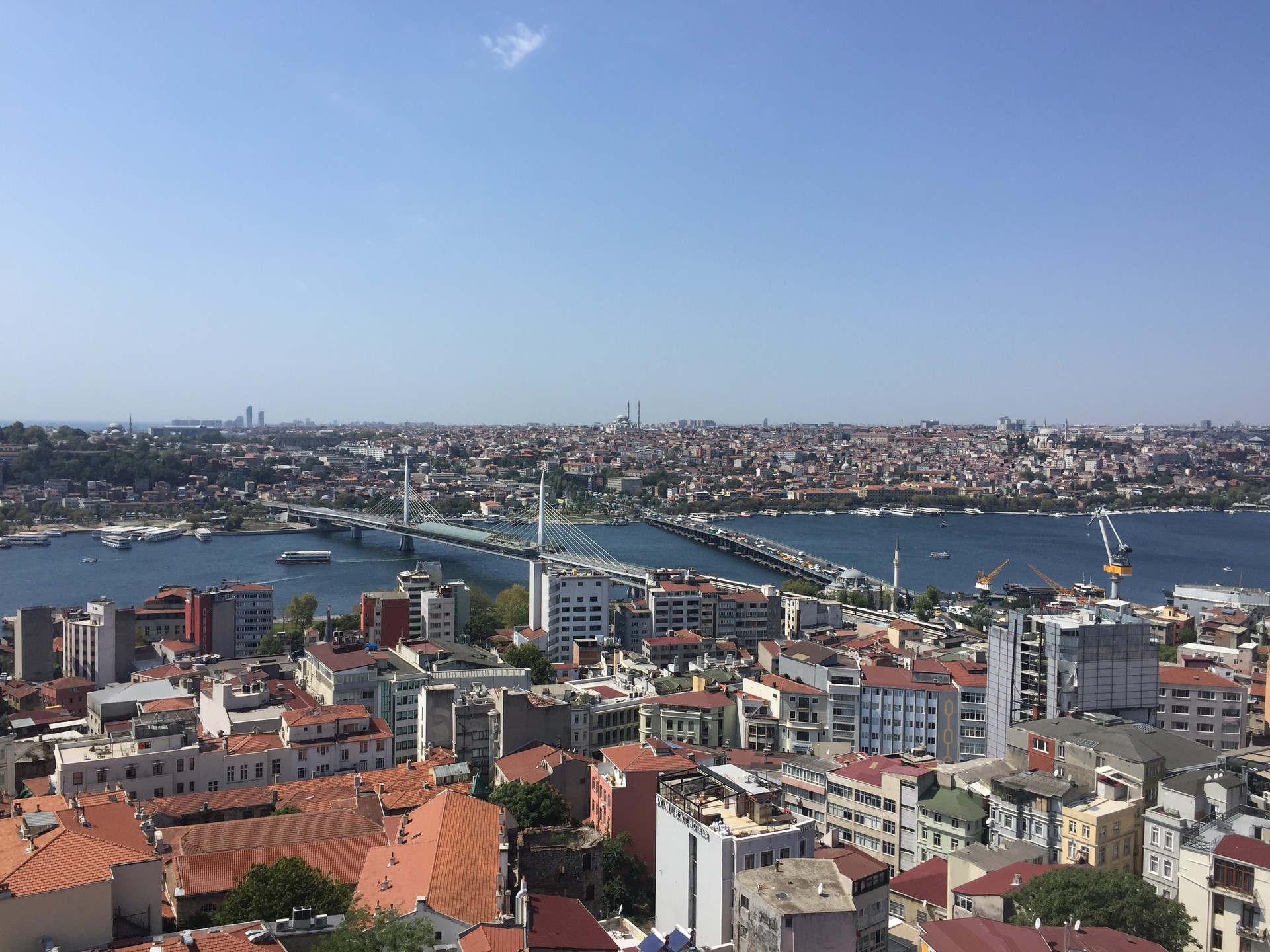 As we gazed at the world below us, my lovely guide recounted a local legend to me: the Galata Tower, she explained, is said to be deeply in love with the Maiden's Tower, another structure which stands on a nearby island. His affections are, of course, required, but since they are separated by land and sea, they can never be together. (Heart-wrenching stuff, right?)
The Maiden's Tower is faithful nonetheless: no one can turn her head. The Galata Tower, however, has had many lovers over the centuries. As a result – although I don't really understand how infidelity equals wedlock in this situation – you will end up married to any sweetheart you bring to this monument. Ceren warned me that this theory was not, in fact, accurate. I think she spoke from experience!
Exploring Karaköy
After taking all of the standard tourist photos (snapshots from the top of the tower, and in the street just in front of it), my new friend and I decided to explore the rest of the trendy Karaköy district. By this time, it was getting on for one o' clock, so Ceren said she'd take me to one of her favourite restaurants in the area: a fabulous burger joint called Baltazar.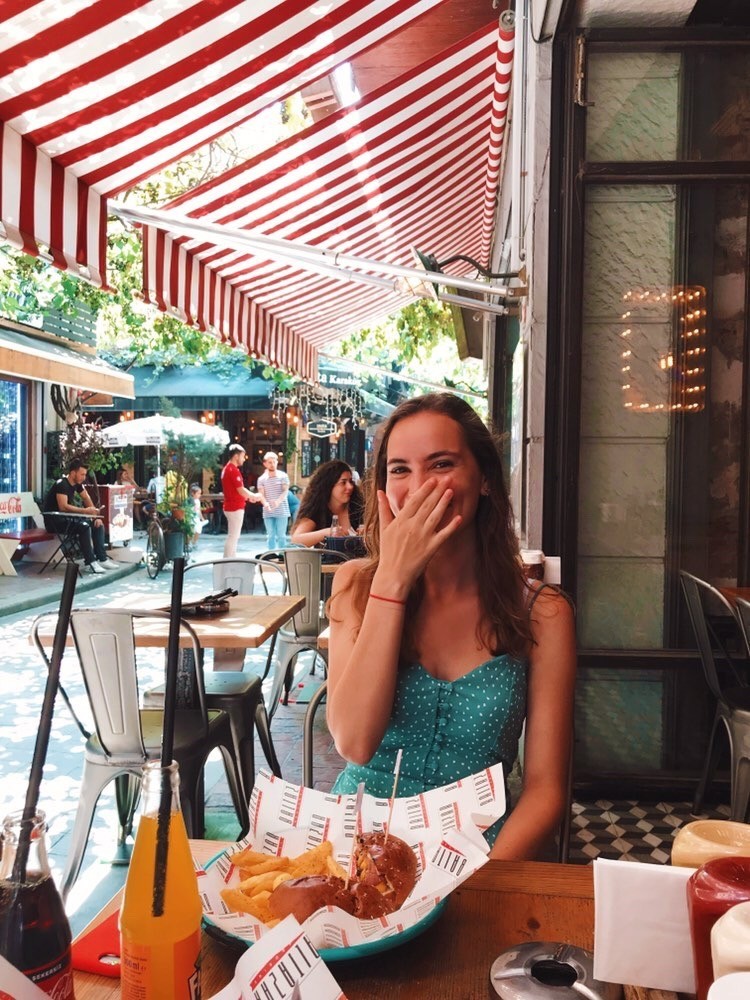 I'm planning to devote a whole article to Istanbul's eateries, so I won't say too much about our meal now, but if you're in the city and looking for some quality fast food, I recommend that you come here to get it! Ceren told me she loved this place so much that she and her university friends would often whizz over in a taxi to eat here between classes!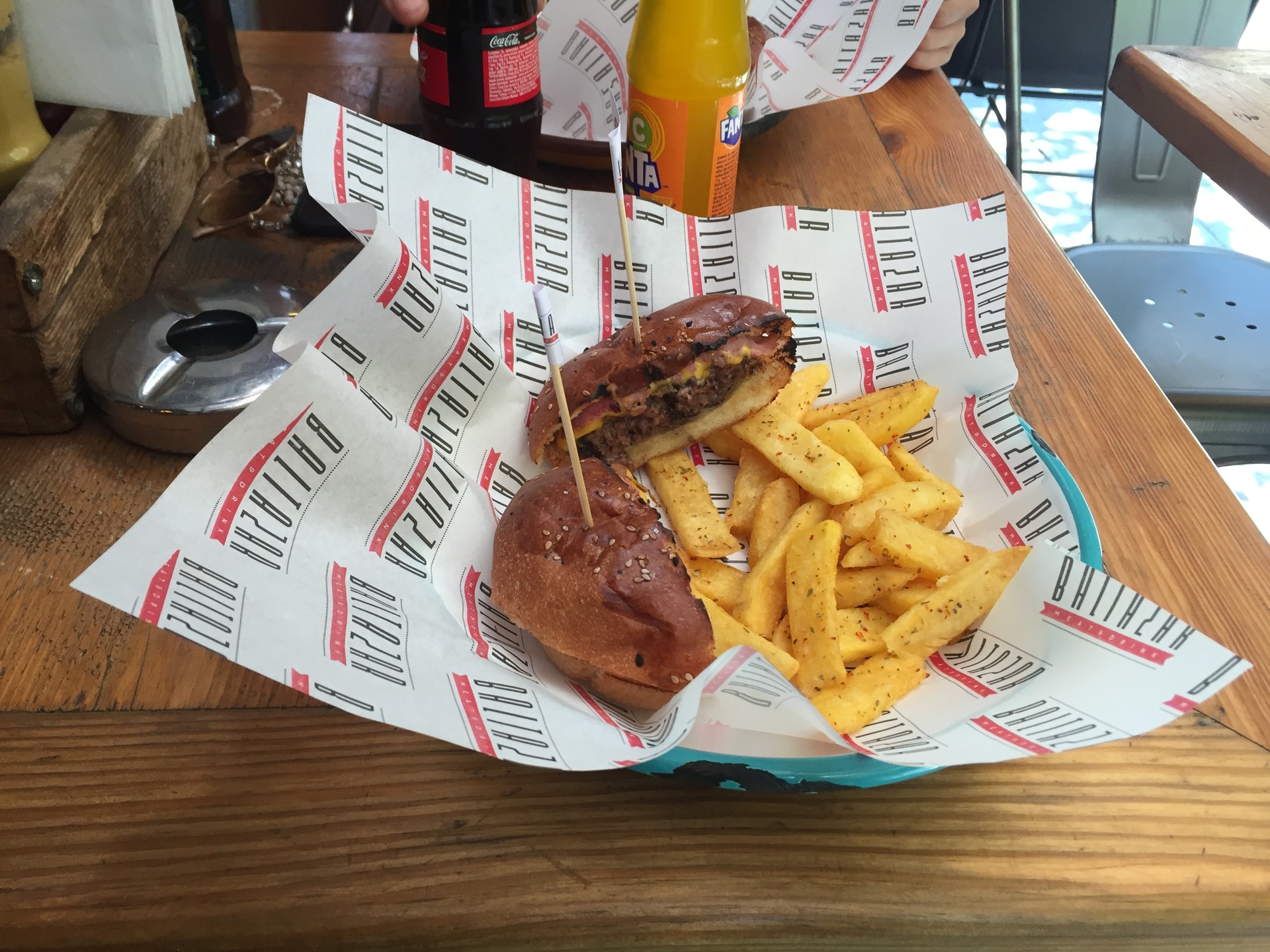 All full up, we walked (staggered, more like!) to our next destination: Umbrella Street. This little lane is any Instagrammer's dream, with bright graffiti lining its walls, and – you guessed it – coloured umbrellas hanging above it. We photographed the place from every angle, then wandered on about a hundred metres, to get coffee (or mint lemonade in my case) in the hipster Han café. Again, stay tuned to find out more about my thoughts on the place!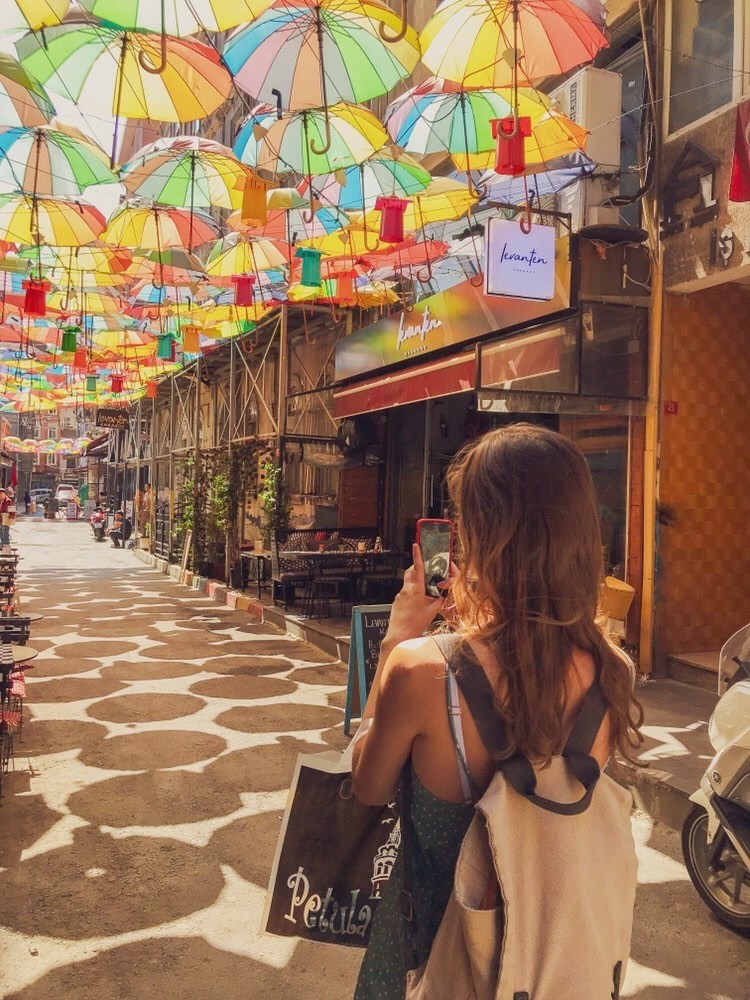 Lots to see in Nişantaşı!
Once we'd finished our drinks, Ceren and I headed back to the Galata Bridge, and caught a bus to the nearby district of Nişantaşı. This area had much more of a ritzy feel to it than the last: a lot of the shops had very elaborate window displays, and the restaurant menus I caught sight of boasted dishes that were rather out of my budget. Still, I had a great time wandering around this place, past the boutiques, the local university, and many a lounging cat.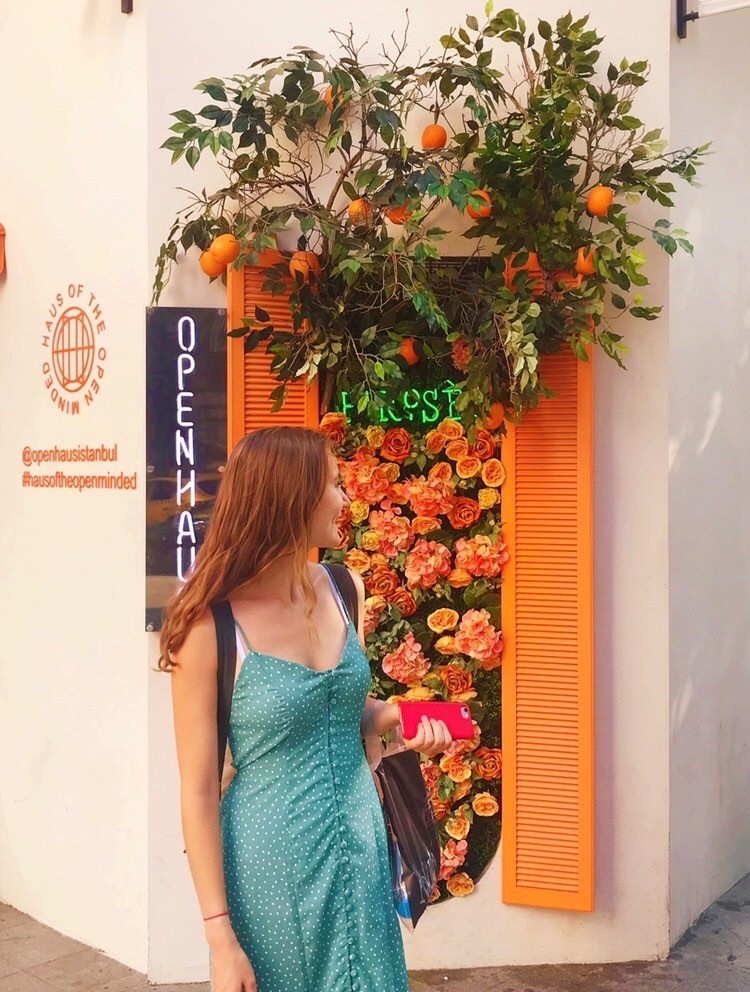 An evening by the river
When our legs had grown tired from this hilly trek, we hopped on another bus, and headed to one of Istanbul's most iconic landmarks: the Ortaköy Mosque. This nineteenth-century house of worship, which sits on the bank of the Bosphorus, is a sight to behold, with its intricately-carved, pinkish facade, and two imposing minarets. It must provide the backdrop to thousands of tourist photos daily.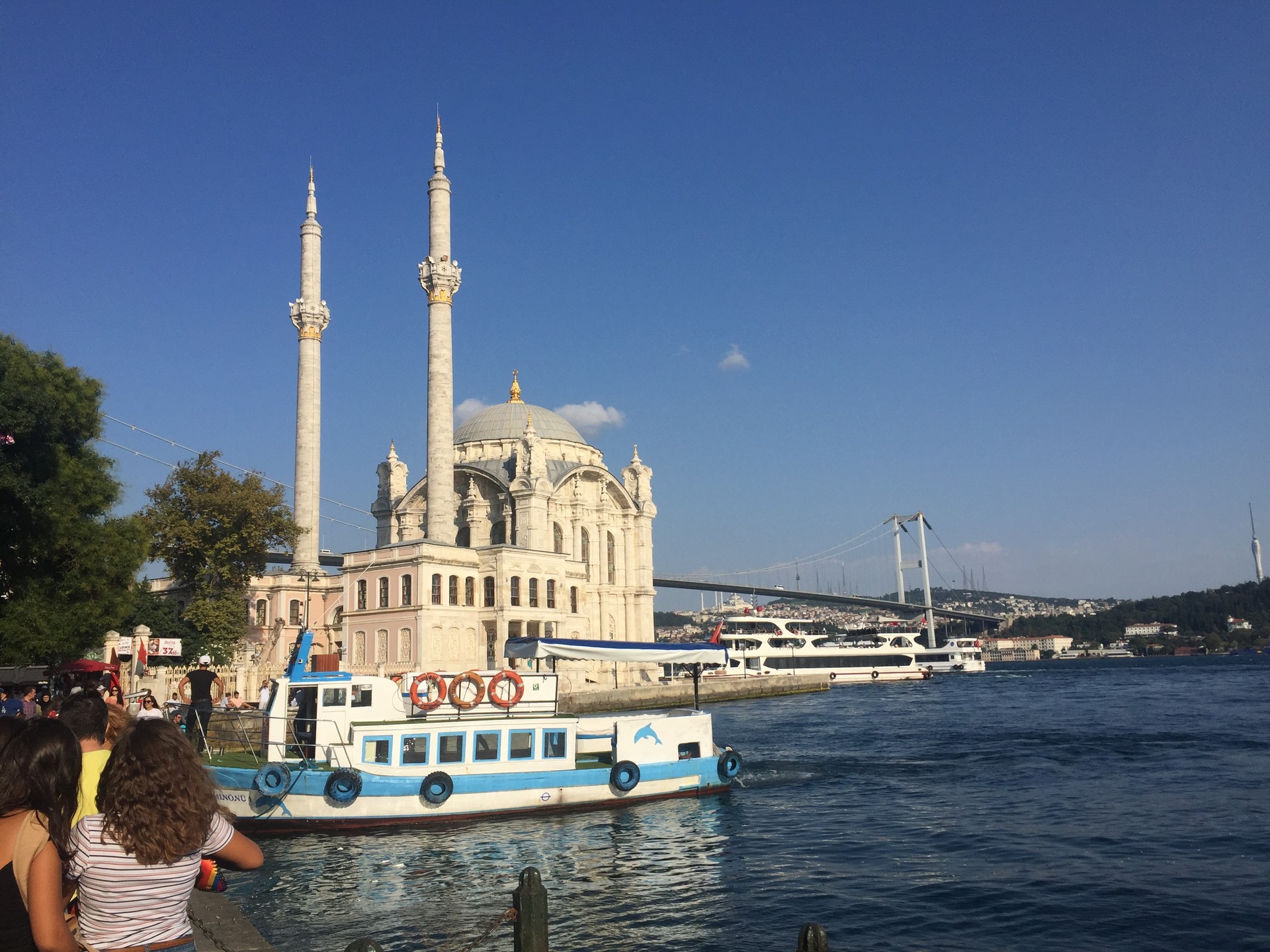 After sitting by the river for a bit – with Ceren pointing out some of the famous buildings over on the Asian side, including a recently built mosque, which all the locals despise! – we agreed that it was time to fill our stomachs one last time. Over we went to an ice cream stand, where the vendor played all sorts of tricks on me before eventually handing over my cone. (Type 'Turkish ice cream seller' into YouTube, and you'll find hundreds of videos documenting practical jokes like these!) Ceren, who had seen it all before, firmly told the seller, 'I don't want to play today'. He respected her wishes.
You'd think that at this point our hunger would be totally satisfied, but oh no: a waffle stand that we came across on the way back to the bus stop was too tempting to resist. We decided to be good and share one, but given the number of toppings we had put on it (Nutella, strawberries, sprinkles, chocolate drops, etc. ), I'm not sure our health really benefited from this resolution. Never mind: we all need a bit of sickly sweet goodness in our lives!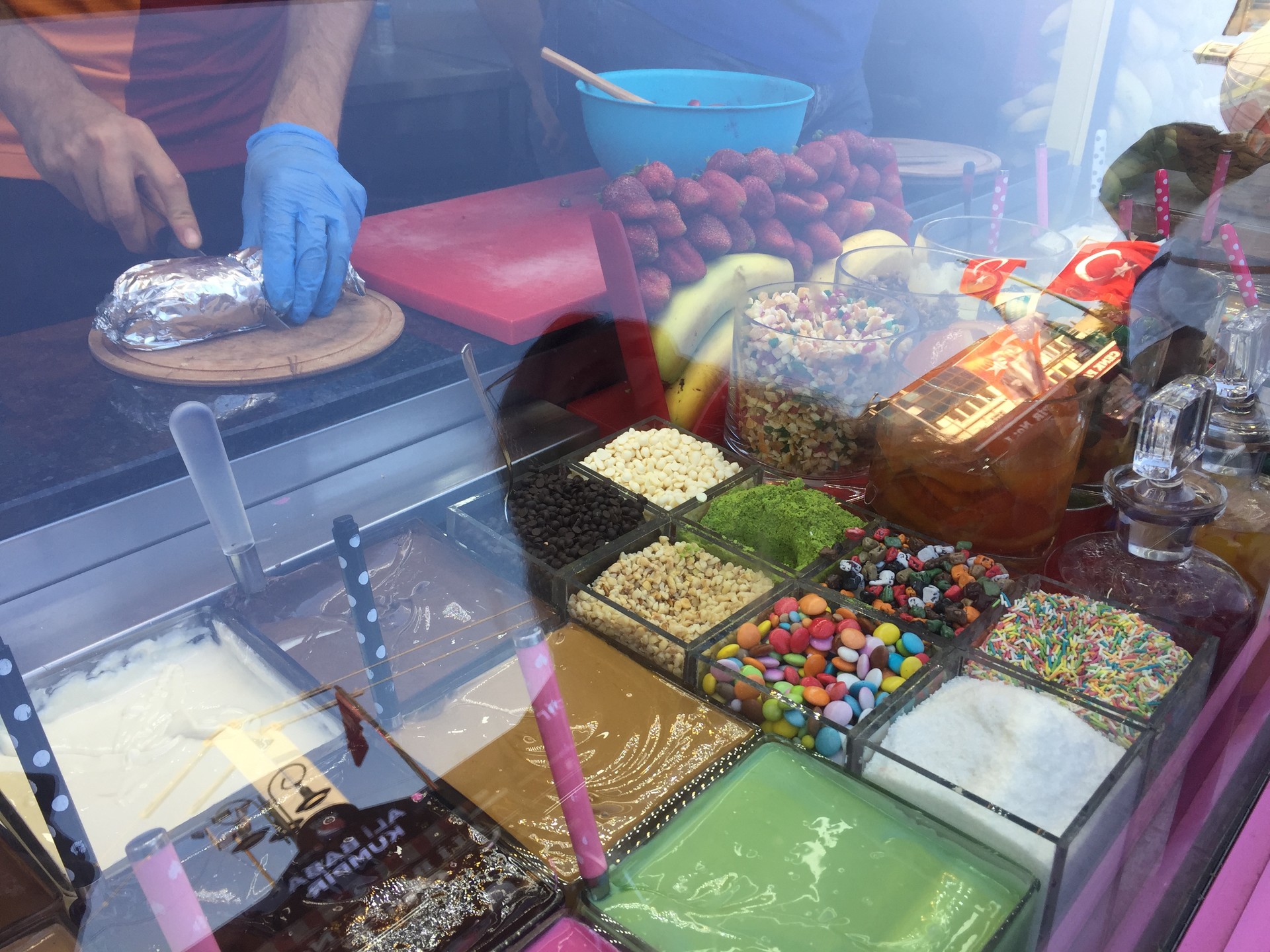 A fond farewell
At seven o'clock, it was time for Ceren and me to part ways, so we said our goodbyes, and promised to keep in touch. I took a bus back to the Galata Bridge, had a quick walk along the water's edge when I was back on the other side, then headed home.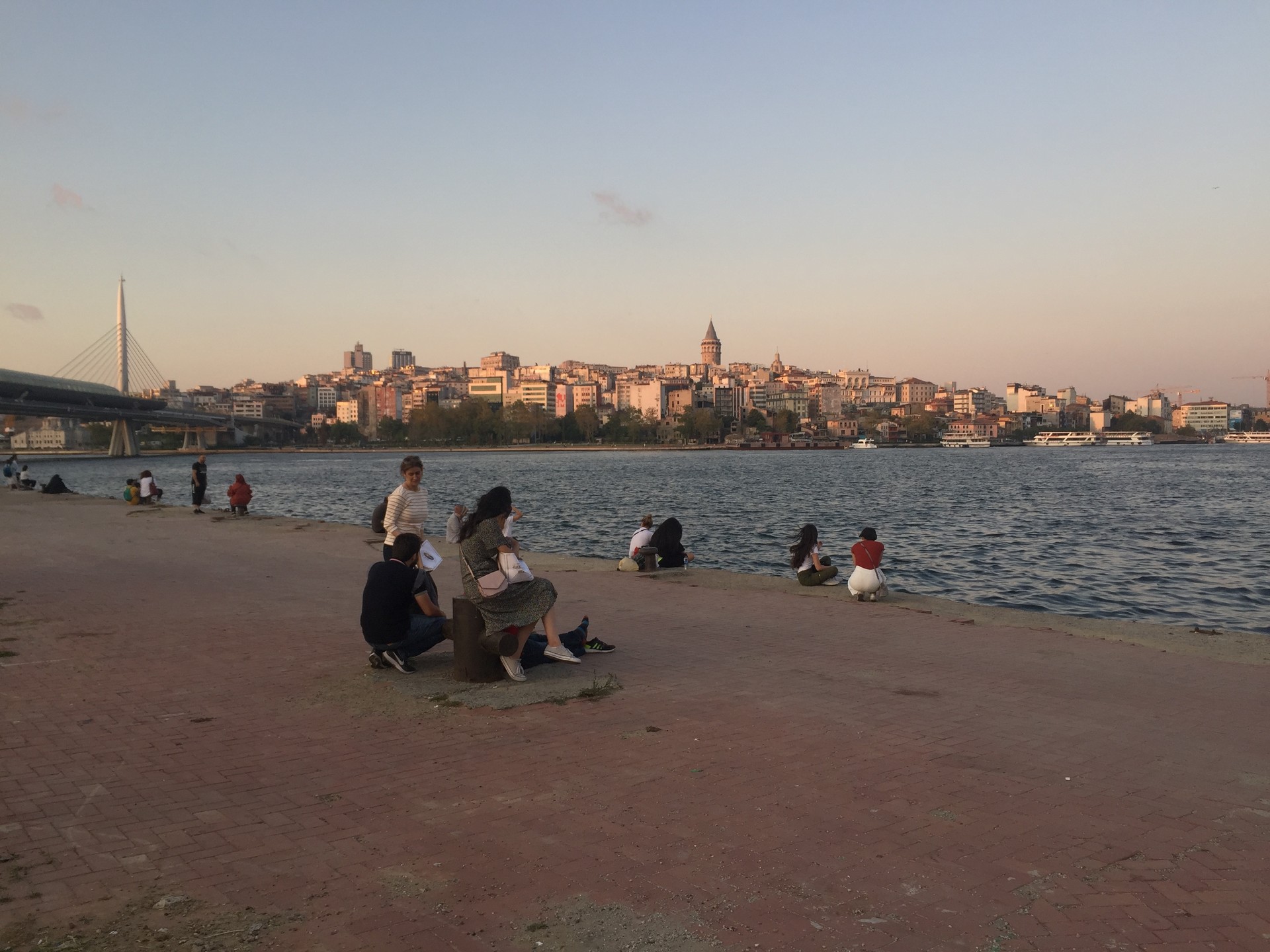 Final thoughts
I had a fantastic first day in Istanbul, and felt so lucky to be guided through some of the city's neighbourhoods by a local expert. A huge thank you to Ceren for giving up her time to show me around! A few tips for any of you planning to visit this place, yourself:
If you want to see a lot of sights in one day, invest in an Istanbulkart: this contactless smart card will give you access to all the city's buses, trams, and metros for a very affordable price!

If you're hungry, eat: any weight you gain can be burned off once you get home!

Get lost: there's so much to see here, and you're sure to come across countless hidden gems, if you just let your own two feet do the talking

Be assertive: Turkish people, I've noticed, have a tendency to push in front of tourists, so stand your ground if this happens (or just make sure you never get in their way!)

Make sure you're outside for sunset: it's pretty spectacular here, especially if you're standing by the water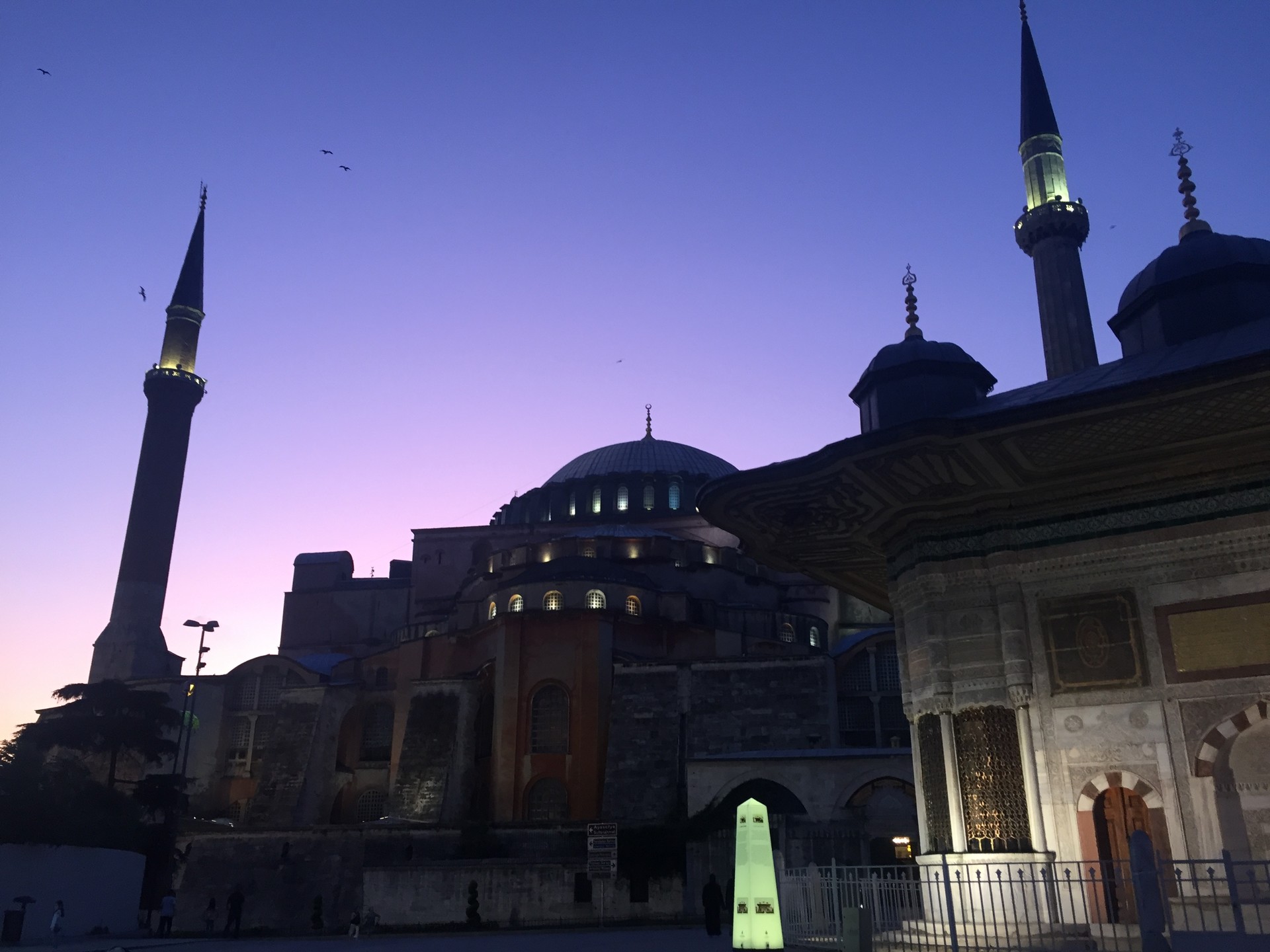 End of part three
So there we have it: the third installation in my 'Touring Turkey' series! I'm about halfway through my trip now, and still loving every moment of it, so stay tuned for many more cheery posts, coming your way very soon! In the meantime, here's to exploring new places, meeting new people, and making countless memories along the way!
---
Photo gallery
---
---
Content available in other languages
Want to have your own Erasmus blog?
If you are experiencing living abroad, you're an avid traveller or want to promote the city where you live... create your own blog and share your adventures!
I want to create my Erasmus blog! →