My first Erasmus accommodation - Granada, Spain
Architecture and landscape

10 / 10 points

Entertainment

10 / 10 points

Culture and customs

10 / 10 points

Transport

6 / 10 points

Gastronomy

10 / 10 points

Prices

8 / 10 points

Party

10 / 10 points

Weather

10 / 10 points
---
Where to live?
Going for Erasmus means in many cases to leave parents' house for a longer period of time for the first time. Or maybe, you have already left your parents house when moving to a high-school or university dormitories. If none of these, you might have spent some summer weeks away, but I personally think that moving because of Erasmus is something different, because (depending on where you are going to do your Erasmus) accommodation is usually not provided and you have to find it yourself. But keep reading, please, so you understand better the system of Erasmus accommodation.
In my case, I had spent two summers in Scotland before leaving my country for the first Erasmus experience. But I knew that I had been gone just for two or a little bit less than three months. Moreover, I went to Scotland to do seasonal work where accommodation was provided (even though it was just a mobile house where I was sleeping on a sofa and where I could not close a window because it was simply broken.  And yes, nights in Scotland or some Scottish rainy days can be really cold).
University dormitories
My first time looking for an accommodation happened in summer 2016. I was supposed to do a student mobility in Granada. Granada is a magically beautiful antique city in the South of Spain, Andalusia). I was going to study at University of Granada which was offering some kinds of accommodation, especially in university dormitories. So I checked a price which I would have to pay monthly. Just so you understand, in the Czech Republic, living in a dormitory is usually the cheapest option which you could get for your living. However, when I opened the website and saw the price, my eyes had to check it one more time. I could not believe! The price was as high as a scholarship (or let me say economical support) which every Erasmus student receive for equalling differences of costs of living in different countries.  Back then, the dormitory fee was around 400 Euros. However, it is needed to admit that some food was provided and included in the price (breakfasts and dinners, if I am not mistaken).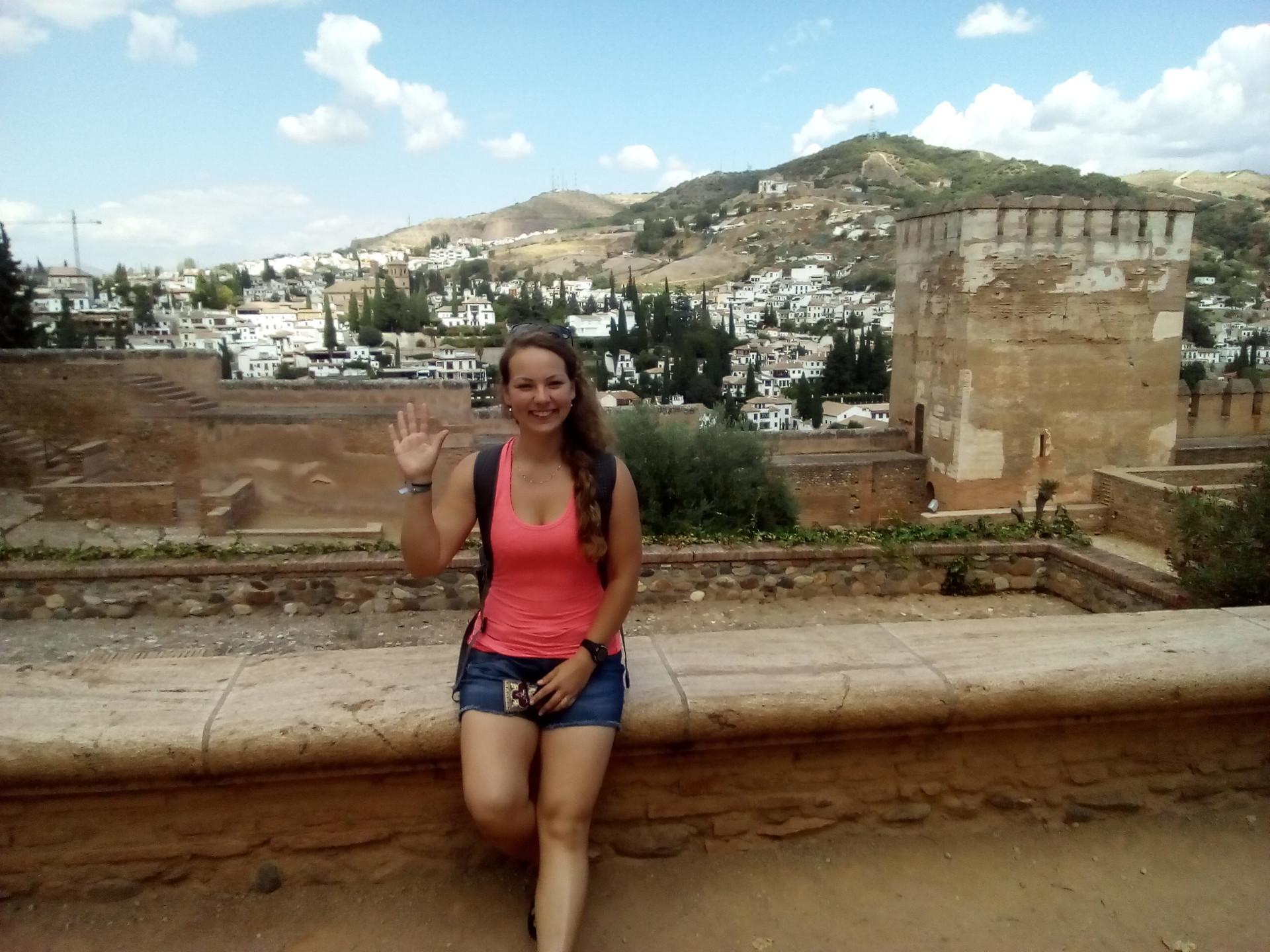 Photo: Granada - the destintion of my first Erasmus
Where to search
I knew that I could not really afford that. I preferred spending that amount of money on something different rather than only accommodation. Luckily for me, I went to do an Erasmus project to Estonia that summer, where I met many participants from Spain. Some of them were even from Granada. So they recommended me some websites and Facebook groups.
In my opinion, Facebook groups work well when looking for an accommodation in Europe. You should just write into the searching bar words like: accommodation, apartments, flats in (and the place where you are going) or just shared living, roommates in (again the city). I recommend you to write it in English or in the language of the country.
So even though my "Pisos en Granada" group was mostly in Spanish (which I did not know that time), people replied quite quickly when I wrote a post in English. Flats in Spain are definitely a cheaper option, comparing to dormitories (or at least in Andalucía). You can find flats which rent is less than 150 EUR (but it is usually without electricity, water, internet costs, which you pay extra later) and you can also find flats which rent is 300 EUR or more. Simply, depends where you want to live – how your flat/room should look like and in which part of the city it should be.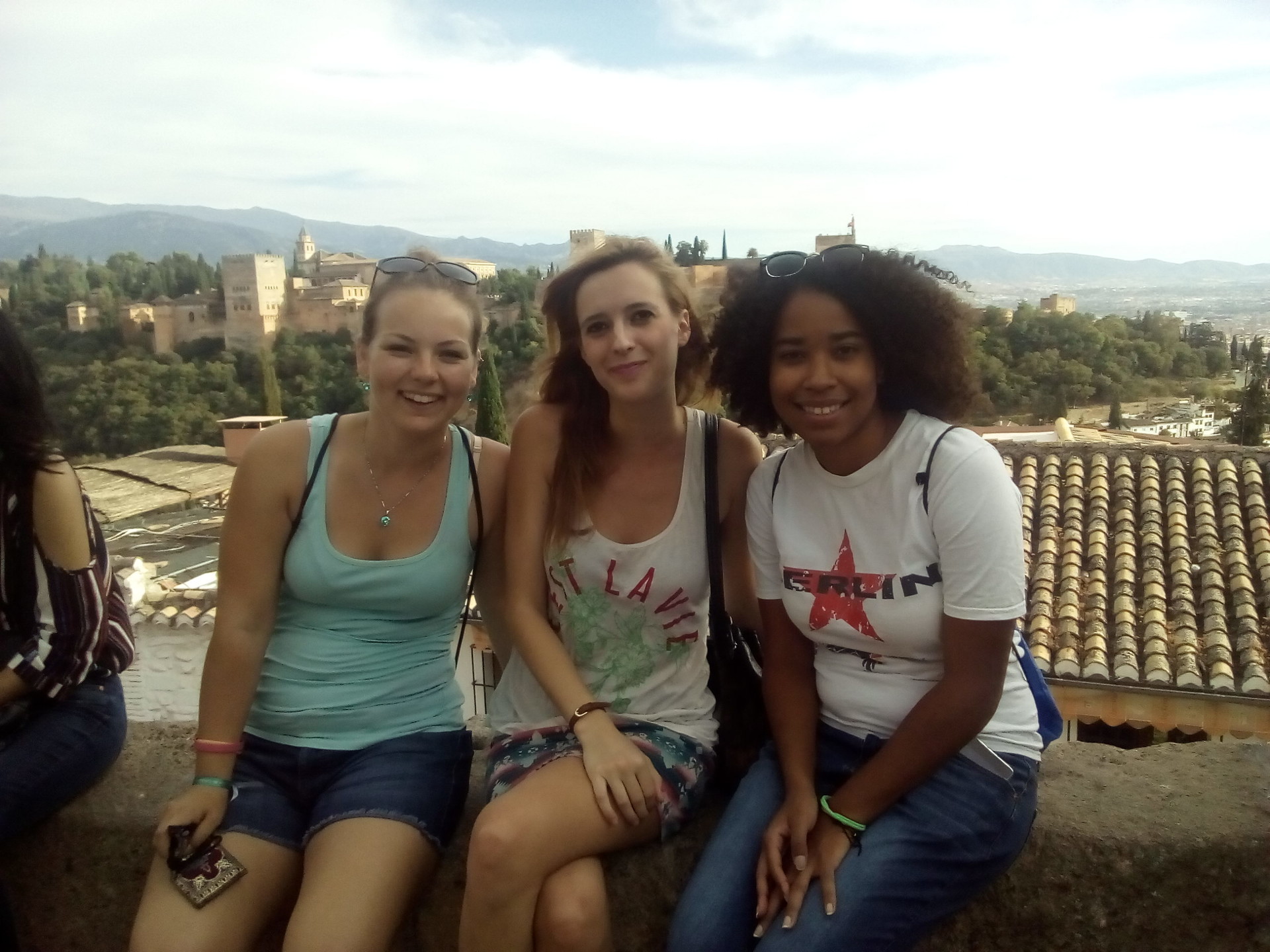 Photo: The girls that helped me with the accommodation search.
My Erasmus flat
I found a flat which was for 140 EUR and looked really nice. I was taking a decision whether to live there or in another house  which seemed to be also nice but cost 185 EUR. Though, the possible flatmates from this second house seemed to be really easy-going and very international. It gave the flat some extra points. So I arranged a Skype visit there and finally decided to choose it as my new home for the next half of the year.
We had a house with a garage, a basement where there was a patio (terrace), a kitchen and a living room and our rooms where in the first floor. We had three bathrooms so it was very comfortable.
The kitchen was fully equipped, we even had an oven (which I really appreciate now, after the whole year living without it). The living room had a television (which helped me a lot when I started learning Spanish) and there was even a swimming pool in the house complex! What a luxury! Or... what a luxury it would be if it were possible to go there more than once. They closed the access to the swimming pool in October and opened after winter when I had been gone.
Imagine, just in front of the house there was an outside gym. There was usually nobody or just a few people and as it was a part of a park, it was for free to exercise there.
Until now, it probably seem like a dream house. I have to say, it was very nice, clean and modern but so far I did not mention my room. It was a very cosy place despite of its size. I could not do much there and when my friend came in once, the two of us in the room were almost more than enough. Also, as our apartment was a part of the house complex, the only view from a window in my room which I could get was a look at three other walls. So sun could not enter.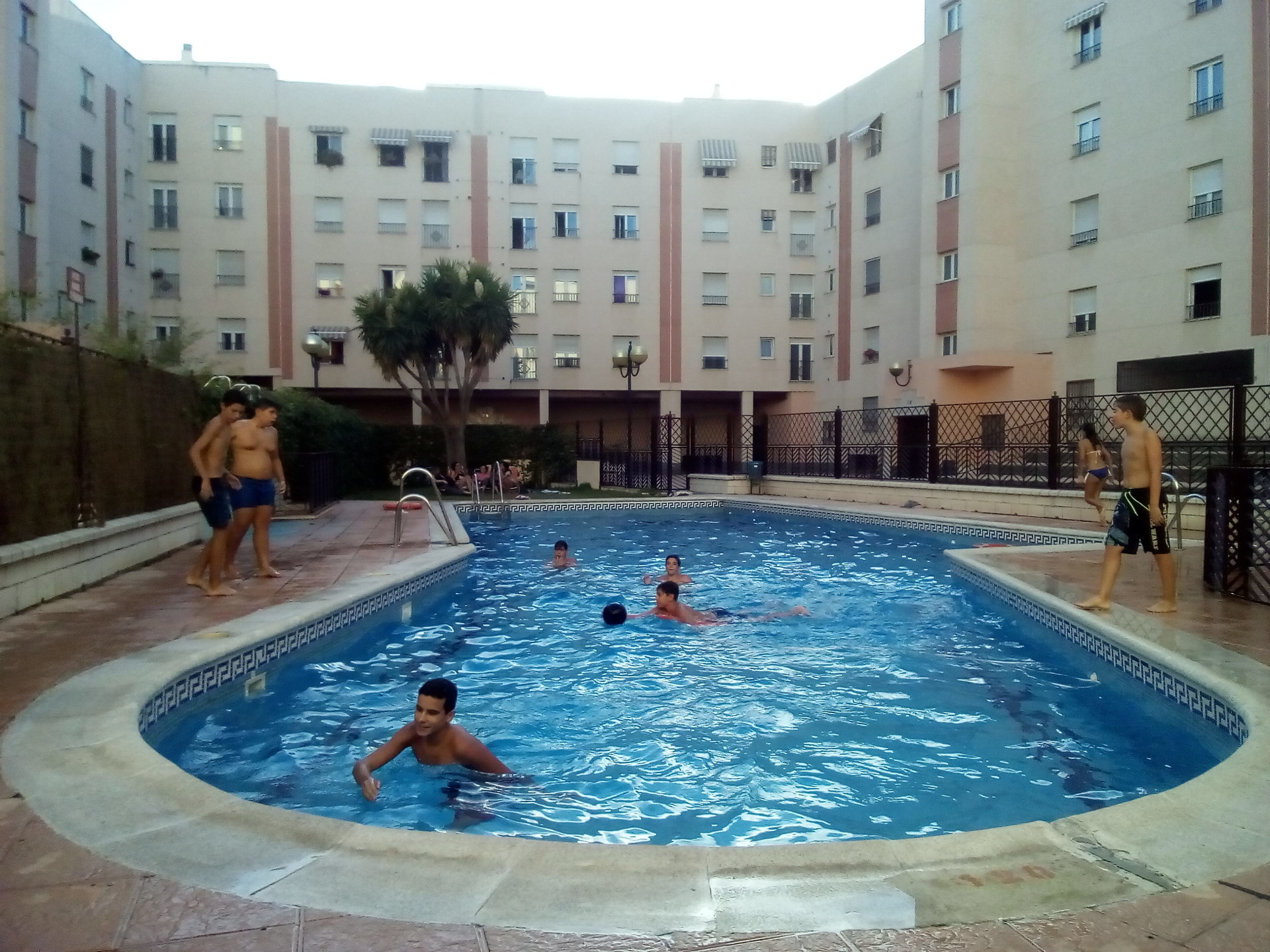 Photo: There was even a swimming pool in the complex.
"Home sweet home" or "Cold home, cold"?
Once I saw a post on my Facebook profile written by a girl from my home village. "What is the temperature in your towns?" As it was December, the Czechs were responding that it was something around -17° C. It was +17° C in Granada, the sun was shining and the winter days did not seem to be cold.
But wait! Anytime I got home, I just wanted to go to my bed to hide under two blankets (which were super thin). There was no heating in the house, so it was incredibly cold inside. It was a completely opposite situation than we had in the Czech Republic. There, winters are very cold. So people freez outside but enjoy getting to  sweet warm houses. In Granada, though, it was so cold in the house that I preferred going outside  to "defrost". I mean, this situation was not happening only in our house. It was happening in all houses. So if Spain or Portugal are your chosen destinations for you Erasmus, bring a warm clothes.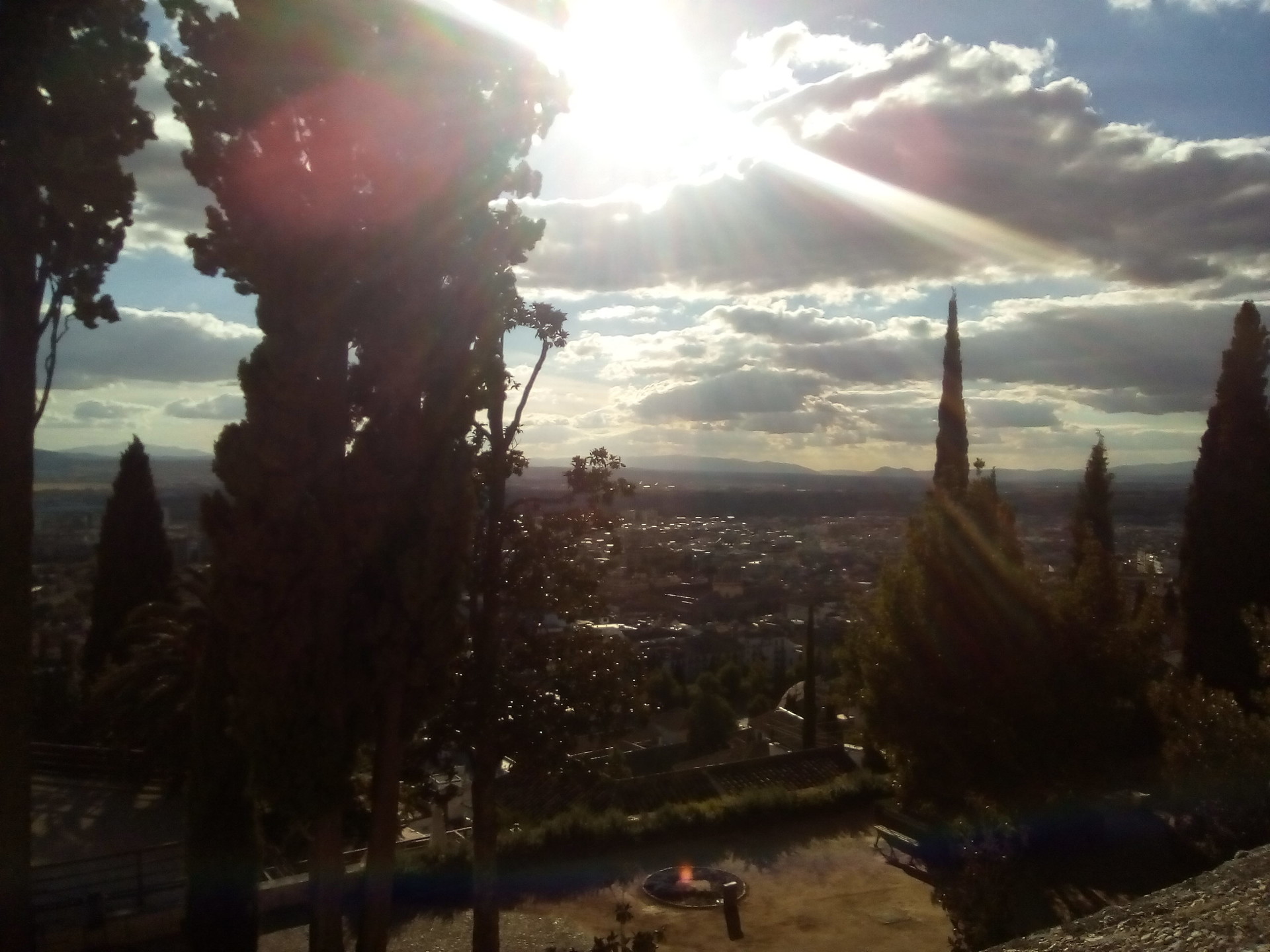 Photo: Even though winters are warm, it is cold inside houses.
Sleeping in the living room
I was sharing the flat with three other people. A lovely English teacher from London who has taught English in half of Europe, I guess, was one of them. Next, there was a Spanish boy and a Polish girl. They were a very friendly and cheerful couple. All of my roommates were very nice. The British girl loved cooking and Czech liqueur Becherovka (she used to live in Czechia), the Polish girl was an inspiration in learning Spanish and the Spaniard was always smiling and became a Spanish teacher for me and my friend.
However, there was one time we obviously misunderstood each others. As my Erasmus was getting very close to the end, Juan and his girlfriend started to look for another person to live in after my leaving. There was a French girl who came in Christmas time to check the flat and as my roommates were outside of Spain, I assured her how nice they were and that they would get on really well for sure.
So time passed by and I asked Juan: "What about the French girl? Will she finally move in?"
"Yes, she will."
"Great! When is she coming?" I asked.
"At the beginning of February," he replied.
I got shocked! When she was supposed to move in, I was supposed to still live in. Well, to cut the story, after a talk with my roommates, I decided not to complicate the whole situation, and as there were only a few last days left (maybe just three days), I moved into the living room. The sofa there was too short, so my last nights of my first Erasmus were not too comfortable.
Even though, it did not destroy my overall good feeling for my first Erasmus house!
And what about you? Are excited about some adventures you might live in your new house?
---
Photo gallery
---
Share your Erasmus Experience in Granada!
If you know Granada as native, traveler or as exchange student... share your opinion on Granada! Rate different characteristics and share your experience.
Add experience →