Experiencing the Alhambra from 3 Different Views
Architecture and landscape

10 / 10 points

Entertainment

10 / 10 points

Culture and customs

10 / 10 points

Transport

10 / 10 points

Gastronomy

10 / 10 points

Prices

8 / 10 points

Party

8 / 10 points

Weather

10 / 10 points
---
I got the chance to visit Granada through an Erasmus Student Network Trip. On a Saturday morning, we made our trek to the Alhambra at 10:45am as we had a scheduled tour of the Palace at 12pm. I am sure there are tons of posts describing the Alhambra in all its beautiful glory, so I will not go into great detail of what you can expect to see inside the castle. However, I was able to experience the fortress from three different perspectives in the two days I stayed in Granada: within the castle itself, from Mirador San Nicolas, and from Ermita de San Miguel Alto.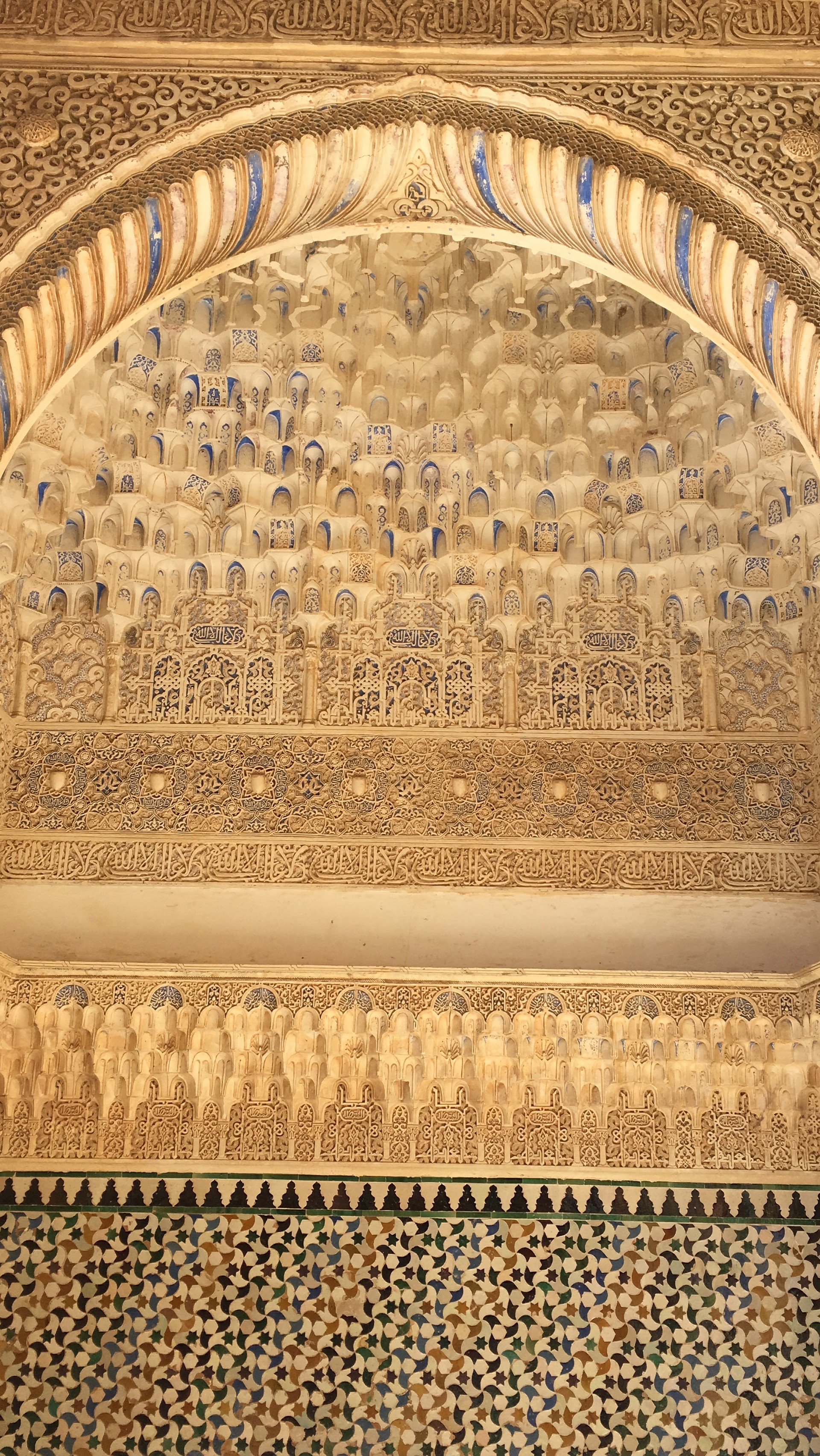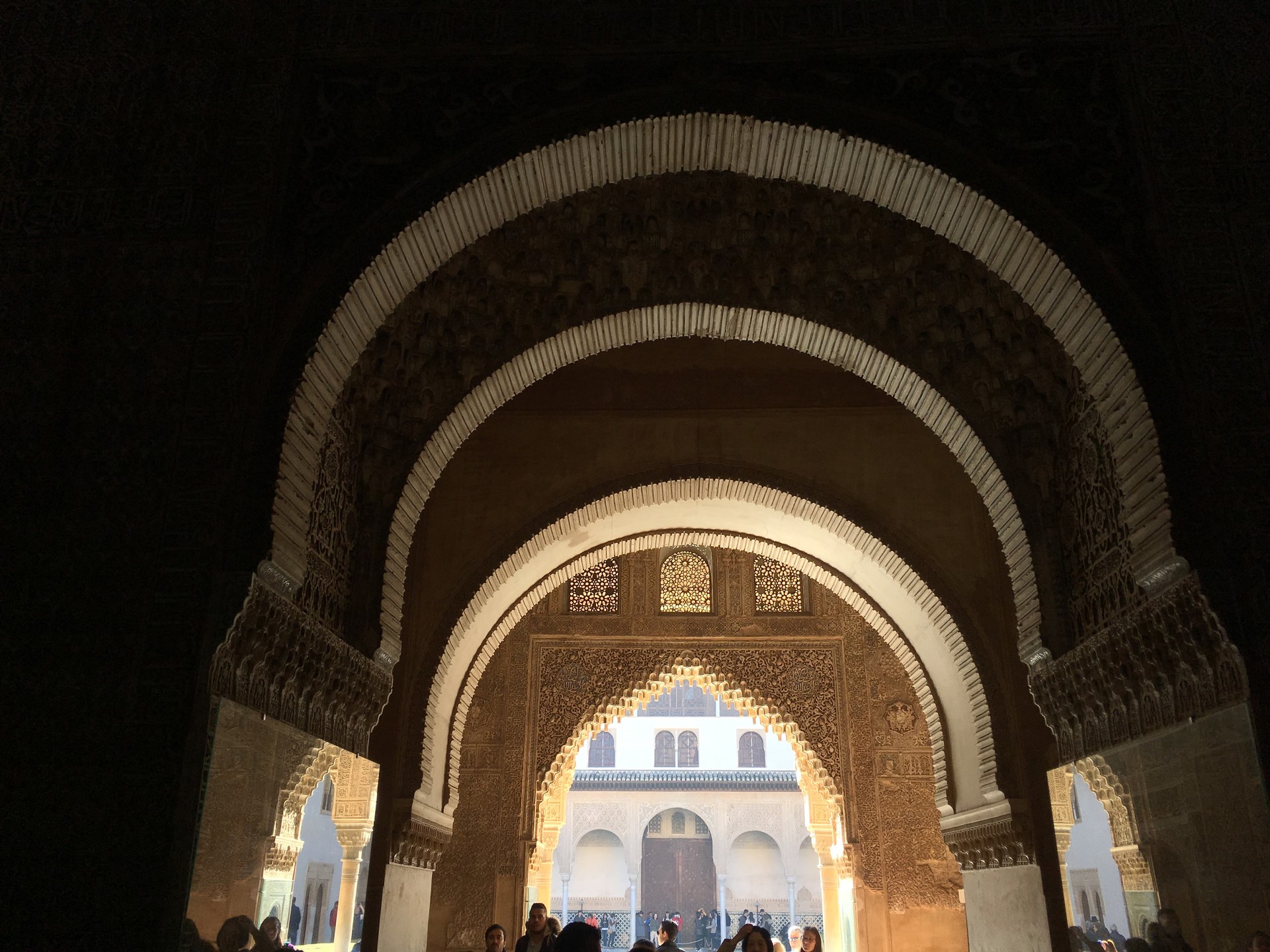 The Alhambra itself
I could have spent the whole day in this fortress. Winding room after another, I stumbled upon ornate designs, pillars, gardens, fountains, panoramic views of Albaicín neighbourhood, rich culture, and towers. I highly recommend going before noon, since I noticed crowds became larger and lines became longer the closer I got to the more popular sights in the Alhambra. Also, the sunlight lit up the mosque's designs, colors, and gardens.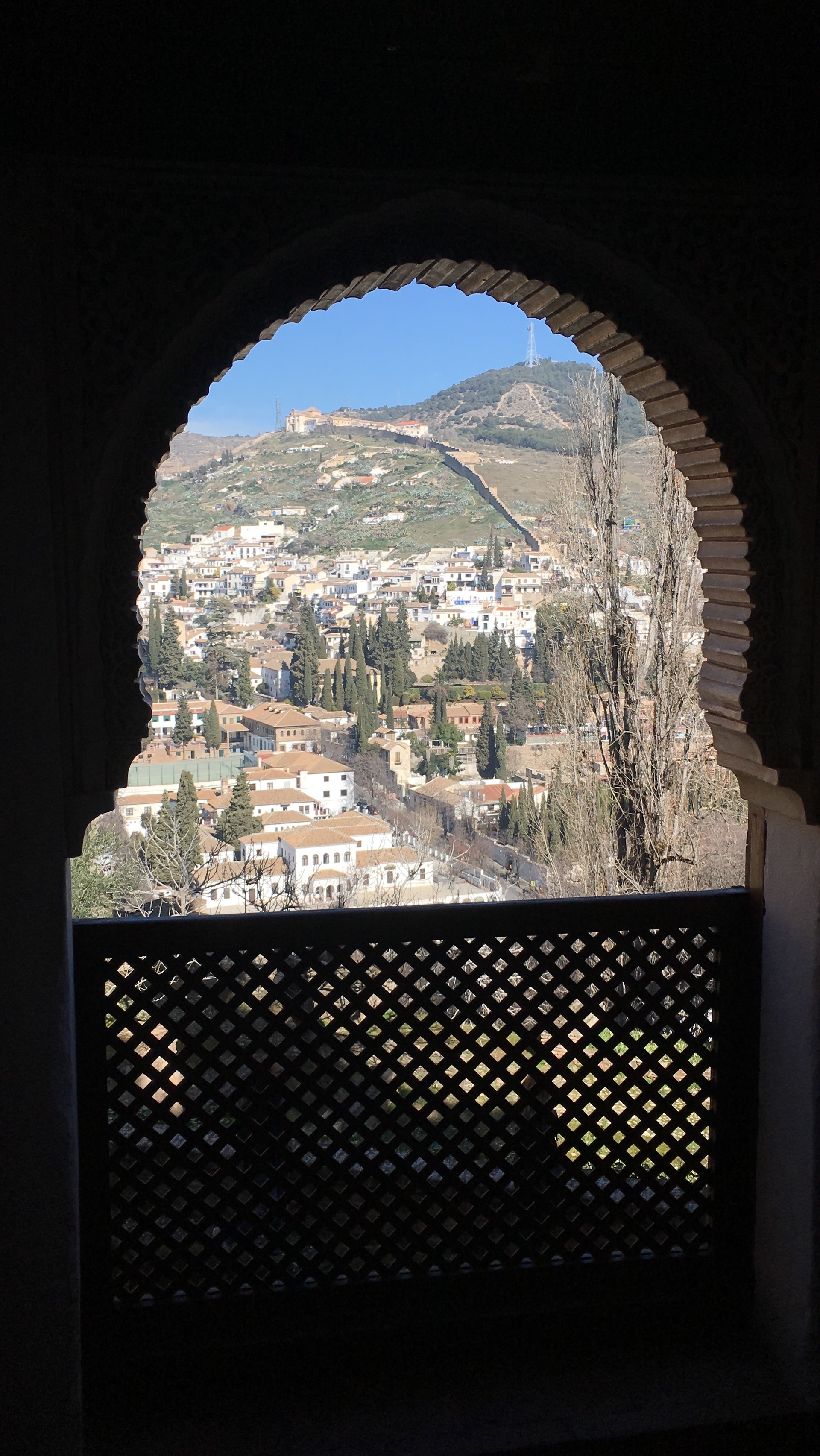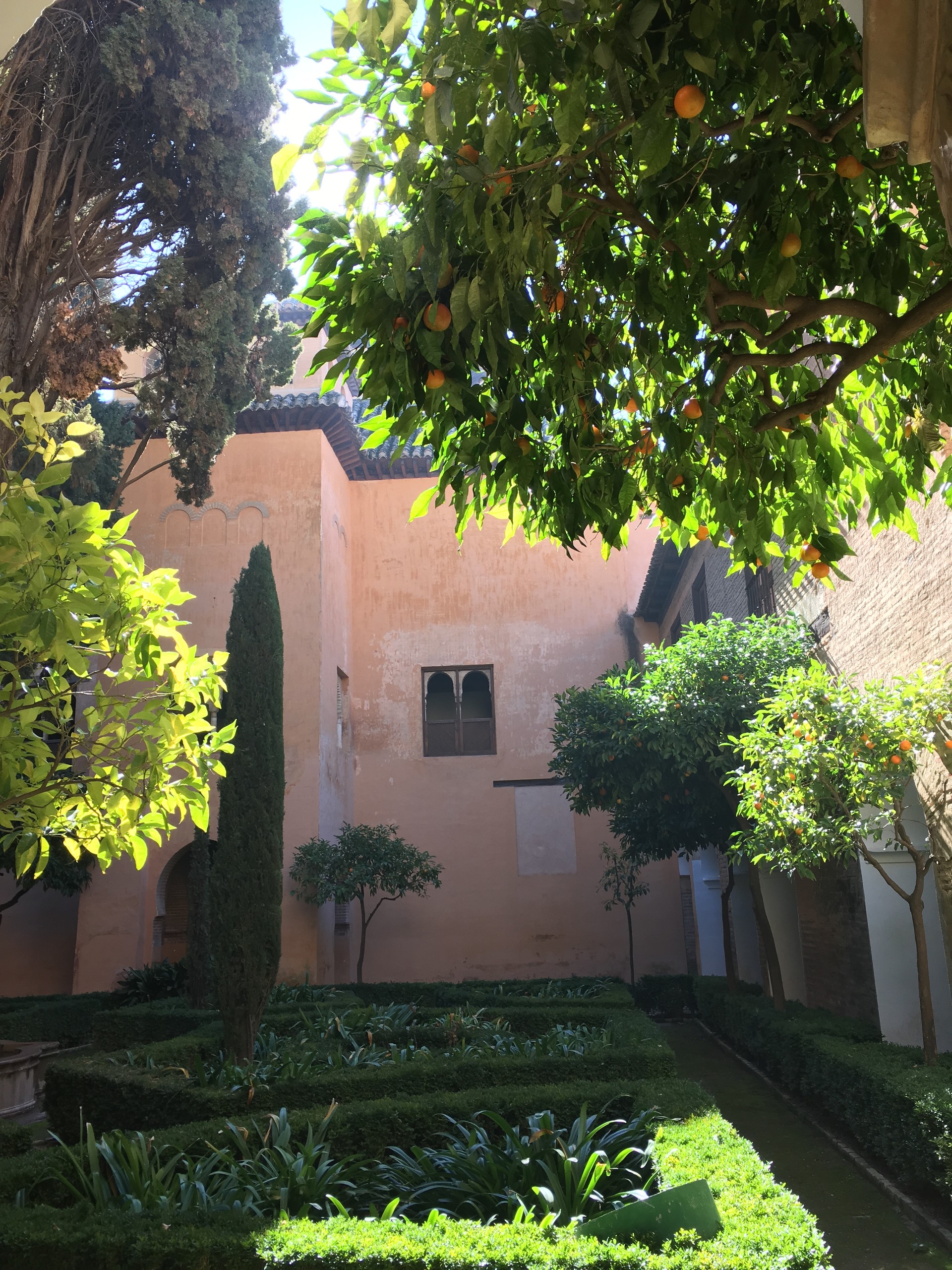 Mirador San Nicolas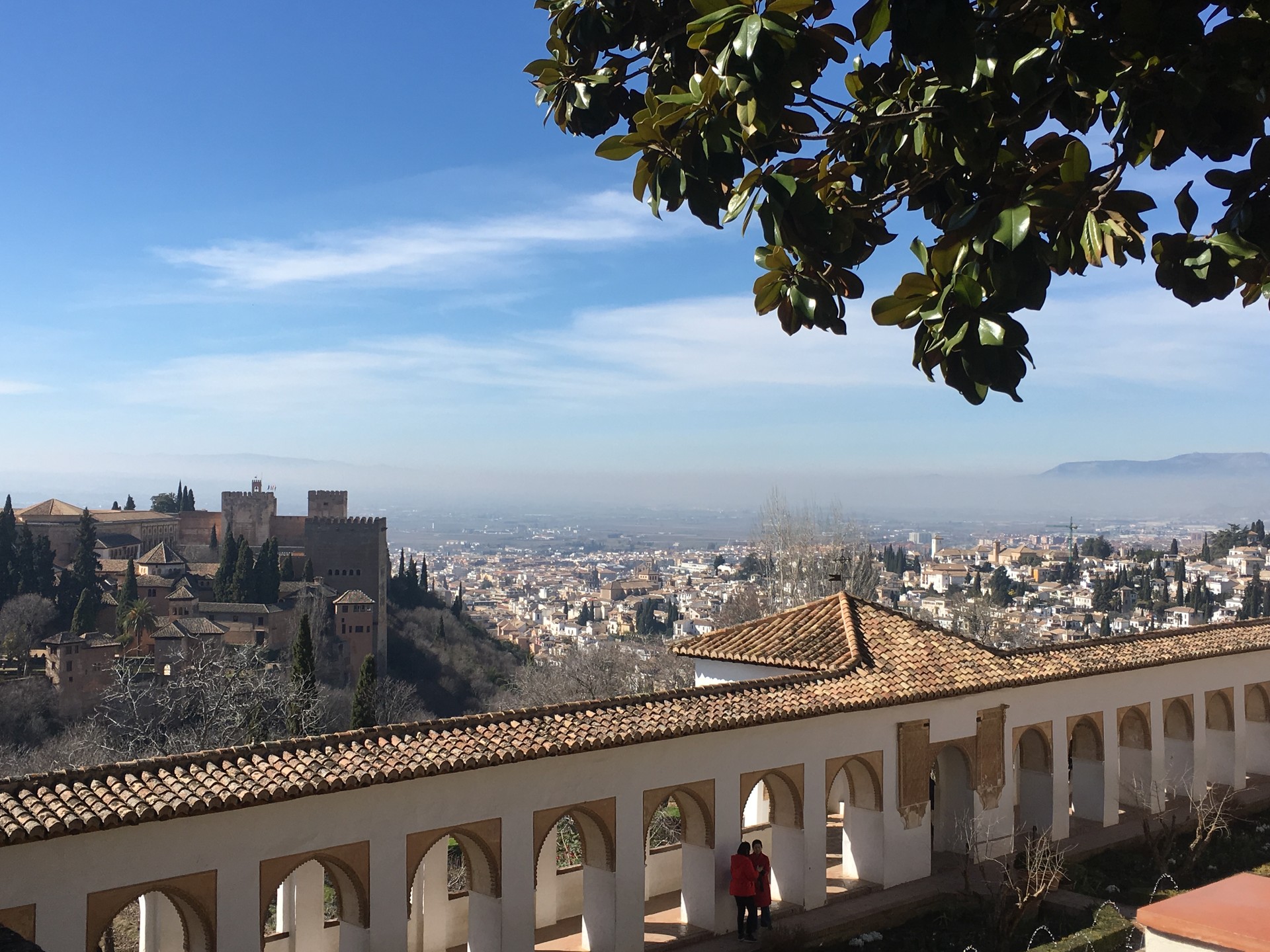 From certain points within the Alhambra, you can see this lookout point filled to the brim with people. Later in the day, our group went on a walking tour of the city. Around 5:45pm, we ended at Mirador San Nicolas, a place I soon realized was the location where most of the postcards are taken due to its exquisite view of the Alhambra.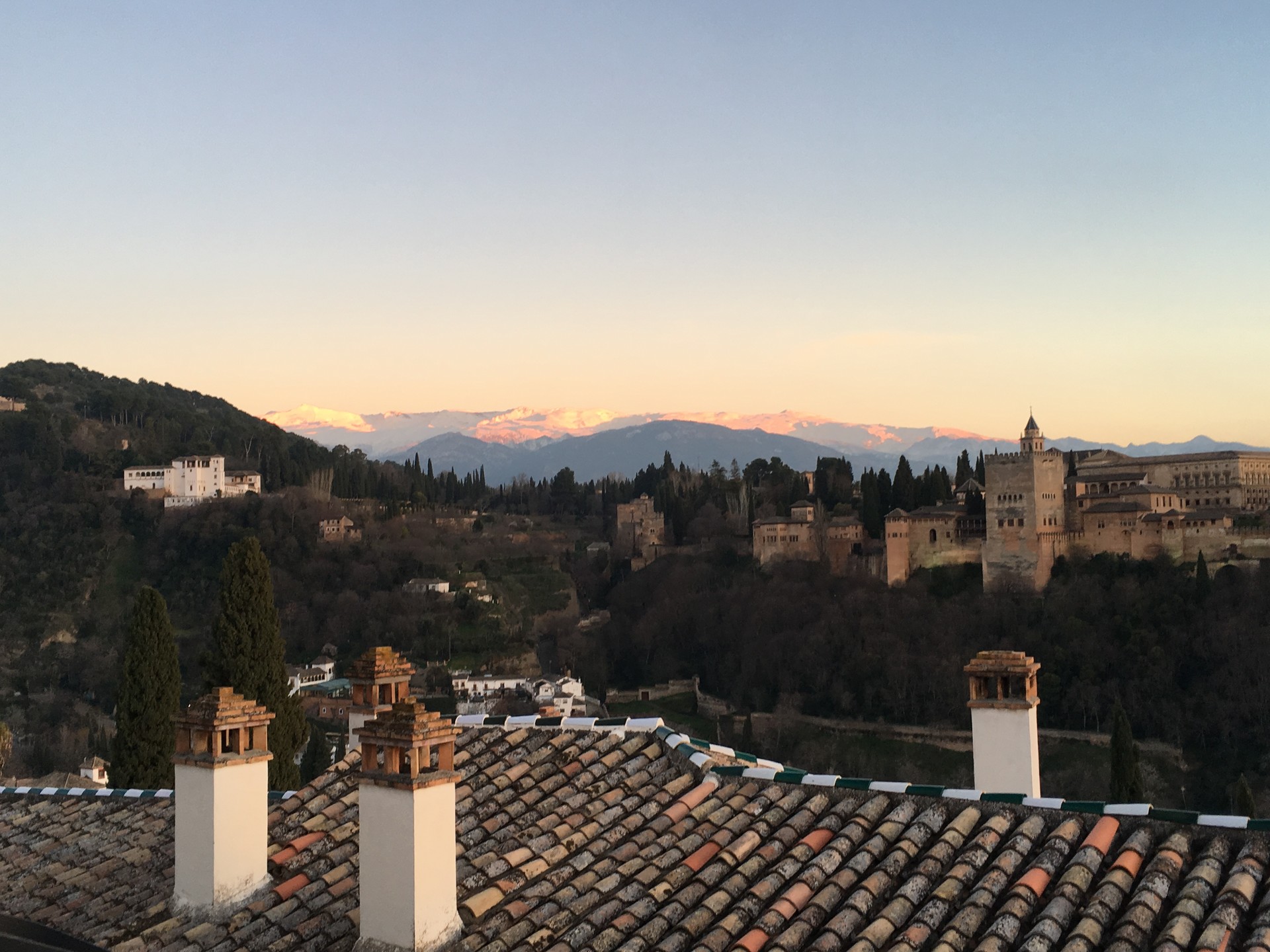 People were sat all along the edges, leaving no space to spare. You have to navigate in and out of the people selling their homemade jewelry, yet once you squeeze your way to the edge, you have a panoramic view of not only the Alhambra, but the snow-capped mountains to the left, and the iconic white buildings that make up the Albaicín to your right. There is an ice cream shop and coffee shop that will only add to your experience as you watch the sunset.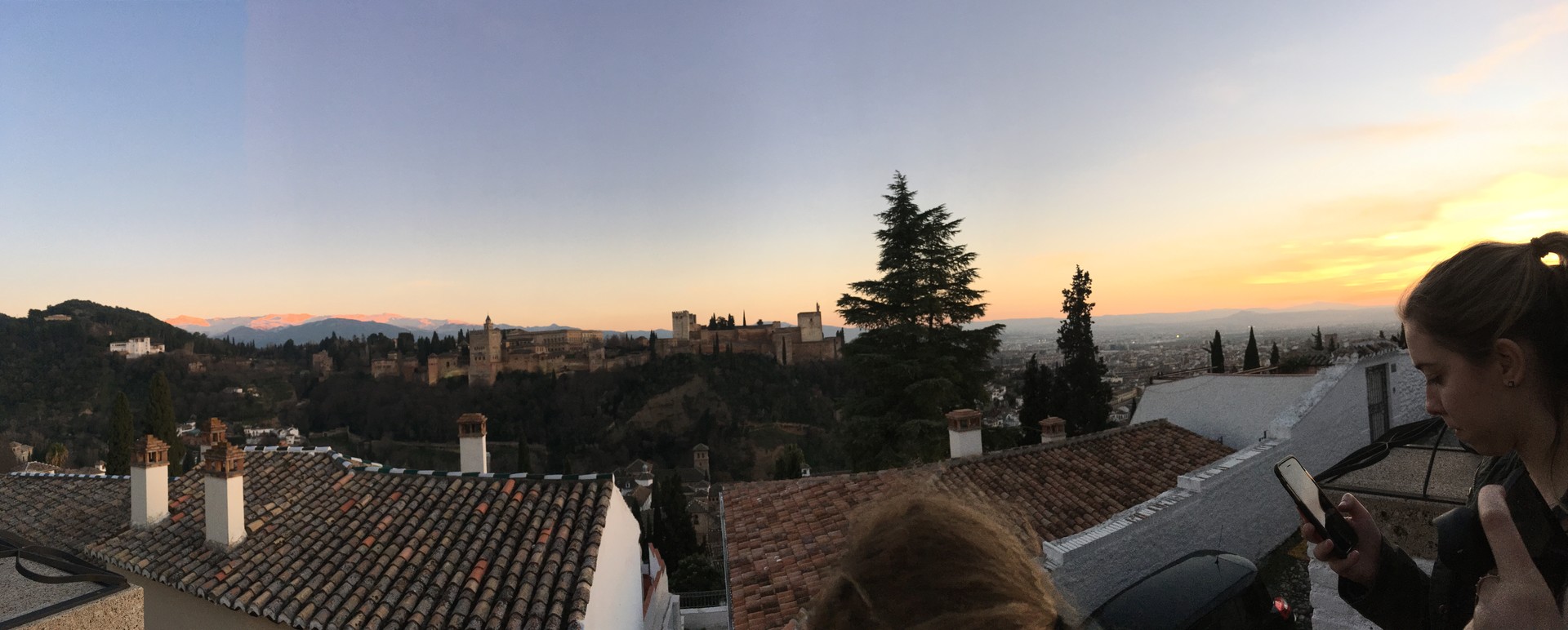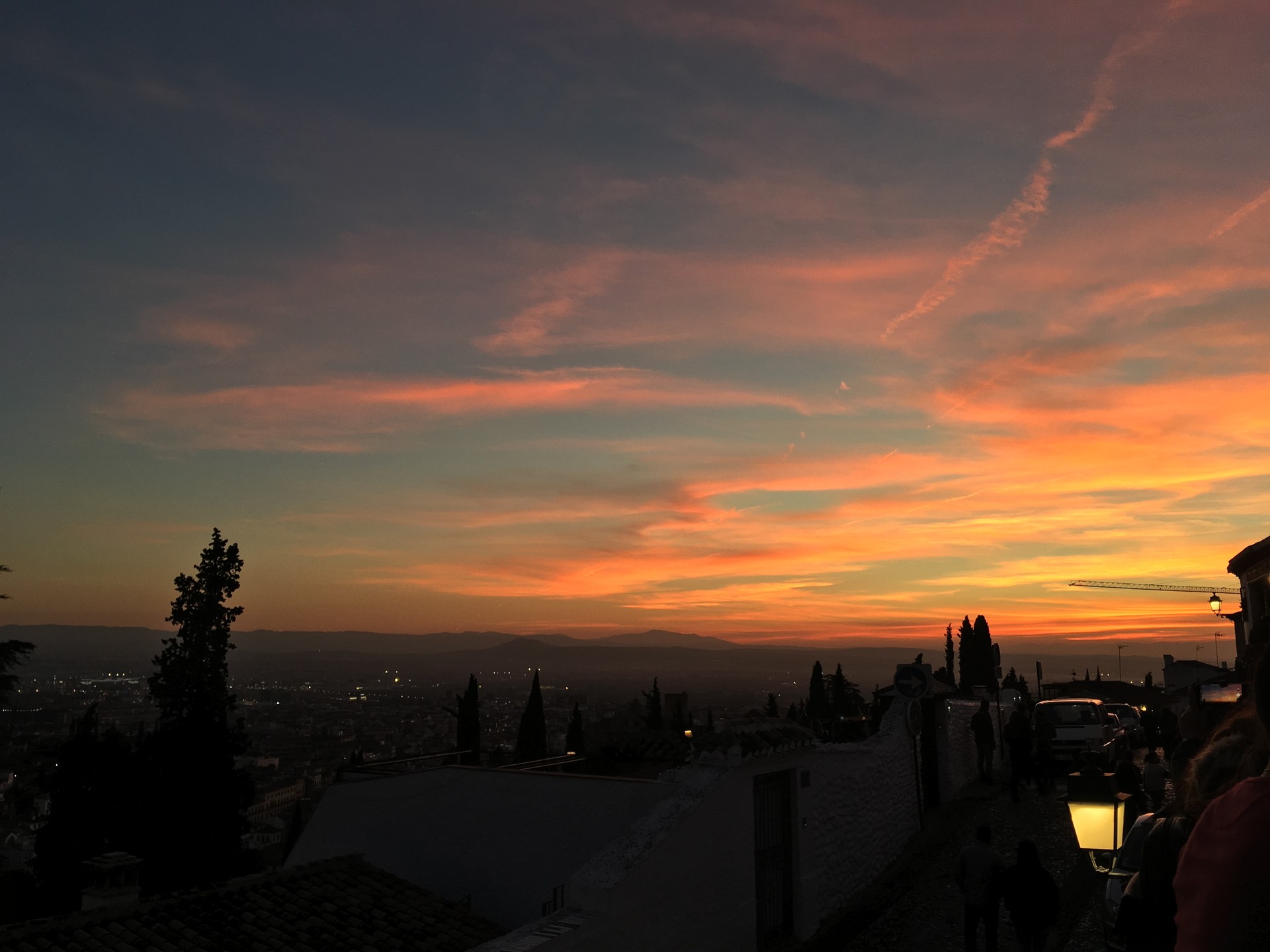 I was truly in awe watching the mountain's snowcaps turn from white to pink, and back to white. This is the go-to spot for you sunset and sunrise lovers.
Ermita de San Miguel Alto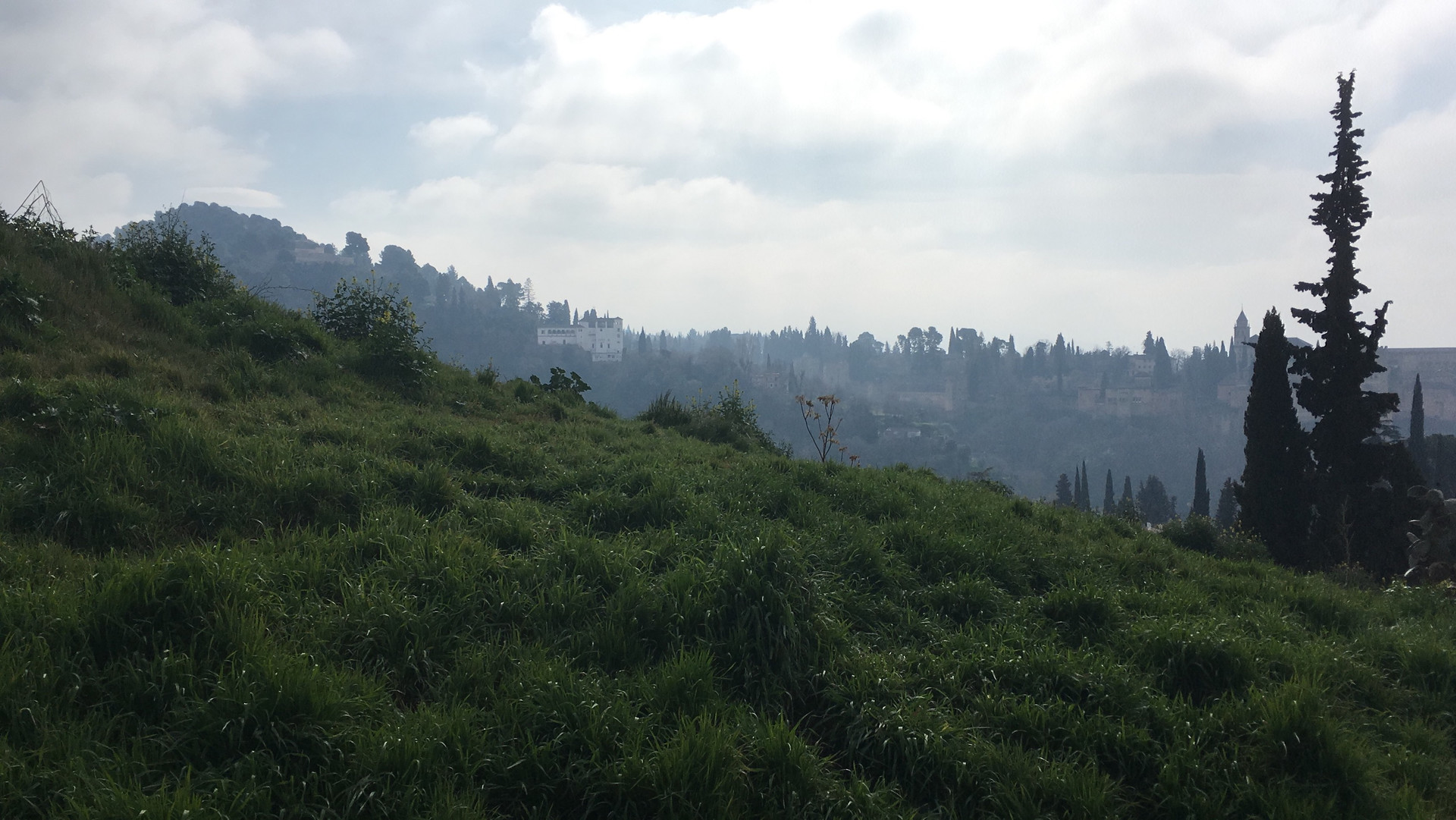 The next morning, I had about three hours of free time, so a group of us made the 30 minute trek to a place we were told was even higher than Mirador San Nicolas and you could see even more than you thought was possible. We climbed up narrow stairs and streets, and finally reached a grassy mountain where we made climbed up over 200 steps. Watch out for the horse poop!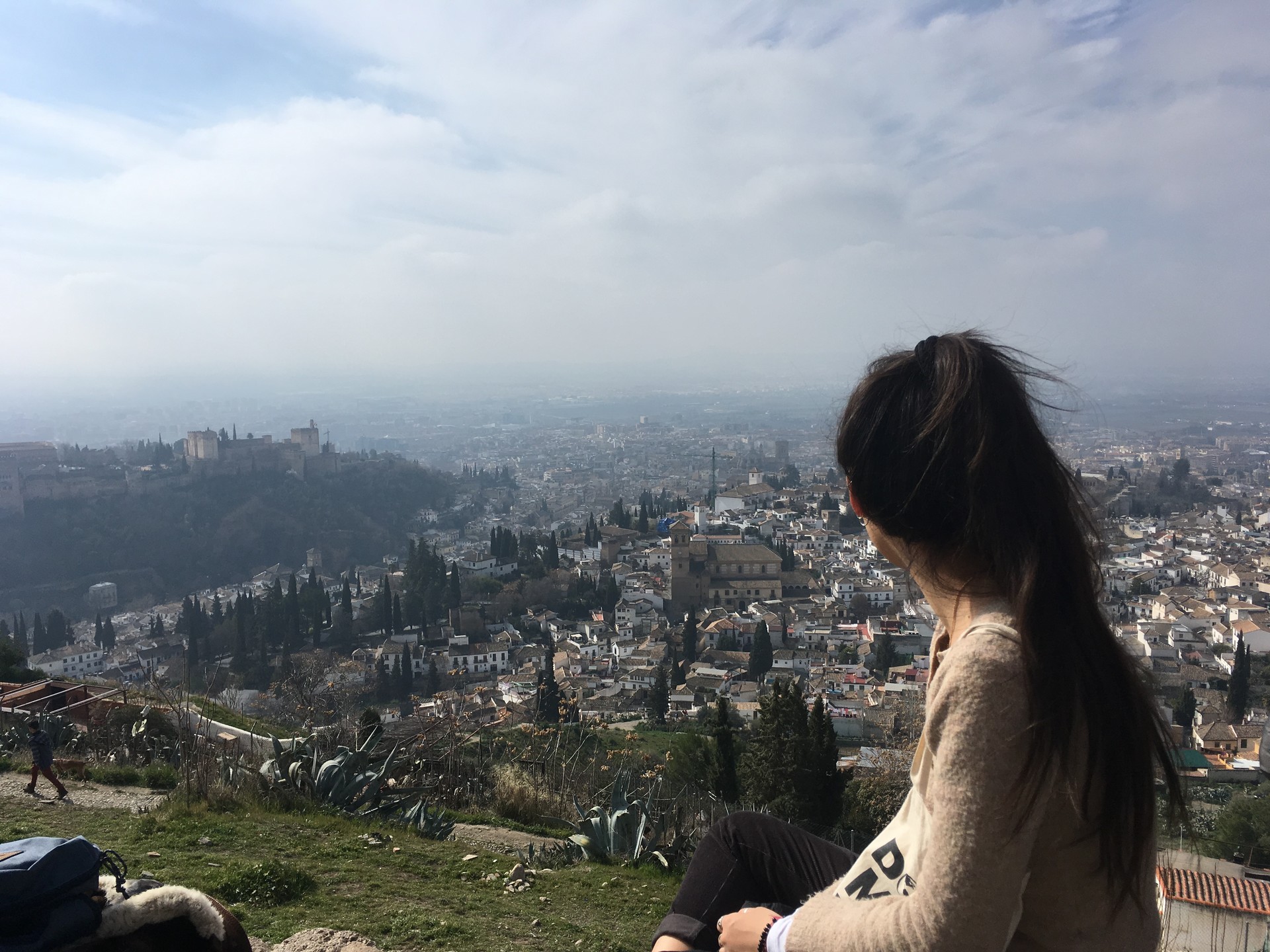 Once we got to the top, we were looking at a wider expanse of the town, as in the white buildings. The Alhambra was to the left of us and the mountains were skewed by the clouds, yet it was still a breathtaking view. The view was a bit hazy---I am not sure if this was pollution or not. But overall, it was just another interesting perspective of the Alhambra that no one should miss!
*Note: If you decide to make this trek, wear comfortable tennis shoes, bring water, and a snack. We only stayed for 30 minutes or so, but I would have loved to bring a baguette or a lunch up to truly savour the view. There are trashcans at the top so you do not litter!
This was my first post so apologies for any mistakes! However, I hope this shows that the Alhambra and the beautiful viewing points I got to experience it were memorable enough for me to write my first post on it. Embrace the walking you are about to endure, take a lot of pics, but do not forget to look up!
---
Photo gallery
---
---
Content available in other languages
Share your Erasmus Experience in Granada!
If you know Granada as native, traveler or as exchange student... share your opinion on Granada! Rate different characteristics and share your experience.
Add experience →