Summer fairs, climate scares, and churches full of vintage wares: an afternoon out and about in Cambridge
I love living in Cambridge: it's one of the most beautiful cities in the country, but also, no matter what day of the week it is, there is always plenty going on. Some events are run by the University; others by members of the public. Many are free to attend; those with entrance fees are almost always worth the extra cost. Last Saturday (8th July), I decided to go out in the afternoon and see which activities were being run that day.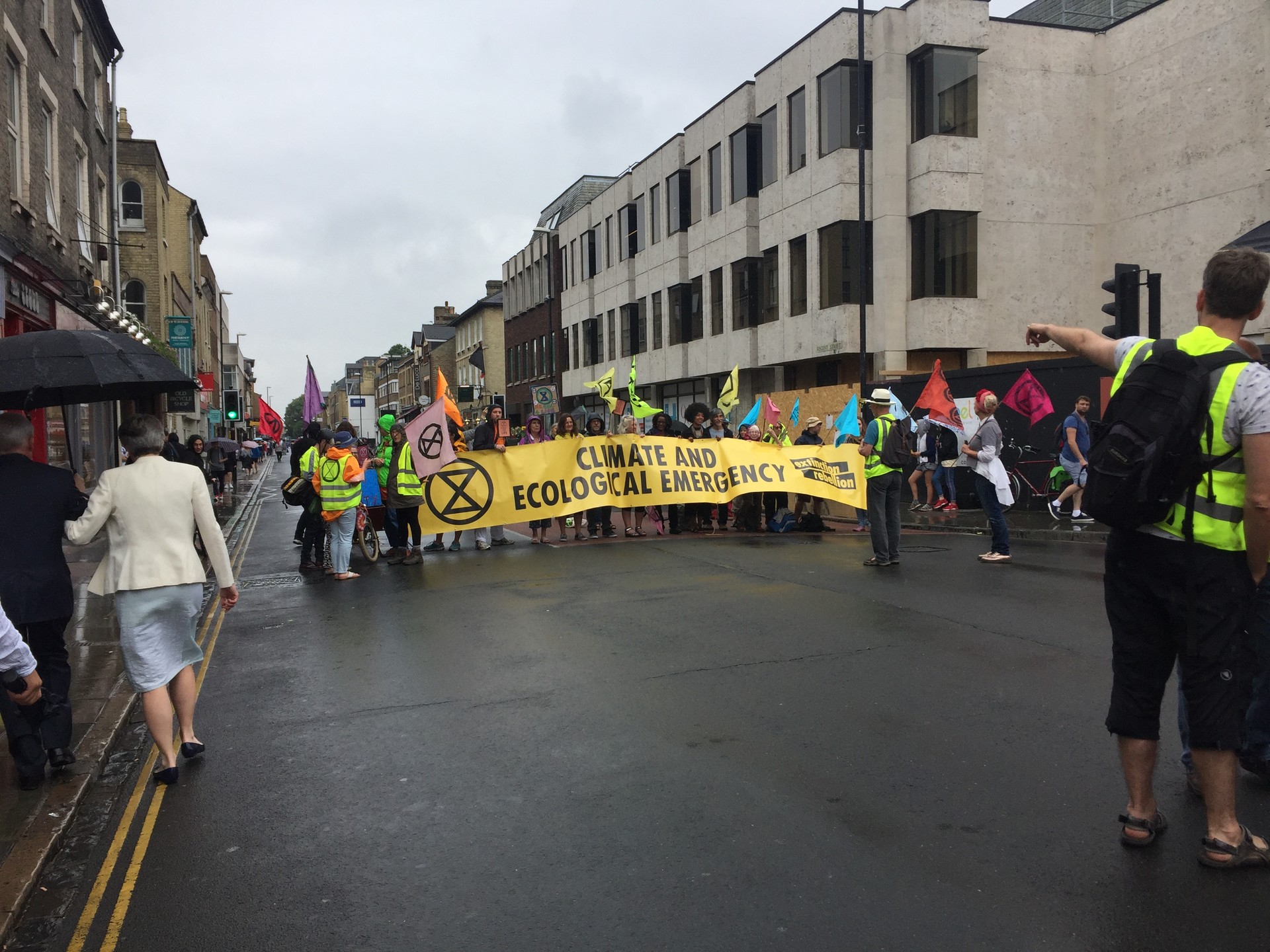 The Cambridge Big Weekend 2019
My first stop was Parker's Piece, a central green common, where Cambridge's annual Big Weekend was being held. I'd been to this free festival in previous years to watch the inaugural fireworks displays, but had never actually been to see any of the stalls by daylight.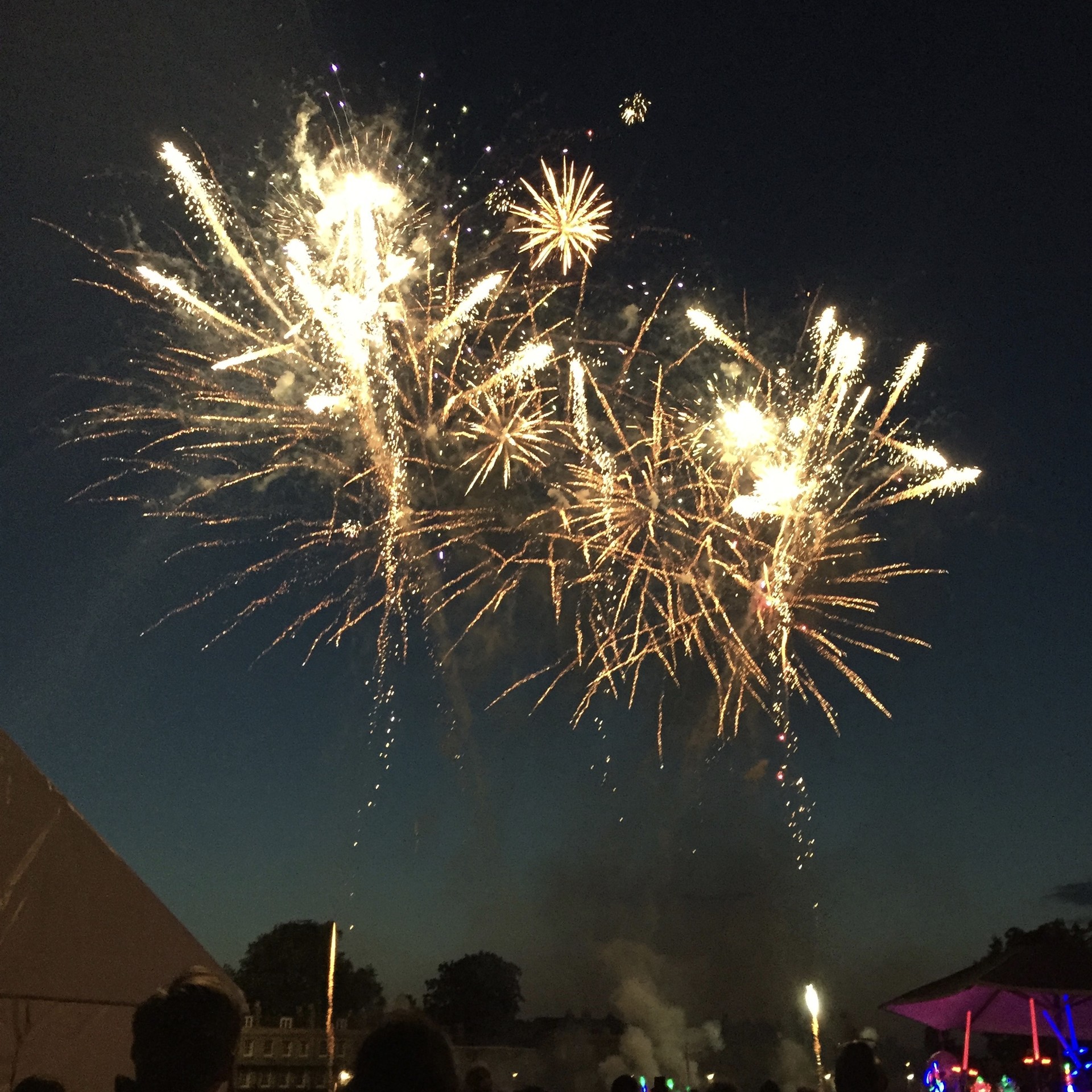 My stepmother, little sister, and I started our afternoon with delicious hotdogs from Les Plaisirs de France, a French food stand. The man serving us was a native Frenchman, so I plucked up the courage to practise my speaking skills (spoiler: I was pretty rusty). My stepmother and little sister are both bilingual, so enjoyed quite a long chat with him. Food in hand, we made our way through the rest of the French market – one particular stall that stood out was a small record shop, which had a music box blasting traditional songs on repeat – and before long, we'd arrived at the central area.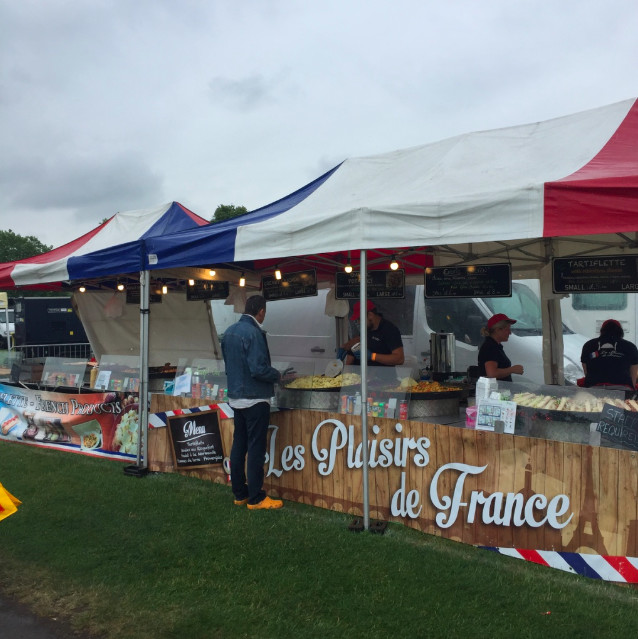 We stopped briefly to listen to a rock choir who were performing on the main stage, then went to find out what sort of activities were being run in the surrounding tents. The festival was pretty family-oriented – unsurprisingly, given that a majority of the punters were parents with young children – so there were all the usual face-painting and story-telling stands. However, some areas were a little more adult-friendly: the Cambridge Community Circus section, for example, where people of all ages could try their hand at juggling and hula-hooping.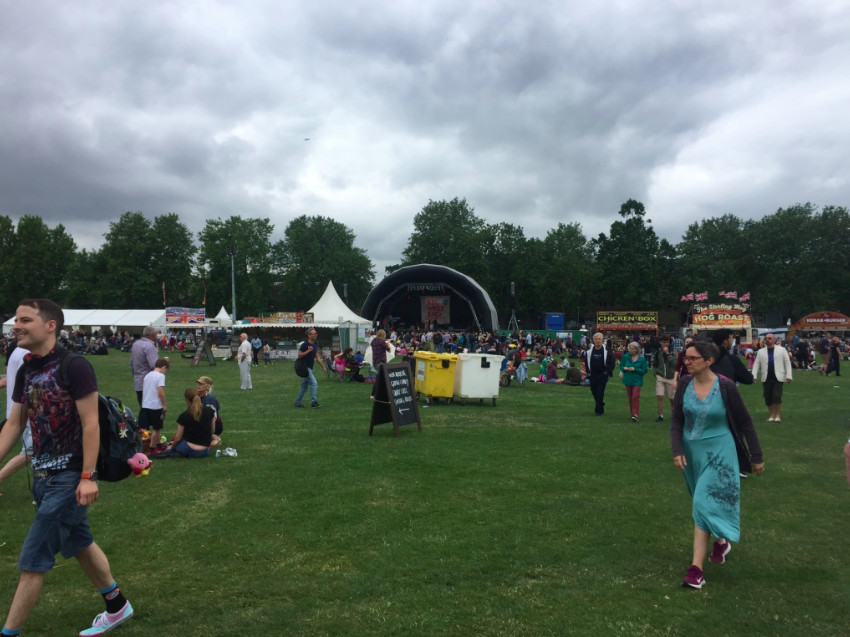 My little sister is a keen scientist, so of course we had to pop into the University of Cambridge's Fun Lab. Here, there were countless experiments to carry out, microscopes to peer down, and science-related challenges to complete. The Sugar Cube challenge was a particularly popular one: participants had to cycle on an exercise bike until they'd burned off the equivalent of a sugar cube in calories. Lights turned on when the children got nearer to their goal, and those running this activity cheered them on all the way through.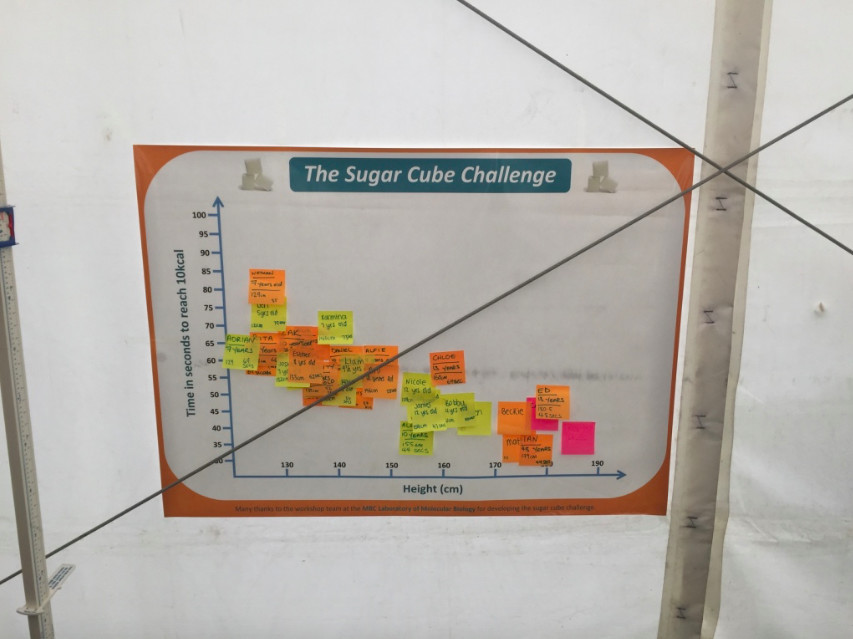 Slightly later, while my little sister was making a model brain cell out of Play-Doh, one of the people running the stall put my stepmother's and my scientific knowledge to the test: needless to say, I've got some revising to do!
The Cambridge Extinction Rebellion protest
After swapping plastic water bottles for free reusable metal ones at the Cambridge Water stand, we decided to continue doing our bit for the planet by going to see the Extinction Rebellion activists, who were blocking the roads in the centre of town that day. The typically traffic-packed streets were, for once, car-free, and we pedestrians had a great time walking down the middle of them, occasionally stopping to chalk inspirational messages on the tarmac.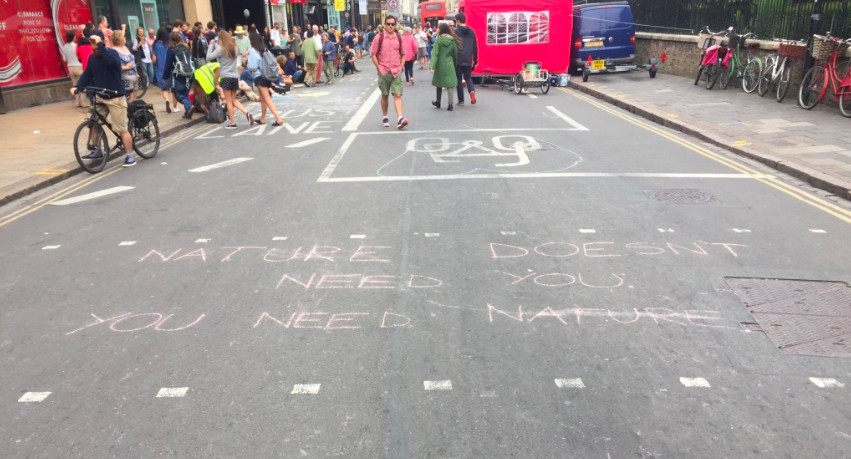 Various tents had been pitched along the roads and pavements. At one, I watched a woman give a powerful speech explaining the importance of the campaign; at another, I learned about growing food at home. There are so many ways to help fight climate change, and this event really reminded me what a significant change even the smallest actions can make.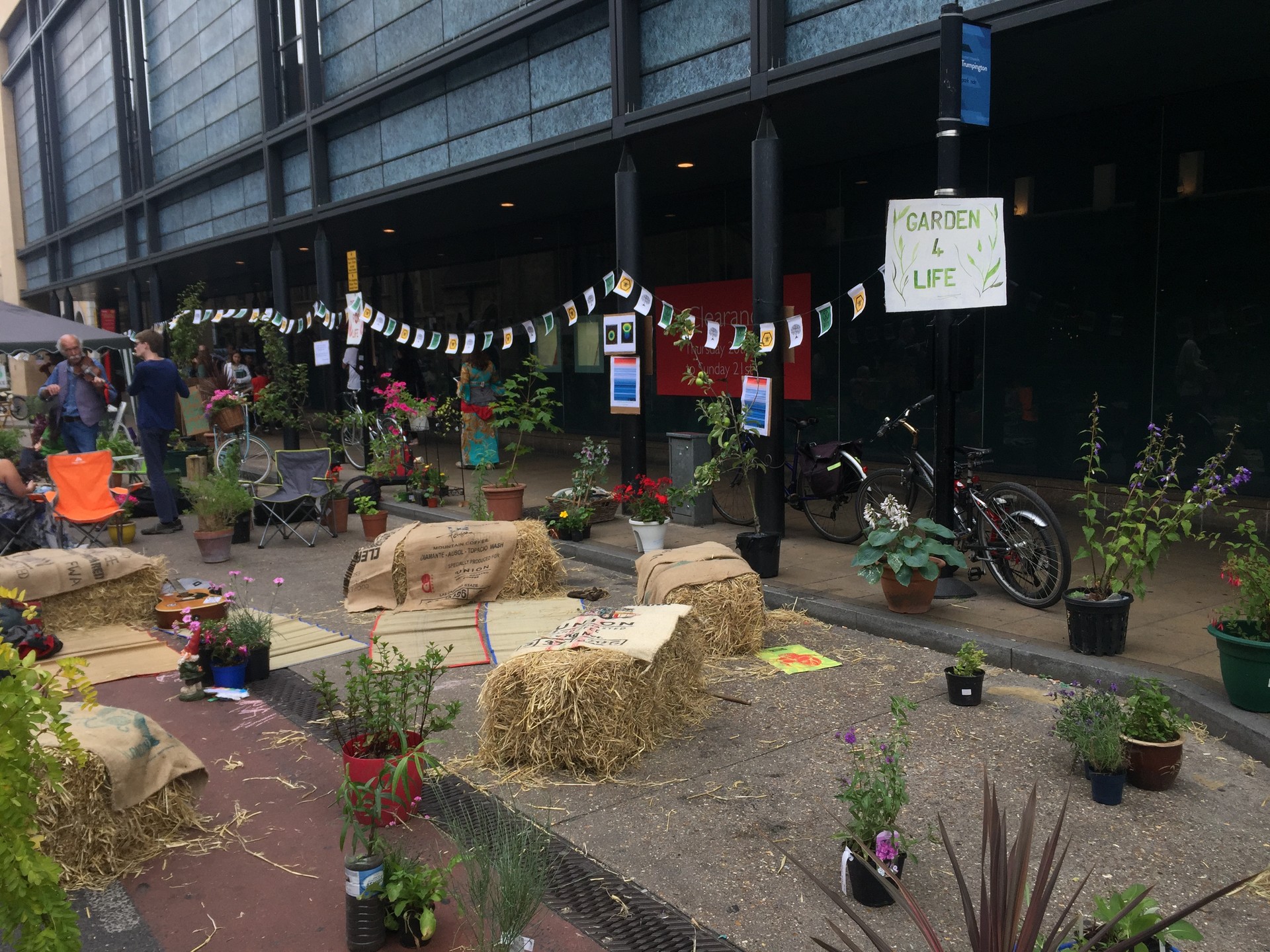 The Cambridge Preloved Vintage Kilo sale
By this point, it had begun to rain quite heavily, so I parted ways with my family, and went to take shelter in St Barnabas Church, where a vintage kilo sale was taking place. Having just been reminded of the important of reducing, reusing, and recycling, I was even more enthusiastic than usual about purchasing second-hand goods, and I walked out with a sizeable sack of new garments!
What's going on near you?
I had a great afternoon jumping from one activity to another, and I was certainly reminded of just how lucky I am to be living in such a bustling city. If you're planning a trip to Cambridge, make sure to check on the Visit Cambridge website to find out what will be going on while you're here. In the meantime, I encourage you to look out for events like these in your own hometown: you'll meet others in your community, and have a whale of a time, all while learning about the place you live in, and the world that lies beyond.
---
Photo gallery
---
---
Content available in other languages
Want to have your own Erasmus blog?
If you are experiencing living abroad, you're an avid traveller or want to promote the city where you live... create your own blog and share your adventures!
I want to create my Erasmus blog! →