10 Reasons Why I Love Czech Republic and its people
Architecture and landscape

10 / 10 points

Entertainment

8 / 10 points

Culture and customs

10 / 10 points

Transport

6 / 10 points

Gastronomy

10 / 10 points

Prices

6 / 10 points

Party

10 / 10 points

Weather

6 / 10 points
---
Once upon a time in the Czech Republic...
If you are in your last year at school and you are unsure – to go and study abroad or not - I will suggest you to read this article, which comes from the private real-life story. You may see this as some kind of journal, a novel about friendship, cultural differences (and similarities as well!) and of course the memories from the best holidays I had experienced in the Czech Republic.
Before starting, I would say that you never know where your fate will bring you. Some people call it the universe, others God, and those who are most realistic – consequences of your choices. Unfortunately, I am that kind of person who believes that everything happens for a reason, and only at the end of our life journey, we are going to find out what is the reason. At the moment I am getting closer to my ''investigation aim'' and can reflect on it to the fullest. Without no doubt, if I wouldn't meet this person, my life would be 10xmore stable, 100xmore boring and 1000xmore ordinary. How this all started?
Polish - Czech friendship
Let me introduce my best Czech friend, who taught me, that there is always a way. Every situation has a solution if you have faith, perseverance, and courage to use your creative thinking and take action. Just be ready to take a step, buy a ticket and go to the unknown! My story of this Polish-Czech friendship started in the most hilarious way - from the 5 trials of making vegan pancakes without oil, teaching the word ''sokoladas'' and drinking matcha. Soon, this friendship showed me who I am and directed me to the most fascinating hidden places in Europe, such as Velke Karlovice.
Best place to meet new people - work at university café!
8 am. Another shift at work. Why I feel so fatigued and tired? What causes it? Today I will have 8 hours shift the university café. I am checking the ROTA to see with who I will be working. My curiosity is impatient, but at one moment I see a strange name. Soon I am serving the customers and working with the person, whose values, language and life story is so similar to mine! Without any doubt, we will have to meet either in Czech or Lithuania – we agree. Soon, after 6 months this idea became reality and today, I am hiking in the Velke Karlovice – perfect place for summer holidays, reflection and a simple rest from daily-life tasks.
PS. For those who are looking for a part-time job, I would advise searching for a job opportunity at the campus. I am 100% sure you will find something you will like, and moreover, you will enjoy the atmosphere and being surrounded by international students. Lastly, who knows – maybe you will meet your best friend from another part of the world as I did?
Adventures in Brno
After a few days of planning, checking flights and finishing assessments we headed to London, where we had our flight to Brno. 2 hours and we are already in Brno, second largest city in Czech, located in the South Moravia. First of all, I was surprised that the airport was so small and there is just one flight during the day! Okay, maybe more, however, don't worry if you think you may be late for your flight – you won't miss it, as there is no queue in the passport control.
What we can do in Brno? – I asked my friend with the hope in my voice. Previously I heard lots of positive comments about Prague and till the last day I was sure we will stay in Praha, but soon I found out that we were going to Moravia, Velke Karlovice, which 6h of travel from the Brno…Am I ready for this trip?
Oh! I forgot to tell you that we will use all possible transport means: bus, train, another train, tram, and maybe a car or we can walk 2 km.
My surprise has no limits. I just landed in Brno, we don't have a place to stay at night and tomorrow morning we are going to do adventurous marathon Brno – Velke Karlovice.
Ahoy? No way, we live just once, let's enjoy it to the fullest and make this the Adventures of A Lifetime!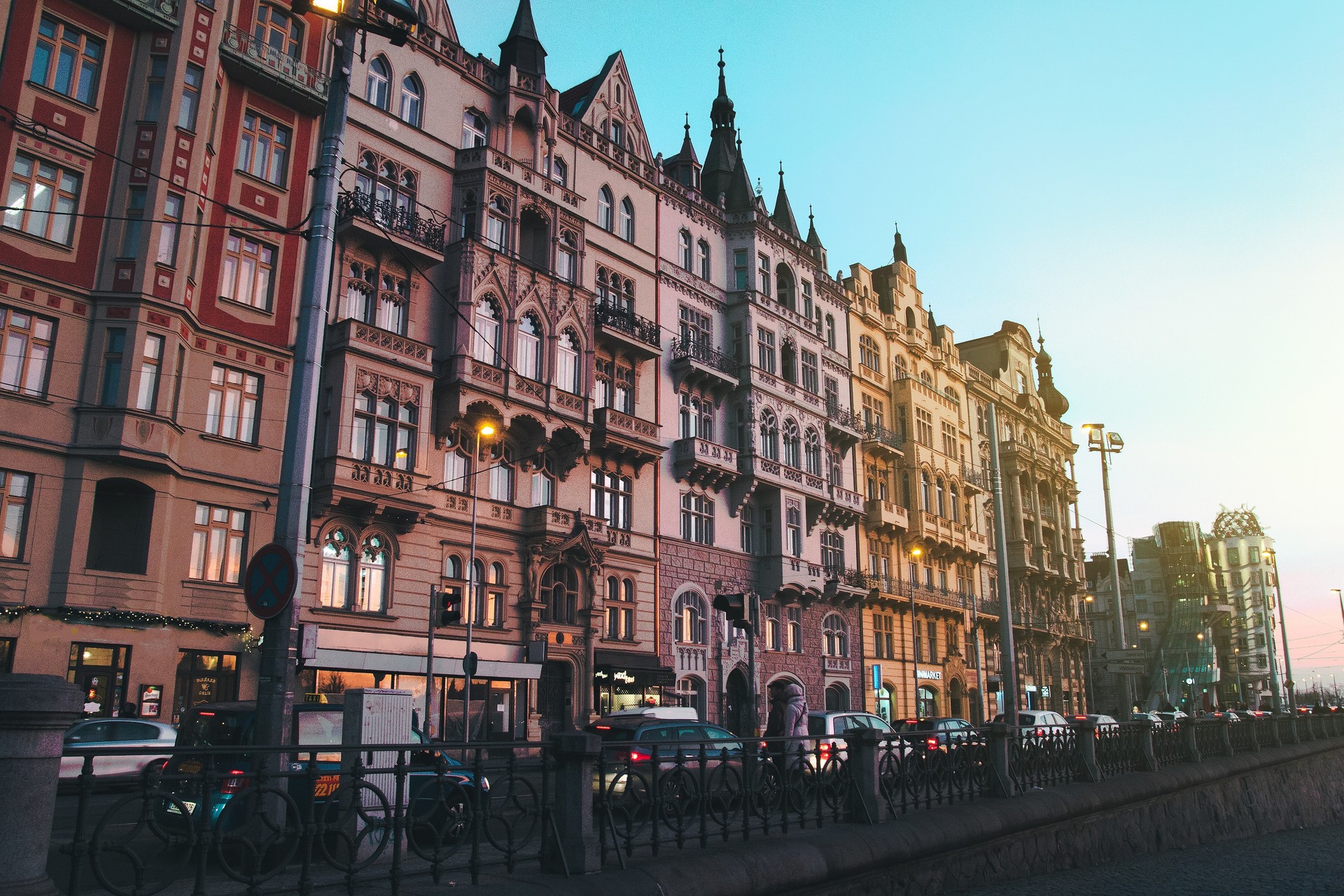 Brno – a breeze of Czech culture, gothic architecture and post-communist history
At first glance when we came to the city center, I spotted a beautiful neo-gothic Cathedral of St. Peter and St. Paul. It was built in the 13th and today it's the place which brings tourists from all over the world. I heard the German-speaking group as well as Russians, who were following the guide telling the story and legends of this historical monument. Interestingly, this cathedral has very famous bells, that will let you know it is 11 am. This tradition dates to 1654 and was brought by the Swedes.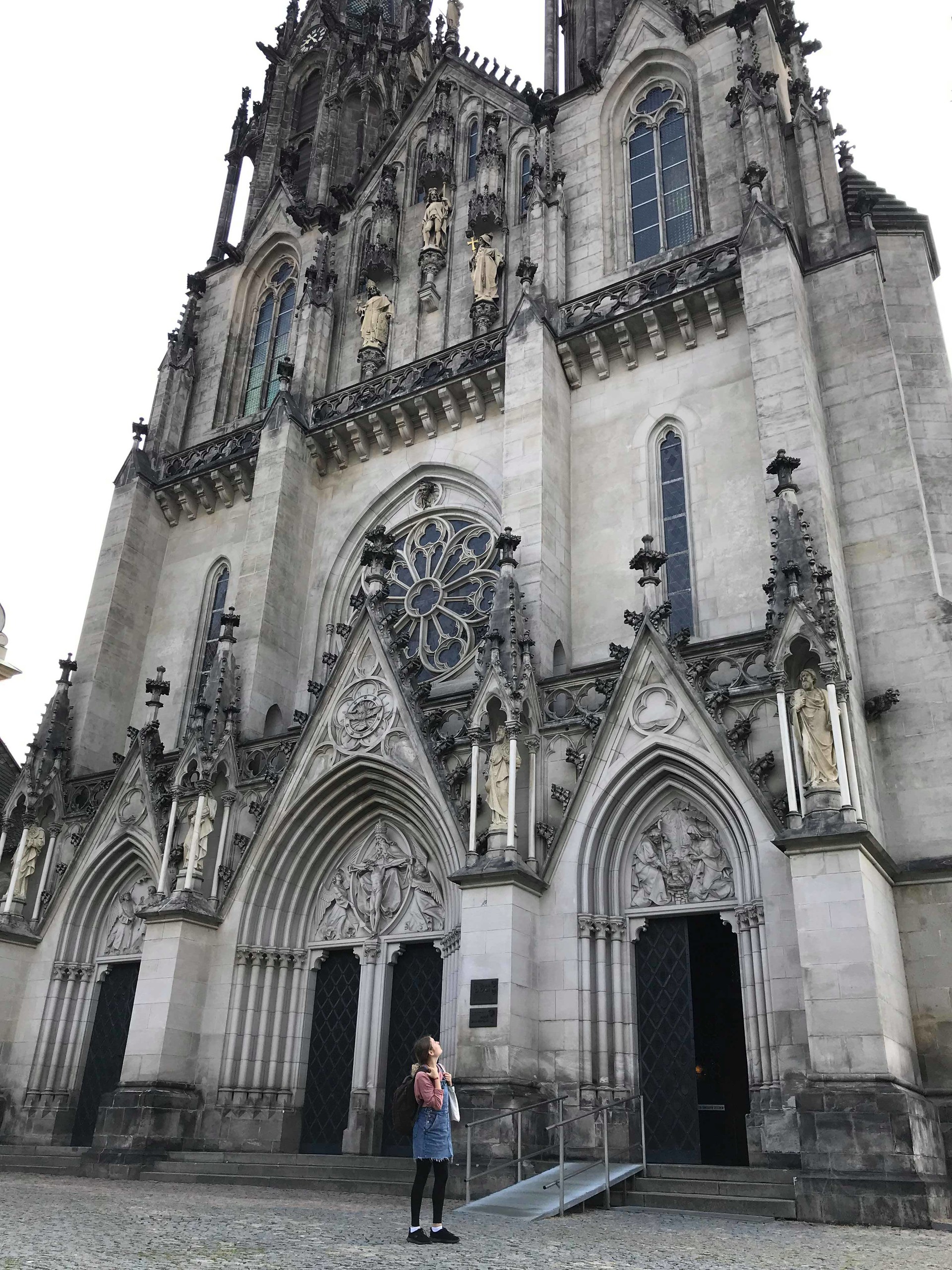 After we went to see a sunset from Špilberk Castle, which used to be a prison and today is the symbol of the city. If you are looking for a stunning photo and a magical view, walk to the top of the castle and you will feel overjoyed with the view of colorful houses, little churches, and this calm lifestyle.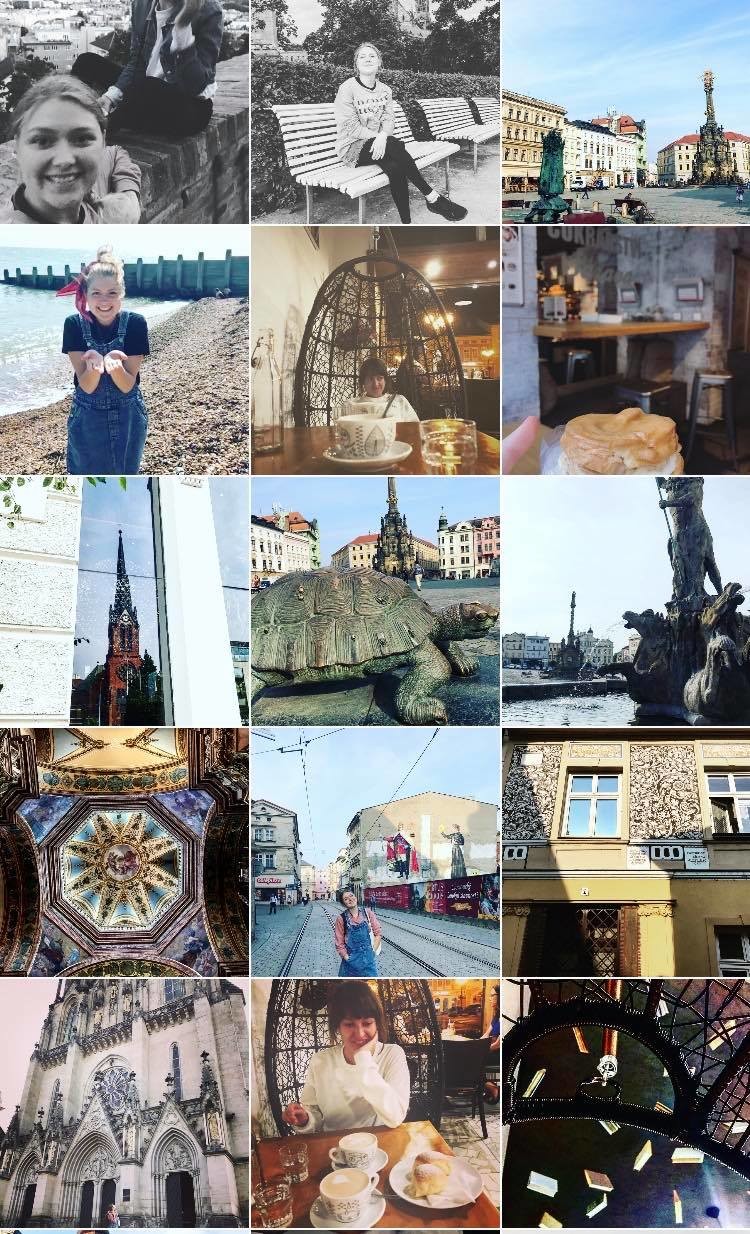 What can I do in Brno?
Then, we went for a walk around the city: Namesti Svobody – the main square in the Brno city (Freedom Square), natural Czech cosmetics ''Manufaktura'' and a crocodile with the dragon are just a few of authentic symbols of Brno. If you have more time than we did, I would advise you to explore them to the fullest, but with extra care, as for those who love natural products, skin cosmetics and natural lotions made from the flowers ''Manufaktura'' may become the favourite destination!
Czech tram and the most delicious cinnamon roll
If you walk around the city you will spot a weird transport. Don't be scared – this is a Czech tram! Just get your ticket and jump in. As I travelled on a tram before at the age of 12, this tram reminded me of Krakow and Vilnius, where you can still ride a trolleybus. Very authentic, right?
While walking in the old town I spotted a lady selling an interesting dessert. My sense noticed the smell and in a moment my friend was telling me the story of their traditional Trdelnik, which is in fact brought from Transylvania. However, I will be grateful for the Czech Republic and associate it with this country, as this is where I tried the best cinnamon and nut cylindrical cake!
Czech cuisine
To end our evening in Brno in a Czech style we went to one of the most famous traditional Czech bars called U Dreveneho Vlka As you may have heard before, Czech is famous for its beer. If you want to check their menu before, have a look at their page, but fried camembert and various types of cheese were a perfect choice. For those who want to have a non-alcoholic drink – why not to try the Czech version of Coca-cola? Who knows, maybe you will be also surprised, that Kofola is far tastier than a typical coke you get in the supermarket. Soon, our evening finished at the old friend's house, who welcomed us with open heart, positive vibes, and a warm atmosphere.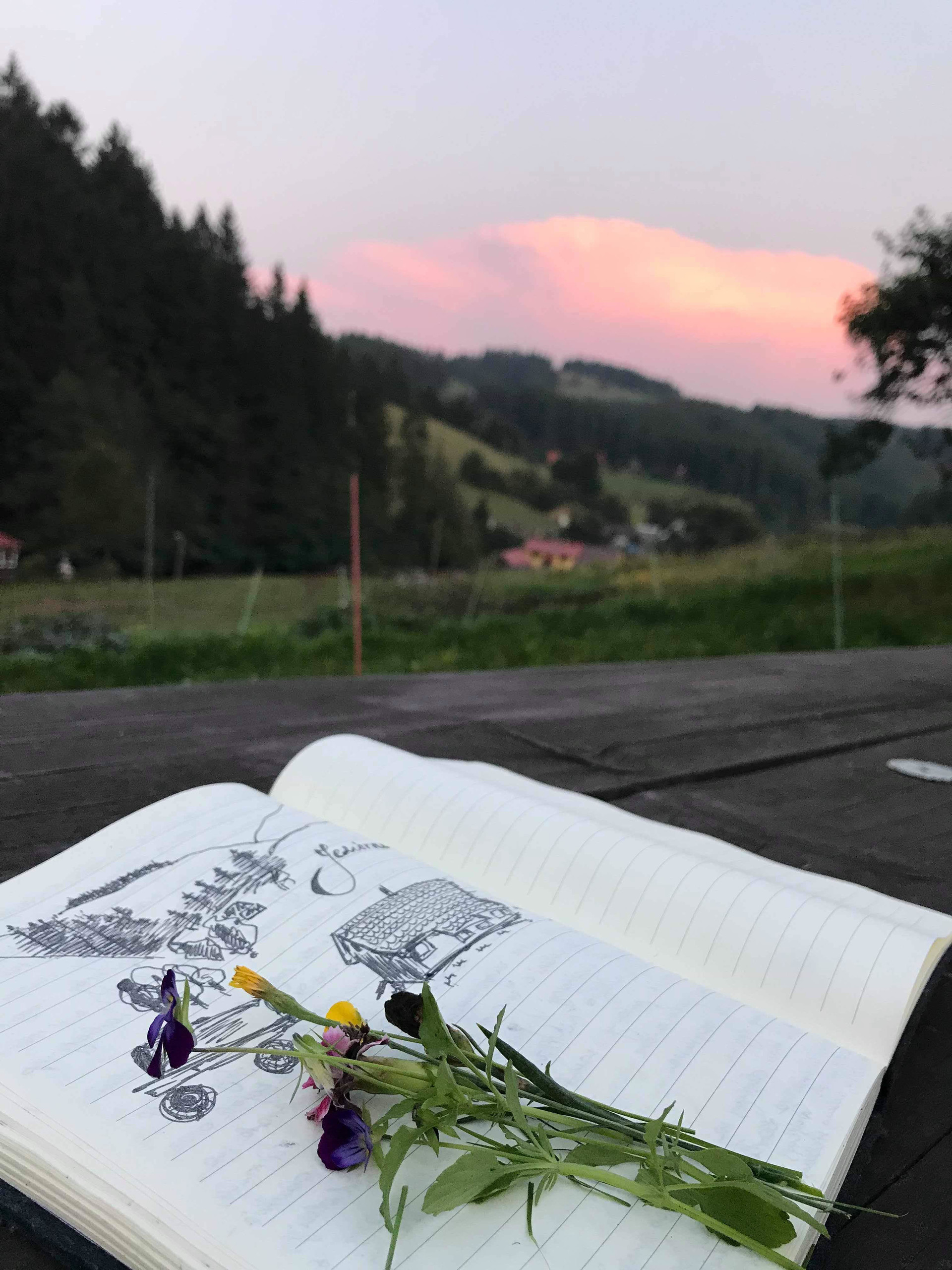 Velke Karlovice – the real life of a 'Doctor Martin'
Next day we woke up early in the morning to reach our goal - Velké Karlovice. Velke Karlovice is a small and very friendly village, where you will meet the most inspiring, strong and joyful people. I came here for the first time in my life, but felt as it is my second home! This village is located in Vsetin.
Velke Karlovice is a perfect place for those who want to escape from the crowded city, busy lifestyle or noise – in Karlovice you will hear just the sounds of nature. On the first morning, I woke up without the alarm – sunlight beams reached me through the windows. I have no idea why, but I felt so calm, relaxed and energized to go for a morning run around the Vsetinska Becva river. My friend was eager to do that as well, therefore at 8 am we were ready for a new wonderful day. If you are not sure if Velke Karlovice is for you, you can see the house where I stayed in the British TV series 'Doctor Martin'.
Conclusion
Although I could tell you more about my week spent in the Czech family, crazy hiking to the top of the mountains with the most hilarious Czech family, Italian cousin and a priest from Africa…but unfortunately, some pages of this story shouldn't meet with the light of the day.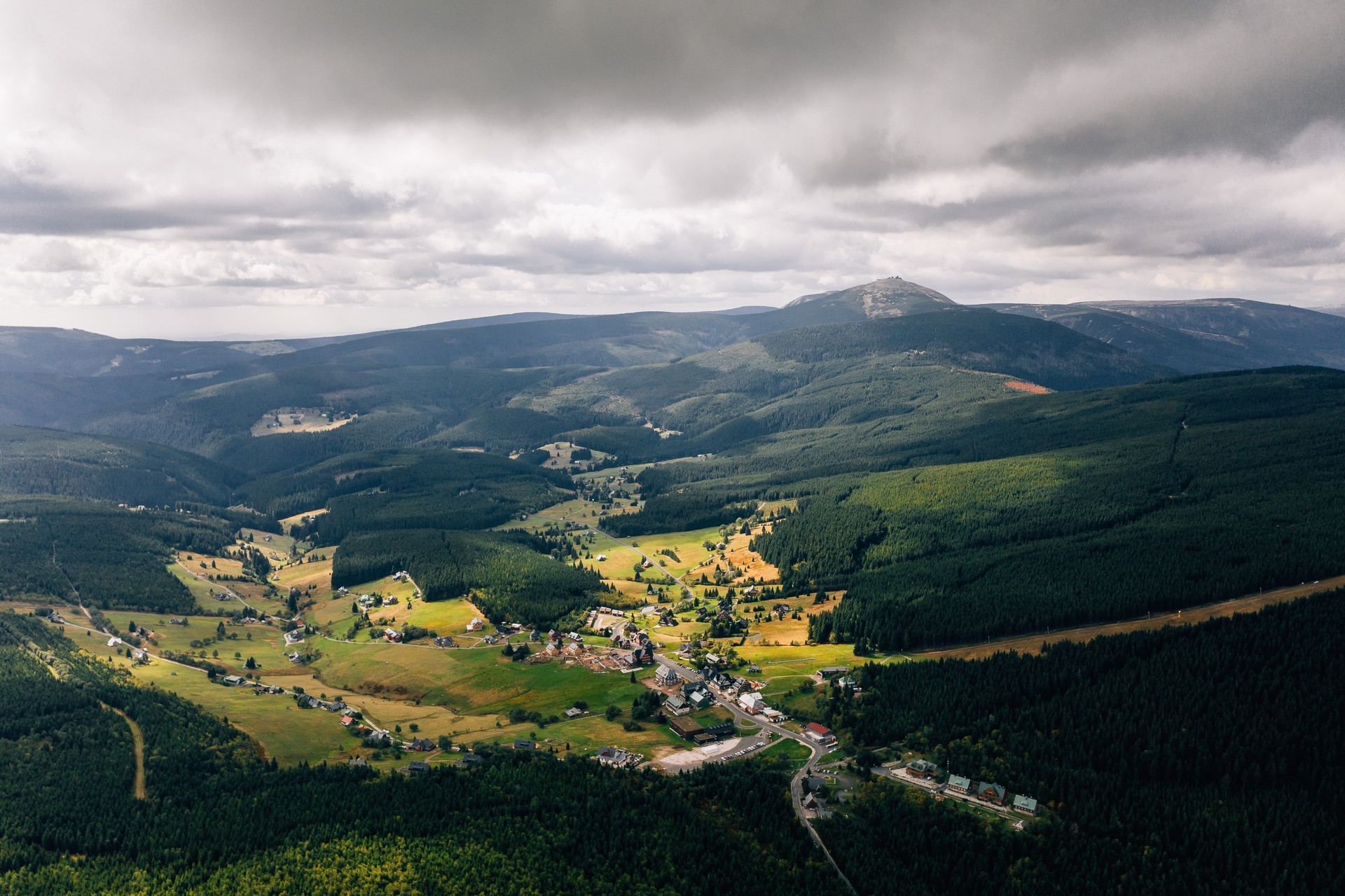 Top 10 Things to Do when you are in Brno
Cathedral of St. Peter and St. Paul neo-Gothic cathedral

Drink Kofola

Spilberk Castle and the Old Town

Hike the mountains in Velké Karlovice.

Namesti Svobody – Freedom Square main square in the Brno city center

Find a crocodile and a dragon in the Old Town

Ride Brno tram

Try Trdelnik – sweet, tasty, especially the one with cinnamon and nuts

Try natural Czech cosmetic at Manufaktura - refreshing hand cream with grapefruit and orange

Try cheese and authentic Czech beer at the bar U Dreveneho Vlka
---
Photo gallery
---
---
Content available in other languages
Share your Erasmus Experience in Brno!
If you know Brno as native, traveler or as exchange student... share your opinion on Brno! Rate different characteristics and share your experience.
Add experience →