Bratislava, Slovakia
Architecture and landscape

4 / 10 points

Entertainment

6 / 10 points

Culture and customs

6 / 10 points

Transport

10 / 10 points

Gastronomy

4 / 10 points

Prices

8 / 10 points

Party

10 / 10 points

Weather

6 / 10 points
---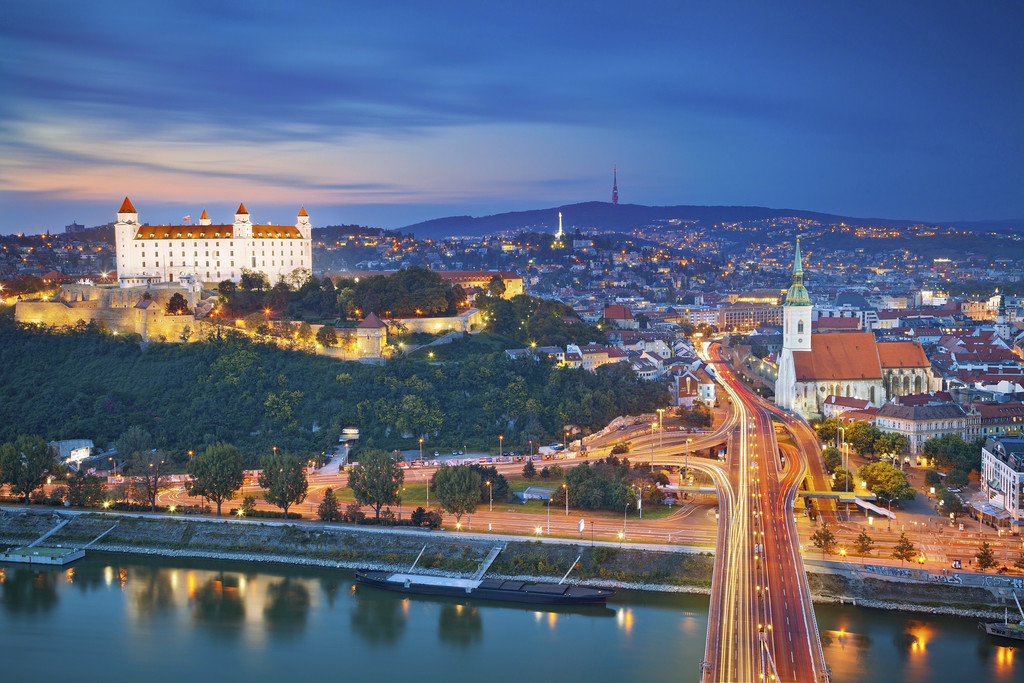 Why did you choose to study in Bratislava, Slovakia?
In reality, I didn't choose this city, as it was my last choice: I didn't know much about the country and without Erasmus I probably wouldn't have thought of visiting or living there... nonetheless, it was a choice that led to one of the best experiences of all time :).
How long did your grant last? How much money did you receive?
My college awarded me a grant of a little over 1000 euro. I have not received the full amount yet... the fact that the accommodation and public transportation in Bratislava are quite affordable was financially helpful.
What is the student life like in Bratislava?
Well, the Erasmus students at the Ekonomická Univerzita v Bratislave have classes in English, French or German just for Erasmus (but most of the programs are offered in English) that sometimes are attended by Slovaks (as they are obligated to take one class in a foreign language per semester)... from my experience the teachers are less rigorous on Erasmus students. Technically, you cannot skip classes, but somebody can sign the attendance sheet for you and nobody will notice if you are not there. Classes are usually in the afternoon, so you can sleep in the morning after a big night out.
Would you recommend the city and University of Bratislava to other students?
Absolutely, the University has very good facilities, the Erasmus office is very accessible, they offer accommodation at a very low prices, good amenities, near college (two stops on the bus)... I'm referring to the Ekonom dorm.
What do you think of the national gastronomy?
The food is awful (at least from my point of view and from most people that I met from other countries) and it is without doubt the downside of living in Slovakia... it was a poor country for many years, so the gastronomy is very poor: the main ingredients are boiled potatoes, pasta, chicken (a lot of chicken lol), rice, fried breaded cheese, soup that looks more like water with something floating in it. But this doesn't have to be an issue, as you can go to the supermarket and try to find ingredients that you are used to (at the beginning it is a bit strange and it will take some you some time because the labels are all in Slovak, Czech, Hungarian or Polish), but after a while it will be automatic for you to find whatever you need at the supermarkets, and a lot of things are cheaper than in Portugal (for one, alcoholic drinks :P).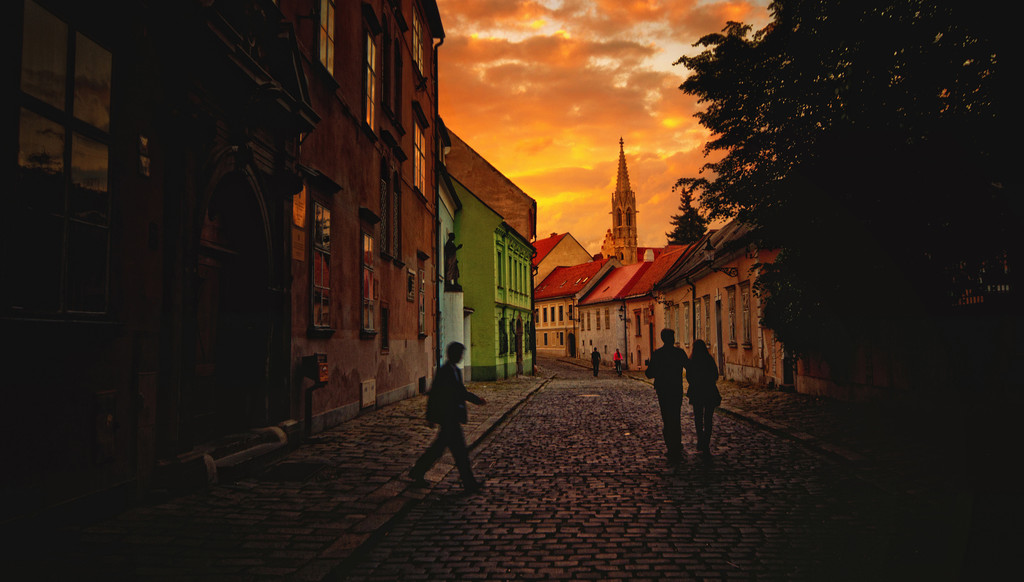 How did you find accommodation?
The college sent me an e-mail with all the information about the dormitory (including pictures), and a registration form in case I was interested in living there. It was the best option, the amenities were fantastic: a bedroom with an entrance hall, a half bath and a full bath, two bedrooms (very spacious) each one for two people, with closets, desks, lamps, a change of linens every 15 days, heating, balcony... The dormitory had common washing machines, available for 1, 60€ per wash. Not a lot of students opted for private accommodation, as Bratislava has one of the most highest rents.
What are the prices for accommodations? And prices in general?
The price of the dormitory for 5 months was around 400 plus 100€ for the deposit, which is returned at the end of your stay (if you don't break anything). Renting an apartment is expensive, although I do not know exactly how much the rent would be, but it is not the bests option, as the city has at least 3 dormitories for students. Public transportation is very inexpensive, as a monthly pass for the bus and tram is 45 euro for 3 months for students under the age of 23, or 10 euro per month.
Taxis are also cheap: is it cheaper to call and ask for a taxi then to stop one in the street, 3/4 € is the usual fare, as Bratislava is a small city. Please note that taxis will try to charge ridiculous fares, like 15 euros, and you should never pay more than 7 euros within the city. Food prices are close to the ones in Portugal, but the meat is slightly more expensive and the quality is poor. Alcohol is cheaper. Clothing prices are similar to the ones in Portugal. Movie tickets are slightly more expensive, and sometimes they are dubbed.
What is the language like? Did you go take any classes at the University?
The language is quite complicated, at least for those used to latin languages... Slovak has few similarities to the Portuguese or English language. I didn't take any classes, but the college did offer a Slovak course for beginners. Even though I didn't take these classes, I did not have problems for not understanding or speaking Slovak. I learned only the basic, like how to ask for a taxi (because sometimes they didn't speak English) and the numbers. What was a disappointment was that the Slovaks did not feel comfortable speaking English, even though they did know the language, they would prefer to not speak because they were afraid of making mistakes. They are a bit cold with people they don't know, but once you get to know them they can be great friends.
What is the cheapest way to get to Bratislava from your city?
From Lisbon it is hard, as there are no direct low-cost flights, but researching on Ryanair, Easy Jet or Vueling websites it is possible to find good prices, but it is always necessary to catch two flights to reach Bratislava. There is also the option to flight to Prague or Budapest and then take a train (25€ or 17€, respectively). Or fly to Vienna (Austria) and take a bus at the airport that goes directly to Bratislava for 8 euros.
Where do you recommend going out at night in Bratislava?
All Erasmus students go to the same places, even if they are in different dormitories, and as there are a lot of Erasmus students the clubs usually are always full. On Tuesdays, students go to Casey (affordable drinks and no entrance fee), and then two clubs that are inside one of the dormitories (Unique and Alibaba, that also have affordable prices and normally don't have an entrance fee). The Club, in the city center, is considered one of the best clubs in Bratislava, the entrance fee is around 7 euros and drinks are a bit expensive, but it has a good environment and the space is excellent.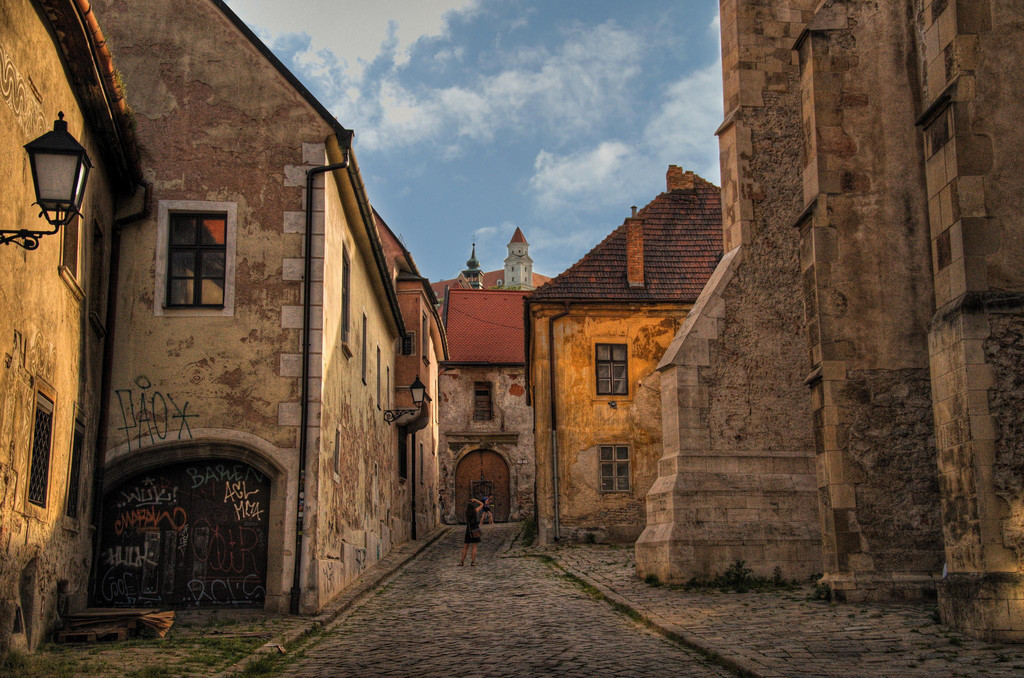 On the same street, in front of The Club, there is RIO, a bar/club that doesn't have an entry fee, but is a bit small. There are other clubs like Subclub or Rock ok, that only have an entrance fee for special parties. Duplex, in the city center, is also good, but has an entrance fee and drinks are expensive. Dopler, close to Ekonom dormitory (walking distance) is where you can find thematic parties and concerts, at affordable prices. I also recommend trying Elam, Calabria and Harley (if you like motorcycles and music from the 80's and 90's. )
What are your favourite places to eat in Bratislava?
As I did not enjoy the local gastronomy I did not go to a lot of restaurants, except the typical franchises like McDonalds. But to try some of the Slovak gastronomy in a different setting I recommend the Slovak Pub in the city center. It is also a good place to have some drinks during the Winter :).
And what cultural visits would you advise?
Bratislava is a small city, you can visit the main tourist attractions in one day. A good place to visit is the UFO restaurant at the top of a bridge (Novy Most), one of the most expensive restaurants. It is possible to visit the terrace (paying 3 euro for the elevator ride with a student discount). The view is amazing, and you have binoculars to view the city in detail. If you follow the bicycle path along the Danube, passing by the new Opera and the Eurovea Shopping Center (new and modern buildings), you can spend a lovely afternoon appreciating the Danube (which is never blue lol.
One of the best aspects of Slovakia is that it is the center of Europe, so you can visit by bus, train or renting a car, many countries. For example: Vienna (Austria) is less that 60 km and a round trip costs 16 euros, by bus or train. Prague (Czech Republic) is 4 hours away and a round trip costs 40 euros by train. Budapest (Hungary) is 3 hours away and a round trip costs 20 euros (traveling by train, you can get discounts for groups of 5 or more people). One can also travel to Italy, Poland, Servia, Montenegro, Croatia, Slovenia, Macedonia, Albania, Bulgaria, Bosnia Herzegovina were some of the countries I visited and highly recommend.
Do you have any advice for future students in Bratislava?
Have an adventurous spirit and keep an open mind :)
---
Photo gallery
---
---
Content available in other languages
Share your Erasmus Experience in Bratislava!
If you know Bratislava as native, traveler or as exchange student... share your opinion on Bratislava! Rate different characteristics and share your experience.
Add experience →