14 restaurants that you have to try in Bratislava
Hello again! In one of my previous entries I discussed the cafeterias that I often went to with my friends in Bratislava. Today we exchange coffee for a good plate of food, and so here I bring you the restaurants that I often went to. If there's one thing for certain, it's that Bratislava offers a very wide range of gastronomy. My friends and I love to eat and try new foods, flavours, types of food etc. We loved to open TripAdvisor and investigate all the places available to us and then choose which one we fancied going to the most and which one was best suited for our needs. Here I will leave you with some of the restaurants that we tried and that left a good impression on us. None of them have unaccessible prices, so I encourage you to try them all if you're passing through Bratislava. And here they are.
1. Basilicó.
It is really good Italian restaurant. Our Italian friends told us that if they want to eat pizzas as good as this then they have to go to Naples. This restaurant has many, many strong points: the pizza dough is almost sinful, it's quite spongy; the variety of their pizzas and, finally, the desserts. There are some desserts that are always on the menu but sometimes they add some seasonal desserts. It was here where I tried the famous cannoli for the first time, which is a sweet treat very typical of Sicily, and I loved it. I also recommend the panna cotta and the tiramisu. They are among my favourite desserts.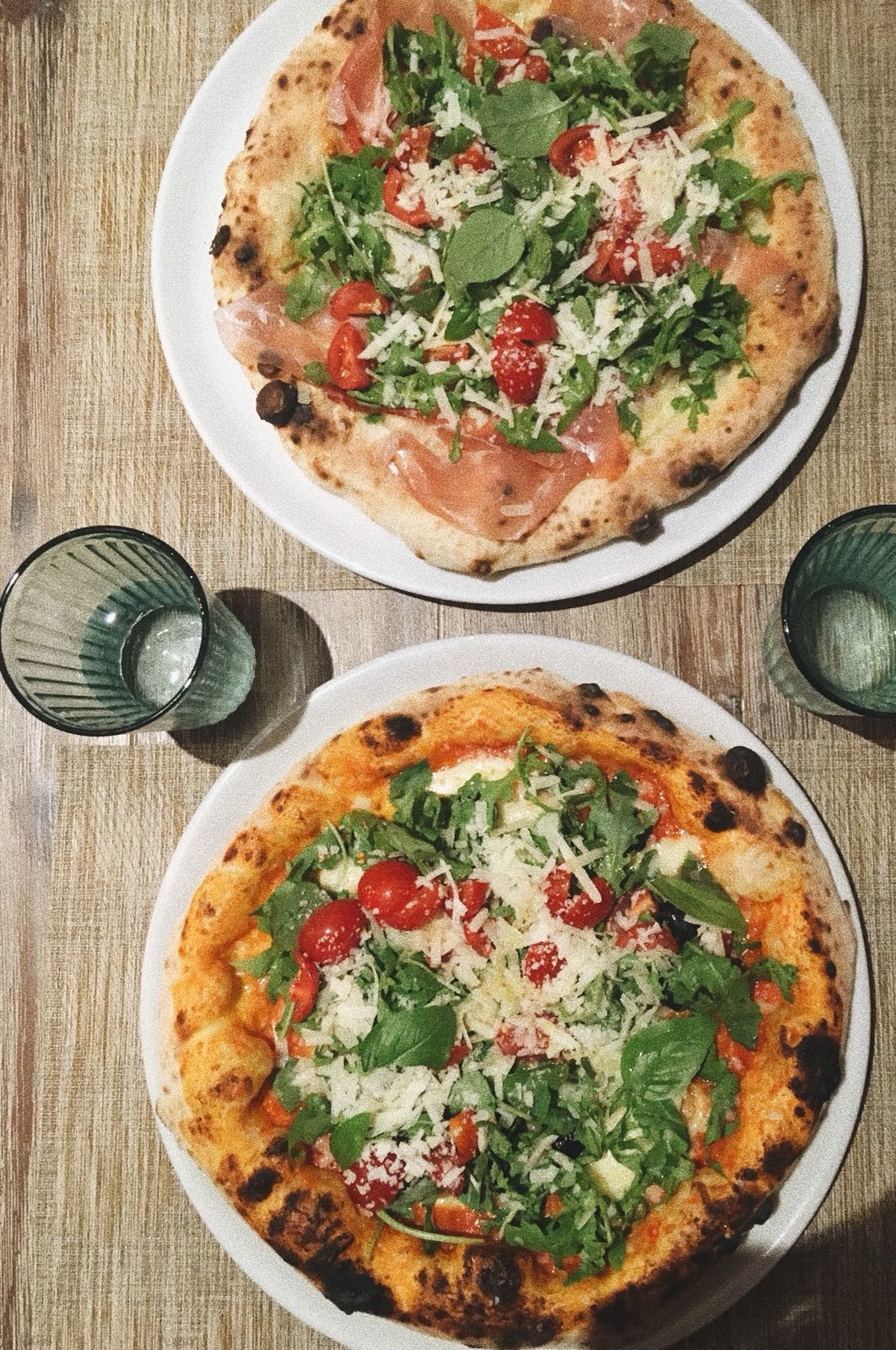 The prices aren't at all excessive, you won't leave hungry and the ingredients are of a good quality. Before, it was near the bus station but now it has moved 300 metres closer to the centre, to much bigger premises. What is certain is that it was so popular that you almost always had to book if you wanted to eat dinner here. Without a doubt, it was the restaurant that we went to the most. Whenever friends or family would visit me, I would always bring them here because I knew that they would like it for sure. Italian food and different flavours. Quality.
2. Casa Inka.
It is a Peruvian restaurant that is a little far from the historic centre, near to Mileticova. The food is typical Peruvian food, which, if you didn't know, is the most famous in the world, before Italian food. I had never tried it before but this place gave me a good impression. Whilst you wait for your main course, you can try one of their tropical fruit juices, the names of which I hadn't heard of before in my life, but we loved them. For a main course, I would recommend "filete de lomo fino con risotto salsa verde" (beef fillet with a green, creamy spinach risotto). Whenever I went, I would order the same thing. I am a little boring that way, it's true, but as they often say "if it ain't broke, don't fix it". If you are more of a fish person than a meat person, my friends agreed that the "risoto de quinua con salmon" (salmon and quinoa risotto) was very good. And if you don't eat meat or fish, simply order this risotto as a vegetarian dish. The service was stupendous and the waiters were very cheerful. Once we even asked if they would keep in their fridge a birthday cake that we had made, and they agreed, delighted. After we had eaten, they brought it out as a surprise for the birthday boy to blow out the candles. It was great.
3. Sapori italiani.
Another Italian restaurant in Bratislava and practically the same in regards to quality as Basilicó. It is always full at dinnertime because it is very popular and the food really is very good. Pizzas, risottos and desserts, the best of which being cannoli (aka the best Italian dessert ever) and tiramisu. The prices are a little higher than those at Basilicó, but they aren't excessive. It can be found on Krizna Street, practically in the centre. The aesthetic of the place is also very cool. Huge windows on two sides, a wooden floor and dim lighting gives this restaurant a warm atmosphere. I liked it a lot. I will leave some photos here of the dishes that I chose on one of the days I was here.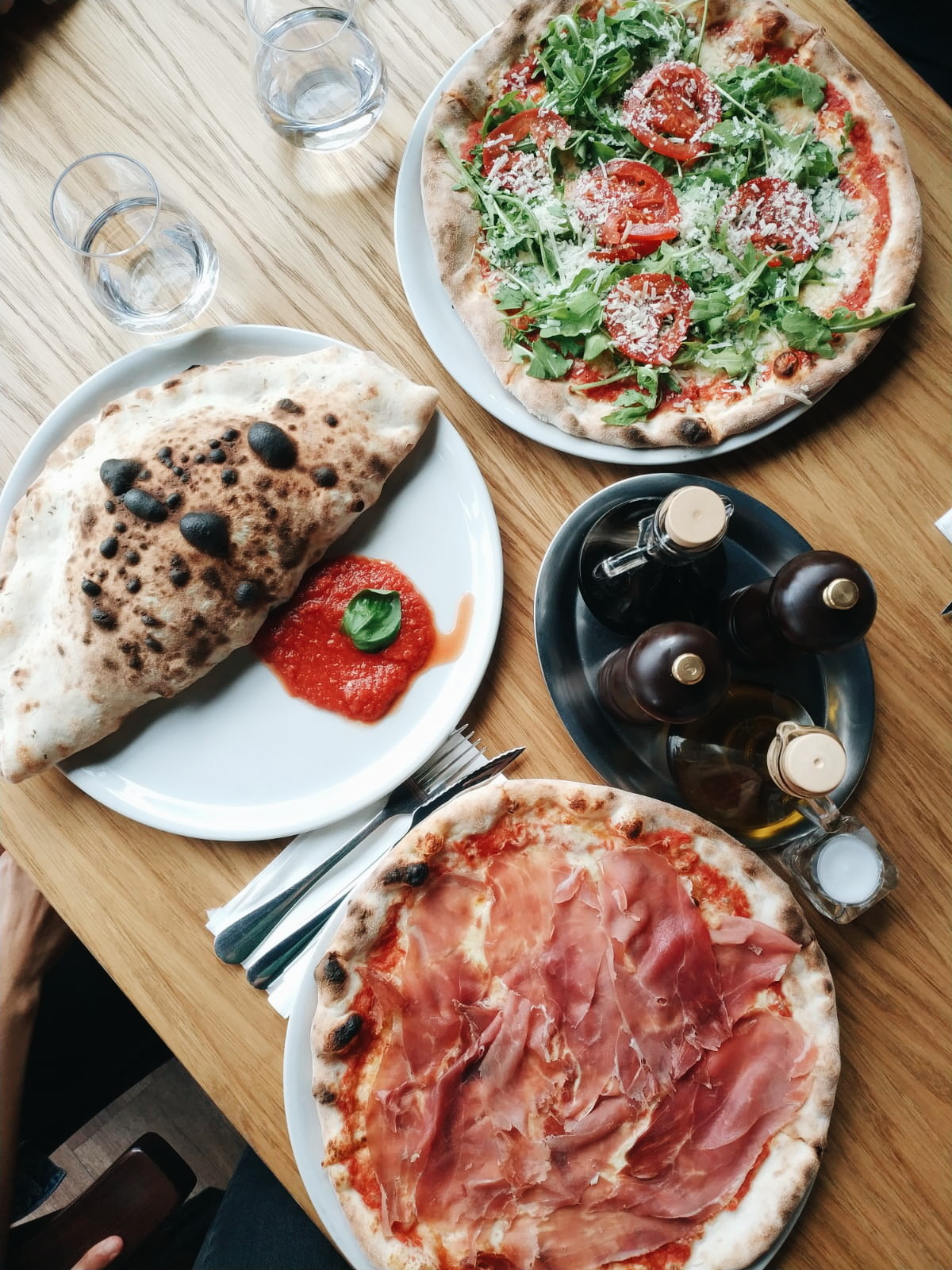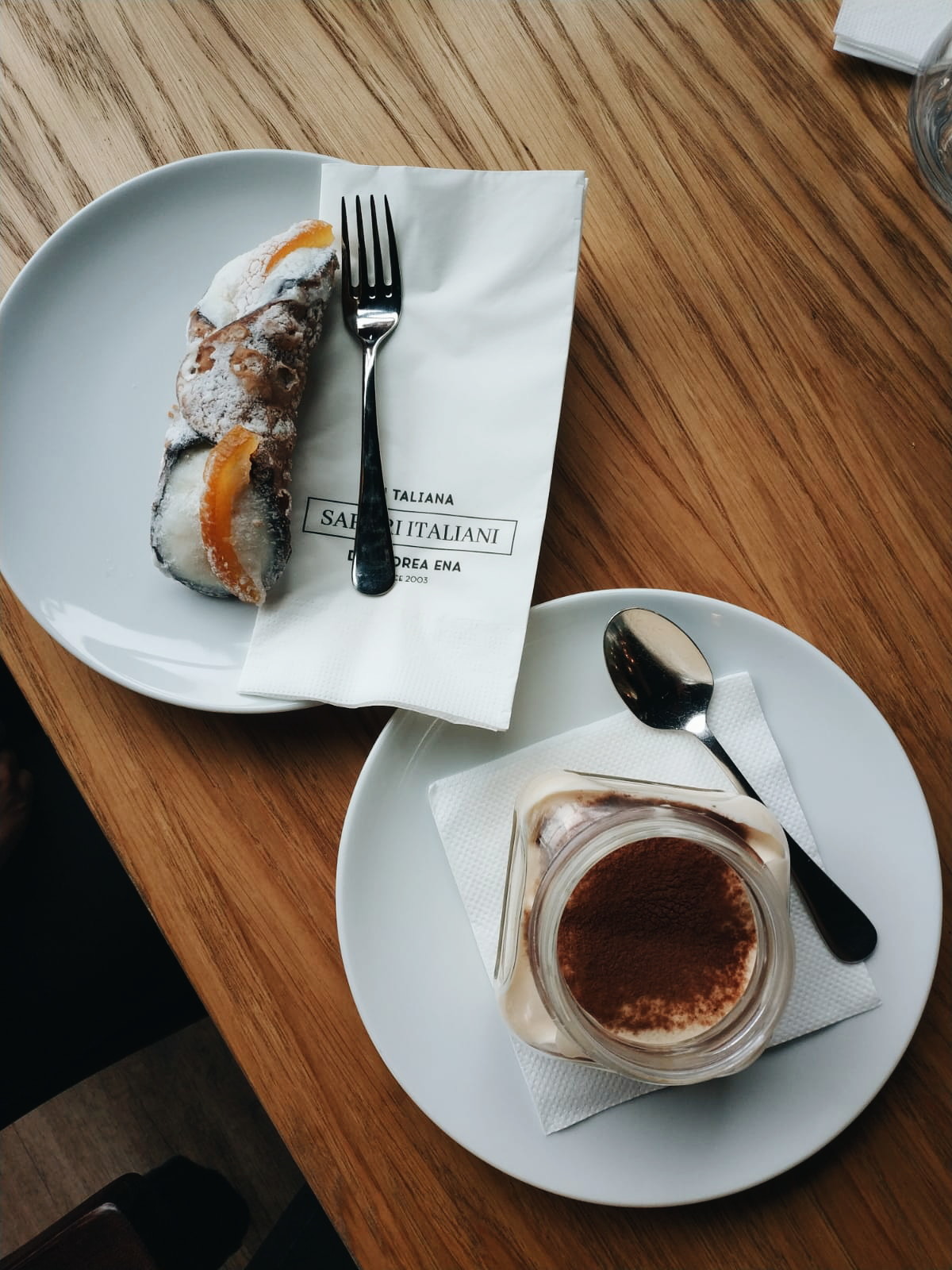 4. Soupa Bistro.
A really good restaurant for the day to day. I'd been going to Soupa Bistro since the first time I'd stepped out onto the streets of Bratislava. It was only three minutes from where I worked, so if one day I was in a rush and didn't have time to make something to eat, I would come here because it was cheap, healthy and delicious. It is a restaurant that has opening times that are adapted for people that work, so it is never open during the evening/ night. At midday it is always full of people on their lunch break. Every day there is a different menu, so you choose what you like the most. Normally, for your first plate there is soup, there are many different kinds; then there are main courses for the second plate, and then a dessert for the third plate. I often only chose to have the first plate because I would already be full after just that. For example, the last time I went there I ate this plate of wholegrain pasta with a cheese and mushroom sauce. Delicious. And only €4. 50. The good thing about Soupa Bistro, and the good thing about many restaurants and cafeterias in Bratislava, is that the menu shows you how many grams each plate of food weighs. In that way, you can know if what you're paying for is worth the price.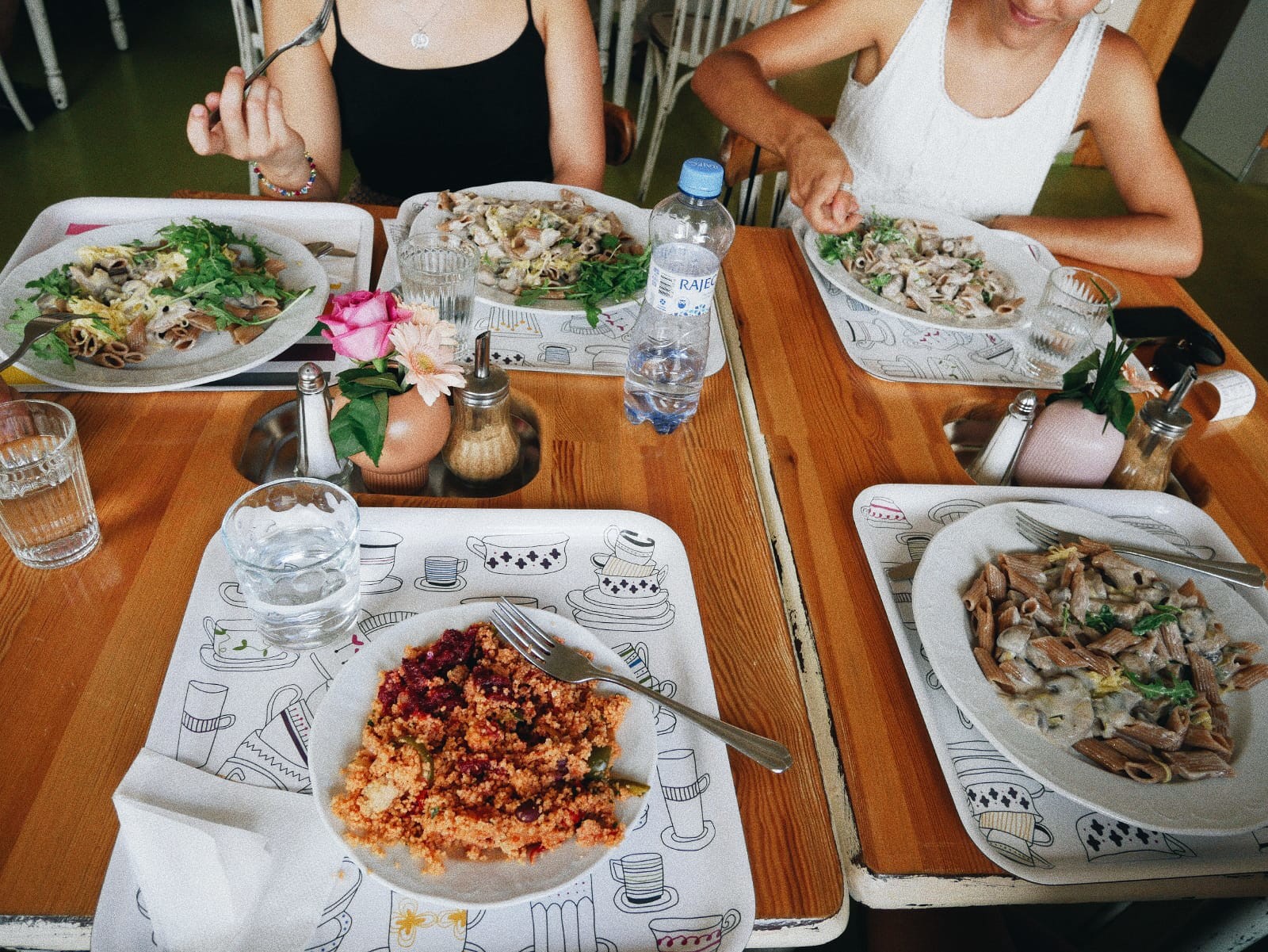 It works in the same way as school cafeterias: you take your tray, you choose what you want and the people in charge serve you your plate. You get to the end of the line, you pay and then you eat. And voilà. I would recommend Soupa Bistro without a doubt, both for if you're here for day to day life and if you're here as a tourist.
5. Jasmin.
Another restaurant that doesn't disappoint. I always brought my friends here because I knew it would hit the spot. It serves Asian food with very original dishes. For me, the best dish was the aubergine with a super sweet sauce inside. For dessert, the coconut balls were to die for. I came here quite a few times and the last time I came I ordered something different and something a little lighter: an avocado salad and chicken fajitas. Simpler, but just as good.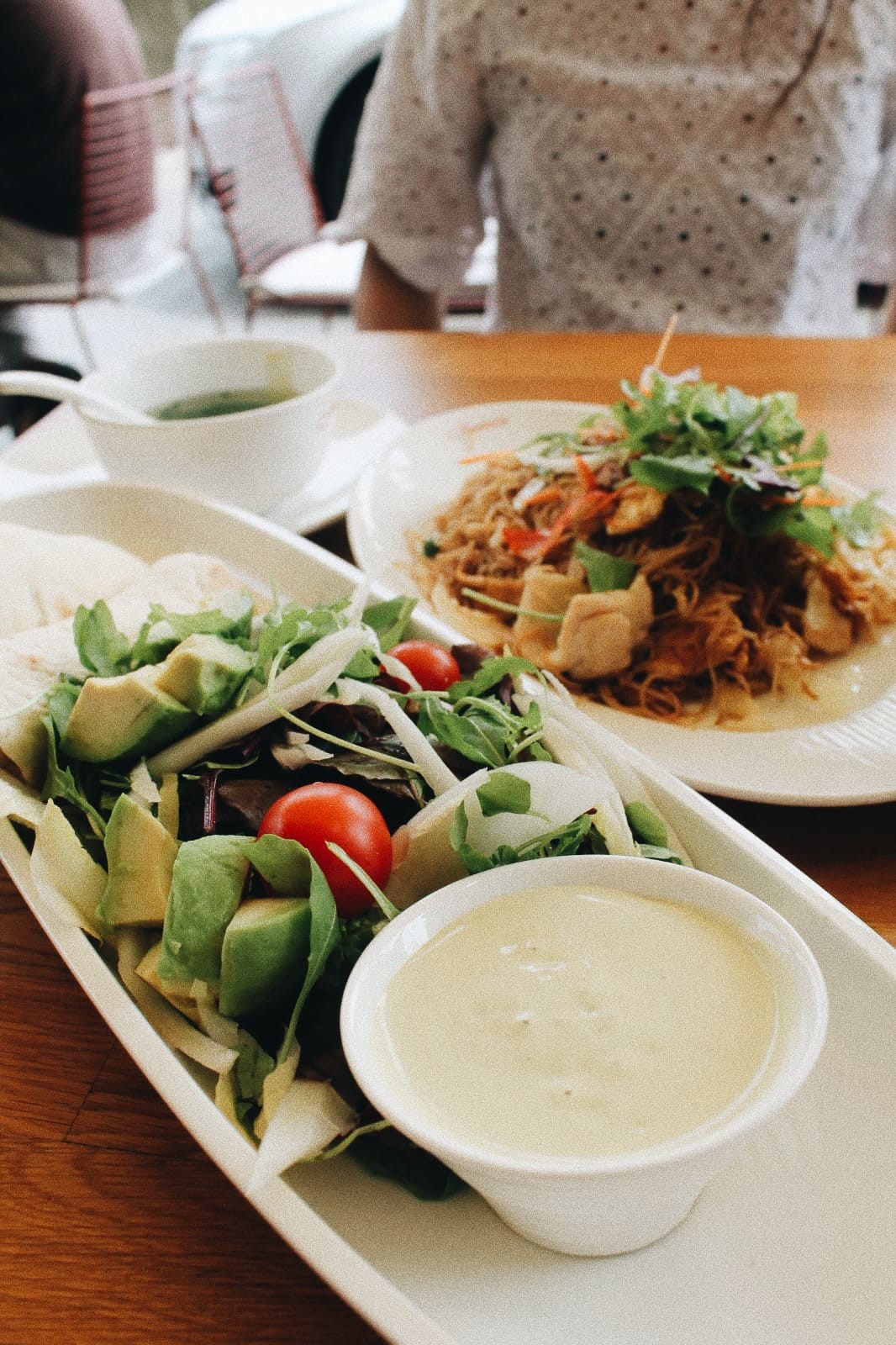 The cool thing about this restaurant is that it is found in the historic centre and is just in front of the medieval city walls. Also, it is very near to the castle, so if you're hungry after visiting it and you want a break, this is the place for you. Another aspect is that it's really good to eat there at midday because it has a very cheap menu with a lot of options of dishes to choose from.
6. Pizzarium.
This pizzeria is a bit far from the centre, probably the farthest out of all the restaurants mentioned in this post. If you come to visit, I don't think you would have the opportunity to go because you need at least 45 minutes to get there. You have to take two or three buses, depending. It's in Rusovce, also where you can find a lake to swim in, so we could kill two birds with one stone and always stopped by here when we went to the lake. Apart from one time when our friend, David, decided to take us all in his car so that we could get there faster and eat together once there. Pizzarium is famous for its pizzas, as they are are square. The dough reminded me a little of coca dough because it was quite hard and crispy.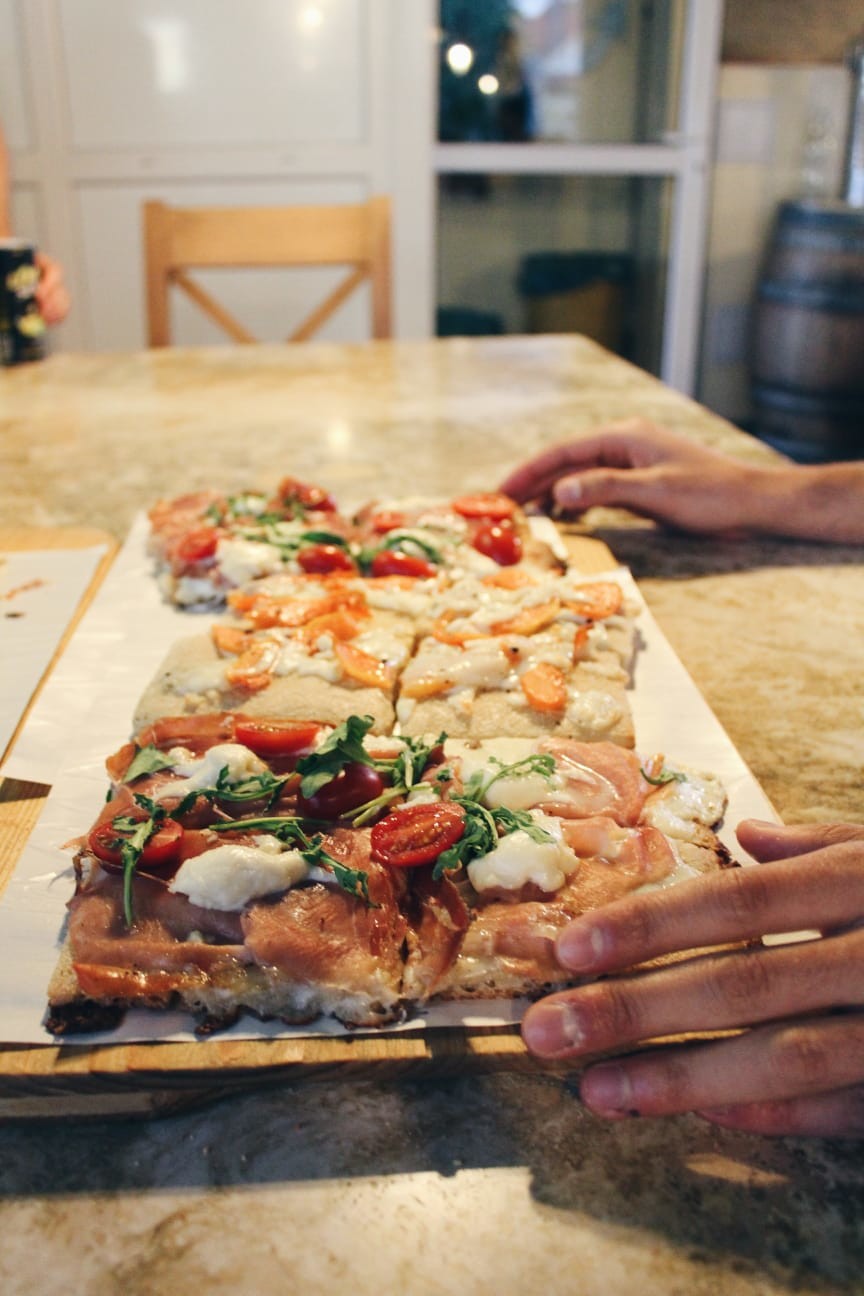 There are vegetarian options and they are very good. There is often an abundance of quality ingredients. Normally, they only have four or five pizzas on display. You choose the one you want and in three minutes they give it to you hot from the oven and voilà, it's ready to eat. The woman that works there knows Italian, so we tried to communicate with her with a kind of Itañol (a mix of Italian and Spanish). It was always a fun moment. It is definitely a restaurant that you learn about when you live in Bratislava, and not when you're just there as a tourist. A shame because it deserves more custom.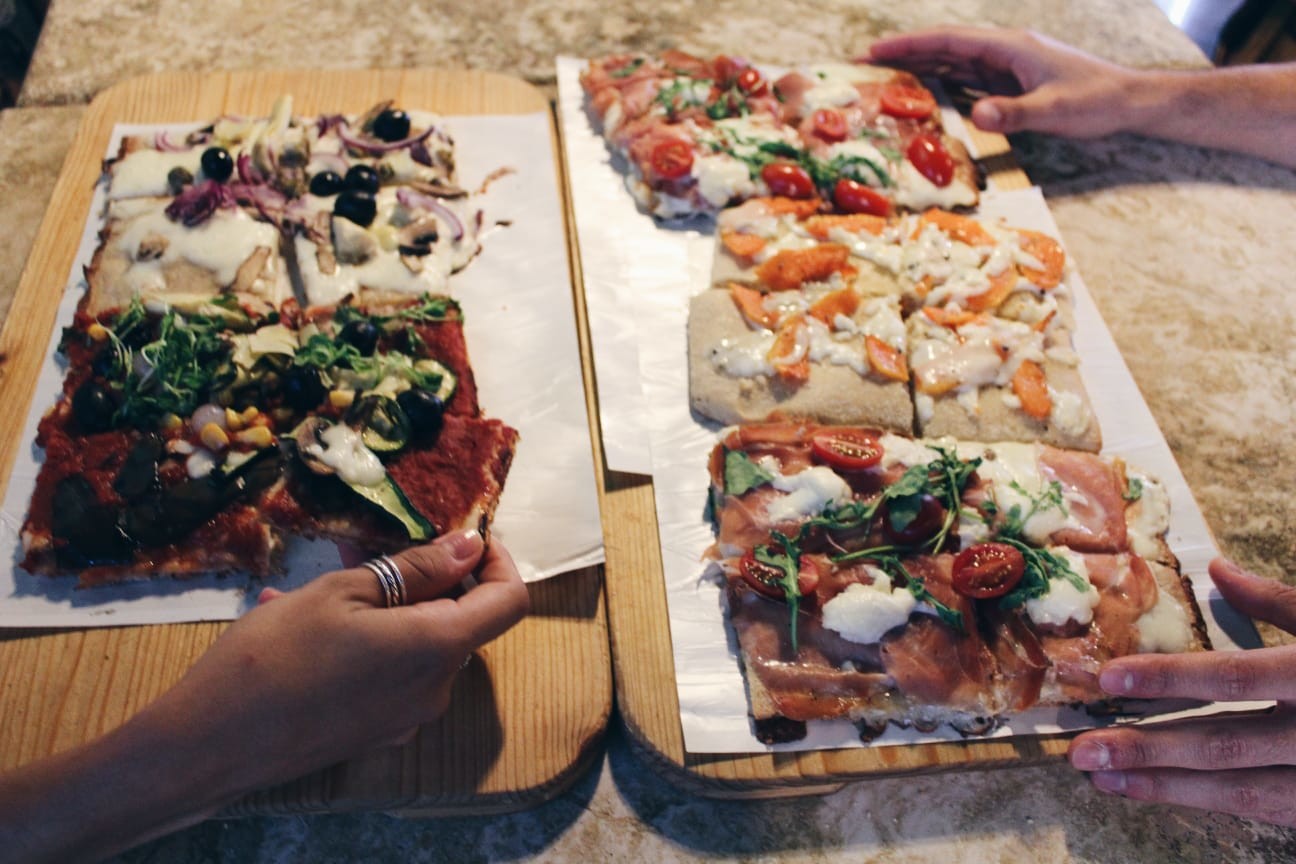 7. Hummusbar.
We only discovered this restaurant recently, but we have already been many times. It is in the Twin City area, leaving Stare Mesto and is only open during the week as it works in the same way a Soupa Bistro and is designed for workers that don't want to bring food in tupperware from home and prefer to eat out. There are a lot of different things to choose from and there are also quite a few vegetarian options. Furthermore, the hummus is made with healthy ingredients and it's incredible how many different combinations they have. You can also accompany your plate with a salad because they are very cheap. In general, it is very cheap, the meals are very good and there are lots of healthy options. I will leave you a photo from when we had a big spread. Good food. By the way, if you want the menu in English because you can't decipher the meaning of the ingredients in Slovak, you can ask for it at the bar.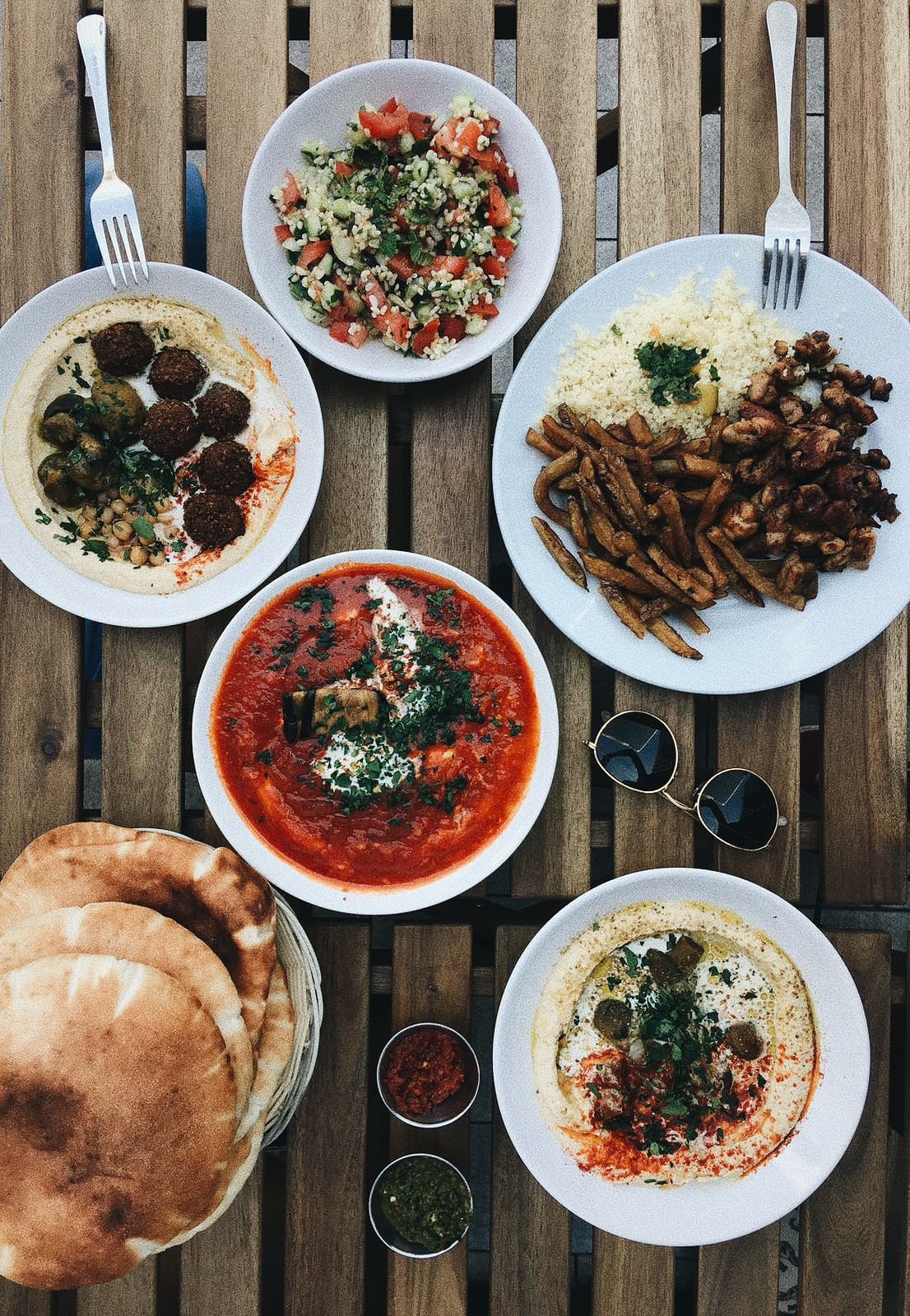 8. BeAbout.
It has quite a bit of fame in Bratislava and virtually the whole world speaks well of BeAbout. When you have a craving for a good burger, this is the best place to go to. It has a very complete menu with a lot of variety. Furthermore, they will give you an appetiser without you even having to ask for it. They've thought about everything. And if this wasn't enough, it's located in the centre of Bratislava, in the Old Town, so it is perfect if you're here as a tourist because you don't have to travel far to enjoy good food.
9. Bratislavský Meštiansky Pivovar.
Also incredibly famous in Bratislava. It is a huge restaurant. You can eat inside but if the weather is good then my recommendation would be to sit outside on the terrace because it is full of trees, it's very wide and give you a feeling of tranquility, despite being in the centre of a capital city. There is a lot of variety on the menu. Not only is it a good way to try typical Slovak cuisine ("haluski", for example) but you can also try every kind of dish, vegetarian options included. The price isn't too high and the quantities are quite generous. I will show you a photo of what we chose. This restaurant is also famous for its beer, so if you are a person that likes beer, here you will have the opportunity to taste good, artisanal beer at a good price. These are all advantages.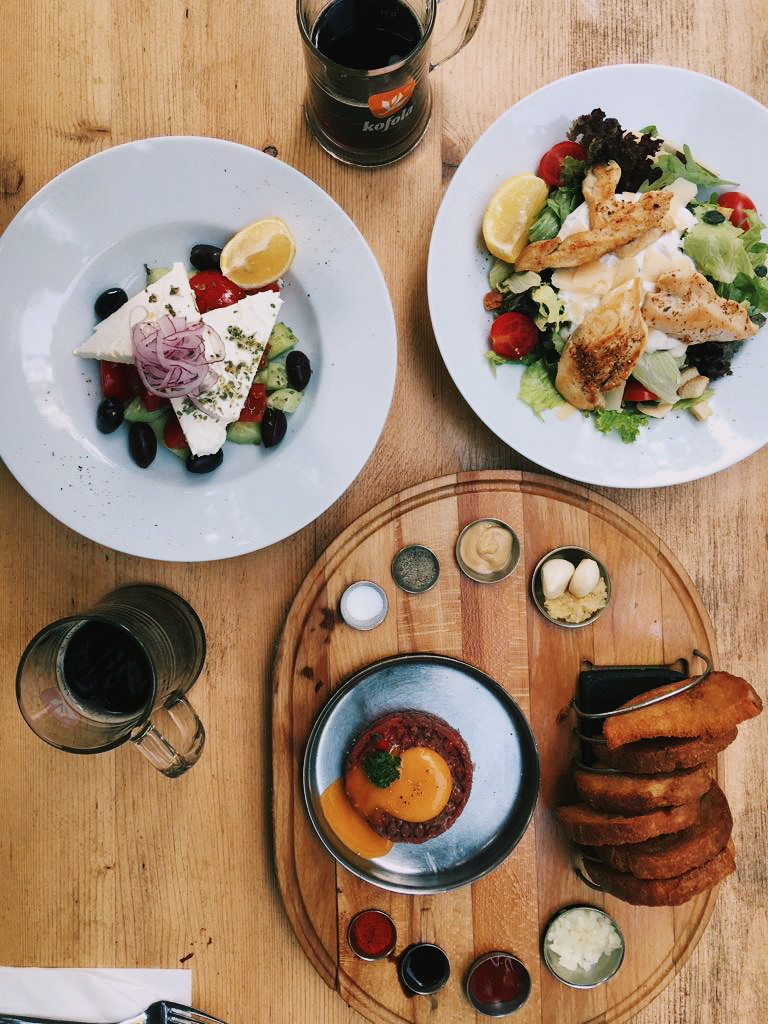 10. Foodstock.
It's in the very centre of Bratislava, in the Old Town. This establishment has a couple of tables where you can sit and eat but the most common thing to do is to order food to take away. For me, the best thing is the different hummuses that they have there, although the gyozas are not too far behind, they are really tasty. What we normally did was order take away food and eat it in the old market whilst we chatted and spent the evening/ night there. Then we returned home having already eaten dinner. The menu isn't too broad but that is something positive, and if you know that this restaurant is famous, then, whatever you order, you know that it will hit the spot. Watch out! Because it closes early, or at least early for us Spaniards. But I recommend it regardless.
11. Véda.
It is a vegetarian and vegan Indian restaurant that is near to Hodzovo Namestie. We went one day to eat and we loved it. It has a menu but we decided to eat from the buffet. The procedure is interesting. It has a tray with many different segments so that you can try a little of everything. I chose chickpeas, lentils, spinach with potatoes (Saag Aloo), a lot of rice and salad. All of this was seasoned with typical spices from Indian cuisine. To pay, you weigh your tray in a basket and you pay for the total weight in grams. Desserts come separately and each one costs €1. 20 but they are small, although I always say that a dessert shouldn't be huge. Be careful because there is quite a lot of spicy food and once I had finished everything on my tray, I felt as though my mouth were on fire. If you're not accustomed to spice then it would be a good idea to ask for recommendations from the people in charge. I don't remember the price per every 100 grams, but I ended that day feeling full and having eaten for less than seven euros. I approved.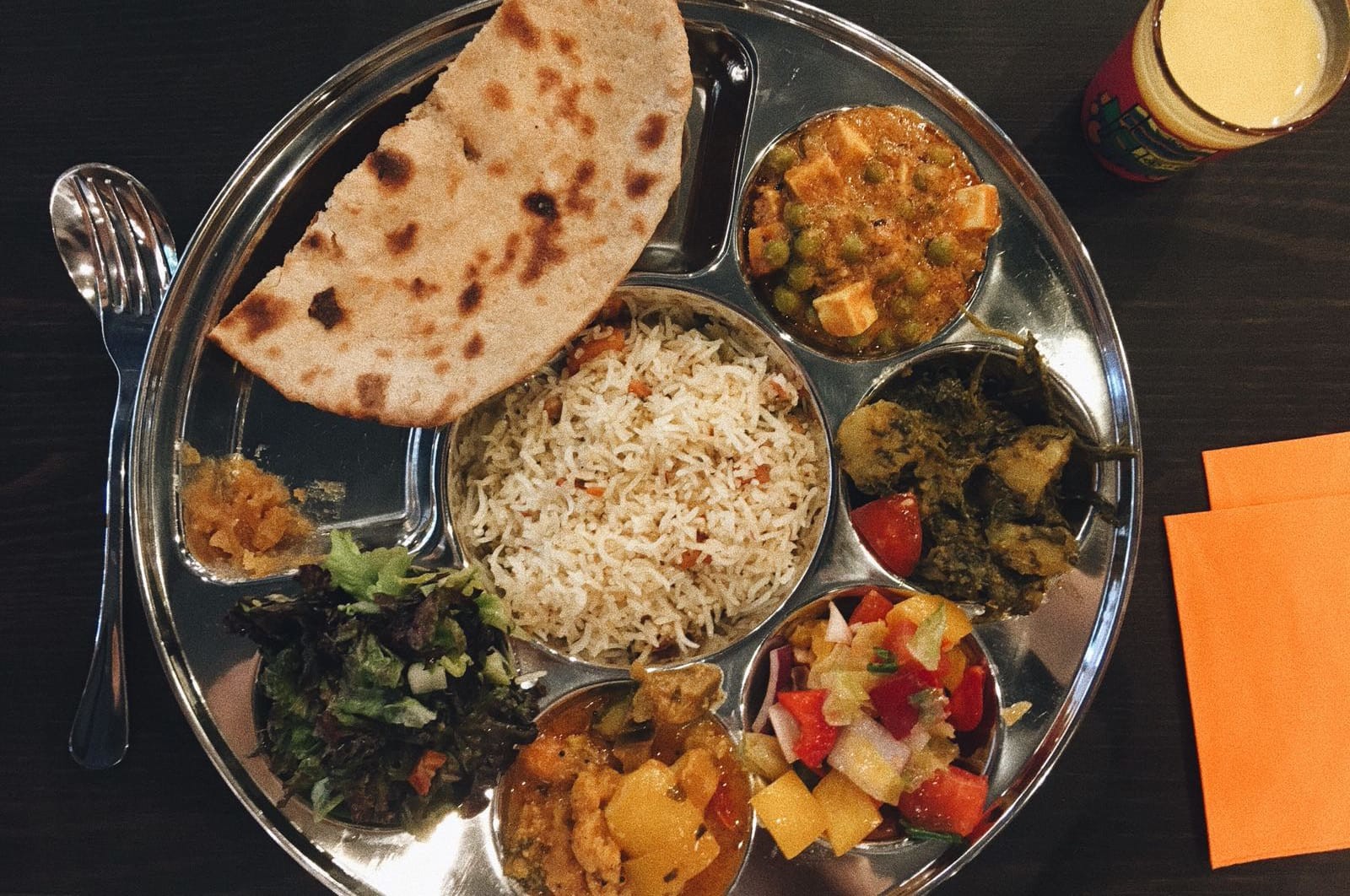 12. Bocca Buona Restaurant.
It's slogan is "pizza, pasta e basta" (which roughly translates to the less catchy "pizza and pasta, that's it"), so from its name and slogan you can probably already deduce that I'm talking about another Italian restaurant. It is in the centre of Bratislava, next to the MOST SNP bus stop. There is a restaurant area and a café area, with very pleasant décor. It is a very wide restaurant, with a wide range on their menu. Risotto, pizza, pasta, soup, antipasto and desserts. The prices aren't too high at all, so I recommend it.
13. Bamboo.
It's a Vietnamese restaurant, situated in the very centre of the city. Friendly waiters, vegetarian options and, of course, spicy food. Good prices and a pleasant atmosphere.
14. Gatto Matto.
There are various restaurants across the whole of Bratislava. I have only been to the one that is closest to Michalska and my overall opinion was positive. Many different kinds of pizza and panna cotta for dessert. Warning: careful with the Pizza Diavola because it comes with a hefty slice of well-cooked chili pepper in the middle and many people think, as a friend of mine thought, that it is a tomato and they put it straight into their mouth. Look carefully because I can't imagine that you'd like to spend the next ten minutes in the toilets with your mouth on fire.
And that is the post for today! The thing we know for sure is that the best aspect of Bratislava is the multitudes of restaurants that are planted all around the city. You could go to a different one every weekend! We have learned that the wisest thing to do is to avoid the touristy areas, because there the restaurants are more expensive and not necessarily better quality. Well, I hope that you have discovered a new place and that your mouth began to water at all these photos. You can leave your recommendations and opinions for me below. Thank you for reading and we shall see each other again soon.
---
Photo gallery
---
---
Content available in other languages
Want to have your own Erasmus blog?
If you are experiencing living abroad, you're an avid traveller or want to promote the city where you live... create your own blog and share your adventures!
I want to create my Erasmus blog! →