New Flexible Cancellation: rent your accommodation with complete peace of mind and cancel at no cost
If there's one thing we've all shared since COVID-19 pandemic arrived in our lives, it's uncertainty. Although the pandemic situation is getting better and we can see some light at the end of the tunnel, it is difficult for us to make long-term plans due to the changing situation. However, planning where you'll be next year and the participation in programs such as Erasmus or Turing Scheme, or going abroad to study a new language or to take a postgraduate degree, it's not something that can be arranged at the last minute. Moving to another country or city, especially if you are abroad, takes some time.
There is all the bureaucratic part... but also the most complicated issue, which is usually to find an accommodation that suits your needs, taste and means. The best places to live in the chosen city are booked quickly, but it can be difficult for us to make the decision and book them already, mostly because of the fear of what may happen with the pandemic. What if there are new restrictions? What if there's a rise in COVID-19 cases that forces me to change plans? Will I lose my money if I have to cancel the reservation?
For that reason, at Erasmusu we have decided to take a step forward to clear doubts, and get you to book right now the accommodation of your dreams, but safely: the free Flexible Cancellation is here.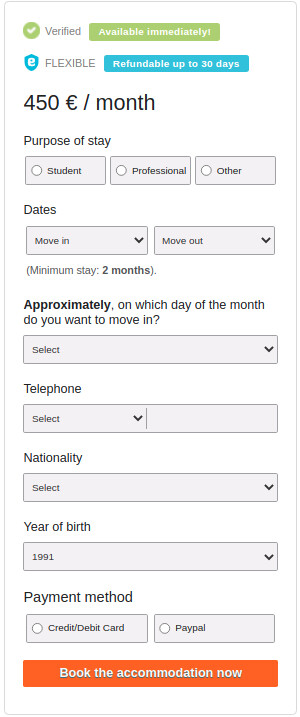 New Flexible Cancellation policy
We have spoken with landlords who offer their accommodation for rent on Erasmusu, and many have understood and accepted that it was time to make a change and to be more flexible with cancellations to make everything easier for tenants, so they could plan their stay better. We thank the thousands of landlords for their understanding, because it's a difficult measure for them, given the fact that they are the ones who will assume much of the uncertainty that previously fell on tenants.
Accommodations that count with Flexible Cancellation allow any Erasmusu user to book an accommodation and cancel that reservation at no cost up to30 days before the arrival date. If you cancel more than 30 days in advance, we will fully refund the rent. As easy as that. As safe as that.
To avoid fraudulent use (unfortunately, it is quite common), Erasmusu will retain only the commission for the booking service. You can use that money for your next booking (you have a year to do so) and our team will help you find the accommodation that suits your needs best. So, if you are forced to cancel a rental for any reason, you will not lose your money and you will be able to book again calmly and with our help.
Finding accommodation that offers Flexible Cancellation on Erasmusu is very easy: they are marked as such in the accommodation search results, and are also indicated as such in every accommodation detailed page. We will also add a specific filter so that you can find, if you wish, only the accommodations that offer this option.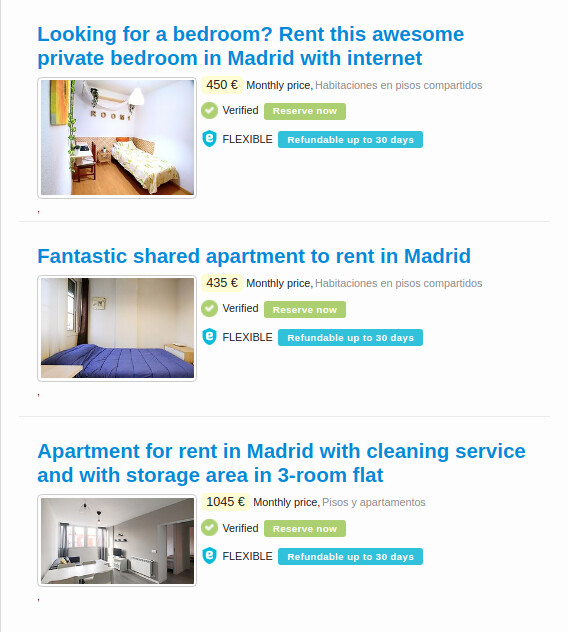 To use the Flexible Cancellation you just have to book your future accommodation following the process on the website of Erasmusu and, if you need to cancel, let us know and we will refund you; no questions asked. We will save the service fee for the future and offer you solutions and alternatives if you require it. Easy, simple and safe, because that's how things should be in these uncertain times.
You can now start searching for your new accommodation. Check our Frequently Asked Questions and solve any questions you may have. Don't take too long, the best accommodations are being booked right away!
---
Photo gallery
---
---
Want to have your own Erasmus blog?
If you are experiencing living abroad, you're an avid traveller or want to promote the city where you live... create your own blog and share your adventures!
I want to create my Erasmus blog! →