Queima das Fitas of Porto - A one week during festival you can't miss!
Queima das Fitas of Porto
In 1944 the first Queima das Fitas happened in Porto. This academic party always occurs in the first week of May, and there are several things to do all around the city. Students use to carry their schoolbooks with a briefcass ('pasta') on which they attach ribbons ('fitas'). These ribbons have the colours that are associated with their studies. For example: the Art studies are dark blue, the medical studies are yellow and the Science studies are light blue. Most students are always looking forward to this time of the year. It's especially nice for the freshman, because during this event you are an official academic student. However, also for the seniors it's a special event, since for them it's the farewell party to their (awesome) student life. The name of this party, Queima das Fitas, means burning the ribbons, which symbolizes the farewell to the student life. Nowadays also a lot of families and other general public go to some events of this week, so it's not only for students!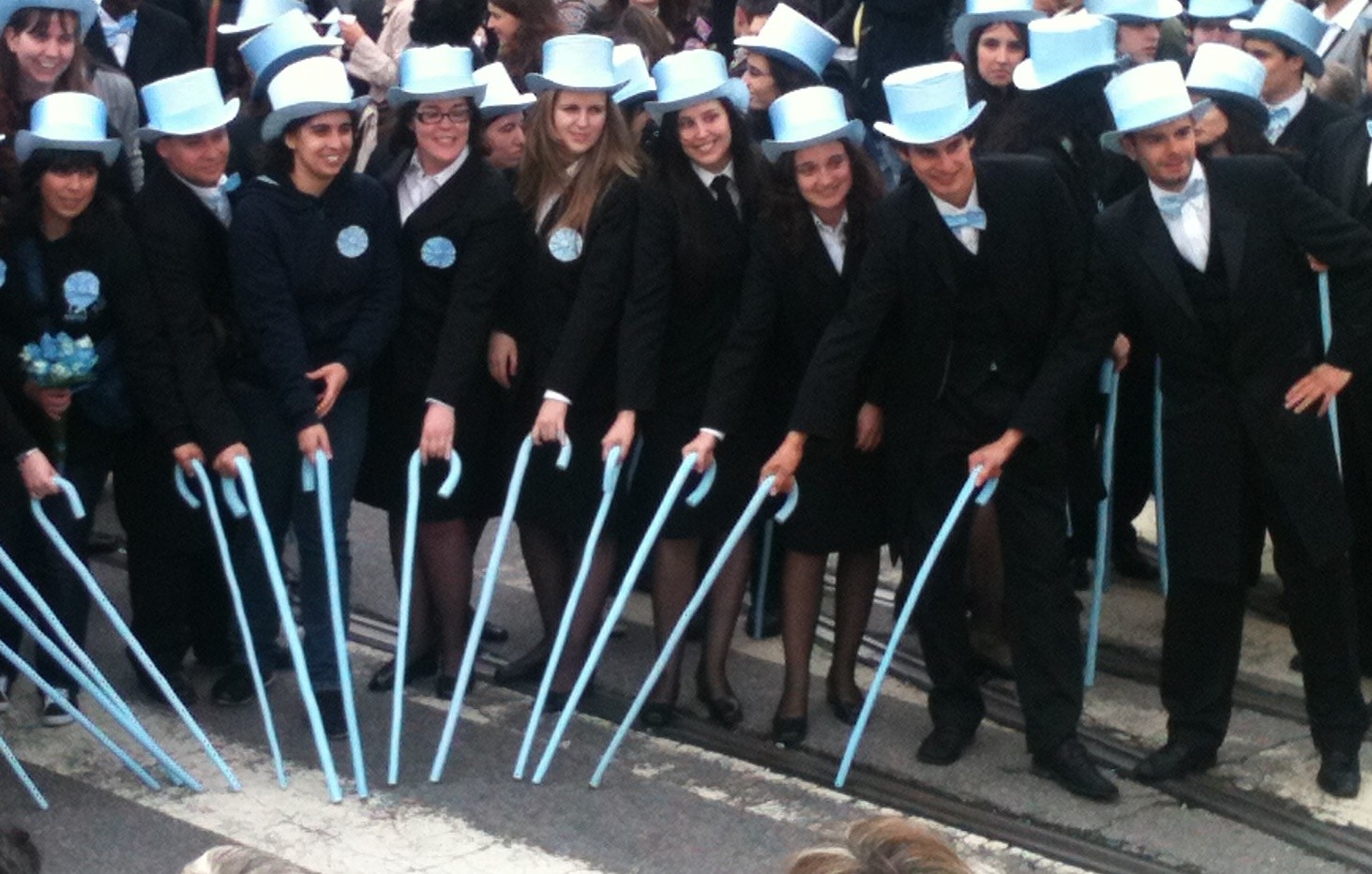 The tickets for Queima das Fitas are sold in advance, at that moment they are the cheapest. You can also buy tickets at the Queimódromo (near to Parque de Cidade, where the concerts and parties at night happen), but there they are a little more expensive. You can check the lineup of each day, so you can choose they day(s) you want to attend the party. Or you can buy a week pass and party the whole week!
The FAP (Federacao Academica do Porto) usually prepares everything for this big party of the year. All the studies can have their own 'barraquinha', it's like their own bar in the Queimódromo. All these 'barraquinhas' are made by the students themselves and are also ran by them.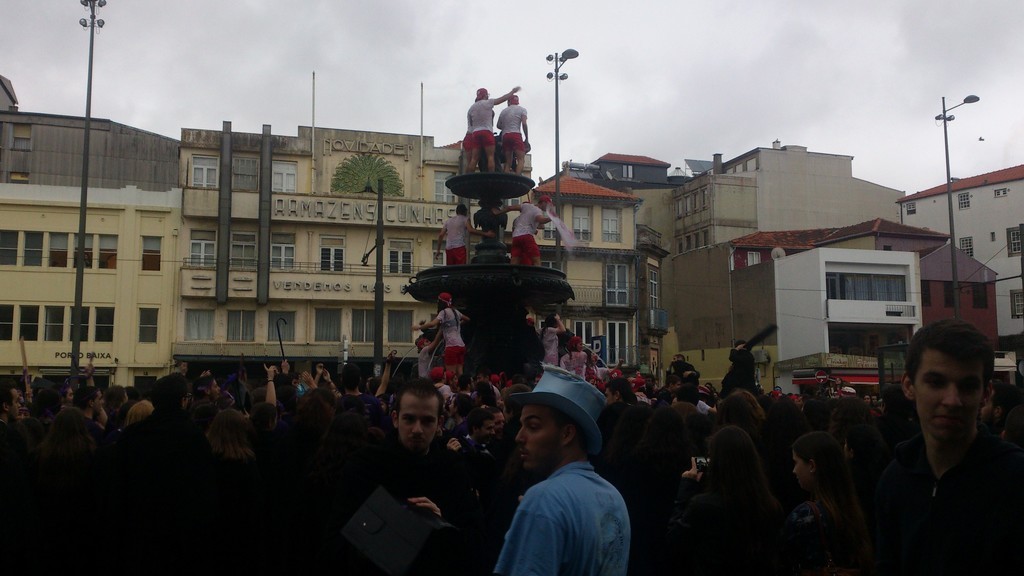 How this academic week looks like
Saturday night
It all starts with the Serenata (which is a Fado concert) that is held by many students for everybody that comes to the Cadeia da Relação (near Torre dos Clerigos). The songs they sing are about saying goodbye to the student life. Afterwards everybody (mostly the students) goes to the Queimódromo where many concerts take place. You can drink, meet many people and have loads of fun.
Sunday
Students meet up with their families to go to the Missa da Benção das Pastas in Avenida dos Aliados (the mass), where a priest would symbolically bless the briefcases.
Monday and Tuesday
Cortejo Académico in the city Centre of Porto: a huge parade with more than 90. 000 students. Each faculty creates its own float. The funny part about it is that on every float (standing) you have the third-year students, in front of it (walking) are the seniors with canes and hats and behind the float (also walking) you have the freshman, singing songs out loud. The parade ends in front of the City Hall. In that location important people from the Universities will receive the students.
Wednesday and Friday
Tuna's Festival. Tuna is a student group that make music with traditional instruments.
Sunday
Garraiada (in Póvoa de Varzim): cows and a bull will be fighting with each other. Teams of students can compete with the animals. However, they decided to not do this event anymore from the start of 2016, because an online petition gathered a huge amount of signatures against it.
After this heavy week, people will rest and start to study for the exams before summer. Only in September the students will go back to school again after the holidays.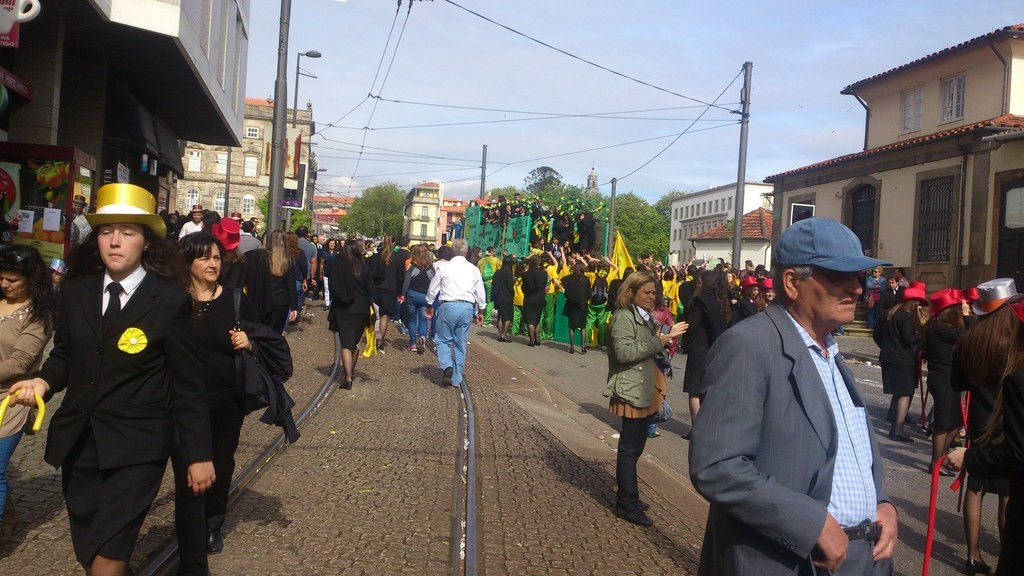 I really recommend Erasmus students to take part in this festival! It's something you should have experienced if you did you Erasmus in Porto. I took part during my Erasmus (in 2014), I bought tickets for 4 days. That year they invited very good dj's and the weather was just perfect.
---
Photo gallery
---
---
Want to have your own Erasmus blog?
If you are experiencing living abroad, you're an avid traveller or want to promote the city where you live... create your own blog and share your adventures!
I want to create my Erasmus blog! →