Nature festival - discover Madeira through different activities
Discover Madeira through different activities – Nature Festival
Madeira is a small island, in fact if you have got a car you can get from one coastline to another within two hours, more or less. So when you have a look at a map and see the actual size of Madeira, you might be wondering – just like me at the beginning – what you could do there during the whole period of your ERASMUS+ stay. Let me just share what this beautiful tiny island offers!
What is the Nature Festival?
At the beginning of October, there is a Nature Festival. (In 2018 it was happening from 2ndto 7th October, in 2019 it will take place from 1st to 6th October.) It means that anyone has a chance to go to a tourist office where the person can book a spot for some of activities which helps to get to know local nature.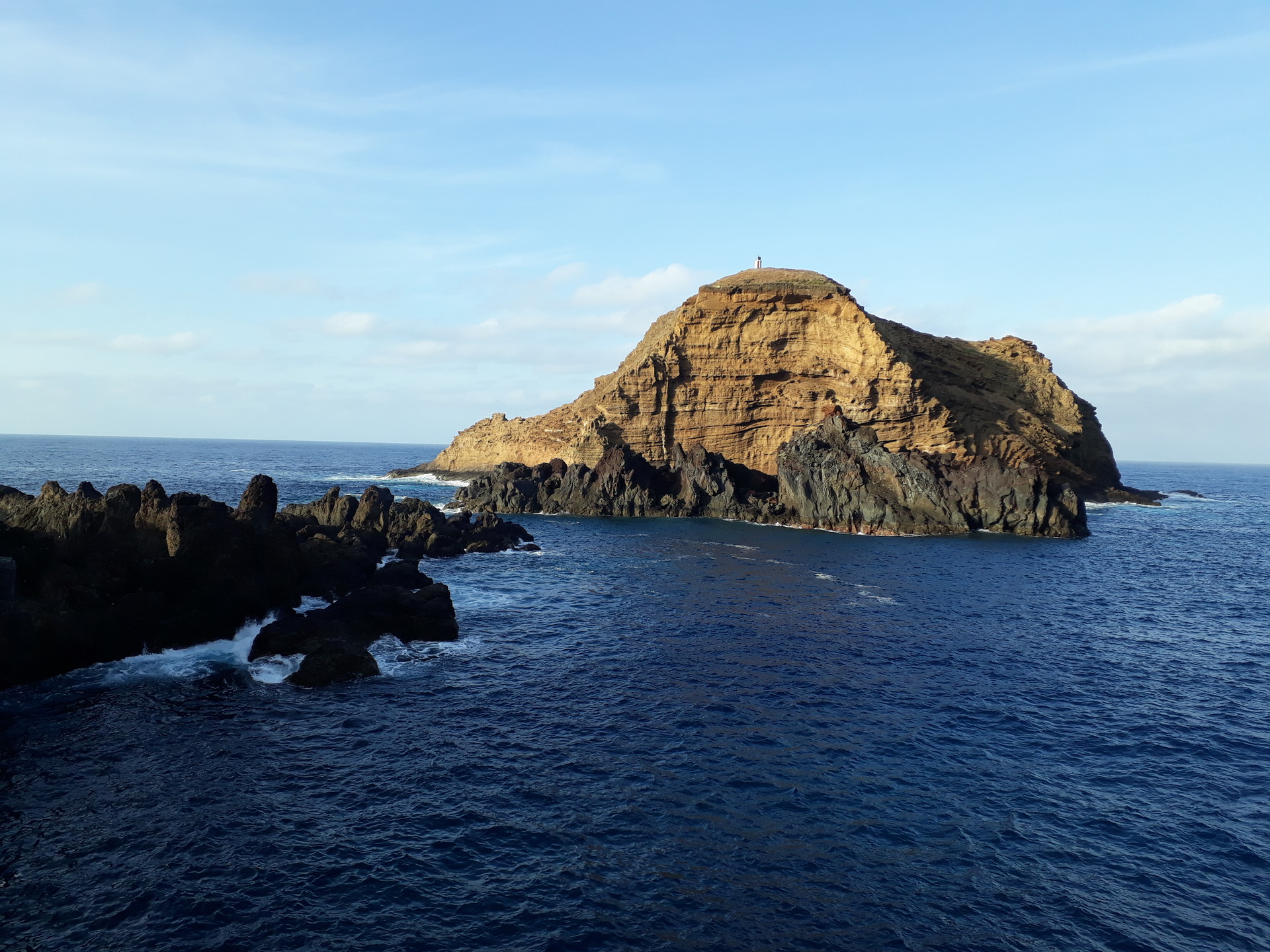 Picture: Getting to know nature beauties of your new "home".
Believe me, the list of those activities is incredible. To be honest, I have never done most of the offered ones: paragliding, a jeep tour, a diving baptism, scuba-diving in an aquarium, horse riding along levadas (levada is an artificial channel that leads water from mountains into a few chosen spots in villages and towns), surfing, paddle-boarding, sailing and much more.
How much does it cost?
Of course that there are many people who want to do at least one activity from the list mentioned above. Just because they are hungry for trying new, challenging or extreme sports for the first time or because it is an amazing opportunity for taking part in the festival and discovering Madeira a bit more. And what was the best about it all? It is free of charge!  You do not have to spend a cent! So anyone can afford it and should support this festival by participating.
How to book a spot?
To book a spot for yourself, you have to get to the tourist office in Funchal, more specifically: Avenida Arriaga Tourist Information Desk (or Porto Santo – which is another island of the archipelago) as soon as possible. They open at 10 a.m. and close at 6 p.m. (Monday – Thursday) and from 10 a.m. to 3.30 p.m. (Friday and Saturday).  However, I recommend you to get there even before 10 a.m., as there are many, many, many people (indeed) waiting for their chance to book a spot.
Unfortunately, spots for each activity are limited (somewhere there are only three spots, somewhere there are six spots). You are allowed to do only two activities during the whole week and they need not to be done within the same day. Moreover, you might be said that it is possible to book your spot only one day in advance. That means that if you want to do for example paragliding on Wednesday, you have to enlist on Tuesday (not on Monday). But to be honest, as the week gets slowly over, organisers let people book it even more days in advance.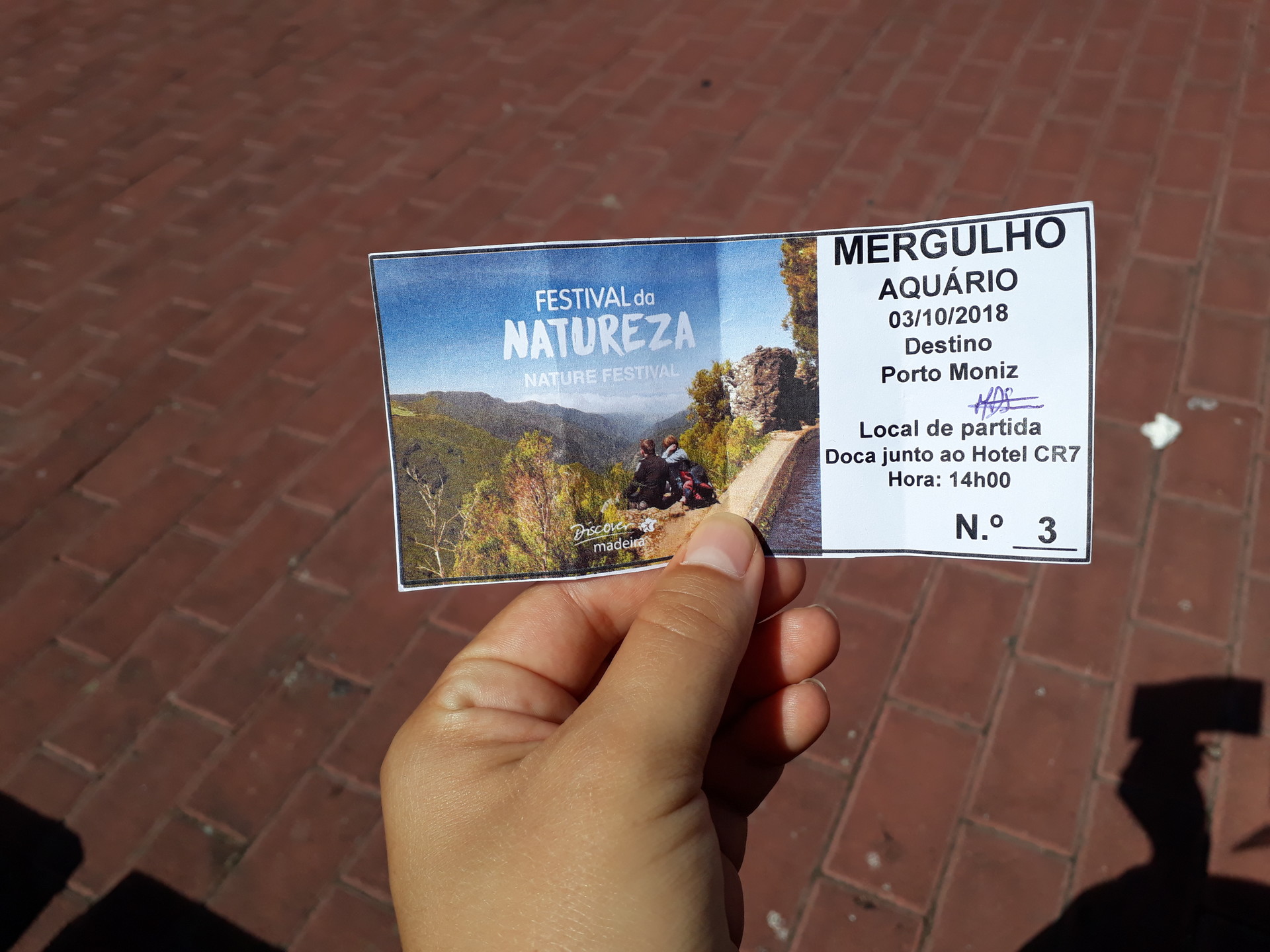 Picture: Finally booked!
Where does it take place?
As I have mentioned above, some of the sports are held in Madeira, some of them in Porto Santo. I am going to write about the island of Madeira. Different events take place in different parts of the island. Some of them take place in Funchal – the capital, the southern coastline of Madeira – some of them in the northern part, others in the eastern, central or western part.  Simply in all parts of the island. That is really nice because you can discover new places, even those which are very difficult to be reached when travelling by bus, and simultaneously to experience things that you have never done or are way too expensive to even think of doing them.
For example, to do diving in the aquarium, you would go to Porto Moniz (North). To do paragliding, you would go to Calheta (East). You would visit Madeira airport when enrolling yourself into a Flight Baptism. There are tons of distinct places: Machico, Pico do Arieiro, Santo da Serra, Ribeira do Lajeado, Funchal and many and many other places.
If you are just thinking of how you would get to these places, I can assure you that you would get there very easily. There is a meeting point in Funchal – for many activities it is Cristiano Ronaldo Square – where there are cars waiting for giving you a lift to the specific place. And again, as it is a part of the festival, it is for free. Usually, you should be there thirty minutes before the leaving time.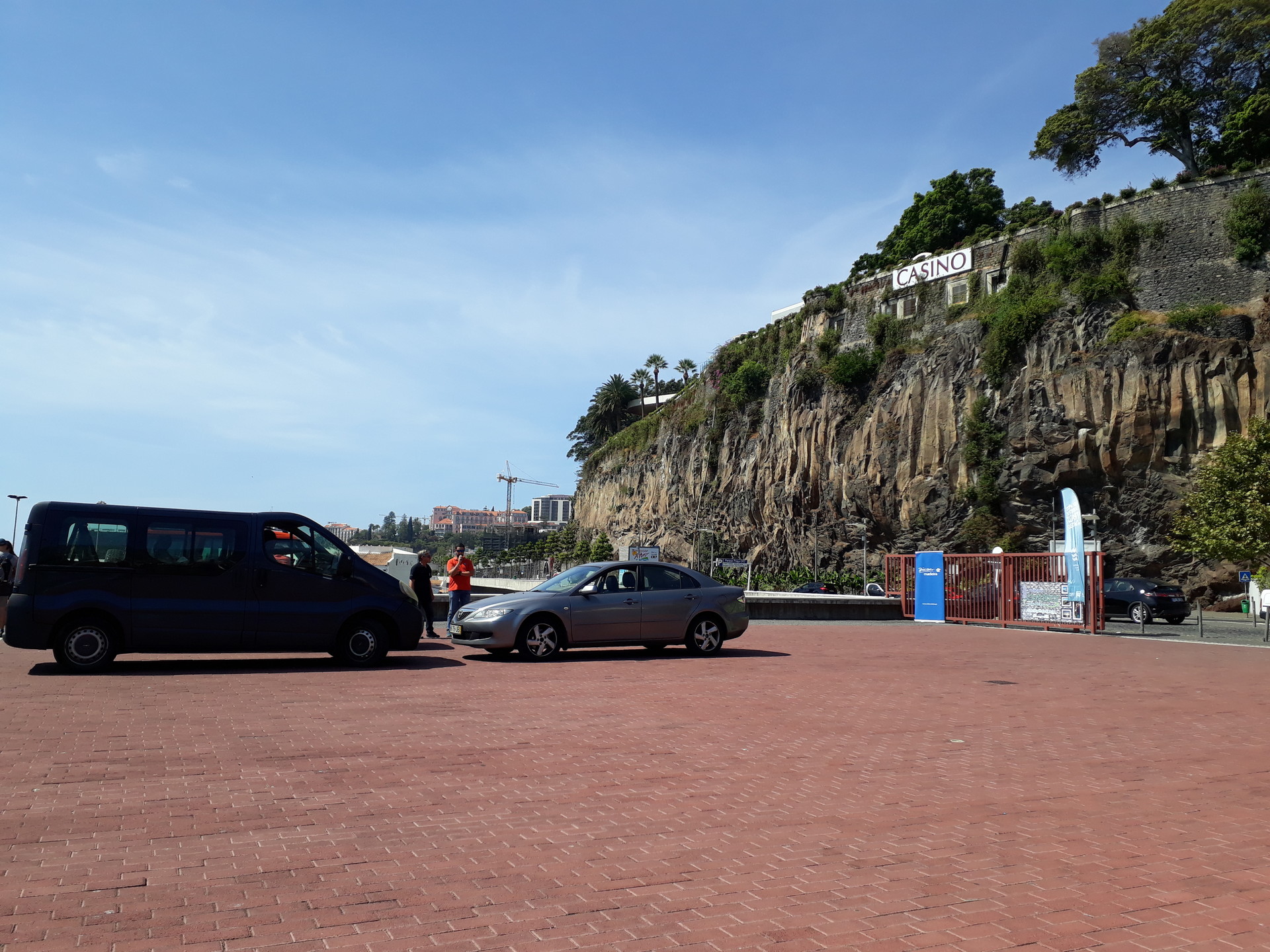 Picture: Usually some vans wait for participants of the festival.
Who is this for?
This festival is for everyone. It does not matter where you are from and so you can meet people from anywhere. You might do your chosen activity with someone from Madeira – locals – or with someone from the same country as you are.
Moreover, it is not important whether you are 18 or 99. There are some events for kids and even some for people who cannot move much. So you can go to see a dance performance of traditional dances or you might be interested in visiting a Botanical Garden.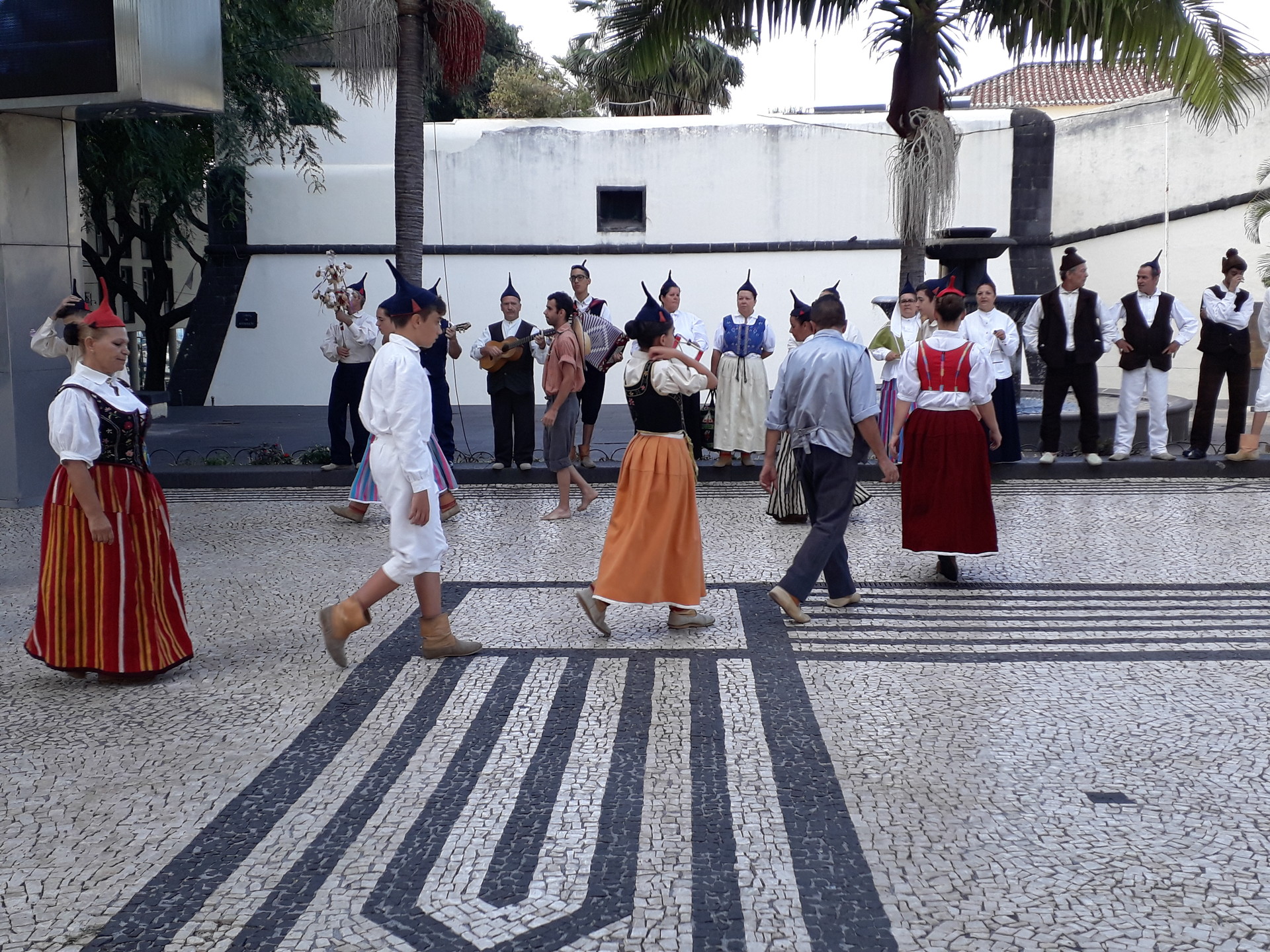 Picture: You can even come to watch a performance of traditional dances.
Where can I get information about the programme and schedule?
You can always check the website of Madeira archipelago, where you can read some general information about the festival.
However, I would personally recommend you to follow the event through Facebook. There, it seemed to me much better organised. It is also easier to find the schedule for activities.
Personally, I want to add...
I took part in the Nature Festival 2018 myself. It was amazing and really well-organised. I would recommend this event to anyone and I even believe it is worth it to plan your holiday in Madeira according to the data of this event. Those who organises it were very friendly and willing to help everyone. They let all participants enjoy the festival as much as possible.
I am going to share my own experience from the festival in the next post. The Nature Festival is so beautiful and such a brilliant event that I need you to know: it is worth it to book a place in 2019 (or in next years). There are no doubts about it!
---
Photo gallery
---
---
Content available in other languages
Want to have your own Erasmus blog?
If you are experiencing living abroad, you're an avid traveller or want to promote the city where you live... create your own blog and share your adventures!
I want to create my Erasmus blog! →