Teresa's Experience in Bilbao, Spain
Architecture and landscape

10 / 10 points

Entertainment

8 / 10 points

Culture and customs

8 / 10 points

Transport

10 / 10 points

Gastronomy

10 / 10 points

Prices

6 / 10 points

Party

6 / 10 points

Weather

6 / 10 points
---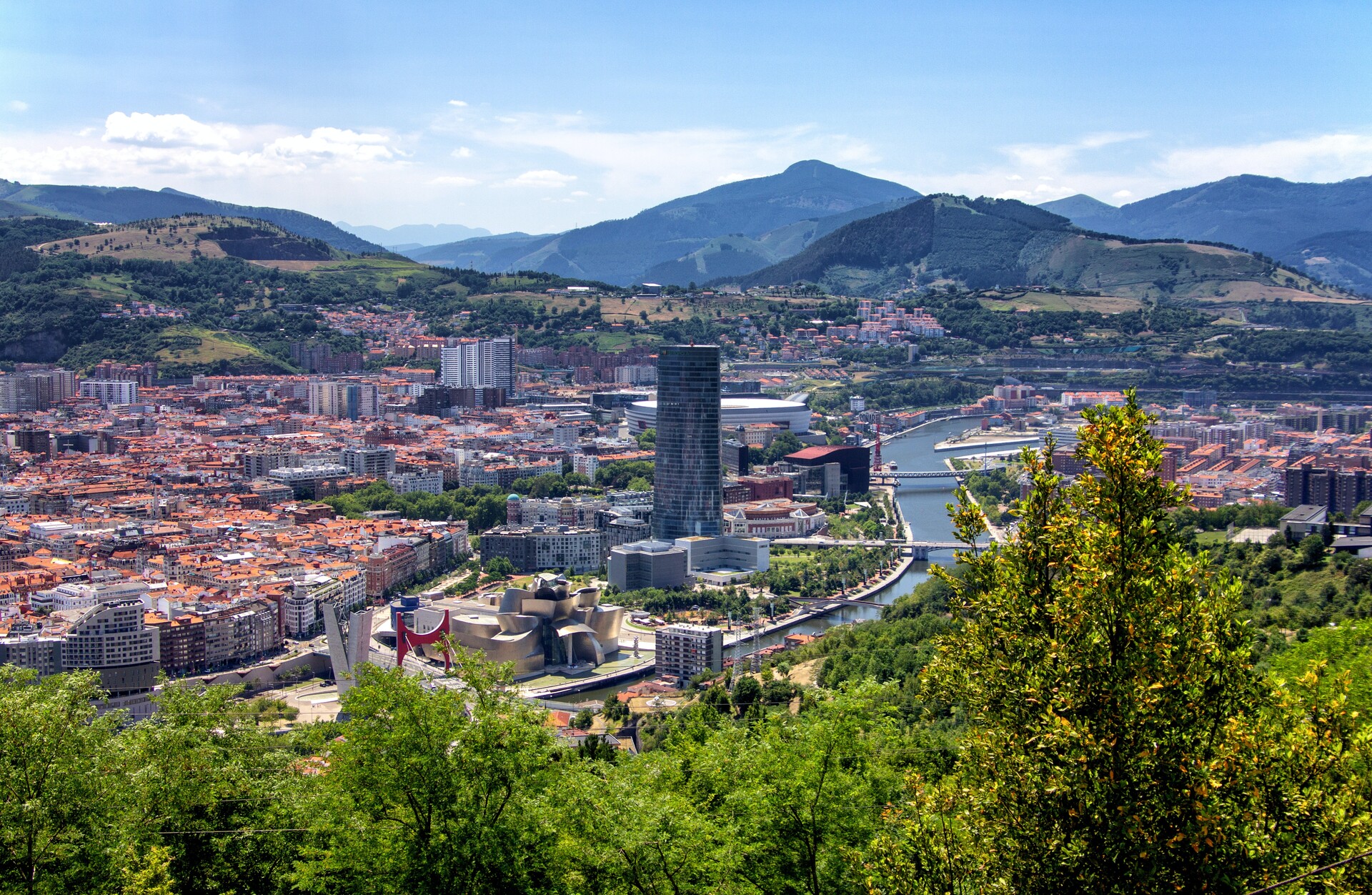 Source
What's it like to live in Bilbao? Would you recommend it?
I have lived in Bilbao for 4 years and truthfully, it is a convenient city because it's not so big meaning you can go anywhere by foot . But for those of us more on the lazy side, there is always the choice of taking the underground or the tram, depending on which area you are in and where you want to go to.
I only have good things to say about Bilbao: good friends, good food and spectacular places to visit.
My only complaint would be the party scene. The vibe in the city is very much centred around raves in old industrial sites which would be fine if they were all in the same area. But they're not. Each one is in a different corner of the outskirts of Bilbao and you have to buy a ticket a few days before in order to enter. You have to be organised, you can say goodbye to making plans on a Friday or Saturday night to go out that evening (although the best day to go out is undoubtedly Friday).
I am used to places like Oviedo, A Coruña, Gijón and Lugo where you go out in the old town and everything is close to each other. In these cities everything is spontaneous; you can go to a bar or a club last minute instead of because you have planned to days in advance. That is what I like the least about Bilbao.
Look, the clubs are brilliant. My favourite is Fever which has 4 enormous rooms, my preferred one being the Gold room where mainstream music is mixed with rock and roll classics and indie bangers.
What's student life like in Bilbao?
University life is very good, Thursdays are the days when all university students go out.
I studied in the University of Deusto, the oldest private university in Spain and I loved it there. At first, the locals can be a bit reserved and shy to make friendships but later they are among the best people I have ever met without a doubt.
How much does it cost to live in Bilbao?
In truth Bilbao is probably the most expensive city in the North of Spain. Having come from Oviedo, the first year I was shocked as the most basic things like a coke are almost a third more expensive than where I come from.
Rent for a 3 bedroom flat will cost you around €900-1000 a month (more likely to be upwards of €1000).
Entrance to a club is €12 but at least this includes a mixer and spirit or two beers.
Was it hard to find accommodation in Bilbao? Cn you give any advice?
The first years I was in a halls of residence called Colegio Mayor Deusto which in my opinion, is the best halls in Bilbao as well as right behind my faculty so very convenient.
But there are other residences like Colegio Unamuno, Blas de Otero and María Inmaculada.
What's the food like? What are your favourite dishes?
The food is brilliant. The mythical pinxtos (small snack) are spectacular, although it is pretty expensive to eat them for dinner. On Wednesdays in the old town there is a pinxto happy hour where each one costs €1, as does a small beer or glass of wine.
As for restaurants, I love La Mary which is on the corner of la Alhóndiga where you can eat for €10-12 which isn't bad.
What places would you recommend to visit in Bilbao?
To visit definitely the area around the estuary. Before it was horrible but the council made a big effort to change people's perceptions of the area as ugly and I think they have succeeded. It is a very green area, with paths along the estuary to run or walk along as well as an amazing view as you have Frank O Ghery's famous Guggenheim (picture below), the Crai Library, the architect Moneo's grey cube belonging to the University of Deusto, the university itself which I find beautiful as well as the Iberdrola tower (picture below).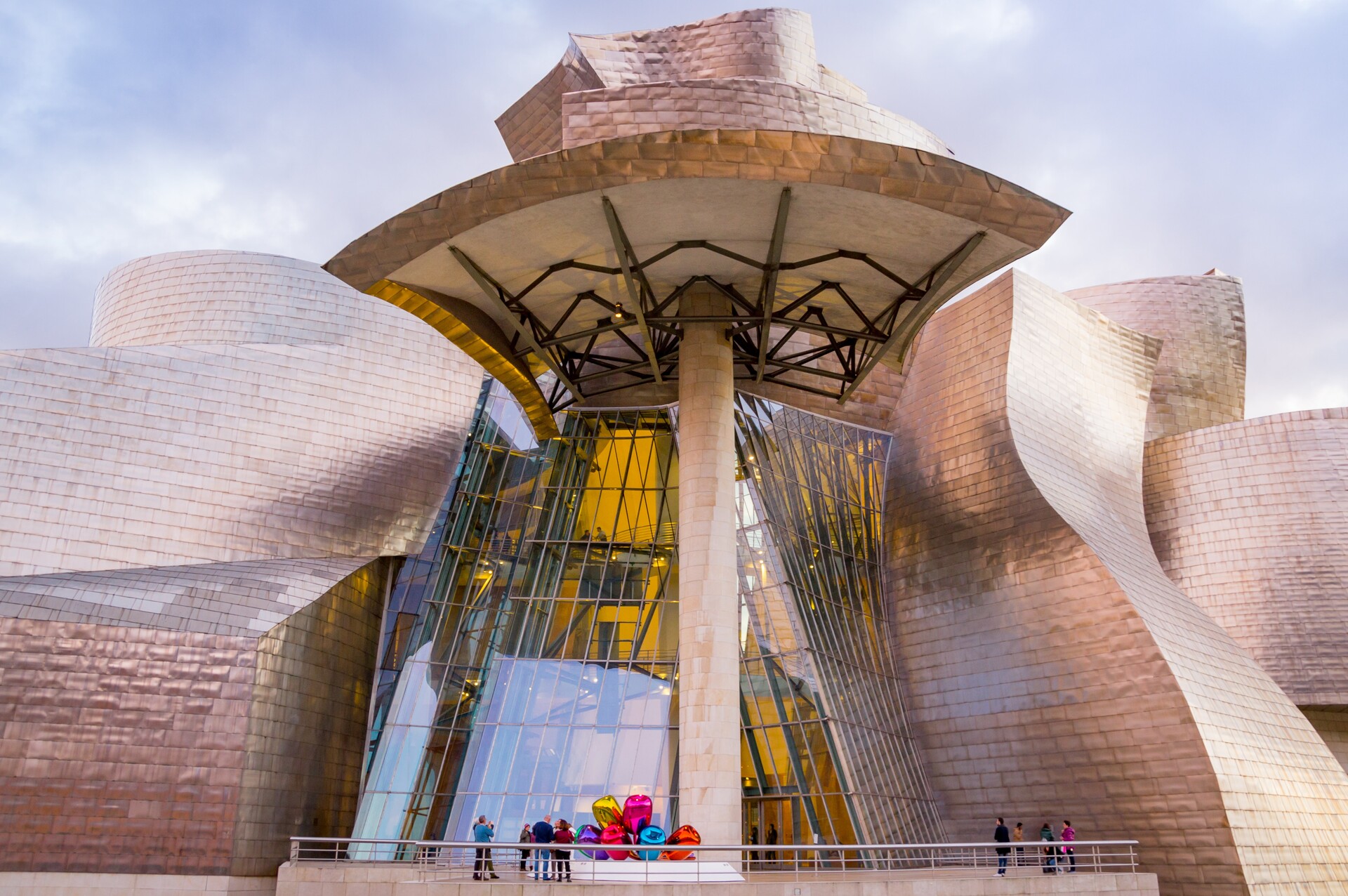 Source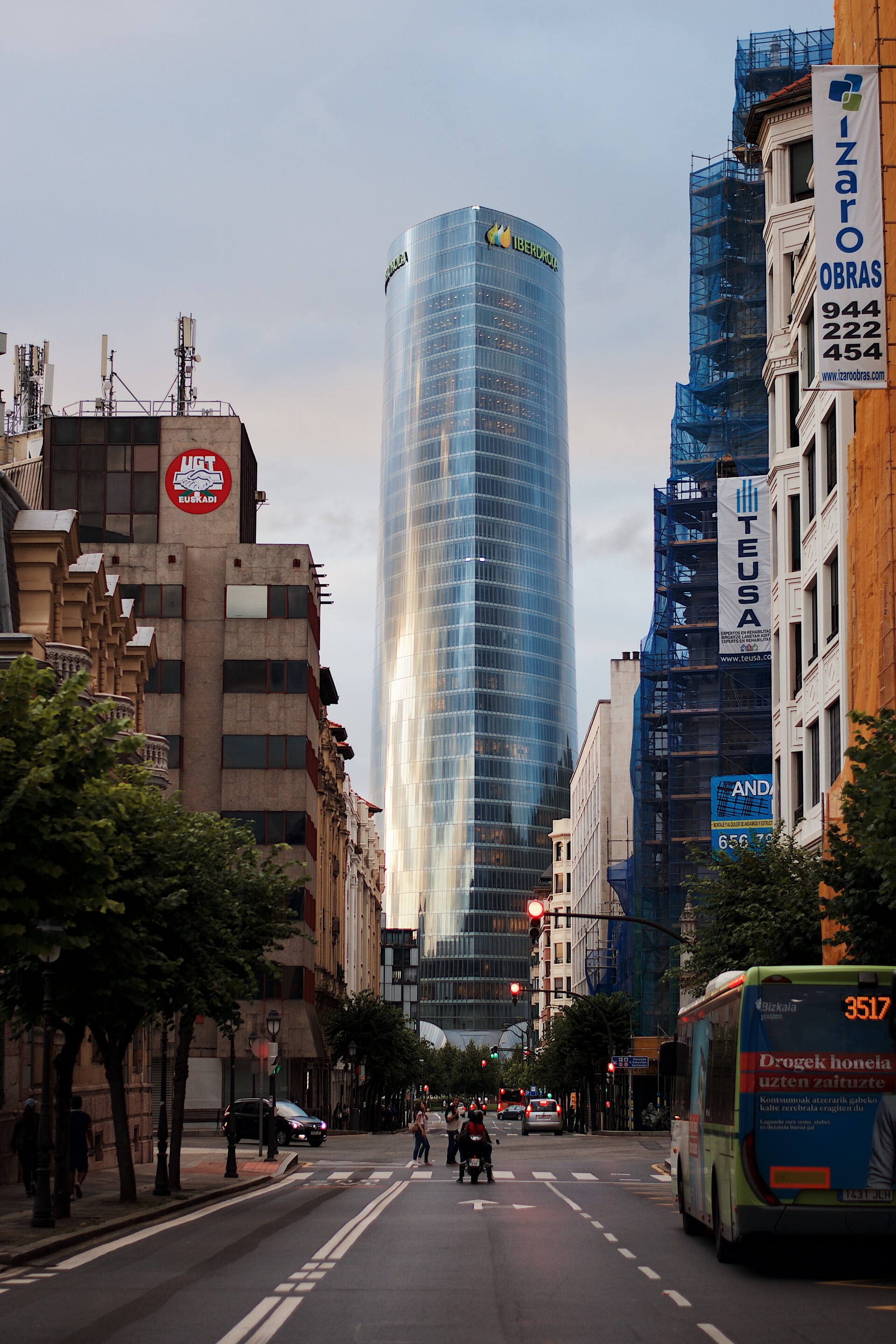 Source
Then there is also the old town which offers a glimpse at a different side of Bilbao. I love going out in the evening to have a drink or a bite to eat around there, it's great.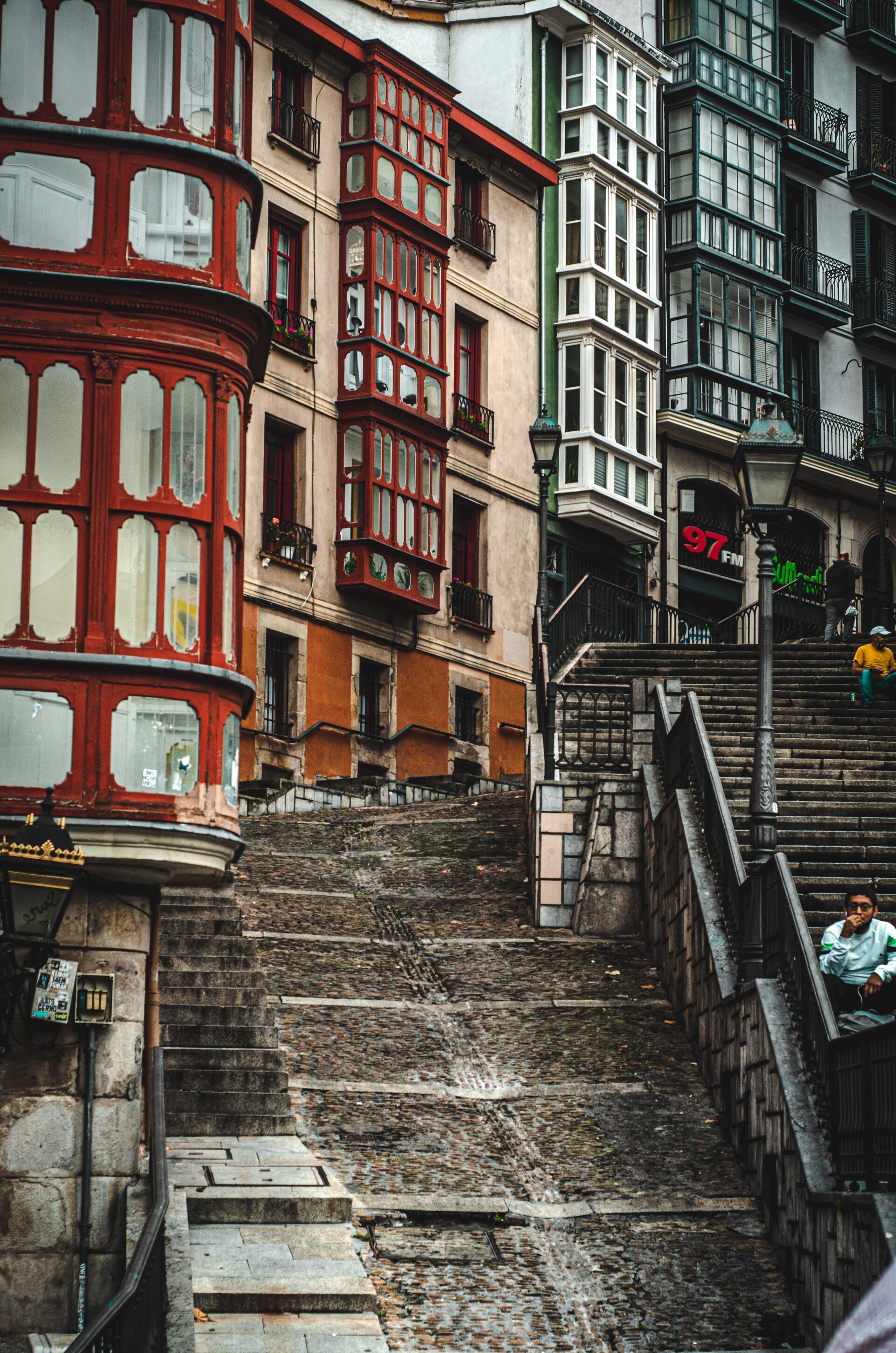 Source
And then you also have the centre, the Indautxu district and the new San Mamés, etc.
Outside of Bilbao, I love the town of Getxo, Las Arenas, el paseo de Zugazarte, and Algorta's old port. The beaches at Soplena are stunning and in Gexto you can see the classic Basque houses which are very cute and reveal the English influence over the area.
Is it good to eat out in Bilbao? Can you tell us your favourite spots?
Well as I said earlier, anywhere in the old town is good to eat out as it's good quality and cheap. Then you have La Mary which offers a menu for only €10 (I think) as well as a lovely environment to eat in.
The Deluxe is also a famous restaurant for its massive pizzas, burgers and txapelas (a typical Basque beret). It's also very affordable although you will almost definitely have to queue outside before getting a table as you cannot book in advance. However, you shouldn't have to wait more than half an hour so it's not too bad.
And for the classic dining out with your parents where you may want to choose somewhere a bit more pricy, el Andramari is without doubt the place to go. It's at the top of a valley on the way to Galdakao.
Where would you recommend to go on a night out in Bilbao?
For going out Avenue Mazarredo is normally a popular destination, although I don't like it much myself but each to their own. Having said that, I must admit that many times on a night out I end up there. Apart from that area you also have Kafe Antzok which you must visit, it's an old converted theatre and plays great music.
I like the old town a lot because it's cheap, they play good music and it has the advantage that you don't need to make that much of an effort and go unnoticed. Generally, people tend to dress up before hitting the clubs.
In the centre of Bilbao there are places like Sala VIP, Aránzazu, The Holiday, The Loft and New Bilbao with the specific events determined by the university parties taking place there on the night. PS: You have to pay entrance in all of these places.
And then there are the massive clubs (which I call them): they are raves with 2,3,4 or even 5 rooms inside with different music playing in each one. My favourite is Fever which is 10 minutes away from the Bolueta underground stop. By just following the masses from there you will find it easily. People tend to drink outside the doors of the clubs and so you can enter directly.
Then there is Image which is in Berango, although the 3 or 4 times I went it didn't inspire me much. You also have Quality on the marina in Gexto which I have never been to.
The latest one to have opened about a year ago was Sonora, by the Astrabudua underground stop. I only went once but it was good, there are loads of toilets so you save having to queue outside and it's enormous. It has 3 rooms: one dedicated to electro house music, one to mainstream charts and another to indie (the smallest one). The mainstream music room is the biggest. When I entered I felt like I was stuck in a pen, it was so full that I couldn't really move, although I still had a good time all things considered. In the end I ended up going to the indie room where there was a lot more space and I was happy as Larry.
Is there any other advice that you could give to students going to Bilbao in the future?
Without doubt I would not change anything about my time in Bilbao, although at the end the fact that there are always the same parties all the time gets on your nerves. But oh well, it's not the end of the world. Above anything else, undoubtedly what makes a city great and forms your memories of it are the people. And Basque people are brilliant, seriously.
PS: In July there is BBK Live, one of Spain's best music festival.
---
Photo gallery
---
---
Content available in other languages
Share your Erasmus Experience in Bilbao!
If you know Bilbao as native, traveler or as exchange student... share your opinion on Bilbao! Rate different characteristics and share your experience.
Add experience →