4 recommended restaurants in Bilbao
Not A checked
Hi, everyone!
Bilbao is a city which surprises you since, even though sometimes it seems like it is overshadowed by its neighbour San Sebastian and its beauty, the truth is that over time Bilbao has become a city which is worth visiting. I hope that soon I will talk to you about it and the places that you can't miss out on visiting in the city, but on this occasion I want to recommend you some restaurants in the city which I have tried and that are good value in terms of quality and price and which are perfect for anyone who wants to eat well for an affordable price.
It isn't the first time that I've visited Bilbao since I have several friends from my Erasmus stay in Pula who are living there, so sometimes we all meet up there. Each time that I visit the city I like to try something different, but the truth is that the four restaurants that I want to talk to talk to you about are only a few metres apart from each other. And in the recent years they have opened a large amount of new restaurants in the city, especially next to the Alhondiga.
La Mary
This restaurant is a chain of Mediterranean cooking but with current details. It is located in Plaza Arriquibar, so right in the centre of Bilbao, right in front of the Alhondiga.
This place is very successful, in fact it is normal to see queues which take up a lot of the street. This is greatly due to the fact that it has succeeded in combining many essential features that customers look for in a restaurant nowadays such as good quality food, good service and atmosphere, along with a reasonable price.
The restaurant is characterised by its very informal decor, very welcoming. It is dominated by the white wood, the super big lamps, and elegant sofas and armchairs... In general, the restaurant is quite big and it makes you feel comfortable and at ease.
Though, in this restaurant they don't allow you to make reservations, therefore on certain key days it is better to go early to avoid eating in the queue which very often forms at the restaurant door.
Well, and we are going to talk about what's really important now: the food. The menu combines different main dishes with rices and pastas, as well as a big range of fish, meats and desserts. I have to say that both times that I went to this restaurant I had the menu of the day. In this way it works out even cheaper because for only 10,95 euros it includes a starter, main-course, dessert, drink and bread.
Each day they change the dishes which are on offer on the menu, but every time that I have gone they have always had several vegetarian options, therefore they are quite varied.
On my last visit I decided to try the sweet rice with boletus and arungula and the spanish cannelloni au gratin with bechamel. They were both delicious although I leant more towards the rice since the cannelloni seemed a bit heavy to me, maybe because I was already quite full from the last dish. But anyway, don't worry because the dishes honestly aren't too big, so you can peacefully eat the two dishes and finish off feeling satisfied.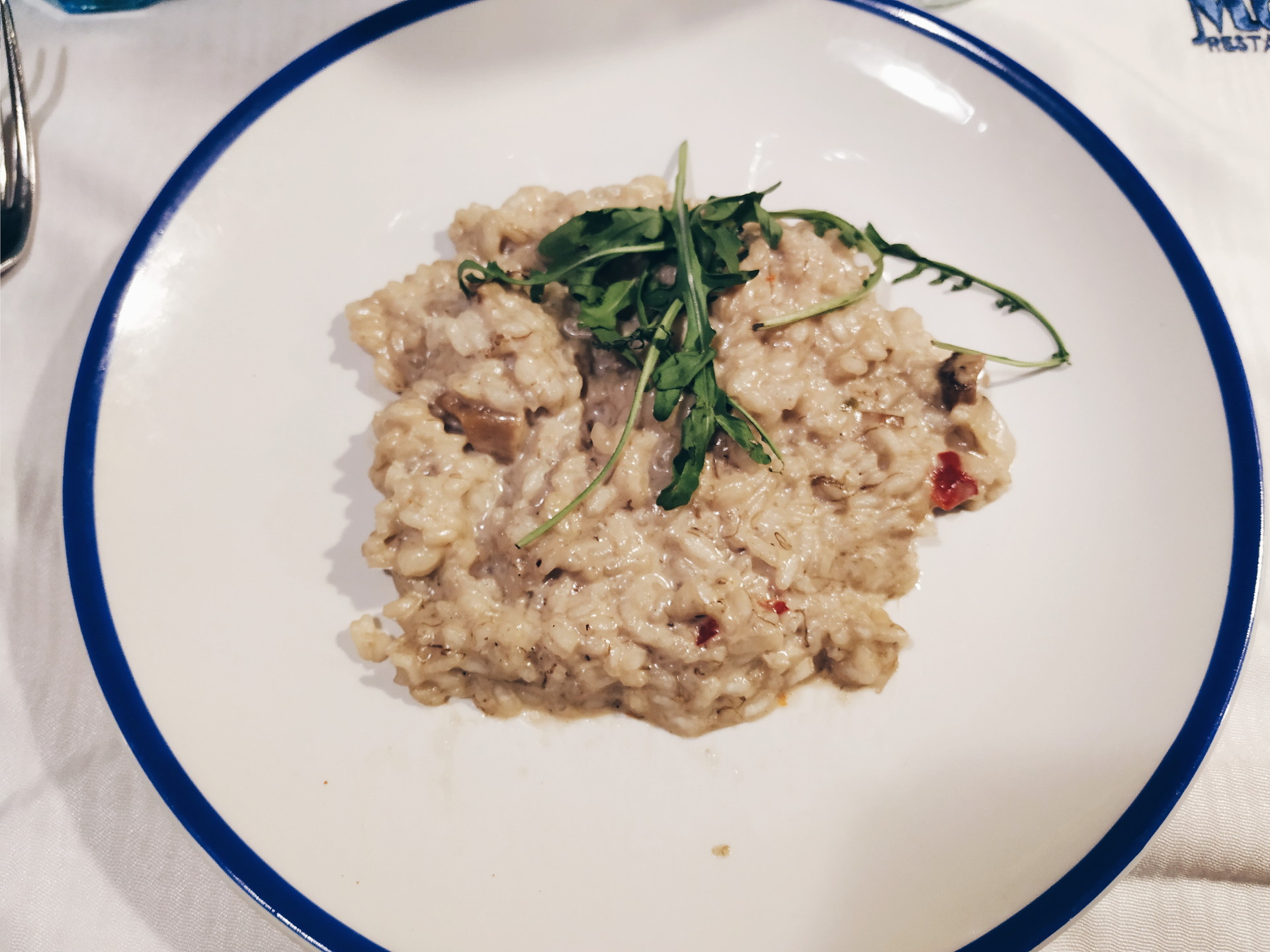 Some of my friends tried the grilled chicken breast with a touch of curry, apple and spring onion, and pork tenderloins with parmentier and Mediterranean herb sauce. For dessert we had a chocolate brownie which was absolutely amazing.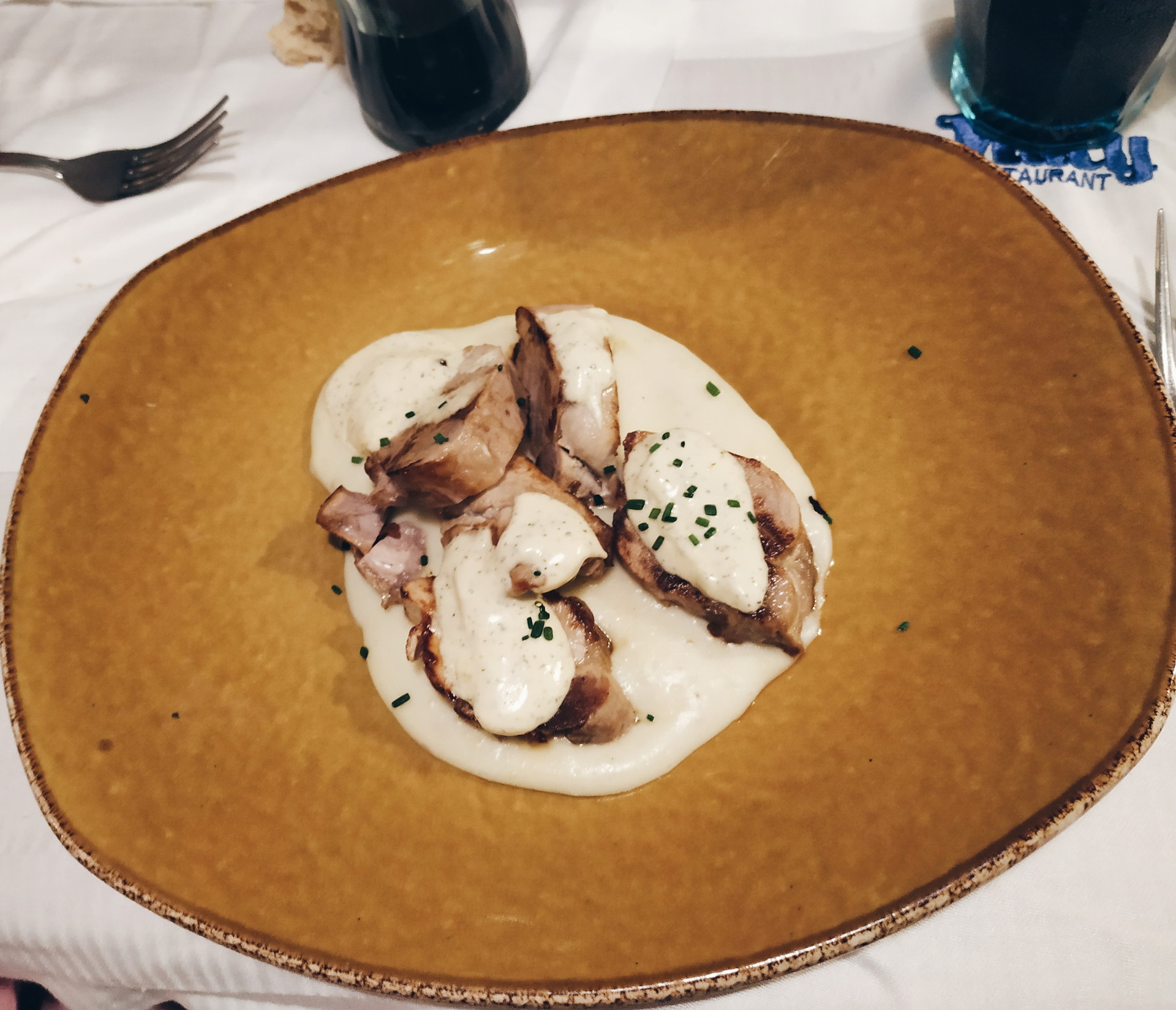 As for the service, it was fine although the waitress who served us wasn't completely friendly, since the place was quite full and she was running from one side to another.
In short, the menu of the day seems to be an ideal option for those who don't want to spend too much money but want to eat well at the same time.
Pacífico
This newer restaurant is located in Alameda de Recalde, practically two steps away from the last restaurant.
It is characterised for combining traditional cooking of the area with Perusian, Mexican and Asian gastronomy. So in this way it is different from the others, offering original dishes.
It is a quite big and modern place with a very elegant decor with armchairs filled with cushions. In the same way as the previous place, it is usually quite full during the weekends, although here you can reserve a table in advance.
El Pacifico offers a very varied menu, perfecting for discovering new flavours. When I went, we again went for the menu of the day which we paid 12.95 euros for. The prices are generally similar to those in the La Mary restaurant, quite reasonable although the most affordable option, as I said, is to always go for the menu of the day.
I had a tempura vegetables poke with tofu, cherry tomatoes, carrot and avocado and then bechamel with cheese and boletus. My boyfriend had sushi first and spicy tuna urumaki with avocado after. The dishes weren't that big but with the brownie that we had afterwards we were satisfied.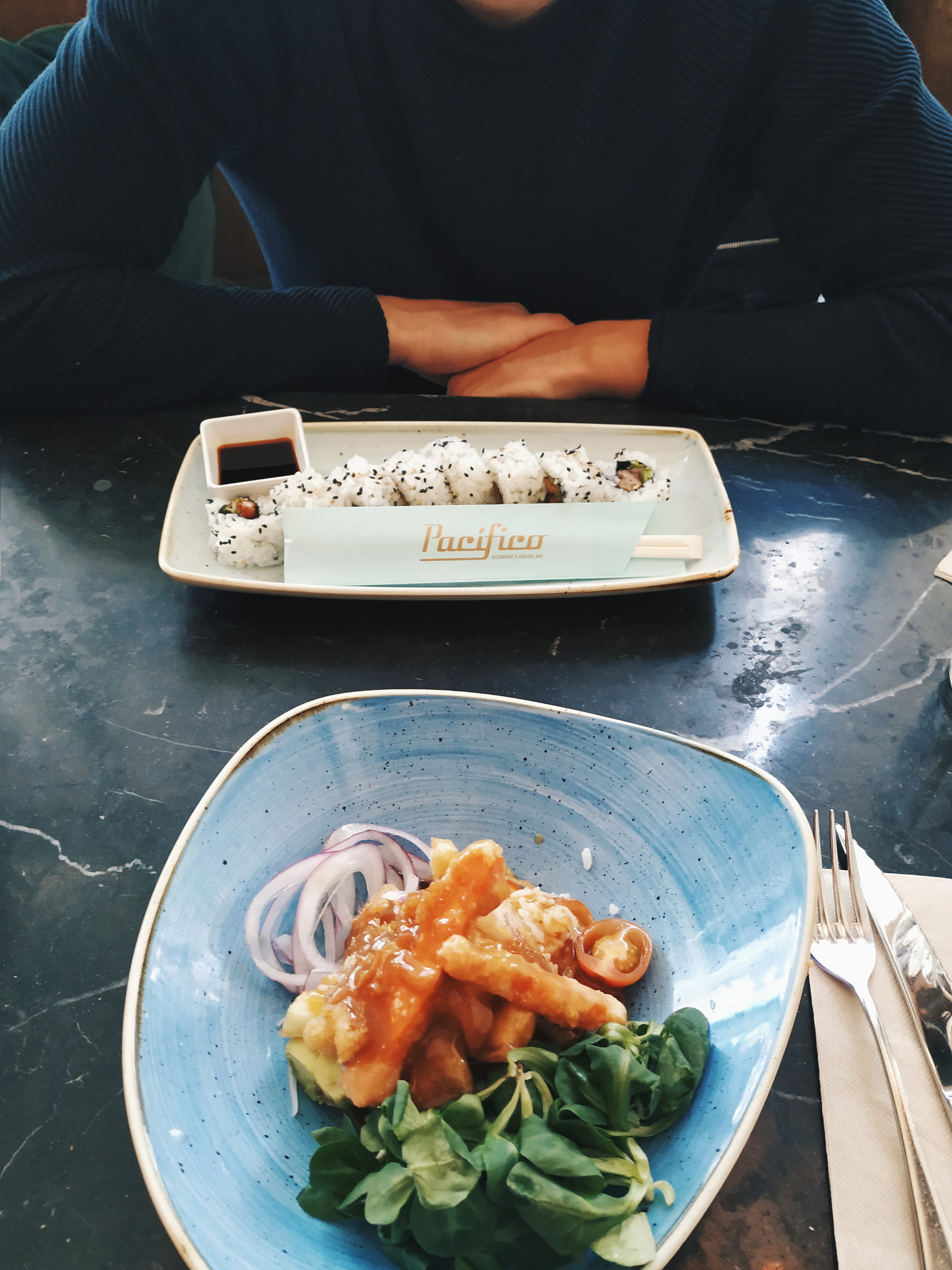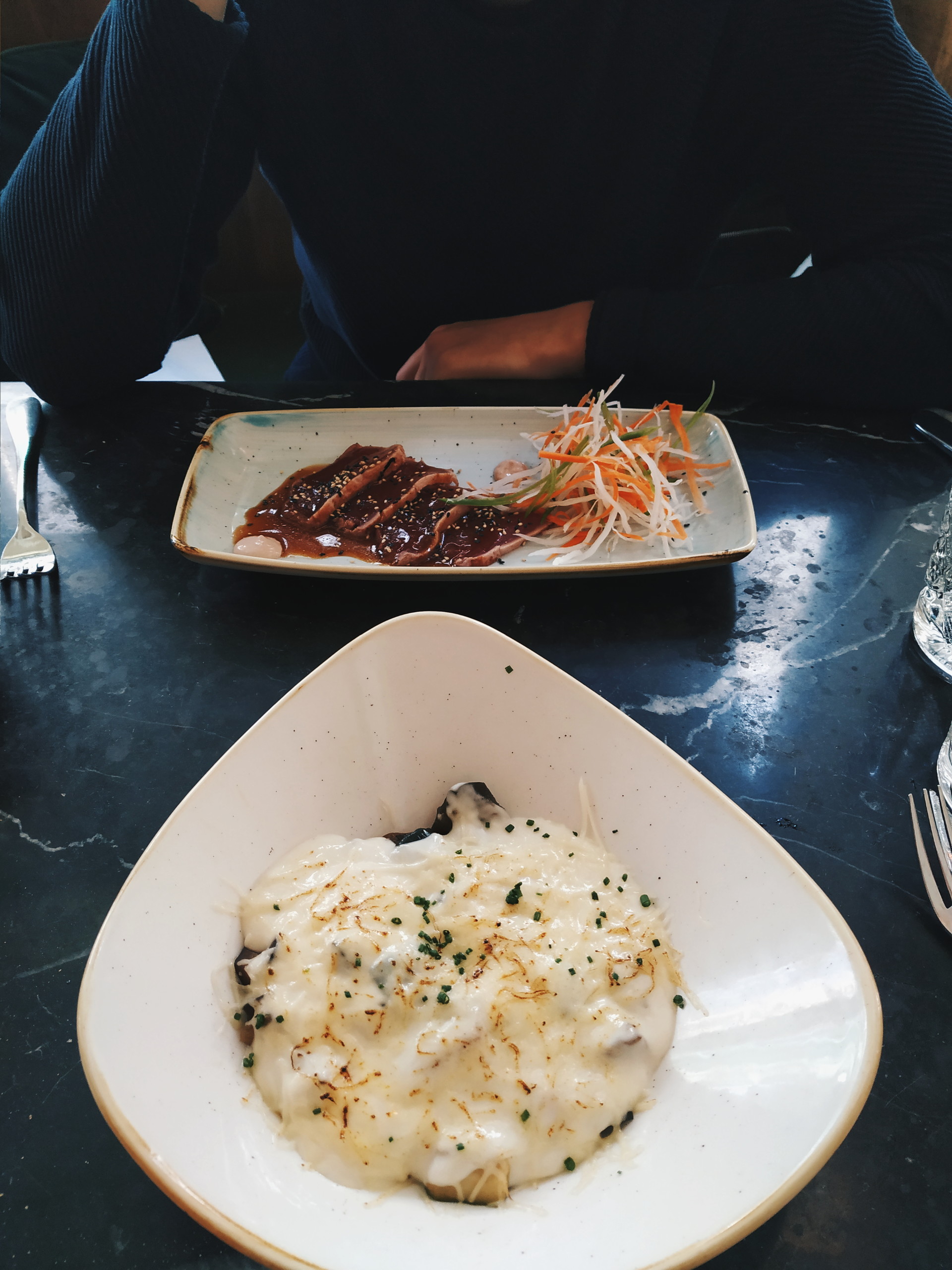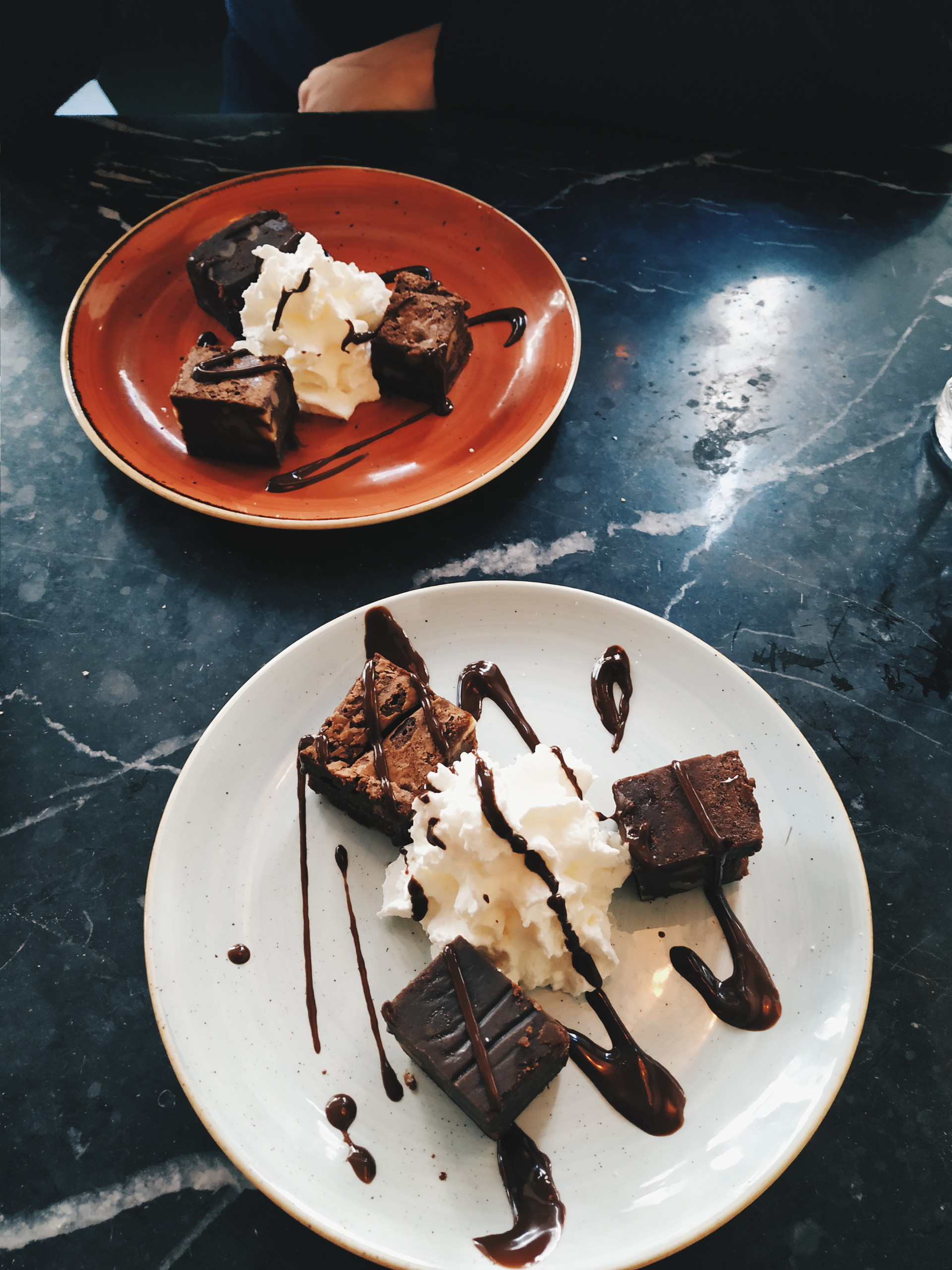 In general, the food is good and also it is the perfect option for those who want to find very different options in the same restaurant, from different cultures and flavours.
Also, for those who want to have a drink after dinner, this place also has quite an interesting cocktail area, I haven't tried it but it seems like it has good reviews.
Taberna de los mundos
This is another restaurant which isn't really near to the others, but anyway it doesn't take more than a 10 minute walk to get there. There are actually three different ones all over the city, one from Bolívar, one from Deusto and Lutxana. This last one is what I am going to talk to you about and the one that I have tried, which is nearby to this area which I told you about.
This restaurant also offers different earth flavours as well as new flavours from other places. Their decor is strange since it reminds you of travelling, since all over the restaurant you can see maps of the world painted on the walls, lamps with little worlds, navigation equipment, etc. In short, the idea is that you feel like you are travelling.
The restaurant has a place where you can have a drink and also some other tables where you can eat, but in their biggest room they only offer the menu of the day. It was in this place that I asked the waitress if they could give me anything vegetarian since you had to have the menu of the day sitting at that table, but there wasn't a single option without meat or fish. She asked the waiter and later she offered me 6 different vegetarian options to choose from in my menu and they were honestly good.
I choose the quinoa and vegetable burger with apple cream, mashed potato and pepper and garlic pure. It was honestly pretty delicious. I also had rice with mushrooms and garlic sauce. The price of the menu of the day is 12.60 euros, so as you can see they all more or less work out the same price. They also offered the seasonal menu for a higher price which was between 20 and 28 euros.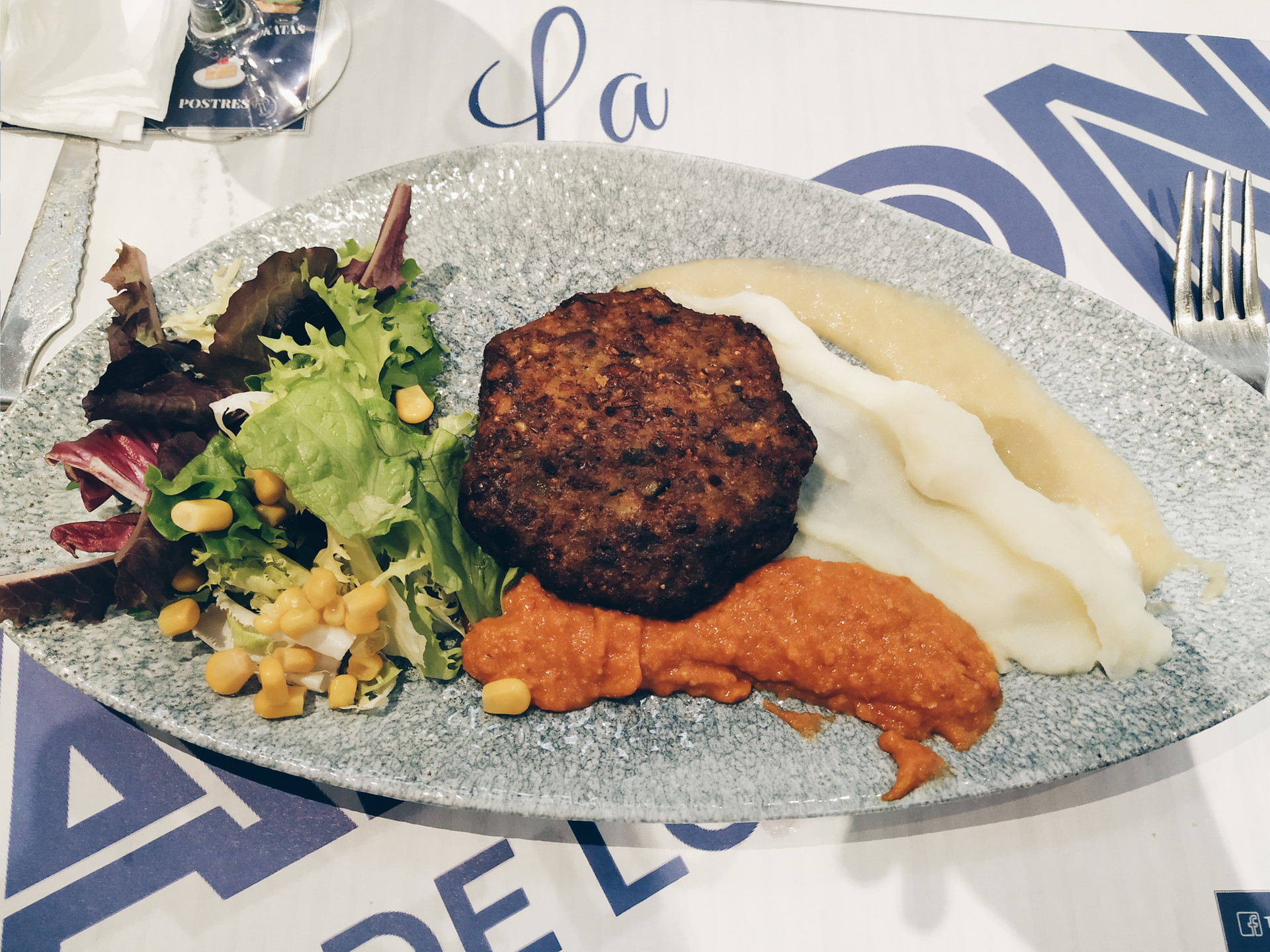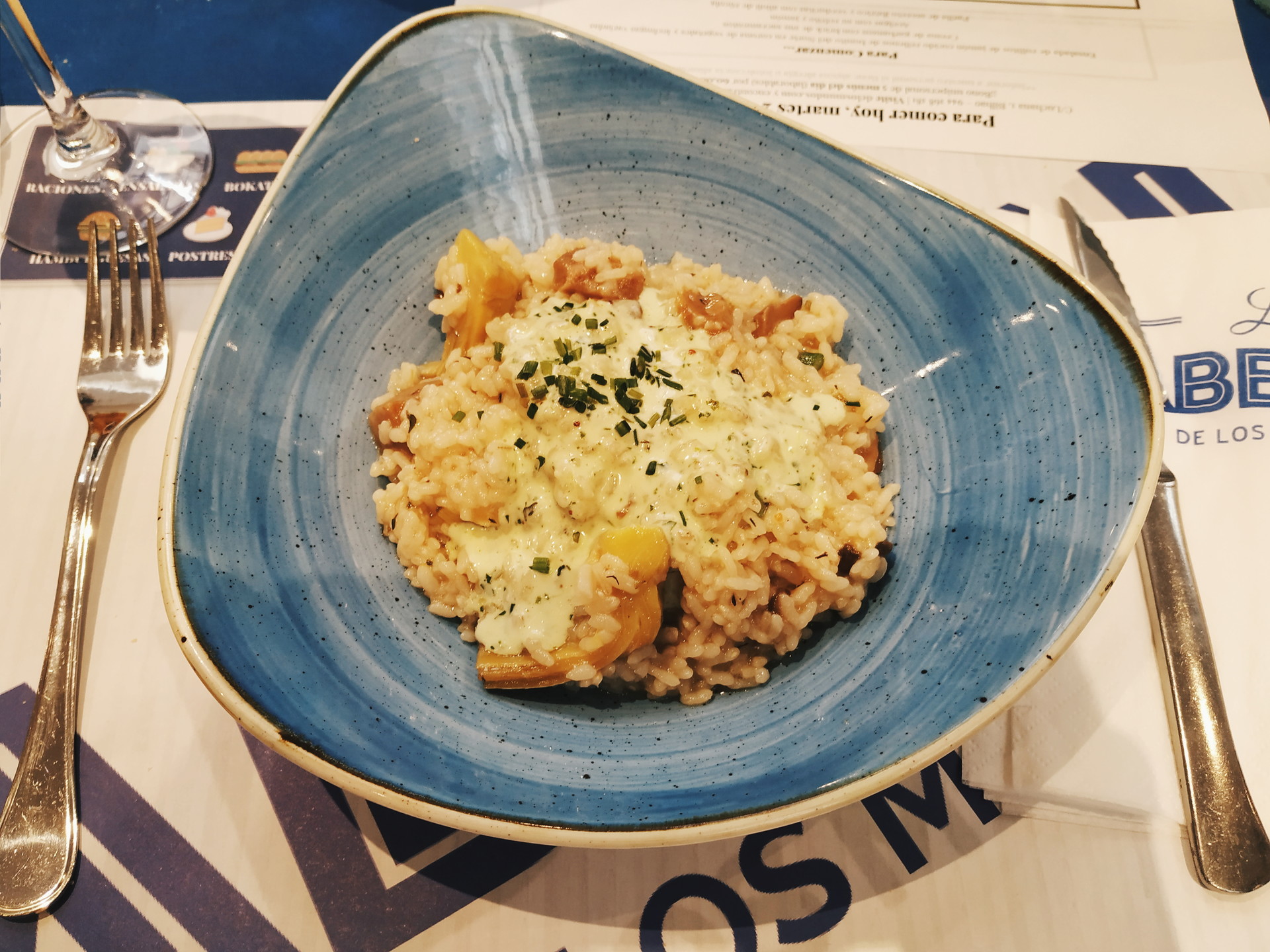 Some of my friends had Iberian pork paella and vegetables with garlic arugula, others tried the duck confit with cinnamon apple sauce and baked potatoes. What I wouldn't recommend is the roasted piper fish with seafood ravioli. I didn't try it, but a friend ordered it and honestly it didn't look good and I didn't make any of us want to try it. As for the others, they were all happy with the food.
Again, I think that the quality was good for the price, even more so when you bear in mind that the menu includes two dishes, dessert, drinks and bread.
Brasa Canalla
This time, I want to talk to you about this burger restaurant which I tried very recently and which I consider the best one in Spain.
It is very famous, since we went there quite early to eat, at around 1 pm and there was already a huge queue to enter. Luckily, we didn't have a problem and when people left we found a place to sit.
We ordered a potato starter to share between the two of us and it was honestly a good idea since it was quite big, and then we still fancied the burger. The chips came with smoked mayonnaise, garlic and barbecue sauce. They were amazing.
Then we ordered some burgers/ They have several choices and the best thing is that for all of them there is the option to swap the meat for falafel and make it a vegetarian burger, so I had a lot of choice of what to eat. I ordered a "guacanalla" with guacamole, rocket, mayonnaise, tomato, crispy onion and cheese. It was delicious and it was quite big so I ended up quite full from that and the chips.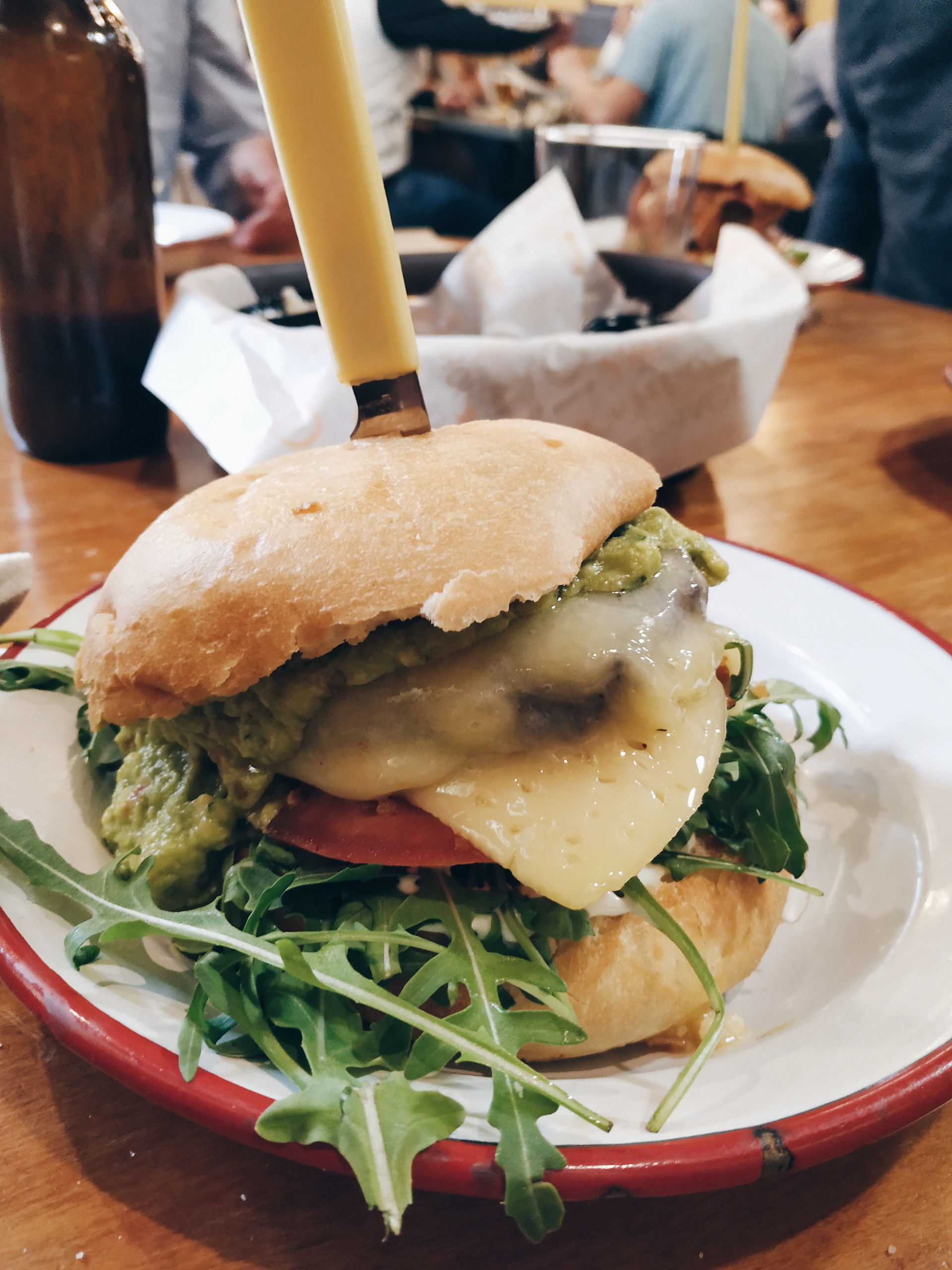 The price for a burger 9.40 euros except for two special burgers which were a bit more expensive. It isn't one of the cheapest burger restaurants that I've ever been to, but it is honestly worth it since the quality of the burgers is really high, since all the products are fresh and the sauces are all home-made.
My only advice is to go there early like we did to find a place to sit, since they don't accept reservations and there were a lot of people who came after and who had to wait for a minimum of 40 minutes to be able to get a table.
To finish off, as an extra, I want to talk to you about a creperie in Abando which I have been to a couple of times, which I love. It is called Crepe&Crepe, even though you can also find it under the name "restaurante bar creperia Bilbao" and they do very unique crepes; I tried a nutella one and one with strawberry jam with strawberries and cream on top. They were both so tasty. The prices are a little high, but it is a good place to satisfy a craving.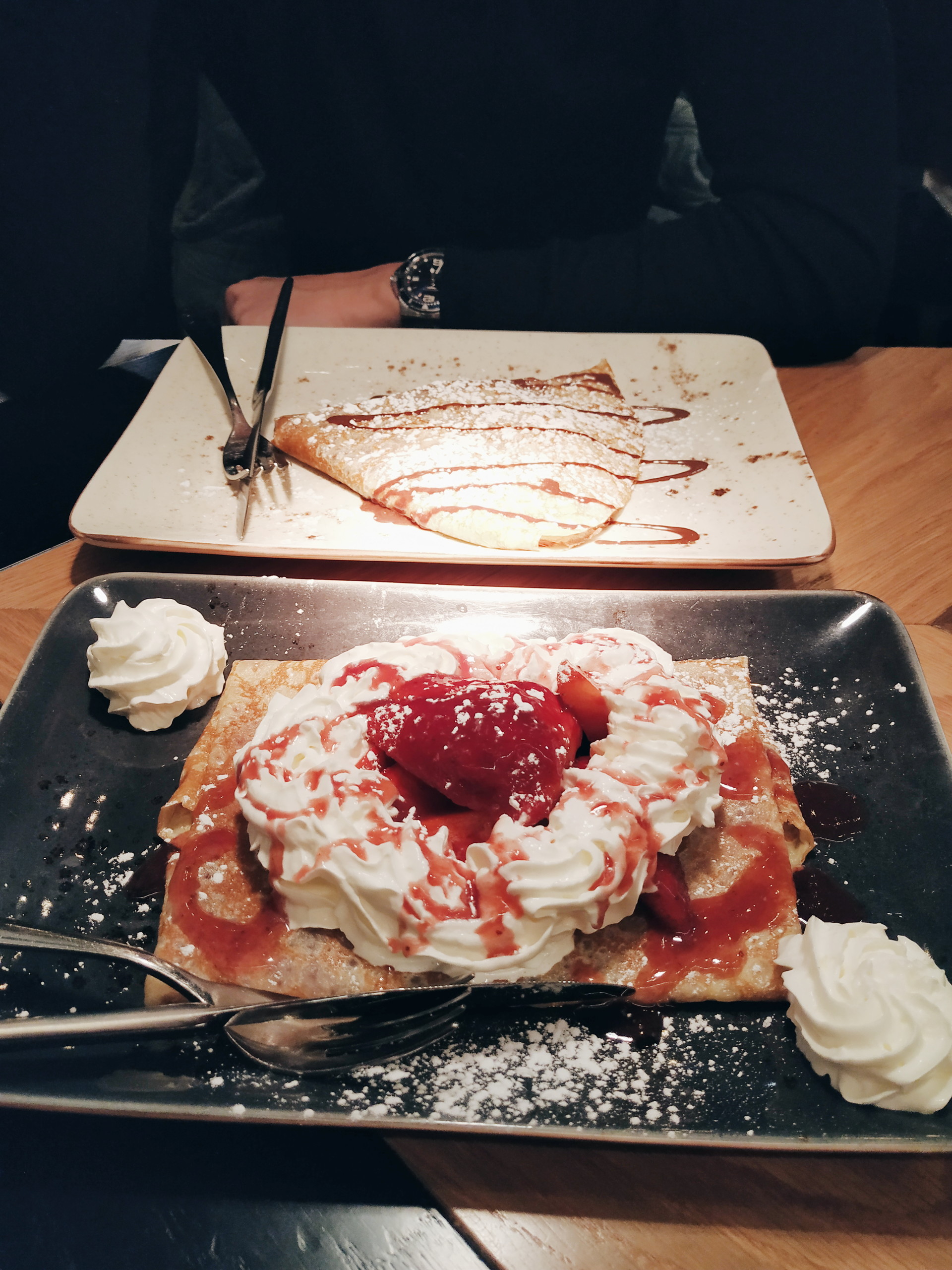 And so that's it! And if you have also been convinced by these Bilbao restaurants and you don; t want to spend to much money but want to eat quality food, I would encourage you to try them on your next visit to the city.
Thank you again to everyone who reads my blogs!
---
Photo gallery
---
---
Content available in other languages
Want to have your own Erasmus blog?
If you are experiencing living abroad, you're an avid traveller or want to promote the city where you live... create your own blog and share your adventures!
I want to create my Erasmus blog! →