The first day of my incredible trip
Hello friends!
Today I'm going to tell you about the adventure I had during my six-month Erasmus placement that I spent in Barcelona, the most beautiful city and incredible on every level, from the architectural level to the historical or the cultural. It wasn't by chance that I chose to go to study in Spain. In fact, for me Spain represents the beauty of a hot climate all year round, festivities and parties late into the night, incredibly beautiful beaches which overlook the Mediterranean Sea as well as flamenco shows and emblematic and charming bulls.
My trip took place in October. It was cool, and I planned my trip all by myself to ensure maximum adventure at the lowest price. First of all, being of Tunisian nationality and a native of Tunisia was a strength as my country of origin is situated in a strategic position near European countries like Morocco or Algeria. I was also incredibly happy to discover such a beautiful society and beautiful cities because I was really counting on doing a tour of Spain. At the beginning, I began planning my flight and I found out that the flight from Tunisia to Barcelona would cost me quite a bit. That's why I decided to make a complete deviation and go to Barcelona by bus from Marseille. Why not take this opportunity to visit that beautiful coastal city?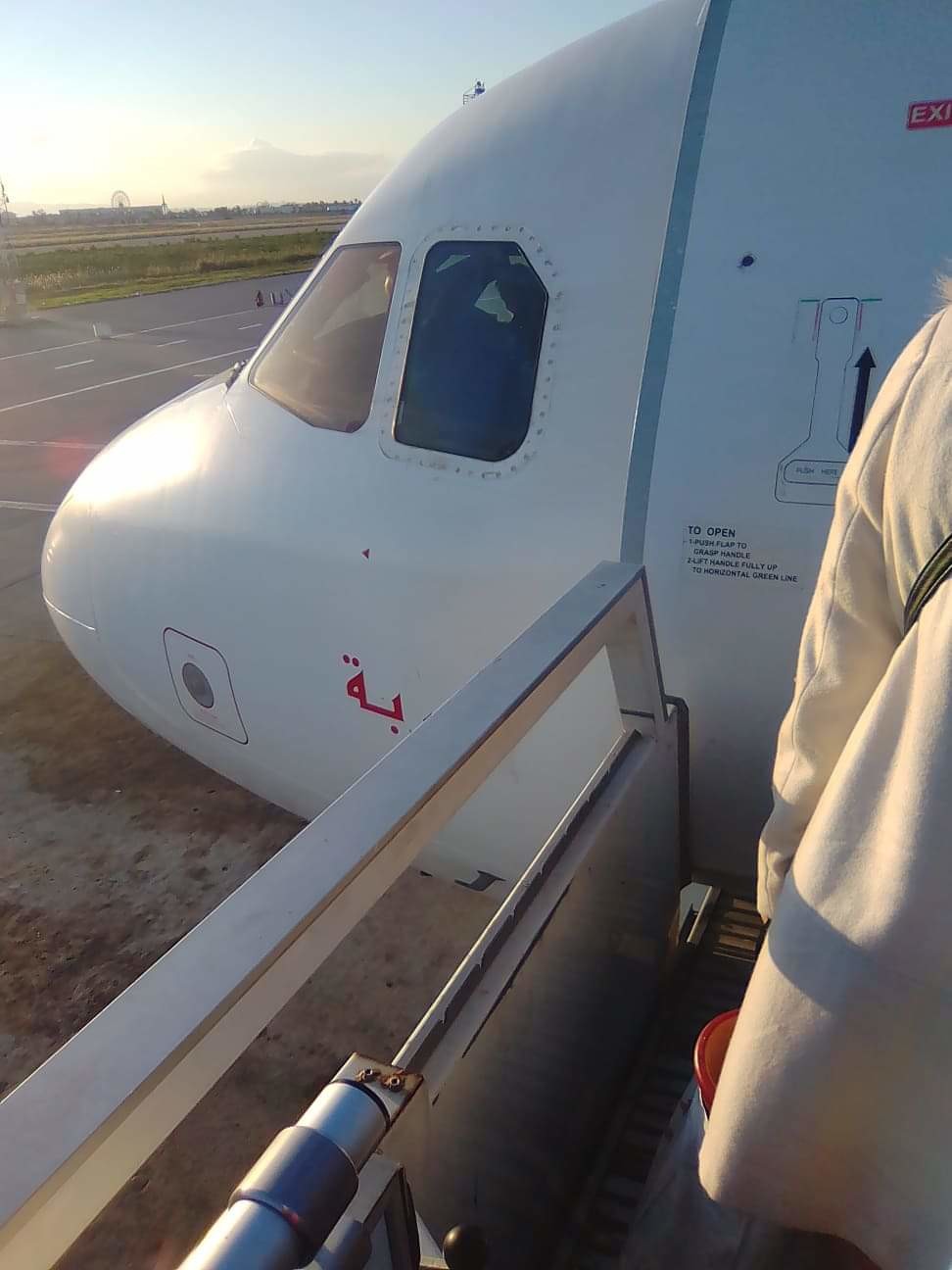 The flight from Tunisia to Marseille costs only €150 and then I could take the bus to see the entire area of the Côte d'Azur up to the Spanish borders by FlixBus for only €20 a ride. So it was a great choice to make in order to visit the maximum number of cities during my adventure.
Flight: Tunisia to Marseille
The flight to Europe from Tunisia of course needs a tourist visa and papers that must be filed beforehand in order to create a Schengen visa, which allows travel to all European countries without exception. In my case, the visa that I requested was from the French embassy for tourism purposes. This was prior to my request to the Spanish embassy for a study visa to be valid for the whole six months. My papers were ready as was my suitcase containing my clothes, a mobile phone with a connection and a GPS as well as my tourist guide to inform me about the metros and buses that connect the city.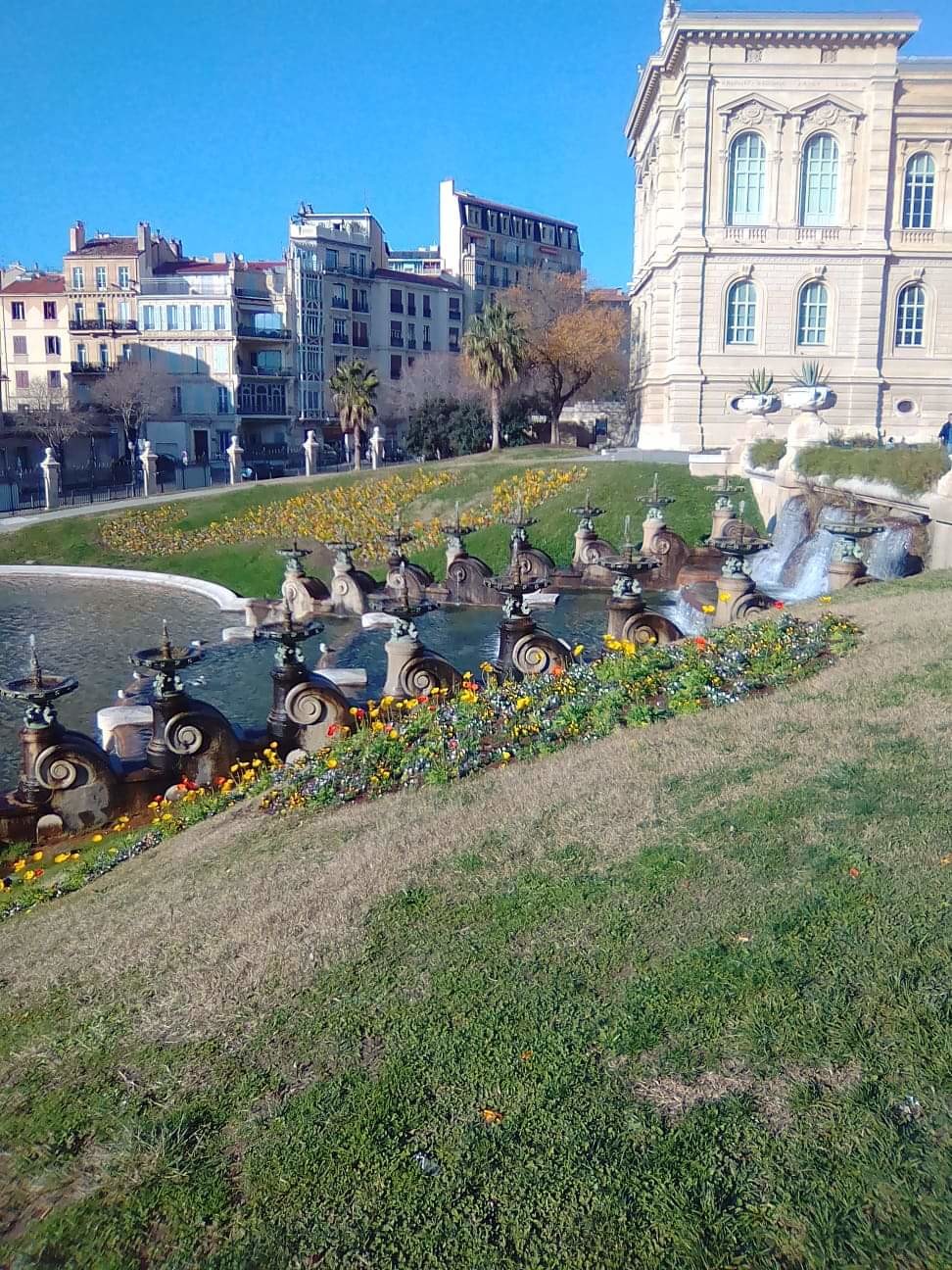 At Tunis–Carthage Airport, the flight to Marseille was delayed. This was nothing new because the local airline always causes delays or even flight cancellations to the extent that certain people opt to instead buy more expensive tickets from other airline companies in order to not endure such inconvenience. Following several hours spent waiting for the flight, the plane finally landed - what a relief, we finally had permission to board the plane to Marseille Provence airport. The airport was complete with information services for lost tourists, and it was also possible to admire a very beautiful view since it was surrounded by mountains and a beautiful panoramic view.
Marseille Saint-Charles
The arrival at the airport was
great, the atmosphere joyous, and so I was ready to discover the city, to visit its emblematic port, its symbolic alleys, its beautiful parks as well as its beautiful view of the shores alongside the Mediterranean.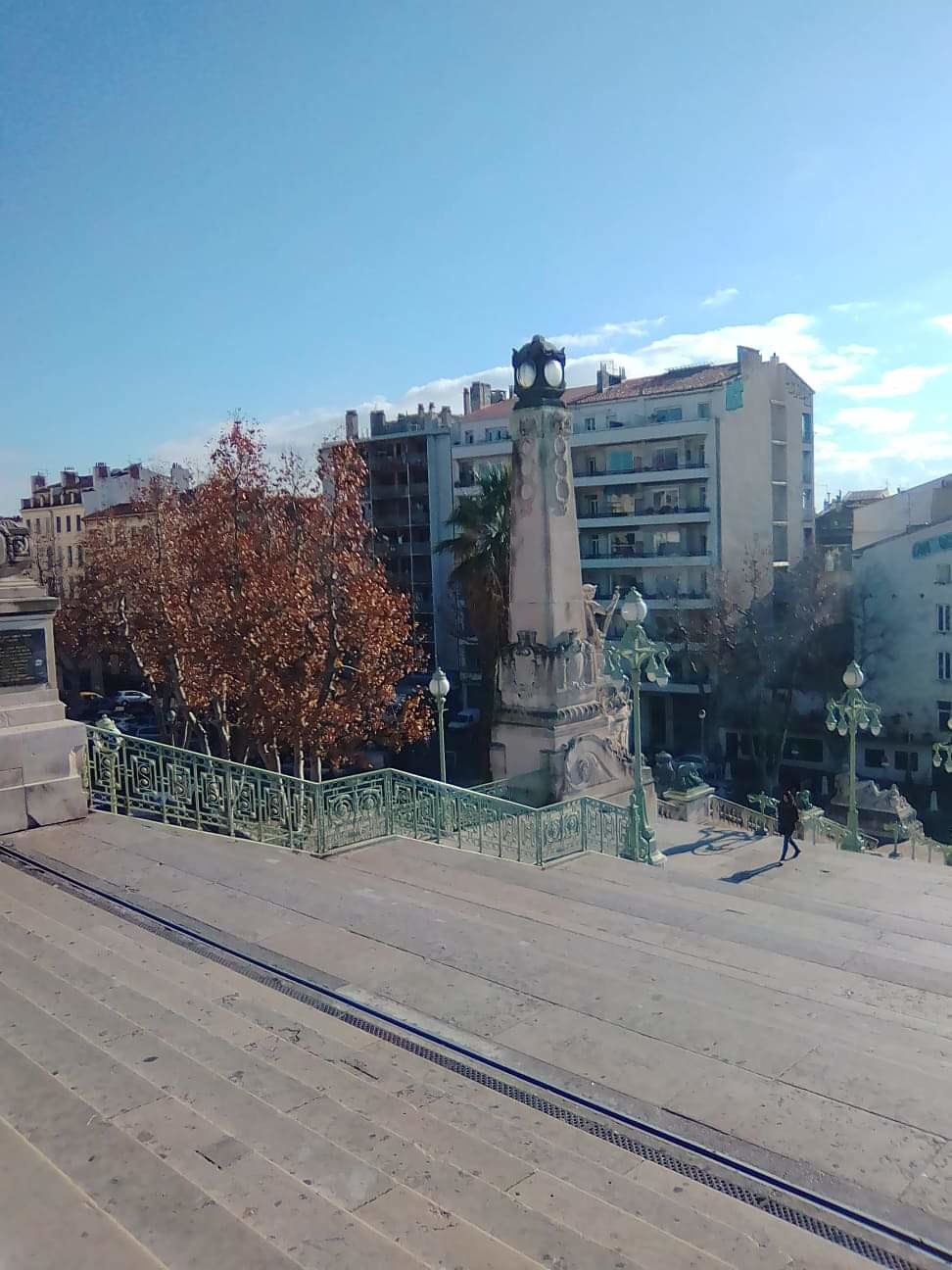 I first of all took the bus which constitutes the main shuttle serving the Marseille Provence airport mainly at terminal 2 towards Gare Saint-Charles. The station was spacious, so beautiful and contains plenty of souvenir shops and information points for people who feel a bit lost. It consisted of a large staircase with several steps and monuments on the left and right of lions or emperors who formerly governed the city.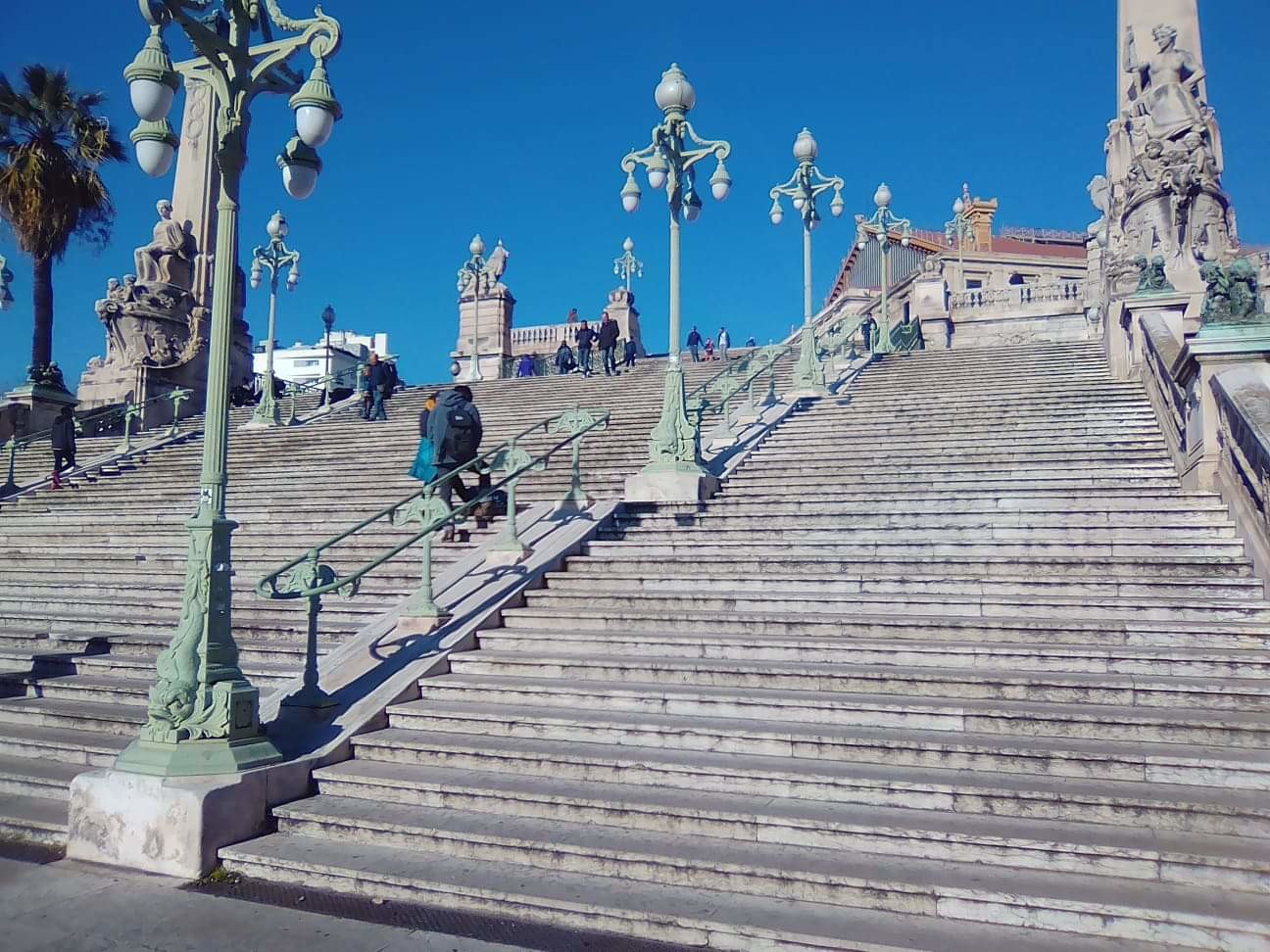 It is of course a beautiful place to take photos and see a panoramic view of the city as it is situated on a high hill. I wandered through the different alleys admiring the built houses and the beautiful atmosphere of the south which reigns over the city. I finally arrived at the port on foot; in fact, no transport is necessary to travel from the station from the port.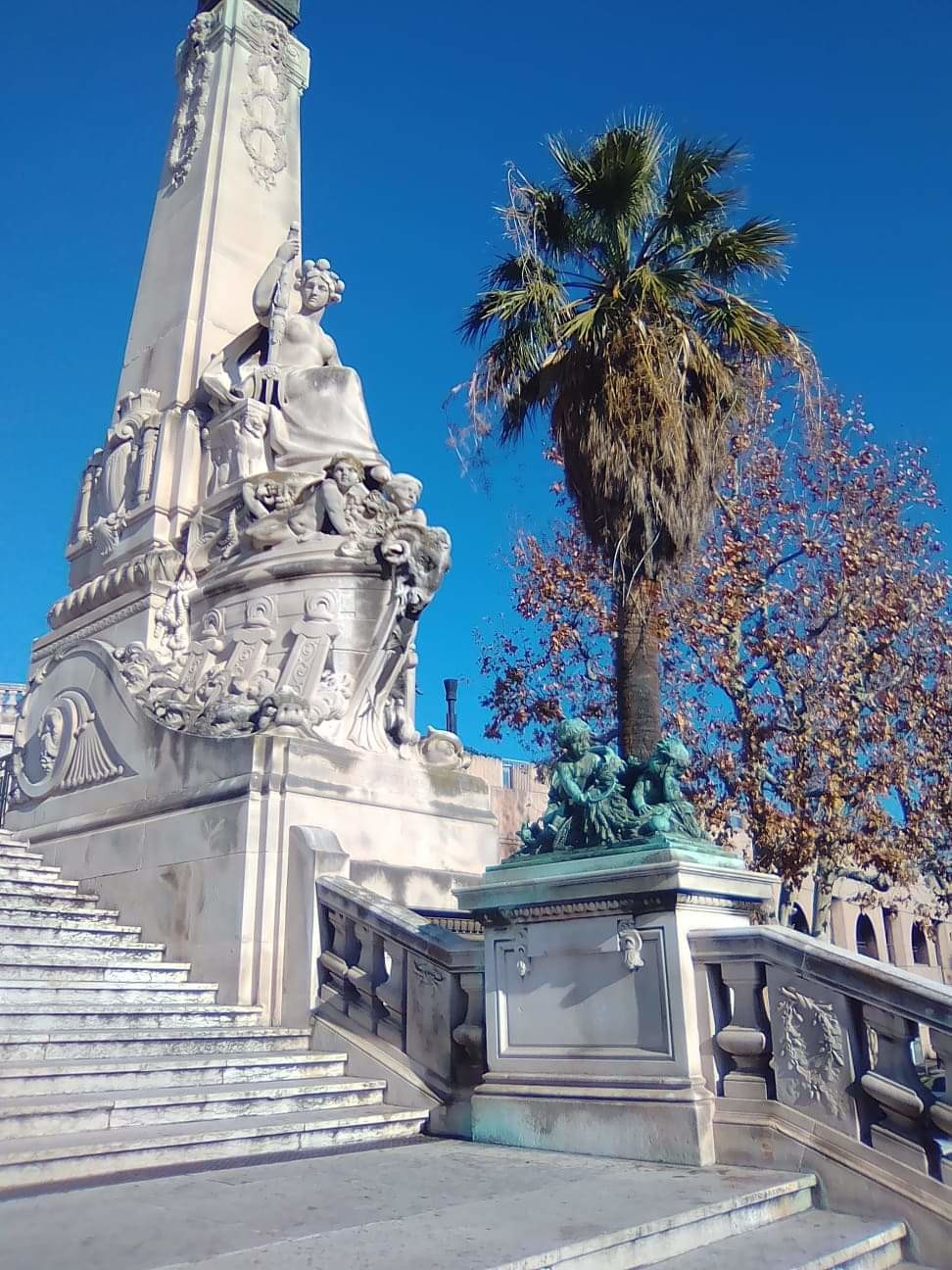 Port of Marseille
Having arrived at the port square of Marseille, I noted a festive atmosphere in a very spacious square where people could present their shows. I saw, for example, little boys putting on break dance shows, magic shows, or classic or modern music shows. The group of benefit claimants of course wanted symbolic help via spare change but they were also capable of giving their all so that the atmosphere was festive and beautiful.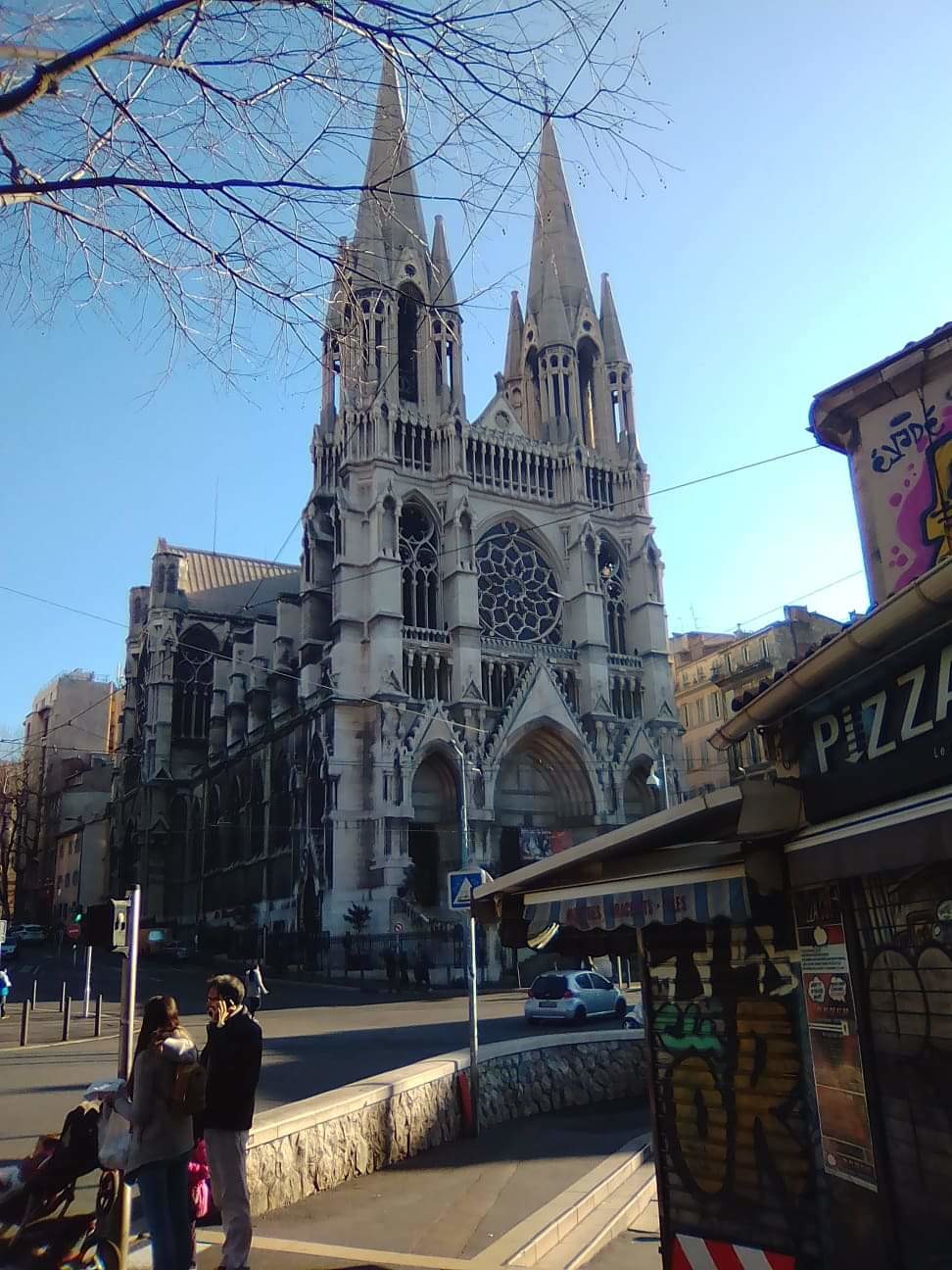 Near the big square, the big white wheel could be seen. This wheel was also symbolic of the city: it is like a gigantic merry-go-round, a big wheel that turns on itself. I decided to climb on to see what sensation I could have. It was really magical, a sensation of liberty, and in the distance you could see the sea, the airport and the city because it is the highest point from which it is possible to see the whole city.
The wheel turns on itself twice and creates magical, unforgettable sensations, pure adrenaline and plenty of happiness. The port was comprised of an alley overlooking the main avenue, and boats of every kind and of every colour were moored on the sidewalk where people could admire them. On the other side there were the most expensive hotels in the city, welcoming tourists of different nationalities and with rather exaggerated prices but that is pretty understandable as Marseille is a known tourist city in the south.
At the summit of the mountain, you could gaze upon the Basilique Notre-Dame de la Garde which is also symbolic of the city. From the port dock it is possible to see the Fort Saint Jean in the distance, which is a picturesque fortress built on the sea and really well preserved. An other palace could also be seen in the distance which was the Palais du Pharo, a very beautiful structure like an ancient palace seen from afar. It was also possible to admire the Museum of European and Mediterranean Civilisations, which allows you to discover different civilisations that have passed through the city. The Musée du Savon is also very famous as this city is renowned for having a very well-known and very developed soap industry.
Theatre and fort
Then I passed through the Quai de Rive Neuve and what's more I noted the presence of La Criée Theatre, which presents funny, comical or dramatic shows. When I continued a little further along Avenue Principale, I could spot another fort which is the Fort Saint-Nicolas. The whole of this tourist part of the city announces the beautiful colours of spring, the festivities offered can only conquer the hearts of passers-by and it really is a place of dreams which enchants all visitors.
Not far away there is a very beautiful beach for amateur surfing and underwater activities. This beach is called Plage du Prado where people can fully enjoy themselves. I could also note the existence of Marseille Borely Racecourse for those who would prefer to see horses running in a mad race to victory.
For amateur sportsmen and more specifically footballers, I could also visit Centre Commercial Prado Shopping where there was the official stadium Olympique de Marseille, an area destined for all kinds of Olympic sports with the Palais des Sports where they put on handball and volleyball matches.
Calanques National Park
Squares and beautiful places can also be found in the area of Mount Puget, which is a natural reserve and an incredibly beautiful place with a beautiful view of the river and a little lake surrounded by mountains. You can get there by a special train which runs every 5 minutes from Longchamp Park to the Calanques National Park. What's more, the Longchamp Park is a superb park I went to, consisting of a beautiful palace and full of flowers decorating all the pathways with stairs to the left and right and a beautiful fountain which allows a water source to flow to a pool.
I could note the landmarks of this beautiful fountain in the middle of the square and several other fountains that were also there and make this park an even more amazing and splendid place to see and visit. Then I went inside this incredible park with trees everywhere and spots to get lunch. There were rugs and picnics set up and people were relaxing in the shade, making the most of their free time. Children were also having fun in this park as at the end there was a Jardin zoologique where they could make the most of the good weather to see the animals and make the most of nature.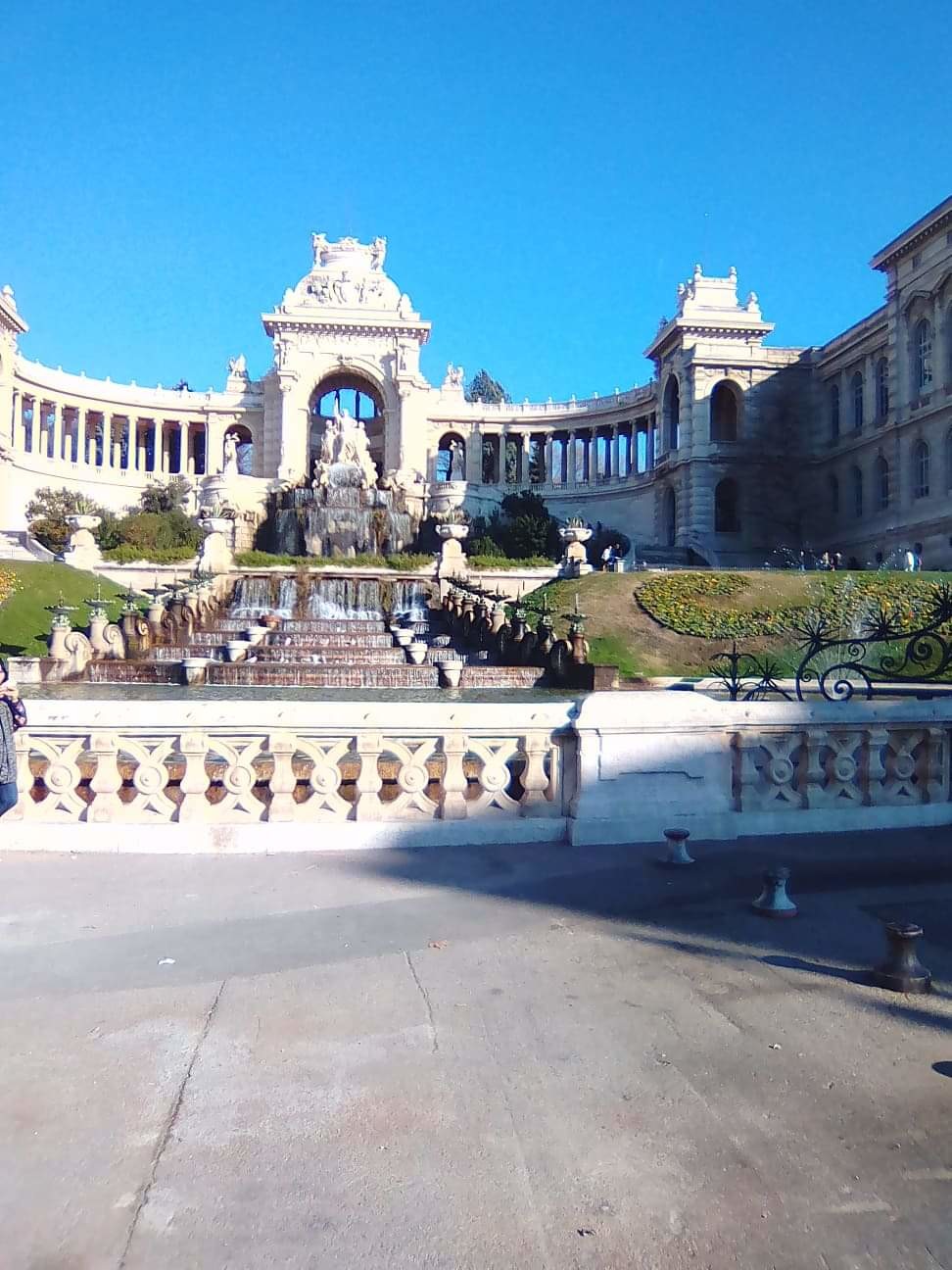 I observed that Marseille wasn't a difficult city to visit. Everything can be seen on foot if you decide to walk, and you can also take the tourist bus, which has multiple stops to go into every station and visit the beautiful places in the city. Equipped with my GPS and my address book, I was ready to continue my adventure and to experience plenty of other events, before returning to my bus to continue my journey.
FlixBus was the method I used thereafter in order to cross the border between France and Spain and discover all the coastal cities between Marseille and Barcelona. It is a unique adventure that is certainly worth the trouble and which I have the pleasure of sharing to inform people of the different squares and must-see places in order to experience the best memorable moments there.
---
Photo gallery
---
---
Content available in other languages
Want to have your own Erasmus blog?
If you are experiencing living abroad, you're an avid traveller or want to promote the city where you live... create your own blog and share your adventures!
I want to create my Erasmus blog! →