Exploring: El Born
I was fortunate to live a stone's throw away from El Born, otherwise known as La Ribera, during my last stint of living in Barcelona. El Born has to be one of my favourite districts in the city, for its winding alleyways, bohemian vibe and various squares in which you can pull up a seat and enjoy a caña. It is also home to Parque Ciutadella, my favourite of Barcelona's green spaces. Mostly I am using this post as an excuse to reminisce, because today I am going to let you in on some of my favourite spots in the zone.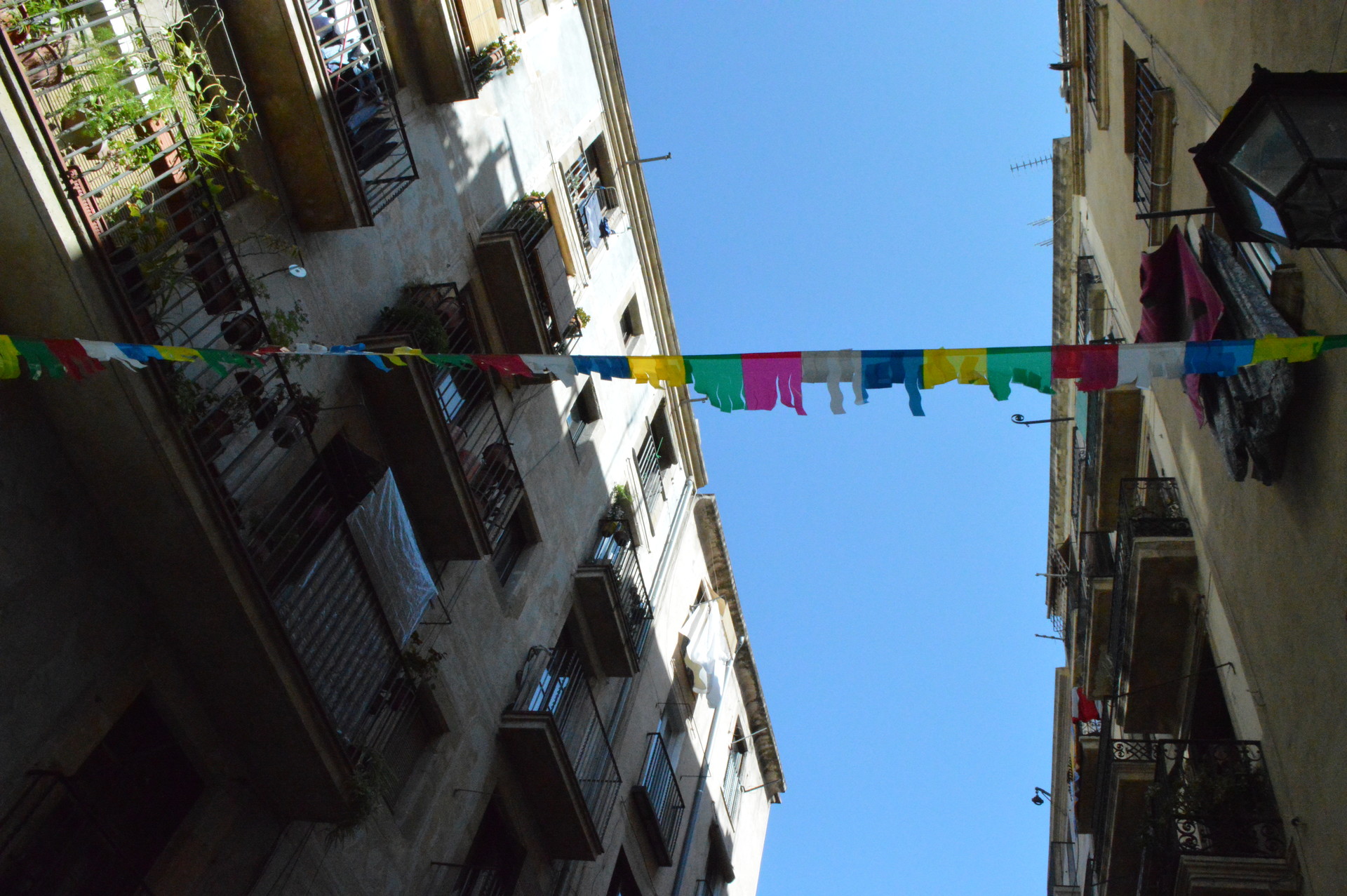 (Bunting on Carrer de Carders, adding a splash of colour to the streets)
Food
It's hard to know where to begin in this section, so I am picking a place out of my imaginary top hat: Costa Pacífico. My love of ceviche is well-documented, and that's what drew me to this Mexican restaurant. Normally, any conversation I have about ceviche tends to lead onto a monologue about the joys of Peruvian cuisine, but this time it is Mexican food getting the spotlight. Costa Pacífico has indoor seating as well as tables spilling out onto the square in front; and for once I sat indoors. Under the bright lights of the restaurant, the staff were rushed and not necessarily the friendliest I have come across, but service was prompt – can't complain about that. Where the place really shines is with the food. I went there one evening in June for a light dinner, starting out with guacamole and tortillas. The guacamole was delicious – slightly spicy, citrusy, chunky, and made with perfectly ripe avocados. Plus, there was an abundance of it, which is never a bad thing; in my eyes, there is no such thing as too much avocado.
For the main, I had (surprise surprise) the ceviche clásico. Mexican ceviche is served differently to its Peruvian counterpart: no sweet potato, choclo or cancha, but instead it is topped with sliced avocado (I wasn't kidding when I said no such thing as too much) and corn tortillas. It may be slightly more pared-back, but is not lesser for it; the flavours of the tender white fish and leche de tigre were super-fresh and vibrant, making all the taste buds burst into action. Lime juice, chilli, red onion and herbs are just a superb combination, almost regardless of its accompaniments. My friend, who has no taste for spice whatsoever (how? ), had the tacos de camarón (prawn tacos), which did also look delicious. I was too busy devouring my own dish to try it, though, so I just had to go by aesthetics.
As liquid accompaniment (when am I ever without one? ), I ordered a margarita. It arrived frozen, akin to a slushy, rather than on the rocks. It wasn't bad by any means, although there are better margaritas to be had in other parts of El Born (I'll come to that in a moment). The star of the show at this Mexican restaurant really is the food, and what a star it is.
If your tastes sway more towards Venezuela than Mexico, may I recommend La Taguara? There are no seats, but there are tables, or the food is easily transportable to the nearby Parque Ciutadella. La Taguara specialises in arepas, although also sells tequeños and cachapas. As much as I love a good tequeño, I always got distracted by the arepas. My favourite was the Pabellón de Aguacate, with some of their hot sauce sprinkled over and accompanied by a bottle of beer. For anyone who hasn't been initiated to the world of Venezuelan cookery, arepas are essentially flat corn breads cut open and stuffing with fillings of your choice; my choice, in the version mentioned above, was a combination of avocado (that being the aguacate), black beans, grated gouda cheese, and plantain. It is dense, savoury and oh-so-satisfying.
Pans and Company is not your typical Spanish fare either, but a small establishment dedicated to quiches, salads, smoothies and bagels. Yes, yes, it sounds quite quaint, but hear me out. The variety of quiche fillings is strong; my first venture here was Roquefort and leek, with a combination of pasta salad and roasted root vegetables with feta (I know it sounds like cheese overload, but I am not sure that could ever happen), and homemade mint lemonade. Comfort served in a pastry case. I also sampled the broccoli and cheddar, and sundried tomato with walnuts and blue cheese (I like blue cheese), as well as the tabbouleh salad as a side. There are a couple of meal deals, including my favourite: quiche and two kinds of salad for 8 euros and change. It can either be eaten sitting on the bench outside the window (the only seating), or taken home to be eaten in bed on those days when carbs, cheese and the duvet are the only solutions to life's problems.
Drinks
Now, back to that better margarita. Near the El Born centre, there is a place called the Mercat de la Princesa. The concept is great: lots of little food stalls (and seating) under one roof, ranging from traditional tapas, croquetas and eggs, to chips with a choice of sauces, a Mexican stall selling tacos and burritos, and desserts. Oh, and a bar. On my first outing here, Mama Smith and I shared a plate of tacos dorados (fried tacos, more like flautas, filled with shredded chicken and topped with guacamole and pico de gallo) and Cajun sauce-laden chips, with two margaritas from the bar. The chips were so-so, the tacos so delicious we went back the next evening for the same, and the margarita … well, the margarita was something else. The driest I have ever tasted, and perfectly balanced with a salt rim, the cocktail was strong, citrus-y and it totally hit the spot. The balance between tequila, lime juice and triple sec was unquestionable. It's worth going just for that, although I can also verify that the tacos go equally well with a bitterly cold beer.
For a cerveza, bottle of rose or copa de cava in a dappled light-filled square, look no further than Carrer de l'Allada-Vermell. Although by name it is a street ('carrer' being Catalan for street or road), in practice it is more like a square, containing three bars, a sushi restaurant and a children's play area. In Upiaywasi, I had the terrible Pisco sour mentioned in a previous post (quite tragic for someone who loves Pisco as much as I do), and the coffee isn't up to much, but it's still a perfectly nice place to sit outside with a beer or wine and enjoy the breeze, the sunlight and the musical accompaniment of the accordionists who often play there. Paco's Pizza is also good for this (and it sells pizza, always a plus! ), and the cava comes in the miniature 200ml bottles instead of 125ml glasses. I see that as getting more bang for your buck.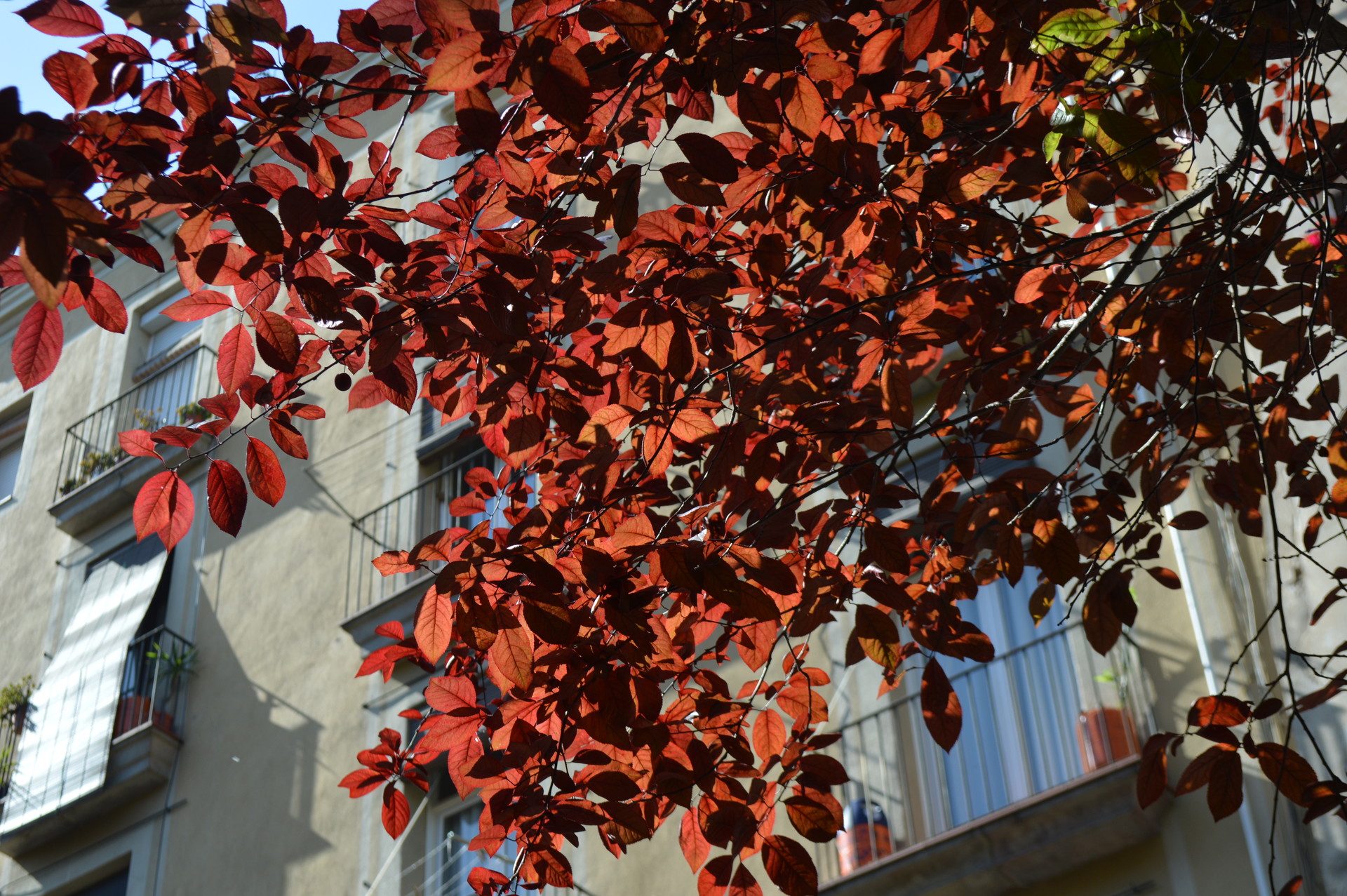 (Dappled sunlight and a beer, you say? Yes please)
Both bars are situated opposite a gorgeous house whose façade is covered with potted plants. One friend I introduced to this square is an avid amateur horticulturalist, and her excitement about the house was even more satisfying than the early summer sunshine and reasonably-priced cava. So, if you have any greenery-enthusiast friends, I particularly recommend this area.
Parque Ciutadella
I love this park. I love it for early morning runs (especially when the sea breeze by the shore is louder than my music) and I really love it in the evening, when the sun is just going down or has passed the horizon, but the sky is still light and takes on the colours of sherbet. That is when the air is balmy, the scorching heat of the day is slowly dissipating, and the vibe is relaxed; people practice their circus skills or their acro-yoga, chat, read their books or play a variety of drums and other instruments, whilst the soft scent of marijuana floats through the air. Get an ice cream, or pack a picnic with a bottle of wine, and find a space on the grass. Take a book or, for best effect, a friend to enjoy the ambience. Everything is mellow here at this hour: the music, the scents, the people.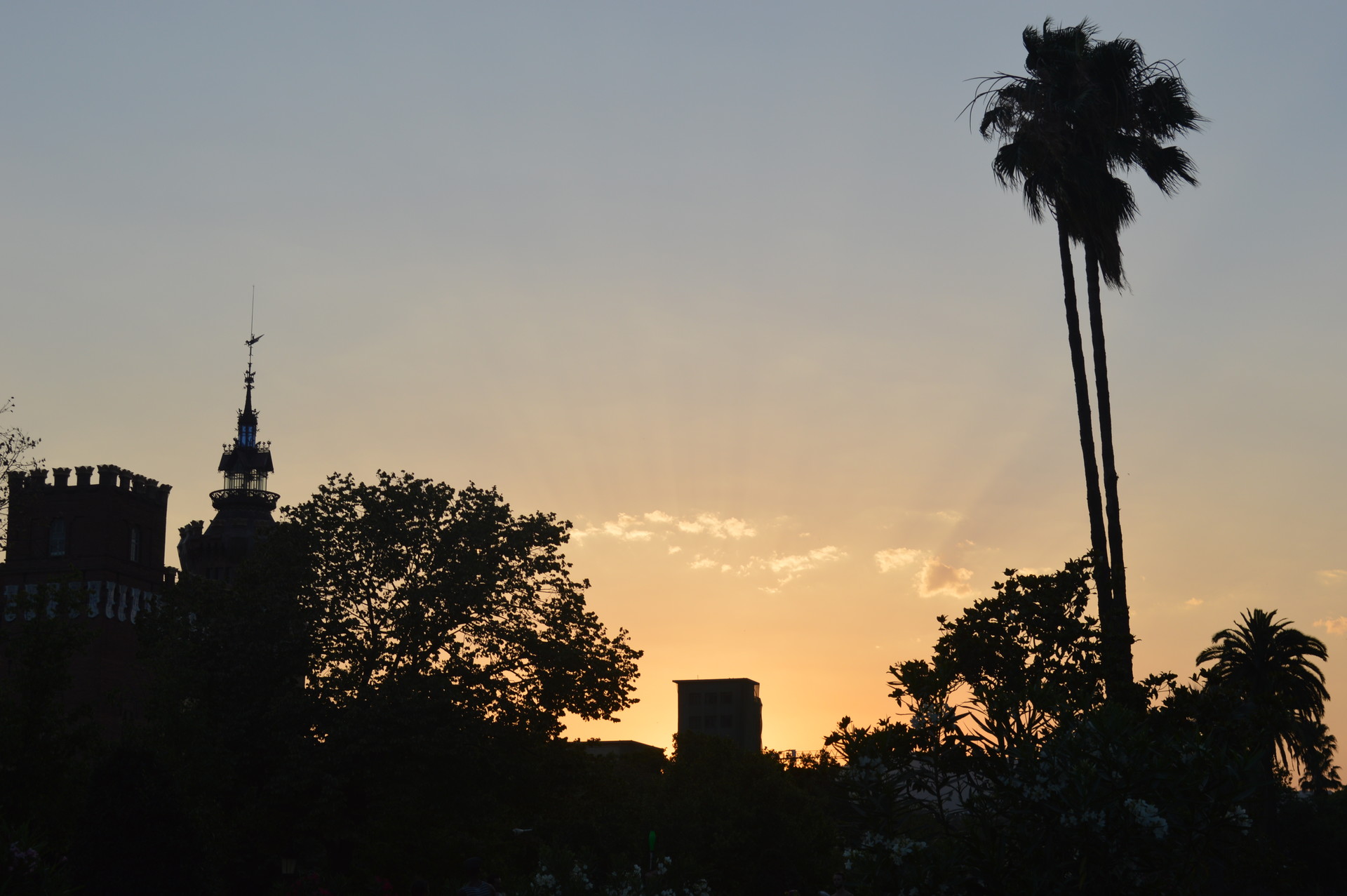 On Sunday afternoons, the band stand 'La Glorieta' near the fountain hosts social dancing sessions: Swing on the first and third Sundays of the month, and salsa and bachata on the second and forth. You don't have to be super-experienced, people of all levels turn up to practice and enjoy the music. 'La Glorieta de la Transsexual Sònia' is named after a transsexual woman violently murdered by neo-Nazis in the 1990s; the stand is a symbol of the city's acceptance of the LGBT community and rejection of discriminatory attitudes. So, that's two reasons to appreciate the stand.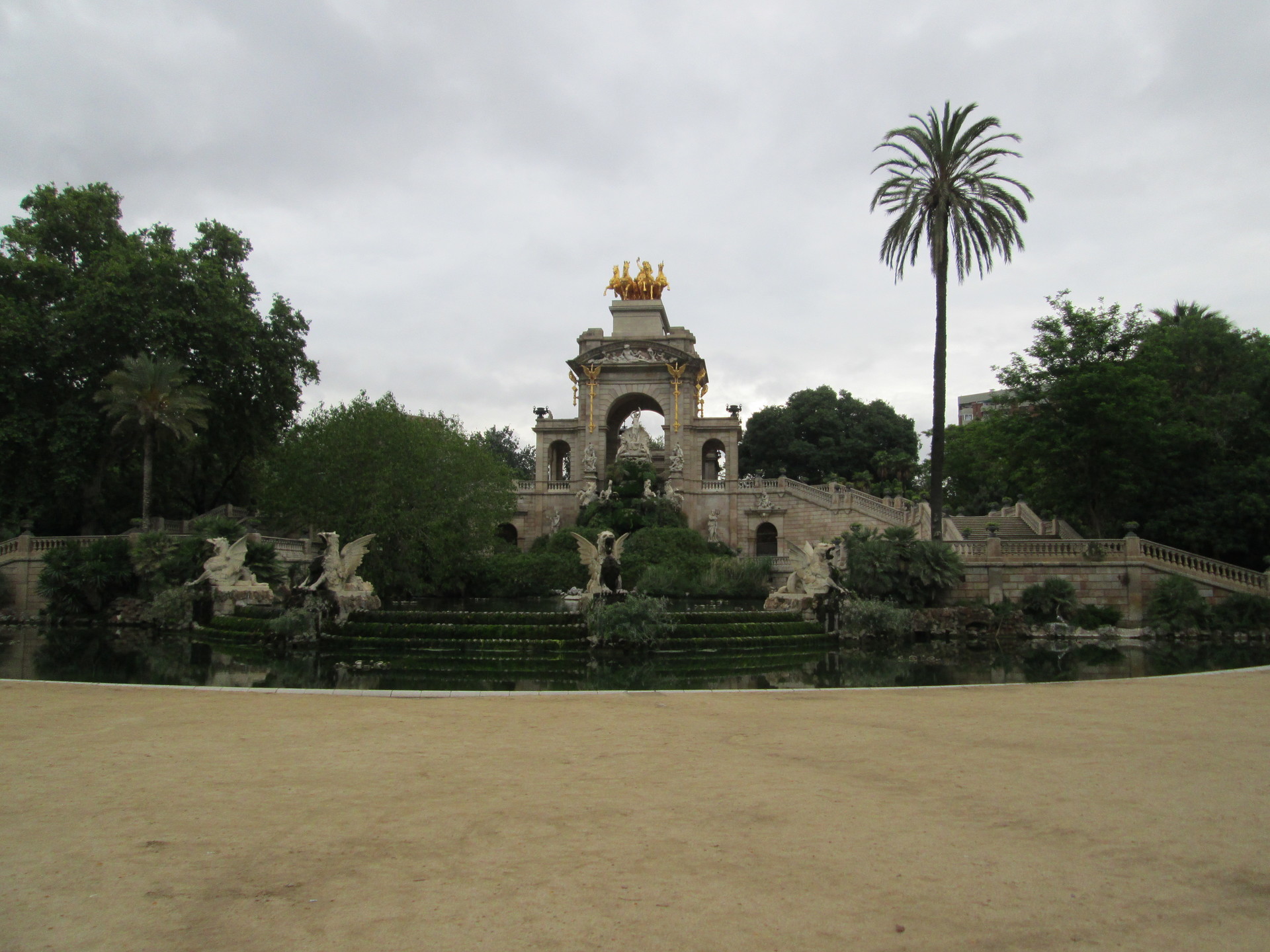 The park offers an escape from the city streets with its plant-life, lake, birds and relaxed, bohemian atmosphere. And it's free. Grab a drink, grab a friend and get down there.
And there we have it. My round up of some of the best places to try out in the El Born district of Barcelona. But honestly, that doesn't even scratch the surface of the variety of places in the area – explore it for yourself, find your own favourites. Or just take a camera and wander the streets, and let your favourites find you.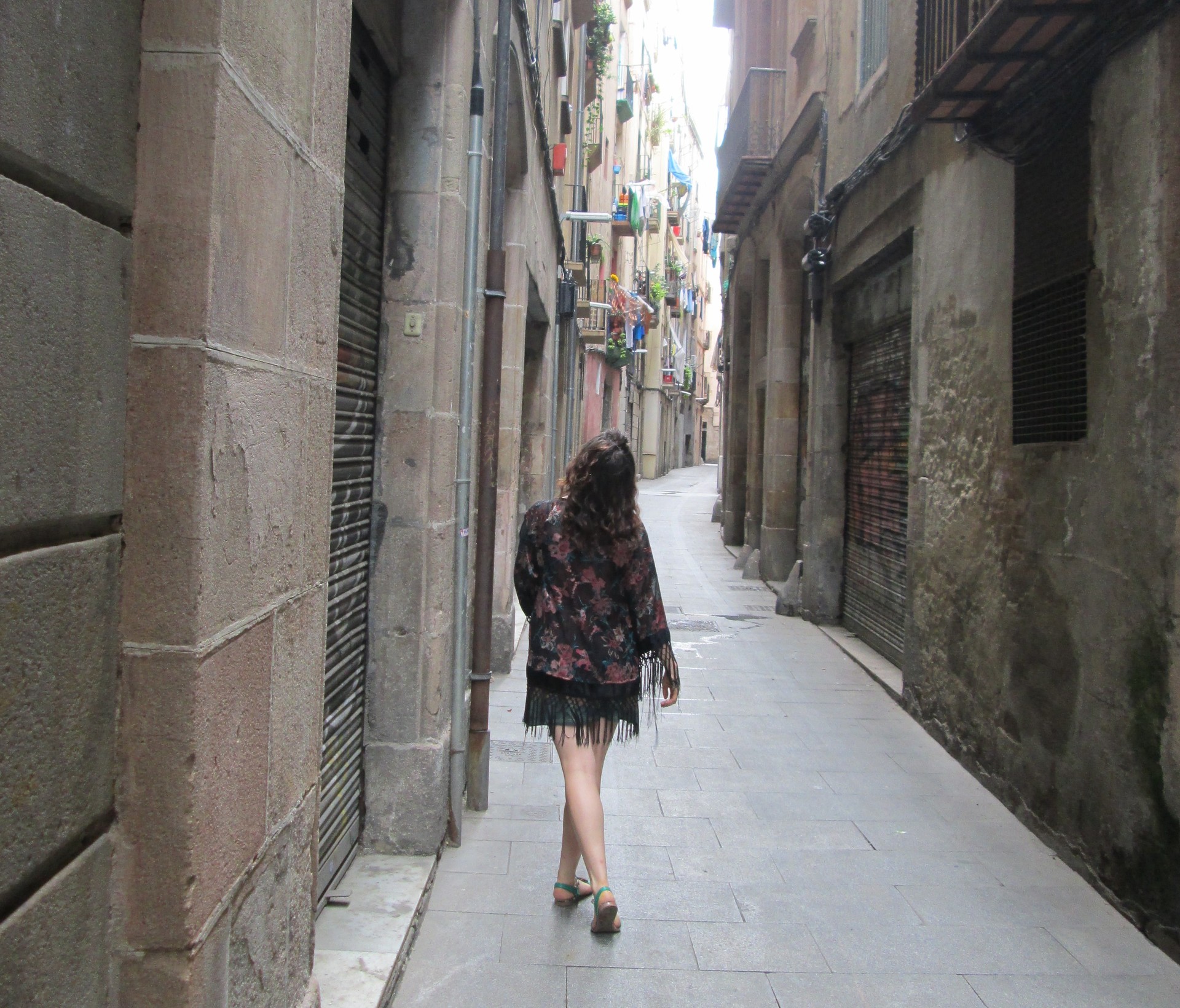 ---
Photo gallery
---
---
Content available in other languages
Want to have your own Erasmus blog?
If you are experiencing living abroad, you're an avid traveller or want to promote the city where you live... create your own blog and share your adventures!
I want to create my Erasmus blog! →