Exploring the canals in Amsterdam (1 of 3)
Hi guys! Have you thought of travelling to Amsterdam? I went there a little while ago with some friends for a few days and to be honest, it was a great experience, so I really recommend going as soon as you can. As always, to try to encourage you to go, I'm going to tell you how we organised our trip and the places and museums we visited. I'll warn you in advance: I'm going to focus on writing about the cultural experience and exploring the streets and the areas in Amsterdam, so I'm not going talk too much about the famous coffee shops.
We found our accommodation online. We were staying in a house close to the centre. In that house, the owners were living there and, on our first day they told us all about the things to do and see in the city, so they made it really easy for us.
Places of interest in the historic centre
When we were settled in, we went out to explore all the different famous places in the centre. Of course, the main street where all the tourists go to when they explore Amsterdam is Damrak, which starts from the Central Station and goes all the way to Dam Square. Although there are trams to get around the city, we went everywhere on foot, since we were staying near Dam Square and we weren't too far from one area to another. We only caught the train once from the Central Station to go to other nearby cities, but in Amsterdam you can get around quite easily on foot or by bike (there it's common to see everyone hiring bikes to explore the city). As you'll see, the whole city is made up of squares and canals which connect to each other and form streets.
Our first contact with the city started in Dam Square, where we joined a free guided tour (as you know, at the end of the tour everyone gives however much they feel appropriate to the guide), in Spanish which took us to the most representative areas of the city, as well as recommending places to visit. The guide agency was Sandeman's New Amsterdam Tours, which I really recommend doing. Here's the link to their website in case you want to use it in the future.
From Dam Square to Muntplein Square you can go along the most popular shopping street in Amsterdam called Kalverstraat. The Canal Singel runs right along this street, it's the oldest canal in the city. In the same area of the historic centre, you can find the church Ronde Lutherse Kerk, where they put on concerts. In addition, along the Singel Canal, you'll see the famous and eye-catching Floating Flower Market or Bloemenmarkt.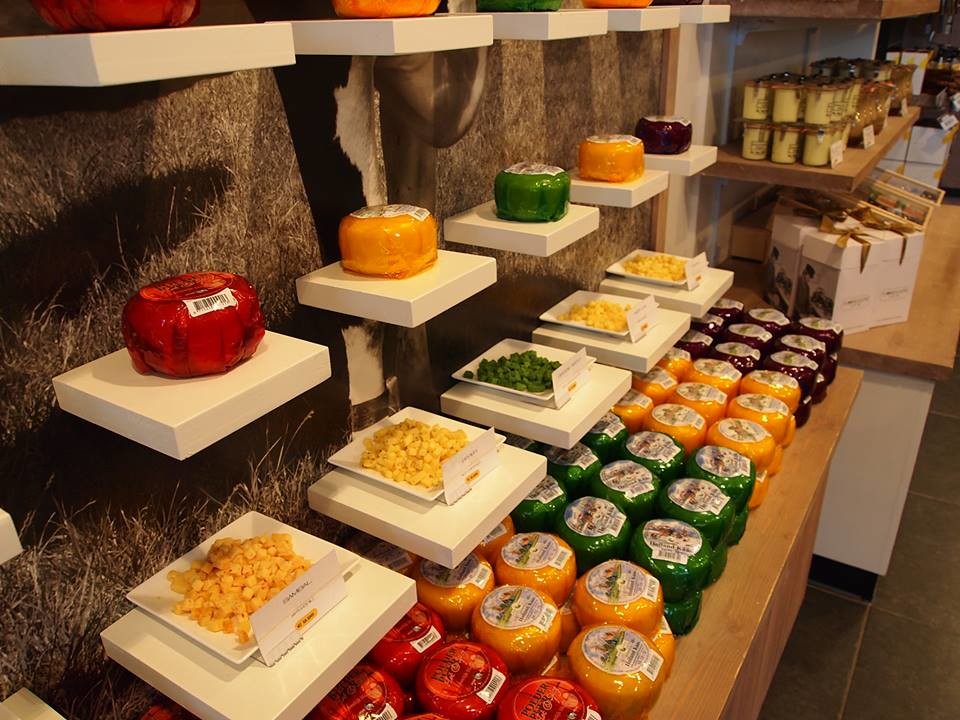 Cheese shop in Bloemenmarkt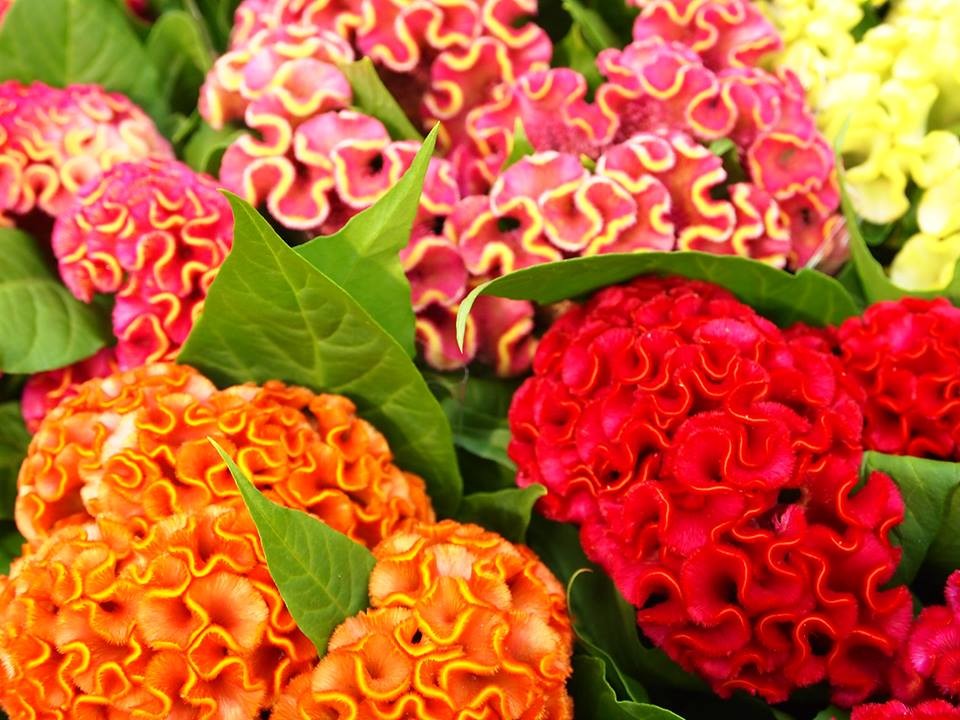 Flowers in Bloemenmarkt
There are also two other squares close by: Spui Square and Magna Square. In the latter, there's a huge shopping centre. Continuing with the squares, and going back to Muntplein, that's where you'll see the Munttoren (a tower). Another cool square is Waterlooplein, where you can see the church Moses and Aaron. Next to it there's a small square: Jonas Daniël Meijerplein. Between Muntplein and Waterlooplein you'll find another square, what a surprise: Rembrandtplein. Another important place in Amsterdam is Nieuwmarkt, where you can see the monumental Waag building, and very nearby you can look at the Montelbaanstoren tower. Likewise, the Begijnhof patio stands out, which is near the Dam and Spui squares.
Of course, I can't talk about Amsterdam without mentioning the Red-Light District, which I'm sure you've all heard about. I think it was perhaps the place which caught my attention most, but I will say that it can't be that safe if you go there at night, and they advised us it could be a bit dangerous. There's also a little Chinatown in this area where there are countless restaurants and shops.
The Red-Light District is where you'll see the Schreierstoreno, also known as the Weepers' Tower and the Oude Kerk church. We didn't get to see the inside of the church, although they told us there seems to be some sort of deal with the church and the prostitutes in the area; they come to sell their services with the consent of the priests and the sailors as well as businessmen would be forgiven of their sins in exchange for money, everyone wins (although some more than others).
We were interested in doing another guided tour in Spanish (but this time you had to pay, I think it was around 12 euros) around the Red-Light District. It turned out to be a good choice, in fact it was amazing. They explained to us all the history and interesting facts about the area in a very entertaining way. For example, like how a house with a red light signals that there's a woman inside and a blue light signals that there's a transsexual woman inside (I hope I have used those terms right).
By the way, did you know that at the end of the 90s some men were interested in standing in the windows, as a test, to check that women weren't willing to pay for sex and their only clients were other men? In the end, they didn't make much money.
I'm not going to start talking about this type of activity or about the century we lived in or what I think about selling yourself and sexual exploitation, although I think I've already said enough.
In the surrounding area, we got to visit a shop where they most certainly sold the most eccentric and colourful condoms in the world (and probably the most expensive too!). We went along the widest street in Amsterdam (Trompettersteeg), and we had fun in different lively bars and pubs in the area, and we also had time to stop off in a club... and they even gave us free shots.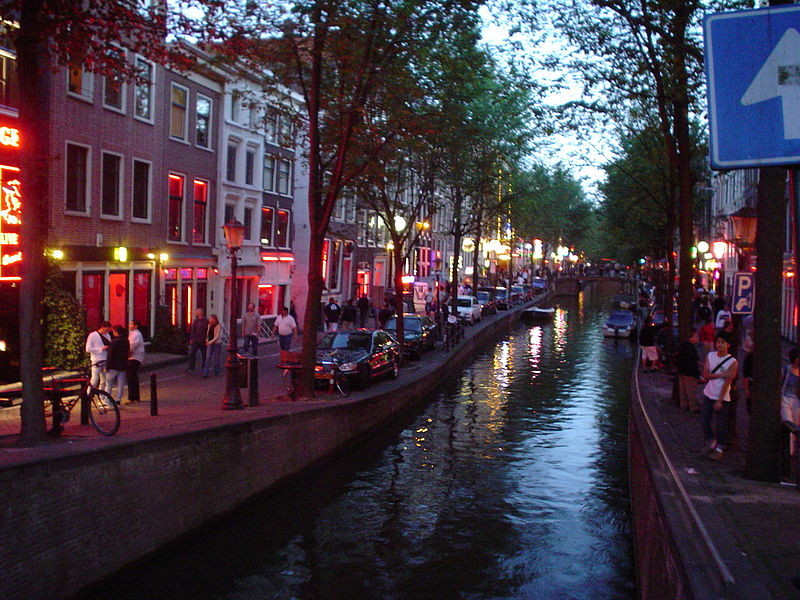 The Red-Light District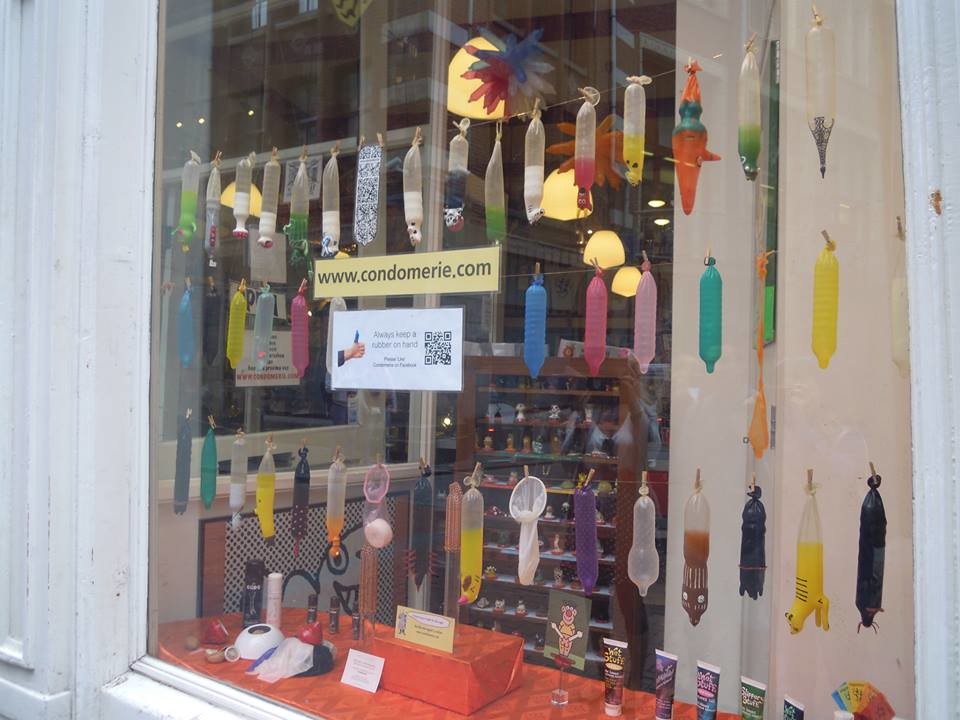 Condom shop in the Red-Light District
Despite all the places being near each other, it's actually quite difficult to see everything in one day, without rushing, and enjoy all the hidden corners, but it was useful to plan the different places to see, so it was easier to navigate round. In addition, depending on how your holiday goes, I'm sure you'll go back to more than one of these squares and areas.
Lastly, I'll also share the incredible experience I had going around the canals in Amsterdam by boat. You can hire the boats for however many hours and by the four of you pedalling away, you can get to some quite far places. After, by sticking to the time you hired it for, you can leave the boat in any of the different stations when you finish, making sure you leave it with one of the reps, of course. I highly recommend hiring a boat, because it's a special moment to enjoy with friends and have a good time.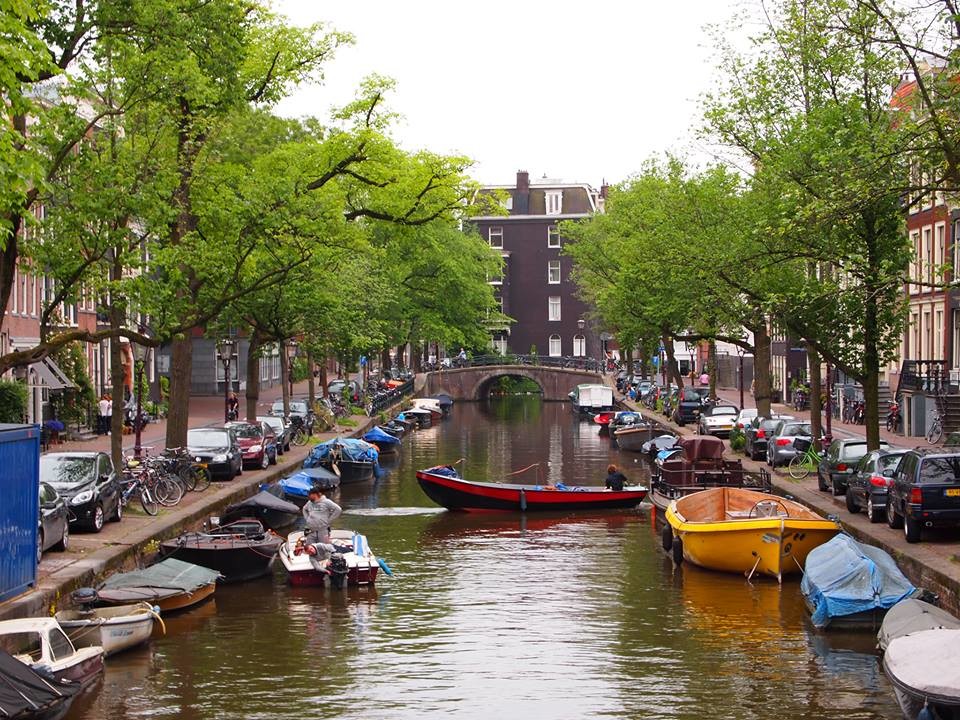 One of the canals in Amsterdam
---
Photo gallery
---
---
Content available in other languages
Want to have your own Erasmus blog?
If you are experiencing living abroad, you're an avid traveller or want to promote the city where you live... create your own blog and share your adventures!
I want to create my Erasmus blog! →