Aix-en-Provence, my Erasmus city
Aix-en-Provence, my Erasmus city
Today I'm here to talk about the city where I was able to spend 4 months of my life, thanks to the Erasmus scholarship. When I was browsing the list of countries and cities I could pick as an Erasmus destination, I originally picked Marseille because it looked incredible: located in the south of France with beaches with crystal-clear waters... so it came as a surprise when they told me that the faculty of humanities wasn't in Marseille itself, but in Aix-en-Provence, the city that I would eventually call home.
I remember that I looked up photos of the city and couldn't find all that many. There didn't seem to be any signature attractions or anything that stood out, just an enormous fountain in the middle of a square. The day I arrived in Aix, the 18th of September I think, it was incredibly hot. It was a sticky, humid heat. One month later, the city was taken over by the cold. Aix-en-Provence has extreme variations in its seasonal temperatures. In winter the cold was almost unbearable for me. Just thinking about leaving the house was horrible. All the warm clothes I had weren't enough.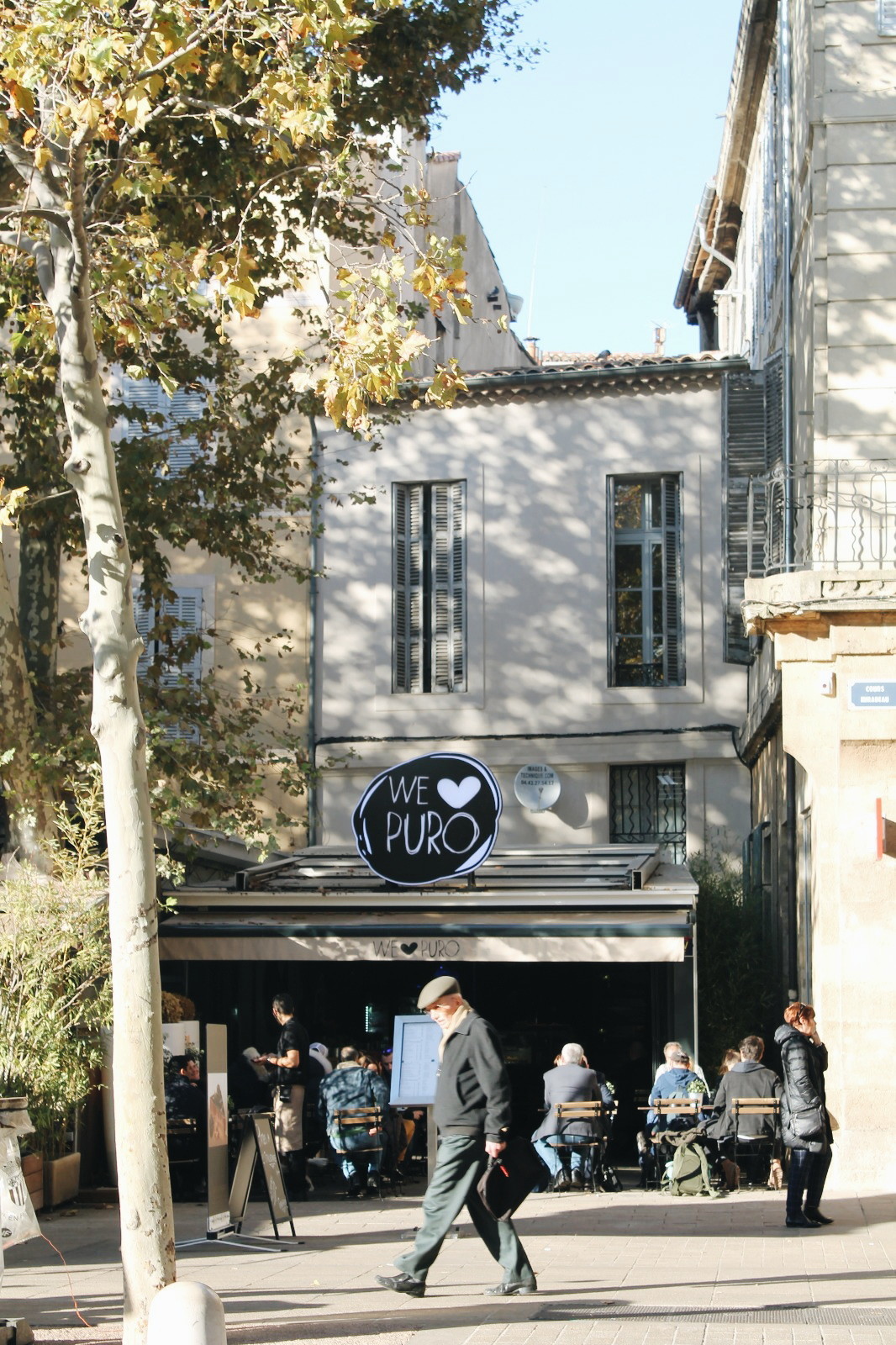 If I had to describe Aix-en-Provence, I would say that it will take time for you to fall in love with it. I liked it from the first time I took a walk around its streets, but over time I got to know it like the back of my hand and now looking back on my time there makes me feel a little homesick. Aix-en-Provence, or Aix as we call it, isn't exactly a place littered with impressive monuments or sculptures. Instead, it's a city where you have to wander around, stop to have a browse in every shop, pay attention to every house, to every detail of every building, go to the market, understand how the locals live, and understand that the place has a rich history.
Having provided you with this brief introduction, I'm now going to tell you about the most interesting places Aix has to offer, the places you should go if you ever come to visit.
1. First things first, the Cours Mirabeau is without a doubt one of the most well-known places in Aix. This is the main street, it's very long with trees all along the pavements. This is where everyone goes for a walk, where the minibus circulates, where the markets are set up and where people sit down for a coffee. Naturally, it's my favourite street. I walked along with it every time I went to the city centre (which isn't very big), and I loved sitting out to enjoy a crepe or a cup of tea. Choose the bar you go to wisely because there are some that take advantage of tourists around here and a tea can cost you up to four euros, as can a nutella crepe.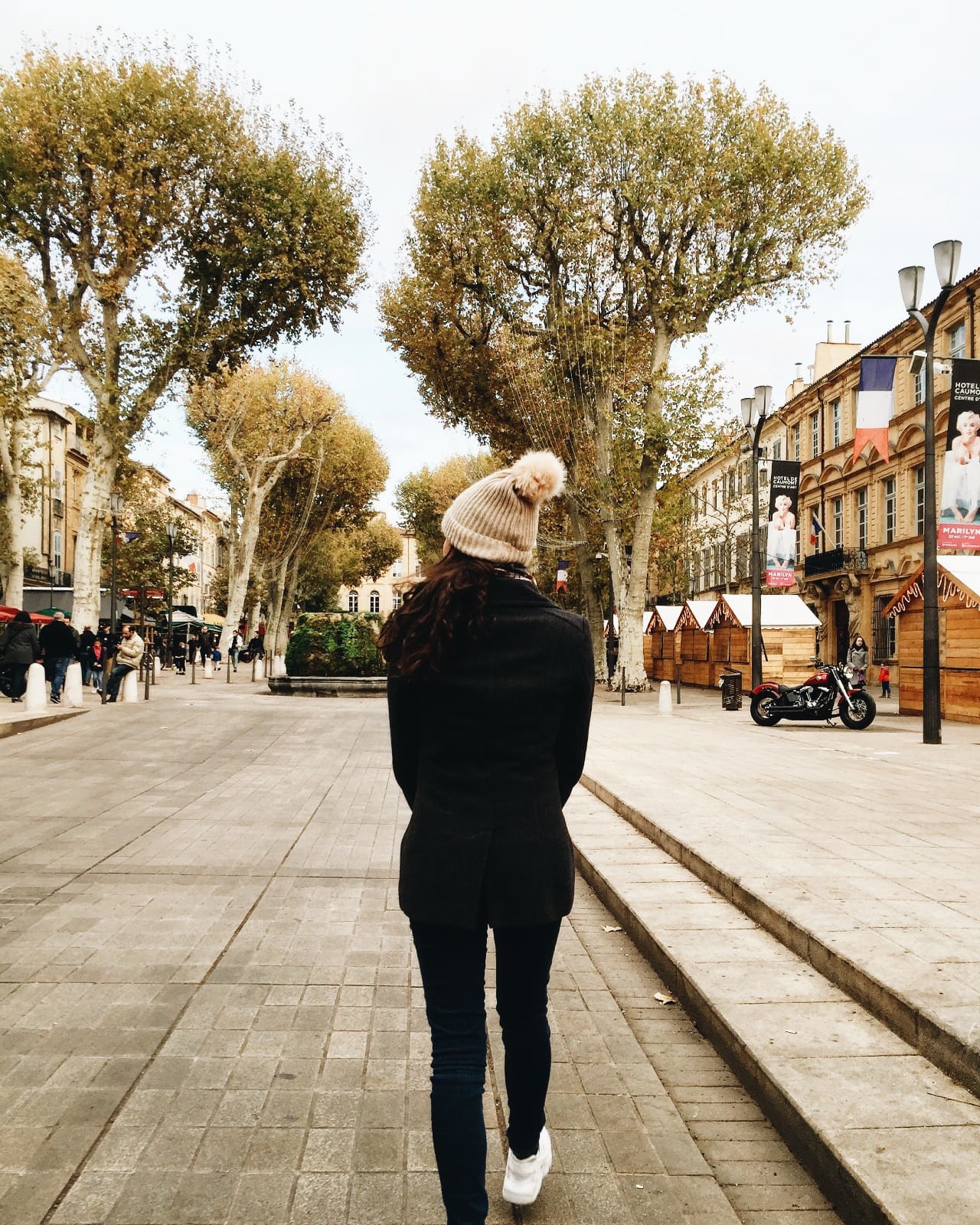 When Christmas arrives here, they set up the traditional "marché de Nöel", with little wooden huts decorated with lights and snow on their roofs. There were thousands of things to buy in each little hut, from traditional products from Provence, to household utensils, traditional French cheese, Marseille ham, confectionery etc. Cours Mirabeau was busier at this time of year, everyone came out to soak up the Christmas atmosphere. At the top of this street, there's a road that leads to an underground passage, where you'll find a shop which sells cheap crêpes. This is something that you learn after having lived in the area for a while. You begin to learn how to avoid the tourist traps. The locals buy better crepes here.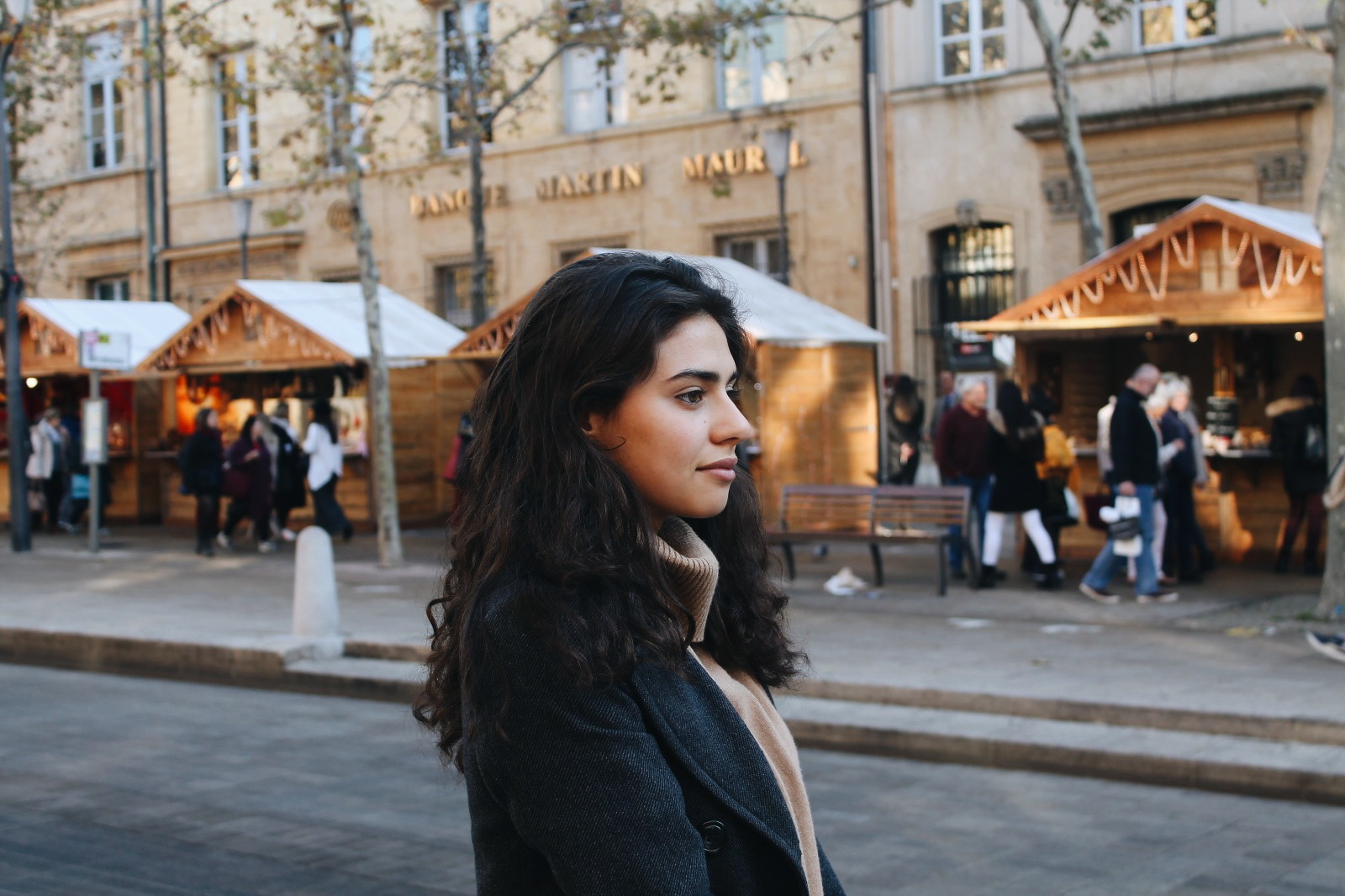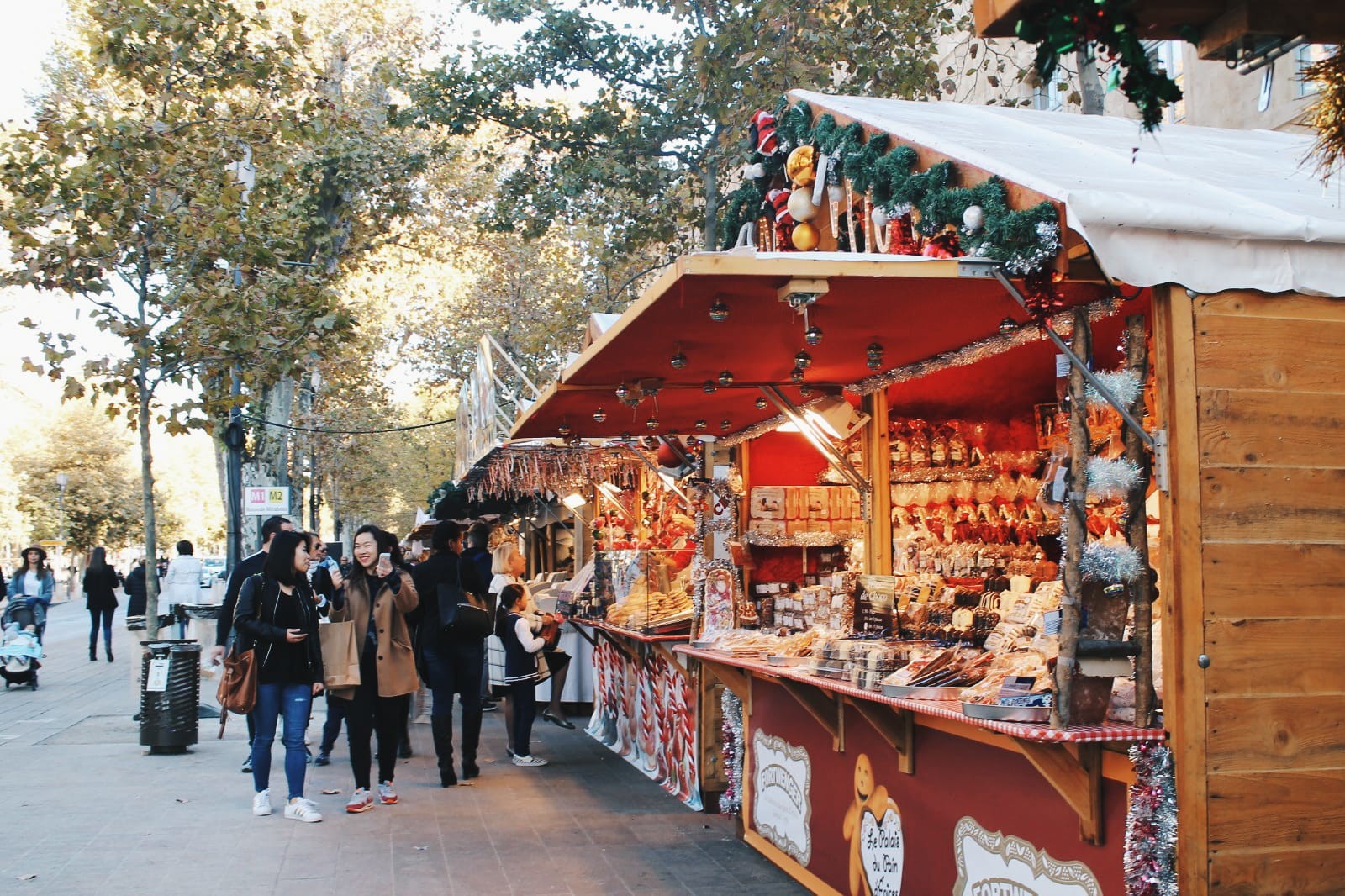 2. When you're at the Cours Mirabeau, facing the fountain in the square, which is also a well-known characteristic of the city, I'd recommend turning to your right and walking down any of the little streets. Here, you'll find yourself in the old part of the city where you can see some very old orange-coloured buildings. The rent for these apartments is super expensive.
3. If you keep walking, you'll find the Cathedral and the Town Hall, the two most important buildings in the city. In this square, there's a lot of shops, and occasionally they'll set up a market where you buy local products, flowers and more... they also have a bookshop there where we bought everything we needed for university.
At the start of my Erasmus experience, when the weather was hot, all the students used to meet in Parc Jourdan. We used to have picnics there to get to know each other. It's not a huge park, but it's still lovely. It's even more beautiful in autumn because of the warm colour of the trees. People usually go jogging or do yoga here. I used it as a shortcut every day to get to university because the train tracks pass behind it. These tracks lie between the University and the university residences: Cuques and Gazelles.
Something you definitely must do is see all the different fountains around the city since this is one of its main attractions. There are lots in Cours Mirabeau, my favourite is the hot water fountain. This is a huge fountain where there's a big rock covered in moss. The water then runs over the moss is thermal! Of course, you have to see the fountain in the square that I've already mentioned, which is the most characteristic one in Aix. The Fountain of the Four Dolphins, with figures that look more like piranhas than dolphins, can be found a little further out of the old part of the city, towards the outskirts. We always passed by here to get back to the city centre. Last but definitely not least, is the Albertas Fountain in Albertas square. You definitely need to go. It's a special fountain because of what surrounds it, an old, orange coloured building. Honestly, this place looks like it's been taken from a painting. It's in the city centre and everyone goes there to take photos. It's an unmissable part of every tour of Aix. I'll show you a photo.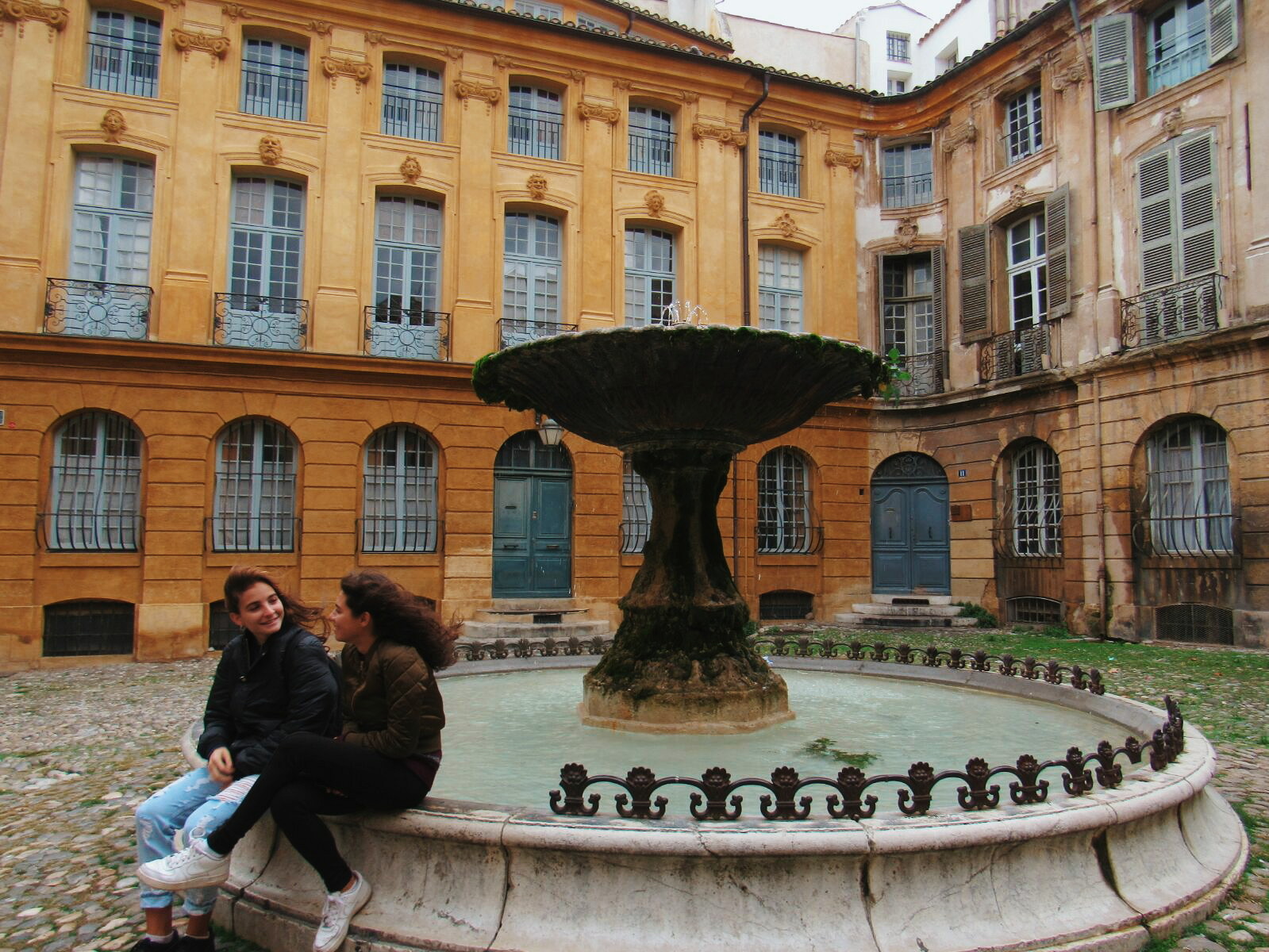 6. Someone I definitely have to mention is impressionist painter Paul Cézanne. I studied his life and works during my A levels as part of my History of Art module. The fact that he was born and raised in Aix made this city that little more special. The shoe shop his father worked in can still be found in Cours Mirabeau. In Aix-en-Provence, you can visit the workshop where Cézanne used to paint. You can still see his paint, canvas' and paint brushes. This place really takes you back to another time. From this workshop, every day the painter looked out on Saint-Victoire, a mountain that became the muse of many of his paintings.
7. Saint-Victoire Mountain. I also saw this mountain every day, from the window of my room. Cézanne was greatly inspired by it, so it became the protagonist of many of his paintings. Luckily, we can see these paintings in the musée d'Orsay in Paris. My friends and I promised ourselves that we would climb to the mountain top, and we did. One day we put on our sportswear, comfortable footwear and we climbed all the way to the summit. It was exhausting if I'm honest. Our mistake was not knowing the right path to take to get to the top, so we got lost a few times before we found the right way. When we finally got on the right path, we walked for quite a long time between the rocks up a very steep slope. Some sections were quite dangerous actually. There were quite a lot of backpackers going up and down the mountain. Just as we got to the top and could finally see the impressive views, we bumped into our aerobics teacher. What a coincidence. Something interesting you may want to know: Picasso also painted Saint-Victoire many times. In fact, he's buried in the foothills of the mountain, in a house he had nearby. Cézanne's work greatly influenced Picasso's work.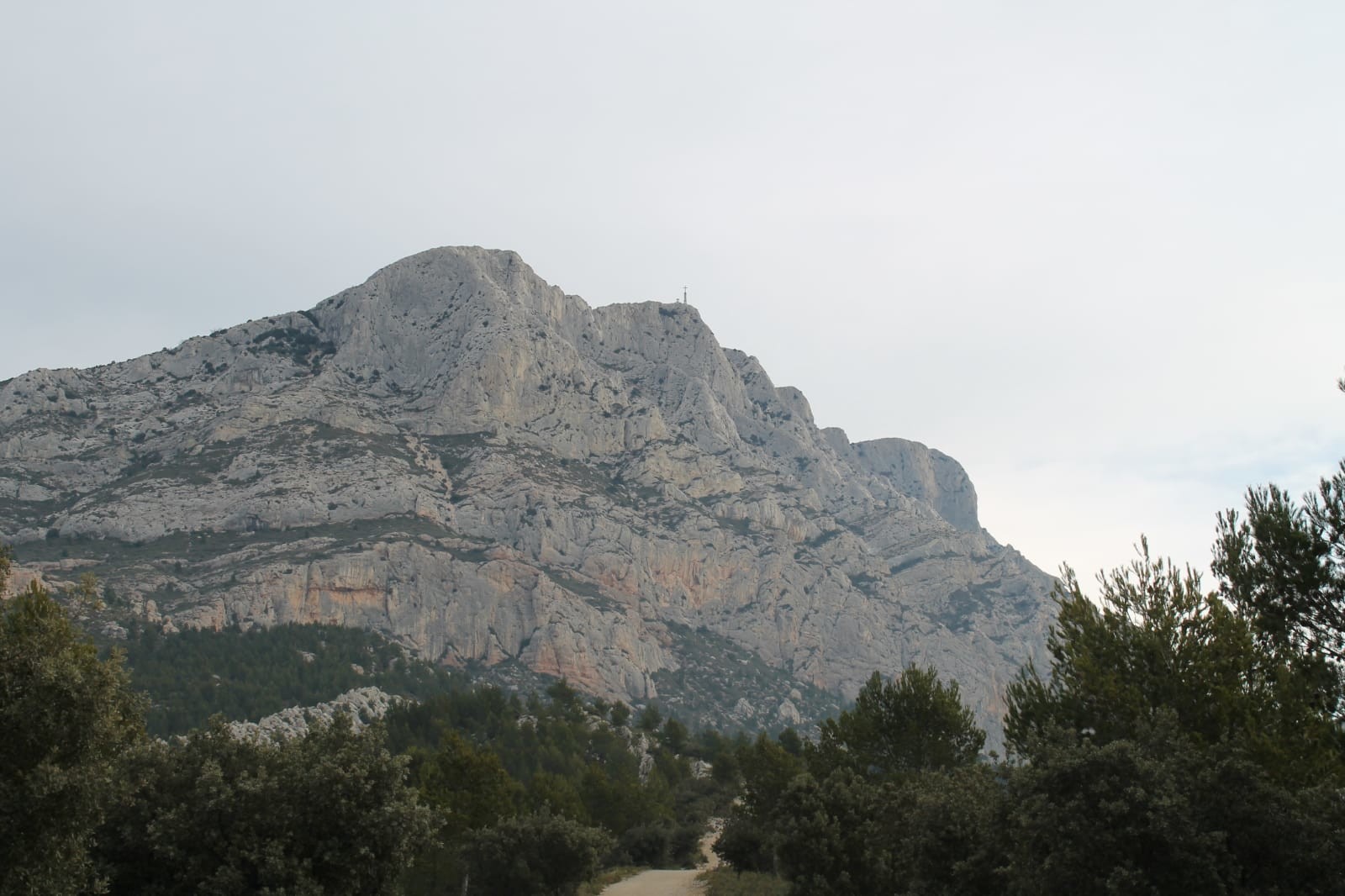 8. I can't forget to mention Hotel Caumont. We went there one day when we didn't have any particular plans and we were pleasantly surprised. It's architecture is similar to that found in the city centre, but more sophisticated. And, the gardens that surround it are very well-kept. There's a fountain that makes the place feel peaceful and calm. When we got inside, it felt like we had entered a fairytale. All the furniture was old, the mirrors were very ornate, as were the lamps. This is another place that takes you back in time, even further back than Cézanne's time. There's an art exhibition inside and if you fancy, you can grab a coffee here. I can't remember how much it was for an adult entry, we got in for free because we were students.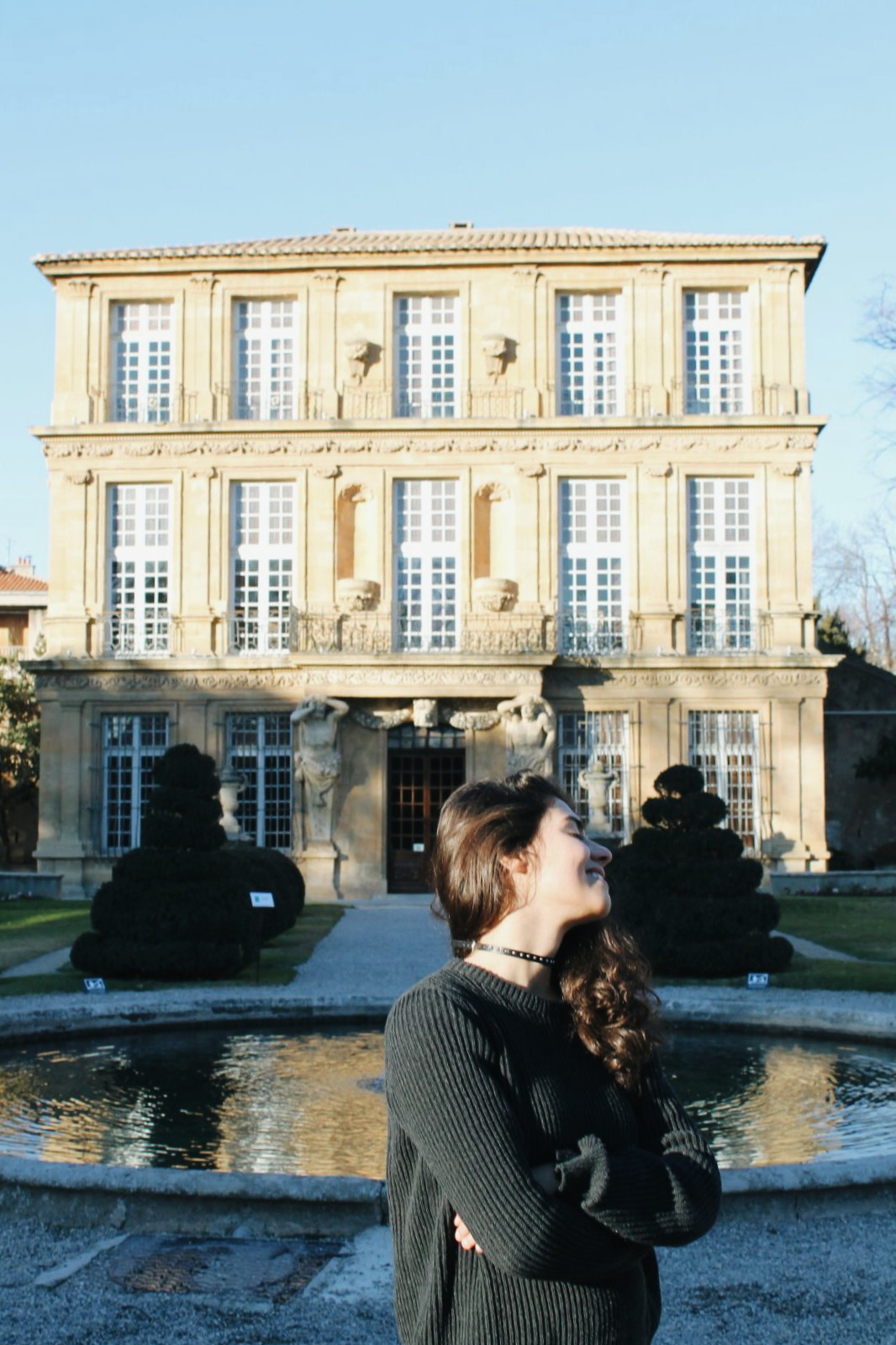 And that's all for today's post, loyal readers. To conclude, you could visit thousands of web pages which will tell you all about the tours you can take in Aix, you can see a lot of different photos or you can imagine the city a thousand different ways, but until you get to know the city, it'll be impossible to understand just how beautiful and special it is. You have to live and breathe it to feel it. It's definitely a city I could see myself living in. The people, the streets, the smell of croissants and coffee in the mornings... I feel so lucky to have been able to spend four months in this city which, by the way, is the second most expensive in France. You can probably guess what the most expensive one is.
---
Photo gallery
---
---
Content available in other languages
Want to have your own Erasmus blog?
If you are experiencing living abroad, you're an avid traveller or want to promote the city where you live... create your own blog and share your adventures!
I want to create my Erasmus blog! →