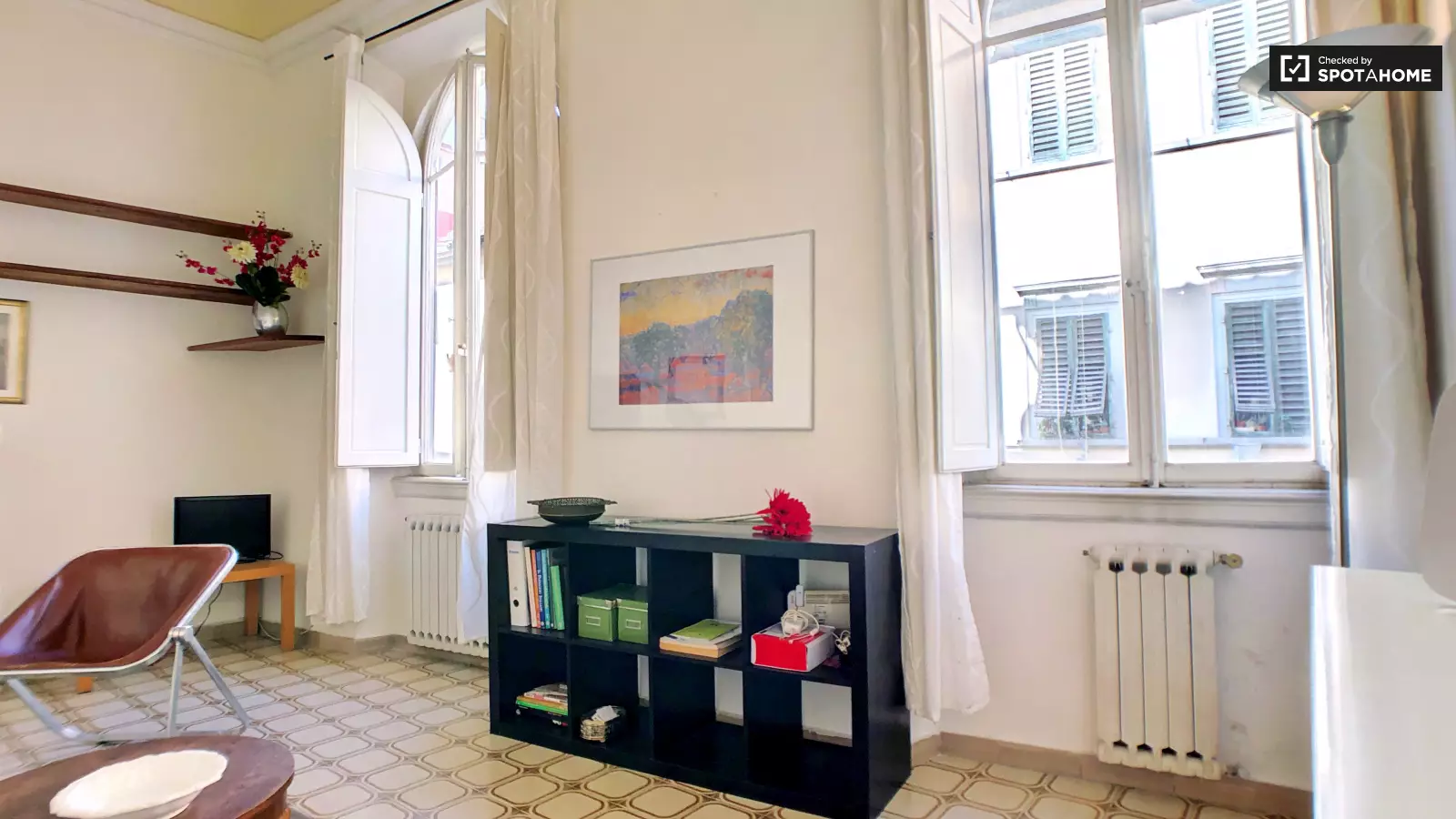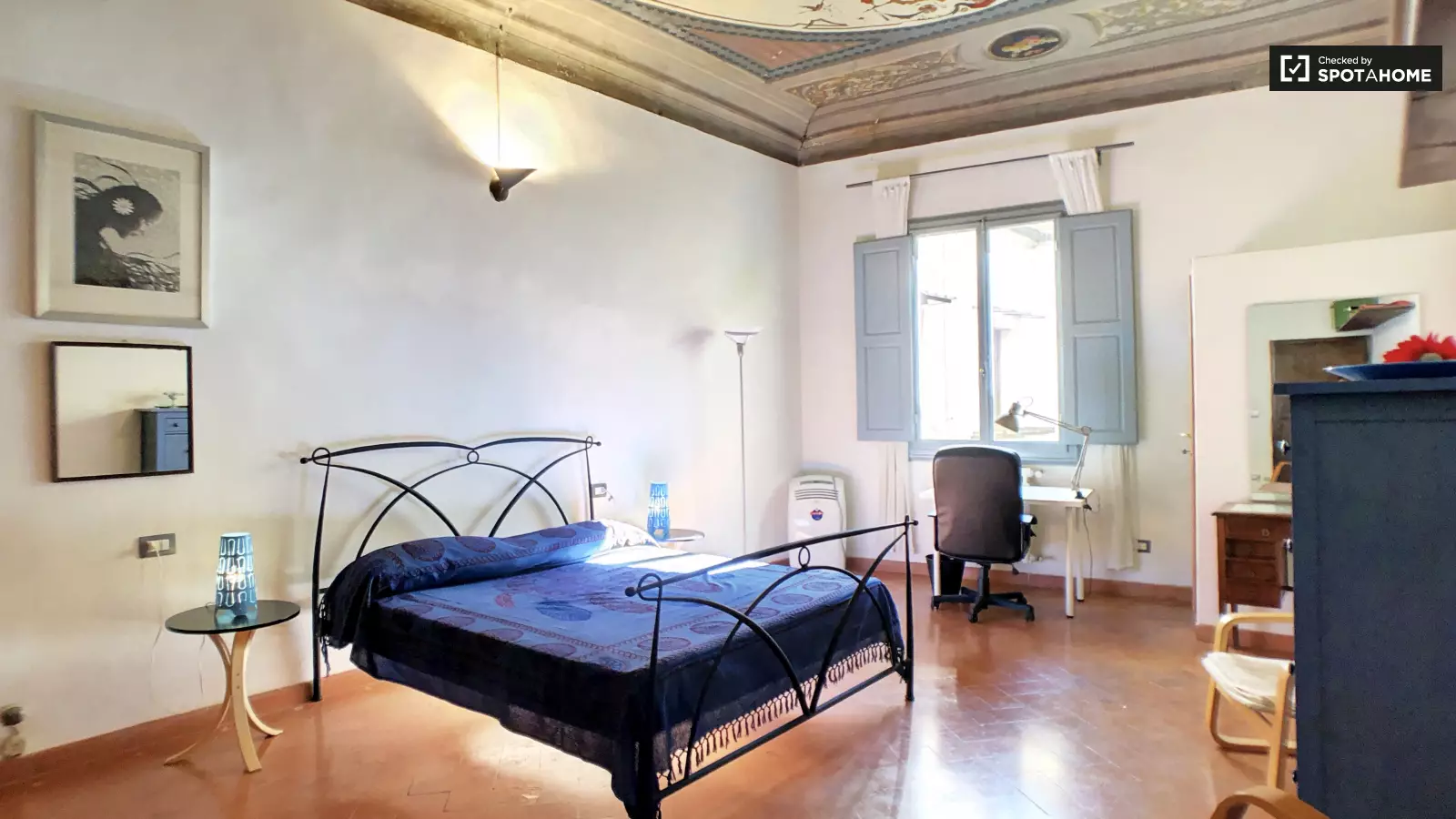 1/20
Sophisticated 1-bedroom apartment for rent in Oltrarno (Florence, Italy)
Apartment · 1 bathroom · 70m2
See overview
Property verified by Jana
Verification date 03 Oct 2018
Our homechecker has reviewed the house and made a video tour to make sure you get exactly what you see in the listing.
Bedroom 1
Private bathroom en-suite
Window with interior views of patio
About the property
Natural gas water heating
Details
Property type: apartment
Floor area: 70 m²
Floor: 2nd
Elevator: no
Number of bathrooms: 1
Maximum occupancy: 2 people
Spese condominiali (building fees): yes, included in price of rent
TARI (refuse collection tax): yes, included in price of rent (++what is this?++)
A sophisticated 1-bedroom apartment is for rent in the Oltrarno area of Florence. The living room is decorates with paintings on the walls and offers a sofa-bed, shelving, and two large windows — which let in lots of light. The large bedroom has a double bed, cute chest of drawers and large standalone wardrobe. It also has a desk with lamp, perfect for home working, and there's even a traditional fresco on the ceiling. The fully equipped kitchen is modern and sleek and has a dishwasher and oven installed.
This apartment is close to the River Arno, with restaurants, pizzerias and the essential ice cream shops. There's also lovely gardens nearby, such as the Boboli Gardens, Giardino Torrigiani and Giardino di Villa Bardini, and plenty of museums and monuments (church of S. Spirito by Bunelleschi and the Church of Carmine with the Brancacci Chapel by Masolino and Masaccio). This property is located in the south-west of the historic centre, in the district of S. Spirito, a meeting place for young people, with many clubs, pubs and restaurants.
Why rent this accommodation?
It's close to museums and gardens which you can enjoy and relax in.
The kitchen has a dishwasher to make your life easier
There's Italian pizza restaurants and ice-cream shops very nearby.
The large bedroom could be great for home-working.
Check availability
Property available fromInvalid date
What is the minimum stay?1 Month (30 days)
What is the maximum stay?No maximum stay
Monthly fee
How much to pay per month?
Which bills are included?
Not included
Estimated: 50€/month
Not included
Estimated: 30€/month
Not included
Estimated: 50€/month
Not included
Pay the Landlord 30€/month
Payments at check in
Is there a deposit to pay?
Other expenses and services
Is there a cleaning service?
150€ one-time payment
Only at move in
Housing rules
Perfect for postgraduate students
Perfect for professionals
Landlord policies
Lives on property: no

Deposit: 2 months' rent

Payment method: cash; bank transfer
Contract registration tax: 1% of total contract value (++what is this?++)
Check-in/out:

Check-in hours: Monday - Friday, 9:00 - 20:00
Check-out cleaning fee: €80 (payable at check-out)

Additional documentation:
Information about the landlord
All our landlords are verified by our team.
Properties published in Erasmusu
Getting Around
Transportation
It's just a 4-minute walk to bus stops with various routes available.
After around 15-minutes driving, you could be whizzing along the SS67 highway.
Santa Maria Novella train station — around a 20-minute walk away.
Do you want to make a reservation?
Rent your house 100% online
Forget about the traditional face-to-face visits, take advantage of online visits! Thanks to the material compiled by our team, including video tours, floor plans and photographs of the property, you can view the property online and have at your fingertips all the information you need to make the best decision.
Send your booking request
Don't let them book first! All you have to do is provide us with some basic details and the property will be held for you until you receive a response from the landlord. Note that you won't be charged until the landlord accepts your request. Only then, you will be charged for the first payment.
24-hour response
Landlords have a maximum of 24 hours to accept or reject your booking request. If the landlord accepts, you will be charged the first payment and we will put you in contact with your new landlord. If he/she refuses or does not reply, our team will provide you with new alternatives.
Move in
Confirm with the landlord your move-in date and the key collection date. For security reasons, Erasmusu will not send your payment to the landlord until 48 hours after your arrival, so you will have time to contact us if there is any problem.
>

>

Via dei Serragli, 50125 Firenze FI, Italy (Ref: 263282)