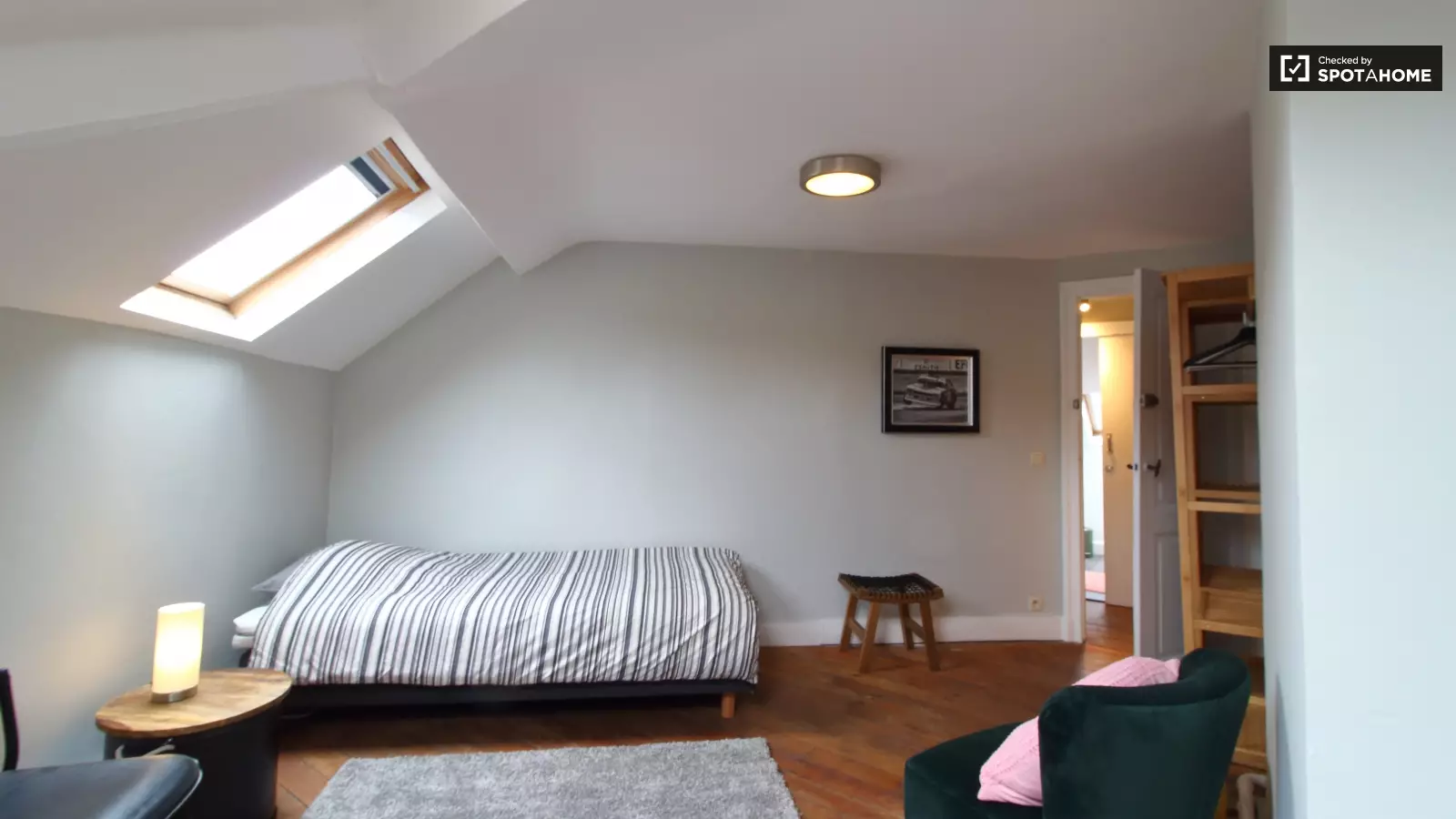 1/61
Rooms for rent in 7-bedroom apartment in Ixelles (Brussels, Belgium)
Room · 6 flatmates · 2 bathrooms
See overview
Property verified by Victor
Verification date 08 Sep 2020
Our homechecker has reviewed the house and made a video tour to make sure you get exactly what you see in the listing.
Your room (Bedroom 1 - double bed)
About the property
Details
Property type: apartment
Floor: 1
Elevator: no
Number of bathrooms: 2
Wifi installed: yes
Utility bills (payable to landlord):
Flat fee (insurance, internet connection and technical support, furniture, taxes, technical assistance): €100 per month
Utilities package: €50 per month advance payment (if your total energy consumption exceeds this amount, the excess will be deducted from your utilities deposit at the end of your stay)
Rooms for rent in a furnished 7-bedroom apartment on Rue Lesbroussart. The property is on the 1st floor of a building without an elevator. The property includes balcony.
Important: - Please note that this property does not have a washing machine.
Check availability
Property available fromJuly 16, 2024
What is the minimum stay?3 Months (91 days)
What is the maximum stay?No maximum stay
Monthly fee
How much to pay per month?
Payments at check in
Is there a deposit to pay?
Other expenses and services
Is there a cleaning service?
Housing rules
Landlord policies
Important: Please fill in your name and surname in the reservation request.
Not possible to finish the contract end of June.
Contract: Fortnightly:Starts 1st or 15/16th of the months
Lives on property: no
Pets are NOT allowed
The apartment is perfect for European Commission workers.
Deposit:

Paying the deposit by bank transfer? You need to pay the deposit into the landlord's account before your check-in date.
Paying the deposit by cash? Then you will pay the deposit to the landlord on your check-in date.

Payment method: cash; bank transfer
The washing machine works with coins.
Salary or guarantor has to be 3 times the price of the flat + utility bills + flat fee
Check-in/out:

Check-out dates: your booking must end on the 14th, 15th, 30th or 31st of the month
December checkouts: not allowed

Additional fees:

In addition to the rental deposit, this account requires a deposit equal to 2 months of the utility package and two months of a flat fee. This amount will be returned at the end of your tenancy, with any usage that exceeds the utility package allowance deducted.

Remember: at check-in, you will also need to pay your first month's utilities package

Legal entry and exit state fee: €75 at check-in and check-out
Optional bed-linen package:
Double bed: €220
Single bed: €200
The bed-linen package includes everything you need to sleep:

Mattress cover, duvet, duvet cover, 2 pillows, and 2 pillow covers

Additional documentation:

ID / Passport
Work Contract
University Acceptance letter (if applicable)
_Please pay attention to providing your full name and surname, your correct e-mail address, and your mobile number, and note that after your booking confirmation, you will receive a text message and e-mail notification from RoomMate Places, the platform your landlord uses to communicate with all tenants. On this platform, you will receive your contract and the payment details. Please inform Spotahome in case you don't receive the RoomMate invitation within 3 days after your booking confirmation or within 3 hours in case you made a last-minute booking and you have to enter the same day.
_
Information about the landlord
All our landlords are verified by our team.
Properties published in Erasmusu
Do you want to make a reservation?
Rent your house 100% online
Forget about the traditional face-to-face visits, take advantage of online visits! Thanks to the material compiled by our team, including video tours, floor plans and photographs of the property, you can view the property online and have at your fingertips all the information you need to make the best decision.
Send your booking request
Don't let them book first! All you have to do is provide us with some basic details and the property will be held for you until you receive a response from the landlord. Note that you won't be charged until the landlord accepts your request. Only then, you will be charged for the first payment.
24-hour response
Landlords have a maximum of 24 hours to accept or reject your booking request. If the landlord accepts, you will be charged the first payment and we will put you in contact with your new landlord. If he/she refuses or does not reply, our team will provide you with new alternatives.
Move in
Confirm with the landlord your move-in date and the key collection date. For security reasons, Erasmusu will not send your payment to the landlord until 48 hours after your arrival, so you will have time to contact us if there is any problem.
>

>

Lesbroussartstraat (Ref: 453770)