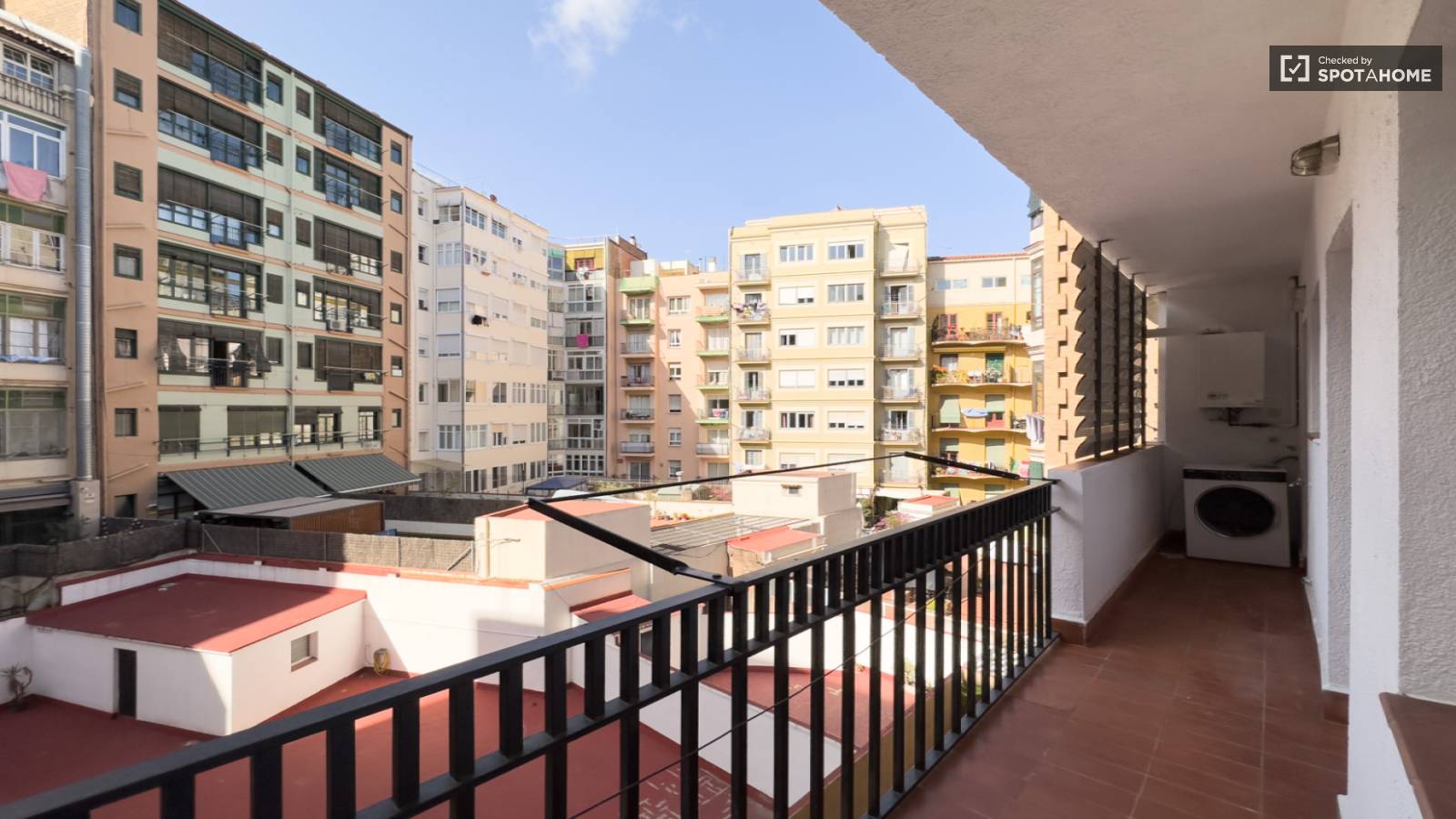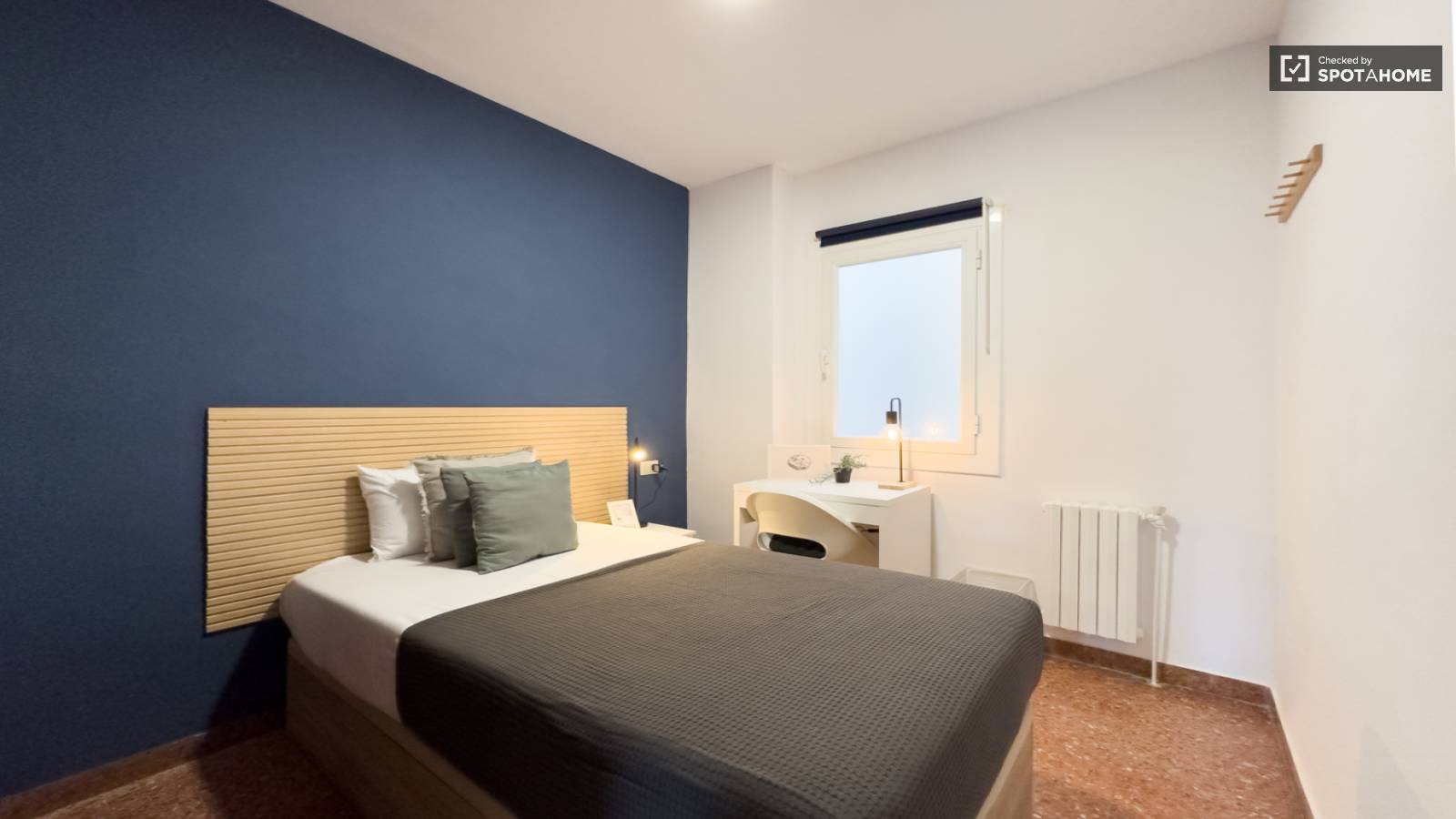 1/42
Room for rent in 8-bedroom apartment in Barcelona (Barcelona, Spain)
Room · 7 flatmates · 3 bathrooms
See overview
Property verified by Ramon
Verification date 12 May 2023
Our homechecker has reviewed the house and made a video tour to make sure you get exactly what you see in the listing.
Your room (Bedroom 7 - single bed)
About the property
Details
Property type: apartment
Elevator: yes
Number of bathrooms: 3
Rooms and beds for rent in a furnished 8-bedroom apartment on Av. Diagonal. The property includes balcony.
Check availability
Property available fromFebruary 16, 2024
What is the minimum stay?4 Months (120 days)
What is the maximum stay?12 Months (360 days)
Monthly fee
How much to pay per month?
Which bills are included?
Not included
Pay the Landlord 55€/month/room
Payments at check in
Is there a deposit to pay?
Select dates to know its value.
Other expenses and services
Is there a cleaning service?
Housing rules
Landlord policies
​
-Payment method:Credit card and bank transfer (national transfers are free of charge) -Cleaning service:once per week in common areas - Maintenance is available -Bed linen and towelsareNOTincluded. Tenants must provide their own. -Maximum permitted tenant age:40 -Overnight guests:€70 per person per night -Exit cleaning fee:50€ + VAT -**Bills are not included in the monthly payment** - **1 month's bills payable as an additional fee at check-in -Admin fee and Depositare equal to a monthly rent plus monthly bills value and should be paid before check in -Bed linen and towelsareNOTincluded. - Maintenance is available -Smoking allowed:no -Pets permitted:no -Documents required: - ID / Passport -Check-in/out info: -Barcelona: -Check-in:Monday - Sunday: From 15:00 a 19:00 (Check in out of hours is possible if you arrange it with ll in advance) - During Weekend or holiday check-in is possible if everything is arranged with LL before Friday or last available working day before 13h00 - Check-out: before 11:00. -Valencia: -Check-in:Monday - Thursday: From 15:00 to 17:30 - Friday: From 12:00 to 14:00 - Check-in is not available on weekends and holidays. - Check-out: before 11:00. -Signing the contract and paying the deposit - If your booking is accepted, the landlord will… - Send you a copy of the contract to sign - Invoice you for the deposit - This means you will sign the contract and pay the deposit before moving into the property - Your landlord speaks: English, Spanish - Your landlord does not live on the property. - Landlord does not offer A/C service
Information about the landlord
All our landlords are verified by our team.
Properties published in Erasmusu
Do you want to make a reservation?
Rent your house 100% online
Forget about the traditional face-to-face visits, take advantage of online visits! Thanks to the material compiled by our team, including video tours, floor plans and photographs of the property, you can view the property online and have at your fingertips all the information you need to make the best decision.
Send your booking request
Don't let them book first! All you have to do is provide us with some basic details and the property will be held for you until you receive a response from the landlord. Note that you won't be charged until the landlord accepts your request. Only then, you will be charged for the first payment.
24-hour response
Landlords have a maximum of 24 hours to accept or reject your booking request. If the landlord accepts, you will be charged the first payment and we will put you in contact with your new landlord. If he/she refuses or does not reply, our team will provide you with new alternatives.
Move in
Confirm with the landlord your move-in date and the key collection date. For security reasons, Erasmusu will not send your payment to the landlord until 48 hours after your arrival, so you will have time to contact us if there is any problem.
>

>

Av. Diagonal (Ref: 973202)