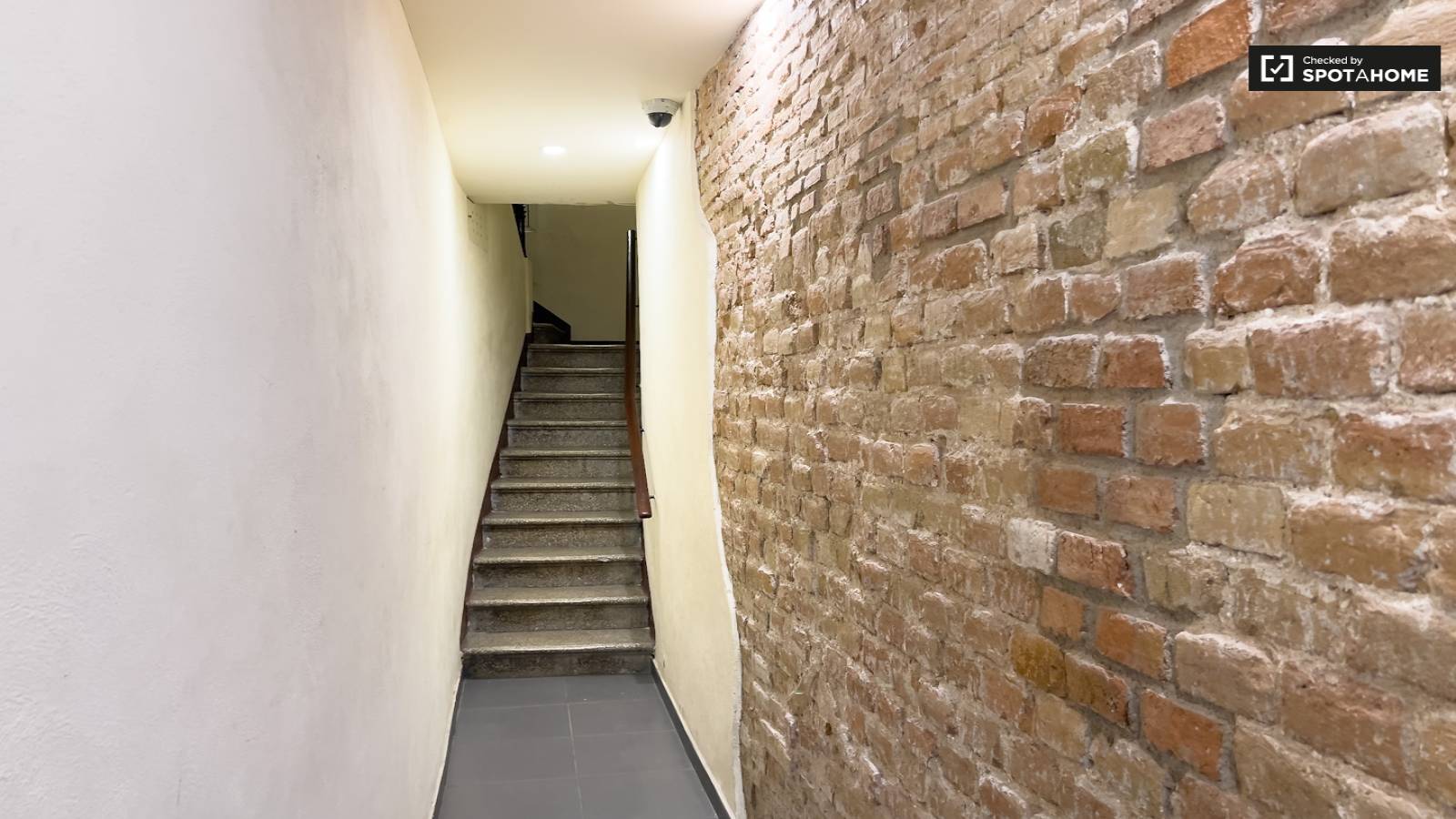 1/29
Whole 2 bedrooms apartment in Barcelona (Barcelona, Spain)
Apartment · 1 flatmates · 1 bathroom · 70m2
See overview
Property verified by Ramon
Verification date 06 Apr 2022
Our homechecker has reviewed the house and made a video tour to make sure you get exactly what you see in the listing.
Bedroom 1
Window with interior views of patio
Bedroom 2
Window with interior views of patio
About the property
Individual electric units for heating
Details
View energy certificate
The energy certificate has been requested to the landlord.
Property type: apartment
Number of bathrooms: 1
Floor: 3
Elevator: no
This apartment is on the 3rd floor and there is no elevator. The rooftop terrace is common and shared with the rest of the neighbours.
Check availability
Property available fromInvalid date
What is the minimum stay?3 Months (90 days)
What is the maximum stay?No maximum stay
Monthly fee
How much to pay per month?
Which bills are included?
Included
Included up to 200€/month
Payments at check in
Is there a deposit to pay?
Other expenses and services
Is there a cleaning service?
Information about the landlord
All our landlords are verified by our team.
Properties published in Erasmusu
Do you want to make a reservation?
Rent your house 100% online
Forget about the traditional face-to-face visits, take advantage of online visits! Thanks to the material compiled by our team, including video tours, floor plans and photographs of the property, you can view the property online and have at your fingertips all the information you need to make the best decision.
Send your booking request
Don't let them book first! All you have to do is provide us with some basic details and the property will be held for you until you receive a response from the landlord. Note that you won't be charged until the landlord accepts your request. Only then, you will be charged for the first payment.
24-hour response
Landlords have a maximum of 24 hours to accept or reject your booking request. If the landlord accepts, you will be charged the first payment and we will put you in contact with your new landlord. If he/she refuses or does not reply, our team will provide you with new alternatives.
Move in
Confirm with the landlord your move-in date and the key collection date. For security reasons, Erasmusu will not send your payment to the landlord until 48 hours after your arrival, so you will have time to contact us if there is any problem.
>

>

Carrer de l'Hospital (Ref: 469875)