Valladolid I
Let's talk about Valladolid
To start this new travel blog, I could talk about anywhere, but I think I should start by talking about the city that I know the most and feel most comfortable with, where I've been living for a few years (except my erasmus stay) and in which I could write more than one article about. I will speak of Valladolid, the capital of this beautiful land called Castilla and Leon where I live. It is probably the city I know best of all and despite not being born there and being a true native, I do certainly feel like one. I'm from Segovia yes, but I am an adopted Valladolid citizen.
The best thing to do when talking about Valladolid is listing the places that are must-sees, because if you're only coming here on a flying visit, then it is best to know the most important things to see.
If you visit Valladolid and don't go to Plaza Mayor de Valladolid, it is the same thing as going to an open buffet and not eating anything. I could tell you so many facts and historical stories about this square, but that's what the history books and guided tours are for... As well as studying its façade and taking an obligatory photo of the Conde Ansúrez with the town hall in the background, you should sit down for a drink in one of the arches, especially if it is a sunny day. And I am one of those who believes that a beer helps you to study something in more detail. The square is one of the principal meeting points in Valladolid, and the fact that it leads onto Calle Santiago, (main shopping street inValladolid), means that it is always crowded. On certain days of the year, the square is packed, normally when there is a local holiday or when the football team Real Valladolid has something to celebrate, (usually a promotion). Throughout the year, lots of concerts take place there and it also is the main location for different Christmas and Easter activities, and other sporting events such as the World Padel Tour. In short, like many other town squares, it has everything and is a clear example of what a city should be like nowadays.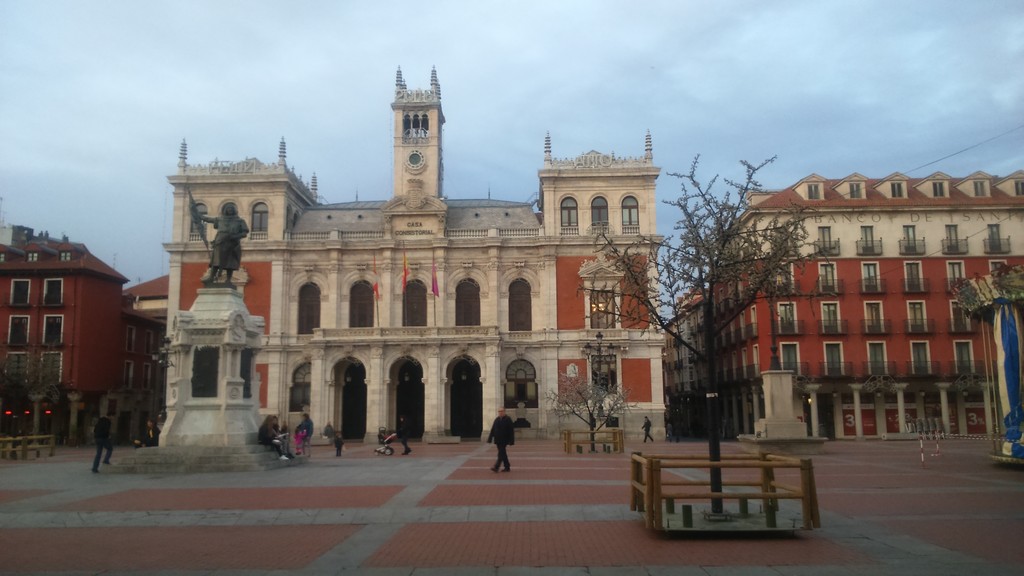 One of my favourite memories of my whole time in Valladolid was when Real Valladolid were promoted to La Liga in 2012. At that time I was in my first year of university, in the middle of my summer exams and this was the perfect end to my semester. And at the same time, the president of Real Valladolid organised a victory parade for the team in Plaza Mayor. The next morning I sat my final exam and the rest of the day, well you can imagine... I was there with my Pucela scarf, the heat was unbearable and I had never seen so many people squashed together in the Plaza Mayor. I did actually pass the exam but I have no idea how! Some advice for students, especially if you are on your Erasmus placement, if an important celebration coincides with an exam, try and do both!
Another day of the year when Plaza Mayor is transformed is the weekend when some of the top DJs in Europe FM perform, which is especially good if you like electronic music. It's another time when the square completely fills up with people. For those of you coming to Valladolid in early September, it is probably the best time to experience its nightlife (although the locals really don't like all the parties. )
There are other events that take place in the square like the World Padel Tour, which I have already mentioned, and Christmas or Easter. I will talk about these events another time but for now, all I want to say is that you have to visit the Plaza Mayor de Valladolid.
---
Photo gallery
---
---
Content available in other languages
Want to have your own Erasmus blog?
If you are experiencing living abroad, you're an avid traveller or want to promote the city where you live... create your own blog and share your adventures!
I want to create my Erasmus blog! →