Interview to Manuel Lopez : degree student in Tornio (Finland)
Manuel E. Lopez is a Mexican student, who decided to take his University degree in Finland, something challenging and fruitful both personally and professionally. He states that of course his adaptation process was hard at the beginning, but after some time he seems to be completely accommodated to the culture and climate. He shares his experience in Tornio in his blog Mexican in Tornio.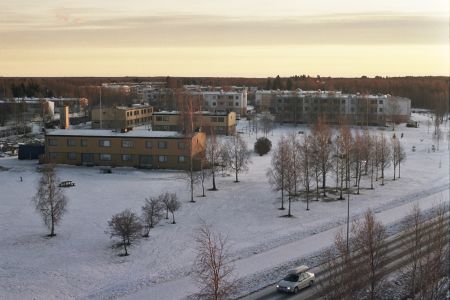 White winters are just normal in the arctic circle...
1. Why did you decide to start your degree studies in Finland, more specifically in Tornio?
Well I didn't actually chose Tornio, I was going to Rovaniemi but my programme was cancelled there and I was transferred to Tornio. I didn't know what to expect from this town but so far has been fine. One of the reasons i came here was because of the education level is quite good and it was a totally different place from my country (Mexico).
2. Do you receive any kind of scholarship or economical support from your home country or Finland?
I receive help from my family, and whenever there's a chance I work. I can't receive any support from Finland since I am a student but money is usually not a problem for me.
3. Was it complicated all the application process, I guess that you had to apply as all regular students do there?
Well the process was a little bit difficult in my case because I was missing some paperwork from my high school and it was a bit tedious to get all those papers but besides that it went smoothly I was able to take the examination test back home too.
4. Are all your courses and lectures offered in English? I thought that bachelor studies are offered in Finnish while masters are offered in English, is that correct?
No actually the Universities of applied sciences in Finland usually offer a few degrees in English. All my courses are offered in English but I always try to get those Finnish for foreigner courses to improve my language skills.
5. Did you find important differences in the Finnish education system comparing to Mexico's?
Well yeah usually we don't take so many topics each semester its around 4 - 6 topics but here we take sometimes up to 12 it is divided into two periods it's not bad because you get more information but sometimes it feels a little bit rushed.
6. In regards with accommodation, did your university help you? Which are the housing possibilities for students in Tornio? Any special tip for those considering going there?
The school has an agreement with the local housing office so there's a specific building the school sends students, is not that bad, they were really helpful. But students are allowed to look for a different place if they don't feel comfortable or want something better.
7. As a degree student, do you have Finnish friends or are you usually more related to international students?
I have really good Finnish and foreign friends, but I can say some of my best friends here are Finnish. It can be hard to make Finnish friends but is just a cultural difference.
8. What do you think about Erasmusu as a network for international students?
It is a really good method to share info and tips about the country you are visiting, I think it's nice there's many people willing to help others. As this network grows even more information would be available which is amazing and can make things totally easy.
9. Which places would you recommend to visit near Tornio?
Near here there are some very nice places for example Kukkolankoski, it's a really nice fishing place like 15 km away from Tornio, there are some other natural parks nearby which are really beautiful.
10. Do you think that having completed your studies in Finland will provide you with better future opportunities?
Of course because having a degree from a foreign country talks well about yourself, so hopefully this will be something that will provide better working opportunities and chances in the working life.
Thanks for sharing part of your experience with us, hopefully this will help other people to take such a brave decision of doing their university studies abroad. Keep enjoying this unique experience!
Photo source: commons. wikimedia.org
---
Want to have your own Erasmus blog?
If you are experiencing living abroad, you're an avid traveller or want to promote the city where you live... create your own blog and share your adventures!
I want to create my Erasmus blog! →