Las Fiestas del Pilar
It's almost been a whole year since I packed my bags, loaded my car and drove to Zaragoza after a long summer of travelling Spain. I definitely think I have now got a case of post-erasmus blues. So after arriving to the city, settling down, meeting new erasmus friends on nights out and going to Salou for my first ESN eramus trip, October soon came about. Before I knew it, it was a national holiday known as 'Las Fiestas del Pilar' being celebrated in Zaragoza and across the whole of Spain. I had barely started my first few weeks at the University of Zaragoza and then there was a national holiday, meaning that I had a good 4 day weekend, also known as 'un puente'.
A lot of people were talking about Las Fiestas del Pilar and a good friend had told me that so many tourists from all over Spain come to Zaragoza to celebrate it. The festival originates from Zaragoza from the Virgen of Pilar, hence the name of the beautiful Cathedral, La basilica del Pilar. From walking down the high street in Zaragoza, el paseo de independencia, I could tell this wasn't just any small festival. The two main days of the festival fell on Monday 12thOctober (Spanish independence day) and Tuesday 13th October. Celebrations kicked off on the Friday night of the previous week and already I could see the city centre becoming filled with people. The streets were bustling and everyone seemed very excited. The majority of students were already out in El tubo starting their celebrations going on bar crawls.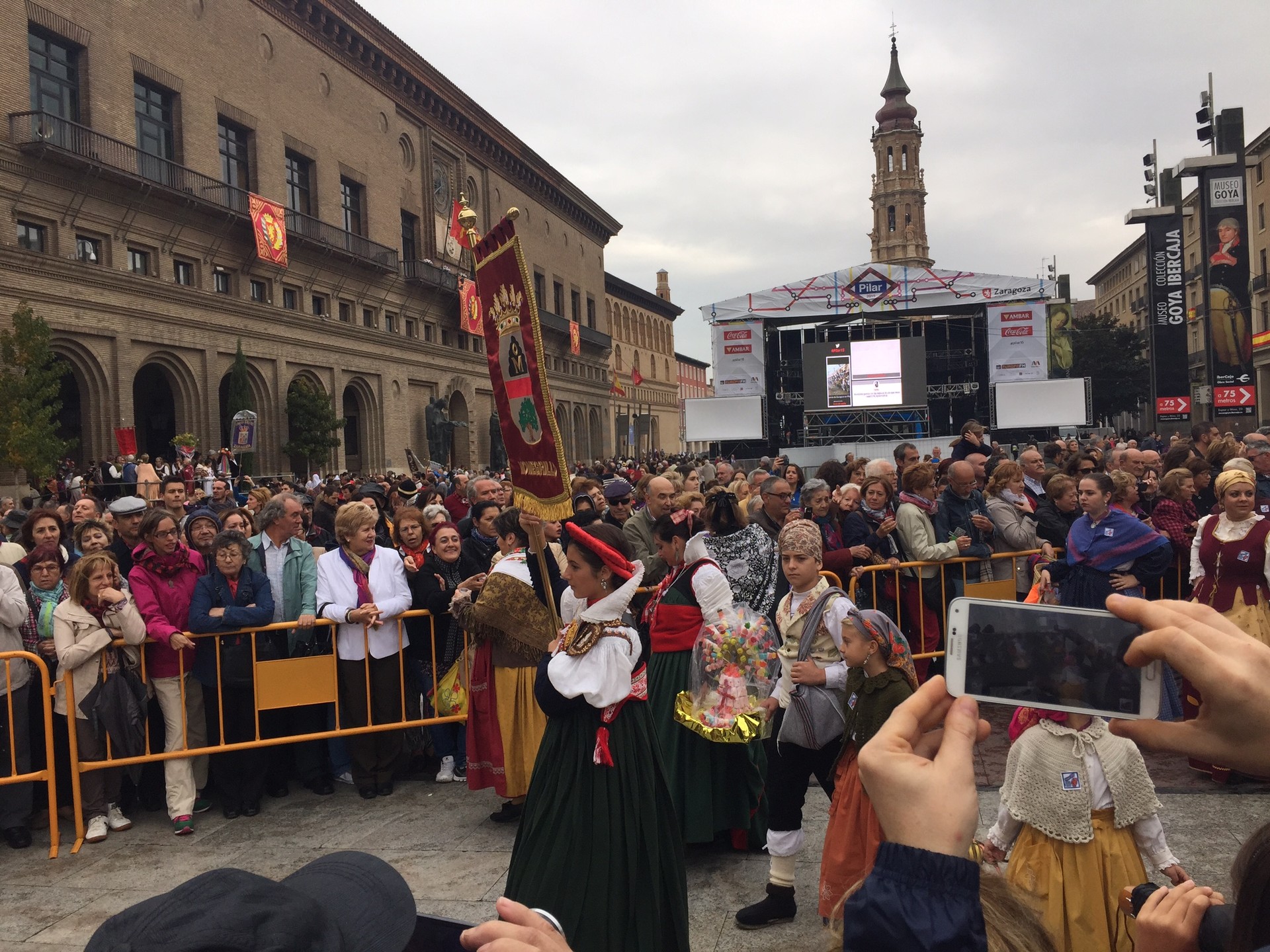 The following day, I was woken up by a parade outside on the road, the street was filled with people and the sound of their steel drums echoed through my apartment. The people were sporting the traditional red and black neck scarves which everyone wears during Las fiestas del Pilar. Later on the Saturday, I then went to city centre, to La basilica, as that is where El pregó nwould take place at around 8:00pm. El pregón is like the opening ceremony to Las fiestas del Pilar, the mayor of Zaragoza spoke and the Spanish national anthem was sung. The area outside La Basilica was filled with hundreds of people and police. Therefore, if you ever decide to attend El pregón, make sure you get to La basilica in good time as it becomes packed very quickly. After a beautiful fireworks display ending the ceremony (which might I add, was all filmed for National television and was also shown on a big screen) then celebrations then kicked off. Outside the town hall beside La basilica was a huge stage, the concert began shortly after at 9pm and lasted until just after midnight. The atmosphere was incredible to say the least. And it is also good to know the trams in Zaragoza operate 24/7 during the festival week.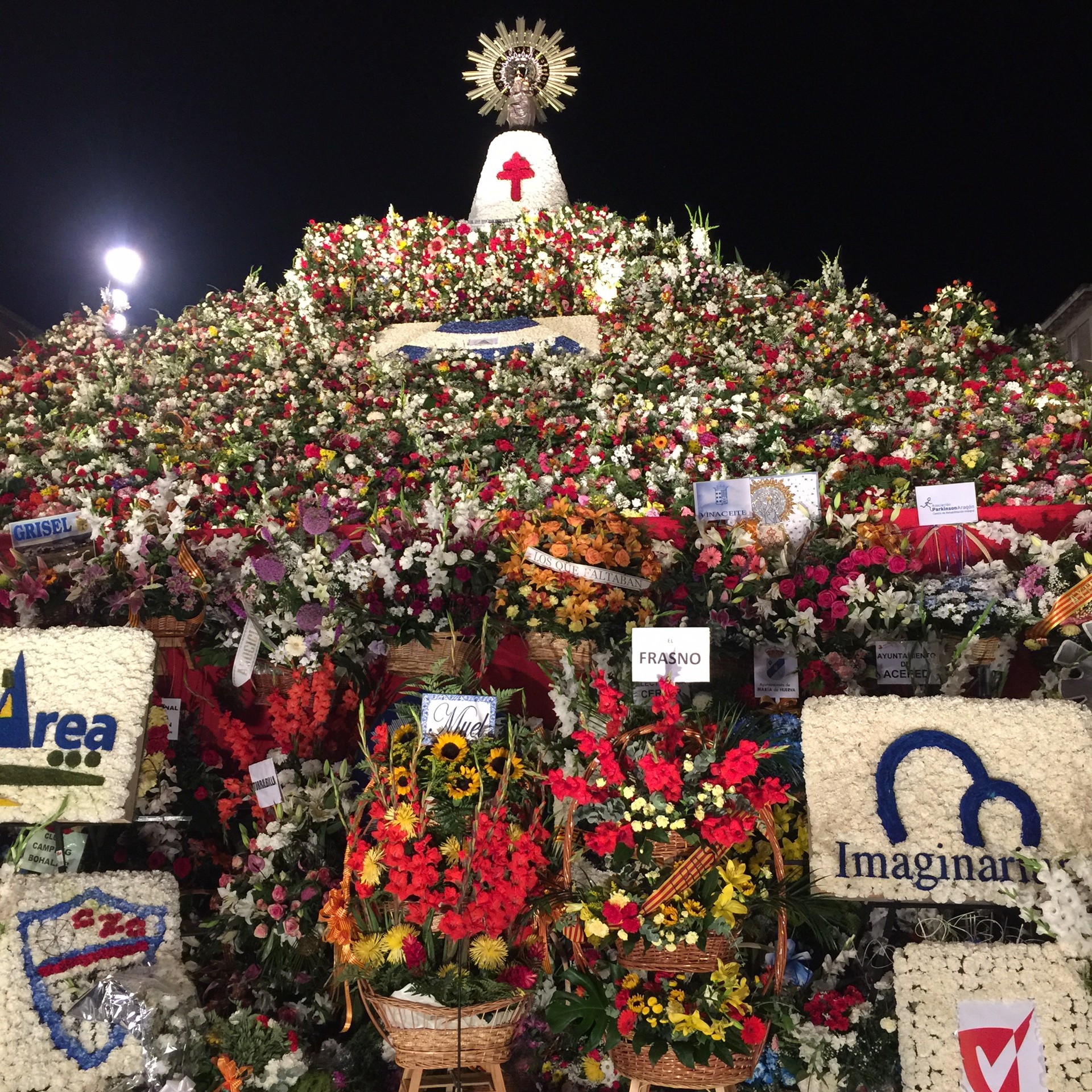 On the Sunday I decided to attend a David Guetta and Robin Schulz concert in Valdespartera. I purchased the tickets online and printed them off, but they were also available to buy at a few iBercaja banks in the city centre. Word of advice, go early before the concert starts, as the queues are very long and extremely slow, as you might just miss the start as the concerts kick off pretty early!
So going out on the Sunday night before the main day of the festival wasn't a great idea. I ended up staying in bed all day with an almighty hangover, and actually missed the first day of the massive celebrations, (luckily it was all repeated on the Tuesday). But still, I missed the parade and people bringing flowers in front of La Basilica. So from what I saw on the Tuesday, the city centre surrounding La Basilica is filled from 9am! Some streets are closed (el paseo de independencia) and there are a lot of barriers on the main streets, making it a pain to cross the road, as you have to follow a long slow crowd of people around the tiny paths to where there is an opening to cross. Anyway, Tuesday morning didn't disappoint. The parade had already started by the time I arrived to the city centre. Hundreds of people were dressed in traditional Aragonese clothing and were carrying fruit, vegetables and bread. Little children were evening involved carrying fruits and some groups were even playing instruments and dancing. The atmosphere was great, I felt like I was truly experiencing the real Spain. Soon I made my way to the front, by La Basilica, where I was astonished at all the flowers given by people the day before. There were thousands of flowers, which had all been neatly displayed on a huge pyramid stage. I'd never seen anything like it in my whole life. The parade continued into the cathedral itself and members of the public were allowed in to watch it (the parade eventually ends the other side of the La Basilica), where people then leave their gifts of fruit, vegetables, olive oil and bread (all of this is actually given to the less fortunate after the festival). Having followed the parade to the other side of the Basilica, I was then on the main road parallel to the river Ebro (el río ebro), along here were main stalls selling traditional aragonese food. El ternasco de aragón (lamp chops) is one of the most traditional dishes of the region, so this was sold on the stalls, along with paella of course! But, take note it is very pricey, so it's good if you can split it between friends!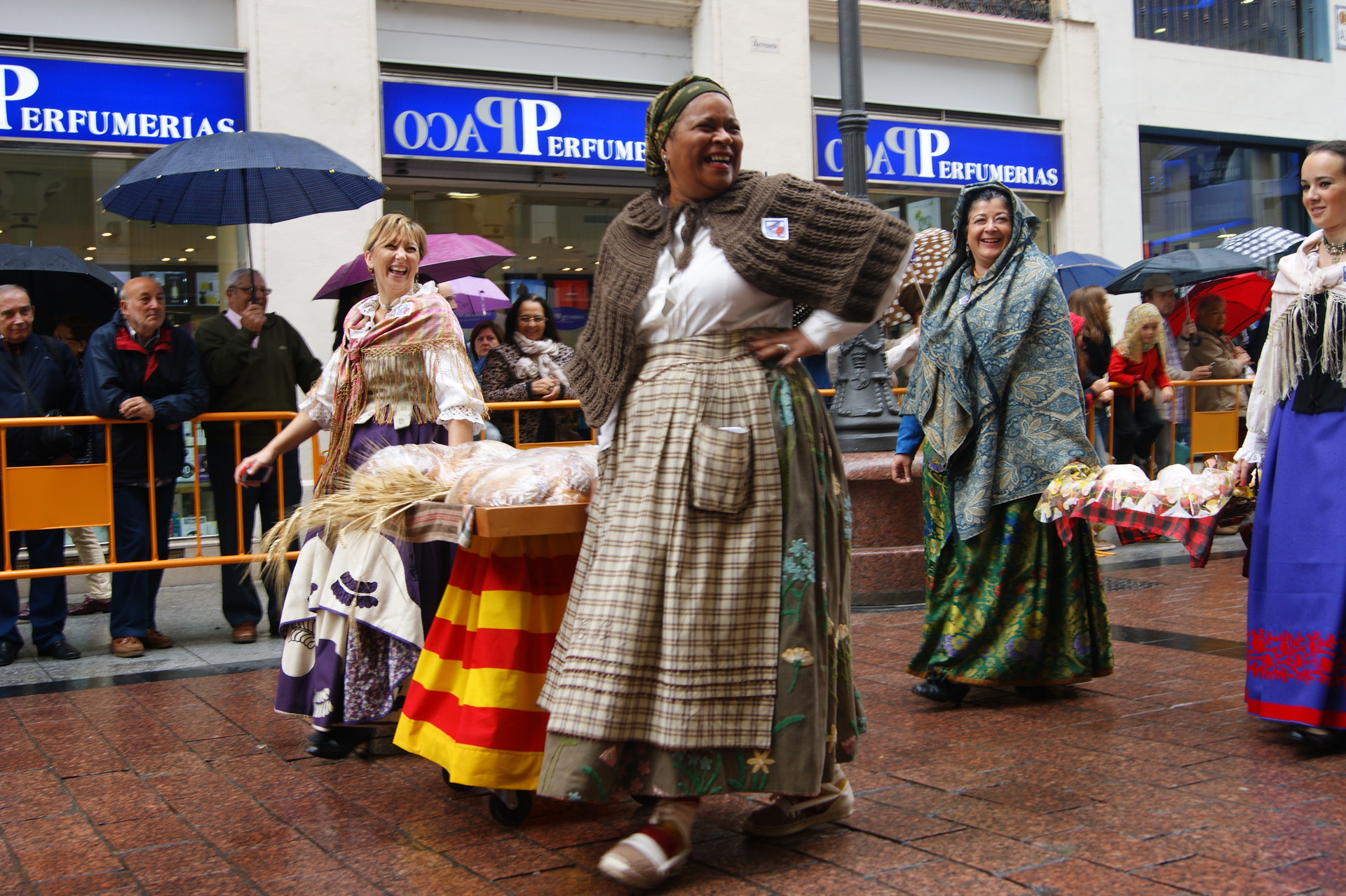 The parties continue all throughout the week during Las fiestas. On the Friday night I went to a Nicky Jam concert, which was unbelievable. Probably, one of the highlights of my Erasmus experience in fact. So if there are any concerts this year, I would definitely recommend going! I then ended my last day of Las fiestas by attending a bull fight 'la corrida de toros' at the bull ring in Zaragoza (not far from the city centre). OK, so I'm not a big animal lover, so didn't mind going to watch it, but it was a lot more brutal than I expected. I went more for the experience to say I've gone once and never need to go again. The crowds there all support bull fighting, so the atmosphere is very lively. Although there is a lot of debate concerning the ethics of bull fighting, I would recommend going the once to truly experience traditional Spain!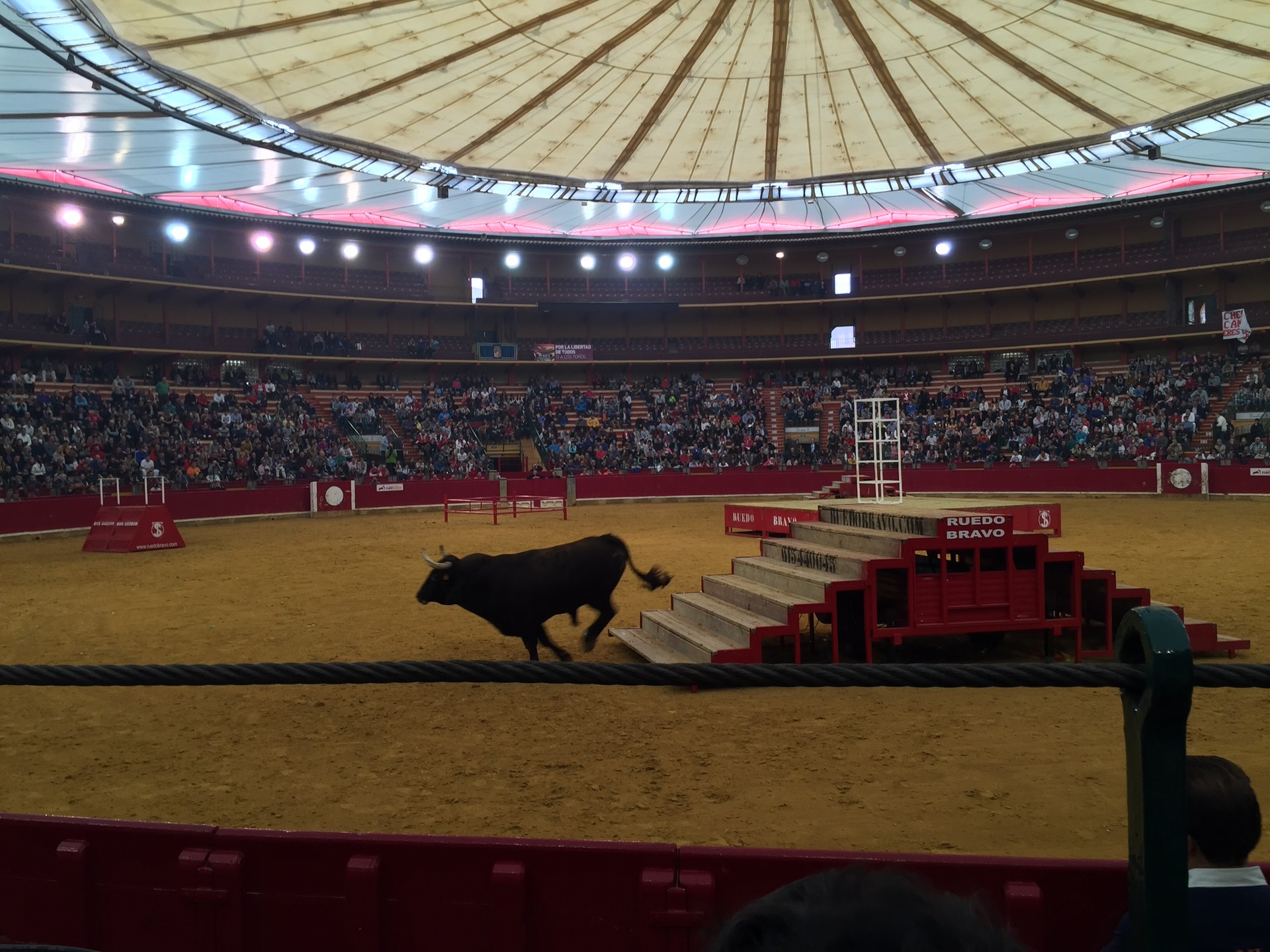 Anyways, Las Fiestas del Pilar is an amazing week, if you are in Zaragoza or in any close neighbouring cities in Spain, get yourself to Zaragoza!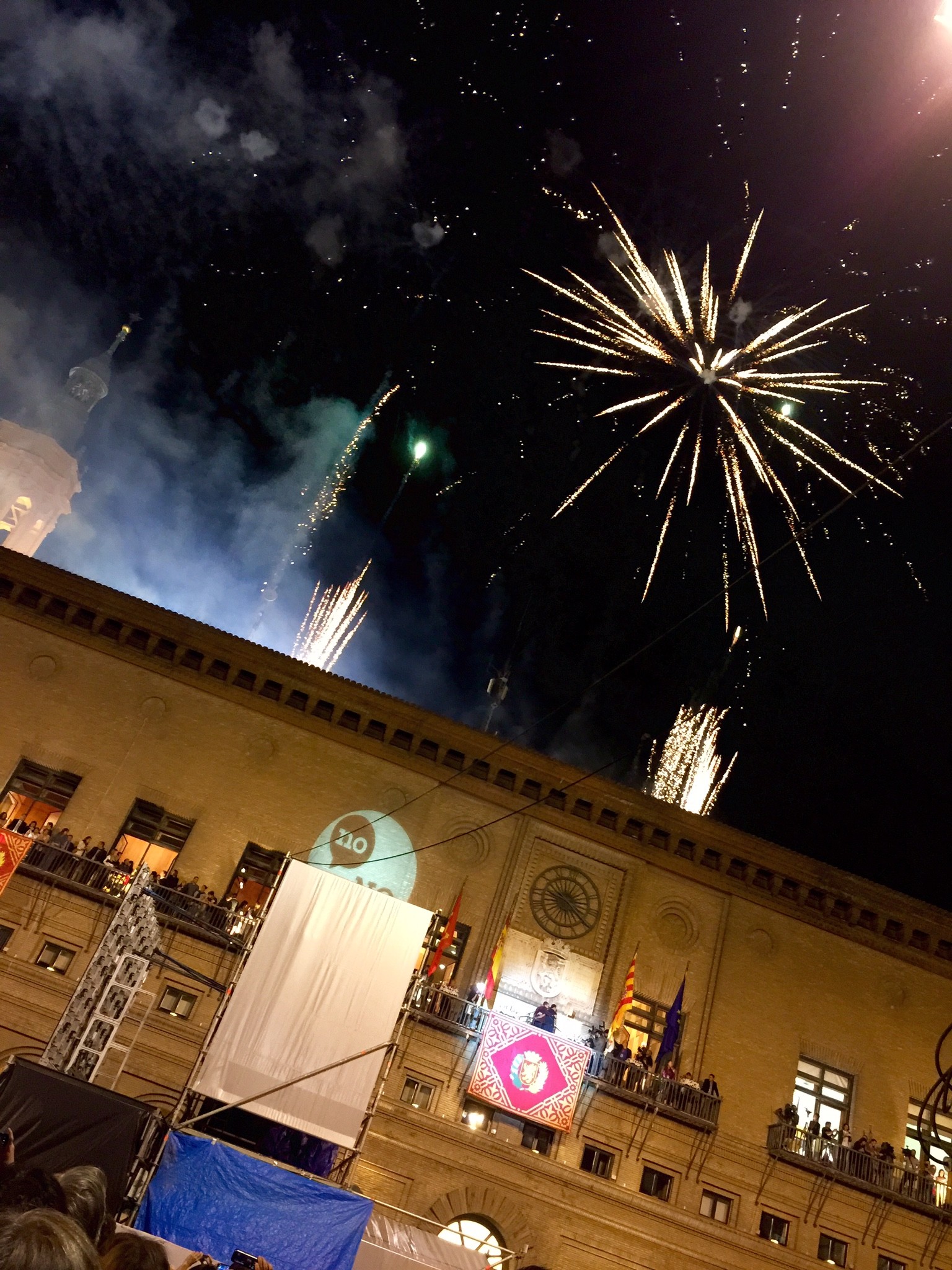 ---
Photo gallery
---
---
Content available in other languages
Want to have your own Erasmus blog?
If you are experiencing living abroad, you're an avid traveller or want to promote the city where you live... create your own blog and share your adventures!
I want to create my Erasmus blog! →