My Nine Months as an Erasmus student in Strasbourg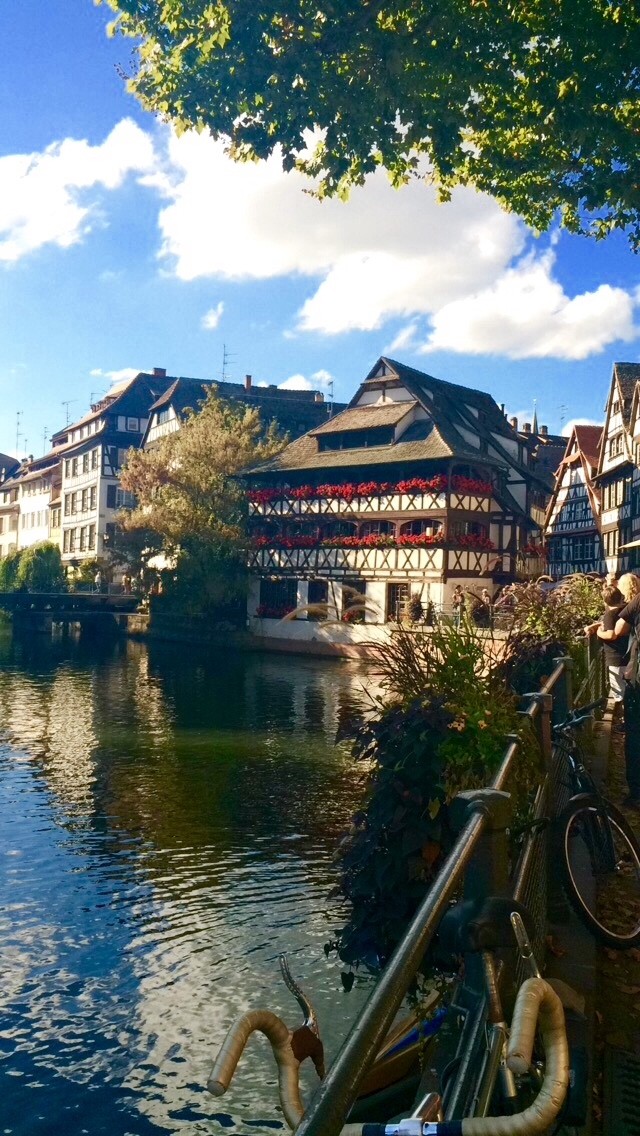 My nine months in Strasbourg were an absolute fairy-tale dream.
The city of Strasbourg has been crowned "Capitale de Noël" three times in a row for a reason. I was so lucky to be able to pass the festive season in the cool, brisk air with the streets illuminated in bright, colourful fairy lights, tinsel and decorations covering every inch of the town centre. It is a winter wonderland that I can't wait to escape back to.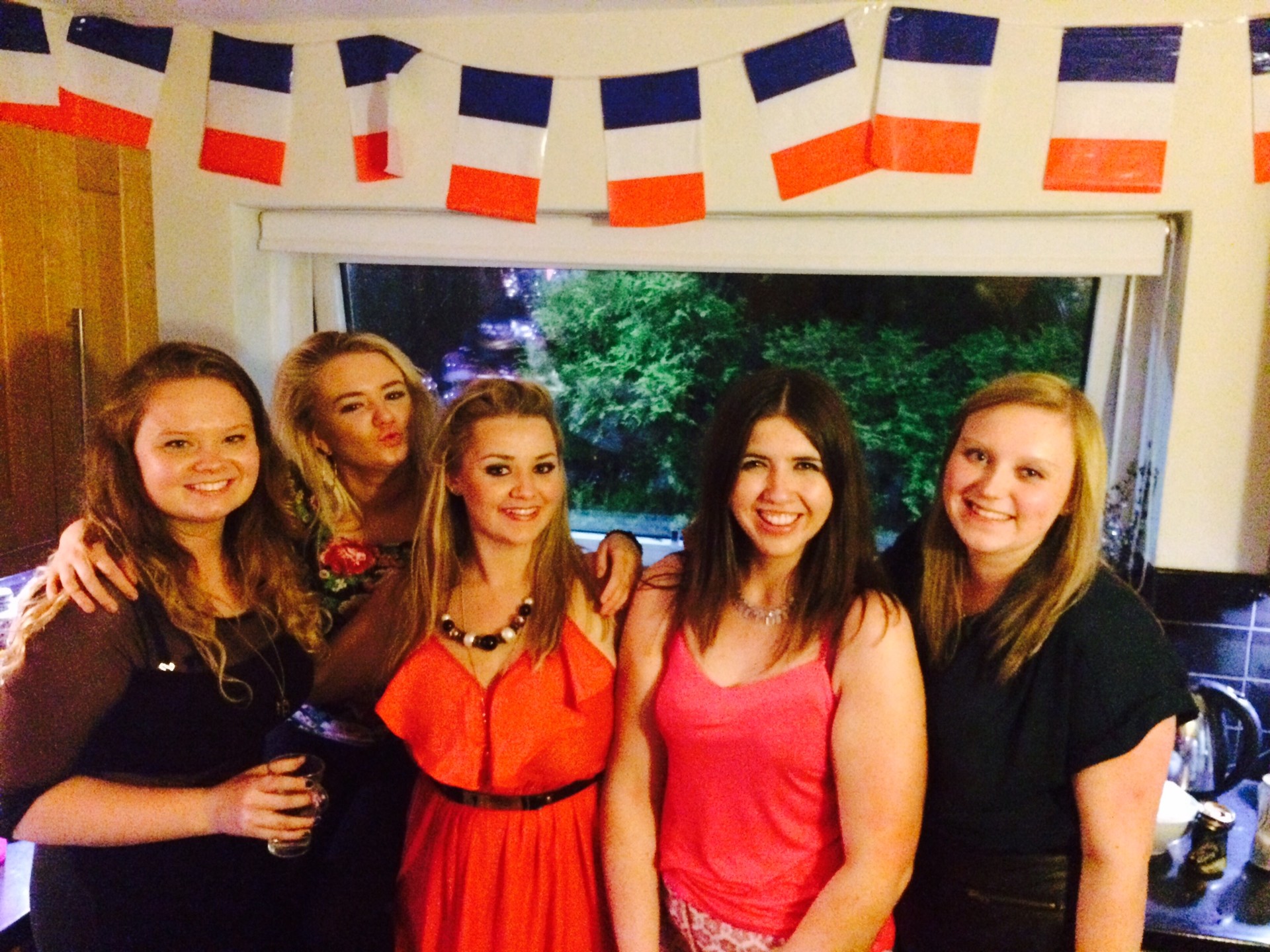 Here are my tips and stories regarding my time spent in France on Erasmus.
Finding a flat:
It was my first Erasmus experience and my first proper time away from home. Finding a flat was difficult and my level of French was not up to scratch when it came to discussing bills and bank accounts. Google Translate and Word Reference were a God send. I used various websites such as Le Bon Coin with the 67000 postcode and Erasmusu to research and look up the better and cheaper places to stay. I had decided that I wanted to live in a shared flat and not in Student Accommodation. Through many of the Facebook pages for finding accommodation in Strasbourg and the various Student Network pages, I managed to get in contact with an American girl who was also to be studying the beautiful city. As we both research and viewed different flat, we finally found one onRue de Verdunnot far from our Universities. It was on the fifth floor with no lift, so dragging a years' worth of stuff in suitcases was a struggle.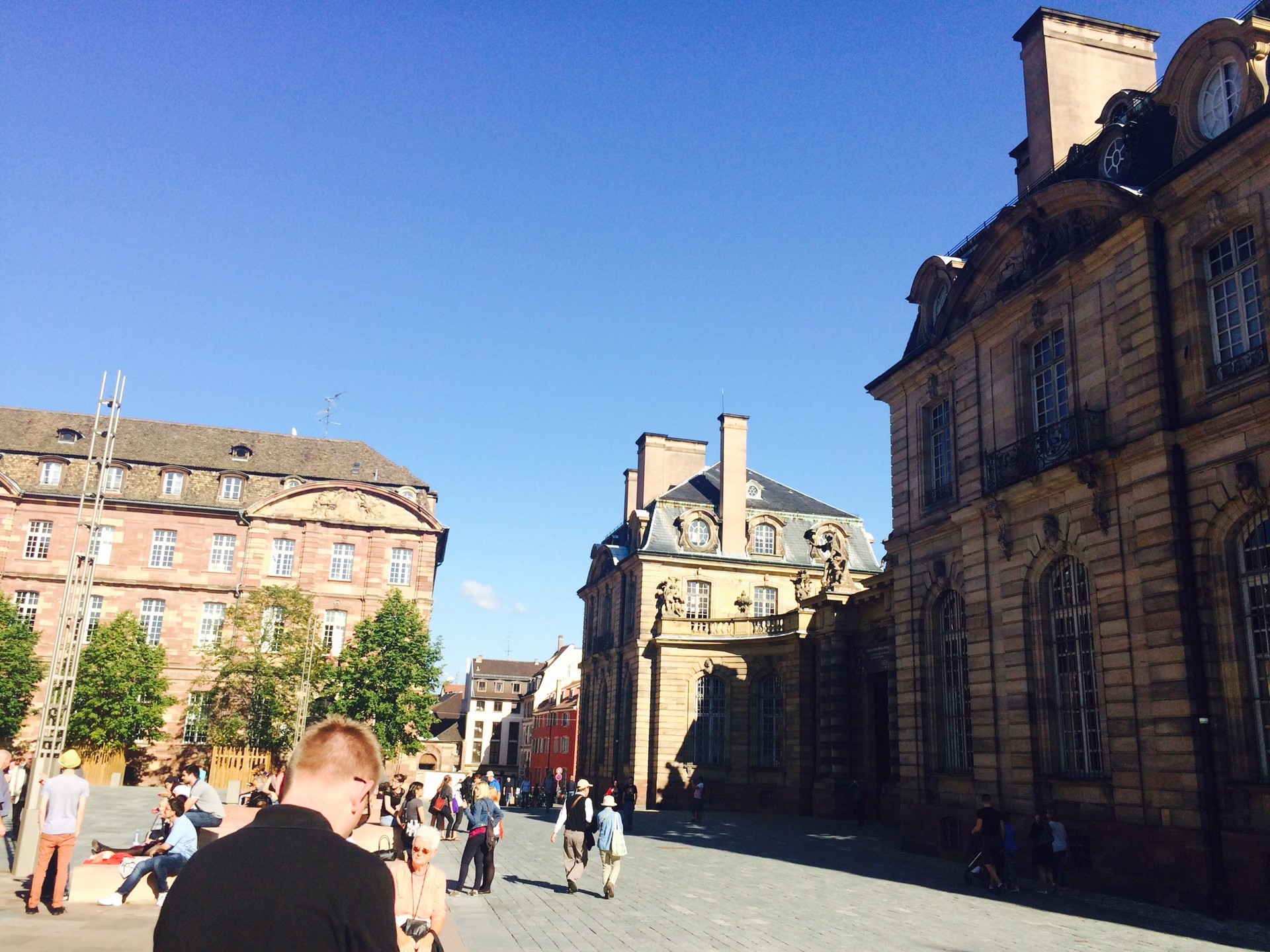 The floor was shared with two other girls. One from Japan and she other was half-Cypriot, half-Scottish! What were the chances! She also went to Glasgow University but was studying Business and French so she was in the year above me. It was bizarre to have found a flat with someone from home. It wasn't ideal as I had hoped to be sharing with French people in order to better the language but I was just happy to have found a place after spending a few days in a hotel. I could now finally enjoy and explore the city without having to constantly check for flat updates and possible viewings. It was sad as I moved in the day that my mum was leaving. It was so nice to have her with me and her support and I had felt bad that we couldn't enjoy the city so much as I was constantly stressing about finding a place to live. It was an emotional goodbye but she was to be coming back in a few months' time for the Christmas market and by then I would know all the good places to take her.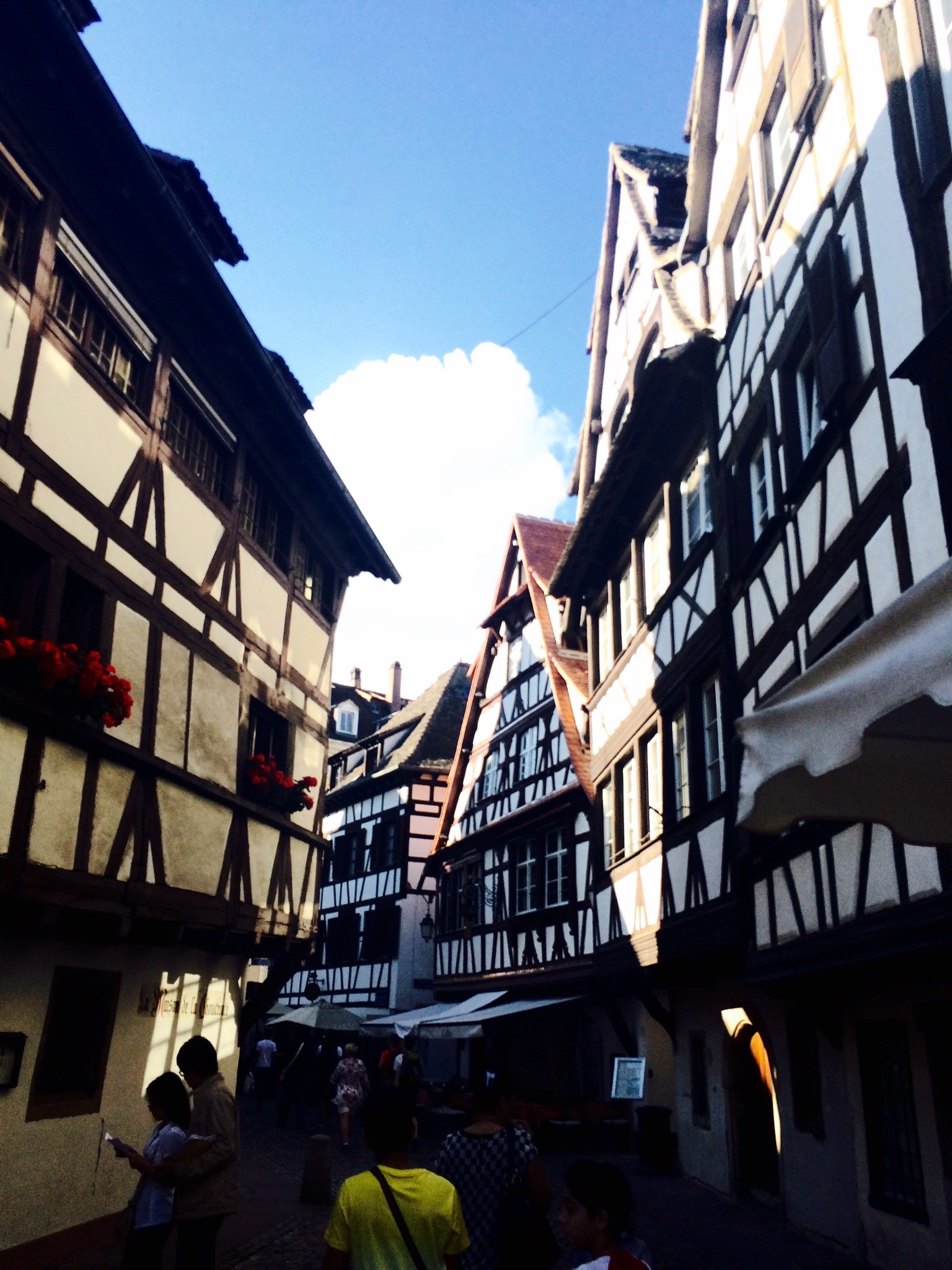 University: 
It was soon time to start my Erasmus experience at the 'Université de Strasbourg'. Organising classes was a struggle. I had to make up 60 credits for each semester and pass at least 40 both times. As I was studying French and Italian at Glasgow, I was confined to the Arts and Literature school within the French University (Les Lettres Modernes). This meant that 50% of my classes, all in French, were about Lexicons, Women in Literature, Phonetics and other book-heavy classes. I wasn't the biggest fan of English Lit as a subject, never mind in French!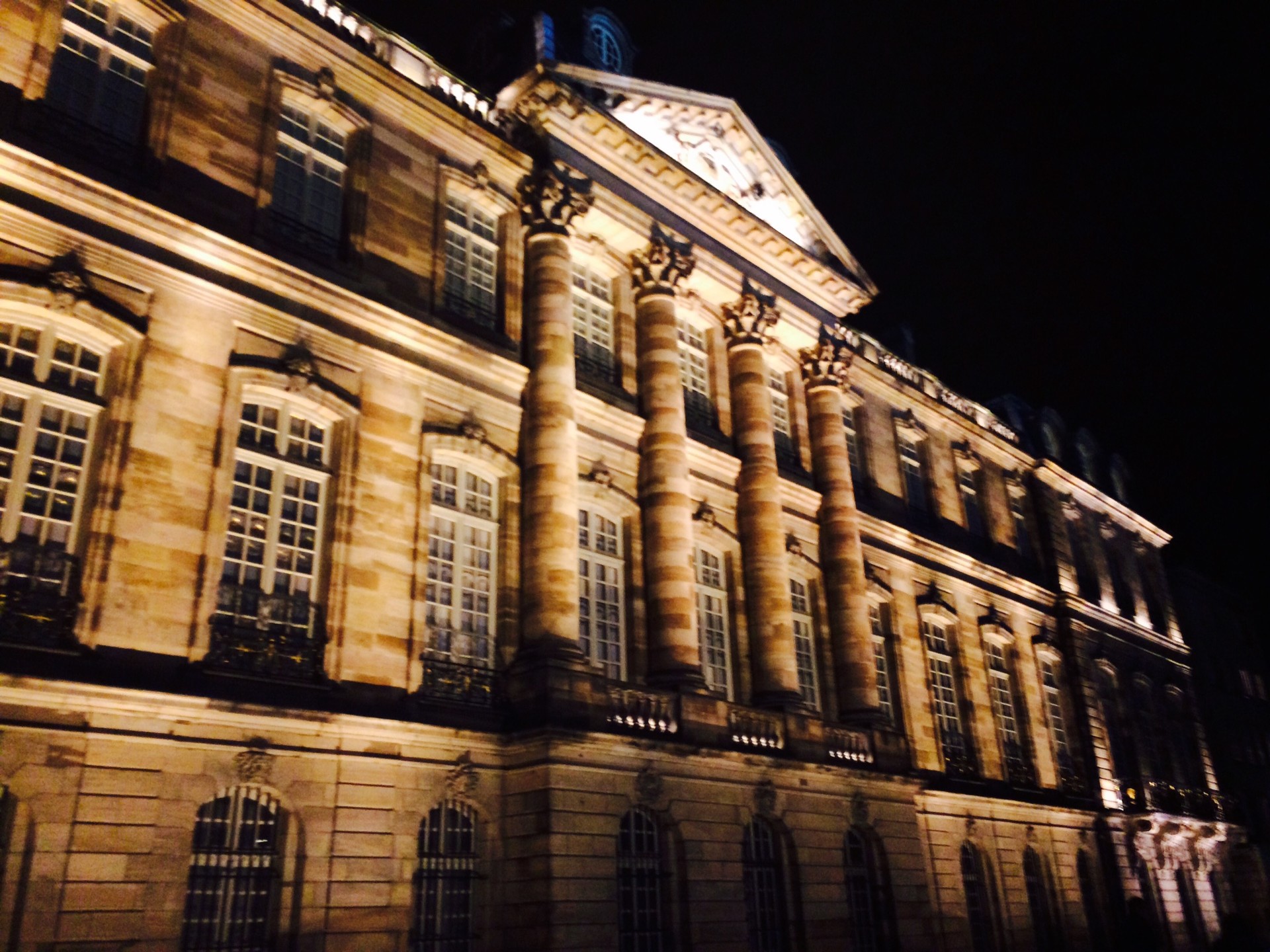 My first class on a Monday was basically a dissection of how our voices work. It was like a biology class and I had to learn all the technical terms for the muscles and movements of the human mouth and throat if I wanted to pass the exam. It was normal to give presentations in France and that was probably the biggest challenge that I faced. I had to give a presentation about the female characters in Frankenstein and then be able to answer questions about it. None of the other Erasmus students turned up that day and I hardly understood any of the questions asked. It was a nightmare. In the end, I never actually sat the exam meaning that the weeks of going to class and the presentation were a complete waste of time.
In the second semester, I chose to do beginner Swedish and Italian. I wanted to learn something from my year abroad and Swedish was a cool skill to show off. I had already studied Italian in Glasgow but getting taught in French was a whole other knack so again it was a nice challenge. In the end, I managed to get the 80 credits that I needed but I wished Glasgow's connection with Strasbourg was better as a lot of the subject were too technical and had nothing to do with my degree.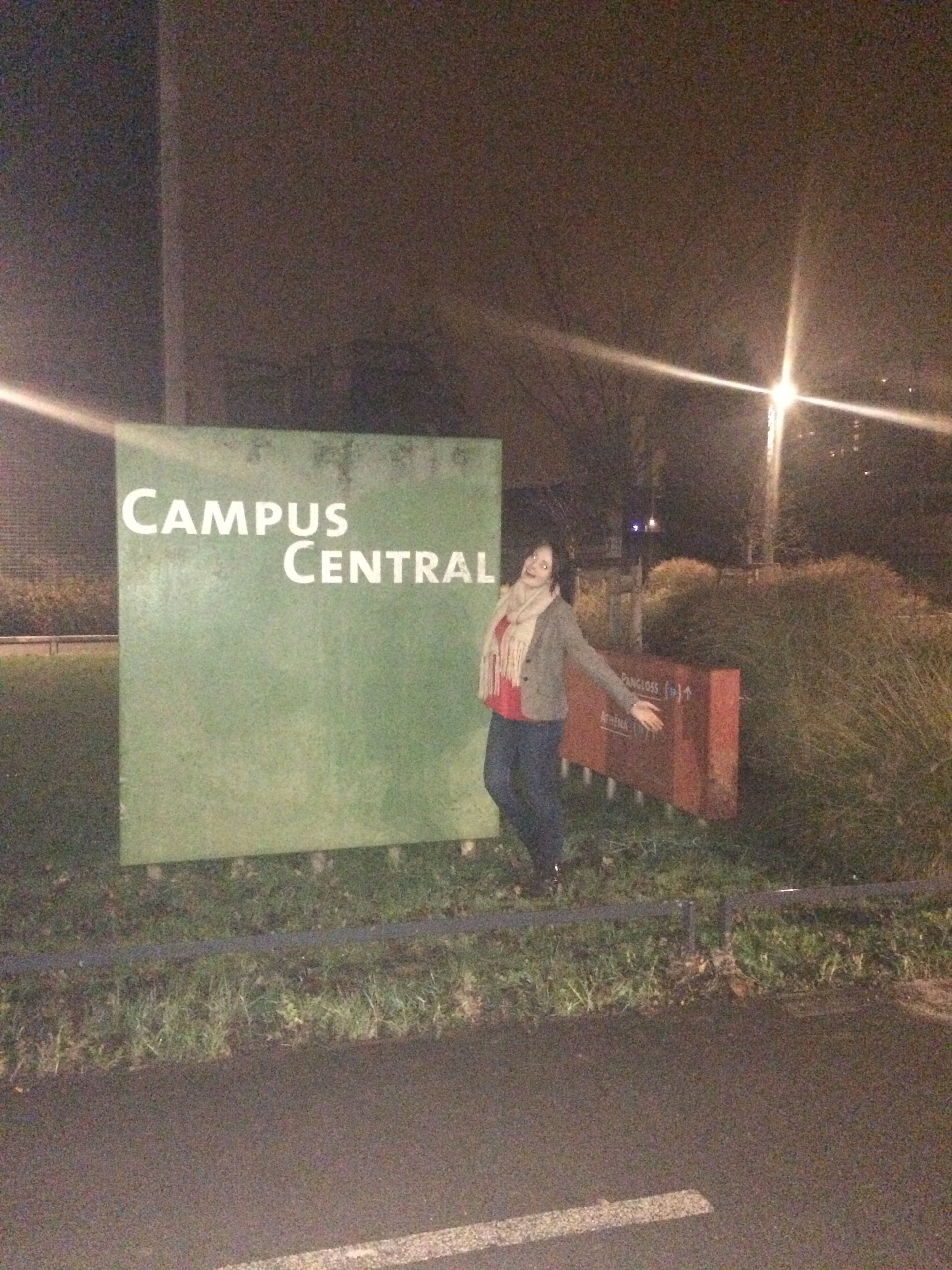 Nevertheless, I had lots of new friends through my classes and it was a change from studying back home. My professors in Glasgow had warned us about the bureaucracy in France and how complicated it was to do official things. It was a nightmare organising classes and timetables and nothing was done online. Everything was paper based – such a waste. It was Week 5 by the time I sorted my timetable. Nobody was very willing to help the foreign students and some teachers didn't even accept Erasmus students in their classes.
Word of advice: Choose your courses before you go (i. e, the days and times, with no classes, etc) I had to work out my timetable on paper with no online subscription and no one helps you. A lot of teachers don't let you in their class after 4 weeks so make sure you get in there early and know exactly what your're doing. Believe me you do not want to go through that stress.
Going Out:
As Strasbourg is a big University Town, you were never stuck for a night out. There were plenty of Erasmus pubs and clubs. My favourites were 'Café des Anges', which seemed to have a permanent smell of sick that was embedded in the wall but it was always a good time. There was also 'La Mezzanine' which was ok but the bouncer once turned away the Erasmus crowd in so we boycotted it for the rest of the year. 'The Living Room' was also a regular go-to. Other recommendations are the Korrigan, Agora and Salamandre, all of which are in the city centre, so it's easy to get there and back (bear in mind trams stop from 12:30-5am).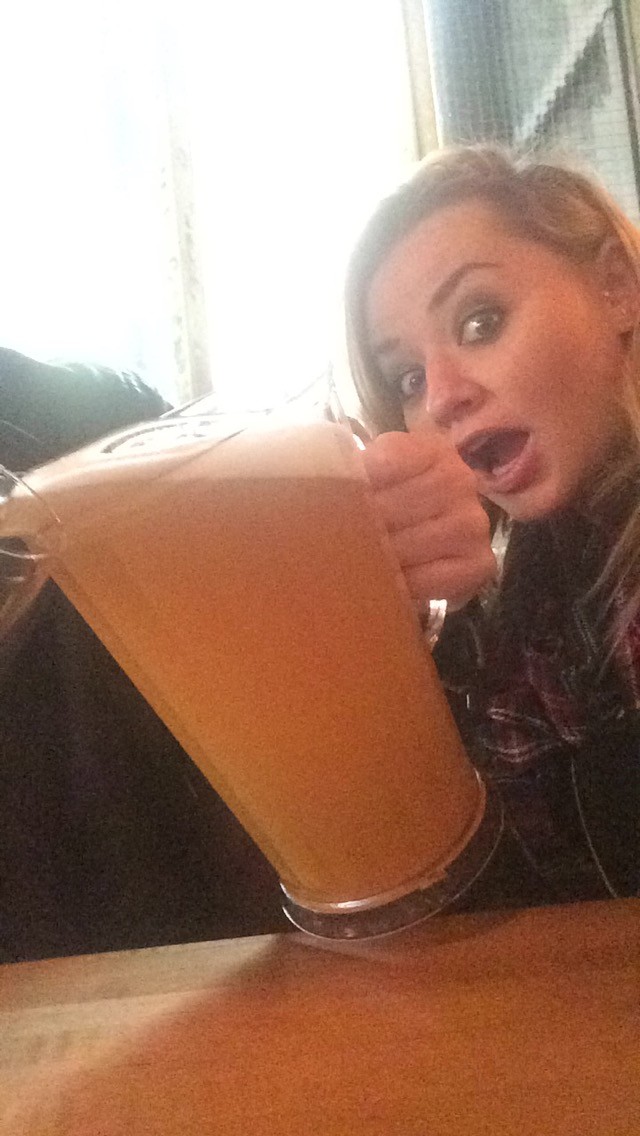 Some of my favourite bars were Barco Atlántico and Barco Latino which turned into a club at night. These "Barcos" were actually real boats permanently docked at the river over-looking Strasbourg's beautiful buildings on l'Ile de France. Jimmy's Bar, La Lanterne, La Taverne Francaise (a great Tandem place) and many of the other Irish Bars are good places to hangout and meet other Erasmus students and locals!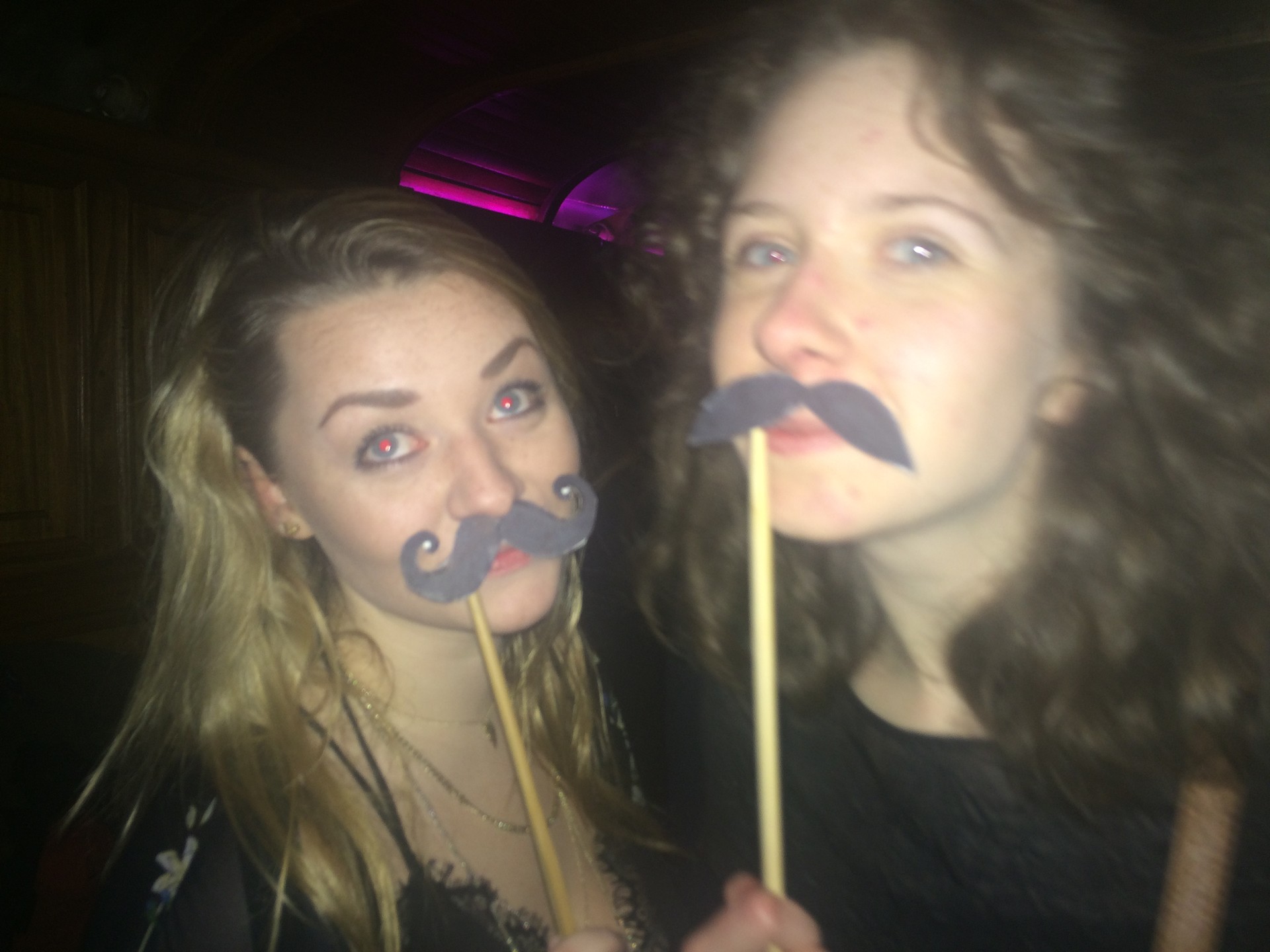 The best of all were the clubs in Germany. As Strasbourg is practically on the border with France and Germany, you could walk to the town of Kehl just across the border. On Friday and Saturday nights, club owners in Kehl would organise three coaches that leave Strasbourg from 10pm every hour. As queueing is not a thing in Europe, it was a free for all when the bus arrived. You'd have to push your way through and hope to get a place on the bus or you'd be left waiting for an hour for the next bus, ready to re-attempt the scramble onto the bus.
We always went to 'Gold Club' in Kehl. It was a strange place as drinks were super expensive (7€ for a spirit mix but 3.5€ for a beer) and they had half-naked girls dancing and everyone was dressed to the nines. However, if you managed to get a good group going it was always a fun night out. There is also a 24hr MacDonald's in Kehl so it was great for a scran before getting the bus back. (In France, there are no late-night chippys for post-club snacks, so this was a Godsend)
Once we had stayed out too late and missed the busses back to Strasbourg. In our stupid, drunken state my friend and I had befriended a guy we met in MacDonald's who offered to drive us back. Miraculously, he did actually drive us back to Strasbourg and not to some forest in the middle of nowhere to kill us. It was an extremely stupid and dangerous thing to do, but luckily it worked out in our favour and we lived to tell the tale. (Top Tip: DON'T hitchhike back to Strasbourg, be on time and get the bus.)
Food Places:
Alsace is an amazing region. It has a mix of German and French cuisine. You can get delicious German beer, sausages, meats, pretzels and sauerkraut from many of the restaurants in addition to typical French crepes, pastries and my favourite,Tarte Flambée. 'Flam's' was the best restaurant for this delicious pizza-like pastry dish. You could get an array of topping and share with everyone at the table. They even did dessert Tarte Flambée with chocolate, or apple and cinnamon. I went there most weekends, especially when I had visitors.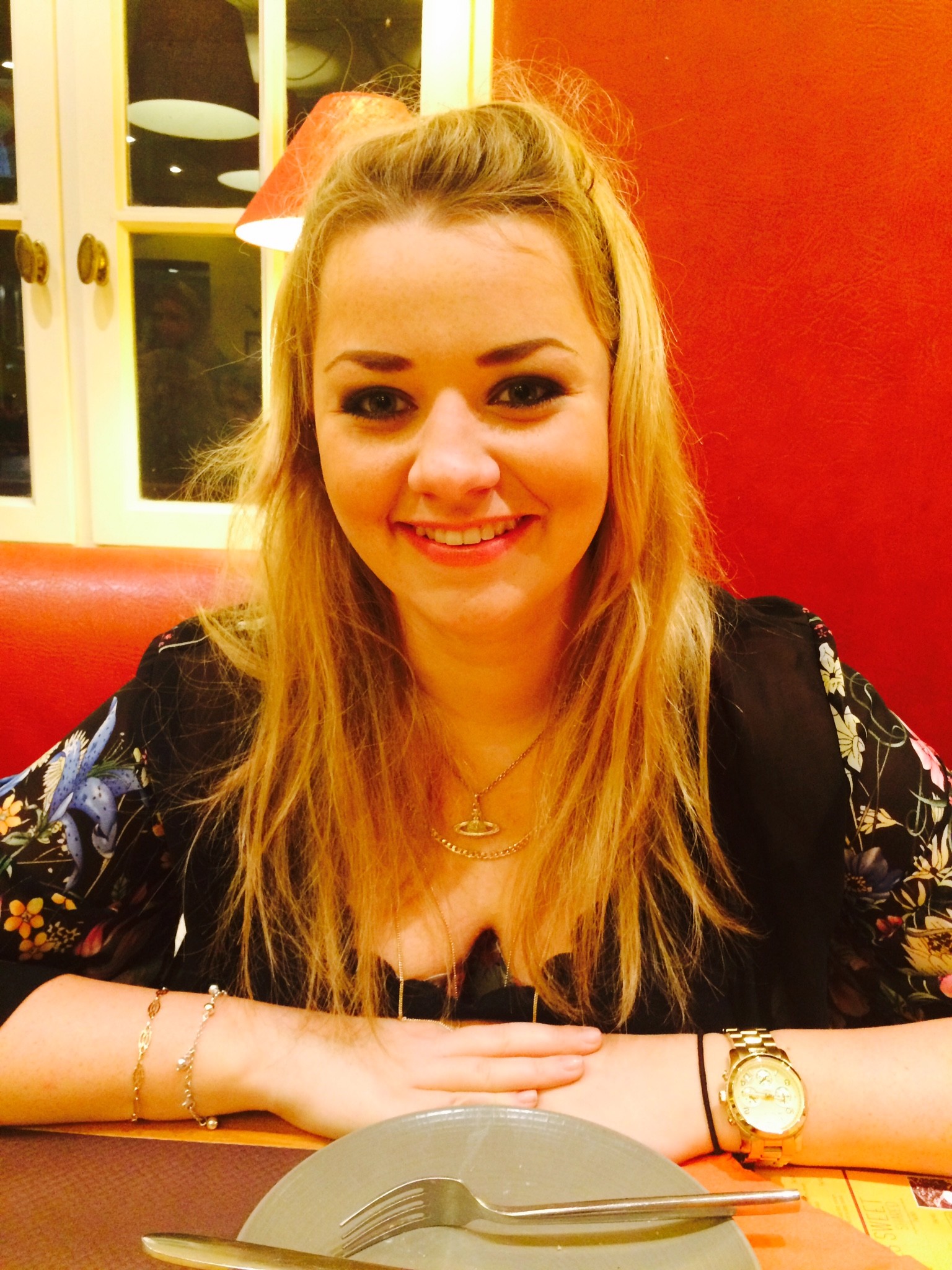 Many of the restaurants in the Old Town are adorable traditional, wooden houses which makes a cosy, homely feel to your Sunday meal. At Christmas time, there were hundreds of stalls selling chestnuts, crepes and waffles!
The restaurant, 'Brasseur' was another favourite as it brewed its own beer and served great Tarte Flambée for only 3€ between 5-6:30pm every day! 'L'academie de la Bierre' had cheap burgers and high percentage beer which is even better during happy hour!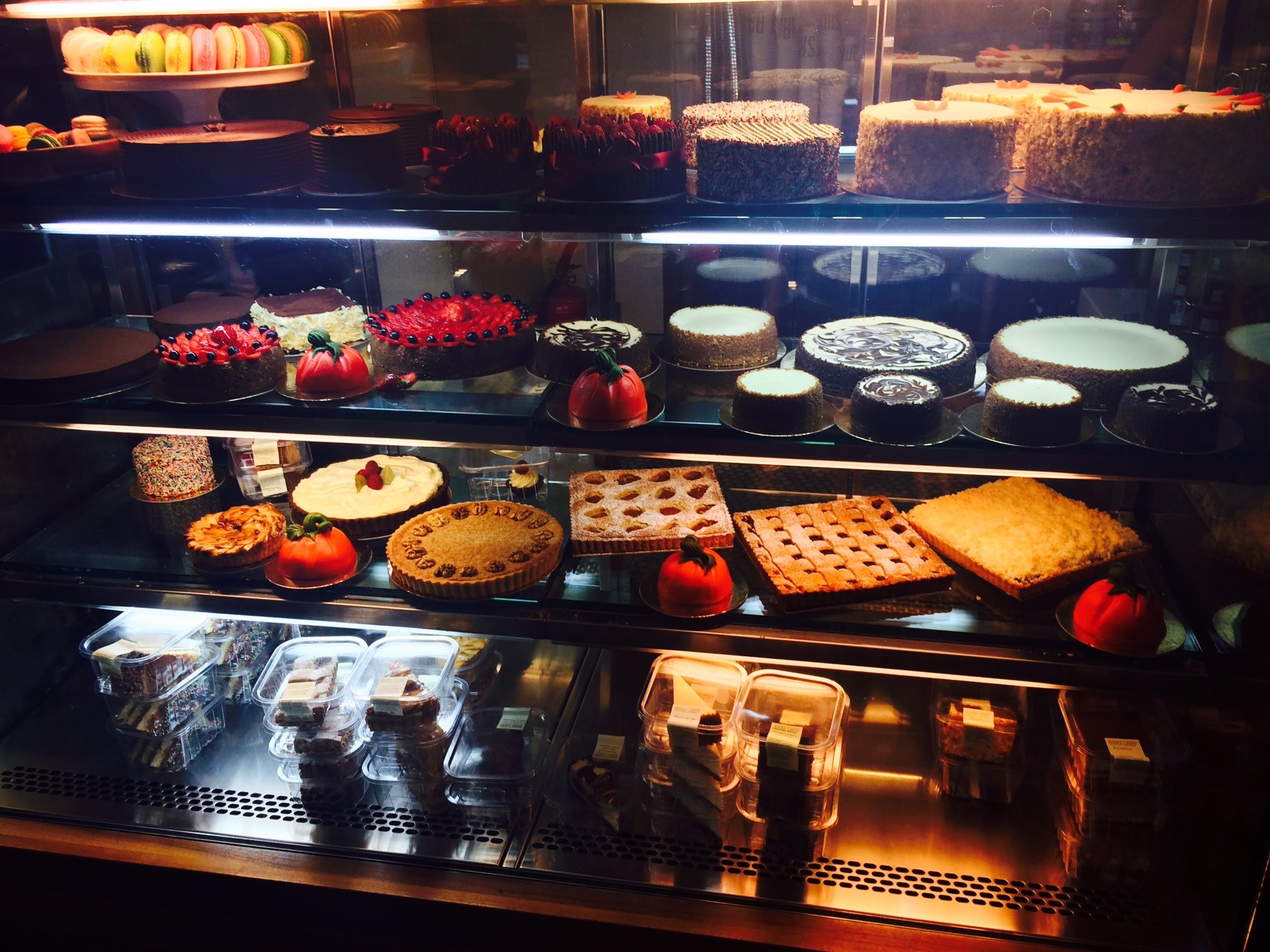 Be aware that all the restaurants in the city centre near the cathedral are beautiful and traditional however the prices are much more expensive.
Cost of Living:
France is one of the more expensive Erasmus destinations. My rent for my tiny fifth floor room was €365 a month and groceries were on the dear side. Most people would get the bus or drive to the German town of Kehl to get their shopping as it was much cheaper.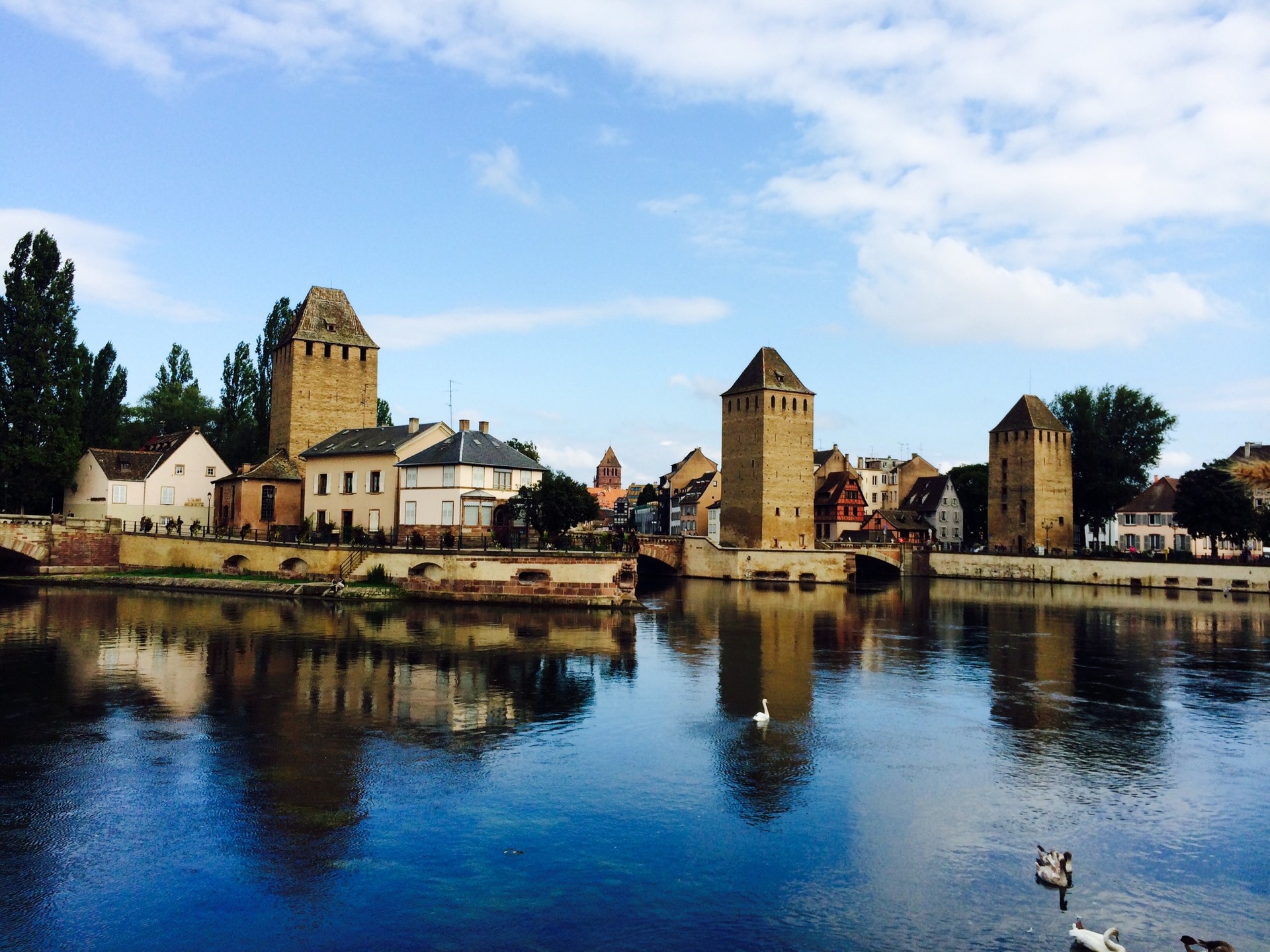 Getting around is best done by bike. I bought a second, third or maybe ever fourth-hand bike for 30€. Strasbourg is very bike friendly as there are many cycle lanes and bike points. But there is also a very good and modern tram and bus system, the tickets are a bit expensive when it's a short journey that can be walked or cycled. ($1. 60 for a single)
Culture Sites: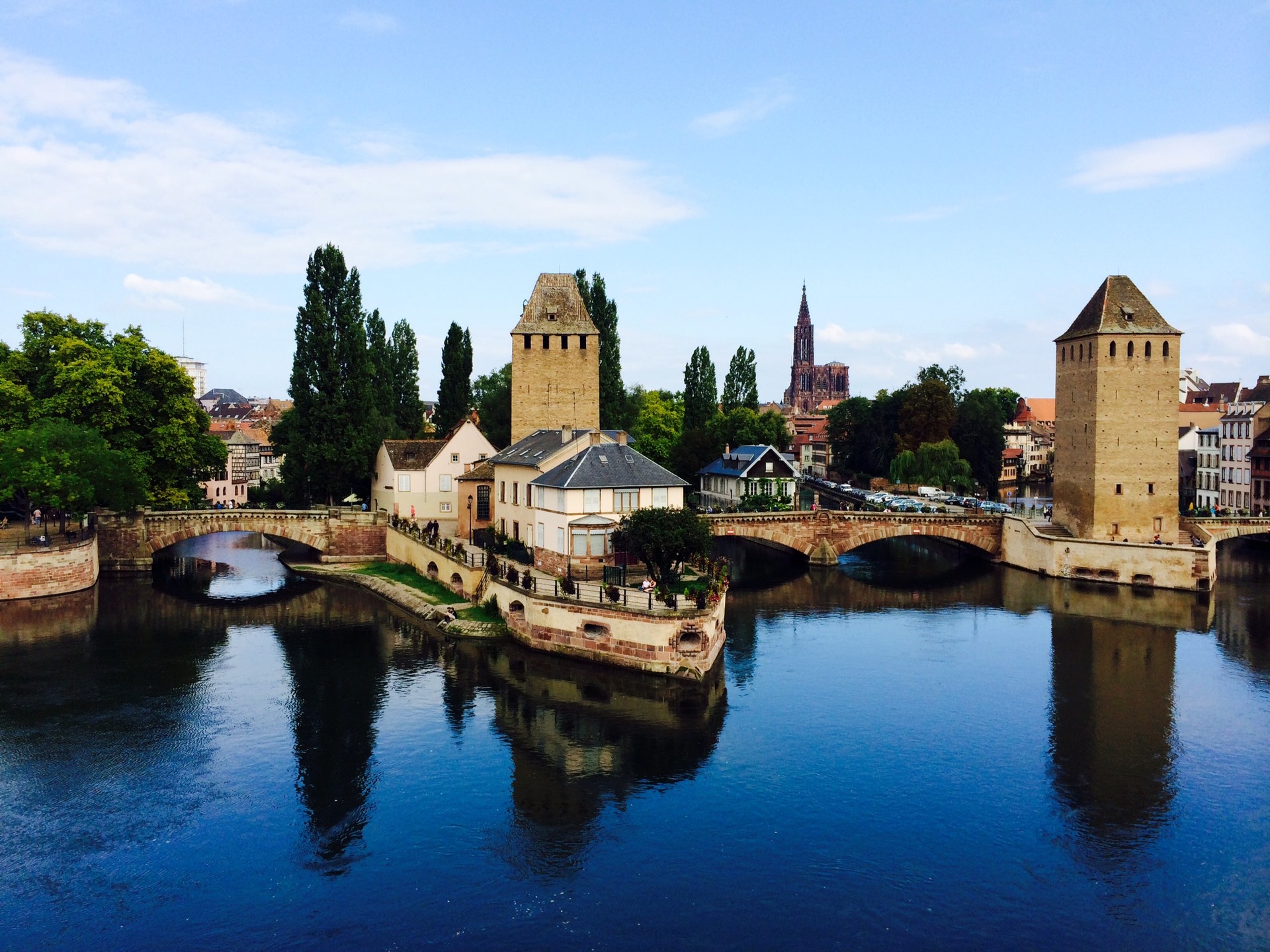 Strasbourg is a beautiful city and has many great cultural references such as The European Parliament. There are tours that are organised inside and boat trips that allow you to see its stunning exterior.  'La Petit France', and the 'Cathedral de Notre Dame' are breath-taking.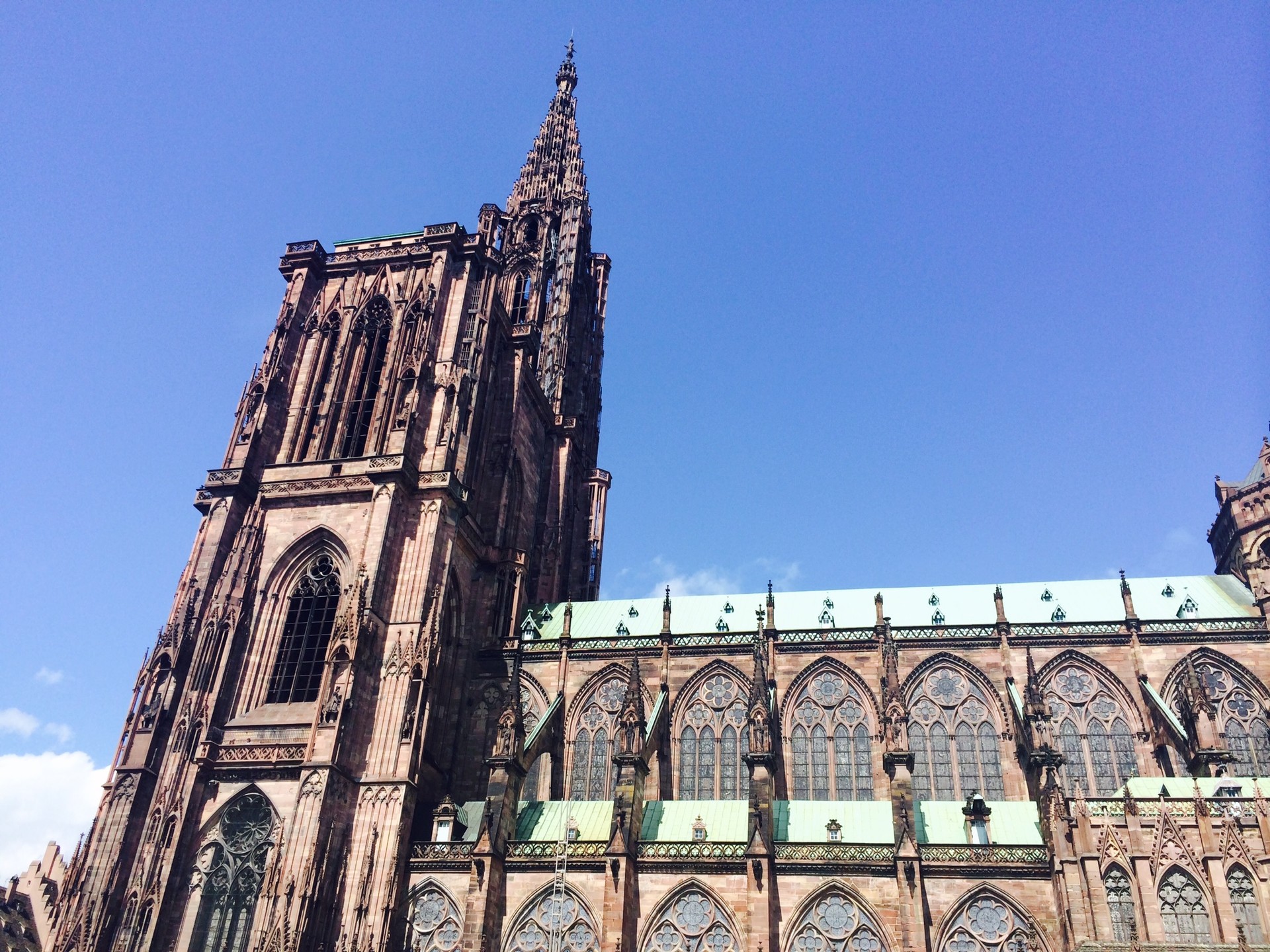 It really is like a town taken straight out of a Disney movie and evey once in a while a light show was put on, illuminating all of the Gothic details surrounding its exterior.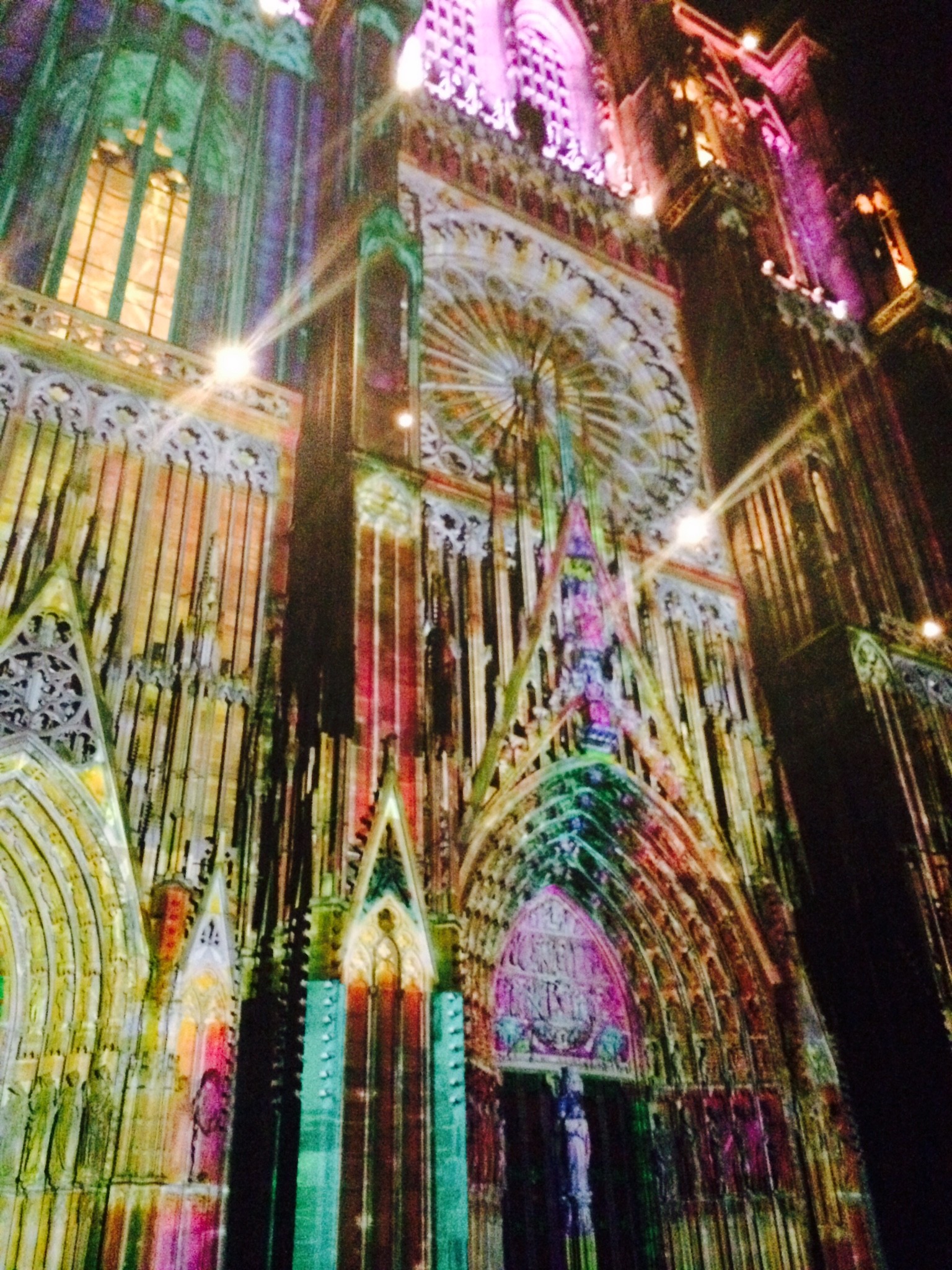 You can walk around for hours exploring the tiny cobbled streets or trek the 332 steps up the the top of the Cathedral to see the wooden structures and tilled rooftops of the pretty town.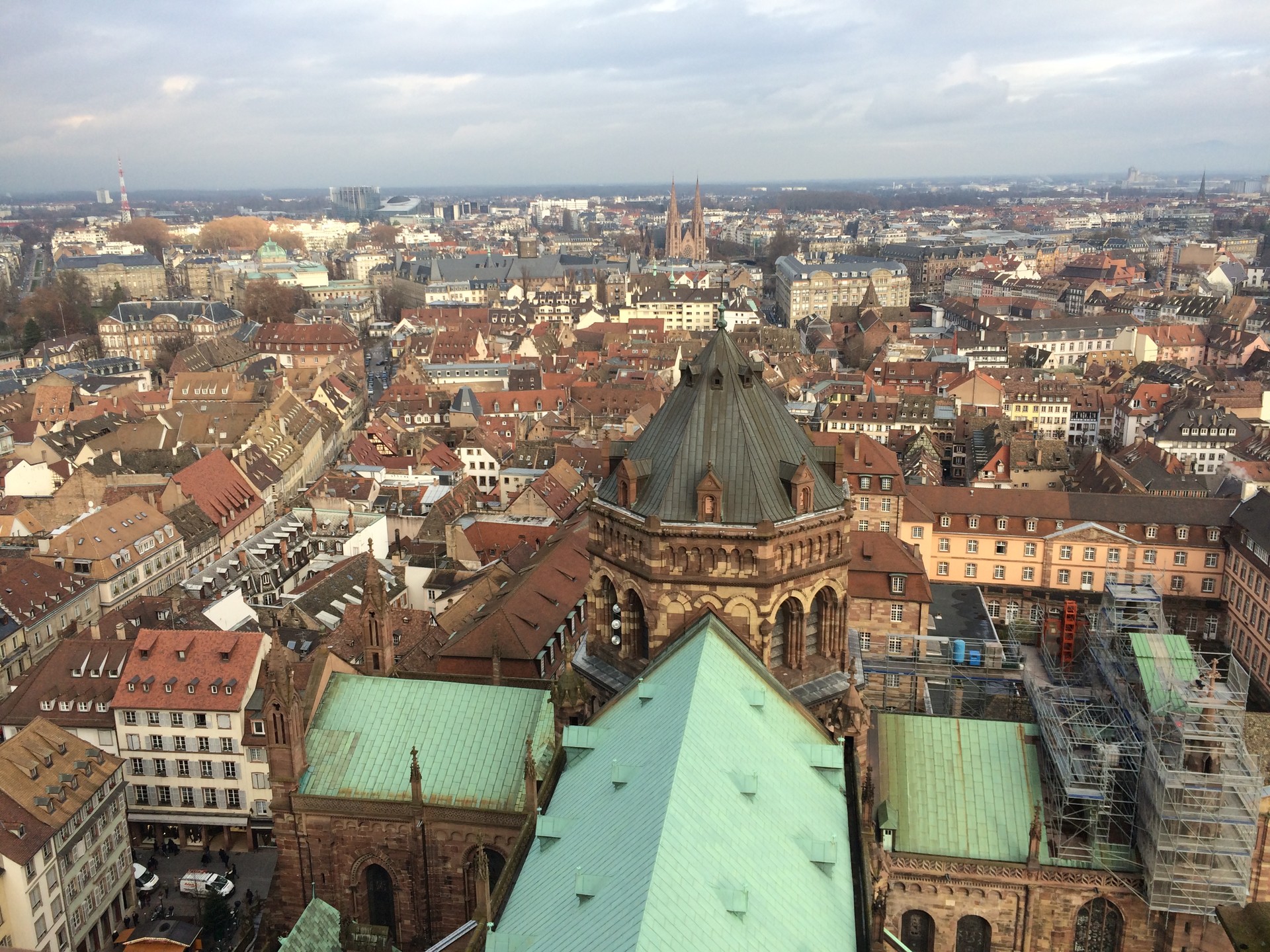 A boat trip of 'l'Ile de France', was a great way to introduce myself to the city and learn about its history and culture. 'Parc l'Orangerie' was my favourite reading and picnic spot at the weekends and was a great place to people-watch especially during the Spring and Summer months when wedding parties were out taking romantic photos. I counted 13 different Brides and Grooms one Sunday in May.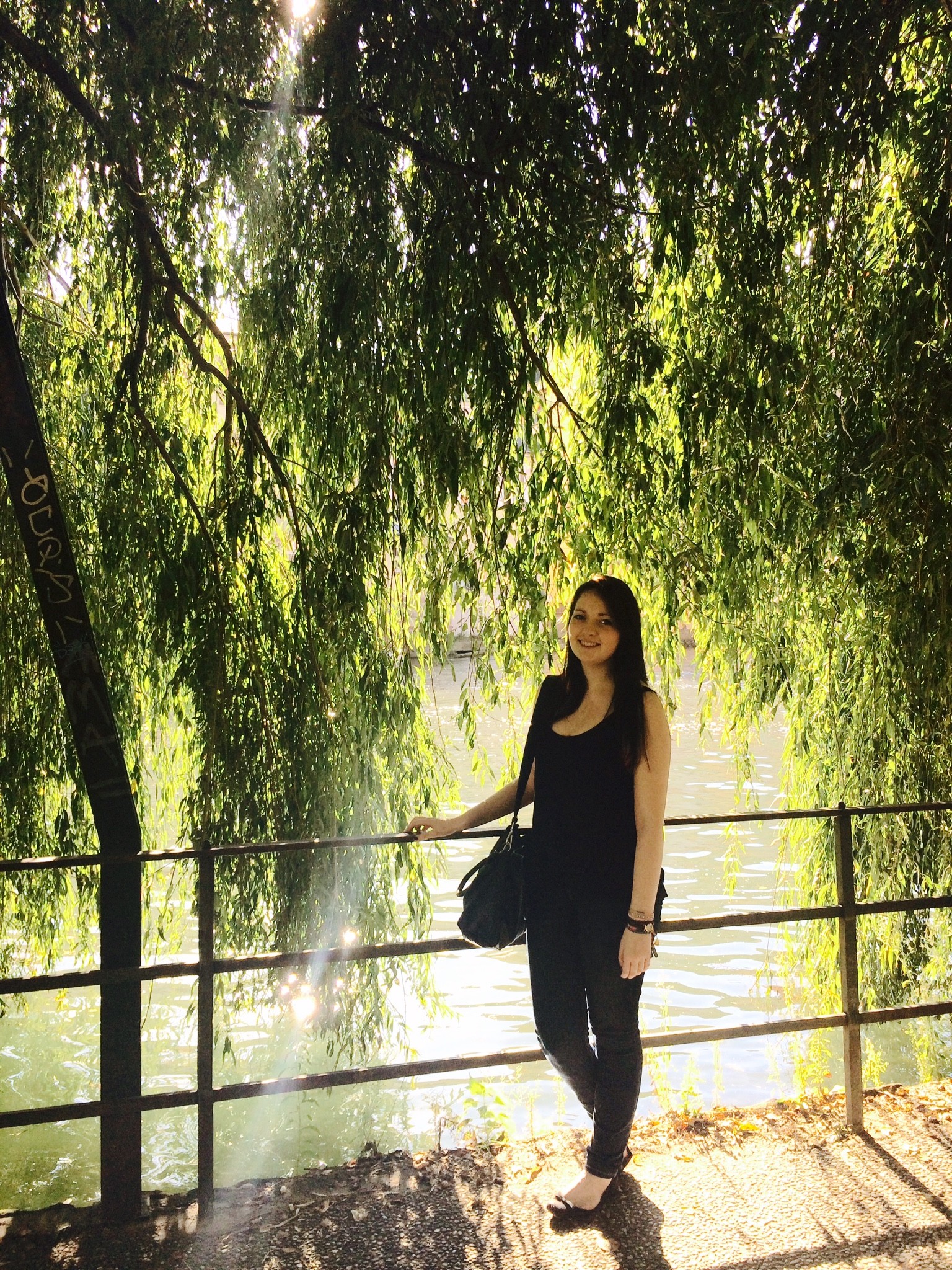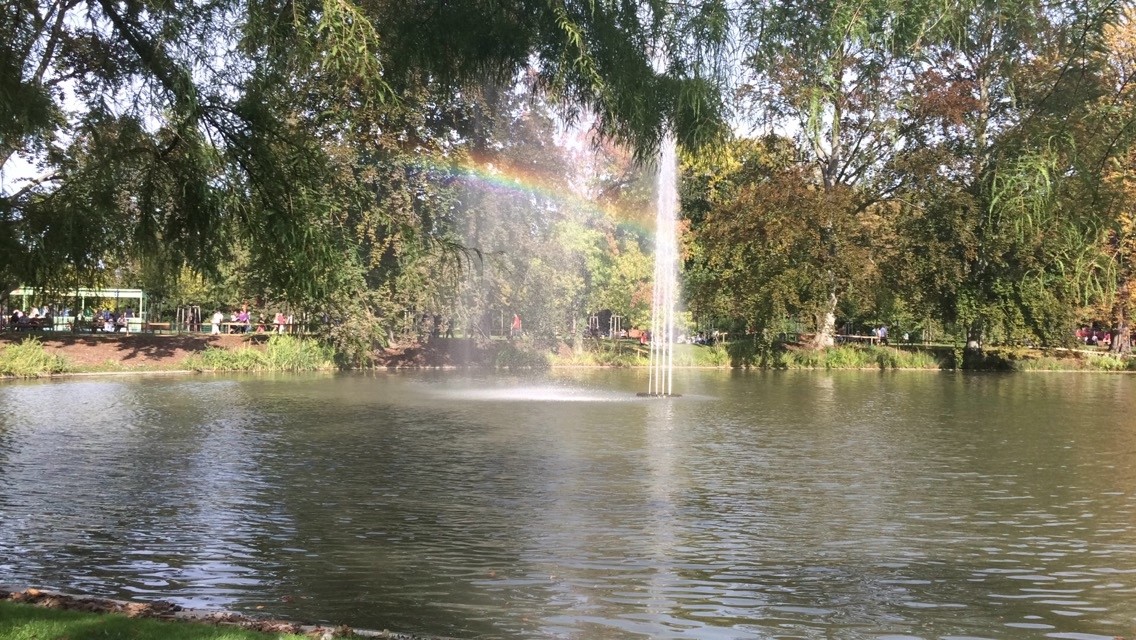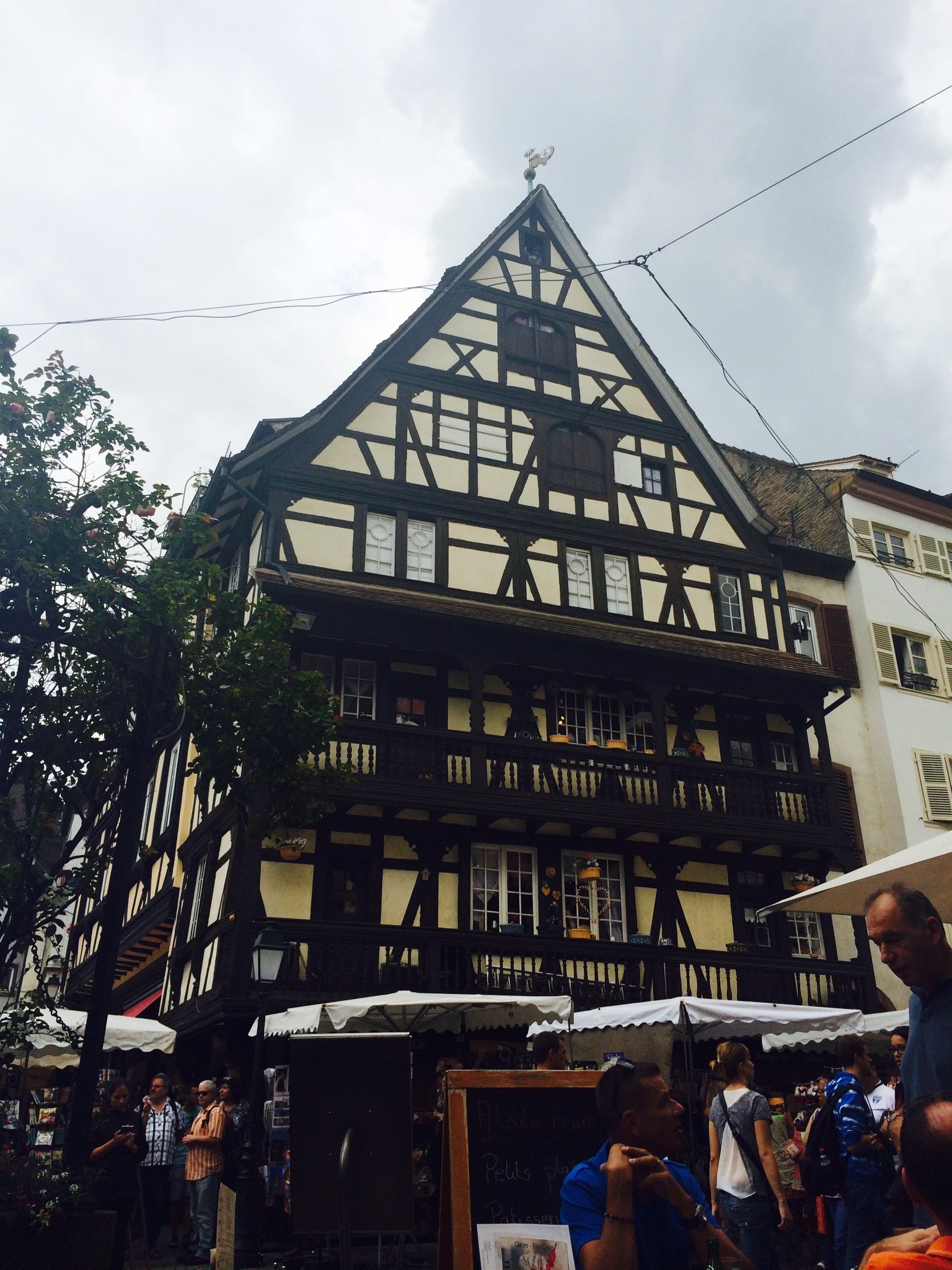 In late September, a film organisation put on a Zombie Walk around the l'Ile de France in order to promote some sort of zombie film in the run up to Halloween. It was a free event where you could go into the city centre and get zombie makeup put on at lightning speed! We spent over and hour walking aorund the city dressed and acting like zombies, scaring the locals. Some people made a great effort with fake glass and nails coming out of their skin, and other really got into their zombie role screaming and scaring people. The tour ended up in a part where there was a DJ and Food/Drink stalls. It was so much fun and another great way to explore the city and meet new people!
University Associations:
I also forced myself to join some university societies such as the Hip Hop Dance group, where we did a performance at the end of the year. I also attended two gymnastic classes but stopped going as everyone was better than me and none of my English-speaking friends would come with me. There was a Uni Gym that I had paid for to attend but that was also a nightmare as you had to do a strange test to be able to use the small room of free weights. I ended up going to a few yoga and aerobics classes instead to make the most of my membership. On top of that I tried to go to a few language exchanges to better my French but they were nerve-wracking and almost always ended up with me going back into English.
Erasmus Student Network:
The ESN really helped with my integration into France. The student network organised many events and trips for the Erasmus students. For example, they organised tours of the campus and gym during the integration week. They hosted themes nights out such as potluck dinners and flag parties. Every Monday, the ESN organised a language exchange at the 'La Taverne Française'. 
As the year went on, the ESN even started to organise day trips and weekend trips away. For example, a trip to Munich for Oktoberfest! I had always wanted to go to Oktoberfest and ESN allowed me to do that. We got on a coach late at night on a Friday which got us in to Munich early on Saturday morning. I had met a few other Erasmus students from my classes so I hung around with them for the day.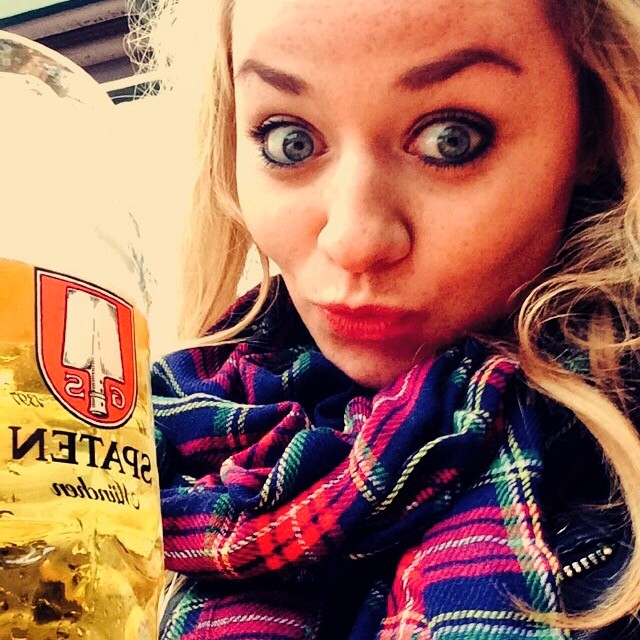 We explored the town centre of Munich and saw the sites before heading into the Oktoberfest grounds and into the beer tents. There were so many to choose from! It took a while (despite it still being the morning) to find spaces at a table. Once we secured one, we were ready to order our 'steins'. I wasn't the biggest beer drinker at the time so it was a struggle for me to drink a full litre of beer but I definitely felt a great sense of achievement when I finally finished it. After a few more hours wandering around, drinking beer and tasting the typical German cuisine, we had to head back to the coach for the long drive back to Strasbourg. It was an amazing experience and a great taster for many more Oktoberfests to come.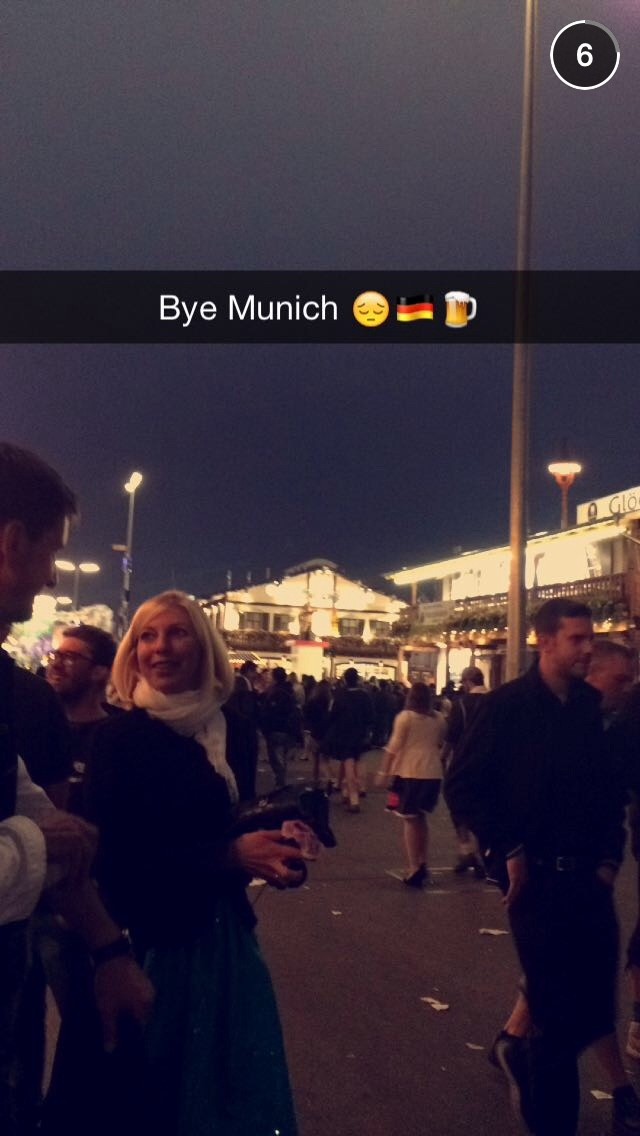 In addition to worldwide tour to Germany, I also managed to secure a place on the Christmas market tour which allowed us a day of travelling to nearby towns in Alsace in order to explore their Christmas markets. Each town had its own unique themes and stalls. The Medieval towns hosted locals in costumes and adorable ceramic mugs ofVin Bruléwhich you could keep and reuse for your next top up. The day was a dream. The crisp, fresh winter air got everyone in the mood for Christmas, as well as all of the beautiful decorations, ornaments, cuisine and nativities. We visited three towns in total. With the transport organised by ESN Strasbourg, we were able to see all three with plenty of time to explore each one.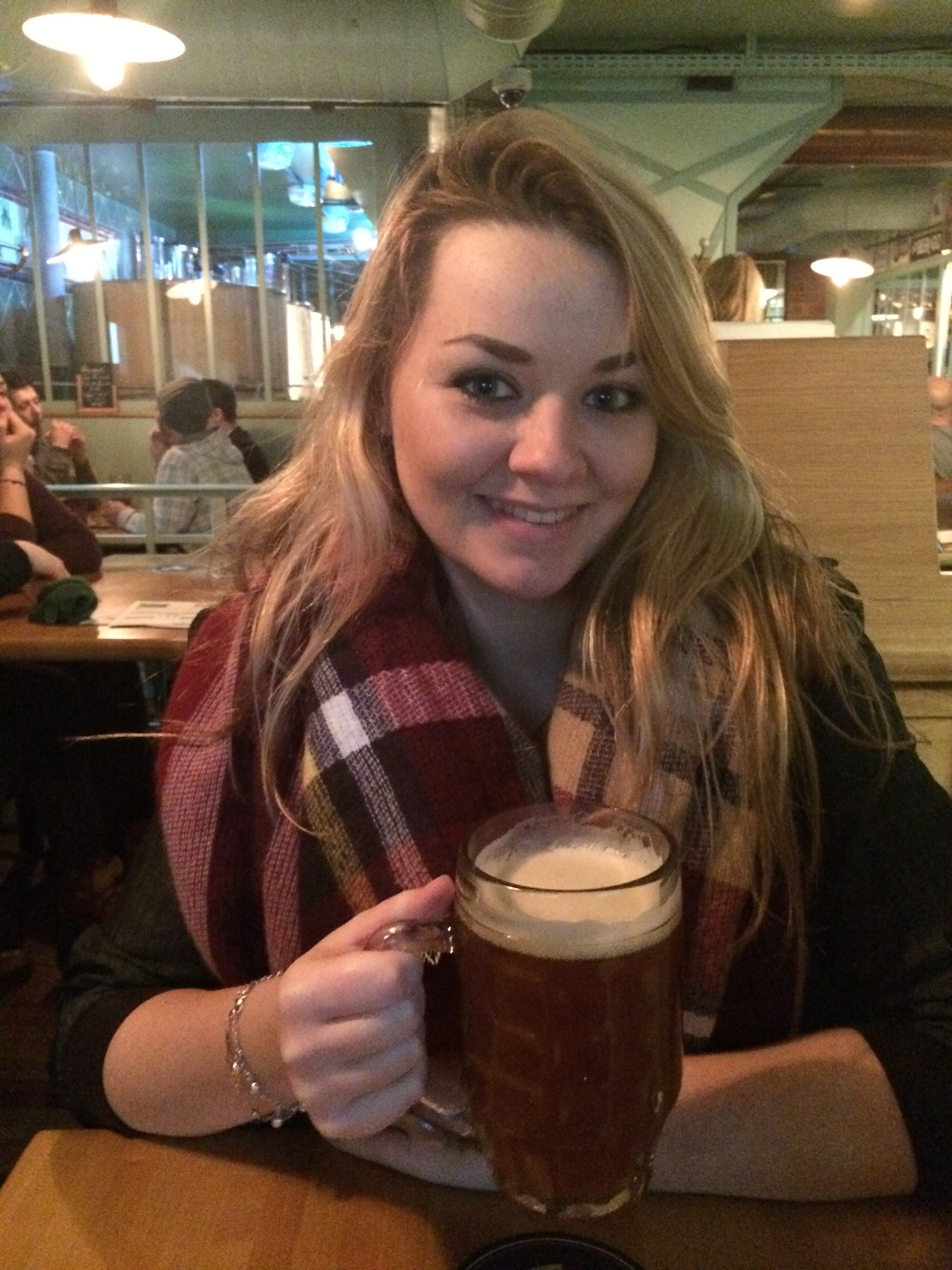 The Erasmus Student Network is an amazing organisation which is forever expanding. The ESN started up at Glasgow University in 2016 which was great for the Erasmus students studying at U of G and for Language Students alike.
Christmas Markets: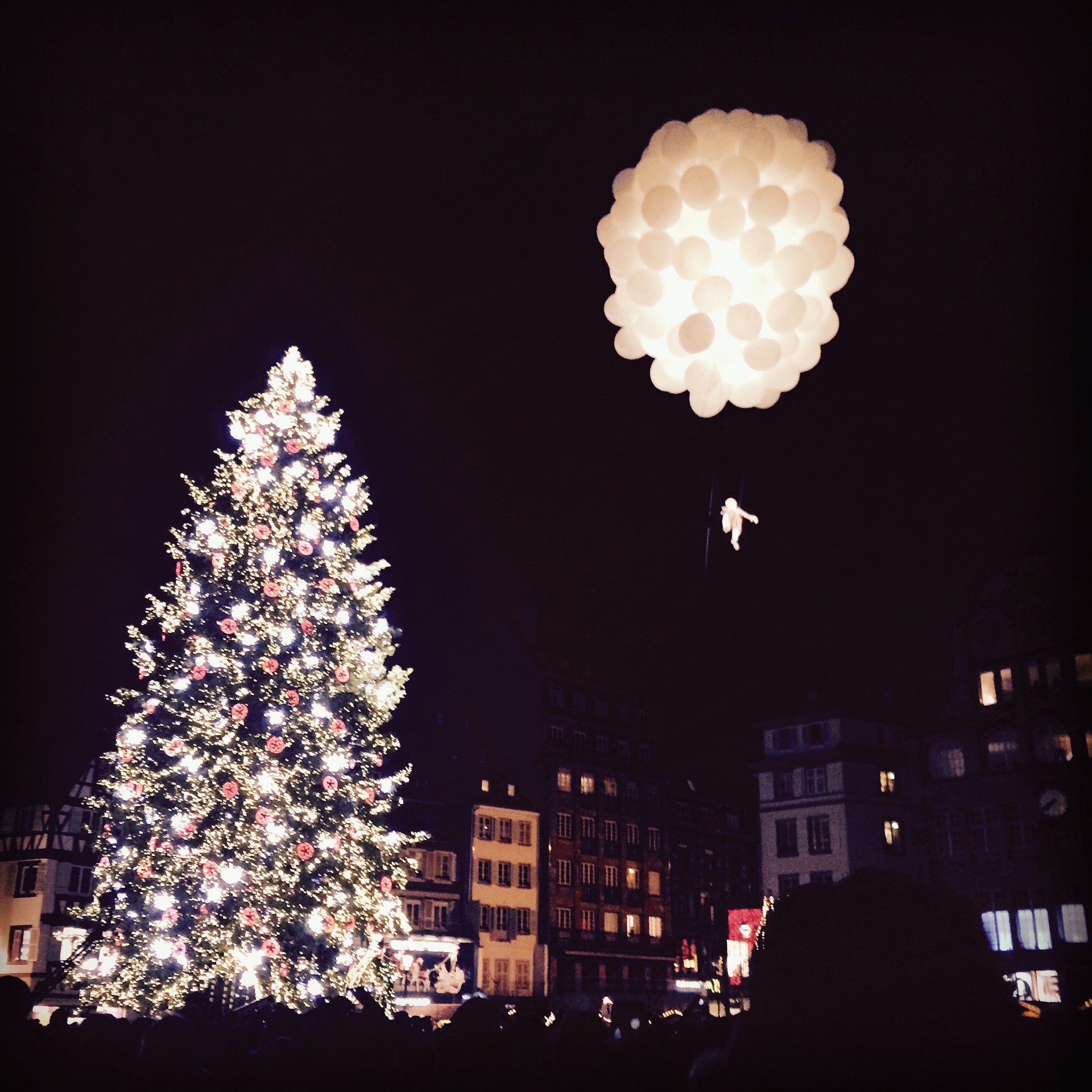 As I mentioned, Strasbourg has been crowned as the "Capitale de Noel" on many occasions and it's no surprise why! The city lights up with beautiful festive decorations, delicious food stall, concerts, ceremonies, and the amazing Grand Sapin in the main Place.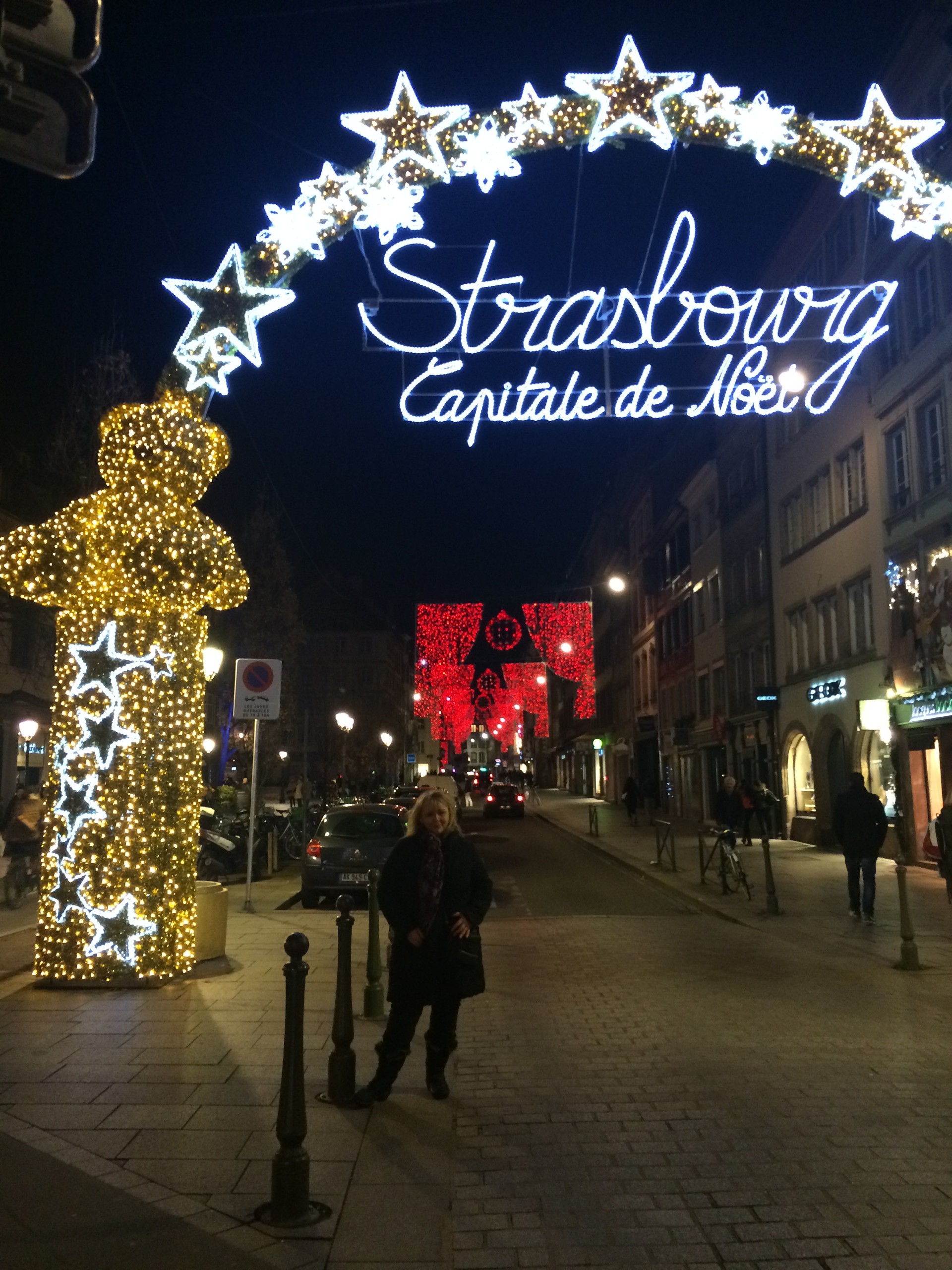 It is incredible! People from all over the world come to Strasbourg and pay insane prices for accomodation. I felt so lucky to actually be living in this amazing city at such a magical time of year. I spent most of my December weekends at the Christams markets as you were always bound to bump into someone you knew. I managed to collect all of the different coloured reusable cups for the Vin Brulé which I still have today!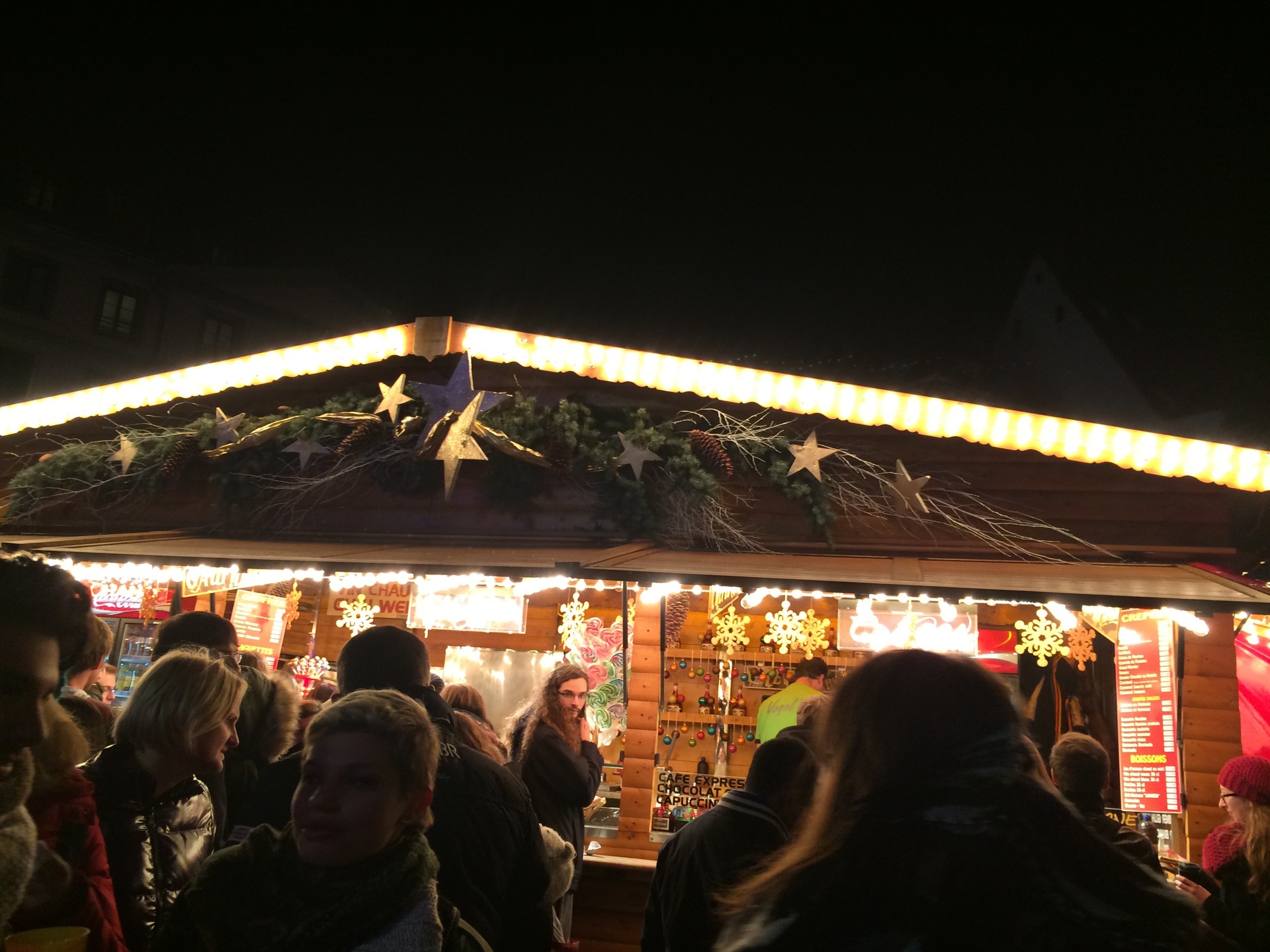 I can't remeber the amount of waffles, crepes and candy apples that I tasted at the stalls. It was an experience that I could not get enough of. I you ever get the chance to see Strasbourg at Christmas time, go! You will not regret it as it is a magical and memorable experice and was the cherry on top of the cake for a fantastic year abroad!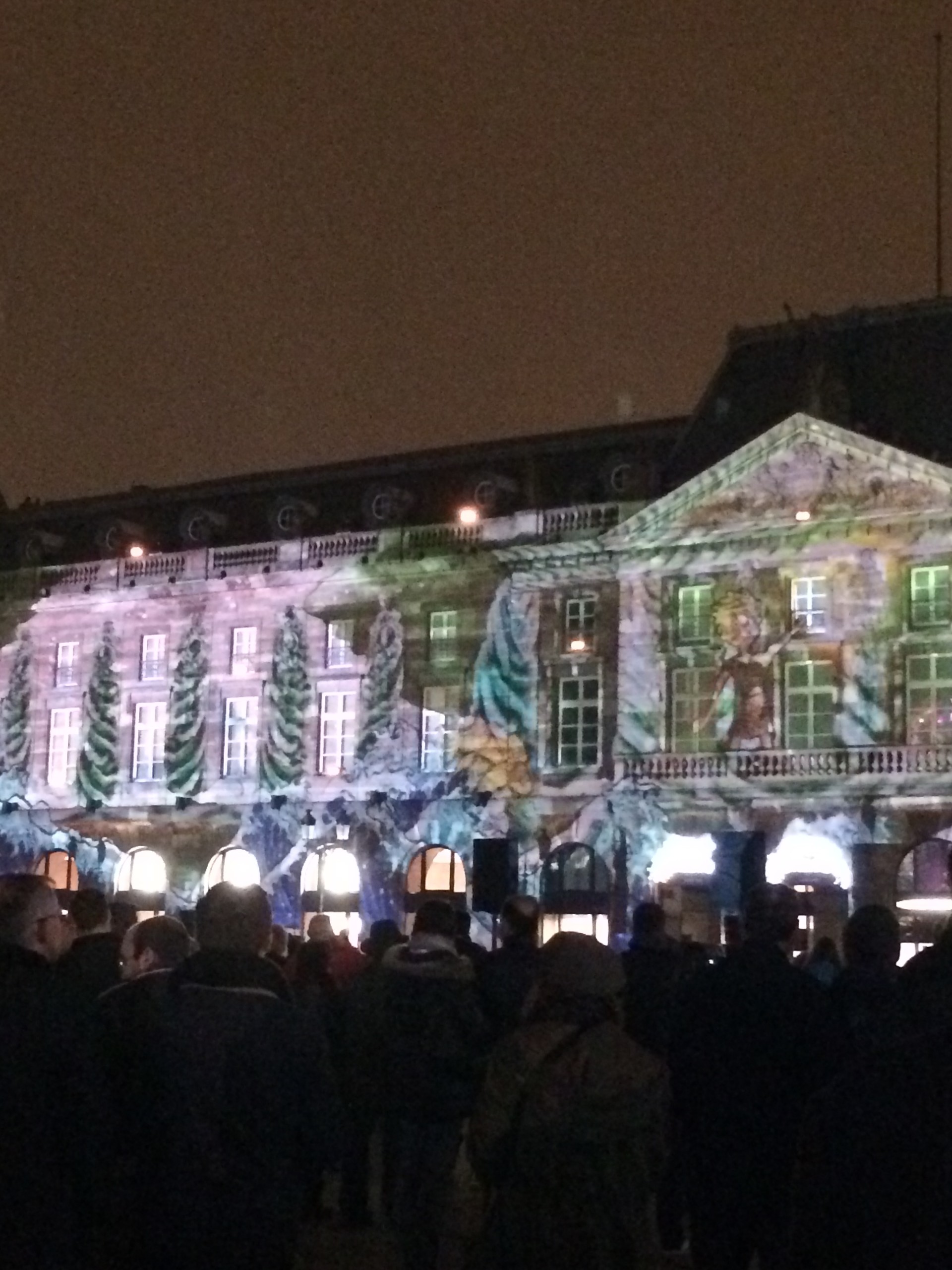 I am so thankful for the ESN and my time in Strasbourg as it introduced me to new people, new experiences and left me with amazing memories.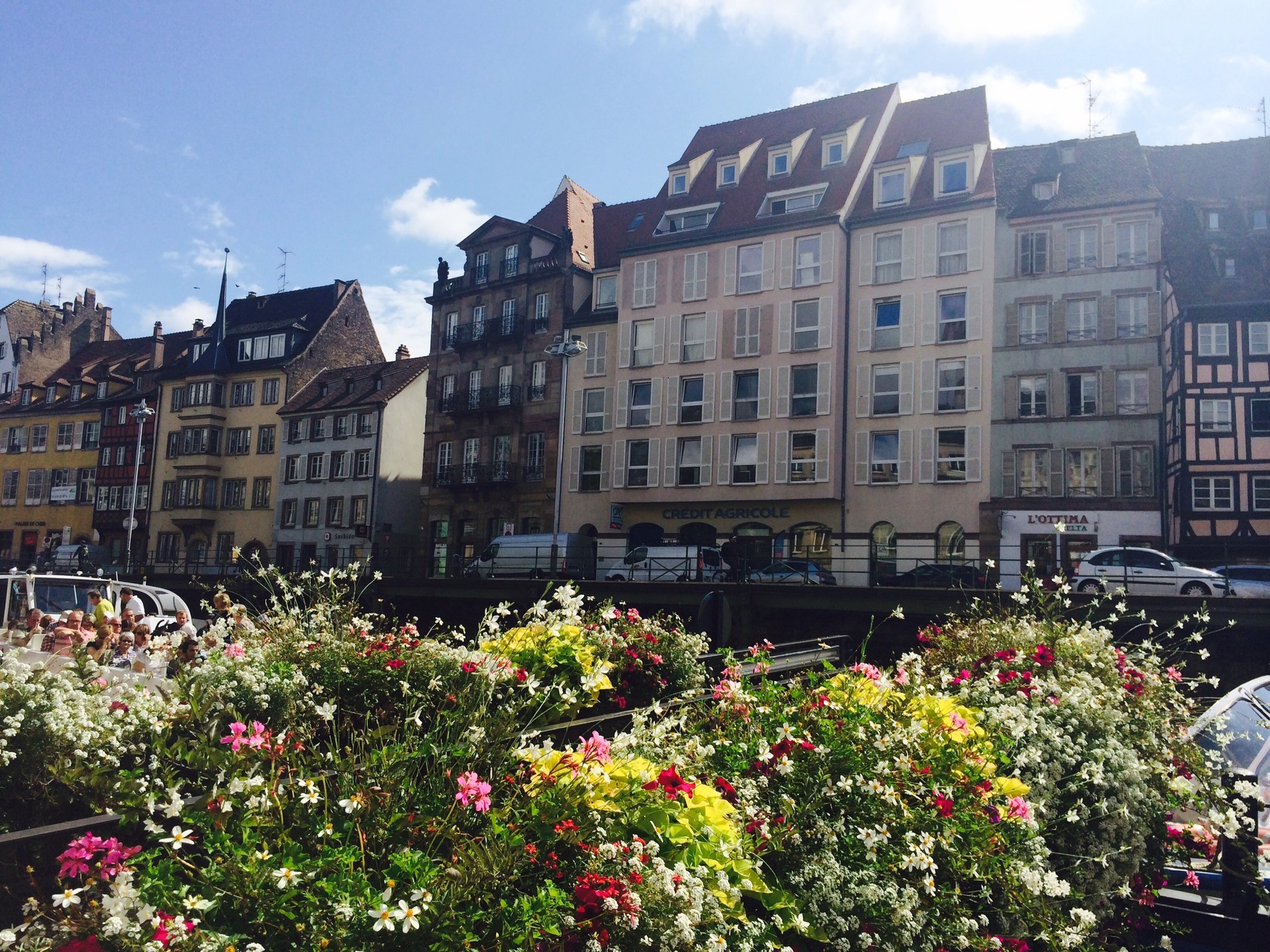 ---
Photo gallery
---
Want to have your own Erasmus blog?
If you are experiencing living abroad, you're an avid traveller or want to promote the city where you live... create your own blog and share your adventures!
I want to create my Erasmus blog! →