Ruin Pubs and restaurants in Budapest
Ruin Pubs and restaurants in Budapest
Hello again, everyone! Today is the second and final post about Budapest. Being briefer than in the previous post, today I am going to talk to you about some ruin pubs, something which is very famous in this city. Also, I am going to mention some restaurants and cafes where we ate and give you some pieces of advice which I think are important to know if you are planning a trip to the capital of Hungary.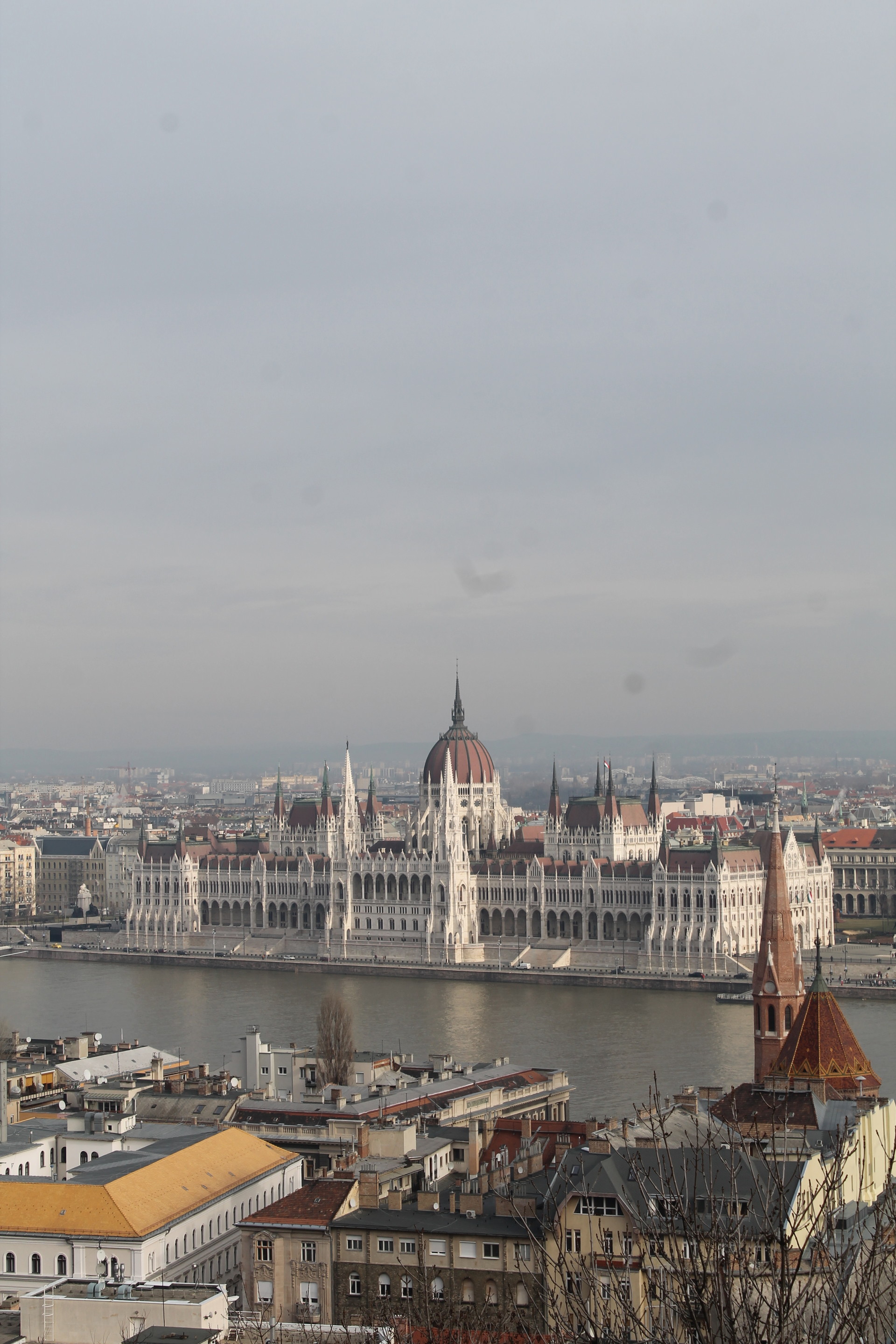 Ruin Pubs
Without a doubt, they are the most attractive bars in the city, especially for young people. Their literal translation is "ruin bars" and they have this name because before, each ruin pun was a building in ruins. The interesting this is that these ruin pubs were rented and therefore renovated, but always making the most of this decadent characteristic which they had so that thy do not lose their character. So, the decor of these bars is chaotic, it has no sense or logic. Nothing follows a design and the decorative elements are very original and varied: traffic cones, graffiti on the walls, cars, radios, ropes, mirrors, garden gnomes... The chairs are all different none of them look alike, there are no pairs because each element is different from the previous one. This is why these bars are so special in Budapest and everyone wants to go to them. There is always a great atmosphere, all day long and they are great to go to in the summer to have a drink.
Szimpla Kert
This is one of the most famous ruin pubs in Budapest. It perfectly represents what I just told you about. The front of the buildings is in total ruins, it seems like it is going to fall down and collapse. Nobody would imagine that inside there would be a place full of colour and life. Inside, we could see this decadent deocr style which used random and recycled objects to create this really original atmosphere. We went here after eating to relax for a bit and have some beer and coffee, which were all really cheap. Its name "Szimpla Kert" which means "simple garden" and it is called that because the upstairs part, going up some stairs, there is a garden which is actually is not simple at all, because it is very chaotic. As you can see in the photo, it is a combination of plants and object which, I don't know how, end up fitting in perfectly with the rest of the elements of the bar. The atmosphere was really nice, it wasn't too full and the music was really chilled, which surprised us quite a bit. The only bad thing about this place is that the staff weren't at all friendly. You have to mention the negative points too.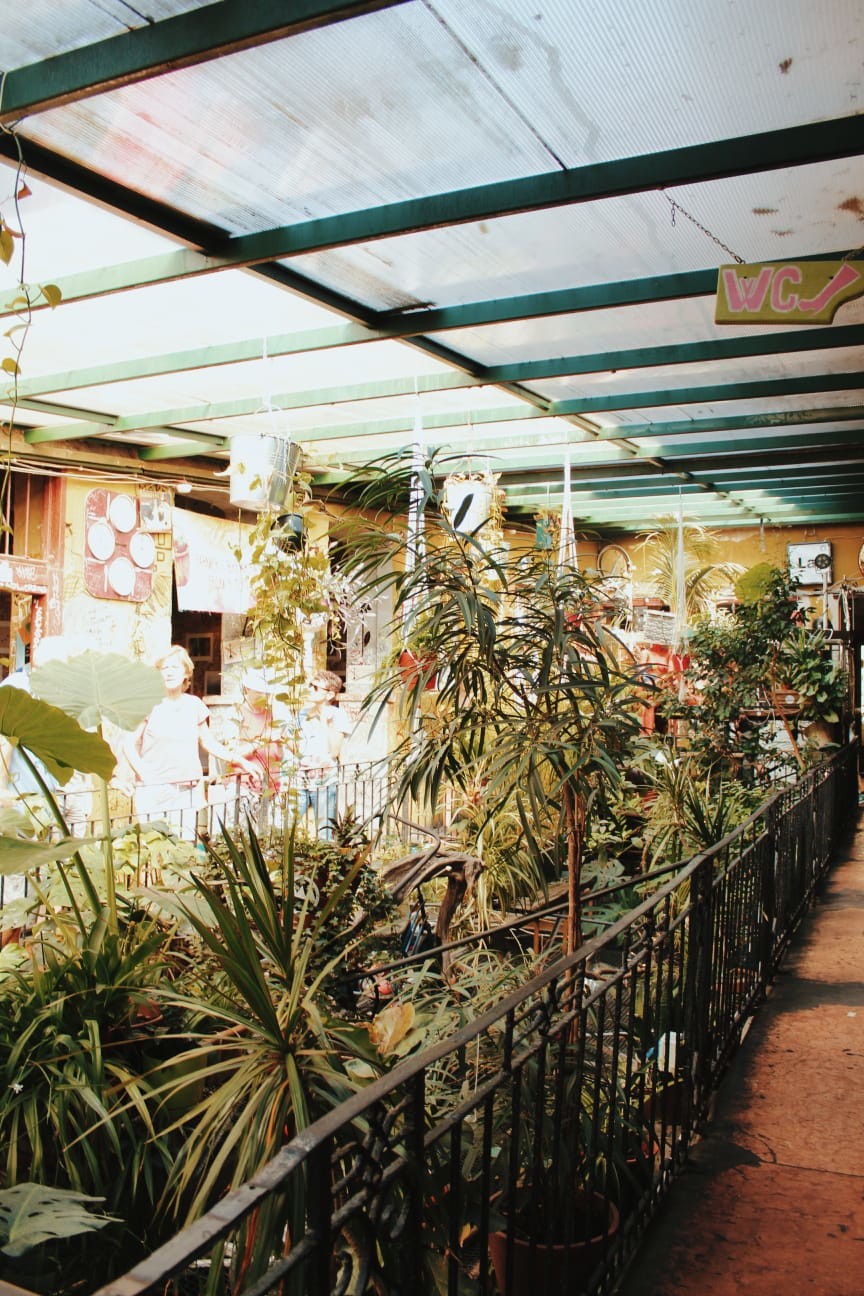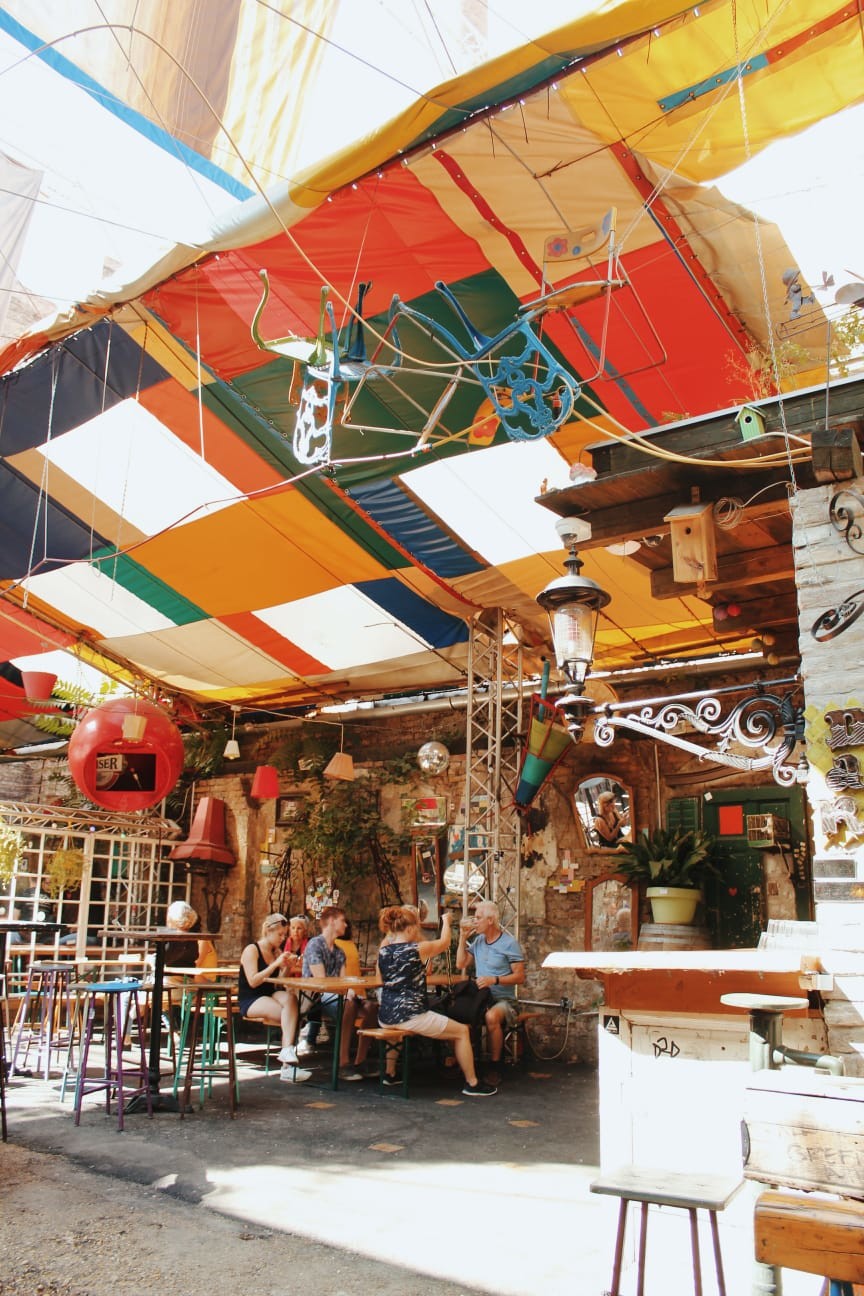 Mazel Tov
We ate here before going to Szimpla, since both of them are located in the Jewish quarter which we were visiting. Once more the front of the building fools because inside there is a restaurant with lovely decor. The hanging plants which fall down from the ceiling add the final touch to this place. It is a restaurant with Israel cuisine and it was the first time that I had ever tried it so I had high hopes. The food was really good, although it is true that the price was a little high for how much food you got. We had a dish of falafel with sweet potato and another dish to share called shakshuka. It was a kind of hummus that had tomato sauce as a side and a grilled egg. At first, it may seem like the ingredients are a bit basic but they were honestly really good. For dessert, a Jerusalem cheesecake. We didn't really understand why it is called a "Jerusalem" cheesecake but it was a very soft cheesecake, very different to any that we had tried before. Here is a photo of the menu and one of the restaurants where you can see the decor. In short, I would most definitely recommend this place. However, it is better to reserve it because it usually gets full at lunchtimes. We were a group of 6 and we got a table by pure luck.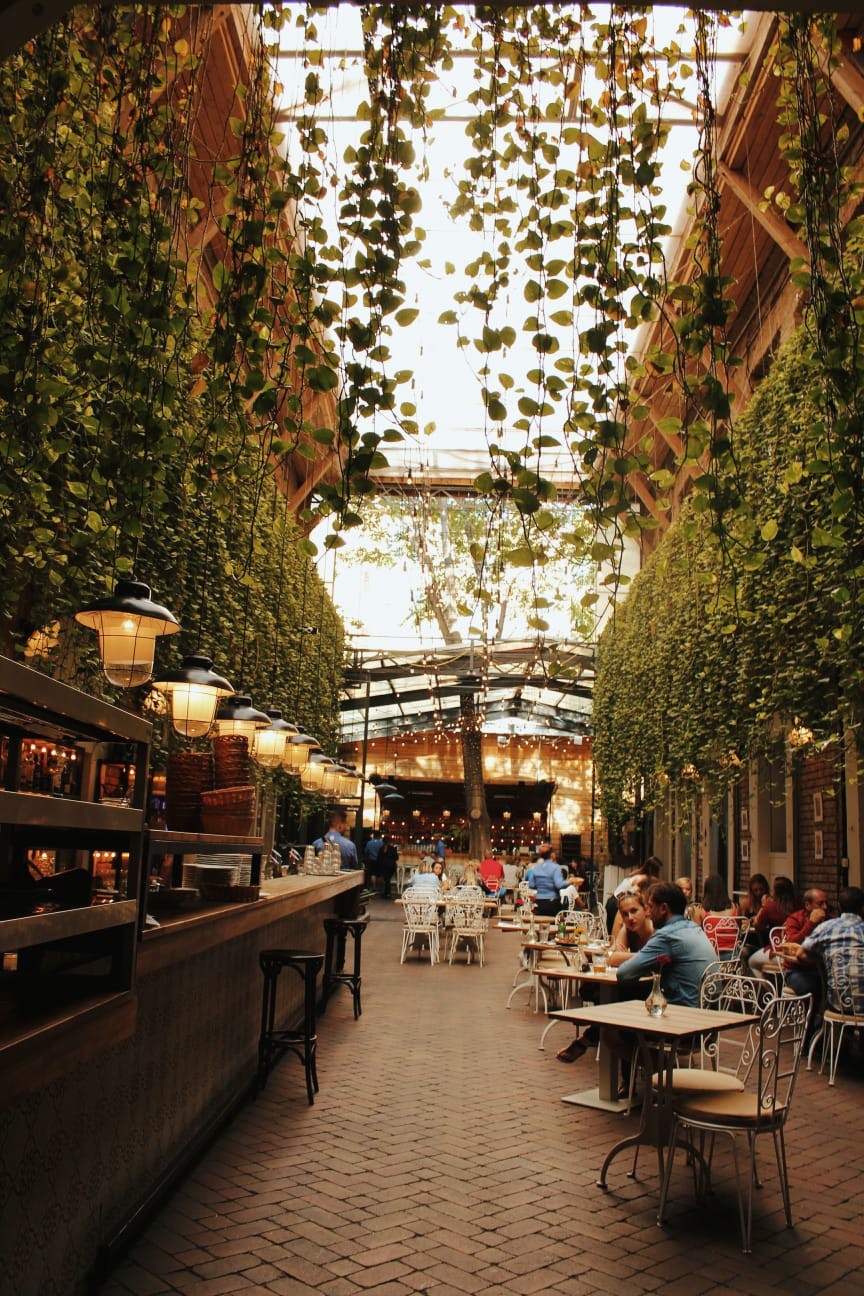 Instant
Another very famous ruin pub for partying. It has different rooms and each one has a different kind of music playing. The only problem is that it has got so famous and popular in the last few years, that you now have to queue up for almost 50 minutes to get in. At least the entry is free The decor is very similar to that in Szimpla. In the evening, each room is chaos since there are bright lights in all different colours lighting up different objects that decorate the bar.
Changing the topic and leaving the ruin pubs to one side, now I want to recommend to you some restaurants to eat at and cafes to have breakfast.
Hummus Bar
We started by the Hummus bar, it is a quite well-known restaurant where, as its name implies, its speciality is hummus. As well as different kinds of hummus with infinite combinations, there are salads and really original and different dishes. I already knew this restaurant because they also have one in Bratislava, but the one in Budapest is open every day and the one in Bratislava is only open on week-days since they are thinking of the people that go to get something to eat during their breaks. It is a restaurant which I like a lot so I recommend it to you not just for the quality of its dishes but for its economic prices. In Budapest it has become really popular, it is announced everywhere and there are several restaurants all over the city.
Raffaelo
This restaurant is in the suburbs of Budapest. We went because it was close to the bus station where we had arrived and as we were really hungry, we stopped here to eat. It is an Italian restaurant with cheap prices and really good food. We had pasta with pesto and risotto. Everything was really good. Here is a pic of the menu which will make your mouth water. There is lots of parmesan.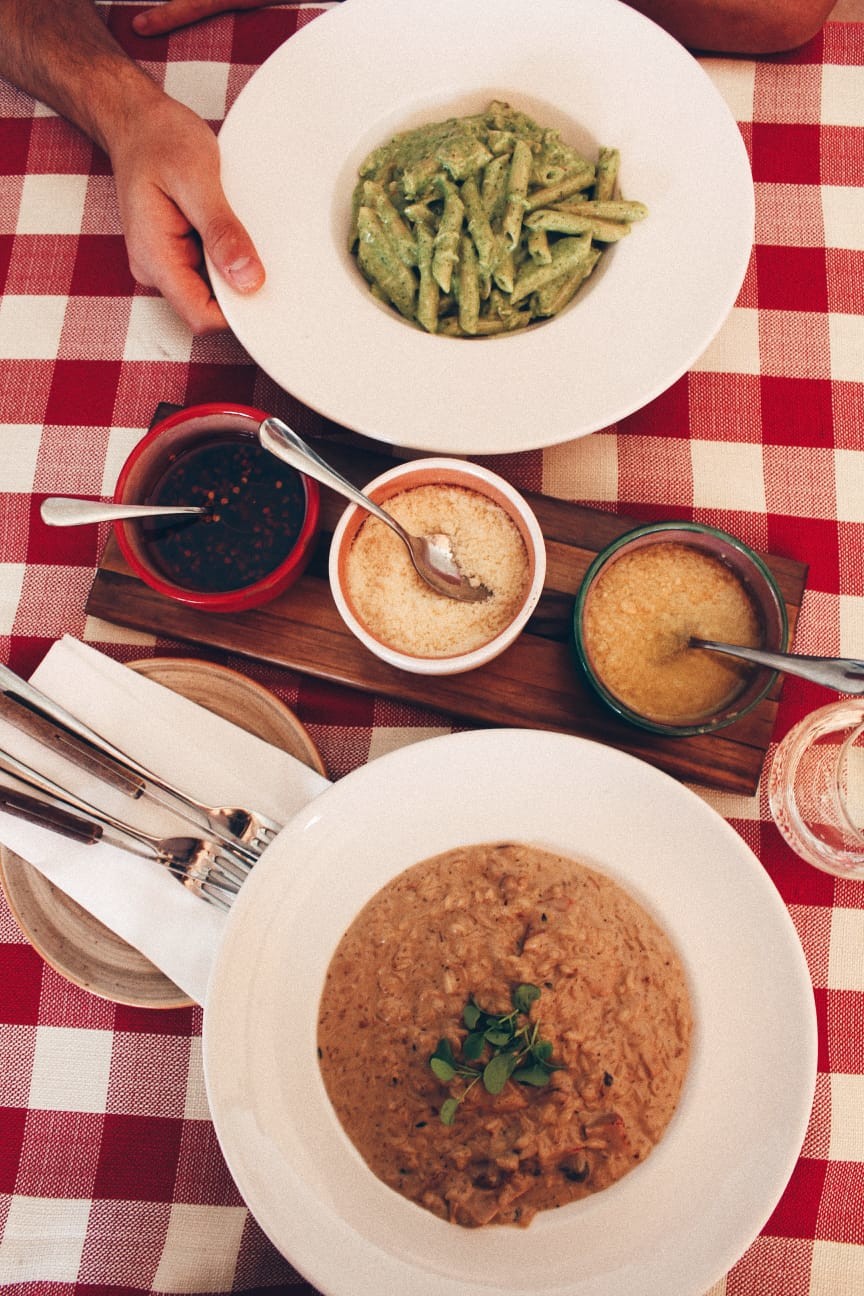 For breakfast
My recommendation is that you go to one of the many cafes there. One of the days we had our second breakfast in a cafe that was on Andrassy street. American pancake with bacon and yoghurt with berries.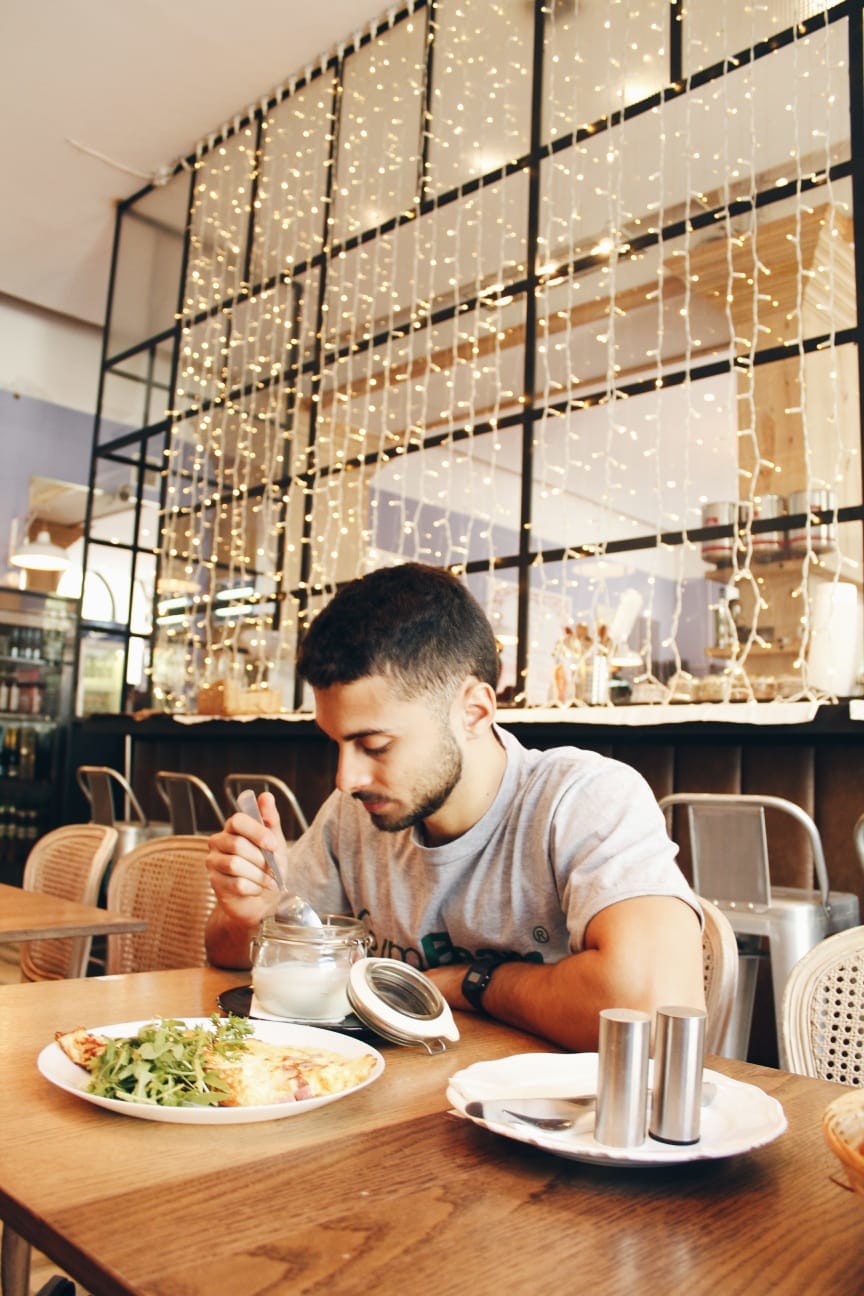 The second day we went to another French cafe which was close to the Szabadasag Bridge and we had toast with mozzarella and tomato and a spinach empanadilla, as well as a tea. It was all affordable and the place was amazing. Here are some pics. I hope that you like them.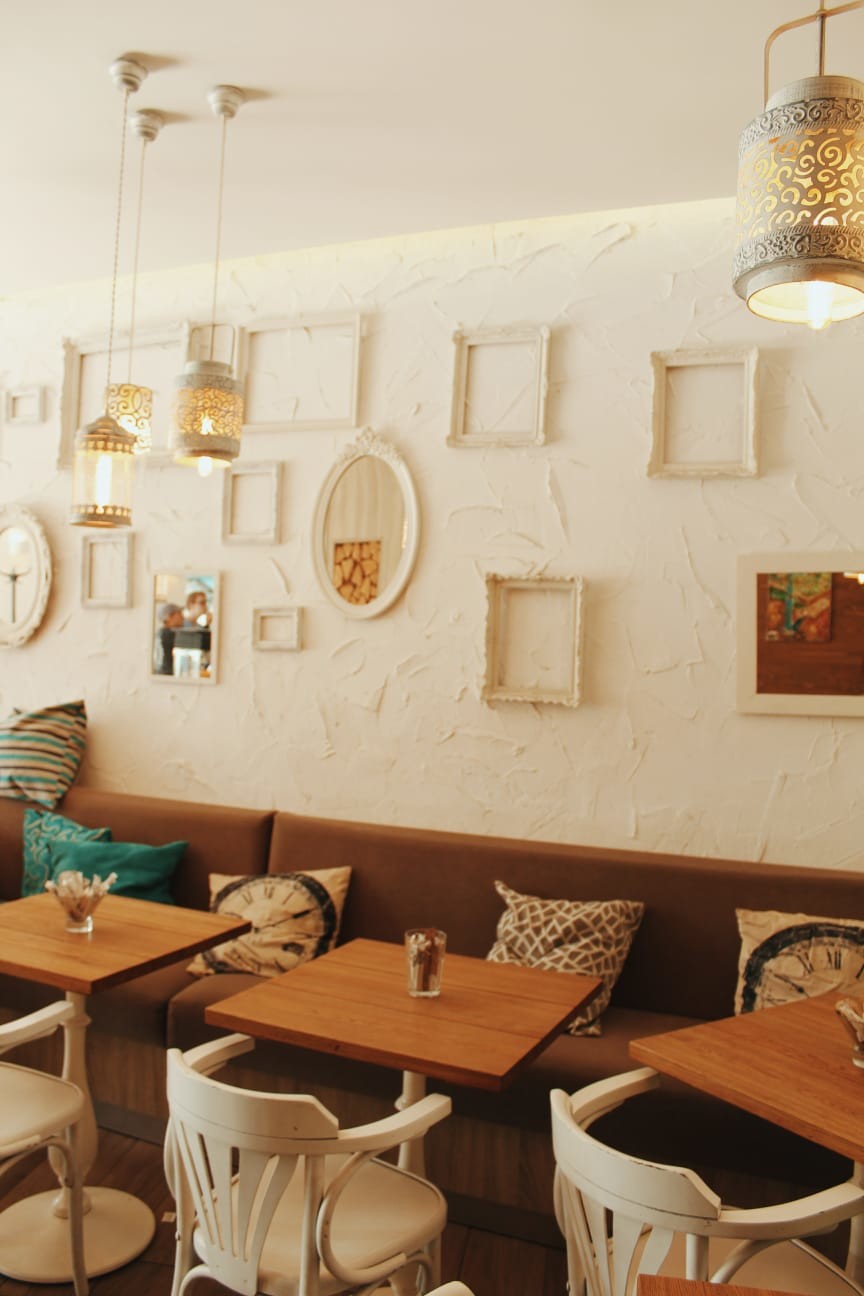 Tips for travelling to Budapest
Now I would like to tell you some advice which I think would be helpful if you are planning a trip to Budapest. I would have liked to know about some of them before leaving, so I think they could be really useful.
Reservations
So firstly, I would say that you should try and reserve it at least a bit in advance (especially in the summer) because it is not as cheap as you would expect. If you want to rent in the party area, the cheapest option is to stay in a hostel for young people, where you will share a room with 8 other people. Otherwise, the price will be quite a lot higher and you will have to spend quite a lot of money. I decided to stay in Buda, where practically nobody stays, 10 minutes from the Fisherman's Bastion, in an Airbnb which worked out at quite a good price in the end, bearing in mind the rest of the offers that they had.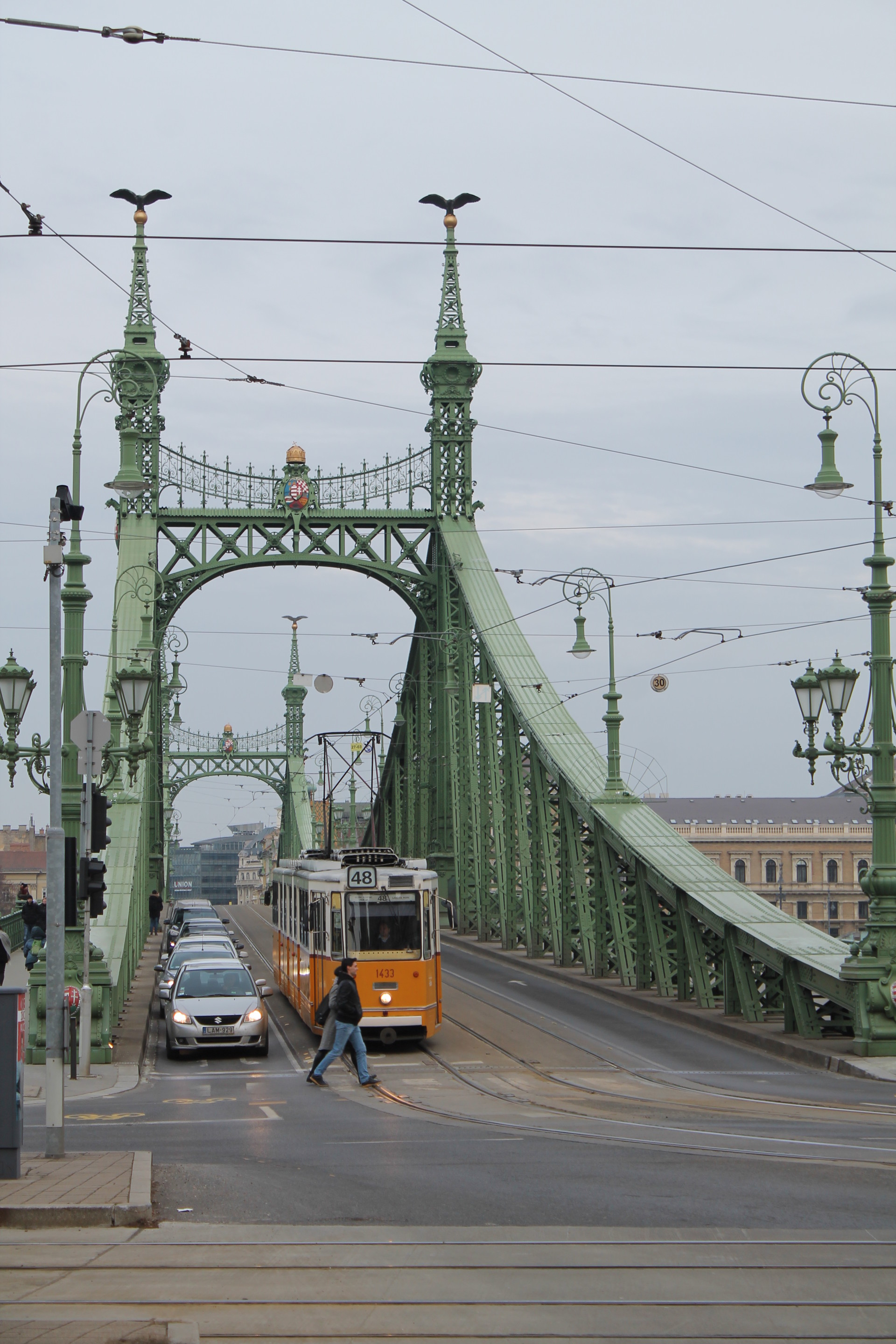 Money exchange
As for the money exchange, there are quite a few places where you can only pay with Hungarian Forint, they don't accept euros (as is logical), nor card. For this reason, go to any money exchange which is near the train station or bus because there they can't charge commission. Finally, Angel and I changed euros for Florints in a random shopping centre whose commission was quite good. Plan well how much money you will need to spend altogether to not change a ridiculous amount of money up and finally go home with a load of Florints and not know what to do with them. Also, if you want to pay with card, they will charge you a commission in most cases, and you will only know how much they charged you when the charge comes out of your account days later. In some places you might be lucky and they won't charge you a high commission, but in other places they probably will; so if you want to save money, the best thing to do is to change up some Euros for Florints.
And that is everything I wanted to tell you. I hope that you have liked this mini journey through the Budapest ruin pubs and the restaurants and cafes that I have shown you. Thank you for reading and we will see each in the next post with a lot more content. Thanks one more time.
---
Photo gallery
---
---
Content available in other languages
Want to have your own Erasmus blog?
If you are experiencing living abroad, you're an avid traveller or want to promote the city where you live... create your own blog and share your adventures!
I want to create my Erasmus blog! →