What to do in Funchal for free - part five
What to do in Funchal for free – part five
It has been a while since I said I will write another part from the series of articles about places that you can visit in Funchal and you do not have to spend much or any money. So, let me share those tips today. In those previous articles, we "walked" through the beach and beautiful viewpoint, we "visited" Zona Velha with its street art, we also checked where the main square was and we "talked" about some important buildings like the Sé Cathedral. You also know as well where the most famous wine lodge is as you know which parks you can go in if you want to relax.
So what about today? Where will we go, what will we visit and see?
Picture: Let us start the journey!
Sisi
When you are in Santa Catarina park, you can even continue a little bit further (up the hill) where you will see Casino. Casino is a favourite spot of young adults as there is one of the biggest discos (Copacabana). So if you like partying, you might consider "Casino"/ Copacabana being your preferred spots.
Anyway, back to the topic. You walk by Casino, you still keep walking further and then you will see a beautiful statue of Sisi. If you are a history lover you might find this statue very interesting and if you do not know anything about Sisi and history is not your favourite subject, you might find the statue interesting, too. It is not too big, but it is really, really beautiful.
Cristiano Ronaldo – a hotel and a statue of the star
Sisi was not the only famous person that can occupy your mind when someone mentions Madeira. Almost everyone knows Cristiano Ronaldo and many people know that the island of Madeira is the place where he was born.
When you arrive in Funchal, you will see "Cristiano" everywhere!His face is on huge posters in different streets or hanging on a wall of one hospital, his statue will "welcome" you at the airport and you will see his name written on many billboards.
Picture: Statue of Cristiano Ronaldo.
Cristiano is a star that makes people from Madeira feel proud of being Madeirenses (I am talking about this in general, obviously, I do not know all the people from Madeira personally). So there is no surprise that even when there were many sets of fire some years ago which burn a lot of land and forests where even some people used to live in their houses, Ronaldo sent some money to Madeira to help.
Well, so if you went to see the statue of Sisi (and maybe you were looking for some information about her life story) there is time to turn back to Santa Catarina and leave the park. Use the path which is on the side of the park facing the ocean. The path will lead you to a spot where CR7 Hotel is. If you are not a guest who would be living in that hotel for the period of days of being in Madeira, do not worry. There is also a museum. I have no doubt that if you are a huge Ronaldo's fan, you will be enthusiastic about paying around 5 EUR to get in. You can see some trophies and photos inside. I have personally never visited the museum, I just heard some references that my friend gave me. Though, as this article is about what to do for free, I can assure you that you can enter into the entrance hall freely, there you can buy some souvenirs, also see some pictures and trophies. Then, you might change your mind and want to get your ticket or you might not change your mind and you will simply leave.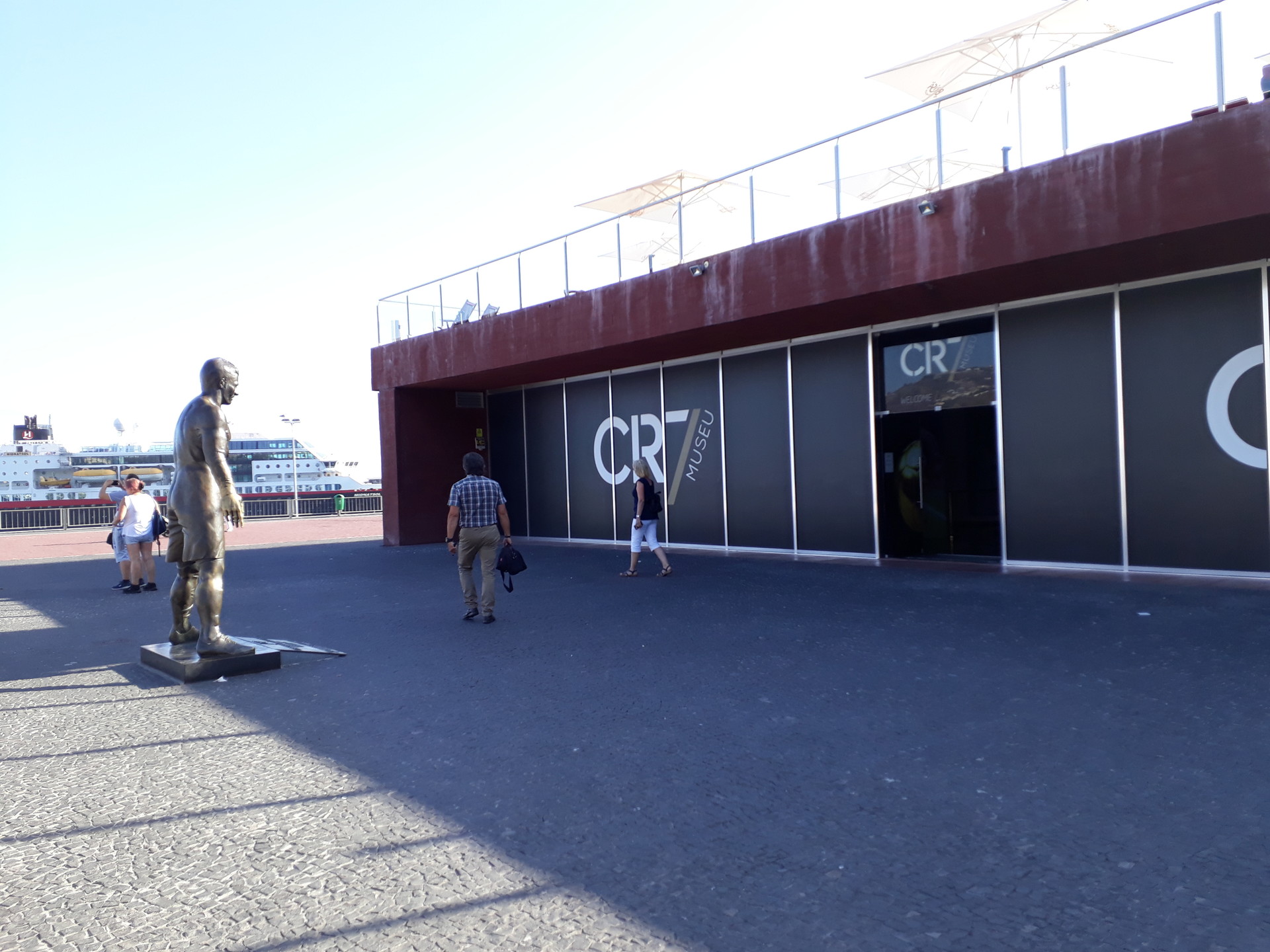 Picture: CR 7 museum and the hotel.
Well, that is still not all! Right in front of the hotel/museum, you can see and even take a picture with the well-known and much commented statue of Cristiano. I mention that it has been discussed and mocked a lot because people do not really think that the statue looks like Cristiano Ronaldo. Anyway, go there and decide whether you can see (whether you can recognize) real Cristiano when looking at the statue.
Relax
If you go to the side of the hotel (closer to the ocean), you will find a nice place where you can stop, spend some time watching the ocen and relax. There are also some bars, so you can even sit down there and have a drink.
If you are really lucky, there can be a boat "parking" right in front of the hotel. Well, I mean a cruise ship. As I am from a country where there is no sea, it was amazing just to stand there and observe the enormous ship and how it was designed.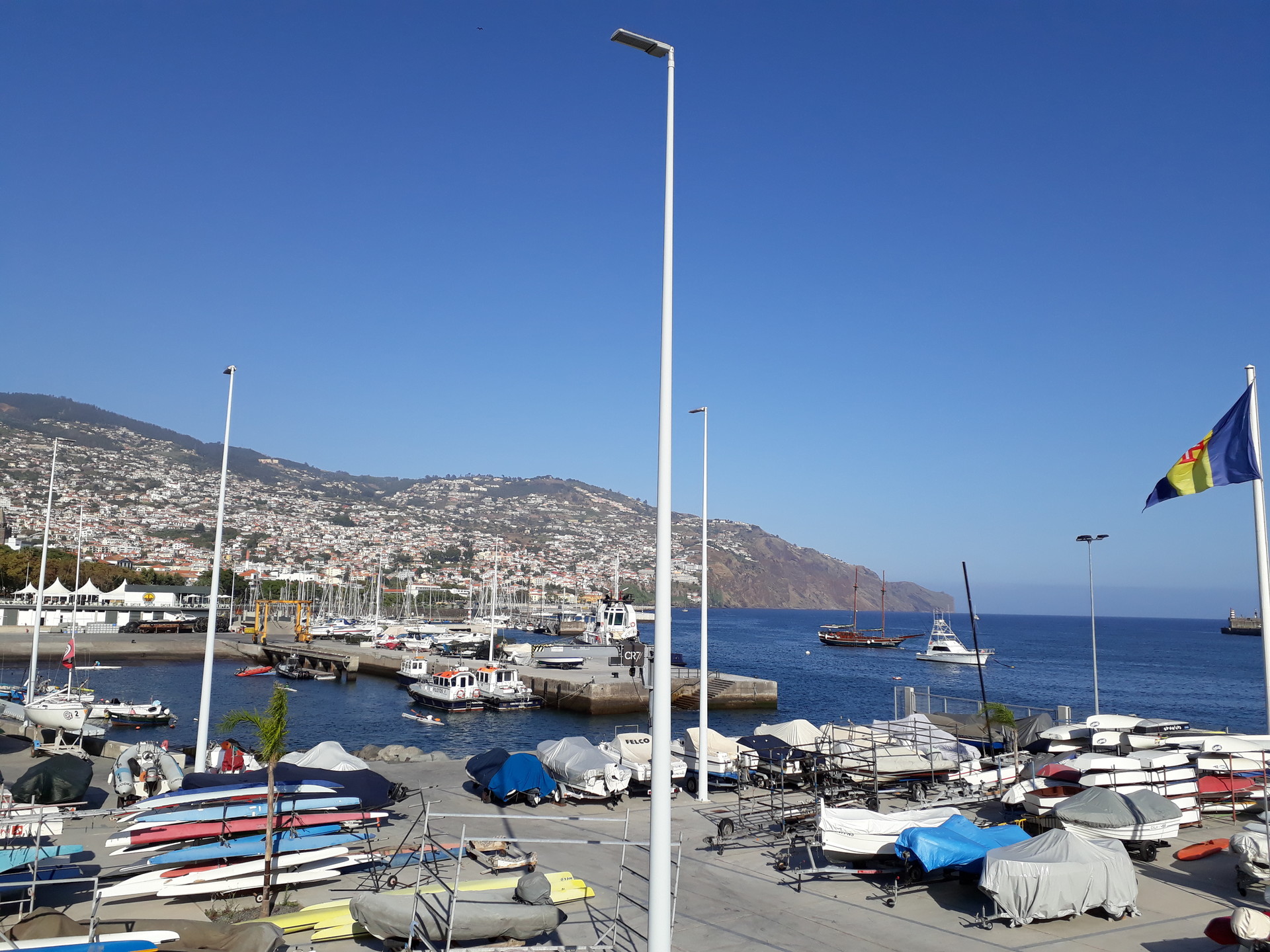 Picture: The harbour of Madeira.
Take your time, we will continue later!
---
Photo gallery
---
Want to have your own Erasmus blog?
If you are experiencing living abroad, you're an avid traveller or want to promote the city where you live... create your own blog and share your adventures!
I want to create my Erasmus blog! →