Transportation in Tbilisi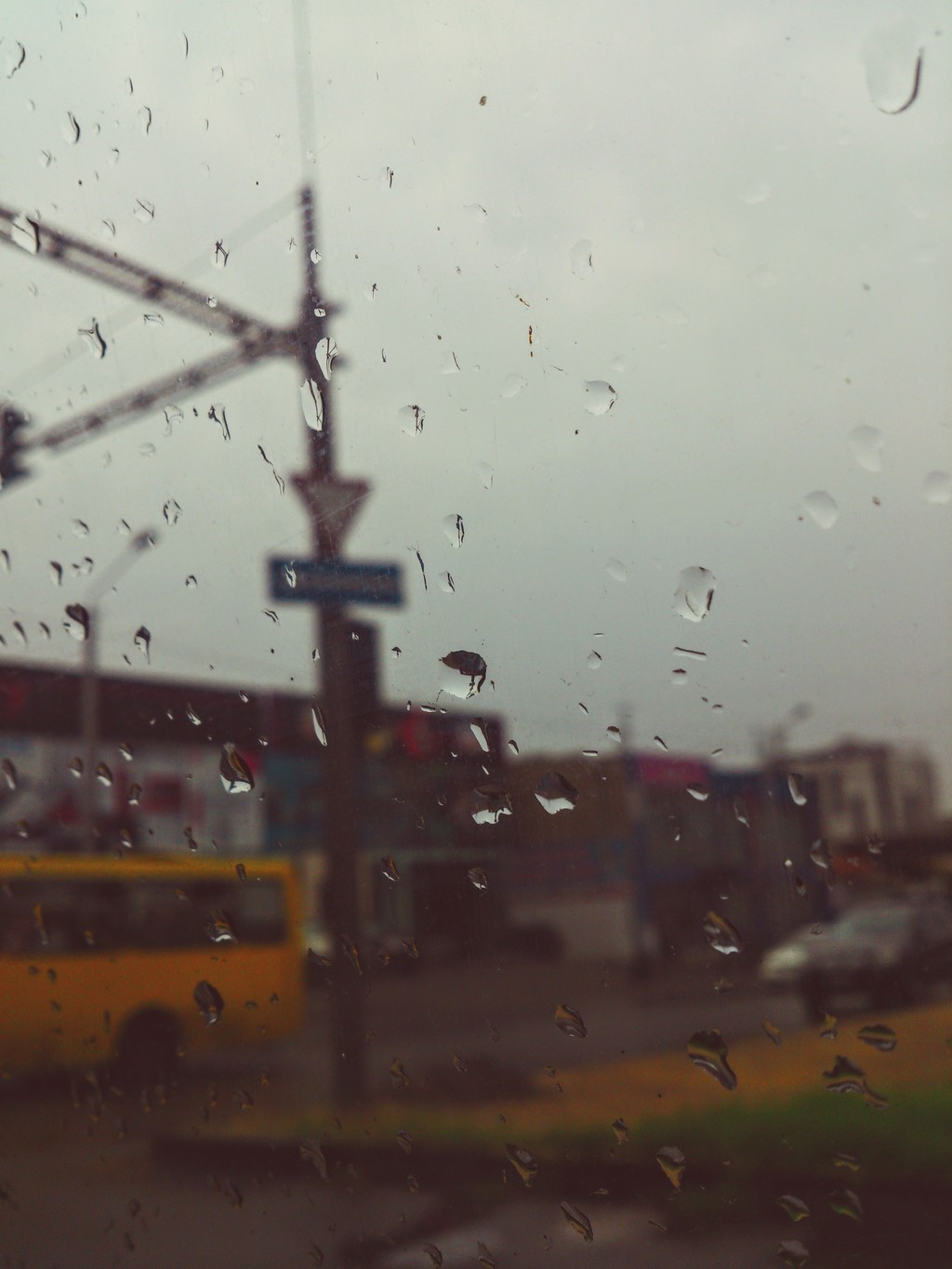 Yellow bus
Buses in Tbilisi are yellow and minibuses too. And when one famous Ukrainian TV show stars were shooting here in Tbilisi and they got on a yellow bus, they said, that it was just like in Kiev. And that's totally right, because our former president Mikheil Saakashvili got the idea of the yellow buses from Ukraine and bought them from them. The buses work efficiently, but you have to know the routes. There is a pretty good website for that too and you can just plan your journey through that. Another thing is the pricing.
The price for a ticket is 50 Tetris. You can put 50 Tetris or two 20s and a 10 in a machine that is installed in the middle of the bus or in the front and in the end and get your ticket. You don't get a day ticket or something like that, which is very common in cities in many countries. Here even work student cards and discounts _ students just have to pay 20 Tetris for the ticket, and there are cards for pensioners _ they have discounts, too, and school students _ they travel for free with their student cards.
There are people that Georgians call "Kontroliori", which means, that they control whether you take a ticket in a bus or not. There are two types of Kontroliori: one that is constantly on the bus and makes sure that everybody gets a ticket, and the other ones are mainly at the bus stations and they have video cameras installed somewhere on their right shoulder that captures you if you try to avoid getting a ticket and they usually check tickets thoroughly. The ones that are constantly on bus wear green uniforms and they can't fine you, but the other ones who wait for people at the bus stations _ they wear dark blue uniforms _ can fine you! So beware! If you don't have a ticket, just don't get caught by the blue-uniformed ones! The fine for not having a ticket is 5 Laris and you should pay it within a month, or it will become 50 Laris and so on and so forth. So, remember, avoid Kontroliori, and if you get caught and fined, pay the fine within 30 days, or else 50 Laris for not having a ticket that costs maximum of 50 Tetris is just stupid and funny somehow at the same time. Just think about it! For 50 Laris you could just have gotten on a hundred buses, and, man, I just use up to 2 buses in a day mostly.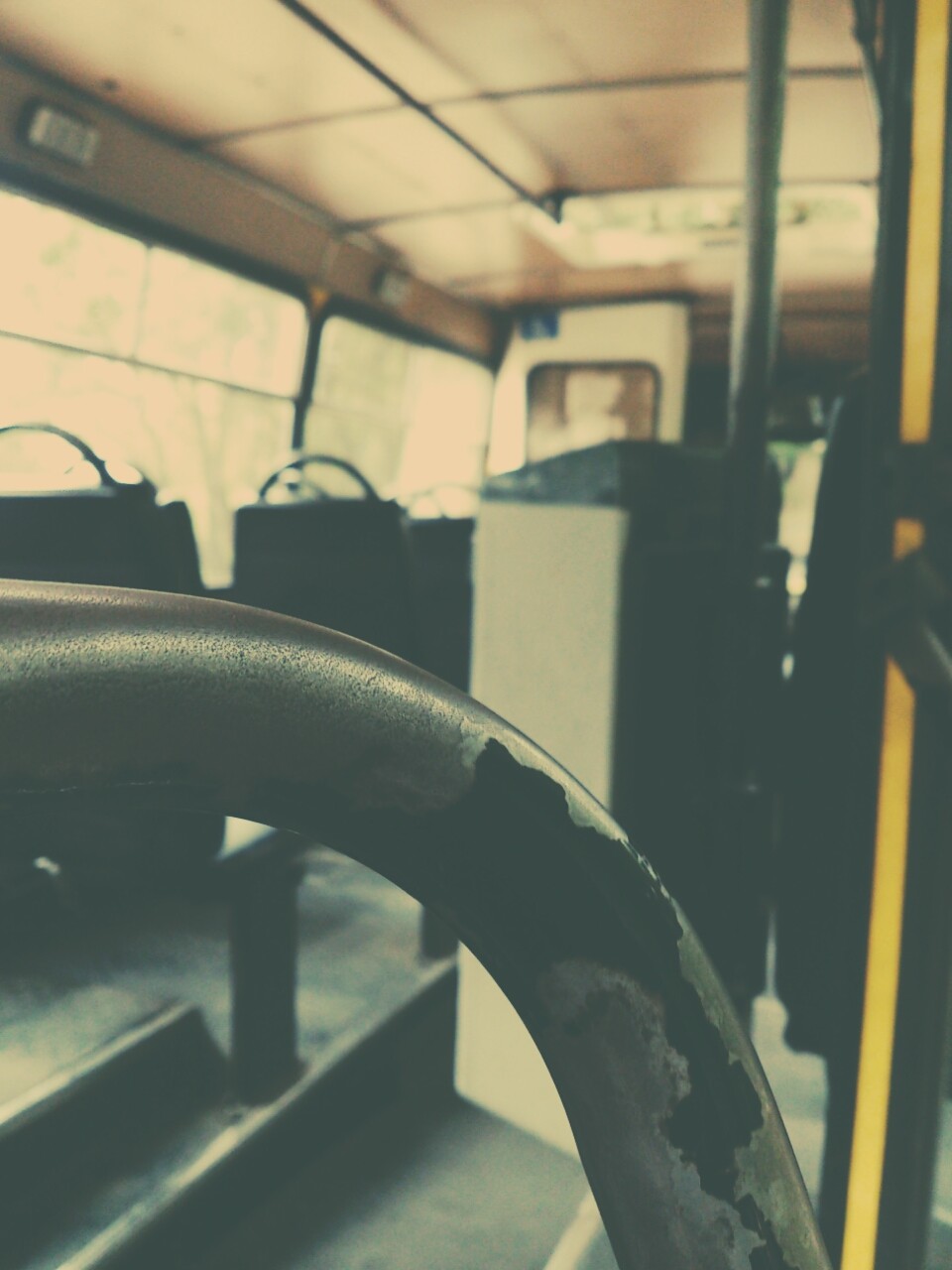 Minibus
So, another transport you will see in Tbilisi is a minibus. There are about 2 000 Ford Transit minibuses. I think there are seats for 15 to 18 people. But the "beauty" of minibus is that it can take up to 30 people maybe! People are just on each other and that is especially when it's rush hour.
Well, minibuses cost a little more than the buses. The majority of them cost 80 Tetris. Of course, there are some of them going on shorter routes and they cost 40 or 50 Tetris, it depends on the number of minibus and what route it goes on. And there are some minibuses going on longer distances, for example some of them go from Varketili Metro Station to Lilo Mall and they cost 1 Lari. And while buses have designated stops, minibuses do not! So everyone knows the phrases used in minibuses by heart. There are phrases, such as: "stop, when you cross that", "stop, when you turn", "stop wherever you can", and others. Some of them are really hilarious, but you should hear it in Georgian, because translated into English you may not find them funny at all. So, remember this _ don't hesitate to shout out "stop" whenever you see your destination place and don't be shy to repeat it until the driver stops the car, because sometimes there are so many people in the minibus, that the driver doesn't hear someone saying "stop". Well, there are occasions, when the driver doesn't stop for some time, because driving has its rules, too, and the driver is looking for the right spot to stop, and that's a funny moment _ the passengers think he didn't hear someone saying "stop" and then all these people start to shout at him to stop the car and then the driver gets upset, and, well, it's a very complicated situation…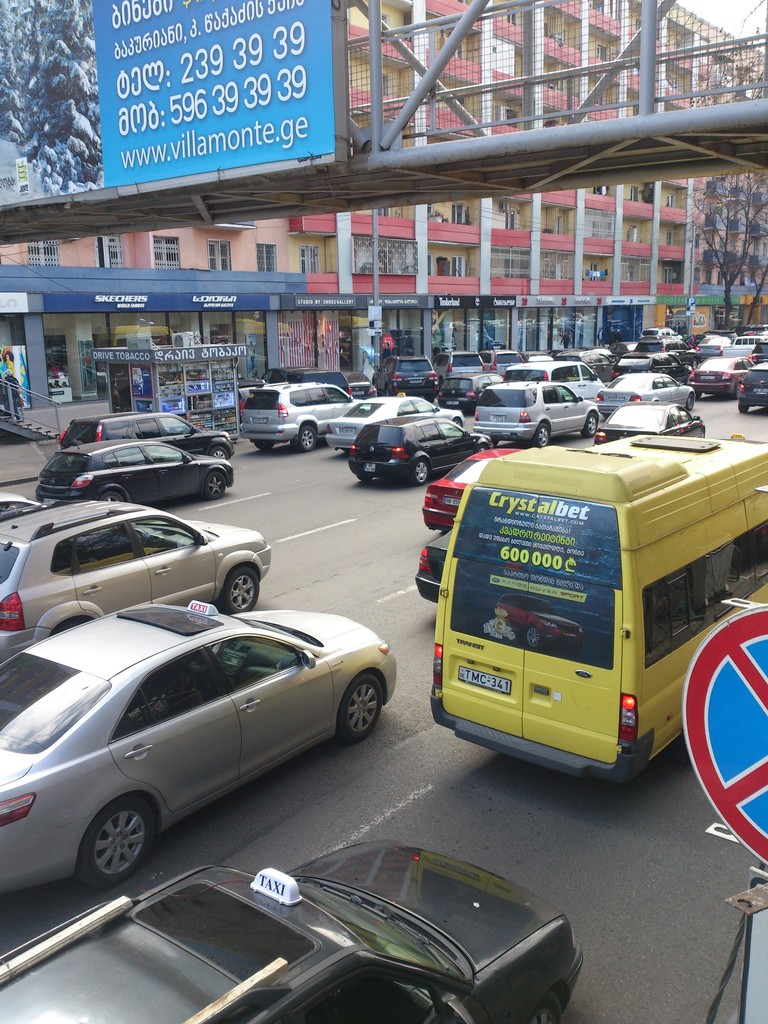 Underground
Another transport in Tbilisi is metro or subway, if you like. So this metro is the only transport that is only in Tbilisi in the whole Georgia. It was opened on December 11-th, 1966 and it was the fourth metro system in the former Soviet Union.
It has two lines, 27. 1 kilometers in total and there are 22 stations as a whole. These two lines connect to each other at the central railway station _ on the Station Square.
There are the First Line and the Saburtalo Line. Saburtalo Line serves mostly the western parts of Tbilisi. It was opened later, in 1979 and has only 6 stations. While the First Line or Akhmeteli-Varketili Line was the first line, as you would already have guessed by now according to its name, and it has 16 stations in total.
Tbilisi Metro works from 6:00 a. m. untill 12:00 a. m. There are some doors, that shut down at 8:00 p. m., but don't worry, the other door to metro station is always open in this period of time.
Usually metro costs 50 Tetris, but you have to have a Metroman _ a card, which you can top up and use to get into metro, or if you are a student at university somewhere and you have a student card, you can use it and the cost will be 20 Tetris. School students have a special gate. If you want to buy Metroman, it costs 2 Laris and you can buy it in any metro. You can top it up there as well. Now, some tips for getting into metro!
If you don't have any cards, obviously you can't get into metro. So either you can buy this Metroman card, or you can ask someone to kind of lend you this card. Okay, I will explain: there are many people going into the metro, so if you see someone holding a Metroman and waiting in line to top it up, you can ask them to use this card for you too and in exchange, you will give them the cost of metro _ 50 Tetris, so that they will top the card up with that money too so you can get into metro. Simple!
Another way is to use a "service", which is illegal I guess. There are some people in front of the entrance of some metros and they offer you "gatareba", which means they have Metromans and if you give them 50 Tetris, they will use that card to get you through the gates. The trick here is that if you use a card, you can use it free of charge in the following one and a half an hour, but you should use it after 15 minutes of last using it. So you used your card, 15 minutes later you can use it again and you won't have to pay anything for that, after 15 minutes you can use it again and so on and so forth, until one and a half an hour passes after your first usage of the card.
Also, two metro stations are above the ground, so don't panic if you are in a metro and suddenly there's a light! Many people get scared because of this. That is unexpected for them and they don't know what is going on.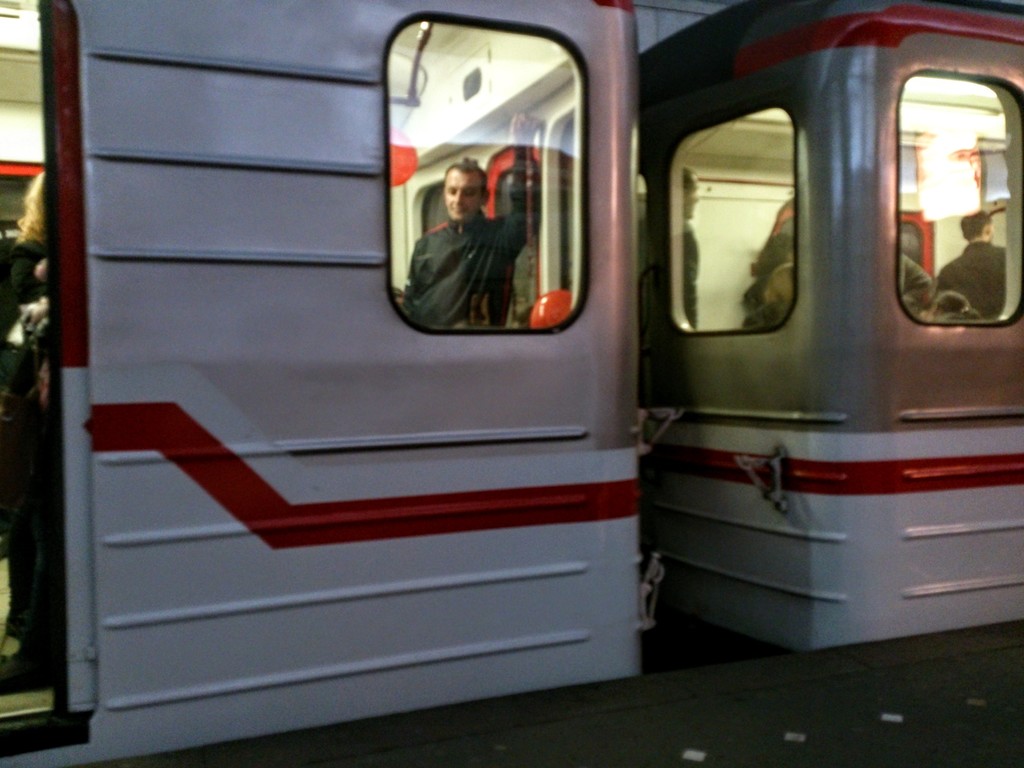 The funicular
There is also a funicular up to Mtatsminda Park. The funicular has been completely renovated some years ago and it's really comfortable. To go on it, you have to purchase a card, it's purchased from ticket office and costs 2 Laris. If you get off of it in the middle station and walk through the path you will end up near Mamadaviti Church, and there are many famous and important Georgians buried around the church. From there there's a pathway and stairs that lead all the way down to Rustaveli Avenue.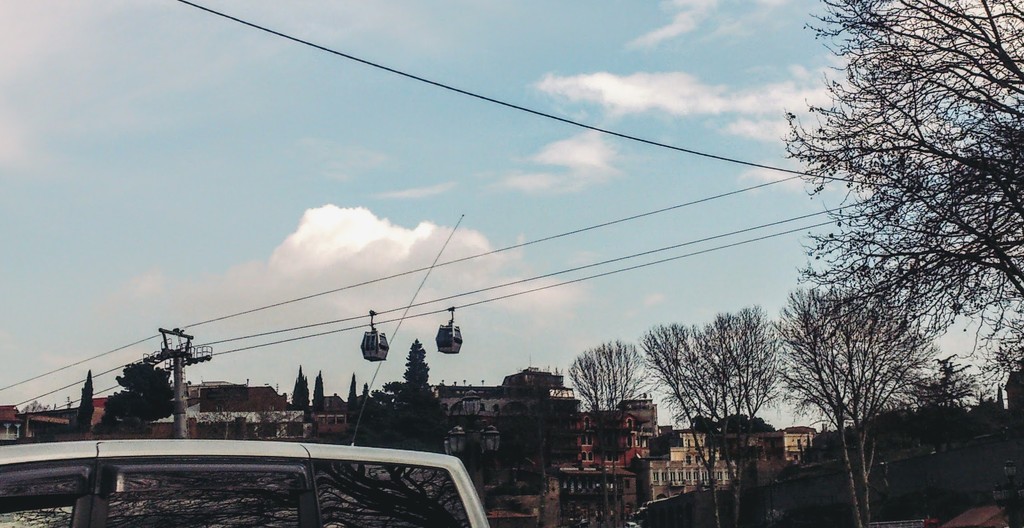 Cable car
There is a cable car from Rike Park to the fortress in Tbilisi that is worth seeing. The cable cars were installed just some years ago and you can use Metromans on them. It costs 2 Laris each way. Another cable car lines are found from Vake Park to Turtle Lake ("Kus Tba" in Georgian), but it doesn't work, so if someone wants to go to Turtle Lake, they have to either go somewhere nearby by bus and then go on foot all the way to the lake, or take a taxi. Or maybe have their own car or somebody's and go there that way.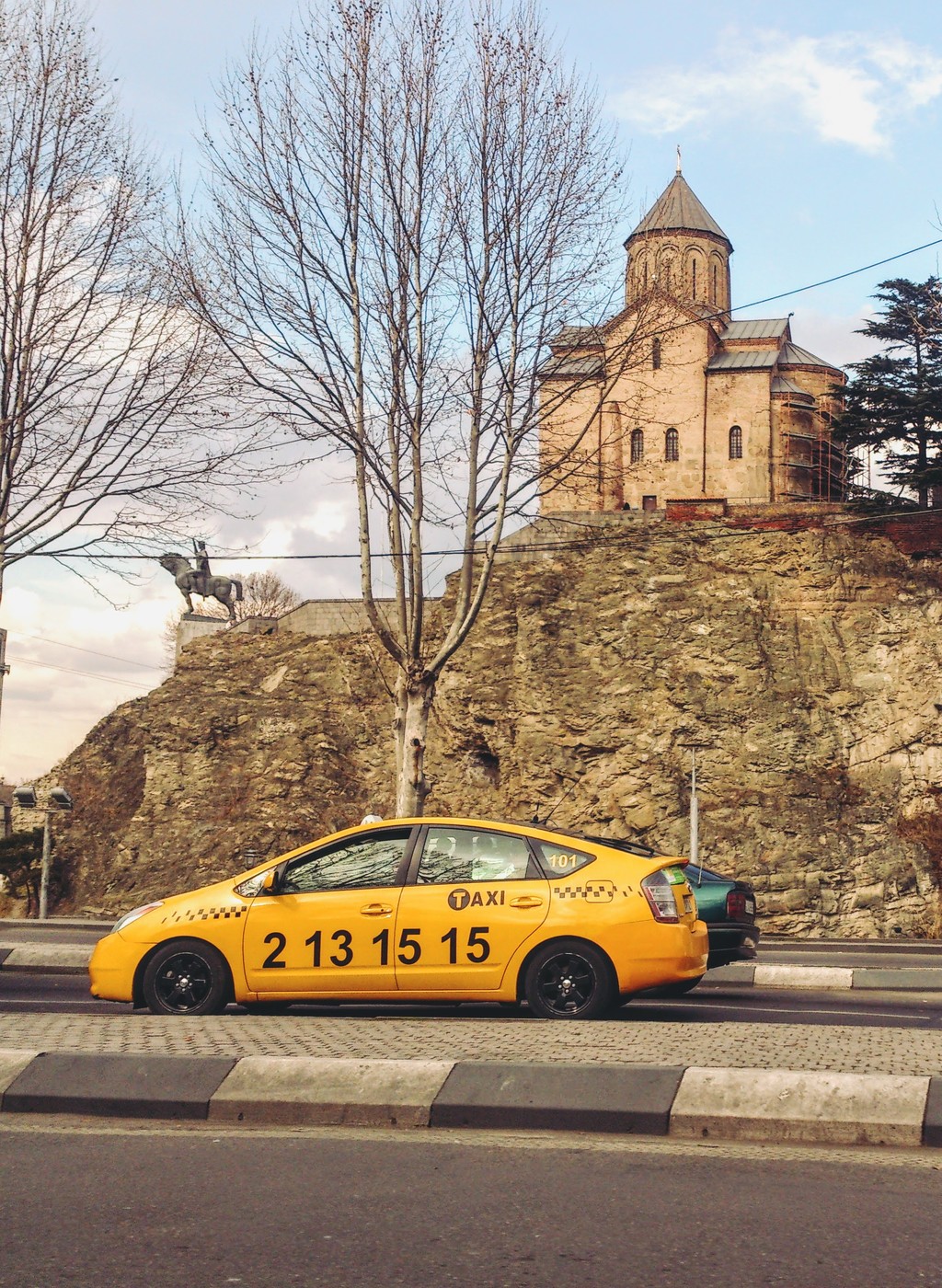 Taxi
Another great transport in Tbilisi is taxi. Taxis are everywhere! They just wander around and look for clients. Generally, bargaining is the universal language taxi drivers, sellers at bazaars and others speak. And if you are good at bargaining you can get something that costs 8 Laris for 5 if you are good at bargaining. It's okay to stop as many taxis in the streets as you wish. Don't be shy to stop and then let them go if the price they tell you for getting you a lift somewhere is not likable.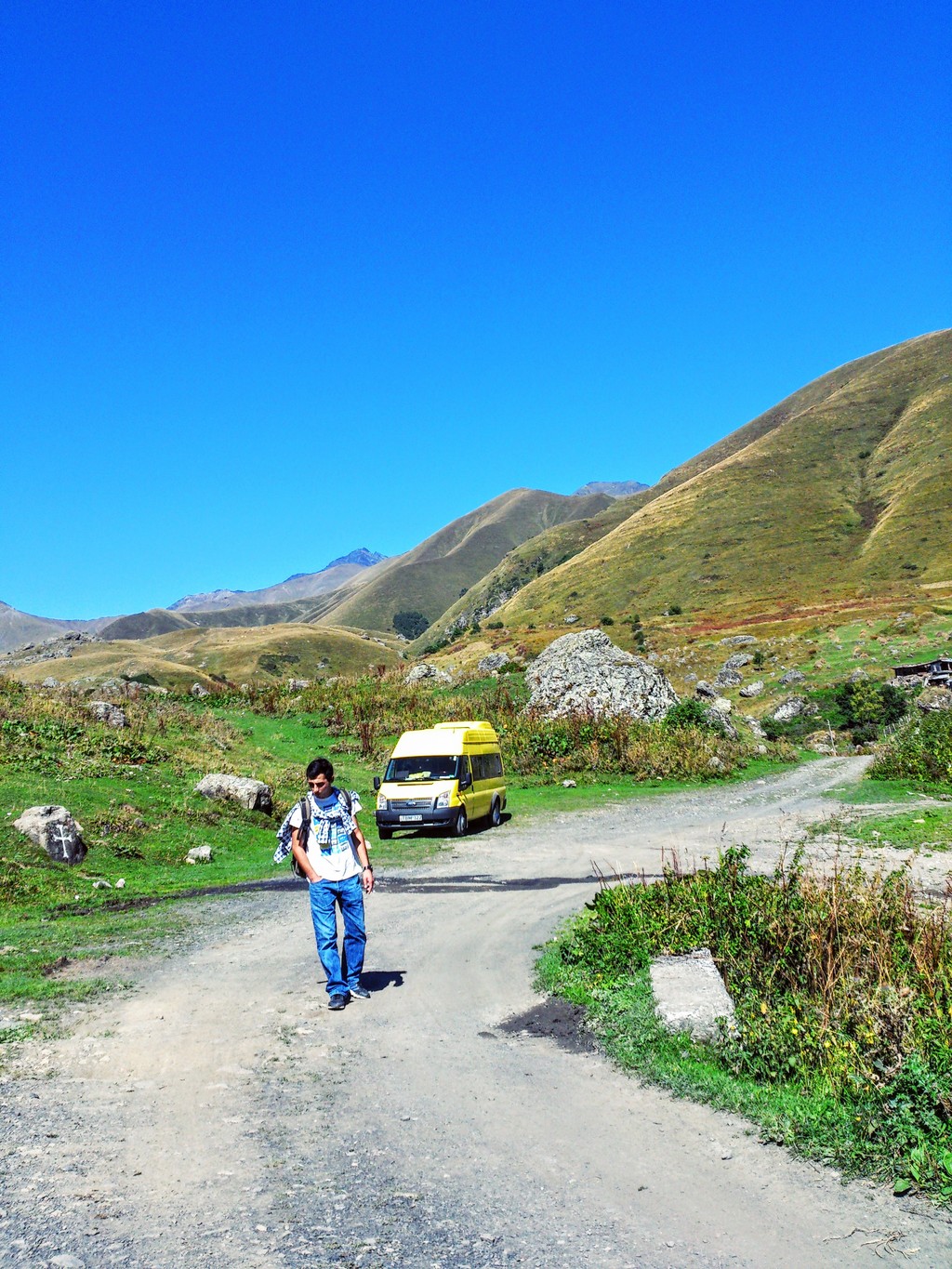 Long-distance minibuses
There are also some minibuses going from Tbilisi to other cities and towns. There are some places where they are gathered and everyone knows those places and whenever someone wants to go outside Tbilisi, they just go to these places and get on a minibus and travel to their destinations.
There are three major places like that. The minibuses are in Samgori, near the Samgori Metro, in Didube near Didube Metro and that place is called "Okriba", and near the central railway station near the Station Square Metro. It's known, that minibuses from Okriba go to the western Georgia, and minibuses from Samgori Metro territory go to the eastern Georgia. The price usually depends on where you are going. For example, if you are going to Kutaisi, it will cost you something like 15 Laris. Or if you are going to Sagarejo _ that is maximum of 1 hour drive from the center of Tbilisi _ you will pay 3 Laris.
---
Photo gallery
---
---
Content available in other languages
Want to have your own Erasmus blog?
If you are experiencing living abroad, you're an avid traveller or want to promote the city where you live... create your own blog and share your adventures!
I want to create my Erasmus blog! →