Welcome to the Paradise, CEIP Isabel la Católica and Playa de las Teresitas
31 August - 1st of September
Meet up with Isabel la Católica feeling
As we arranged with Fabiola by emails, my first day at the school started on the first of September. The only thing I knew for sure that she was going to be my mentor teacher and the fact that the first week is about preparation, students begin the school year at 8th of September in Tenerife. Well, I don't really know what to say, there are no words to describe how welcoming, friendly and helpful people I had a chance to meet. I'm sending my kisses and greetings to all of you, I feel so blessed that I could experience a feeling towards a gorgeous community when saying "thank you" loses its power because what I truly feel, and its impact on my life is far beyond that :) Hugs and frequent kisses are normal to welcome each other, after a while it was funny thinking about how standoffish we are in Hungary, especially in dignified places as schools. After a quick discovering walk in the building, I was sitting at a big table among the teachers watching their annual summary presentation on the previous year accompanied by a quintessential Spanish song Duele el Corazón by Enrique Iglesias (I linked it to tune yourself into the mood :P). In that holy moment, I took the meaning of being in a Spanish-speaking territory. I've always been in love with that language on the way of music adding WOW, it's so cool I'm gonna die :D And we continued to eat those tasty Canarian cakes and snacks that teachers brought.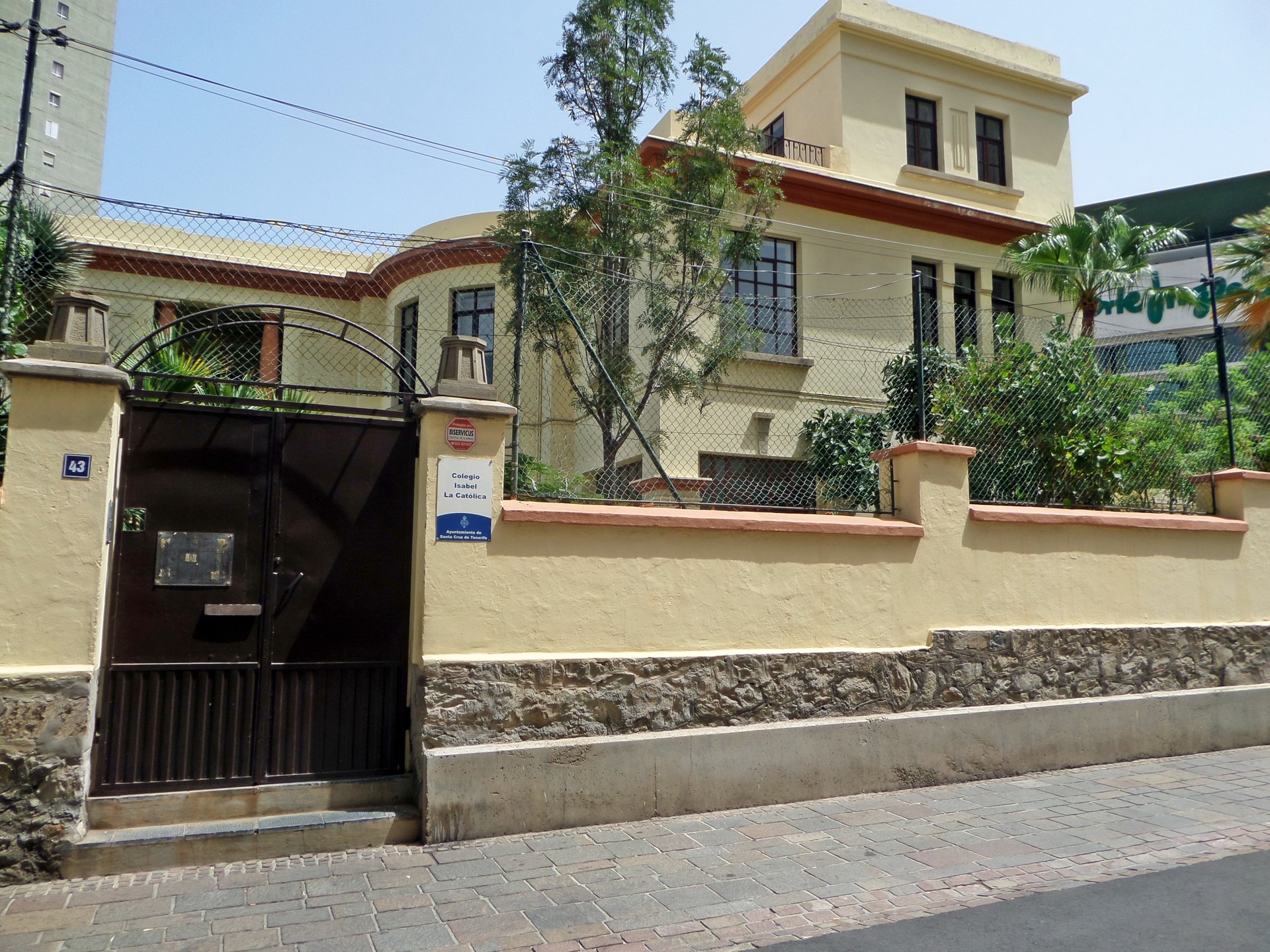 Building of the school CEIP Isabel la Católica, and El Corte Inglés shopping mall on the right.
Assistance for filling in Learning Agreement
Here you can find key pieces of information to fill in Traineeship Programme at the Receiving Organisation according to my own Learning Agreement divided into four sections.
Detailed programme of the traineeship:

to participate in the school's projects
to show characteristic of their culture
to help and support the teachers' role
to collaborate on complementary activities
to practice oral interaction with students and interested teachers
Expected Learning Outcomes:

The goal of the traineeship is improvement on the trainee's analytic-evaluation skills and reflective thinking concerning their own pedagogic profession. In addition, the trainee is required to pay much more attention to developing her own pedagogical view of education and of the role of values in her teaching, and to constantly collect portfolio materials.
Monitoring plan:

The mentor teacher helps the trainee processing her experiences gained through the traineeship, interpreting and solving any emerging problems, and also documenting her activities. Each week the trainee's report document needed for the University of Miskolc is supervised by the mentor teacher to check if the trainee's activities at CEIP Isabel la Católica are documented correctly.
Evaluation plan:

Completion of required 300 hours traineeship is verified on a report document (detailed activities fulfilled during the traineeship) with school stamp CEIP Isabel la Católica by signature of the mentor teacher, which verifies that the trainee during her traineeship has obtained modern teaching skills - such as good organisation skills, getting on well with people of all ages, backgrounds and abilities and understanding their needs, planning and creating interesting activities to improve learners' skills etc. -

and is able to work alone effectively. Traineeship signature and grade is given when the report document and other potential documents required by professors of the University of Miskolc belonging to the compulsory courses the trainee has to take up in school year 2016/17/1.
Heading to Playa de las Teresitas
Sorry, but using Google Maps is far better than any other application, even to understand the way of buses :D Google is your friend – when you are in a different country being extremely unfamiliar with local culture, language and places it's much truer than you would ever guess. Sitting in front of the computer searching for basic Spanish words and must-see tourist attractions, some of the sceptical utterances I'd heard before at home crossed my mind such as "You can't speak Spanish, I haven't the faintest idea how you'll get on with it" or "What if you are lost? It's crazy, not everyone speaks English", I smiled now and then. Who cares about all these? Come on! We are in the twenty-first century as far as I am concerned with people being online all day long typing on their phones, I don't even have to make an effort to talk to someone if I want to know or perchance ask something. The very same how life works at home, but I'm not attending to start a conversation about the disadvantages of our Internet-based world affecting people's well-balanced and healthy social life. I'm just saying let's think twice before alarming each other with dismal forebodings obviously not standing their ground.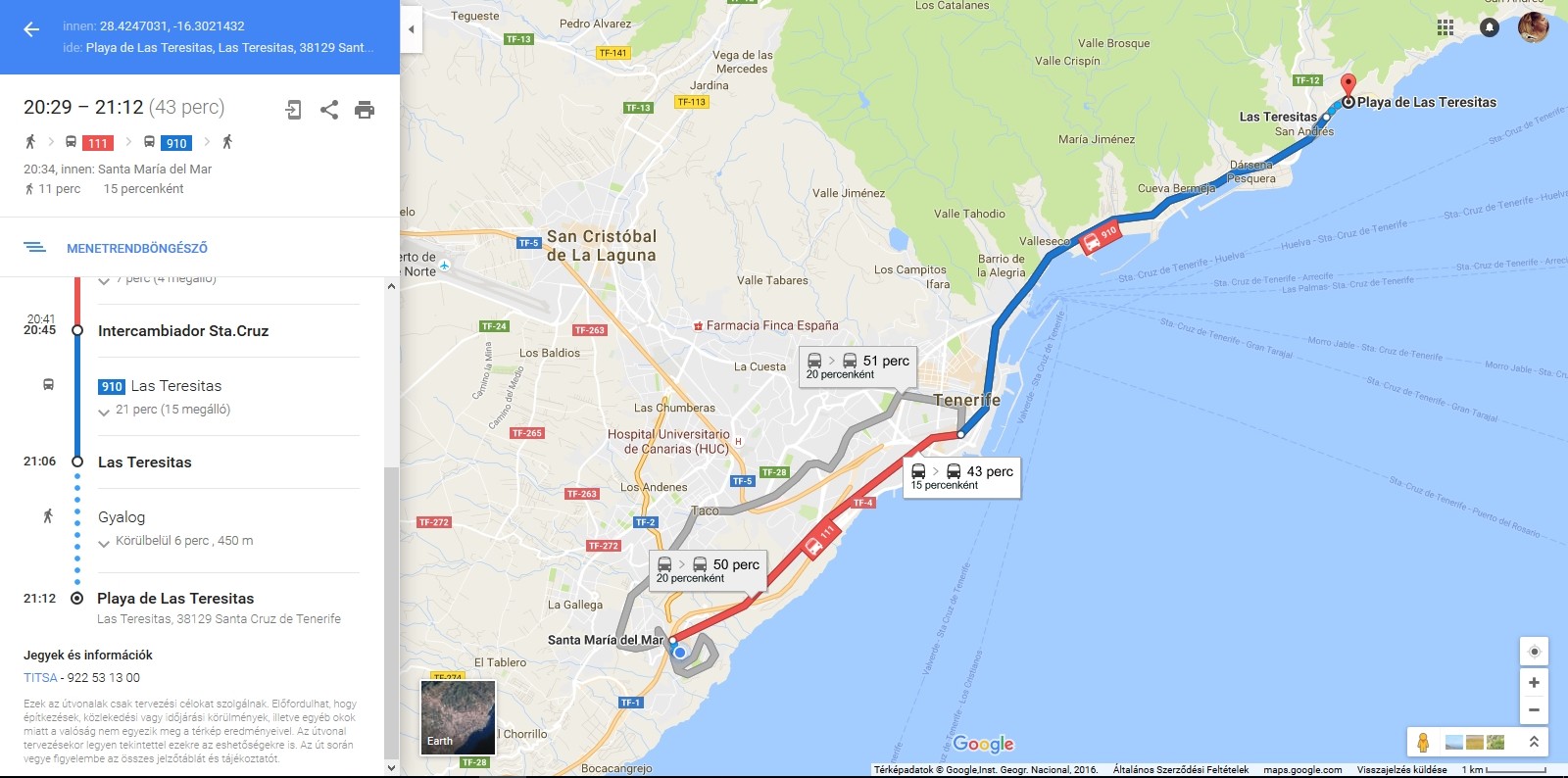 So, here comes Google Maps and voilá I had been sunbathing at the beautiful Teresitas beach holding cerveza con limón /θeɾˈβeθa kon liˈmon/ (beer with lime) long before the sun started to go down. I didn't managed it one day earlier, I got confused by schedule time. Hiring a deckchair costs 2 euros a day. There are great beach bars, changing rooms and toilets right behind the shore. As you can see on the map from Intercambiador Santa Cruz (main bus station) to Teresitas you can take bus number 910 and you'll be only a few steps away from the ocean in twenty minutes. I'm sure the pictures are speaking for themselves :)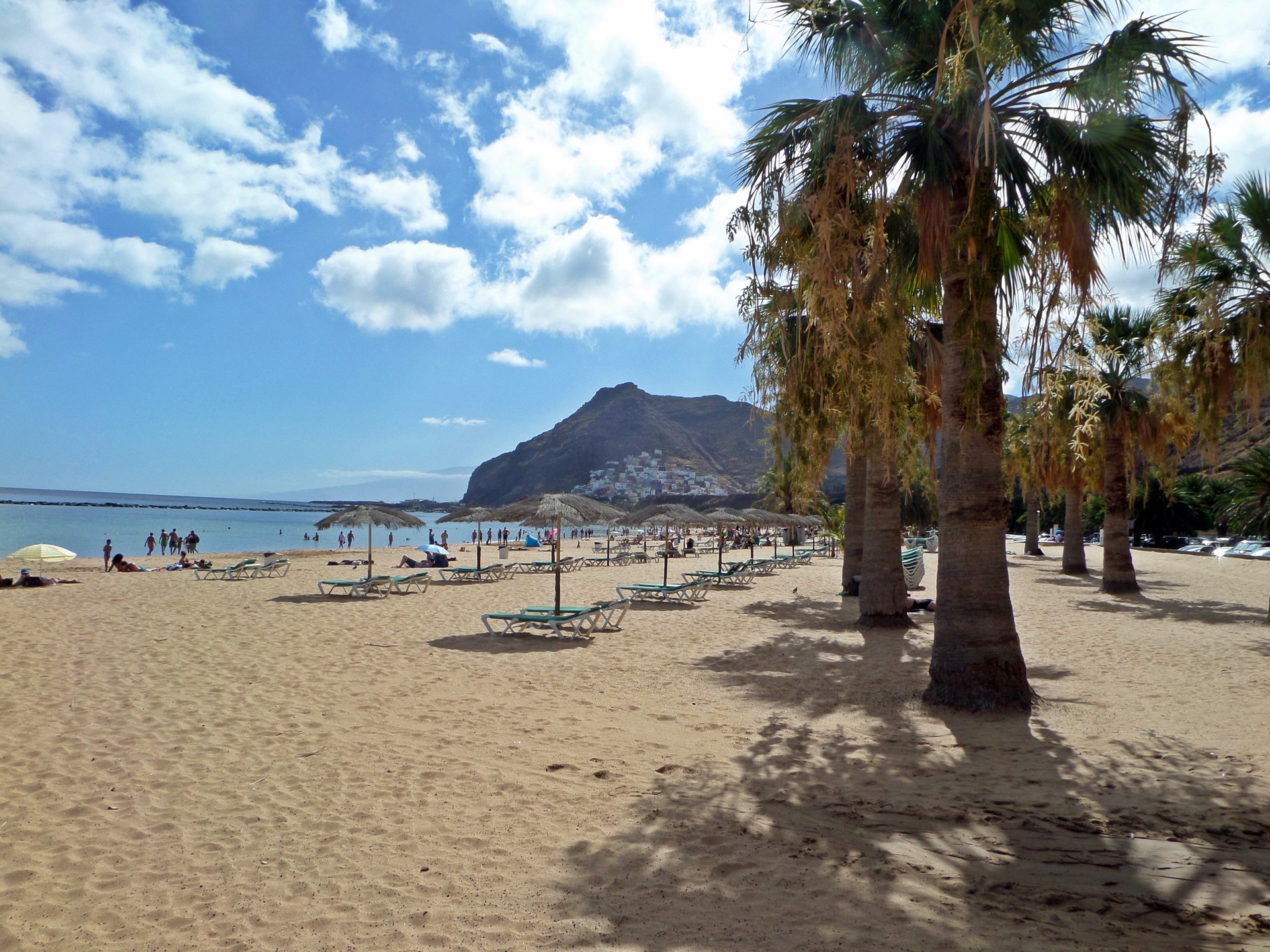 It's so hot here that palm trees' leaves on their lower branches are shrivelled and that you can have bronzer skin by spending only one day under the sky. I've got bloody white skin and after leaving the beach I was so satisfied with my tone than never before. Even if everyone else were laughing at the fact how white I am compared to them. Yes, it's not a big deal to be not so white if you are grown up here. We have real winter with zero or minus temperature, and snow not just at the top of a volcano at a never-visited-by-many high altitude. Bleee :D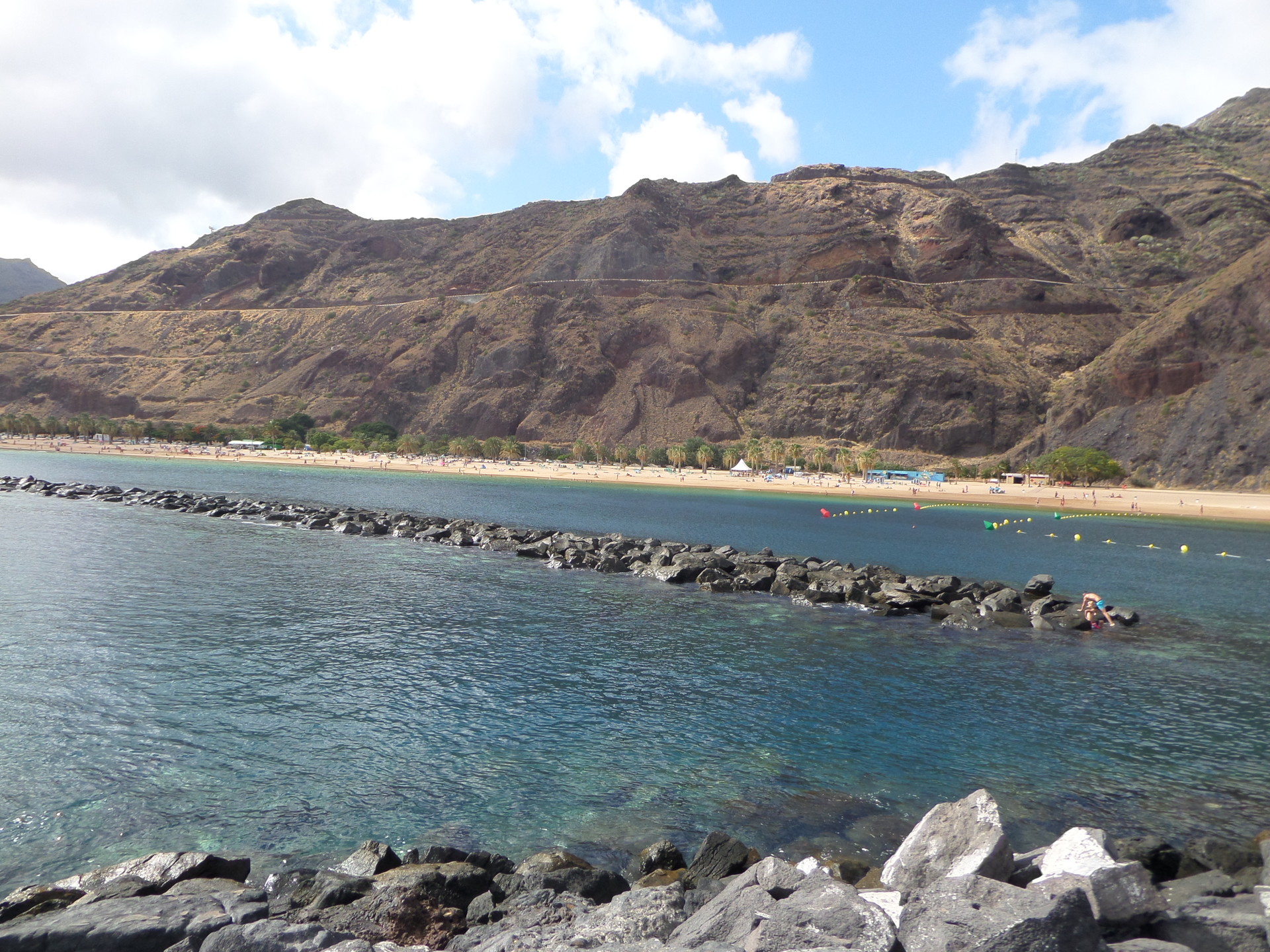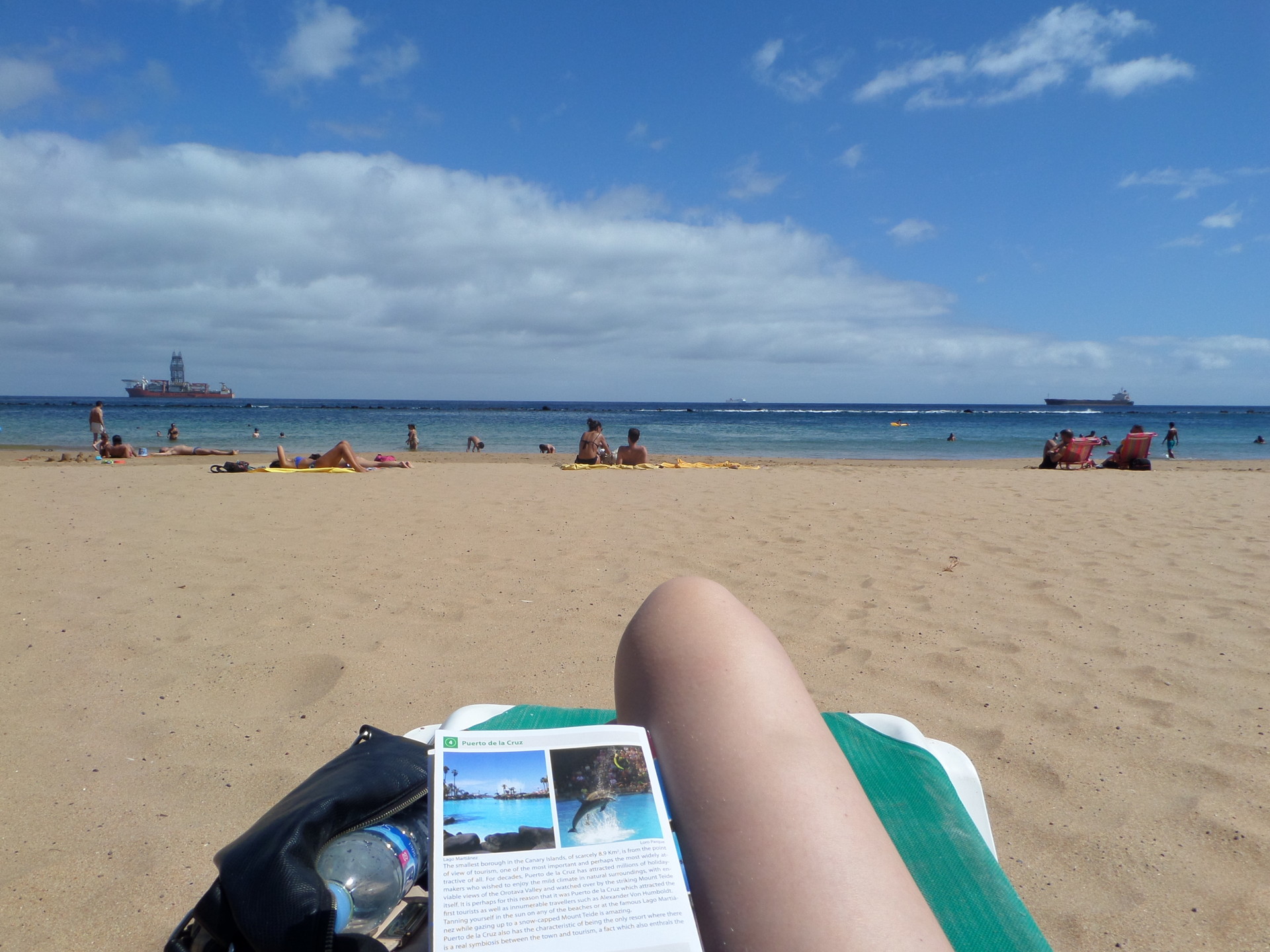 I really am sorry for not being strong enough to resist the temptation of taking a typical sausage leg photo, although it's pretty much single and white. Next time I also should focus more on the look of clouds because it's not such fascinating as on the other pictures. Anyway, it is for my own entertainment, it's the one I'm never gonna post. Oops, I did :DD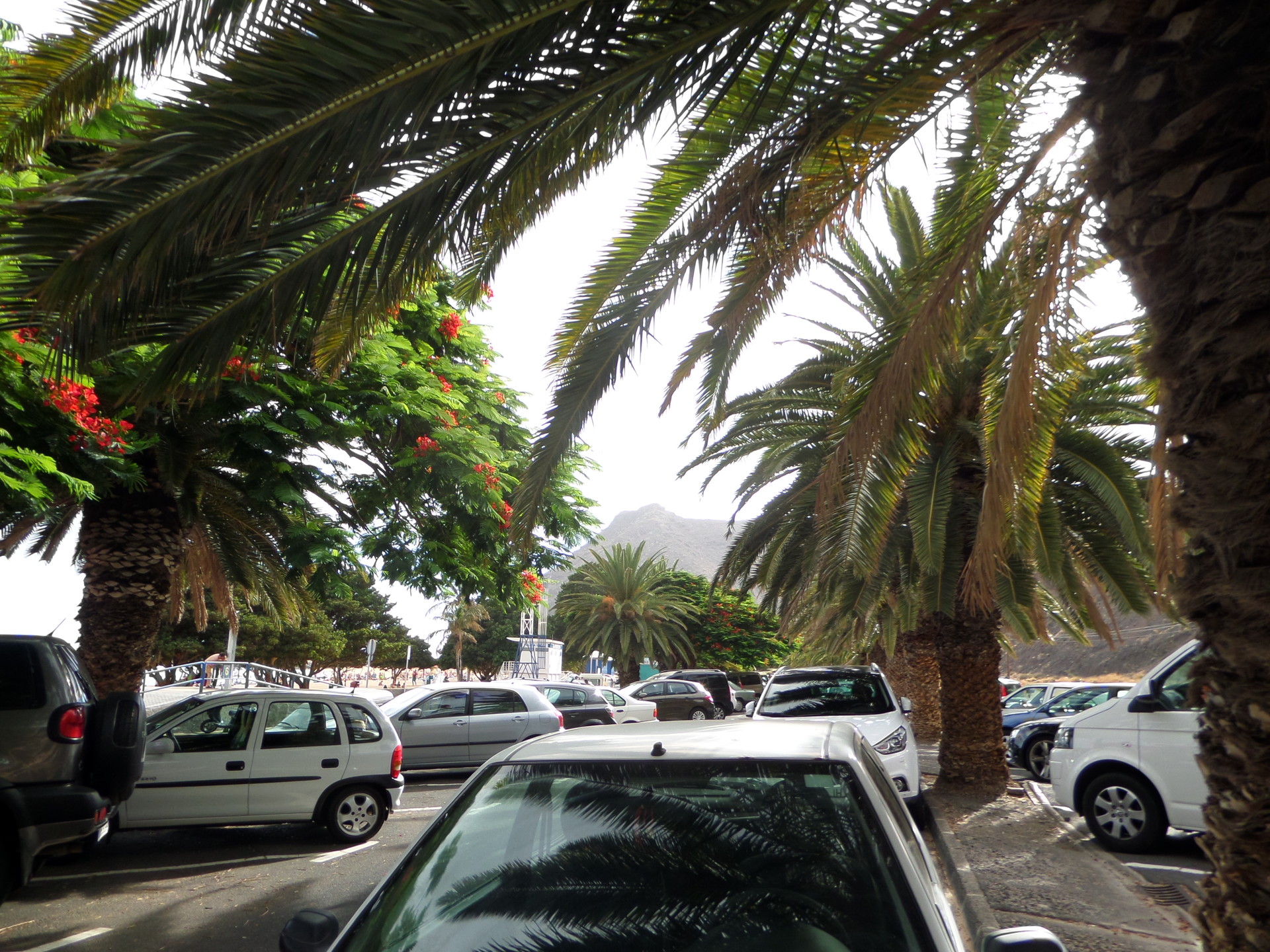 Parking area surrounded by an amazing flora paradise, among palm trees there are many flamboyant trees with their lovely red flowers in full bloom (hope I'm correct about the type).
---
Photo gallery
---
---
Content avaiable in other languages
Want to have your own Erasmus blog?
If you are experiencing living abroad, you're an avid traveller or want to promote the city where you live... create your own blog and share your adventures!
I want to create my Erasmus blog! →