Santarcangelo, the concert, unique streets and party.
Hello to all the travellers of the world! I hope that each and every one of you is well. Time is passing quickly and these days, I have been thinking about the opportunity to go back to a place that you have been before. However, it is not only the place but also the people that you go with that make each of these experiences so unique and wonderful.
In this post we are going to look at the following points:
The centre of Santarcangelo
A place to go for an aperitif in Santarcangelo
A place to go for coffee in Santarcangelo
A theater and the changes of plans in Santarcangelo
Outdoor music in Santarcangelo
Travelling through the night from Santarcangelo
The return to Rimini to dance in New port
A place where you can buy sweets at sunrise in Rimini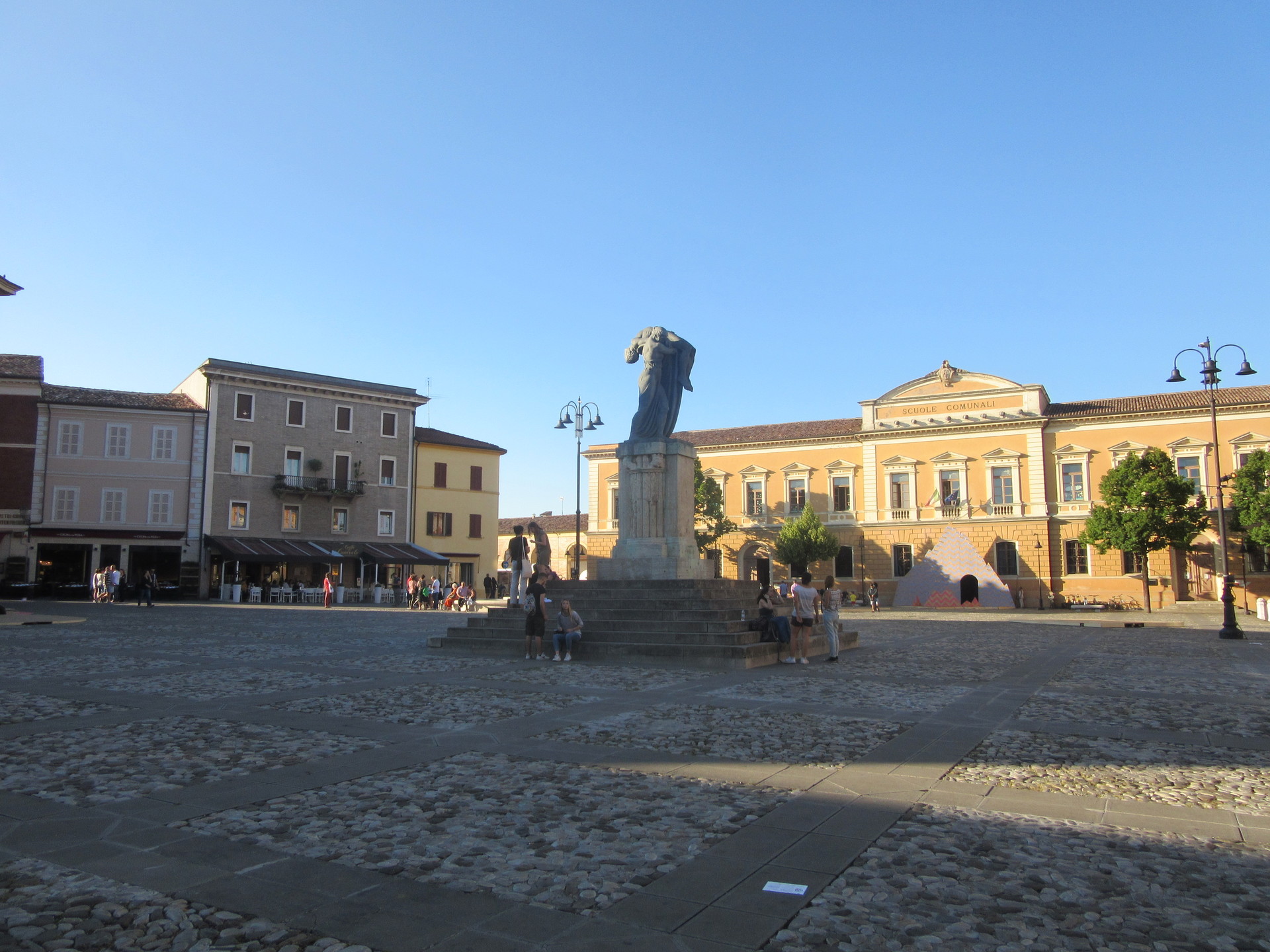 What Santarcangelo had for me
My first visit to Santarcangelo was from Rimini by bike. That time, I went of the trip alone and I felt very nostalgic because in those moments I remembered many times in my life, and for those who follow me, they will realise that it was one of the longest articles I have posted so far.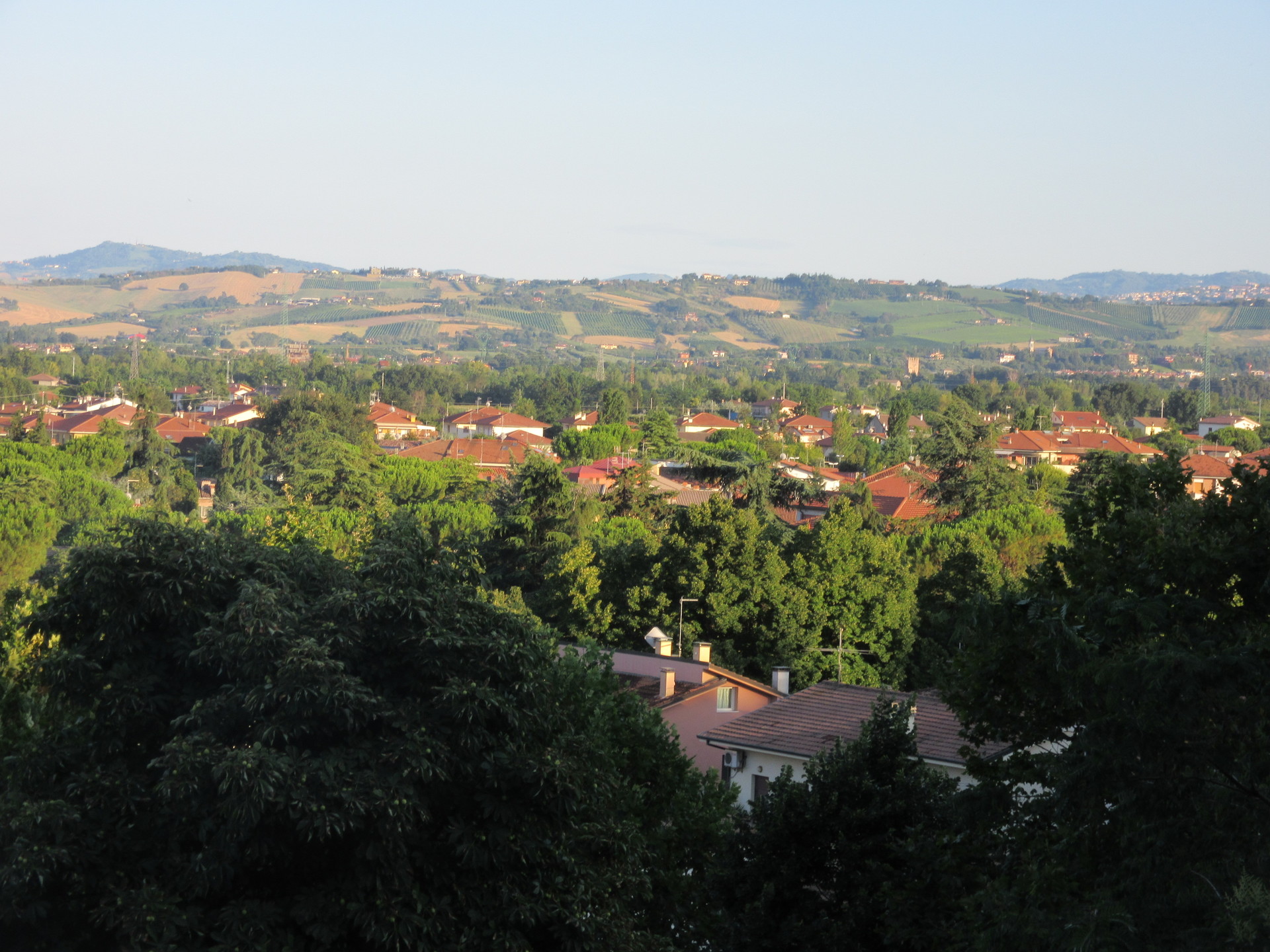 It was simply spectacular to walk around each of its little streets and feel like one of its leading characters. The second time I returned to Santarcangelo was with friends from the Couchsurfing community and at that time it was to sit for a while in one of its fields and be able to appreciate the incredible, spectacular view of this small Italian town. I have fallen in love with Santarcangelo because there is a touch of loneliness, of meditation, of finding oneself and, above all, it has the flowers that remind me of my mother, and of my family in Peru who encourage me not to give up and continue my journey of life in Europe. I hope that December 2017 comes quickly so that I can return to my culture and do everything that I can for my city and my people.
Santarcangelo has a motivation that few places in the world have. In my opinion, there are not as many visitors as there are in Rimini or Riccione and that surprised me because there are so many things that it has to offer, without taking away from the other alternatives that I have already mentioned. Santarcangelo has a level of balance that I look for in my moments of "existential crisis" and it is one of those places that I will definitely go to again. I like its nature, I like its view, I like the cats that walk peacefully in some of its houses, I like its museums that are free where I have learned a lot, such as the museum of buttons and the Tonino Guerra museum.
Santarcangelo is a "piccolo paese" (small town) in the province of Rimini. To get here you can choose whichever option suits you best. You can take a train from Rimini station or you can take a bus or if you want to be super independent like I did on my first trip, you can take your bike and ride along the "autostrada" (motorway) which will bring you to this magical place in Italy.
Well, I can tell you that I have been working like a slave these last three weeks, where I have realised that working rights are as unfair here as they are anywhere else in the world but I will tell you about this in another story. Just after I quit my job in Riccione, one of my friends from university asked me to go to Santarcangelo with her and another friend called Giulia who is from Russia. Initially, we were going to take the line 9 bus from Rimini to Santarcangelo together (I hope I am not mistaken) but in the end, we decided to take Guilia's friends car who kindly offered to drive us and keep us company.
I left last Saturday and we met up around 18:00 on the corner of a "Pasticerria" (pastry shop) called Cesare. I arrived there about two minutes before the meeting and luckily my friends were, as always, quite punctual so from there we met Mattias and drove to Santarcangelo. The trip only lasted about 15 minutes, so you don't even notice it, because when you are with friends and good company, time passes magically fast!
I forgot to mention something quite important and that's the reason why we decided to go to Santarcangelo. Well, the reason was that there were different theatre activities and also some outdoor concerts happening there. So I motivated myself to go with my friends. I charged my camera to take photos and gathered my energy to keep on making beautiful experiences in Italy where simply every day, I learn something new.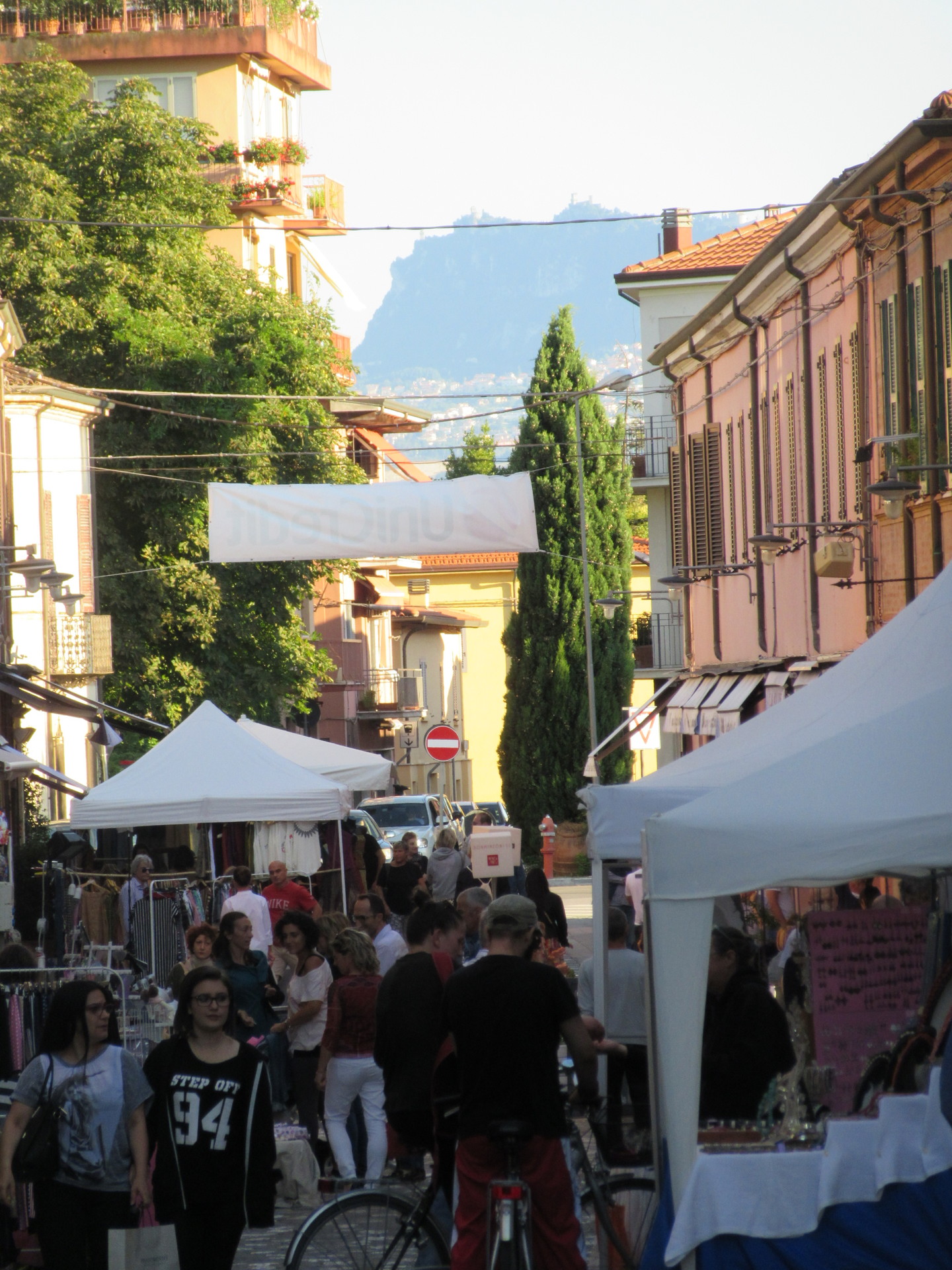 Arriving in Santarcangelo, we parked the car very close to the center and from there we started walking in the center of its square which has a beautiful arch, as well as a fountain that resembles a pineapple. As far as I know, the pineapple represents prosperity and wisdom. I would love to be able to give you more details about this square, such as when it was built and its history but the truth is that I don't know yet!
In Santarcangelo square, we found a small counter with about four girls who were giving information visitors, this was free so we did not have to pay anything! There one of my friends went to ask about the plays that were going on, and one of them cost only six euros. It was a dinosaur scene in the theatre which was basically for kids but that doesn't matter! So anyway we decided to go to the staging. I also wanted to tell you that in the same square there was another counter where you could buy tickets for all the theatre performances but our mistake was not buying them at that time and waiting at the last minute! As you can see in the end, unfortunately, we did not get tickets and could not see the show off the dinosaur theatre hehe. I will tell you little by little about my adventures in Santarcangelo, do not think that was all we could do! Rather, we were able to walk around Santarcangelo and take a lot of pictures.
This time there were many more people than usual in Santarcangelo, since this event in the theatre was an international show that was being made and so many salesmen took the opportunity to sell their different products in the streets for those who were interested in buying them. If you are a girl who likes shopping like my two friends, you are in luck! There are so many different things for girls from handmade suits, bikinis, bracelets, earrings, basically, everything that girls love.
Shopping in Santarcangelo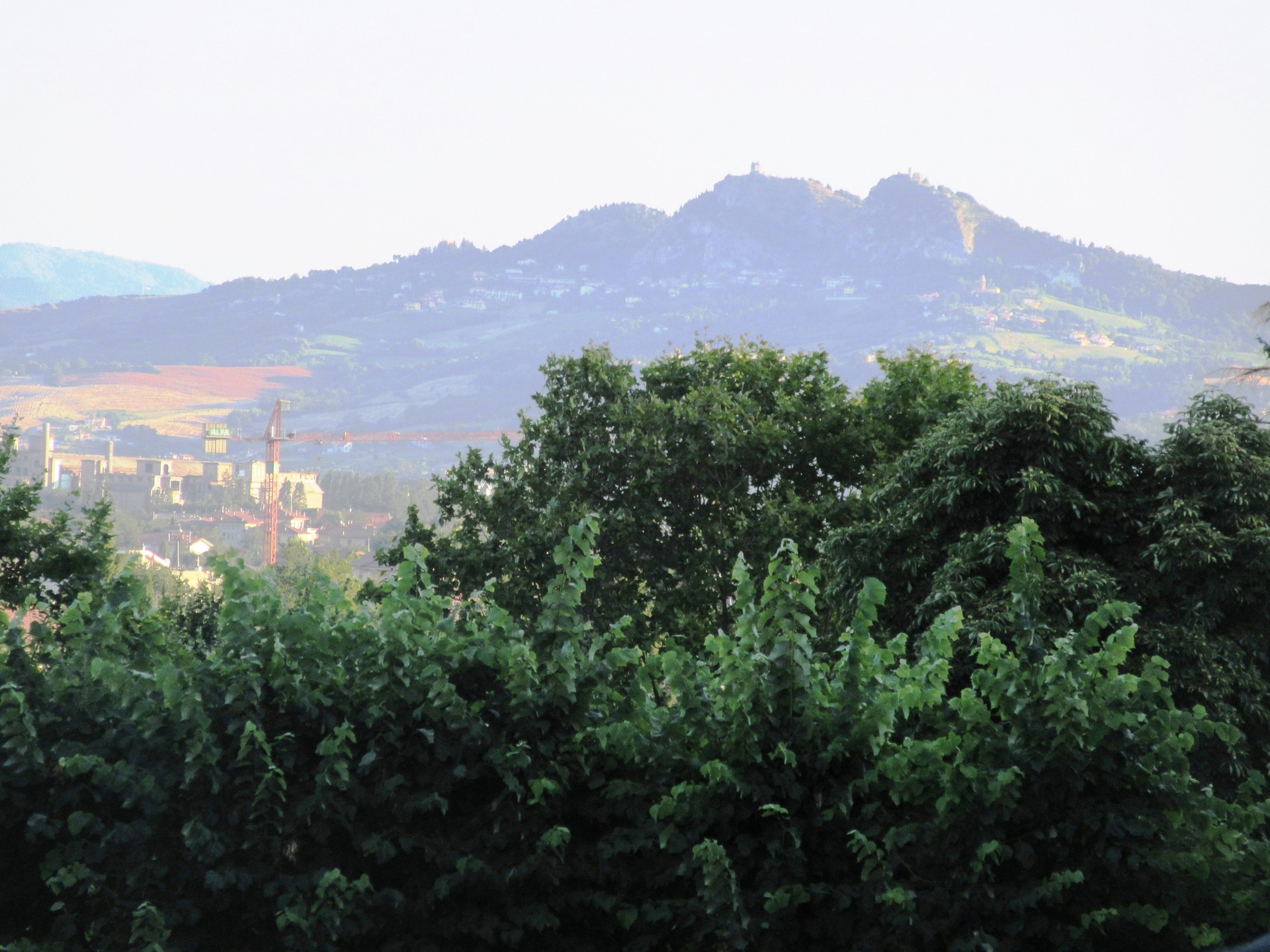 My two friends took the opportunity to look at each one of those stalls on the street and go in to the shops. I went in to some of them with them and if you want to know the price of some summer dresses, they cost around 35 euros. Of course there are also many more expensive ones but I think that 35 euros was a reasonable price. My friends were undoubtedly addicted to shopping so in the end they both bought one thing and one of them bought her mother a red dress.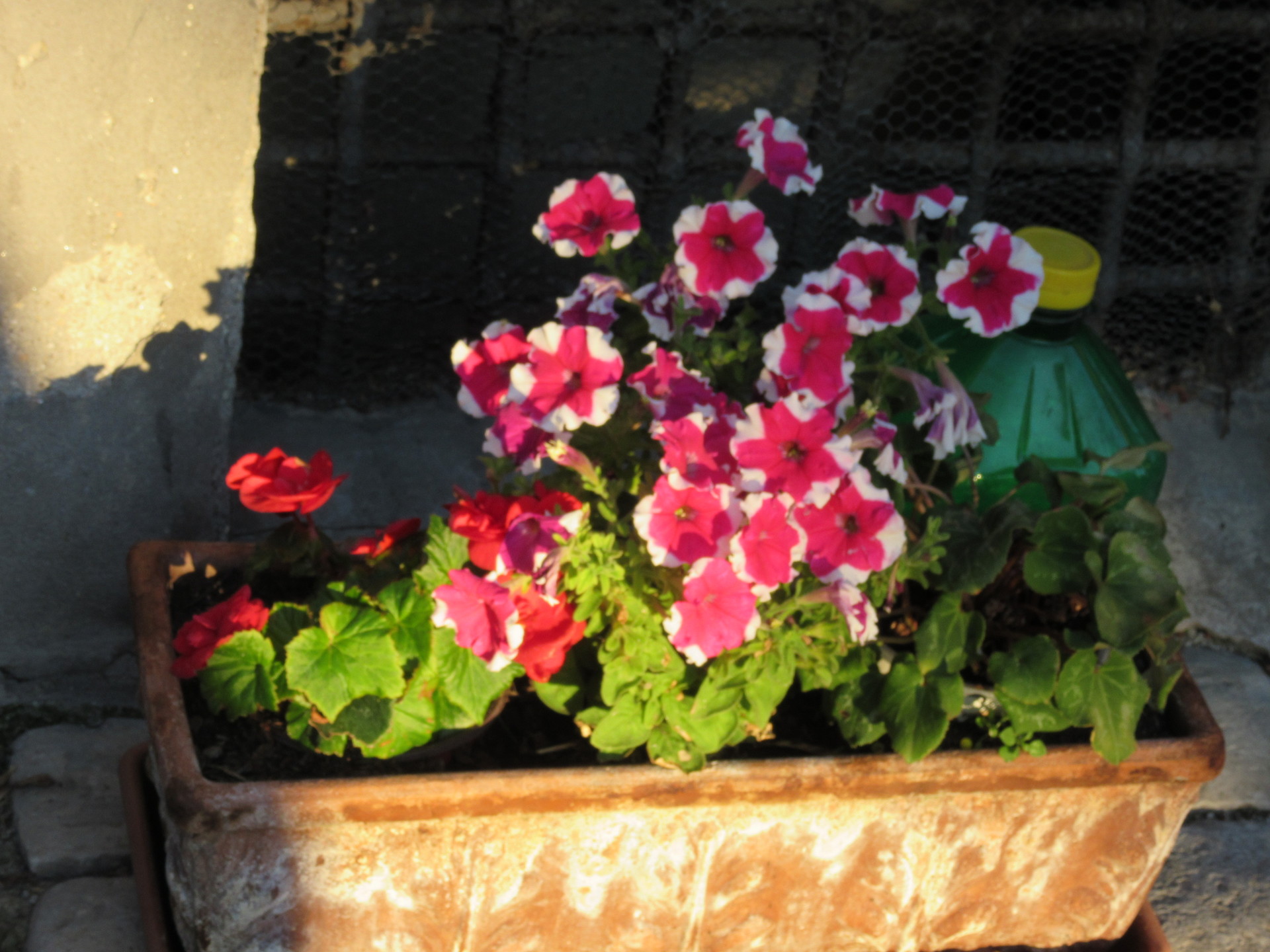 As I have already told you, dear friends, not only do I love Santarcangelo city but also for the wonderful view that can be appreciated from it. For example the green mountains in the distance from where you can admire the micro nation of San Marino and other small places such as Verucchio, which I haven't visited yet. Anyway I have to go there so I can share my experience with you and encourage you to come and visit this part of Italy.
This day was a sunny day, so I took the chance to take pictures of the city and also, together with my friends, we took an interesting picture of a map of the whole province of Rimini. The truth is, my dear friends, there are so many things you can do in Rimini that I think that the time I have left here won't be enough to do it all.
Let's walk
A few streets from the centre, we arrived at one of its most picturesque streets where we found an unbelievable house decorated in flowers. It looked like it was taken from a story, the flowers were well taken care of and large green windows and a green door against a yellow facade. Its appearance welcomes us into the private property but in the end, we were only able to take pictures with our eyes or better yet, our cameras.
The cat from the window
From that part, you could also see one of its towers from the left side in the background. We took a picture there and then continued our journey, however, a local was watching us through the window, can you imagine who? Well, I am talking about none other than a rather playful kitten. One of my friends put her hand to play with her and I took a couple of pictures of the mischievous kitten.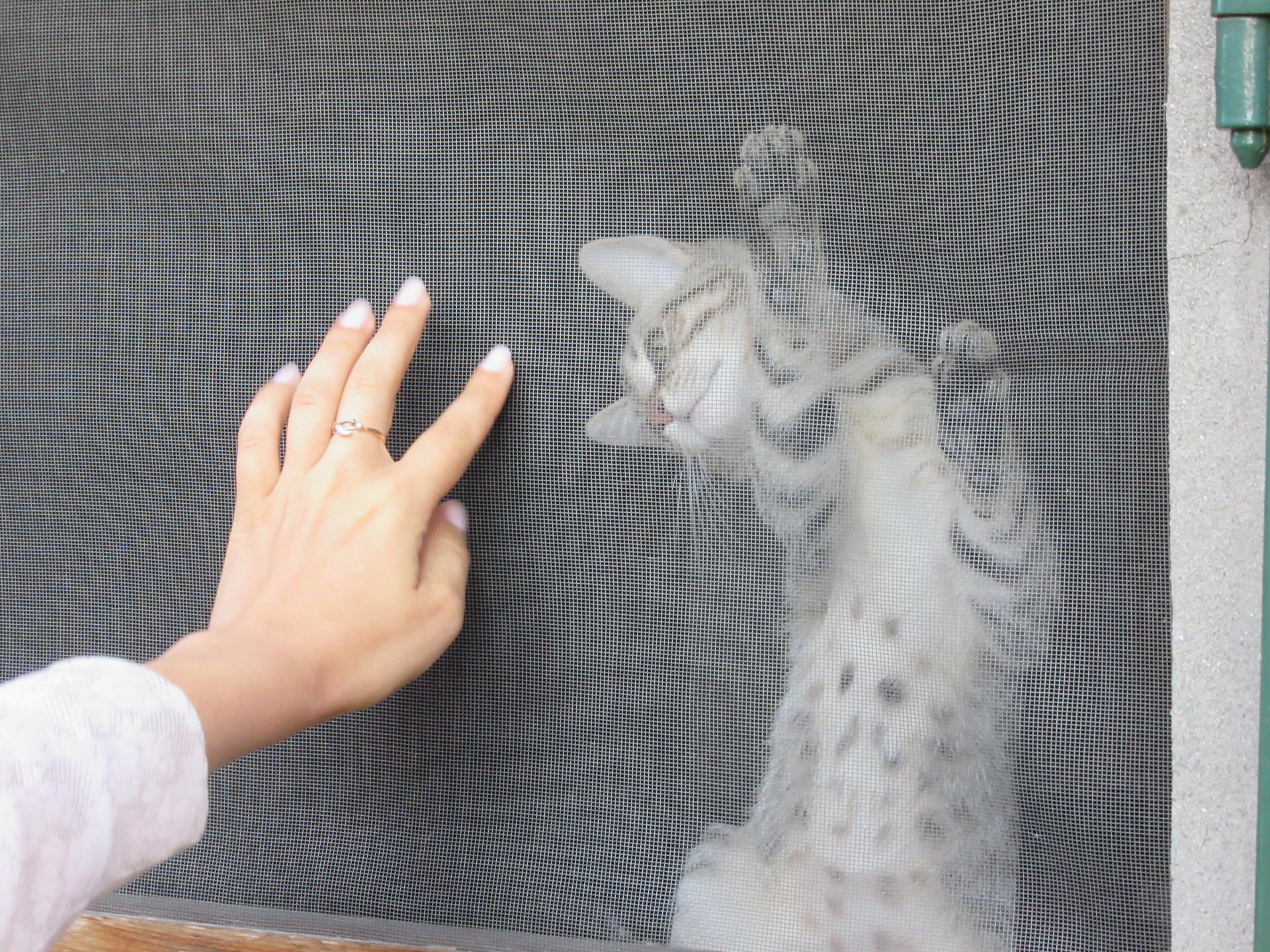 While we were walking, the sun was slowly setting and although it was the third time that I came to Santarcangelo, it makes me feel like it is the first time again when I am taking pictures of it.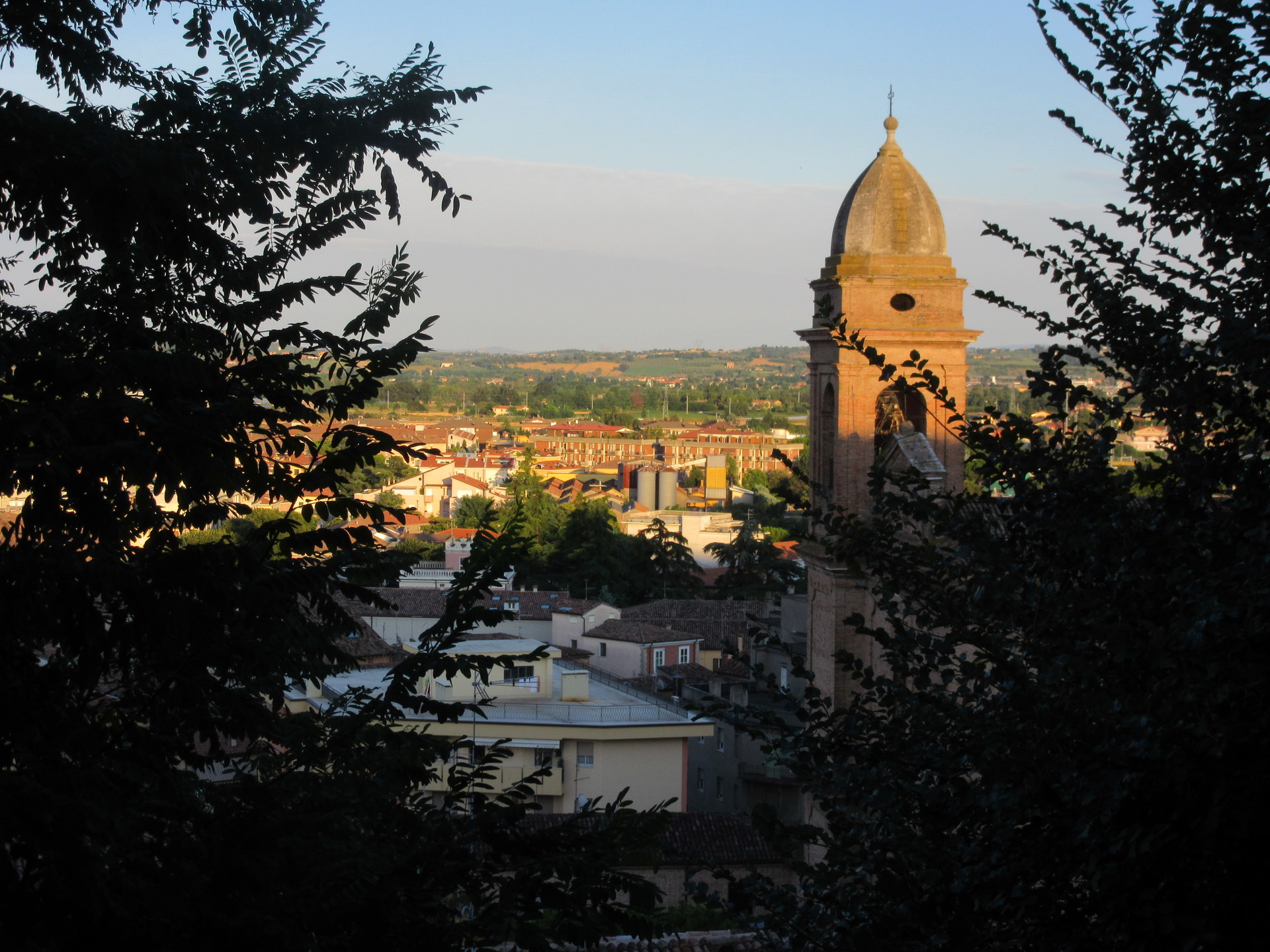 While we were walking we found a small stage being set up for a band called "the children of Brazil". For a moment both my friends and I thought it was people from Brazil but it wasn't, they were all Italians haha. Anyway, we took the chance to ask one of the people who were setting up the instruments if we could go upstairs and take a few pictures inside it and they were very nice and told us that was not a problem. We could go upstairs and they were so nice that they even turned on the lights so we could take some pictures as a souvenir. Yes, they were quite nice. In that moment, I approached one of the instruments and each of my friends did the same. I am a little embarrassed, so I will not show you that photo but there is at least one picture of the stage so I will show you that. This place was set up in a small square for the free outdoor concert for the visitors of Santarcangelo.
The Tonino Guerra fountain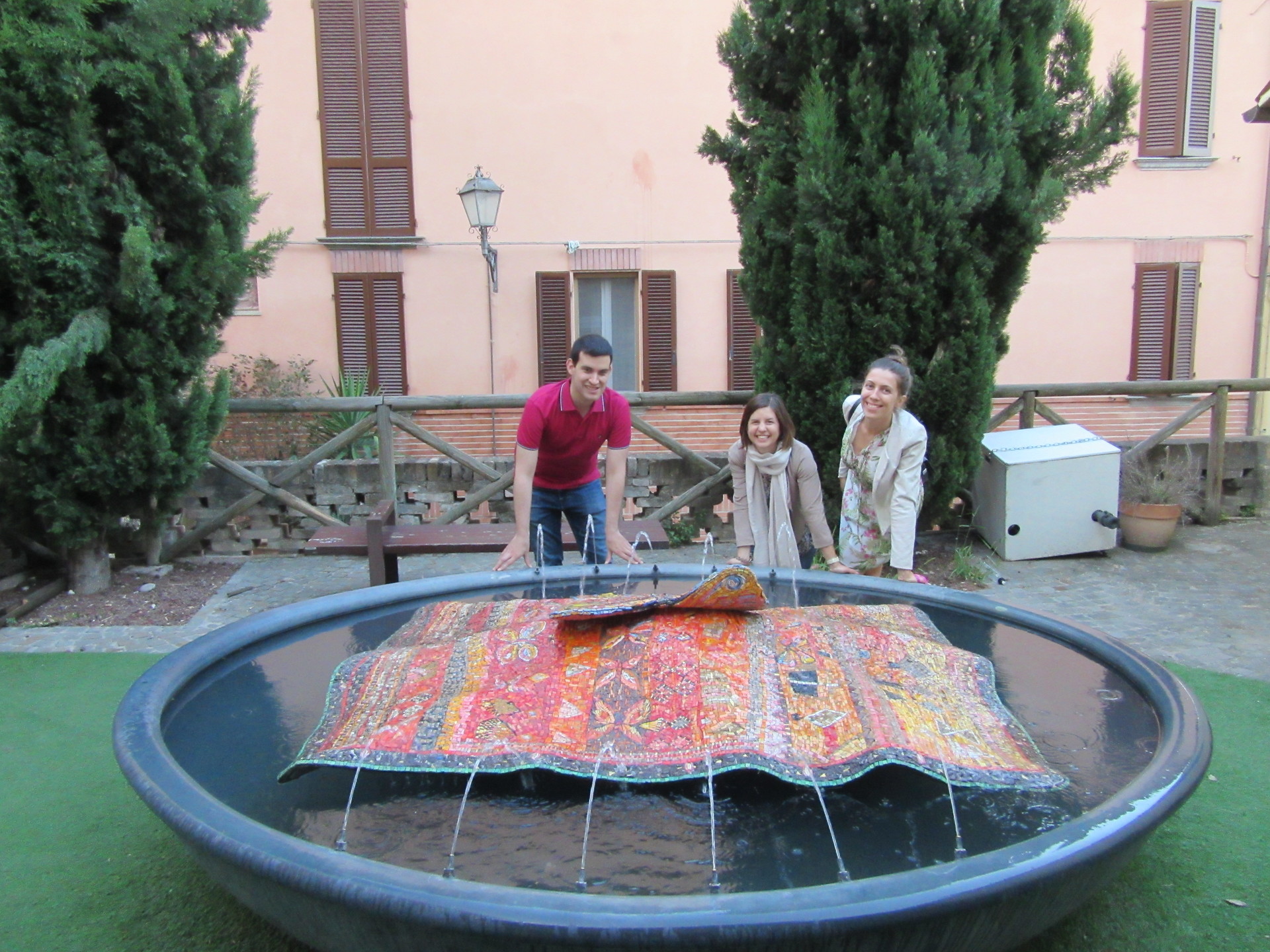 We continued walking and spent some time at one of the fountains that I know about thanks to my visit to the museum of Tonino Guerra, which was made by him. I took a picture of my friends while I remembered the moments in that museum and all the interesting things I could learn from it.
This time since it was already late, both the Tonino Guerra museum and the Botones Destro museum were closed, so we just had to look at them from the outside.
Italian aperitif, let's go!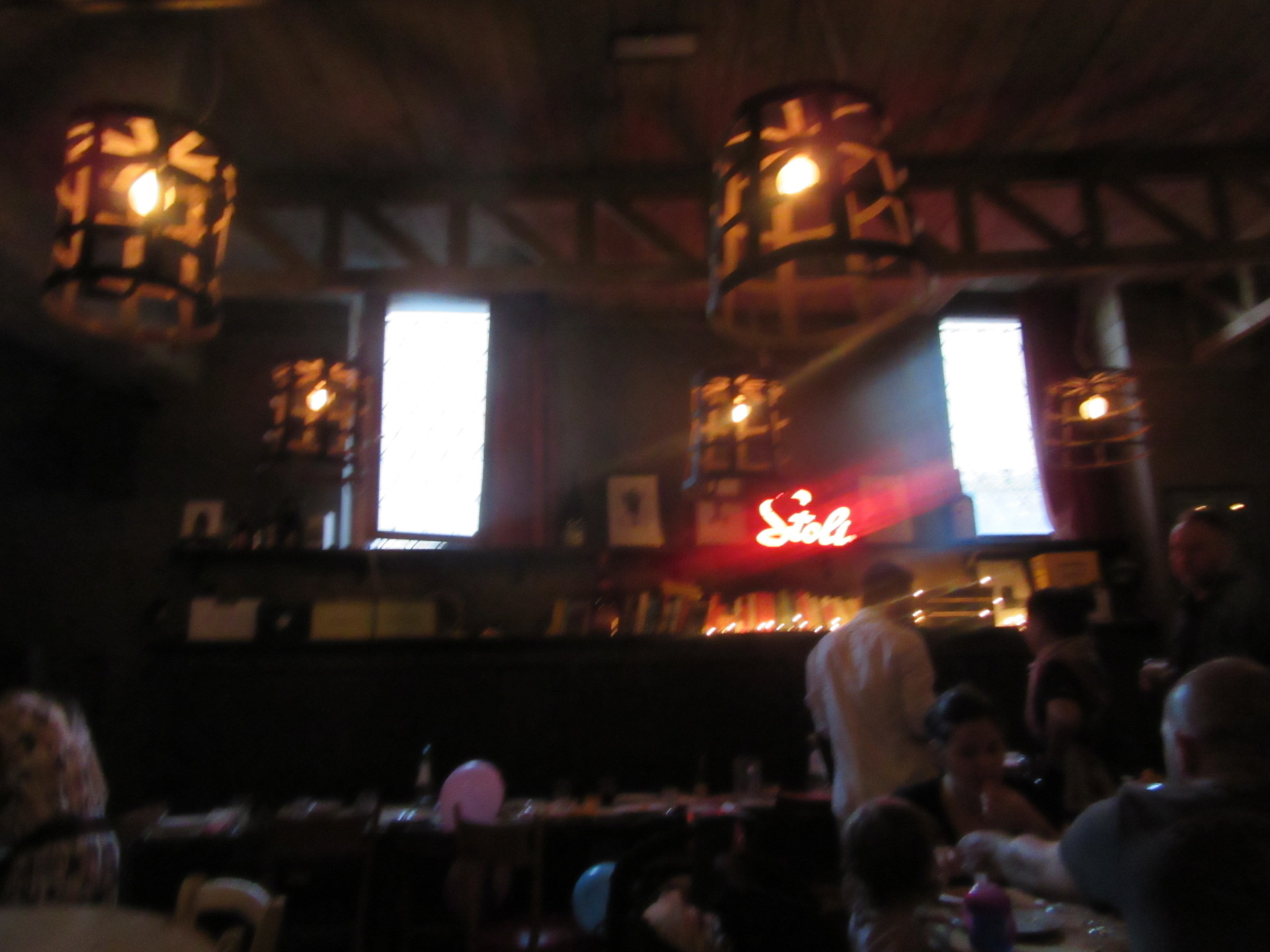 After walking around the centre of Santarcangelo, it was time to get a little something to eat or rather, have an aperitif, so we went into a place but I cannot remember the name! For an aperitif, did you think I was drinking? No! I ordered a forest fruit cheesecake which cost me €5. My friends had a glass of wine, a beer and a spritz. They gave us two small trays with some snacks to share as well as having already given us 2 bowls with nuts and crisps while we waited for our order.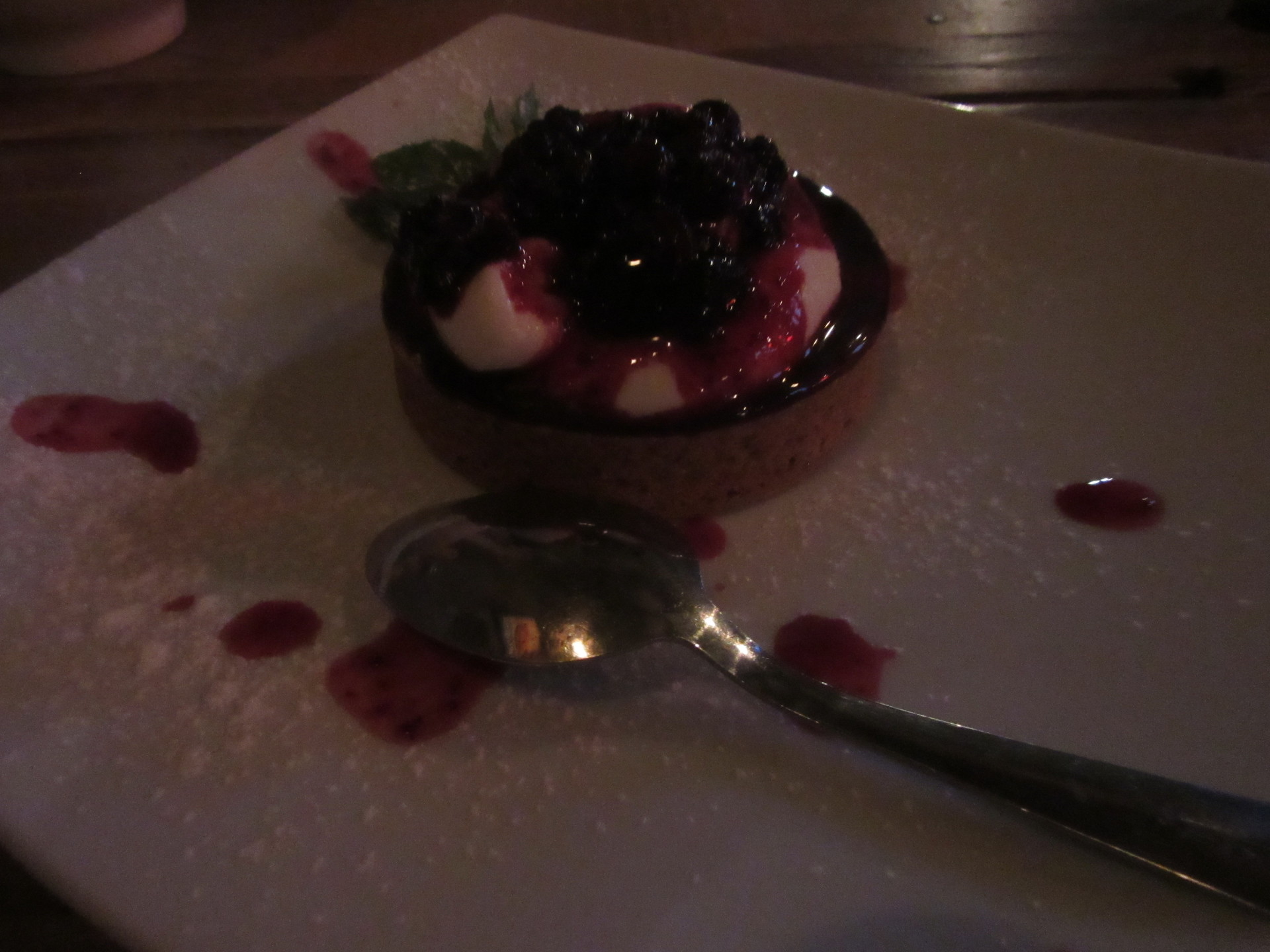 The place was nice and cosy, there were also many people who were there, friends, families and couples sharing a little drink and the traditional Italian aperitif. We stayed there for about 40 minutes and then paid the bill and went to the theatre to see the dinosaur show.
Life painting and not getting to the theatre in the end:S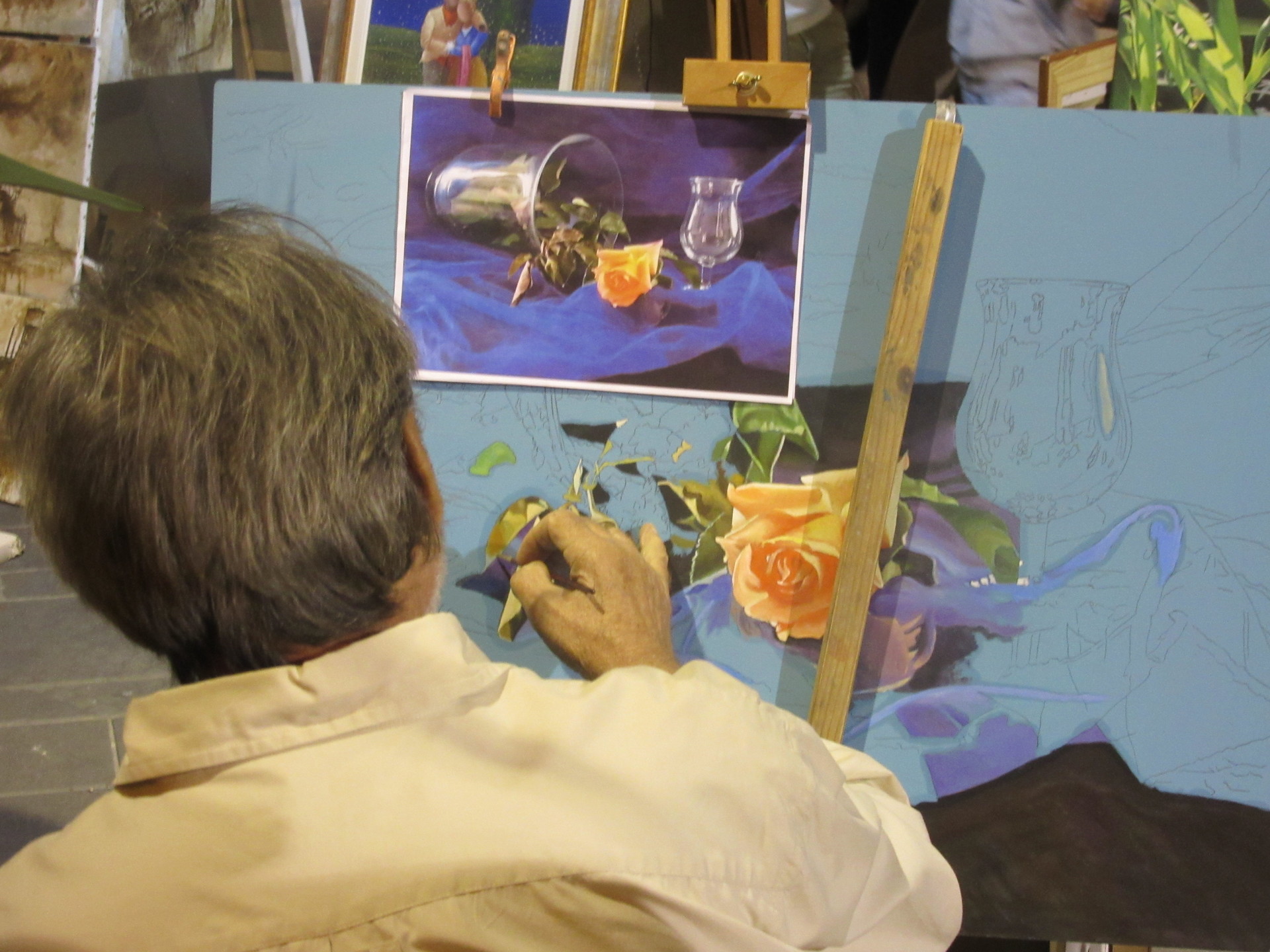 Arriving at the theatre, as I had initially told them, the tickets were totally sold out. They told us was that they could put us on the waiting list and that we could wait until 9:30 pm to find out if any seats had been released or if any customers didn't show up. This never happened so we had to leave, and we were not the only ones, there were almost 20 who stayed and didn't get to see the dinosaurs!
At least while we waited we took the opportunity to meet a little sausage dog that was with its owner and he let us pet him.
Well, let's continue with the story, seeing that we could not go to the theatre, we took the opportunity to keep touring the city. Very close to the main square there were painters where I took the chance to admire a little of their art and take some photos. There was also a busker who was playing the electric guitar and singing Italian songs who had a lot of people around him.
The night we arrived in Santarcangello
The night was already falling in Santarcangelo, and with it the lights of the city that gave it that special touch of harmony and beauty, combined with the people going one place to another, young people, adults and children, and of course! As well as the dogs!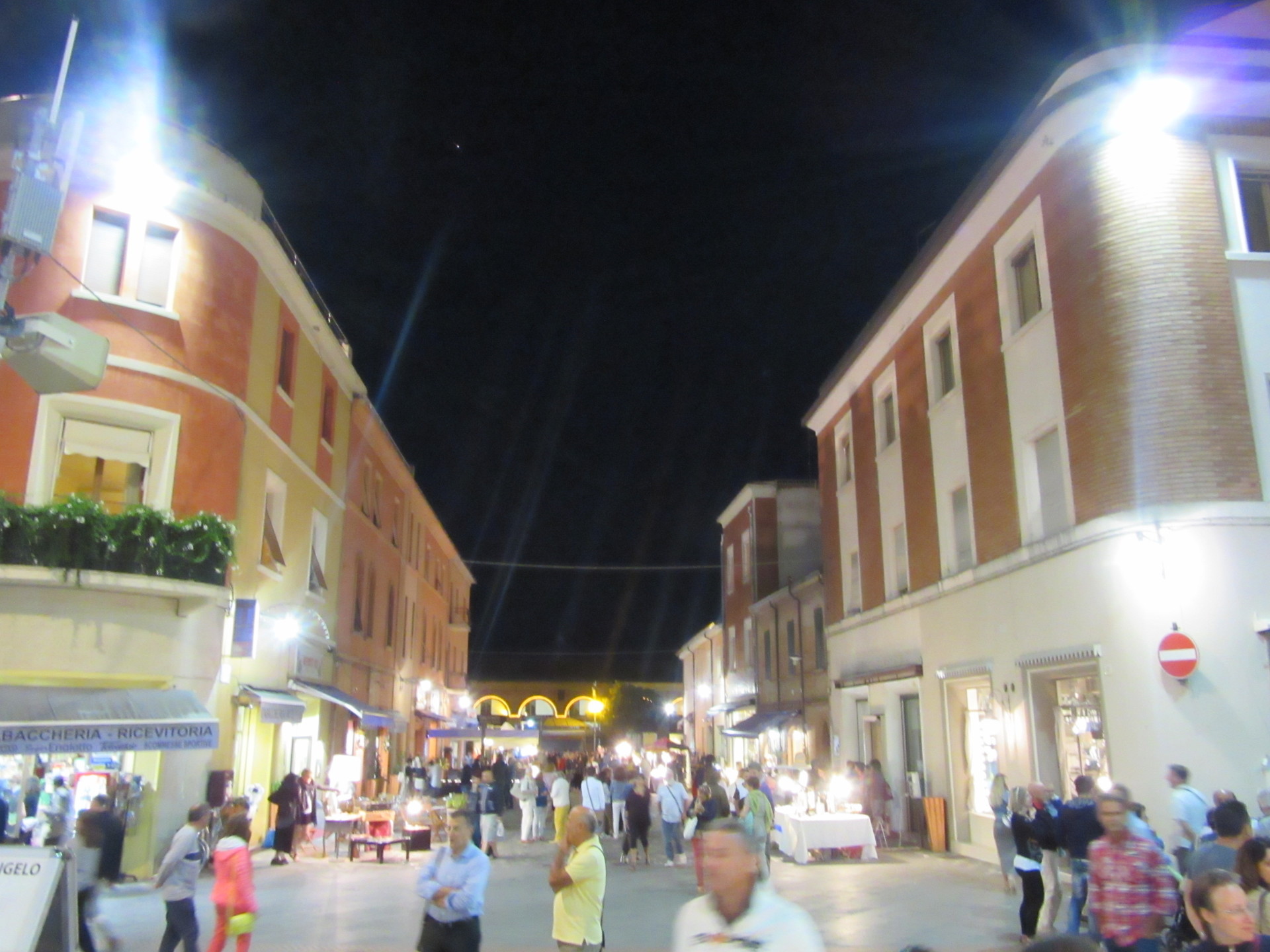 Near the square, we found an ice-cream parlour which we decided to go in to, but first I want to tell you that there was a giant dog at the entrances with his owner who hugged him, anyone would say that he was going to eat him! But it was not like that it was a sign of love between two beings. The dog rose and put his paws over the man.
Italian coffee with cream
When we got there, we took some pictures and found some big bottles of spritz with a red piano. Also, the waitress was very nice and took our order to the table, this time I decided to ask for a combination of coffee and cream with a little ice cream, which was actually quite normal, it wasn't anything special but it was still good. My drink cost €4.50. Here is a picture of what we ordered in the restaurant across from the Santarcangelo square.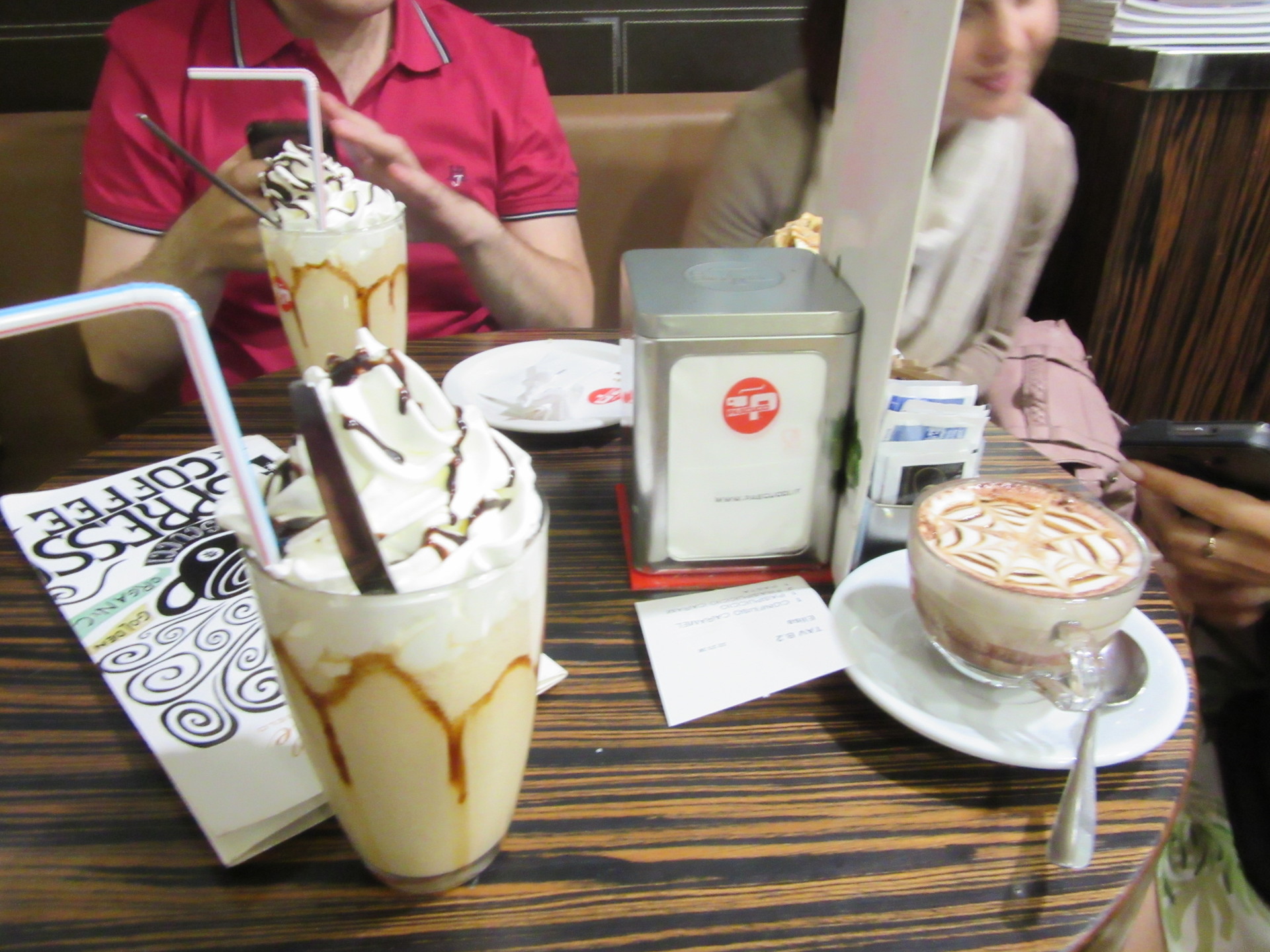 Street music in Santarcangelo
After that, it was time to go and see the performance of the curious "children of Brazil". When we arrived at the square we saw two people who started to play their instruments. The music was like a combination of electronic music and samba, maybe that is why they called themselves the children of Brazil.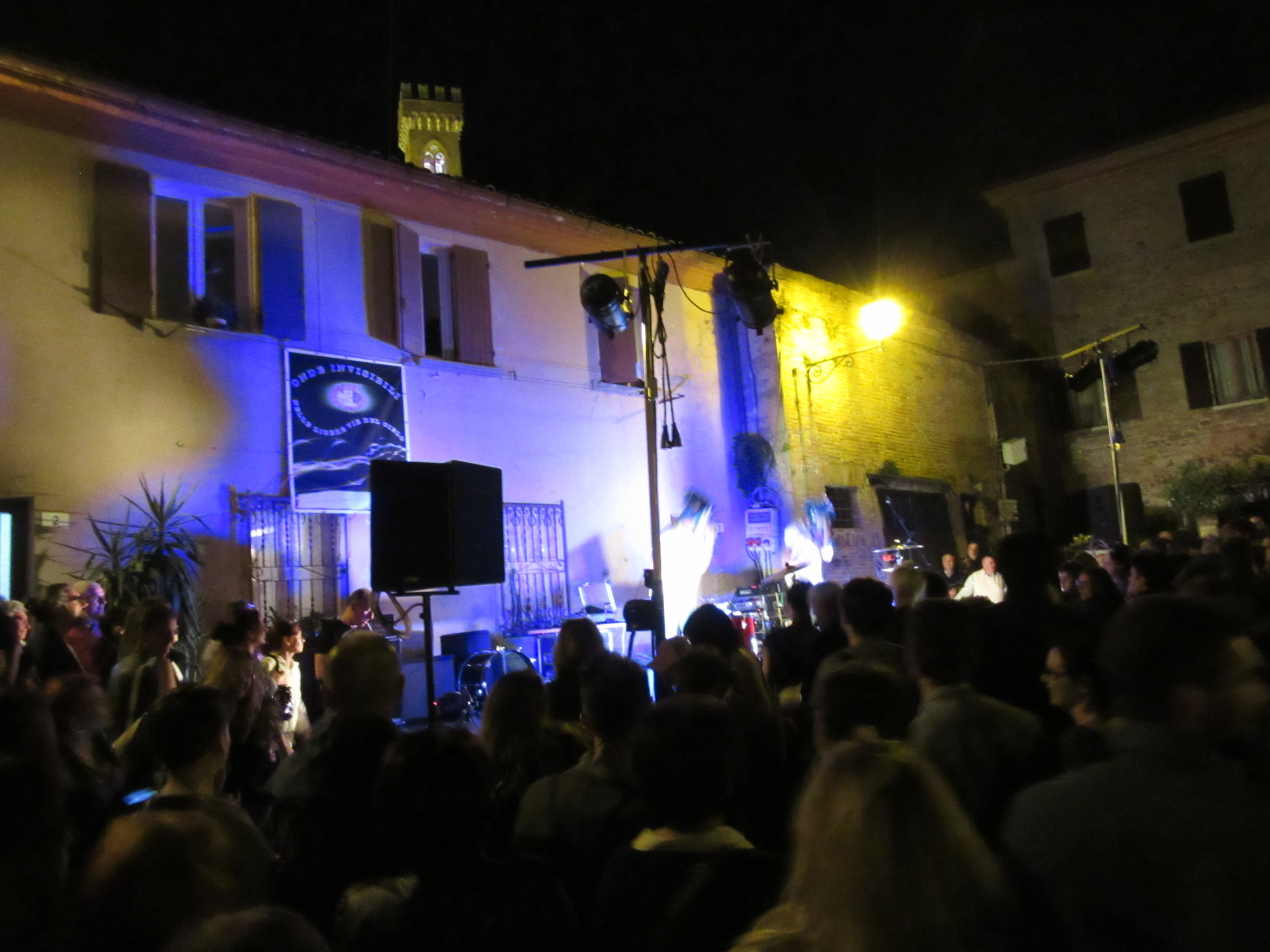 I love to dance so I made the most of the opportunity to get all my energy out and alleviate the stress I had been under in the last few days. My friends and I felt like the concert only lasted for about 15 minutes so we stayed, as we say in Peru "empilados" which means that you are looking forward to continuing it.
While we listened to the music some other spectators also started to dance, others just stood there listening. It was night, so the lights played an important role in making it look so good and it was free!
Street music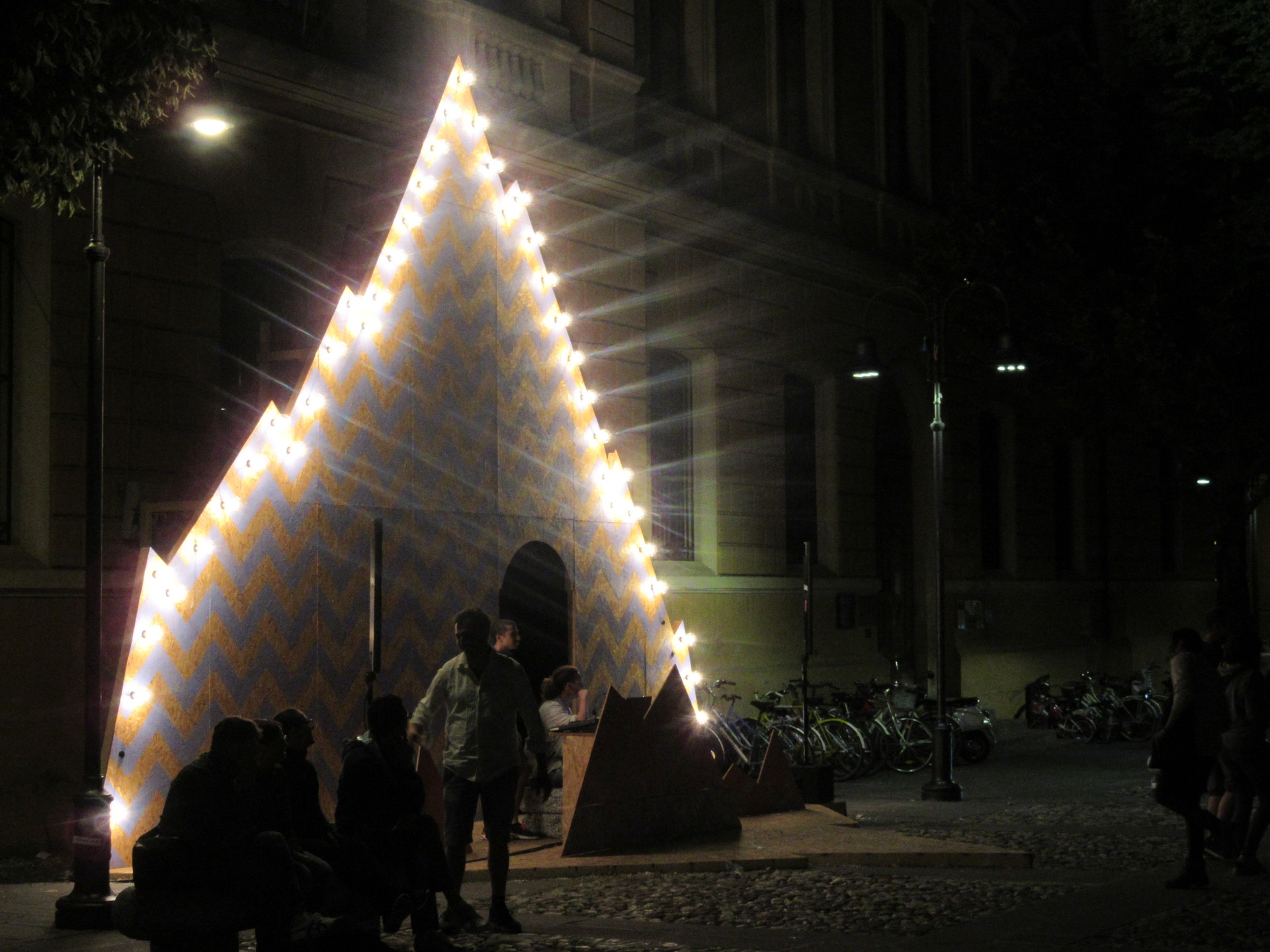 After that we just went back to Rimini but before that we took the chance to dance again in the main square of Santarcangelo. There was a kind of DJ with a platform and nobody dancing haha. We stayed there a little bit more and then we drove back to Rimini.
Newport, let's dance!
Don't think that the trip ended here! We decided to go with my friends to Newport which is a club, near the beach in Rimini. The entrance is free but we didn't go in, we stayed there until almost 2:30, dancing and having a lot of fun.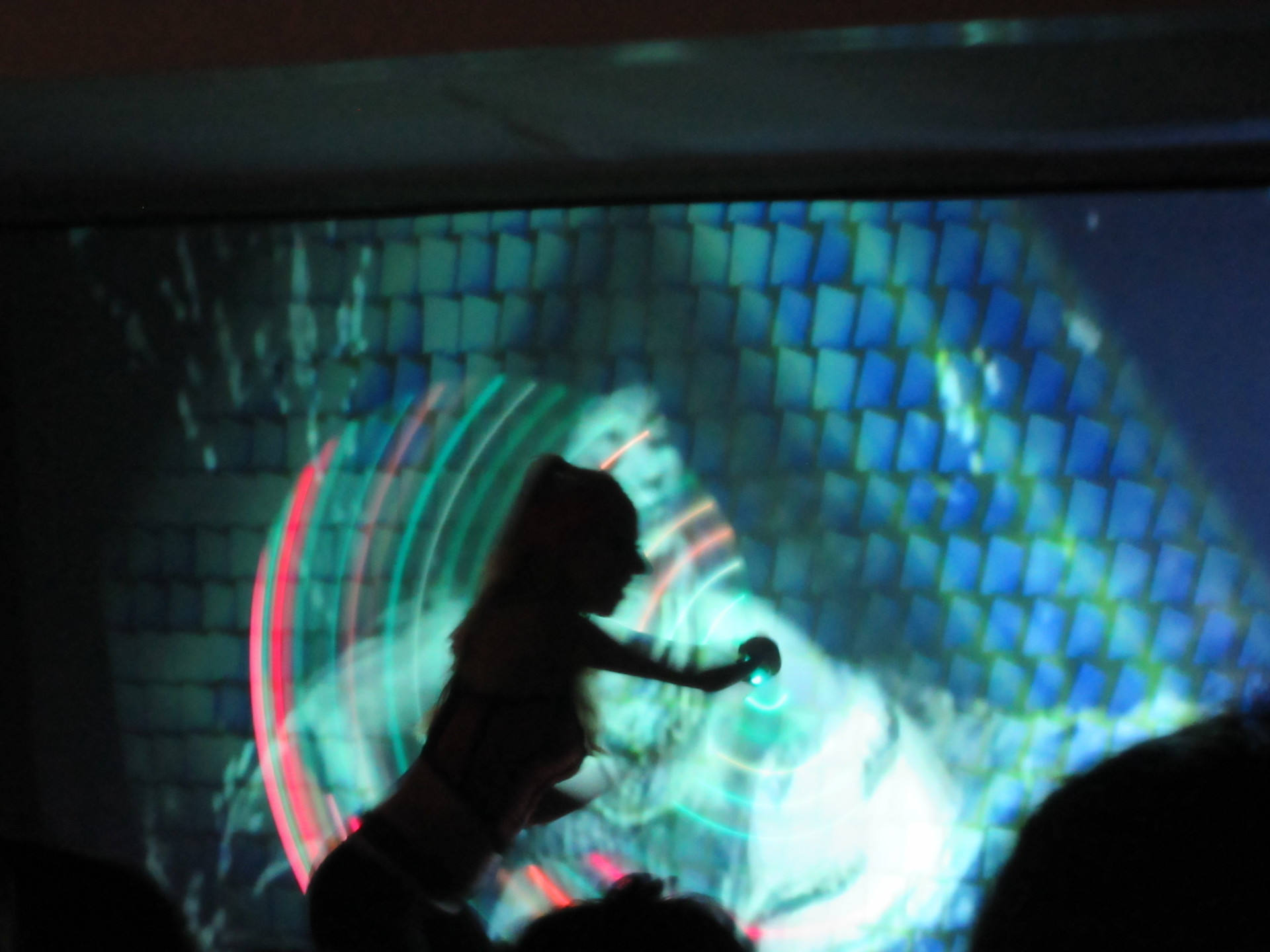 A treat to brighten up the night
Then, it was time to go home and recharge our batteries but not before going to the San Giuliano neighbourhood, where my friends suggested we buy some treats from a kind of pastry shop that is quite popular and had a lot of people buying different things at this time of the night. One of my friends offered me one of their chocolates and as you know, I have a sweet tooth so it left me satisfied with the ending to this Saturday night.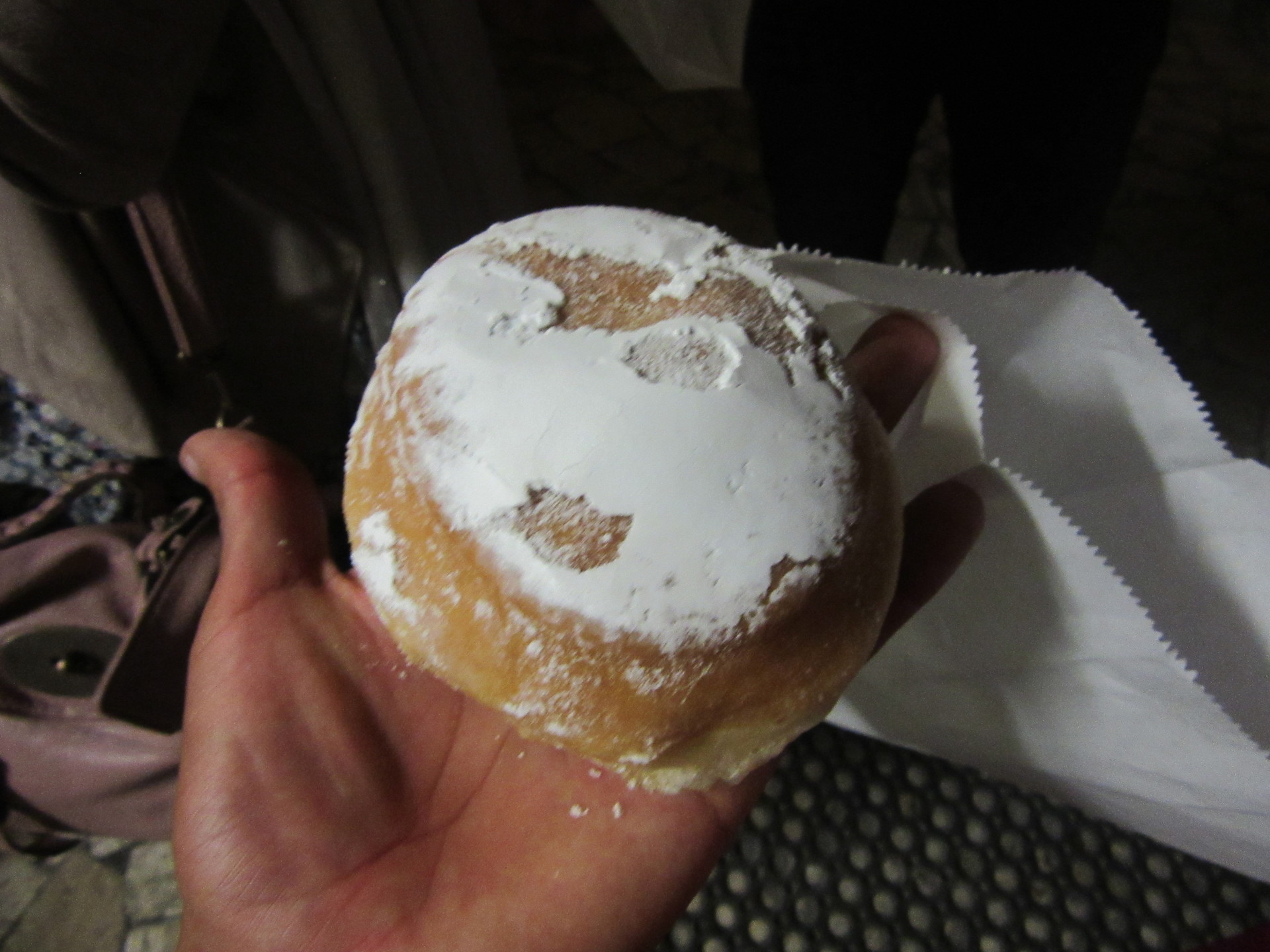 As you can tell, there is more to learn about Santarcangelo. I went to two new places to eat and also went back to walk around its streets that have left me madly in love with them and that will remain as one of my best experiences in Italy.
As always, I hope you have enjoyed this post about my visit to Santarcangelo and that you too will soon be encouraged to go to it. Thank you very much for reading this experience and see you next time.
Thank you so much, and see you soon!
---
Photo gallery
---
---
Content available in other languages
Want to have your own Erasmus blog?
If you are experiencing living abroad, you're an avid traveller or want to promote the city where you live... create your own blog and share your adventures!
I want to create my Erasmus blog! →