Utrecht Part 3.75
Getting started
This article picks up from our very last adventure over in Berlin. We were doing one of our short backpacking experiences during our semester exchange in Utrecht. I had travelled over from a University in Australia and made my way over to a climate much different from our own. I ended up taking a few trips around Europe as the proximity of countries to each other is pretty close which would also make it pretty affordable for students to both travel and do this. So, we ended up checking the beautiful city of Hamburg, then checked out the capital of Berlin before continuing on to our next adventure. We took a Flixbus to a country that was spoken of extensively by many of my mates: Prague. It is known by many as the type of place you go for a cheap party experience in a very central location.
I'm not sure that's the experience I was keen to pursue but rather a more cultural one and scenic look of the area. People would argue that you could do both although i was only staying there for 2-3 days and I was solo travelling, so I was not keen to cause myself too much hassle doing so. The Flixbus ride took about a four hour or so. Most people would think this is a crazy amount of time although I personally wouldn't complain much. Back in Australia I was staying in Adelaide. This would entail to living quite far from other cities. For example, the next major city is located is Melbourne.
This would entail to an eight to nine-hour experience by car. Most people end up simply taking a flight from place to place. So, you have a few options so as to get from Berlin to Prague. You could take the Flixbus I chose which is pretty cheap but a relatively slow option. Or, you could take a flight. Although, this would end up not only probably being the most expensive option. The issue for this is that you will probably have to take about 2-3 hours simply arriving to the airport and waiting so you don't end up missing your flight. Then you fly over and go through the process of leaving the airport and getting to the city. This could easily take four hours like the bus.
A faster alternative is simply taking a Blablacar. By taking this option you are probably taking one of the fastest options that is also pretty cheap. You just have to watch out for flexibility and such, but it should end up being pretty cheap. If you're travelling in groups you should keep in mind that only four of your mates could fit in a car at the same time. Now, another option is to simply take a train. They aren't exactly the cheapest option, but they are the fastest option of them all. If you have income to spare then I do recommend that you take that option out as it's pretty convenient to take and drops you off in a very central location. Plus, it will get you into the more common way everyday Europeans travel around Europe.
As I mentioned before I was keen to save as much money as possible so as to spend the excess on the trip or on future trips.
Getting to Prague was actually quite scenic. I didn't realise how much of the country was simply green forest (in the northern part at least). As with most Flixbuses, you have WIFI within the bus. Unfortunately, that isn't the case once you cross the border. So, I had to entertain myself by checking out the beautiful and scenic environment and reading a book along the way. It's sort of common sense although I reckon it's worth noting. If you're going to travel around, then you should probably bring quite a bit of entertainment along with you. That would mean you'll have to grab either a book, a lot of music or even download a few films. I recommend the book as you wouldn't have to worry about having enough battery during your travels.
This also brings another commonplace thing to carry with you when travelling. Make sure you bring with you a portable charger. This charger will help you in your darkest times. It's never a pleasant feeling to be out of battery in a foreign country. It makes you quite inflexible and you may miss out on crucial information on how to get around. For example, let me showcase a story I have told a long while ago but it's worth repeating as it drives home the necessity for you to keep a portable charger on you in case things go south.
Storytime
This story began back in Paris. I was getting back from my trip to Paris (This was during my exchange semester in the city of Reims). So, basically it was late at night on my arrival. I took a train over from Bruges that took me to the Gare du Nord (Northern train station). At this time, it was beginning to close. It was fast approaching midnight and all the utilities were being turned off. My phone battery was pretty low at the time and I did not have my portable on me. That was a major mistake. I wasn't too bummed at the time as I knew the train station had its fair share of charging points. I headed on over to that area in the dimly lit train station that only had a few fellow passengers and some squatters in the area. I wasn't feeling the exact definition of safe.
I sat down and plugged in my phone to the nearest electric socket. Nothing. I didn't think much of it. Perhaps it was faulty. Although I really needed battery for my phone as I was on less than three percent. I walk on over to the next socket and nothing. Now I begin to get nervous. I try out the next two and nothing. I was a bit desperate at this point. I then try to use the last of my phone battery to connect to the WIFI (as my internet at the time had been discontinued. I had to pay for more data although that would be done through a Spanish company as my phone number is in Spanish. The fact that the EU removed roaming charges concerning data I was able to use a Spanish number throughout my semesters exchange.).
The WIFI was there but was not working. It then hit me. The WIFI is on but it was shut off. It was all due to the electrical bills. The train station shut off most of its utilities. This includes the electrical sockets which ended up being pretty useless for my use.
Now, I had no time to panic. There was a late bus I had to catch, and I wanted to get underway. I was in Paris where most people were at home and many other places were shut. It then occurred to me. I've used fast food restaurants in the past to get the WIFI I needed while travelling. I used McDonalds the most often. I would buy something small as if I were paying for WIFI usage which included a small snack. I would then look up what I needed for my trip and then head off to do it.
So, I decided I'll do just that. There are plenty of fast food restaurants in France. Unfortunately, I did not have enough battery on my phone to check Google maps. I spotted a security guard passing by. I then decided that I should ask him for directions to the nearest McDonalds. I began with my broken French and managed to find out that there was a Burger King and a McDonald's side by side only a hundred or so metres away. I headed off in that direction straight towards the fast food restaurant with excitement.
At this point Paris was pretty dark but not too quiet. There were a few shady looking individuals walking about the streets. It really did not feel too safe. Although, to be honest I was not used to living in such a massive city. Regardless, I headed over to McDonalds and found out that it was about to close in fifteen minutes. I quickly went to the nearest portable charger and plugged in my phone. The security guard was doing his patrols, so I decided to unplug my stuff and buy a small fries. After receiving it I went on over to the wall socket and charged my phone. I managed to also get access to the McDonalds WIFI. I found out exactly where I needed to go and took several screenshots. This way I could put on power saving mode and airplane mode but with the screenshots available to guide you. I also managed to charge my phone to 15%. This was enough to get me to the bus station for a Flixbus. From the bus I should be able to charge my phone up to full. With vigour and excitement, I left the McDonalds and went on my way where I needed to go. It was all pretty straightforward from here. I managed to get to where I needed to go. All of this could have been avoided if I had a portable charger (and probably recharged my data. Although, even if I had the data it would not have been enough to get me through without phone batter).
It was surely a stressful experience that was completely unnecessary. However, it's great that it all ended well. I also learned from that experience quite well, so I wouldn't end up in a similar situation. Now, let's keep going with our adventure. It took about four hours or so to take the bus from Berlin to Prague. It felt like an eternity as I was quite impatient to finally visit this beautiful city. During the time I visited it had been raining. The bus dropped us off in the northern part of the city. I was pretty excited as we cleared the forests and finally saw the city fast approaching. Once I saw the first houses my excitement spiked.
Entering Prague
When we stopped the majority of people got off the bus. Usually only a few people get off as the rest are off to the next journey. However, in my case we were going straight towards Prague. It was definitely a great destination to visit where many people will pass by. I picked up my trusty backpack and put on a light jacket. From there I began walking towards the heart of the city which was also within walking distance to my hostel there. I managed to find quite cheap accommodation even though it was basically a few minutes walking from the centre of the city.  As I was walking down the cobblestone streets I was able to witness the beauty of the architecture in the area. Everything looked very much European. In the sense that it all looked pretty old. It always makes me happy knowing that the governments here do almost everything in their power to keep their culture and history living. So, I continued on while taking photos of the area around.
The streets were quite busy in the late morning. Along the way I spotted a large supermarket and decided to check it out. One thing I highly recommend you do when travelling through foreign countries is check out their supermarkets. You never know what goodies you'll find and especially what is much cheaper in this country then back home. For example, shopping in French supermarkets would give you access to a massive variety of cheese with many only costing a few euros each. These go well with a baguette that would cost simply a euro (fresh baguette, might I add).
In Germany you could get a massive assortment of Wursts for cheap. It's always an exciting endeavour as each supermarket has many different products than the ones from other countries. Some people don't realise this and miss out on the opportunity to enhance their culinary experience (with snacks and finger foods). Now, let's keep on going. The supermarket was quite large and quite busy. I was able to witness a moment of everyday life with the local Czech people. I listened to the language and I could not pick a single word out. Nothing was familiar except some pronunciations.
It was a pretty nice language to listen to as I walked around the supermarket seeing what else they had on offer. I passed by their liquor section to check out if they had anything on offer that I've never seen before. One thing that I learned to not get used while in Australia is the fact that you can buy your alcohol in supermarkets. We, on the other hand, have to buy them in a liquor store (bottle shop). These stores actually close pretty early on some days. It's a bit inconvenient. Regardless, I kept on walking and went on over to the sausages section. I picked up a couple of sausages that I could eat on the go. They were pretty cheap here in Prague, so I decided that I may as well enjoy it. Another tip I have while you explore the different supermarkets is to go on over to their dessert section. You never know what type of sweets you can find. Some new brands that are not common in the countries you usually live in.
As a backpacker who is going on a longer travel experience the supermarket is a great place for you to restock on goods to keep on going on your adventure. Cheaper countries then back home offer the option to save even more money or to spend the same amount you do but spend even more goodies. It was something I did extensively during my Euro trip where I would spend the equivalent of peanuts yet getting a wide variety of sweets, sausages and good foods. One of my most memorable experiences were in Serbia where it was quite cheap compared to Australia.
Just to note. The Czech Republic, unlike Germany earlier in our trip has its very own currency. The Czech Koruna is their currency of choice. These currencies are a blessing and a curse. The euro is one of the top currencies in the world when it comes to price. It's up there with American dollars and such. On the other hand, this entails to you having more spending power although it will cost you to exchange from Euros to Koruna. I ended up using my card to pay for the goodies I bought. Although, straight after this experience I went on over to a currency exchanger nearby and had my money changed so as to not waste excessive amounts on international transaction fees.
Currency issues
Here's a tip for those travelling to countries with different currencies. If you're looking to exchange relatively large amounts of money I recommend that you avoid exchanging currency in touristic areas. These currency exchangers would charge a higher rate that would disadvantage you. This is something I had to learn the hard way throughout my travels. Rather, what you would want to do is get out of the touristic areas and exchange there. Keep an eye out on the current exchange rate and whether there is an exchange fee if you are looking to make changes. Now, you might think this is too much trouble although it isn't as bad as you think. Basically, the tourism areas of a country are usually small and act like bubbles. Walking in one direction for a short while will usually get yourself out of that bubble.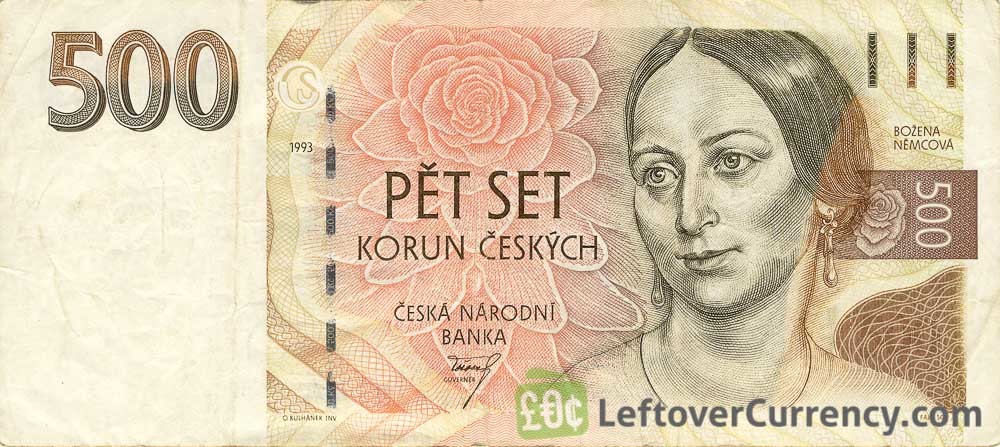 (Source:https://www.leftovercurrency.com/exchange/czech-koruna/withdrawn-czech-koruna-banknotes/500-czech-koruna-banknote-series-1993/)
Just keep an eye out for where the touristic areas are so you could coordinate and leave towards a non-touristic area. This would lead you to get a greater rate and more spending money. Interesting enough, you will also be able to dine with the locals if you leave the touristic areas. The locals know where to go to eat for a decent price or places with good quality. Usually those places are not in the overpriced touristic areas but rather outside those areas in their favourite eateries. I piece of advice I would give you is to look up local popular restaurants on the internet and avoid the flashy websites that will talk about a 'scenic experience next to the centre of the city by a grand cathedral' type of place. Those should be avoided like the plague if you're looking for an enhanced and affordable experience. Usually these places wouldn't even pay more for the food but rather they pay high rent prices and keep mediocre foods.
So, travelling about is pretty much a good idea outside the city. Just to see what there is to explore. However, if you're low on time then I would simply recommend that you go there to exchange the currency you have to the local one and to also simply grab a meal to eat for pretty cheap. That's a pretty good option to do. Anyway, I was very low on time and it was raining. I didn't want to stay too long out before it got pretty rainy and it would be a pain to lug around my travel backpack while soaking wet. I paid for my goods then continued on my way to the centre of the city. You quickly find out where the touristic areas are by simply finding the crowds. It does help that many within the crowd are dressed as the very definition of tourists. It was quite entertaining to see it all.
Exploring on
I walked through the growing crowds of people. Different languages rang from different voices. German, Spanish, French, Mandarin and many more. I soaked in the atmosphere as I was out. I passed by some stalls and they served some decent looking desserts. They had some amazing tasting strudels. I absolutely loved it. However, the one that stood out the most out of all of them is the Trdelník. I had to look it up to see what it was. The spelling alone quite stunned me. It's one of those crazy desserts that make tourists go head over heels to try it out. I was certainly interested. It was like eating pure diabetes. I grabbed my circular Trdelník with whipped cream, Nutella and strawberries. A match made in heaven.
I slowed down and enjoyed my crazy snack. The amount of people walking around was quite crazy. I kept on walking in until I ended up within the old city of Prague. This has to be the prettiest part of the city in my personal and biased opinion.
I ended up walking towards the old square. The place opened up from narrow roads to the large area. It was all absolutely beautiful. I kept on walking and noticed the old architectural design and the beautiful cobblestone floors. Surprisingly enough, I found quite a few students running around. Apparently, it was common to see schoolchildren (mostly in the high school age) to make trips with their class to different European countries. It was quite interesting. I didn't really expect it but then again many within Europe are a lot wealthier than others around the world. So, these high school trips would have been pretty exciting. I couldn't imagine doing the same thing growing up. Living in luxury I guess. This area had a lot of performers on the streets. There were those playing the guitar and others singing. There were your usual performers that did magic tricks (basically illusions) to wondering passerbys. Those don't tend to entertain me. They are the same commercial tricks used in the same countries all over the world.
In this area you could also spot the majestic Saint Vitus cathedral. This work of art is an absolute marvel to look at. It was one of the centres of attraction for the tourists in the area. I could see why. It's an absolute beauty and I recommend you thoroughly check this out for yourselves. Make sure to check out the insides as well as it's a very spectacular place to visit. Many tourists crowded around the large cathedral. It is worth noting that like many main touristic areas there are tour guides as far as the eye could see. This is where you will be faced by the dividing point where many will have to decide what to or what not to do when it comes to these guides.
Guides
There are three main options you could choose from. Two of them are quite similar and one of them is distinct from the other two. Let's assume that all three options include properly exploring the area. Your first and straight forward option is to simply book yourself a tour guide or join one of the countless ones on display. You could do this through your hostel or any website that specialises in tour guides. Now, it is worth noting that sometimes free tours are provided to you by hostels. The reasons for this is (my assumption) is that they take you to many of the main areas where some of them include specific places to enjoy a snack or meal. The hostel would work with these restaurants which end up providing a commission to the hostel for bringing them these individuals.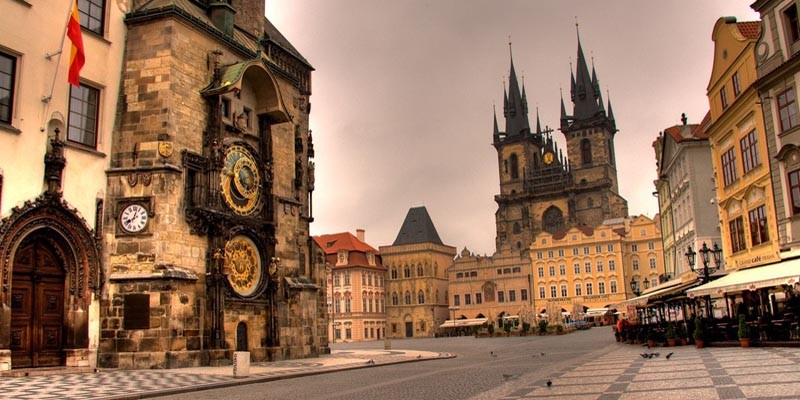 (Source: https://www.discoverwalks.com/blog/things-to-do-in-the-old-town-of-prague/)
Or, it could be that they simply want you to have an enjoyable experience, so you would rate them higher compared to other hostels as they have augmented your experience there. Regardless, this is one of the most common options as you could see through the massive amount of tour guides and groups running around.
You have a second option. This option basically entails to the idea that you simply look up the information as you go. Every time you find something of interest or find a plaque or a large crowd surrounding something you could look it up and see the background of it. It's pretty straightforward and you wouldn't have to pay for a tour (if fees are even included). However, you will need to have either data or connection to WIFI. This may be an issue as you will be in a foreign country and many cities do not provide free WIFI. So, you will either have to buy a sim card/data or think of something else.
Now, the final option of the three is to simply not check guides at all nor lookup anything. You could simply walk around and see all the sights while taking photos. If there are plaques or signs with information, then that's pretty decent. Although, sometimes they don't so you will have to make do with what you have. Regardless, I would put some thought before choosing one of the three options as it will definitely shape your cultural experience of this wonderful city.
Regardless, for some obscene reason that I cannot recall I was without a booked hostel. I can't recall as to the exact reason. Perhaps I thought that I wasn't sure how long I would be staying in each city so chose not to book my last destinations place of sleep in case I missed it. I don't reckon I would've outright forgotten. Then again, anything could be to blame here. Regardless, I reckon that you should look up a hostel website. Hostel world is a pretty popular one and one I use extensively throughout my journeys. I looked up some places and headed towards one of the hostels just a couple of minutes' walk from one of the main flea market areas (we will get into this in detail later on). I was greeted by a friendly female receptionist. She greeted me in English and we tried to get a room available. However, they were almost all booked with only beds in female only rooms available.
She recommended that I keep on looking. I didn't really need much of an incentive as I would like to have a place to stay for the night rather than sleep on the streets on a rainy day. I was in the district filled with hostels. So, I kept on looking through them. After a bit of walking and direction asking I managed to find another budget hostel. I came up to the reception which was through an alley. It seemed a bit shady at first although I was pleasantly surprised to find that the hostel was pretty modern looking. It's kind of a shame I do not recall the name of the hostel as it's been a couple of years since I visited there.
Night activities
Regardless, it was quite late in the night, so I decided to simply relax for an hour or so before heading off back to the city. At this point the mood of the place changed. There was more cheering and life to it. The bars nearby were quite full and even singing could be heard. From the languages the people spoke here I could harken a guess that this was a popular tourist district for bars and restaurants. Some of the food on the restaurants looked pretty good. Recall what I said earlier? Make sure that if you're looking to eat out to not go to the heart of the tourist areas to eat. This is pretty much common sense Rather, check out different places just outside the main areas for decent and affordable food.
If you want direct advice as to where exactly to go then ask your receptionists. They are often asked this question on a daily, so they have to be aware of all the good places. Make sure to ask them for good places to eat where the natives go. Tourist food and native food is quite different, and the latter is usually much better. It's a bit frustrating as it usually tends to be more expensive. Although, there really isn't much about it we can do. However, if you're looking for convenience then simply just head over to the main tourist areas and chug your beers and scoff your food without a care in the world.
One thing that I found interesting is the fact that there are plenty of shisha/hookah lounges found in many different European cities. There was even one located just a five minutes' walk away from my hostel. I decided that I would simply relax tonight and grab a shisha pipe there. That way I could call one of my mates and chit chat about my trip so far. It's a good way to relax. So, that is exactly what I did. I went to the Foggy Prague shisha lounge bar. It's a pretty relaxing place. As it was a weekend night there were quite a few groups enjoying a smoke and chit chat with mates. I grabbed some tea and a pipe and relaxed with a pipe. The owner was sitting there with a couple of mates as well. He was a pretty friendly guy. The manager didn't have the same warmness. I reckon he would be under a lot more stress as the owner is around.
Regardless, the majority of people smoking were locals rather than tourists. It's fair to say that most people don't travel to another country simply to smoke a shisha. Rather they go to another country to drink alcohol with mates. Have to keep the distinction clear. Anyway, I spent about an hour here. It's a very relaxed setting and one I recommend if you're looking to wind down. Although, I would be careful not to smoke too many of these as they aren't exactly known to be good for your health. Then again, the same could be said about alcohol. Moving on.
After my trip I went outside to be greeted with the smell of rain and a wet environment. Luckily it wasn't raining at the time. I walked back to my hostel. The walk was actually quite interesting because you make some strange turns in tunnel shaped bridges. A design that harkens back to the old days of the kingdom that presided over this area. It was pretty interesting to see the history even in the party district of Prague. Europe in general never ceases to amaze me. The party was going out in full force even at one in the morning. Then again, this time is a pretty normal period for people to start the main part of the festivities. It's something I am not too used to. The period when I started going out was within Australia. We usually went out by 9 to 10. The reason for this is due to our lockout laws. Basically, in Adelaide, the clubs will not allow any more people to enter their venue. It's a pretty stupid rule if you ask me although it is what it is.
It was created in a bid to calm the dangers of late night drinking and clubbing. It certainly worked to a large extent. Although, if you want to party till late then you should be fine. Since the clubs don't actually close at three but you can't enter back inside if you leave. So, some people end up staying the whole night. It's a bit of a shame if you have mates that are partying somewhere else or left and now can't enter anyway. So, you have to be pretty smart about it and plan accordingly. Eventually the clubs will close but some stay open pretty late in the night. Most people leave by that time of the night anyway so there isn't much life to it.
It's quite different here. It reminds me of the stories my mates in Spain would talk about. Basically, what happens in Spain is that most people pre-drink or hang out starting around 11 to midnight and then head off clubbing by midnight to one am. From there they simply stay the whole night. Often enough people would even stay till the sun rises. 8 am seems to be a magic number for some of my mates. When the clock hits that hour it's time to return home. It's a cultural thing I guess (Well it's not. It's mostly government policy in a bid to control drinking and an increasing amount of hospitalised people due to picking fights and such. Fights were actually quite common in Australia from what I've seen during my experiences there.
The next day
Now, returning back to Prague. It was very common for there to be people going out at around that time. Even tourists. Well, especially tourists as many want to lose their minds while travelling through Prague. So, I got back into my hostel and spent the night there before starting off early in the morning the next day. This day was one of exploring Prague at random. Simply walking around and seeing whatever there is to see. The first thing I went on to check out was the flea market nearby. I have found that they are very common in my travels. They are mostly in the touristic areas and can be found in many cities. From there I found many delicious looking sweets and meals to try out for relatively cheap prices. You could simply walk about all morning eating whatever you could get your hands on here. It was definitely a pleasant experience. I ended up simply walking about this area for some time.
They also sold knick knacks of many kinds. If you're looking for nice souvenirs, then check out the main tourist street of Prague. You definitely cannot miss it as it's the busiest street in the whole area. So, if you're looking for souvenirs for home or something nice to keep around the house then I recommend you check out this area. I ended up grabbing a fridge magnet for mom and a thimble for grandma for pretty cheap. If you're also looking to buy some clothes for cheap then you could check this area out. They're cheaper than the stores and a lot of them are quite colourful and beautiful.
Of course, if you're looking for something of higher quality then I recommend that you simply deviate from the path by only a few metres and voila: There will be shops all over the place for you to enjoy. They are not hard to miss as they have colourful entrances. You will find many branded clothing, bookstores and much more. If you were keen to go shopping back home for some nice brand clothes, then I would recommend you simply buy them here. The reason for that is due to tax. The taxes here should be much lower than places like Australia which in turn make it quite cheaper. It is also worthy to not that you probably pay less for transportation costs from clothes manufacturing powerhouses such as Turkey than you would paying from China to Australia. Or of course, Turkey to Australia.
So, shop away while you're here. Unless you plan to travel to Turkey and go stir-crazy shopping all over the place. This is actually what I ended up doing about a year and a half later during my France semester exchange. I stopped by a bakery for breakfast. I have to emphasise that you have to check out the bakeries of the countries you visit. They will offer up some delicious, fresh and piping hot goodies to enjoy in cold weather. Basically, if you want to have a delicious breakfast experience for cheap then head on over to a Czech bakery. Choose as to whether you want to pay for something sweet, savoury or salty. I ended up going for sweet as it's a great way to eat something full of energy to power you through the day. I grabbed a couple of juicy strudels. They are crazy delicious. I grabbed plum and apple strudels and they were pretty divine. They had some amazingly delicious looking cheese and local ham sandwiches which I would've been keen to try out although I was pretty much stuffed and overloaded with sweetness.
Prague Castle
Next thing to check out is the castle. The Prague castle is an absolutely beautiful specimen. There was a crazy number of tourists heading over to here. There were also several tourists guides around there. I heard one of them speak in detail about the castle. I didn't stick around with him and his group for long as I wanted to match on. Although, he did mention that this tourist attraction is the most popular one in all of Prague. I found that quite interesting and it is definitely pretty full. Even though it was barely late in the morning the place was filled with people of all nationalities. The area itself is also quite majestic. It felt like being in a fairyland. When my mates talked about the Czech Republic they never mentioned the amazing sights and architectural wonders that there are to see here. It was quite frustrating that I had not prepared properly to make sure to not miss anything. Regardless, this was pretty much it. There are many other places to check out in Prague. I unfortunately had to cut the stay short and continued onto my next adventure.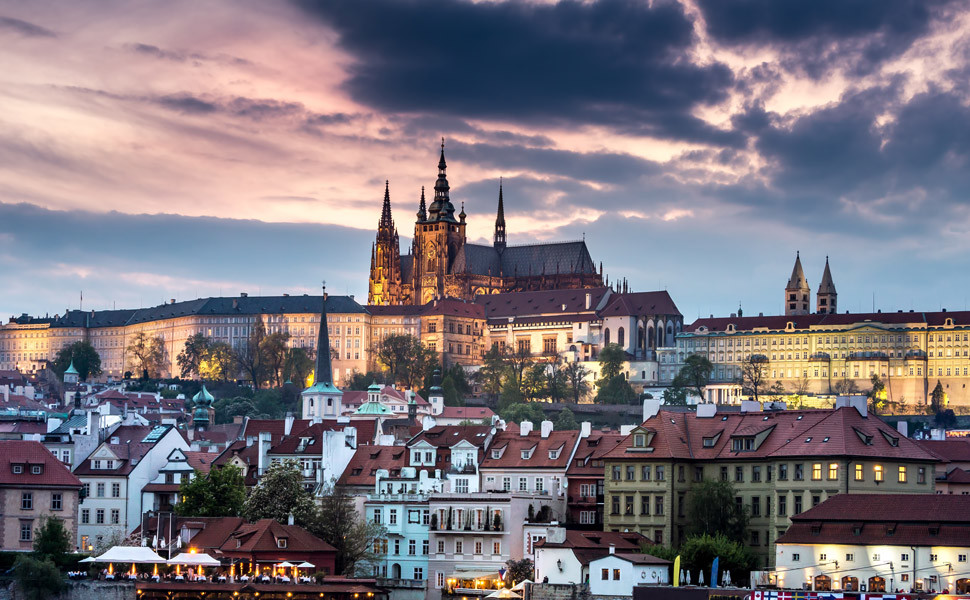 (Source: https://www.prague.eu/en/object/places/31/prague-castle-prazsky-hrad?back=1)
The path back home goes back to our four main options again. So basically, it goes down to taking buses (Flixbus), Blablacar, Trains and flights. The latter two are the most expensive option and the former two are the slowest. Speed wise it's actually placed from slowest to fastest. If you take a Flixbus then you'll be saving quite a bit of money. The only issue is that it's going to take quite some time to get back to Utrecht from Prague. More than a day of travelling. So, get comfortable. Not only that, make sure you bring a substantial number of snacks and ready to eat meals. Bringing water should be common sense. Make sure to bring a mix of healthy food so you don't feel queasy sitting around in a bus all day but also some calorific foods to help raise the mood.
You will probably have to change buses along the way which could cause some discomfort as the bus changes could be late in the middle of the night. You could enter from crazy busy buses to empty ones. You never know. So, it's not really the most comfortable of all options to be honest. Another option is to take a Blablacar. However, I am doubtful you will find one car that goes to such a far distance. Rather, you will have to take more than one. This makes the Blablacar quite unreliable even though it would probably be cheaper than a train. However, this one is the most stressful option, so I do not recommend it at all. However, if you're keen for an adventure and to stop by different countries along the way which you could explore then you should be fine. However, if you're short on time then you should not be able to do long adventures at each stop. It definitely is something of a backpacker's wet dream.
Of course, we now have good ol reliable. The train system. You could take a train or two from Prague over to Utrecht. It isn't going to be cheap, but it will be much faster and probably more comfortable than taking a Flixbus. You'll also be able to walk up and down the train and stretch your legs. There should also be a food carriage available, so you could always enjoy something tasty and not potentially go into a food panic. You should be careful with trains as they are surprisingly less secure than buses. I've heard many stories of people going into cabins and stealing people's bags while they sleep. It's a very dangerous situation and I highly recommend you make sure you double check whether your cabin door is locked or not and make sure your fellow passengers within the cabin do the same. Of course, you have to watch out to make sure those same passengers won't be the ones stealing your stuff.
You might think this is a very sceptical way of looking at it and especially pessimistic towards my fellow human being. Although, I reckon it's more realistic. It only takes one thief to ruin your holiday.
Travelling back
Anyway, if you end up taking the train you would also see some scenic views along the way. The countryside in some countries are absolutely beautiful and worthy of keeping an eye out on. Now, let us move on to our final and fastest option, the airplane. If you take an airplane you pretty much know what to expect. The fastest way of getting from Prague over to the Netherlands (You will have to go to Schiphol airport first before catching a train to Utrecht as the latter does not have its own airport nearby). It's the most convenient way and it maximises the amount of time you could enjoy on holidays before making it home just before you have to return to responsibilities. I actually ended up taking this option. It was the most convenient one as I was short on time and did not want to spend more than 24 hours travelling on the road. Plus, the train was too expensive and not worth the time it took to get from A to B. So, that's how I came by to my final decision. After a short few hours flying I finally made it to Amsterdam. Nothing screams out the Netherlands as grey skies and rain with cyclists going at it as if it were a beautiful sunny day. The rain impairs none of the natives.
I was happy to finally be back regardless after the trip. Some people tend to have post-holiday blues, but I am definitely not one of them. I enjoy relaxing after the experience out. I reckon it all goes down to mentality of it all. It's up to you as to how you see it. One thing I really like about Schiphol airport is that it is directly connected to a major train station. So, I could casually go straight to the station and from there buy a ticket straight to Utrecht. Thirty minutes later I was back in Utrecht. It's pretty easy to also get to wherever you want to go from Utrecht station as it's in the heart of the city and you could grab one of the many buses that will take you home.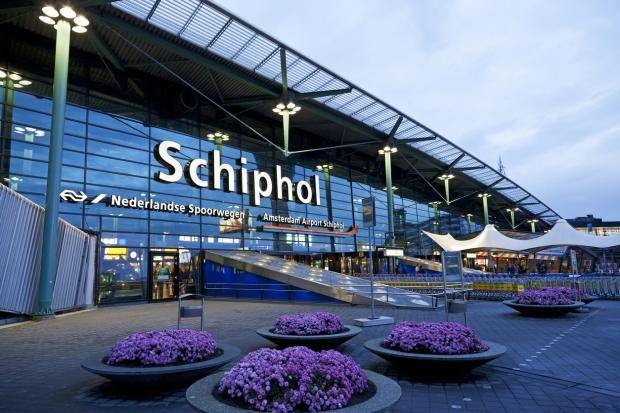 (Source:https://www.independent.co.uk/travel/news-and-advice/amsterdam-schiphol-airport-trials-disneyland-inspired-time-slots-for-security-to-reduce-queuing-a8082036.html)
This all pretty much concludes my experience travelling from Utrecht to Hamburg, Berlin, Prague and back. It's pretty interesting. The whole experience was a great learning experience of each country's food and culture. I enjoyed it thoroughly and highly recommend that you do something similar soon. The next adventure I will speak about is one that courses through Germany and one I conducted from Utrecht. For now, we will end it here. Hopefully this paper will give you a better idea of what it's like travelling through this part of Europe and encourages you to travel from your Erasmus country to the areas around. Happy adventuring and stay safe!
---
Photo gallery
---
Want to have your own Erasmus blog?
If you are experiencing living abroad, you're an avid traveller or want to promote the city where you live... create your own blog and share your adventures!
I want to create my Erasmus blog! →