Nuit des étudiant du monde
That was one of these spontaneous actions. I don't know, what we are doing wrong that we always only get to know about events shortly before. Especially, if it's events, where you have to register for. For example, the nuits des étudiants du monde, which means the night of the international students, which took place in the city hall of Paris. Normally, it is not a problem to be spontaneous, but for this event you would have needed to register online before, which we didn't do. There was a deadline, we tried one hour before, but of course, it was sold out. As expected. We wanted to go anyway to try to get in. Normally that works. So my friend and me went there and wanted to enter the city hall, which we had only seen from the outside until now. They asked us for our names, which were, of course, not on the list. We couldn't get in, because the registered ones have priority. We could ask again in two and a half hours, maybe we'll get a place then. So, we waited a little pissed in the cold. It doesn't even make sense, there are five people running around with different lists, who don't even have an insight in anything of this and so don't know how many people are inside. Besides, so many people just register in case they want to go and then don't even show up. It would a lot more logic to let the people in that are there. But, whatever.
After some time, a third girl joined us, who also forgot to register for the event and we waited together. We thought, if we stand there and look really pitiful, maybe they'll let us in. We lifter our shoulders against the wind, looked as sad as possible and asked every five minutes. After one hour a women, obviously finally someone who was responsible, asked us what our problem was. We told her, we didn't register but would like to get in. Her answer was just to come back next semester. But, we are only here until January. Since when we are already here? September. Ah, you're new, let's kame an exception, but be fast so no one sees you. The other two said, it was my suffering eyes that got us in. I don't know, if it is true, but we were happy we got in.
And it was definitely worth it. Seeing the city hall from inside, alone was worth it. I was speechless. The city hall is huge and full of gold and paintings and chandeliers and mirrors and more gold. Everywhere portraits and sayings of important persons.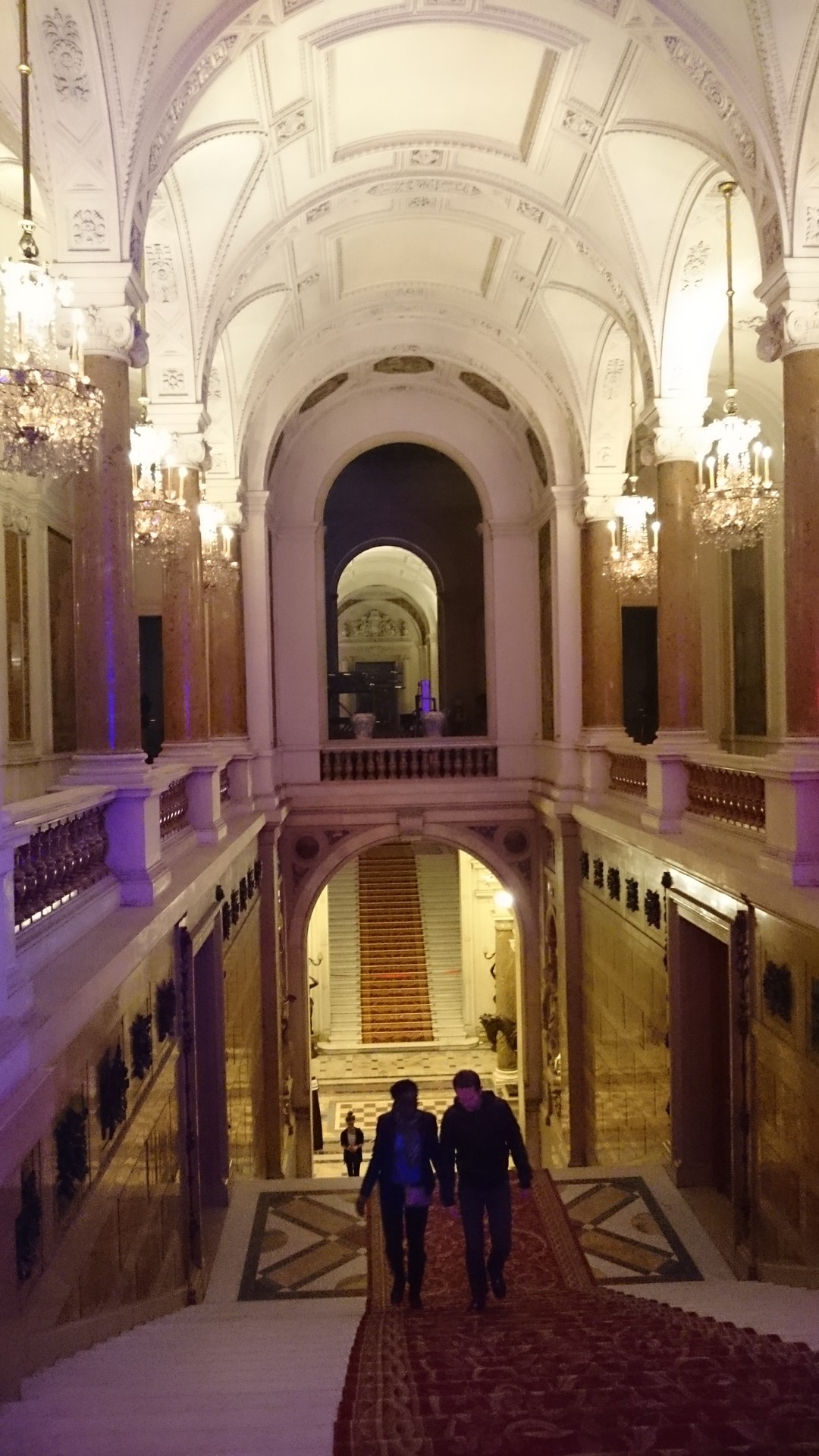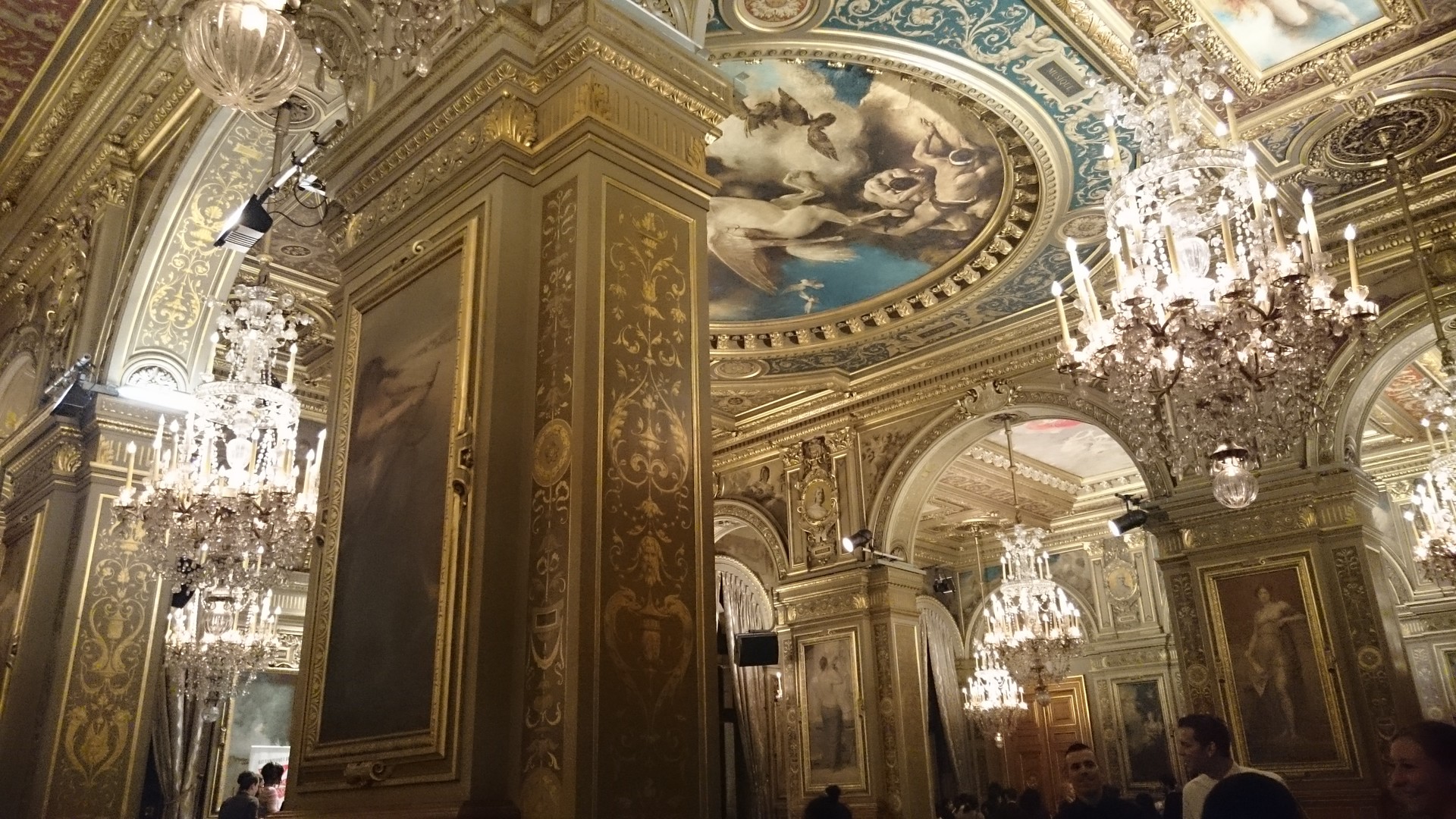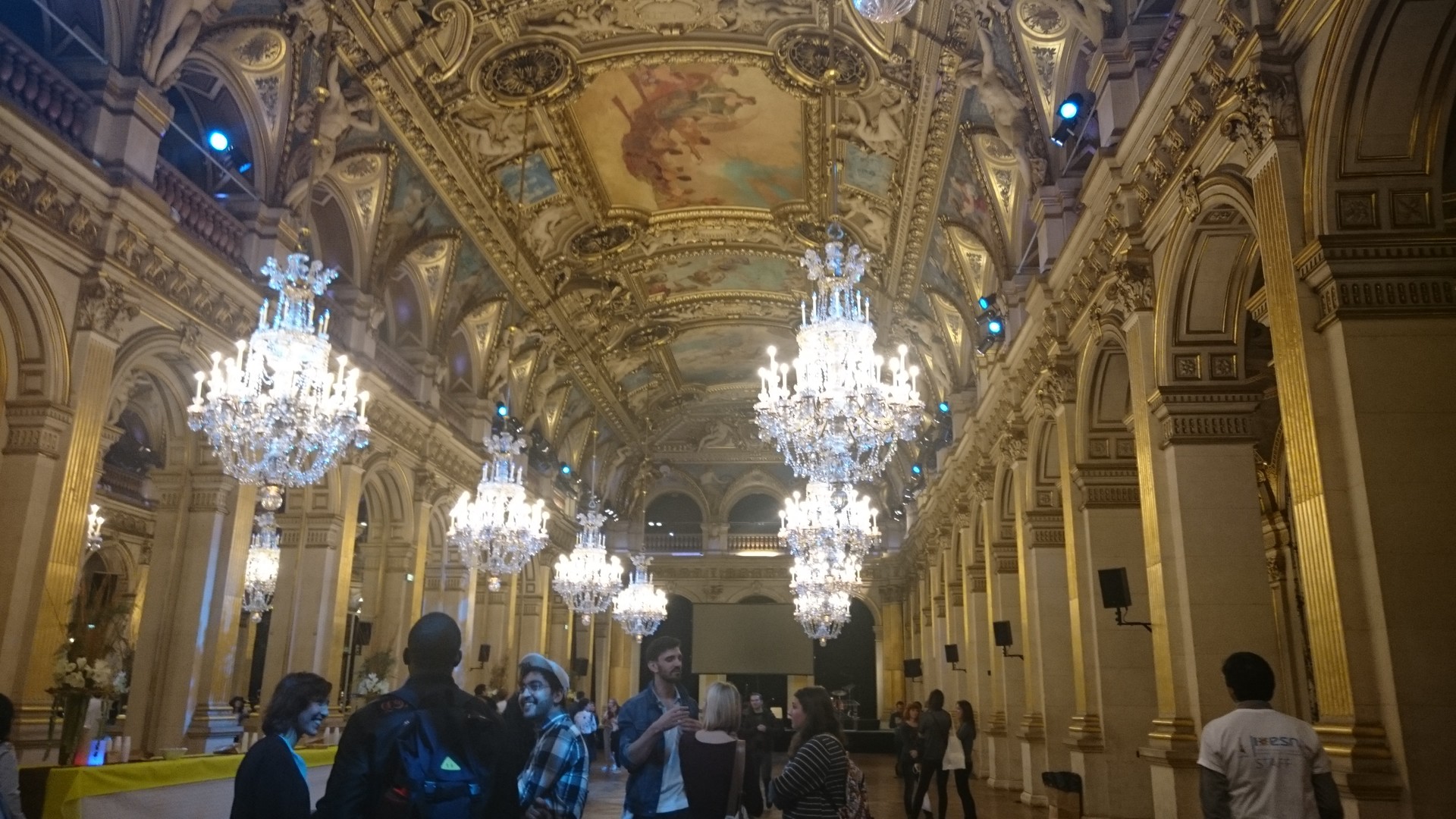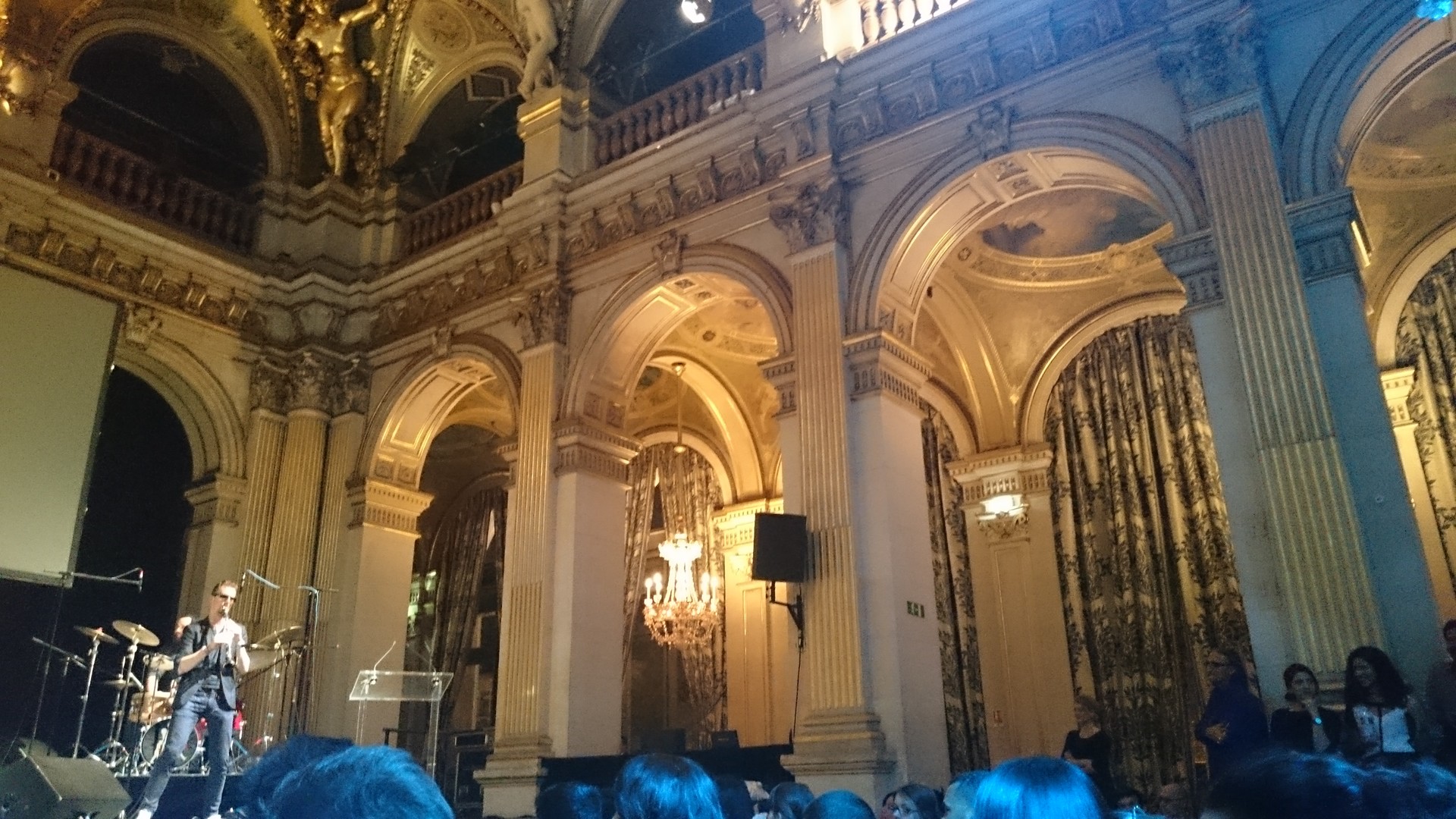 They had put up many stands to give information about all kinds of organisations in Paris, where you always got sweets and sometimes could even win something. There was a stand for manicure, one for hair dressers and another to get massages. And all that for free!
If one would have entered on time. We had been there on time, but weren't let inside. So, when we arrived there were queues at every stand and most of them already told to not make the queue longer, because they wouldn't have the time. A sort und rushed massage, was the only thing that we could still enjoy.
We got a short speech of the mayor and then dinner, which was a big sandwich (with ham and cheese and the vegetarian version with tuna, good that I am not a vegetarian :D ), a brownie and something to drink. Also, all for free. But, it was so much that we didn't finish and just took the apples with us. We stayed all night with the other girl, with whom we got along really well. At nine o'clock, there was a concert, which was really cool. Sadly, I forgot the name of the band, because I really liked them and it was like a small party in the city hall. The atmosphere was great, the musicians funny and the music more or less for everyone. All in all, it was a really nice evening and I am happy that I could look sad enough to get the three of us in.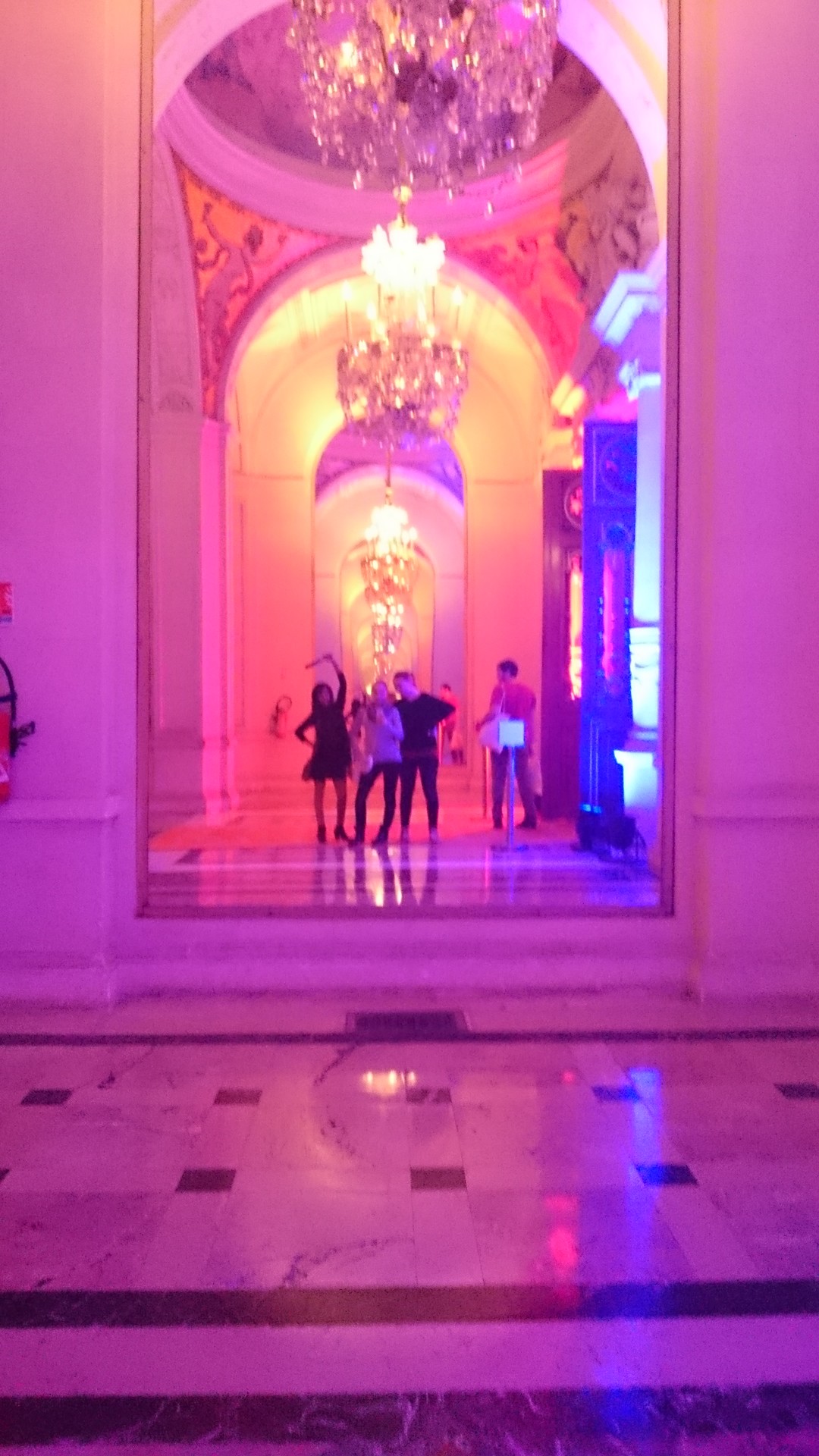 ---
Photo gallery
---
Want to have your own Erasmus blog?
If you are experiencing living abroad, you're an avid traveller or want to promote the city where you live... create your own blog and share your adventures!
I want to create my Erasmus blog! →