Disneyland Paris, where dreams come true (2 of 3)
Disneyland Park
This park is divided into five sections: Adventureland, Fantasyland, Discoveryland, Frontierland and Main Street U. S. A. Each day we went round one park!
Adventureland
Adventure Isle
In this area, you can go on a pirate ship, explore the caves and see a tree house. Let the adventure begin!
Robinson's Treehouse
When you get to the jungle, right in the middle you'll see a tree house, where you're allowed to explore the different rooms and the kitchen.
Pirate Galleon
Climb on board the most famous pirate ship of all time. As you know, a pirate's life is the best life!
Pirates' Beach
Next to the boat you'll find "Skull Rock", the darkest place in Neverland.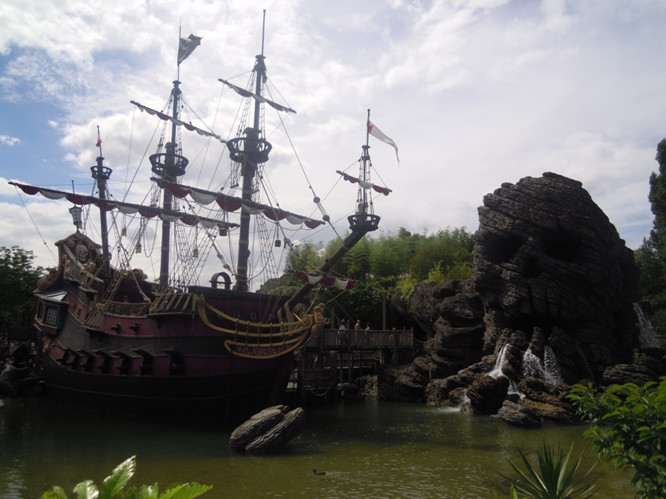 "Skull Rock" and the Pirate Ship
Pirates of the Caribbean
If you like the life of a pirate, you're going to have to delve in deep into the Pirates of the Caribbean with Captain Jack Sparrow in command.
Indiana Jones™ and the Temple of Peril
This roller coaster is so fun and just by going on it you'll feel immersed into the world of Indiana Jones. Go on, explorers!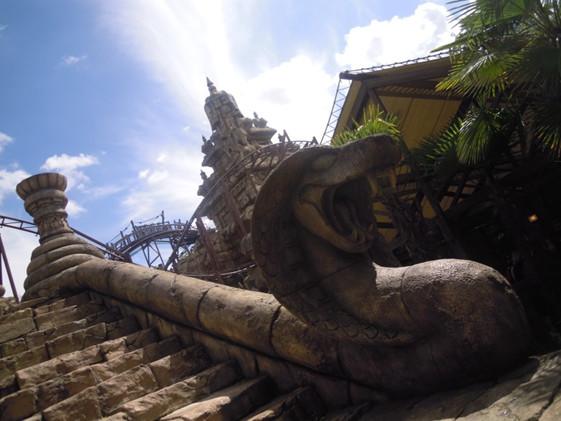 Entrance to the Temple of Peril
Le Passage Enchanté d'Aladdin
In this area you can see all the scenes from Aladdin, don't forget to ask the Genie for a wish!
Fantasyland
Sleeping Beauty Castle
Without a doubt, this place is the most iconic of all the park. The best thing is not only can you go inside, but they also put on light displays at night.
The Beauty and the Beast Gallery
I recommend you exploring the most enchanted castle of all the park, with its windows and setting which tell the story of Beauty and the Beast.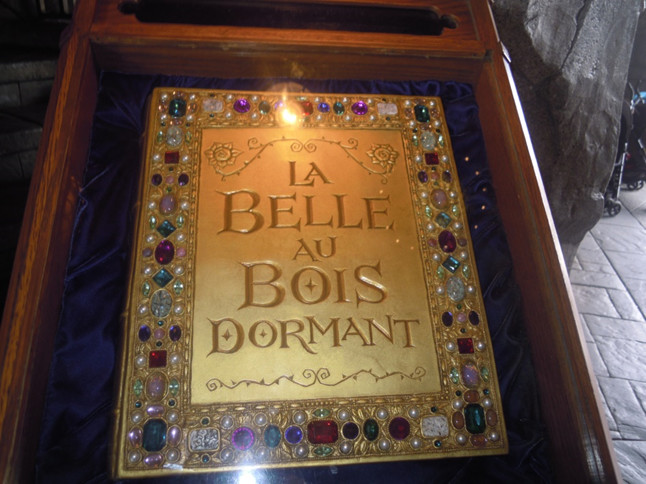 The story of Beauty and the Beast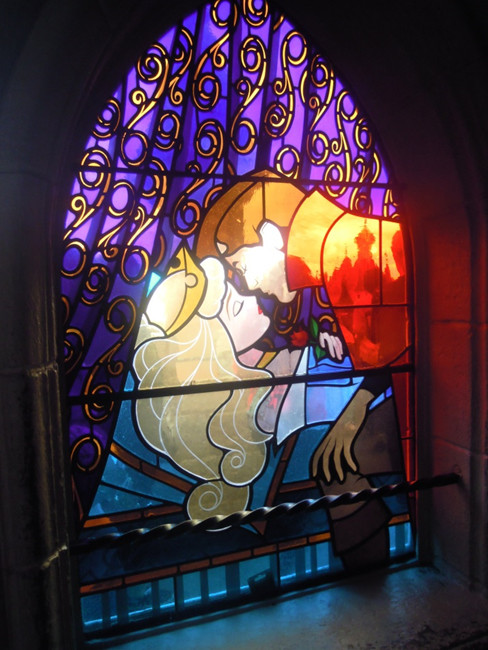 One of the hidden places inside Aurora's castle
La Tanière du Dragon
In a spot right next to Sleeping Beauty's castle, you'll find the dragon from this fairy tale underground, keep an eye out!
Le Carrousel de Lancelot
This carousel is opposite Sleeping Beauty's castle. When you go on it, there are some lovely views.
Alice's Curious Labyrinth
Discover Wonderland for yourselves. In this labyrinth you can follow the white rabbit, celebrate unbirthdays, find the Cheshire cat and fight the Queen of Hearts.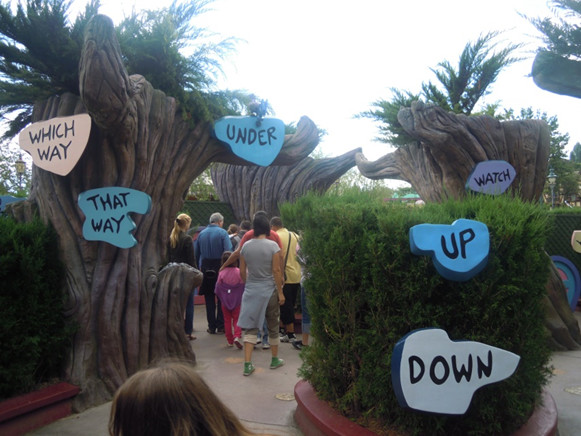 What path will you follow in the labyrinth? Up or down, which way, that way?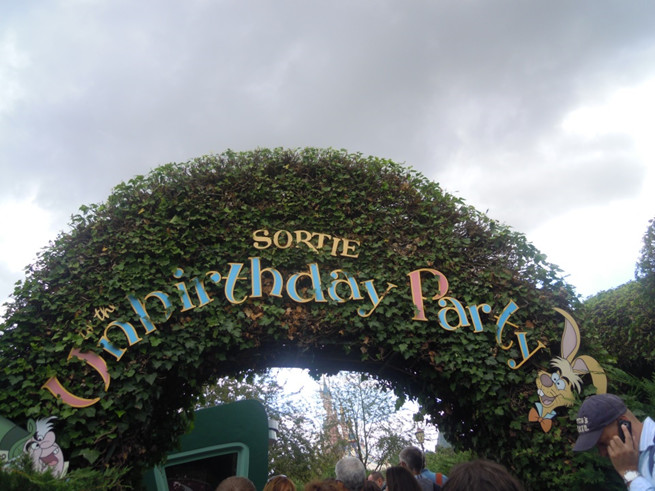 Do you fancy a cup of tea?
Mad Hatter's Tea Cups
You won't get bored of celebrating your unbirthdays in these crazy teacups which don't stop spinning round.
Dumbo the Flying Elephant
On this ride, you can fly with Dumbo, going up and down however you want.
Casey Jr. – le Petit Train du Cirque
Go on the Dumbo train and get to know some magical miniature places like the dwarfs' mine, Rapunzel's tower, Aladdin's Cave of Wonders and Belle's village, amongst others.
Le Pays des Contes de Fées
On this boat ride you'll see different miniature scenes, just like when you go on the Dumbo train.
'it's a small world'
This ride is very charming, in which, you go on a boat, and sail to different parts of the world; from the North Pole to cities in Europe, China and Africa, amongst other places.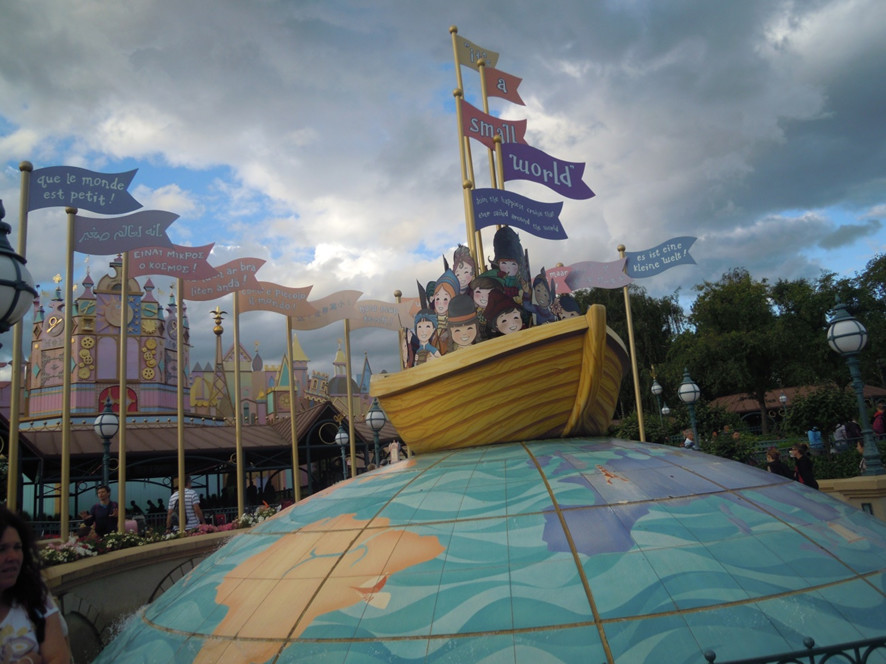 Entrance to It's a small world
Snow White and the Seven Dwarfs
In this magical attraction, you'll see different scenes from the Snow White and the Seven Dwarfs film... but be careful of the witch!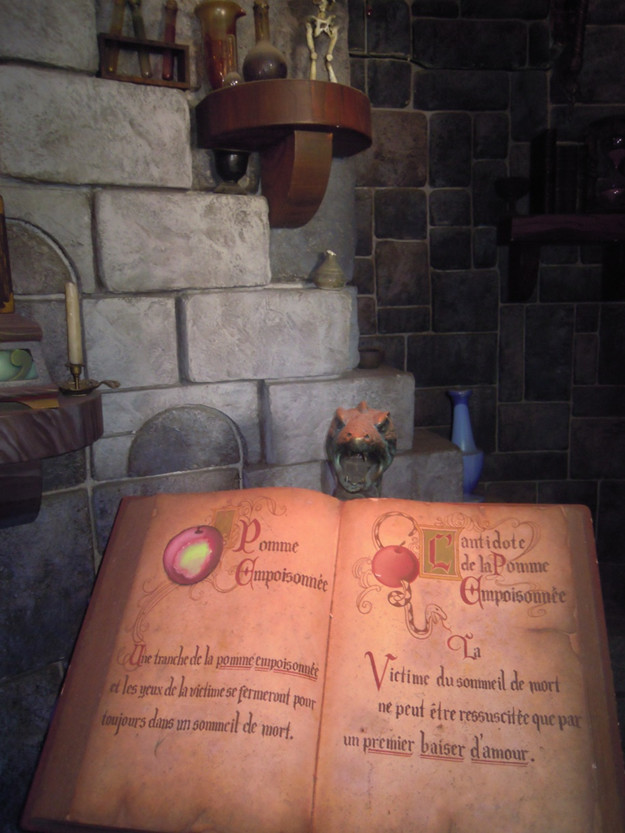 Snow White's evil stepmother's book of potions
Les Voyages de Pinocchio
Here you can go with Pinocchio on lots of different adventures along with Jiminy Cricket, but be careful... don't let the blue whale swallow you!
Peter Pan's Flight
Enjoy a journey in the sky to London or perhaps it will fly you to Neverland, whilst looking at the scenes from the Peter Pan film.
Meet Mickey Mouse
Of course, if you go to the park, you can't miss out on the opportunity of meeting the legendary Mickey Mouse.
Princess Pavilion
Here you can meet some of the most well-known Disney princesses. Is there anything better than feeling like a princess for a day?
Discoveryland
Autopia
On this ride, you'll feel like real racing drivers. Fasten your belt and enjoy the car ride.
Buzz Lightyear Laser Blast
Help Buzz Lightyear to fight Emperor Zurg with your laser guns... to infinity and beyond!
Star Tours: The Adventures continue
This attraction is new and here you can go on a journey to the galaxies through the world of Star Wars. You can go all the way to Death Star.
Star Wars Hyperspace Mountain
Go on the new spaceship and fly at high speeds though the galaxies; hold on tight!
Starpoint: a Star Wars encounter
If you come to the park but instead of meeting Mickey Mouse, you want to join the dark side, you're in luck: here you can meet Darth Vader face to face.
Star Wars: Path of the Jedi
Here you can remember the best moments in the Star Wars Saga.
Orbitron
On this ride, you can drive a craft designed by Leonard da Vinci himself.
Les Mystères du Nautilus
Dare to go 20,000 leagues under the sea to Julio Verne's work, going in Captain Nemo's submarine.
Frontierland
Pocahontas Indian Village
If you fancy a little rest, you can spend a little time in the park with Pocahontas' tribe. Would you like to meet her good friend Meeko?
Rustler Roundup Shootin' Gallery
Travel to the Wild West and shoot with accuracy. Come on cowboys!
Big Thunder Mountain
This roller coaster takes place in a mining cave, where you go around in a trolley. But be careful in case the mine collapses!
Thunder Mesa Riverboat Landing
Sail around in this 19th century boat and explore all the places of the Wild West.
Phantom Manor
Only the bravest can go inside the Haunted Mansion, and live to tell the tale. Surprise yourself on a car journey through the most horrific scenes in the park!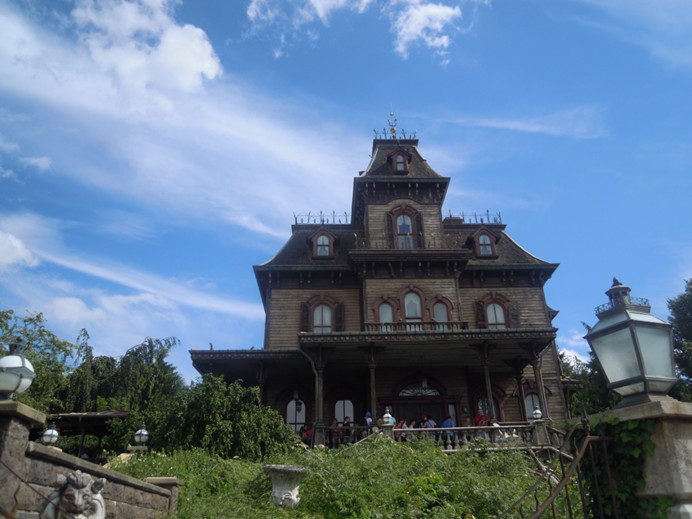 View of Phantom Manor; would you dare enter?
Main Street U. S. A.
Disneyland Railroad
You can go around the whole park in twenty minutes on this train and get off at some of the stops. If you go on this ride, you won't miss any part of the park.
Horse-Drawn Streetcars
Another good option to go along the street is by horse and wagon, although I prefer walking around the park and letting the horses rest.
Discovery Arcade
In these window displays, you'll see lots of posters and miniature replicas of different inventions throughout history. This is without a doubt one of the most interesting areas in the park.
Liberty Arcade
For those who want to learn a little history, you can find out all about the Statue of Liberty.
Main Street Vehicles
You can go back to the Victorian times and go in old cars, limousines and other vehicles.
Entertainment
As well as musicals and parades, in this park you'll have the chance to see the characters you loved the most during your childhood, such as Donald, Baloo and Aladdin. You can find out lots more information by clicking on the following link.
---
Photo gallery
---
---
Content available in other languages
Want to have your own Erasmus blog?
If you are experiencing living abroad, you're an avid traveller or want to promote the city where you live... create your own blog and share your adventures!
I want to create my Erasmus blog! →