Disneyland Paris Studio
Entering a wonderland
Disneyland! A place of wonder and dreams. A place where many children look to hang out and admire their favourite characters and adults enjoy some nostalgia riddled rides. Disneyland started off in the USA, although it has made another home in the area of Paris. Disneyland Paris is located just east of the city and it is often flooded with visitors during most of the year. I visited this place during the early part of November. I was visiting my friends in Paris while I was on Erasmus in Reims nearby. After a couple of days of hanging out, they expressed enthusiasm for checking out Disneyland. I had never been before, so I agreed to the plan. Why not, life is short.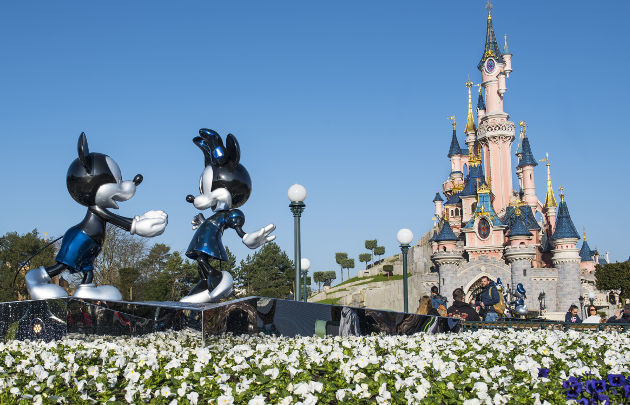 So my three mates and I ended up going. A brother and a sister, the girlfriend of the brother and myself. The older sister had been to Disneyland multiple times. I can't recall the exact number but it numbered in the 4-6 visits. She explained me that going to Disneyland needs a bit of organisation. You need to plan your steps in a way to make sure you are able to see as many rides as possible without having to spend an hour on average per ride. I was a bit disheartened listening to that fact. The only thing that could really dull Disneyland is illogically long lines.
Getting there
Regardless, she gave me quite a few tips which she would put into action. Firstly, and the most logical tip, is arriving early in the morning. This is important, as the majority of tourists and local viewers tend to come around just before noon. We were staying in an accommodation close to the centre of Paris. From there, we had to catch a metro and then a train which cost roughly six to eight euros at the time I was there. The train itself took about forty minutes. You'll be transported in one of the double decker trains which are quite comfortable and great for filling large groups of people. The train was slightly filled when we got there. It seemed quite a few people had the same idea as we did.
So, as we left the train station, we then beelined it to the ticketbooth. If you arrived relatively early, then you wouldn't have to wait too long to get your ticket. We ended up grabbing a one day pass. This amounted to a hundred euros. The tickets each have their own Disney character such as Minnie, Goofy, Donald Duck, etc.
The studio area
Once you grab your ticket, you can then get it scanned and enter Disneyland. The area is divided into two main parts: the smaller Walt Disney Studios and the main Disneyland Park. We decided to check the former, as it would be easier to get through it fast. Upon entering, it felt as though you were in a new world. The area looked like something out of the 50s with vintage prop cars, restaurant designs, signs, milk bars and much more. It was designed in a Hollywood-esque style where you could see that the buildings were propped up by wooden pillars and some are simply the face of the building without anything behind it, although it intentionality gave it quite a bit of charm. I recall kids around screaming in excitement as this was the starting point of their euphoria filled day trip.
As part of the strategy, the sister took us straight to a small group of ticket machines. Apparently, these machines provide you with a 'quick pass' that allows you to skip the main line. Sort of like a priority ticket. You usually grab these about an hour or so in advance for free. How could you miss out an opportunity for a free priority pass that could save you potentially a couple of hours of your day?!
Front lot
The Walt Disney Studio area is divided into different parts. I almost memorised these areas like the back of my hand due to the amount of time inspecting the areas while in line, as we were not able to grab fast passes to all of our rides. Regardless, once you enter, you will be in the 'Front Lot'. This area is where the description of above is found. There are also restaurants and a pop-up store that does catering. It's a good place to grab a quick bite if you missed breakfast while getting here. You can also find machines to get a fast-track pass from here. The first thing we did was taking left into the 'Production Courtyard'. This is the main area of the Studios and has quite a bit to offer. The most noticeable place you could find is the 'Magic Cinema'.
The Magic Cinema is a great place to warm yourself up and immerse yourself into Disneyland. You'll have to pass some gates and show your ticket upon entering. Inside, you are able to see many of the great classics played on a large screen. It's a thirty minute film where they show you over a hundred years worth of cinema. This is done through dynamic movies and also live action performances. Due to the fact that we were spending only a single day travelling around, we then decided it would be better to skip this and keep exploring around. It's worth nothing. There are several different places to grab a quick snack from here. They offered different types of meals and coffees to fuel you up for the long day ahead.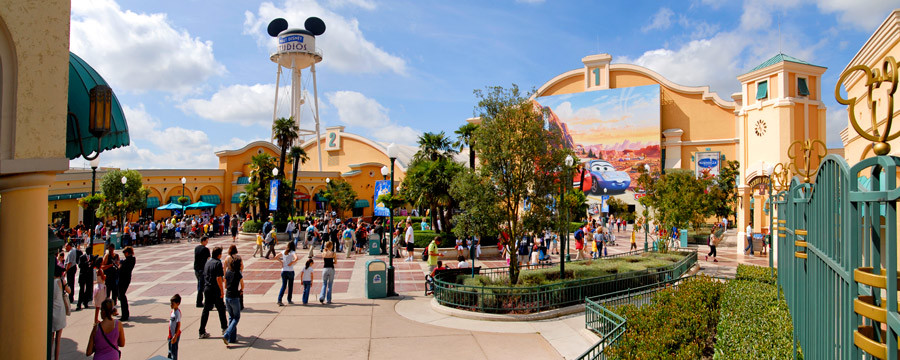 Right next to the Magic Cinema you'll have a small studio with Stitch portrayed, from Lilo and Stitch. We didn't go, as it was predominantly aimed for children. My mate explained us that they would have short shows where the children are able to chat, sing and dance with Stitch, who would be shown on a large projector. I kind of found the idea charming. Imagine being a child, meeting one of your favourite cartoon characters in real life and being able to interact with it. There were a few families heading in while we were passing by.
Right next to Stitch Live there is a Disney Junior Live performance. At this point I began to realise that this section is more designed for the more younger audience of Disney. My mate explained that this one is also skippable as we were looking more towards rides. On the brochure it mentioned how this is where live musical and dance shows would occur with many of Disney's favourite characters. The show will portray a story for viewers to enjoy. In front of these two there is the 'Place des Stars Stage'. Its a stage with a very rosy background of Paris. I reckoned it was a place set up for the sole reason to take scenic photos with your loved ones. My mate explained that it actually had some use. While it was mostly unused recently, she explained, they actually used to have some performances with some of Disney's biggest stars singing and dancing for the children. Anyways, she told me that the last couple of times she had been here they had nothing scheduled to be shown on here.
Now, after much anticipation, we made it to our first ride. The Twilight Zone Tower of Terror. Due to our timing, there wasn't much of a line to get inside. After waiting five minutes outside we were lead into the inside area. The 'basement' of the place looked something out of a steampunk enthusiasts dream. There were dials, locomotive machines and many beautifully designed machines located along the way. We were all put inside a room where they played a clip while the lights dimmed. This short clip explained us the background of the building. The story of lightning and elevators and disappeared people. The sound effects and bass were pretty good. It was designed to immerse yourself into the attraction. I fully enjoyed it as it did the trick. The people who were leading us kept as emotionless as possible like zombies. It was exciting.
After the short clip on the tiny television box, they led us to the next room. This is where the main part of the basement was found. It looked like something out of the late 18th century. There, as a line, where roughly 8-12 people who were taken on the ride at a time. This ruined hotel with its well dressed employees accompanied the charm of this 'aged hotel'. After a short ten minutes we were up. We were instructed in english by an emotionless man with an elegant french accent. He then lead us inside until we reached a corner. Around the corner there was an elevator. The elevator was filled with seats and we all picked our seats next to our mates.
Then, a new employee came by and instructed us a bit more. He cracked a few jokes successfully before the ride began. The elevator doors closed and we were sent upwards slowly. All was going well until lightning struck. Then the elevator began shooting up and downwards. This was a skydrop ride! It was pretty exciting. At one point we were sent to the very top where big wooden windows were open and you could see a spectacular view of the park. This lasted a moment before we shot down.
By the end of it we were laughing with adrenaline. One thing that is worth nothing is that in almost every single ride there are a set of televisions at the very end showcasing photos of you at some points in the ride. Some of them are pretty funny. If you want to purchase a HD version of this photo, its available at the end of the ride. It's a good souvenir to have if the photo is particularly funny. At the end of this ride you will be surrounded by a souvenir shop where you can purchase all manners of trinkets, costumes, chocolates and more.
The last attraction in this area is the Studio Tram Tour. This attraction is designed to give you a better idea in the dealings of Disney and what goes behind the magic. You will be taken on a ride around the Production area with somebody explaining all the different pieces that can be seen. At one point on this calm trip there will be a showcasing of fire. This is created so as to prove the point that anything can happen with Disney.
Backlot
After looking through this area I suggest you do as we did and go straight to the Backlot area. While the name itself might not raise much excitement I can guarantee that this is one of the most dynamic parts of this park.
The first piece we went to and my favourite one is the Rock and Roller Coaster. This coaster mostly themes around great Rock n Roll legends of the past. It mainly centres around Aerosmith, although it has much to offer. We had to wait in line for about twenty minutes just to get into this one. Even from outside you can hear some rock classics like the Beatles and Guns n Roses, along with some more modern bands such as Green Day. Once we finally made it inside, we were subject to another line. This one was actually one of those few lines you would enjoy to be in. The reason for this is that surrounding us were many different types of memorabilia of different bands. I fell in love with the AC DC signature guitar of Angus Young showcased in its red horned glory for all to see. Many of these kids had never heard of these different types of bands. I'm not the sort of person that goes out of my way to integrate the newer generation to 'older' music, although I find it important to know a bit of music history. I reckon this ride inspired quite a few of them. We were surrounded by kids, teens and adults. It was one of those rides friendly for all ages.
After passing the lines, we entered a closed cinema room. Here we stood listening to a short clip talking about the history of Disney and Aerosmith. I was pretty excited. After the clip, we were allowed in to the main ride area. After a short wait we were strapped into our rides and ready to go. The ride slowly began its way with pumping music to raise our excitement. Then, we reached a stop. A five second countdown ensued until we were shot into the dark studio ahead. From what I recall, the area was mostly dark except for flashing lights here and there and banging Aerosmith music. My mate is a rock music enthusiasts and guitar player. I myself used to listen to rock music fanatically in my youth. We were both shouting at each other in excitement. This is an amusement ride I highly recommend, regardless of what type of music genre you enjoy. They do a great job blending music and adrenaline pumping ride swerving.
The next place we checked out was the 'Stunt Show Spectacular'. The place started to get quite busy with people. The attraction centred around watching a pseudo-motorised show with cars 'shooting around'. Often enough you'll see some of the more popular car characters from the film Cars. The kids here were screaming in joy as the show commenced. Its pretty well done and I enjoyed it quite well. Although we only stayed for about ten minutes of the show, as my mate said that the show lasts quite some time and we didn't want to miss the main events.
The last piece I spotted from this section was called 'Armageddon'. This attraction centres around wild and explosive special effects. It's definitely a flashy show to watch. It also shows the intricacies of how Disney performs many of its special effects and delves into the content of what we later see on television. The way it works is that you'll be placed into a spaceship command room. From here you will witness all sorts of special effects that mainly centre around explosives. It doesn't really matter how old you are, as victimless explosives are always a fun thing to witness. If you're keen to learn the history of special effects of explosives throughout Disney's history, then look no further.
After exploring Armageddon, we decided to take a quick pit stop in one of the souvenir shop. While the girls were shopping for a Minnie mouse doll my mate and I spotted an exceptional sight. A father was walking alongside his toddler who was dressed fully as Darth Vader. This tiny pure-evil filled toddler was the most adorable thing we saw in that day. My mate and I couldn't get over how cute and awesome the kid looked with his mask and full outfit. So when you're visiting Disneyland, expect to see many fellow disney enthusiasts dressed up as their favourite (or their parents' favourite) character. Also, this is one of the only socially acceptable places to dress up as your favourite disney character. So go nuts!
Toon Studio
We decided to take a quick look in the last area before heading off to the main attraction part of Disneyland. Toon Studio is the last place to check out. Such as the Production area, there are a few catering and coffee shops to sit down and have a breather from the hustle and bustle of Disneyland. The first attraction I remember spotting was the Toon Plaza.
This area is actually a small goofy looking village designed for meets and greets. While people were waiting for the next character to come in, we passed by. My mate explained how she would pass this place and a different character would show up. They were usually announced by a signature sound such as Mickey Mouse's laugh before he comes in. This would be every Disney child's dream, to meet their 'heroes' or favourite characters. Not exactly a place that attracted the older generation. All I had seen were large swathes of children with their parents nearby.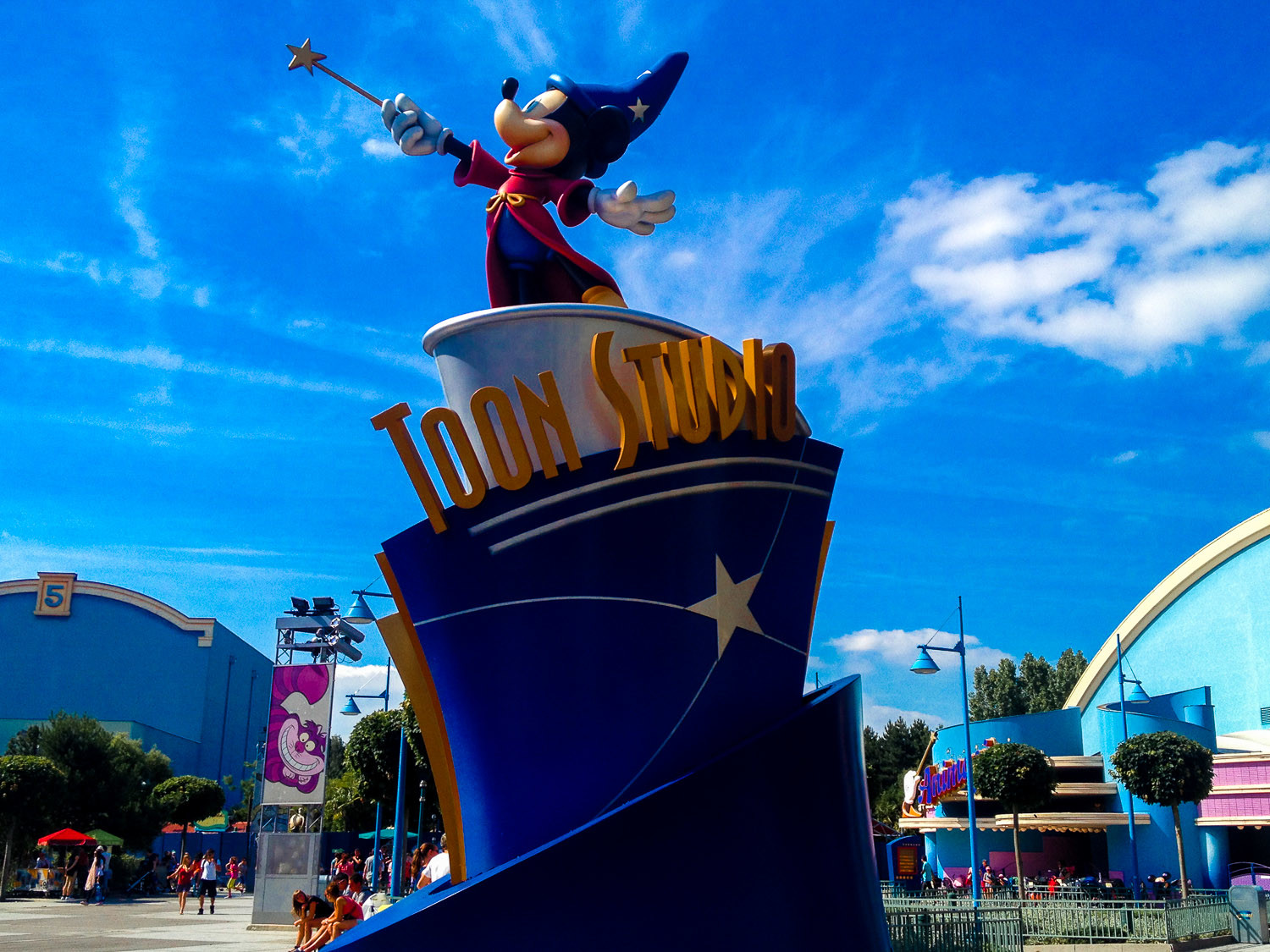 Right in front of the Toon Plaza a completely different theme comes to life. Set on the backdrop of a 'wild west' looking area, this attraction features the popular Disney film Cars. Here it is possible to ride one of many different bumper cars featuring many different main characters of the show. From the car arena there are a few platforms where the parents can watch and supervise their enthusiasm pumped children. It was a pretty cute scene.
Nearby you have Crush's Coaster. This attraction is themed after the film Finding Nemo. The main character of this theme is Crush the sea turtle. One thing I forgot to mention. Most rides have electronic signs that show how long it takes to enter a ride depending on how long is the line. In this case the ride to Crush's Coaster was forty five minutes. My heart sunk. We were pretty late to the party. My mate then assured me. She had gotten four quick passes to Coaster Crush. We cheered for her. We entered through the quickpass area. When I tell you its full, then it is 'really' full. When we went in through the back area and looked at the line, we were shocked. While it may have looked large from the outside, the line looked even bigger and more populated from the inside. Luckily, we were allowed on to the next right straight after the current ride was going.
We were loaded up onto turtle shaped carriages four at a time. The ride was surprisingly fast paced with the turtle shells spinning around. It may be a bit sickening for some, although we had a blast. The ride was pretty fast and over in two minutes. We went from the inside area all the way outside, then back inside where we were deposited back onto the main area. This ride is definitely an adrenaline filled one. I recommend trying it out for yourselves.
The attraction found right next to Crush's Coaster is 'The Flying Carpets Over Agrabah'. This is an Aladdin themed amusement ride. You will be loaded on top of a carpet shaped carriage that spins you around and raises and lowers you so as to make the illusion that you're flying. I would say this is more of a kids ride rather than an 'all ages' ride'. In the background you will be shown day and night as you circle around different parts of the day. The theme is well done with a magical lamp found at the very top of the ride to top it all off.
One of the last things worth nothing is the 'Animagique'. This is a large studio where you will be shown different live performances with Mickey Mouse and his magic wand leading it all. Usually you'll have the show with many different characters dressed colorfully. You will find many different types of characters such as Elsa, Rafiki (the baboon from the Lion King) and many more. The whole theme of the show is about Mickey going through the struggle of becoming a magician. This show includes many magic tricks and a lot of dancing. My mate explained all of this to me with excitement. Unfortunately, we were in a rush and couldn't watch it as we were only staying for the day. It's a bit of a shame. If I ever come back to Disneyland, I would probably be curious enough to find out why my mate enjoyed the show so much.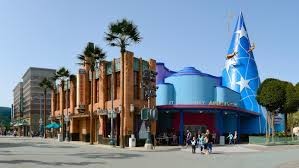 There is a very cute little attraction to be found near the exit. This one is themed after Disney's Monster Inc. If you've never heard of the movie, then I'll give you a bit of background. The film is based around the idea of entering magical doors that leads to children's rooms. The monsters would try their best to scare the living daylights of the kids so they would scream. Their scream would charge up canisters that are used as an energy source by monster society. The attraction is themed around screaming people. There are three different microphones with canisters right above them. Here you can let your loudest scream to find out if you're able to be a top player in Monster Inc scream energy industry. Your scream would light up the level of the canister to showcase how well you did.
We all had our goes, as it was not particularly busy and it was a curiosity of a sort. We managed to score flying colors and are currently looking for employment at Monsters Inc. We were laughing more than screaming, as it was a strange situation to be in. Screaming randomly in public isn't exactly a common social norm.
After we calmed down, we decided to conclude our trip to the studio area by checking out the 'Art of Disney Animation'. This attraction is chock full of animating and art history. Here you will be showcased how all the different classics were created by pen and paper. You will be shown a short video and then given a tour of the area around. This place is hard to miss, as you can spot the massive wizard hat Mickey Mouse would often don on when he's practicing magic tricks. I thoroughly enjoyed this attraction, as there are quite a few things to see that invoked nostalgia between my friends and I. At this point, we then concluded our stay at the studio section of Disneyland. After we made our way towards the main attraction part of Disneyland.
This concludes my experience in Disneyland Studio. I shall be updating a continuing piece soon after. Hopefully this guide shows you what to expect and what to seek. Enjoy!
---
Photo gallery
---
---
Content available in other languages
Want to have your own Erasmus blog?
If you are experiencing living abroad, you're an avid traveller or want to promote the city where you live... create your own blog and share your adventures!
I want to create my Erasmus blog! →