The best places to eat and drink in Oxford: my top 21 recommendations (9-21)
Hello everyone, and welcome to part two of my 'best places to eat and drink in Oxford' series! In yesterday's article, I told you about all the city's most popular cheap eateries and takeaway shops (click here to read that post, if you haven't already done so). Today, however, it's all about those fancy restaurants, those coffee shops, and those bars! Whether you'll be celebrating a special occasion on your next trip here, or will simply be catching up with friends, read on to find out which venues you should heading to.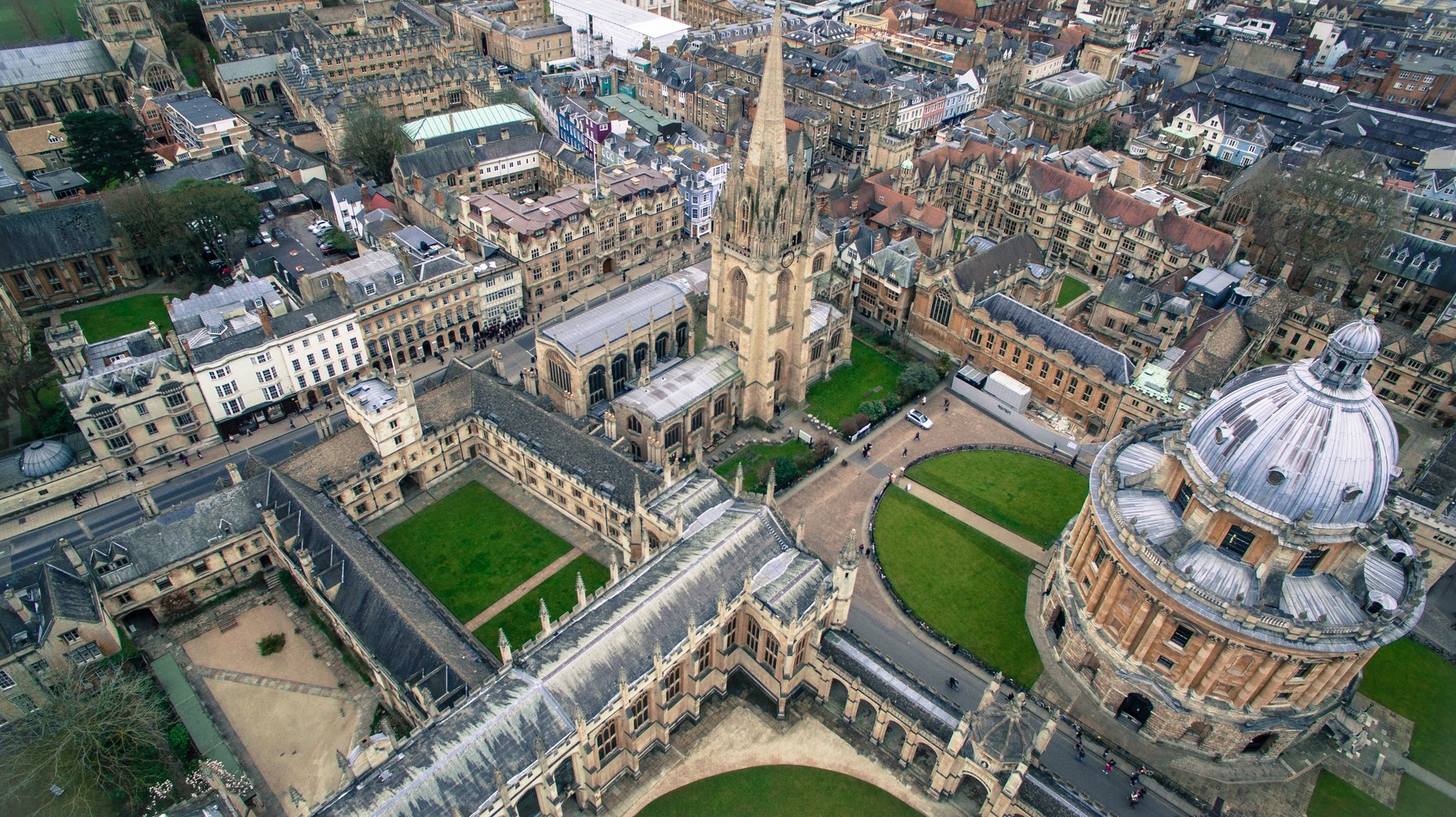 For special occasions
It doesn't matter if you've got a birthday coming up, a marriage anniversary, or a good old Christmas dinner: sometimes your restaurant of choice has got to be just that little bit fancier. Below, then, are five mid to high-range spots that will give you all the festive vibes you need.
QUOD
If I ever have a meal out with visiting relatives, there's a ninety percent chance that it will take place in QUOD. Come to Oxford on moving day or around the graduation period, and you'll realise that just about every student and their family would say the same!
Why is this? First of all, QUOD is very central: located on the High Street, just a minute's walk from the iconic Radcliffe Camera. What is more, the food here is incredible! My go-to order is the half and half pizza, but here they serve everything from thick cuts of meats to melt-in-the-mouth ravioli. And the cherry on top? Considering the high quality and classy location of this place, the food is actually pretty reasonably priced!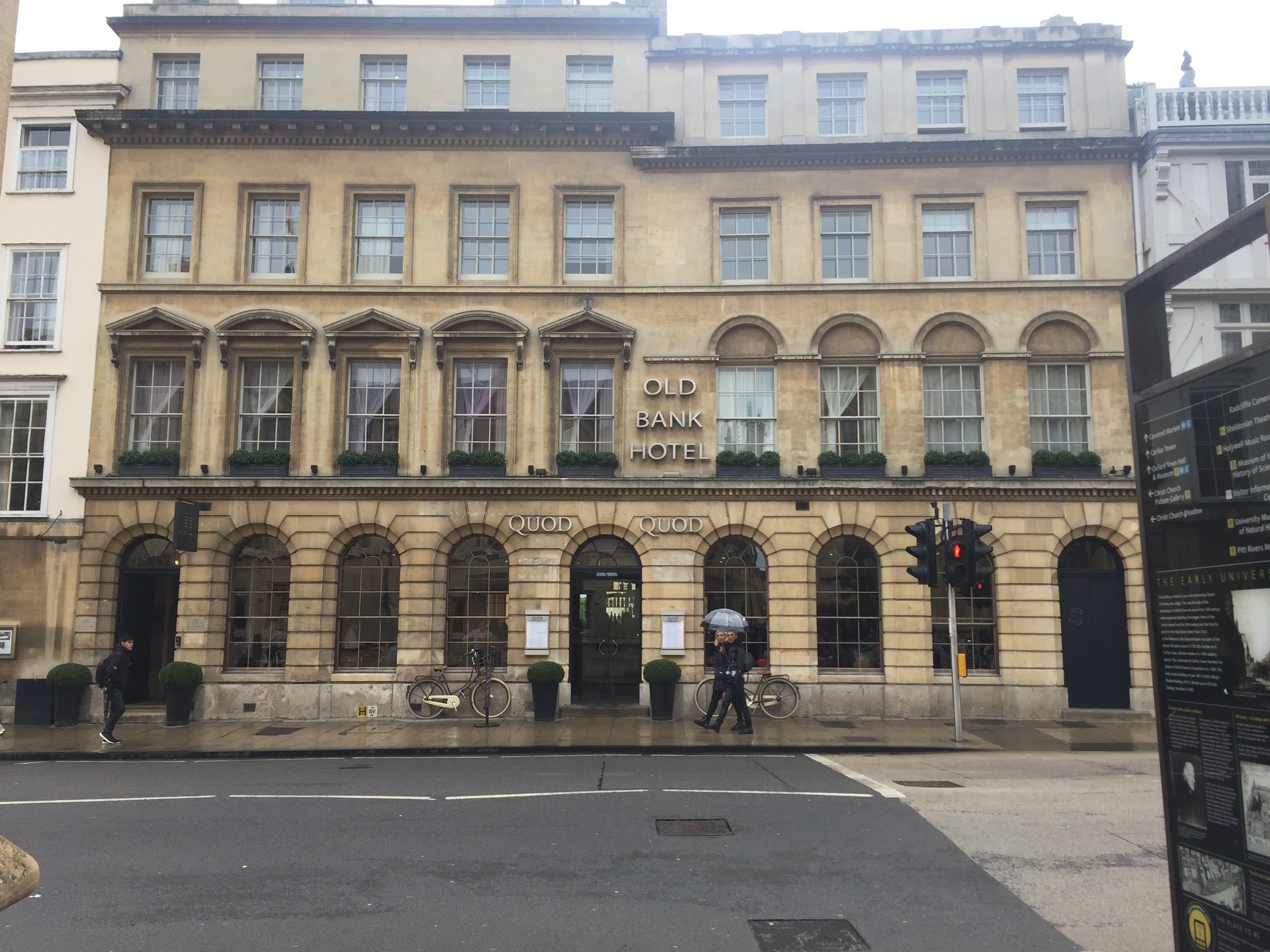 Victors
Visiting from the USA, and missing the food back home? Be sure to pop along to Victors, a Hamptons-inspired dining spot in the Westgate shopping centre! Here, you'll be able to choose from all sorts of immaculately presented seafood (their sushi rolls are particularly moreish!), meat, and vegetarian dishes, many of which features ingredients from the restaurant's herb garden. Instagram addicts: you'll love this place for its beautiful brunch platters, its decorative wisteria, and its sweeping views over Oxford!
Just so you know: this place tends to get pretty crowded, especially on the weekends, so it's definitely worth booking a table in advance.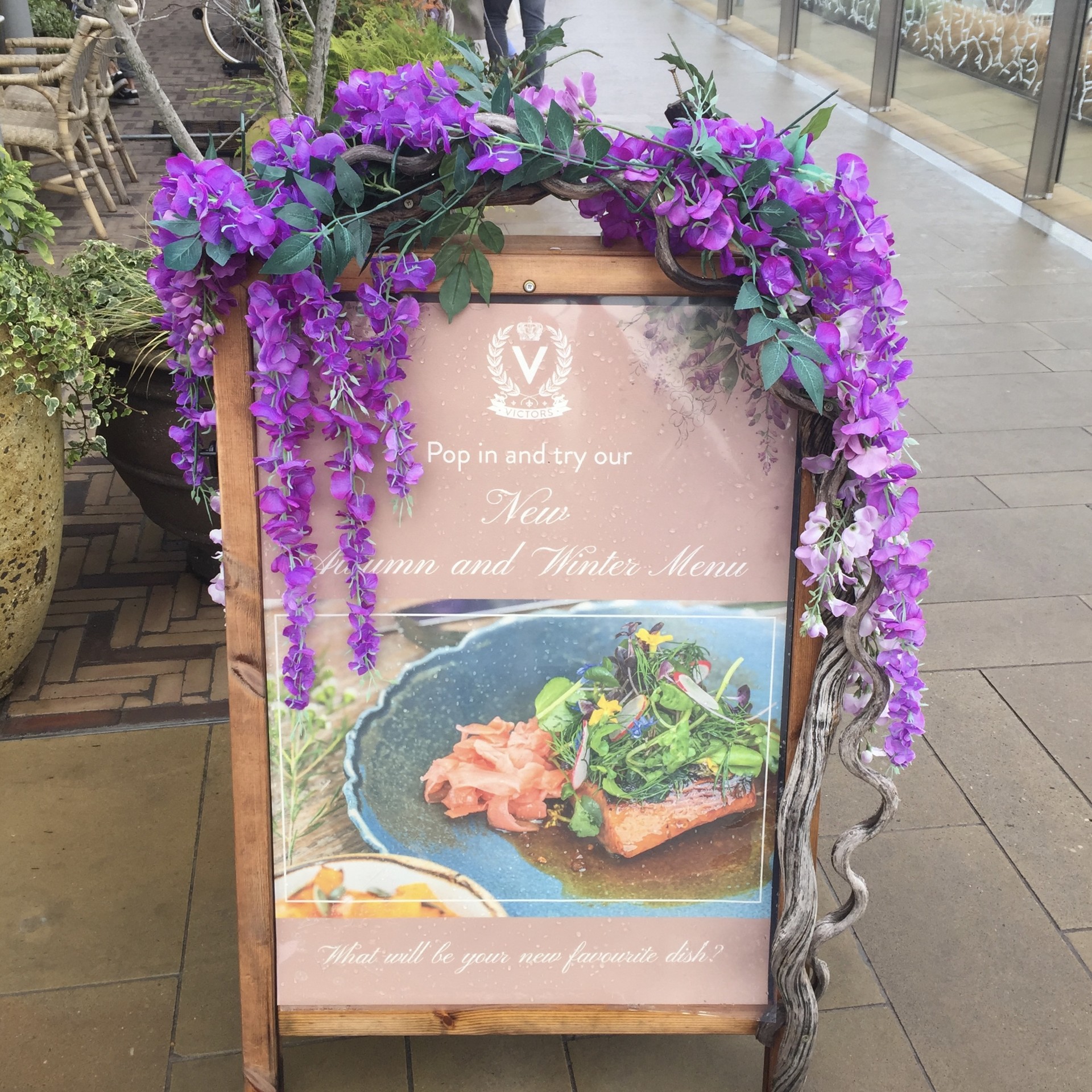 Cherwell Boathouse
Priciest on the list, but definitely worth the extra cost, we have the family-run Cherwell Boathouse, located about a mile from the city centre. Come here for tasty meat and fish dishes (as well as a few vegetarian options), and picturesque views over the River Cherwell. If you're around in the spring or summer, be sure to hire one of their punts after your meal!
Warning: if you make a reservation at the Cherwell Boathouse, it's really important that you arrive on time. My brother and I once turned up to a family meal here just five minutes behind schedule, and this resulting in our having to wait an extra half an hour to be served!
Ashmolean Rooftop Restaurant
The Ashmolean Museum is one of Oxford's most popular tourist attractions. With a collection featuring everything from Egyptian mummies, to twentieth-century sculptures, it's the kind of place that just about anyone can get behind. However, not a lot of people know about the institution's fabulous rooftop restaurant, where my grandmother once very generously took me for a birthday meal. There's loads to choose from here – I particularly recommend the smoked mackerel starter, and the panna cotta dessert – and, if the weather permits, you'll have a fabulous view to enjoy as you eat.
Heads-up: the museum also has a great underground café, where you can enjoy light meals, as well as hot drinks and cakes.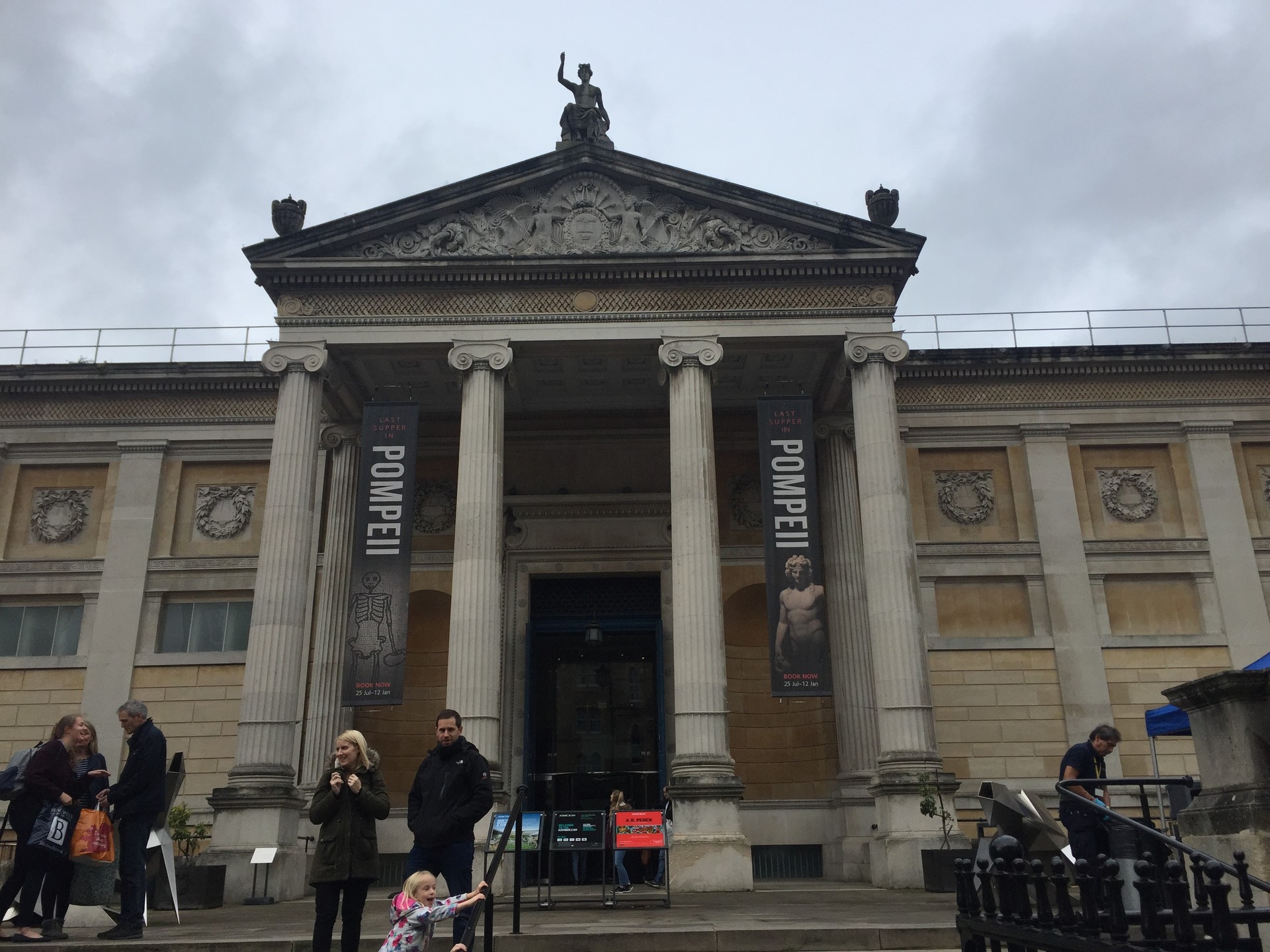 Turf Tavern
In the mood for pub food? There's no better place to tuck into fish 'n' chips or a steak and ale pie than the Turf Tavern. Dine like a star (celebrities such as Elizabeth Taylor and members of the Harry Potter cast have eaten here!), and make sure to sink a few pints while you're at it! I've written a whole article on this place, so click here to read that, and be sure to enjoy a meal there soon.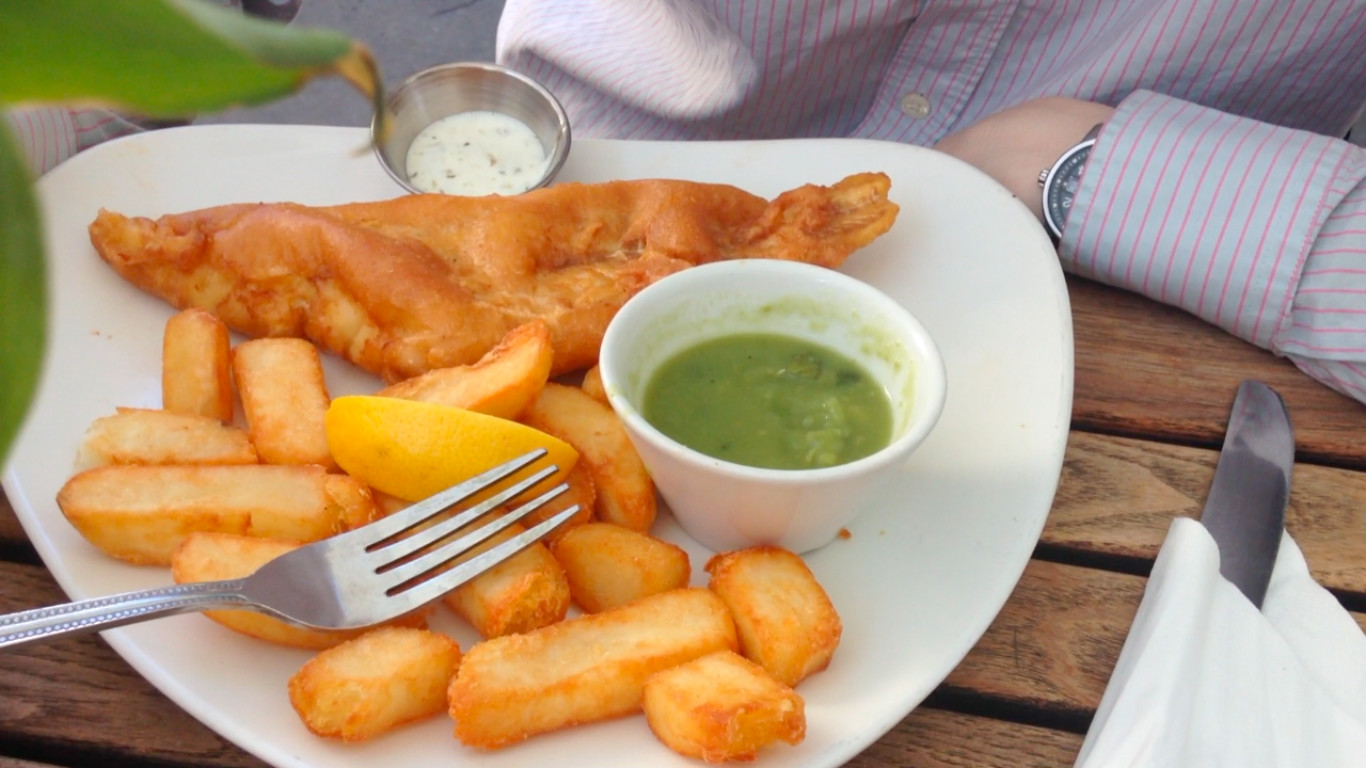 Coffee shops
Looking for somewhere to enjoy mid-afternoon snack or a cuppa? These five places should be right up your street!
Turl Street Kitchen
Whether you want to catch up with friends, or get a bit of university work done, Turl Street Kitchen is a cosy little café that's well worth checking out. It isn't just the fresh, homemade cakes and brownies that attracts customers to this spot, but also the general ethos of the place. Not only do those running the Turl Street Kitchen work hard to keep their carbon emissions to a minimum; they also strive to give back to the Oxford community, frequently running charity events in their upstairs rooms.
Good news: if you're feeling a bit more peckish, there are also plenty of lunch options here. Just beware that pretty much all of these contain meat and/or dairy products.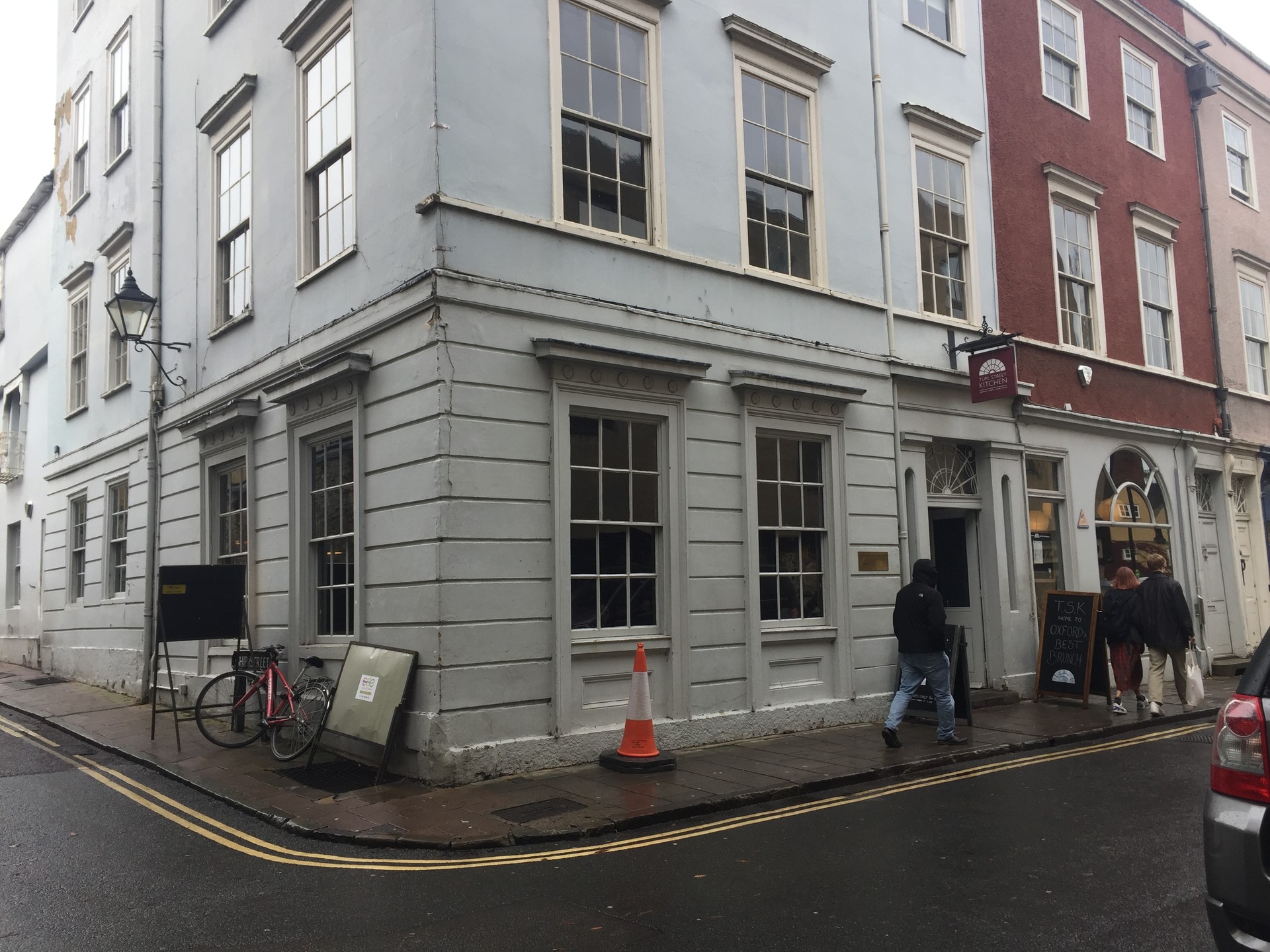 George Street Social
Vegetarians and vegans: while Turl Street Kitchen might not be the best place for you, George Street Social certainly is! Here, you'll find lots of plant-based meals and all-day brunch options, as well as quite the selection of homemade cakes and biscuits. Want to get something to wash down your food? I usually order canned rhubarb lemonade here, but my good friend – who, unlike me, actually drinks coffee – swears by their chai latte.
Instagrammers: you'll love this place for its quirky interior design. Be sure to get a photo on the stairs, which are painted to look like huge books!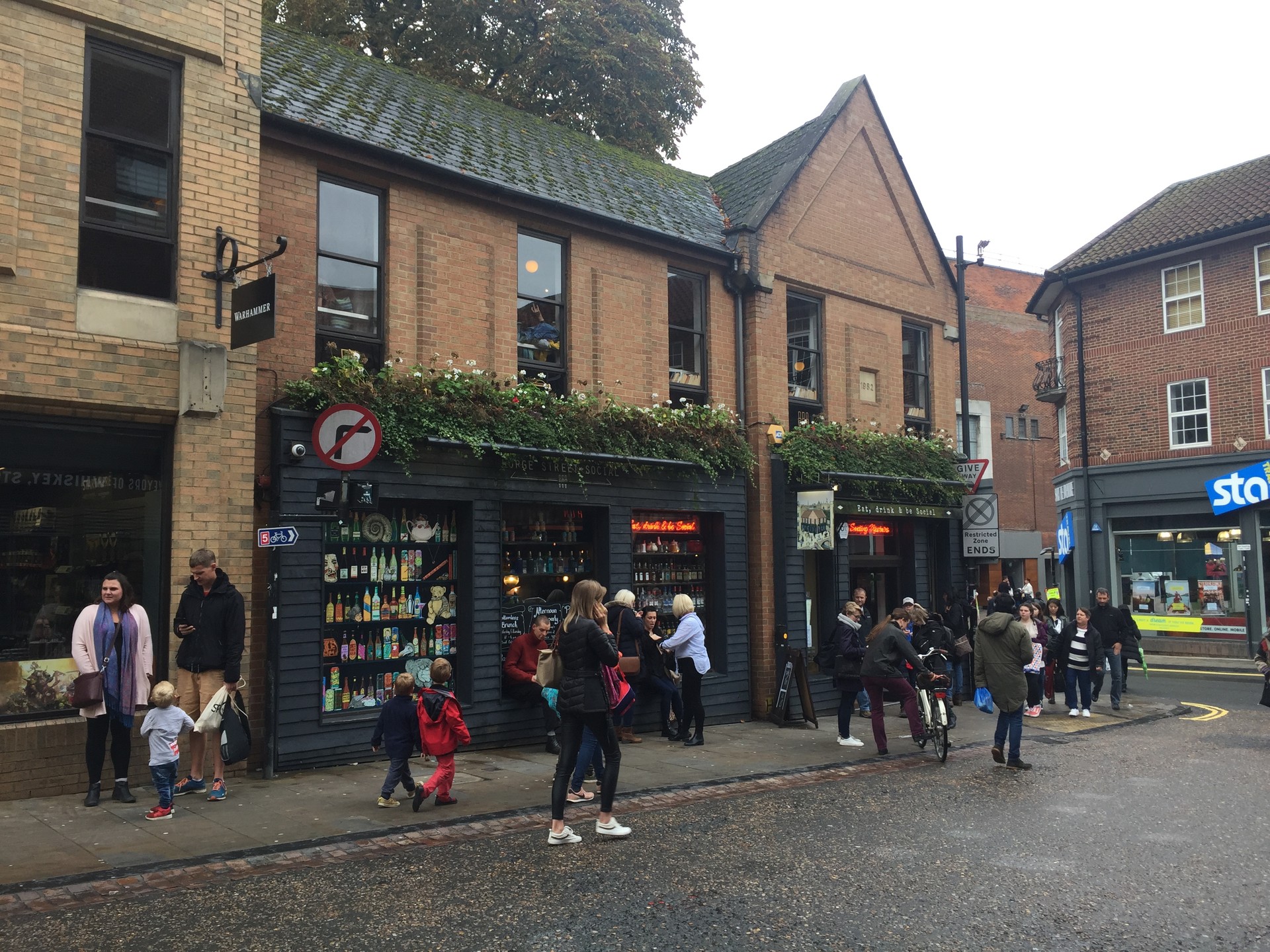 Society Café
Any hipsters out there: you'll fit right in at the Society Café. Not are the brews superior here; the décor is also on point, with leafy green plants perched on all the shelves, and bicycles hanging from the walls. You may feel slightly intimidated by this café's mysterious, all-black exterior, but I promise that the staff inside are all super friendly! Check the place out for yourself soon, and get some work done in style!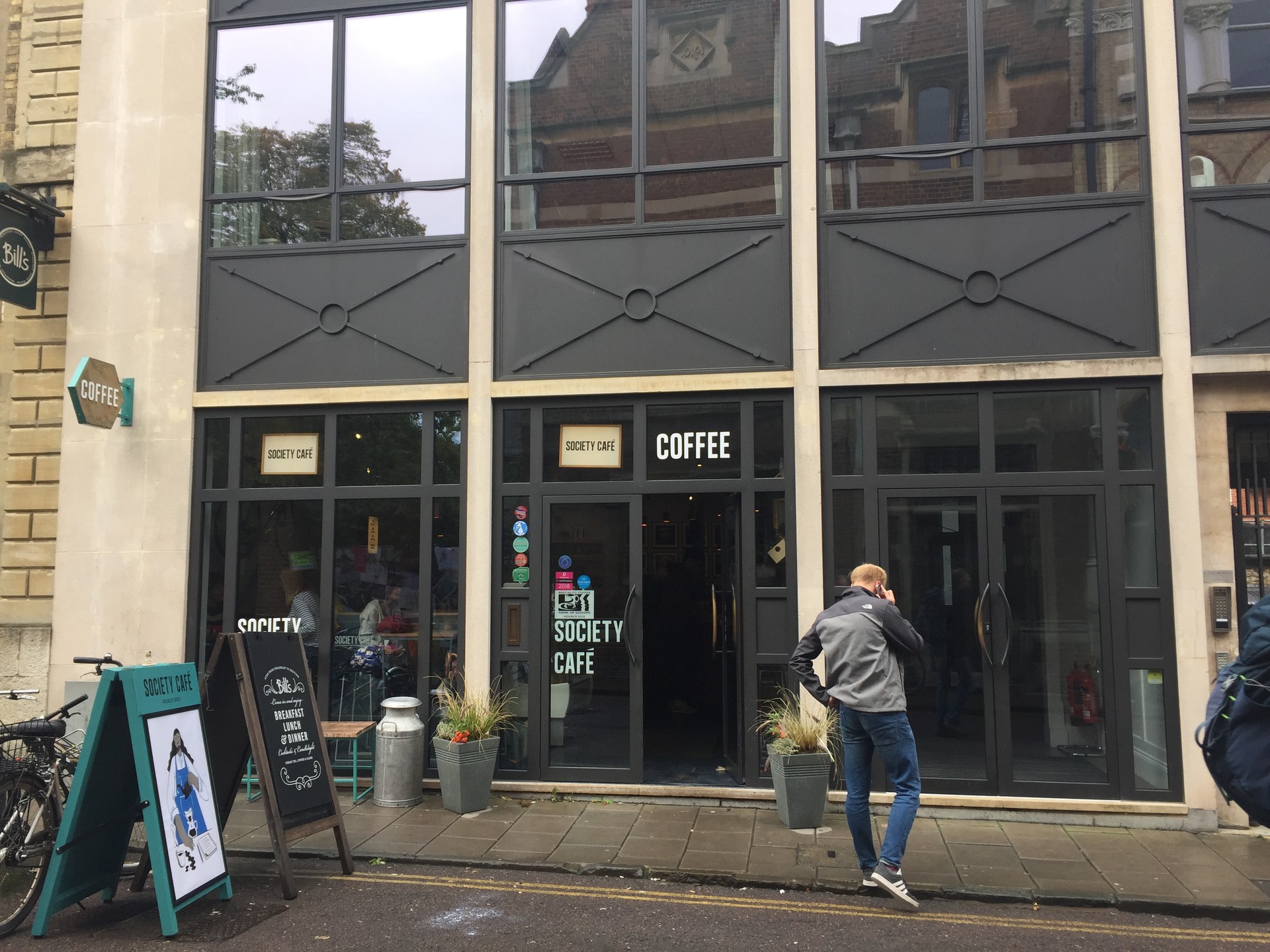 Georgina's Café
Hidden away upstairs in Oxford's fabulous Covered Market, and strewn with fairy lights, Georgina's Café is a cheap and quiet spot for a light lunch, or afternoon tea. You'll find yourself constantly looking up from your meal to admire the eccentric decoration of the place, and if you're extra observant, you'll notice that even the ceiling has had thought put into it!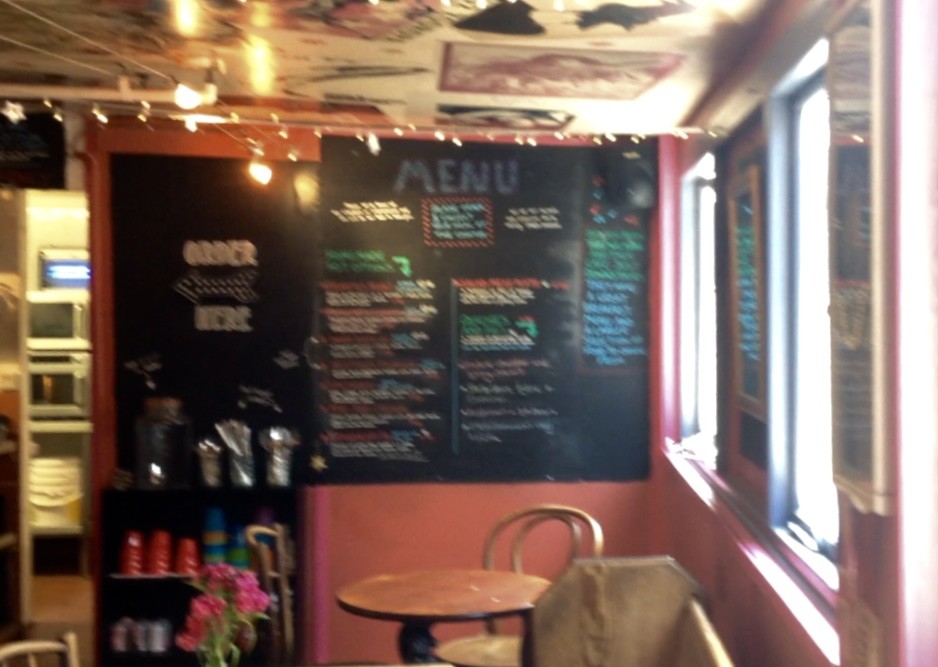 Moo-Moo's
Also in the Covered Market, but a lot more conspicuous, is the fabulous Moo-Moo's. More of a milkshake and smoothie bar than a coffee shop, it's a great place to grab yourself a drink while on the go, with dozens of different flavours – mostly fruity or chocolatey – to choose from. Don't be put off by queues: as I always say, the longer the line, the better the thing you're all waiting for!
By the way: Moo-Moo's is cash-only. If you haven't got any spare change on you, your best bet is to pop over to the Lloyd's Bank ATM on the High Street.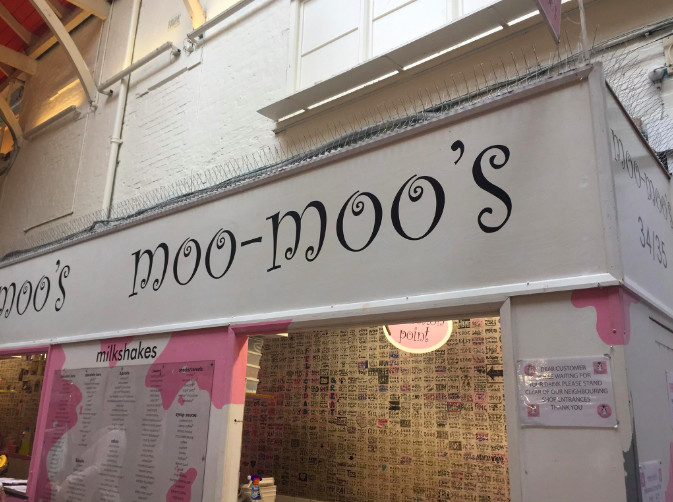 Bars
Last but not least, we've got some of Oxford's best-loved drinking spots. For wine, beer, and cocktails galore, just keep reading!
The Kings Arms
If pubs are your scene, I'd highly recommend the snug Kings Arms, located just on the corner of Holywell Street. They've got all sorts of great wines and real ales for you to take your pick from, plus an extensive food menu, if you're feeling responsible enough to line your stomach. I've only ever drunk here, but I've heard that their pies are really quite exceptional!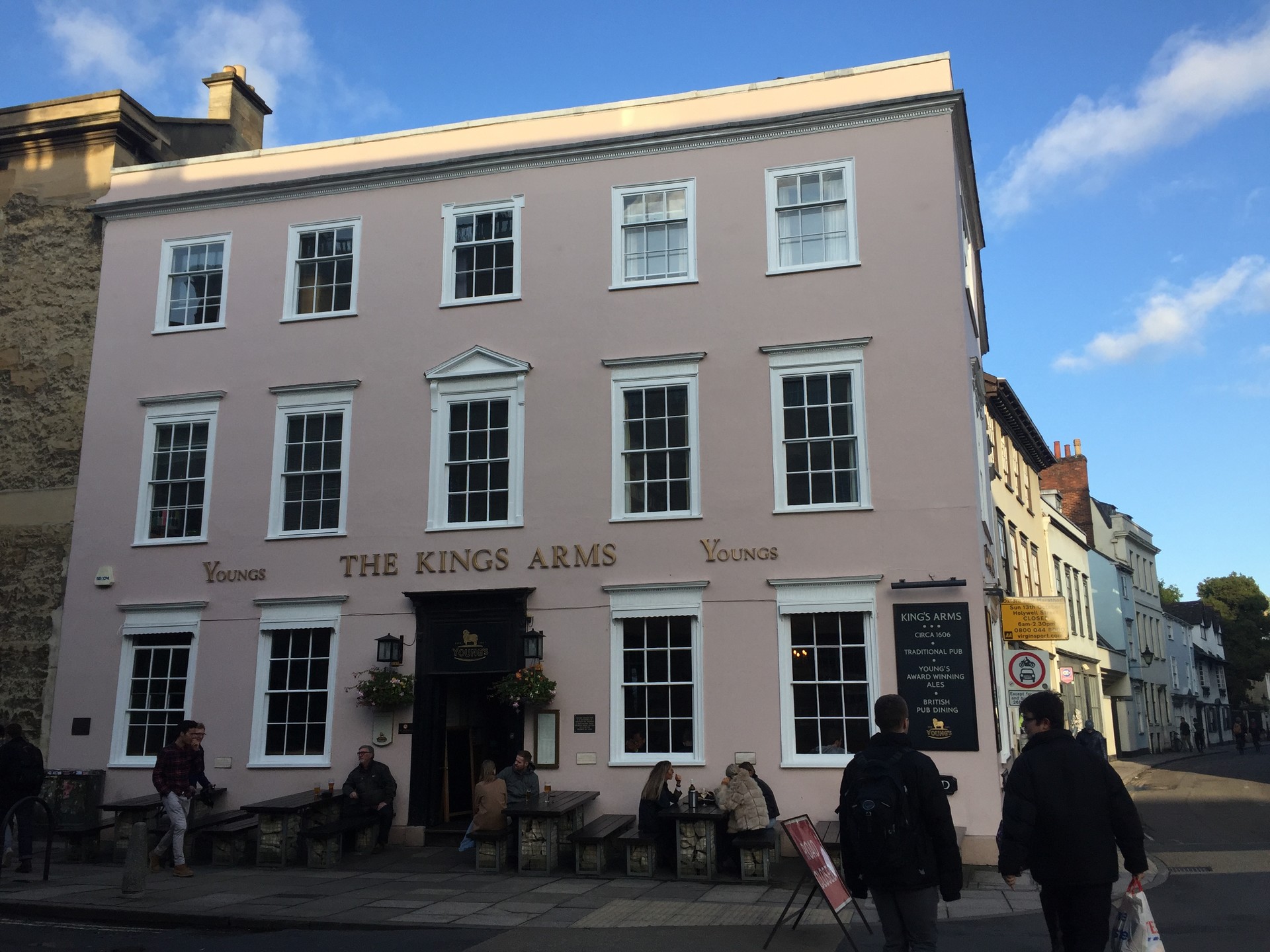 The Varsity Club
If prosecco on a rooftop sounds more like your idea of heaven, get yourself down to the Varsity Club ASAP! Drinks certainly aren't dirt cheap here, but if you take advantage of the 'prosecco + two drinks for £20' deal, you'll find yourself merry and not too much worse off. Plus, you'll have a fantastic view over some of the city's most famous landmarks. What's not to love?!
When planning your trip, bear in mind that entry to the rooftop bar is on a strictly first-come-first-served basis. Don't worry too much if you can't get there on the early side, though. The Varsity Club has plenty of other lounge areas (the Cocktail Lounge, for instance) for you to relax in while you're waiting for a table to free up!
Be At One
Looking for somewhere with a bit more of party vibe? Be At One is just the place for you! They've got music, they've got bright lights, and best of all: they've got some cracking cocktails! Again, prices here aren't the lowest, but I promise you'll have such a good time that it won't seem to matter! Can't stay away? Be sure also to try out one of their excellent cocktail-making classes. Your friends will be super impressed when you show them everything you've learned!
Guess what? Be At One is actually a chain bar, which means that you'll be able to find one in just about any British city!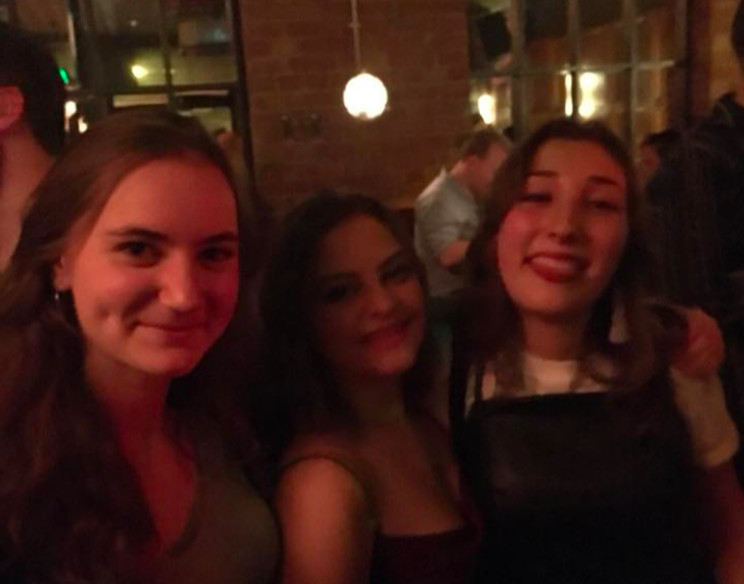 Eat, drink, and be merry!
So there we have it: the best places to eat and drink in Oxford! As usual, if you've been to this city, yourself, and have any further recommendations to add, be sure to leave them in the comments section down below. Otherwise, get excited for your next trip, and, since you'll be rivalling a lot of students for tables in these places, don't forget to book in advance!
---
Photo gallery
---
---
Content available in other languages
Want to have your own Erasmus blog?
If you are experiencing living abroad, you're an avid traveller or want to promote the city where you live... create your own blog and share your adventures!
I want to create my Erasmus blog! →