Sea products of Naples
Wide open spaces of Naples are situated on the sea coast, that's why the fish crop is always rich and multivarious here. The city is full of restaurants and trattorias famous for its mastery to prepare fish dishes and delicacies. Main rule of every place is how fresh is the sea food.
That's why lots of restaurants have one particularity: menu is always updated here, because ration from which you can choose your dinner today directly depends on everyday fish crop.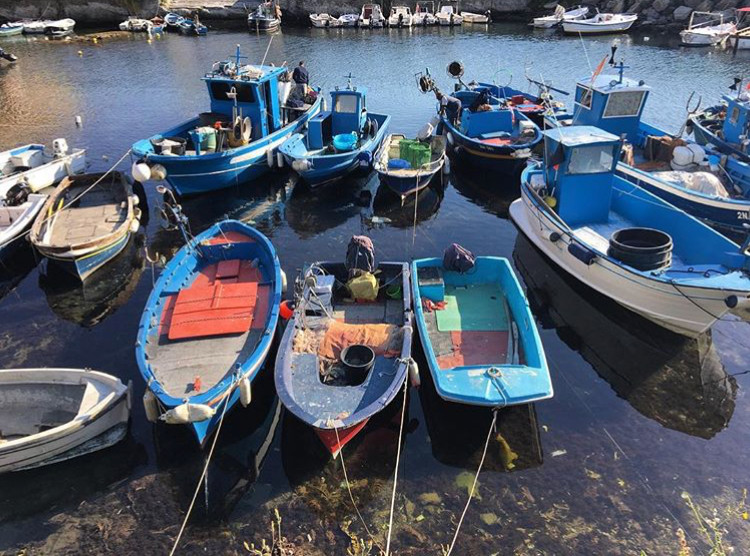 However, the fantasy of cooks in unstoppable, so be ready to stay always in doubts about what to try today. Lots of antipasti and snacks; pasta with sea food; hotplate with mussels and shrimps; salad made from octopus etc.
I haven't visit all the fish restaurants in Naples (I think, I need to dedicate all my life to do it), but here are some places which I really suggest to visit:
Il Miracolo dei Pesci – small restaurant on the coast of Mergellina, managed by the fishmen family during 4 generations. I recommend to try: tartare made from tuna with red pepper; linguini with octopus; carpaccio from red prech.⠀
Casa Tua al Duomo – trattoria which is situated in the center of the city, near main Cathedral. You really feal yourself like at home here (casa tua = your home), don't forget to degust salad with octopus, paccheri with shrimps and a special dish – fried rice with bacalao.
Ristorante Scapricciatiello – let's go a bit away from the city chaos and go to small Pozzuoli, where I suggest you to choose Scapricciatiello restaurant. This place is ideal for warm summer meetings as well as for romantic appointments and dates. Great cooks prepare a wonderful soup with shrimps, mussels and octopuses; baked red perch; fried shrimps and calamaries.
Il Ristorante Crudo Re– this restaurant is situated in two steps from Lungomare Caracciolo coast and specialized on meals made from raw fish. Moreover, it's famous for great crops of rare sea habitants! The result is in dishes, which you can try only here: think about violet shrimps or fried branzino.
Last life hack: every meal should be accompanied by the glass of white wine. Buon apetito!
---
Photo gallery
---
Want to have your own Erasmus blog?
If you are experiencing living abroad, you're an avid traveller or want to promote the city where you live... create your own blog and share your adventures!
I want to create my Erasmus blog! →