10.02.2013: Olympique Lyonnais V LOSC Lille
Stade Gerland: Sunday 10th February 2013
It had been a long time since my first and last visit to Gerland Stadium, home to Olympique Lyonnais. It was my boyfriend's birthday a few weeks before and because he was coming to Lyon to see me for a few days, I decide to get him a present - tickets for the game against Olympique Lyonnais and LOSC Lille.
Frankly, it wasn't a very good idea for me to get the tickets because as I'm a bit impatient, I had quite a few problems. The first two tickets I bought cost me 30 euros; which wasn't that bad in comparison to football matches in England. As I had a printer, I didn't have to go to the Stadium to pick up the tickets, which saved me a lot of time. I was pretty happy that I bought and printed the tickets in a few minutes, but this happiness was not going to stick around for long...
I sent a photo of the tickets to my boyfriend and he rang me to say that extreme fans normally get tickets in the north stand and our seats were very close to them. We felt like we probably wouldn't be comfortable in those seats because the ultra fans are normally quite hostile to people, so I sent an email to the ticket office administrator asking if it was possible to change the tickets for different ones, or to just return them. Apparently, the seats couldn't be changed or refunded. Although I was a bit miffed, it was my own fault because I was too naive when I bought them.
When I bought the tickets I noticed that the match would kick off at 9pm on Sunday. I knew that normally in winter it gets cold so I was a bit anxious because I can't tolerate the cold as well as other people. I had already endured a very painful Premier League football match last year when it was minus 5 degrees Celsius at Craven Cottage against Fulham and West Brom, and I did not want to endure another. I'm sure it's actually impossible to think of any other time that I might have felt as cold as I had done that night. My boyfriend was concerned about my health that night and he described me as 'absent' and 'indifferent'. Also, whilst waiting in line for the loos at half-time, I felt concerned for others in the cold too. It took me a long time to feel alright again after that night. I hoped I wouldn't have to endure another night like that.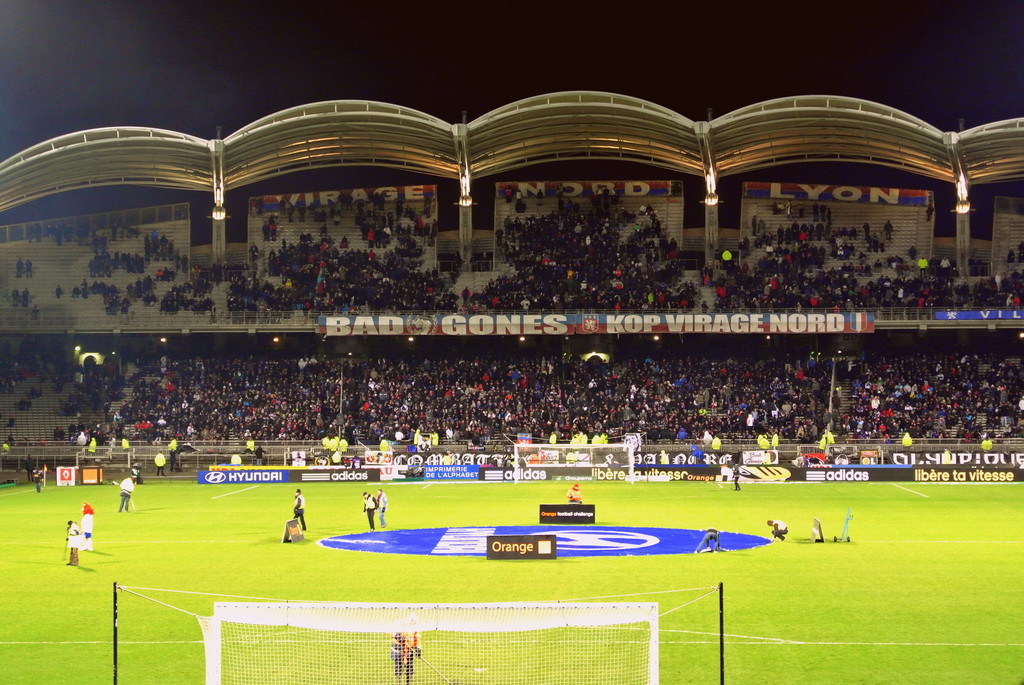 A few days before my boyfriend arrived, I found someone who wanted to buy the tickets, so I bought some more in the south stand. However, yet again, I had a few more issues. The last time that I went to Gerland Stade for the Olympique Lyonnais vs Stade Brestois match, the Brestois fans who had made the effort to see their team had seats behind the goalpost in the south stand. Although I wasn't certain, I was pretty sure that it would be impossible to buy tickets on the Olympique Lyonnais website in the part of the stadium reserved for visitors. But, I could only wait for the day to arrive before finding out the answer to my question.
It was a very peculiar day in January as it was eighteen degrees Celsius. I felt hopeful that the weather would continue to be good like this for the 10th February and I also hoped that it was nearly the end of winter. But then, the weekend before my boyfriend arrived, temperatures plummeted and continued to worsen. The weather forecast warmed that it would be cold for when my boyfriend was coming, unlike his last visit to Lyon when we could eat outside of restaurants and be comfortable. At first, it was really difficult to convince my boyfriend that we would need a coat, gloves, and scarf, he didn't believe me that the weather was really extreme here. I was cold on Thursday when I had to go to Part Dieu to meet my boyfriend, who was due in that night after getting the train from London. It had snowed a lot but luckily, the snow on the ground kept melting. I was happy to get home to my hot bedroom with my boyfriend. It snowed again the next day, so we stayed in my room.
Saturday morning it was beautiful, but still very cold. Sharing our love for animals, we decided to go to the Lyon Zoo at the Parc de la Tête d'Or; but we didn't see much because they were cutting down some trees and it was too cold for the animals. Even the little monkeys were rubbing their hands together to get warm! The little monkeys were quite amusing, especially the one who became more and more agitated by the man who kept watching him- its reaction was really funny.
It wasn't long before I couldn't feel anything but the glacial temperatures, despite the fact that I was wearing many layers of clothes. I was fed up with being outdoors. Then finally, just as the sky began to get more and more grey, we went to Confluence where we were looking for something to eat. We opted for GoMex and when we were eating our delicious meal, I noticed that it was still snowing. When we got back to the apartment after having been to the shop Carrefour, there was a lot of snow on the ground. I had a tiny bit of hope that the weather would be better tomorrow for the football match against Olympique Lyonnais and LOSC Lille, Lyonnais are now a pretty good League 1 team and earlier this season Lille played in the Champions Trophy, but didn't get through to the next stage.
On Sunday it was still snowing a bit during the day, but luckily there wasn't a lot of snow on the ground- I didn't want to have any problems getting home from the match. I prayed that the snow would stop so that we could at least be dry in the cold weather when we were went to Gerland Stadium, but when we left my toasty room, it was still snowing.
My boyfriend looked up about the stadium earlier to see if there would be any problems with our stand. Our seats were with another group of ultra fans! Despite the fact that we would be supporting the same team, they were rivals. The extreme fans in the north stand were the only group who were well-known by the football club, so I felt a bit awkward that we now had tickets in the south stand next to another group of hooligans.
To make sure that I wasn't too cold and that I wouldn't be in a bad mood, my boyfriend told me to wear all my clothes. Although wearing literally all my clothes would be impossible, I did hope that my tights, leggings, more tights, long socks, jeans, thick socks, two vests, a long-sleeved T-shirt, a cardigan, a denim shirt, a thick jumper, two scarves and a coat would be enough for me. It was difficult to wear all of it and later on it was really difficult to walk.
We arrived at the bus stop and only had to wait three minutes for the C20 bus. After only these three little minutes, I started to feel the cold! I didn't want to say anything to my boyfriend though, because I wanted him to enjoy the night.
At Bellecour, the restaurant where I wanted to eat was closed because it was a Sunday and I was not happy with the idea of going to McDonald's, but then on Rue de la République, close to where we were, there was a little café next to la Brioche d'Orée which was open. Therefore we ended up eating hot sandwiches and also got a hot drink there in the café to warm ourselves up. I chose a vanilla coffee. It wasn't expensive and it was enough for us because we didn't want to spend a lot of time in a restaurant. It was still snowing outside when we left for Gerland Stadium.
There were more people on the metro than on a normal Sunday night, but it wasn't as busy as rush hour on a weekday. The trip to Gerland Stadium was easy and comfortable and when we arrived we had an hour before kick-off.
I normally prefer to arrive early to football matches because I like to have time to get comfortable and soak up the atmosphere. Last year, I wasn't very good at this because in the morning I needed a lot of time to get ready. I remember that we got to Craven Cottage to see Fulham play just a few minutes before kick-off. Then again when I went to the Premier League match to watch Olympique Lyonnais, we had a few problems with collecting the tickets. But this time, I was happy that I arrived a little later; to say it was cold would have been an understatement, and I wanted to be outside for as little time as possible!
It wasn't long before we got to the south entrance, entered the stadium, and found our seats. It wasn't very close to the football pitch. The plastic seats were covered in snow and were a bit dirty too. We'd decided that we would sit somewhere else if there weren't many people in the stand, but I was a bit reluctant to get too close to the ultra fans.
Whilst waiting for kick-off at 9pm, we watched the players on the pitch warm up before the game. It made me think about when I took up playing football last semester, although I was rubbish. For a split second, I began to want to play football again, but I had many reasons as to why I dropped it; I didn't like the idea of playing with boys and I didn't think that I was in good enough shape to do sports. Whilst away with my thoughts, I was brought back to icy reality by a brutally cold wind that made its way through the concrete, open stadium. The weather was not great, to say the least.
Eventually the teams came on pitch, were introduced, and started to play. I tried to endure the pain as I felt myself get icier and icier underneath all my layers. There wasn't any more snow, but the game was slow. Neither Olympique Lyonnais nor LOSC Lille had many good opportunities to score, but then unfortunately LOSC Lille's Chedjou scored a goal thanks to a corner. Although I was a bit disappointed, there was still a lot of time for Lyonnais to change the score.
The rest of the first half was quite boring because there wasn't much action except for a little bit of foul play. I was so cold that it was difficult to concentrate. It was near to half-time and Lyon had two big opportunities to score an equaliser but Lille's goalkeeper unfortunately didn't find it very hard to make some pretty spectacular saves.
We knew that we would have to leave before the end of the game in order to be able to catch the last C20 bus home as I didn't like the idea of going to an unknown place like Gorge de Loup to take a different bus to Trion. I was cold and my boyfriend wasn't doing too well either. I couldn't feel my toes or fingers but I was prepared to stay for another hour at the football stadium if my boyfriend wanted to. The things you do for love, huh, even thought I was certain I was going to lose my fingers to frostbite. A few moments before half-time, it started to snow again and my boyfriend suggested leaving early because the weather was unbearable. Yay!
It was one minute before half-time when there was another goal but it wasn't the equaliser; LOSC Lille has scored a second goal! The 40 Lille fans jumped with joy, whilst the rest of the stadium let out a sigh. It would be a long night for the Lyonnais.
At half-time we decided that it would be the best time to leave. The cold was unbearable and there weren't many things making us stay to watch in the stadium, especially as Lyonnais were losing. Before going, we took some photos of the directions to the metro.
We weren't the only ones who decided to leave at half-time. There were a few couples and some students who were less interested in Lyonnais than us. I liked the fact that there wasn't anybody on the metro- it was really weird! We changed at Saxe Gambetta for the D line to Bellecour where we caught the C20 bus.
I was really happy to be in my room. Getting ready for bed was hard work, thanks to all my layers! My boyfriend kept an eye on the score online; we didn't miss too much, so we didn't feel bad that we'd left early. There had been two goals for each team; Lille's Kalou who used to play for Chelsea and Lyonnais' Lopez. They were both penalties, and Lyon lost 3-1, so it wasn't a great result. I was happy that we'd decided to go home instead of watching Lyonnais lose like that as I was just freezing in the icy February temperatures.
I'd really like to go back to Gerland Stadium when it's nicer, and warmer. I already had plans to buy tickets for the match against Paris St Germaine later in May and like a lot of my friends, I wanted to see David Beckham who played for the Parisian team. Although it's cheap to go to Gerland Stadium, it's not a great idea to go there in winter!
In some ways, I feel like it's not right for me to write about a football game if I wasn't there for the whole match, but I did learn a few things. Here is my advice for me and anyone else who wants it:
I should wear more clothes (if possible) when it's cold.
There are extreme fans in the south and the north stands, but those in the south ones weren't a problem. The group is a lot smaller and quieter than the ones in the north seats.
The tallest tiers are probably the best as there's less wind there.
You can't return or exchange tickets, but thanks to Erasmus groups on Facebook, it's not difficult to find someone who'll buy tickets.
If the match starts a bit late, make sure you have a plan to get home! This website is good for looking up routes home.
It's always better to do some research on the stadium before buying tickets.
---
Photo gallery

---
---
Content available in other languages
Want to have your own Erasmus blog?
If you are experiencing living abroad, you're an avid traveller or want to promote the city where you live... create your own blog and share your adventures!
I want to create my Erasmus blog! →