Collaborative Project in Asia
I always wanted to travel the world but I never felt particularly attracted by Asia. One of the reasons why I think I never really felt particularly interested in Asia as a whole and its cultures is because I always watched American movies and tv series that showcase Western Culture.
I always thought that languages like Japanese and Chinese were hard to learn and I just had little to no knowledge about these countries, until little by little I started to meet people from Asia and learning about their cultures.
Chinese Classes and Opportunities.
I would say that probably everything started when I moved to Denmark for college and I met some people from Asia that were really nice. I started to eat Vietnamese, Chinese, and Japanese food very often. I even learned how to cook some Vietnamese dishes because my friend taught me. The only thing that I am still struggling with is using chopsticks, that is just something that does not click.
I also decided to give Chinese a try and so I started going to language lessons when my University offered free courses. At the completion of the course and accomplishment of the HSK1 certificate, the institute even offered an all paid summer camp in Shangai for approximately two weeks. Accommodation and food were covered, the only thing that students had to cover was airfare, Visa and insurance expenses all well depending on where they were from.
I did not finish the course so I eventually did not get to go but I was so jealous of my classmates that made it there, so I promised myself that sooner or later I would also go to Asia, and the time arrived last December.
Hong Kong in Preparation for the Sparks Festival 2019.
One of the reasons why I chose to transfer to Coventry University was because my course offered a lot of freedom in the media field but also because they would offer a trip to Hong Kong to carry out a collaborative project with students living and studying there. The University kept its promise and my classmates and I flew over to Hong Kong to meet the students and work with them on a project for the Sparks Festival that took place there last January. The festival is sponsored by the British Council and aims to teach English to middle school students in the former British colony. 
I did not know much about Hong Kong but I did remember studying some of its History during English classes in high school. Prior to the trip, I watched many videos on YouTube about this incredible city and I was really excited to go there. When I finally arrived I was amazed by the size of the buildings and the landscapes. You could be looking at beautiful green forests and then all of the sudden drive near a neighbourhood composed of skyscrapers.
Architecture.
One of the things that obviously stood out to me was the architecture. I have never been in a place so diverse like Hong Kong ever before. Some of the tall buildings are really old, there are many food signs, open-air day and night markets, people everywhere, dirty streets, construction sites made out of bamboo, and so on. But then, there is also Hong Kong Central, the most modern area of the city, where 9 out of 10 skyscrapers are modern and made of glass, the people are well dressed, and in a rush.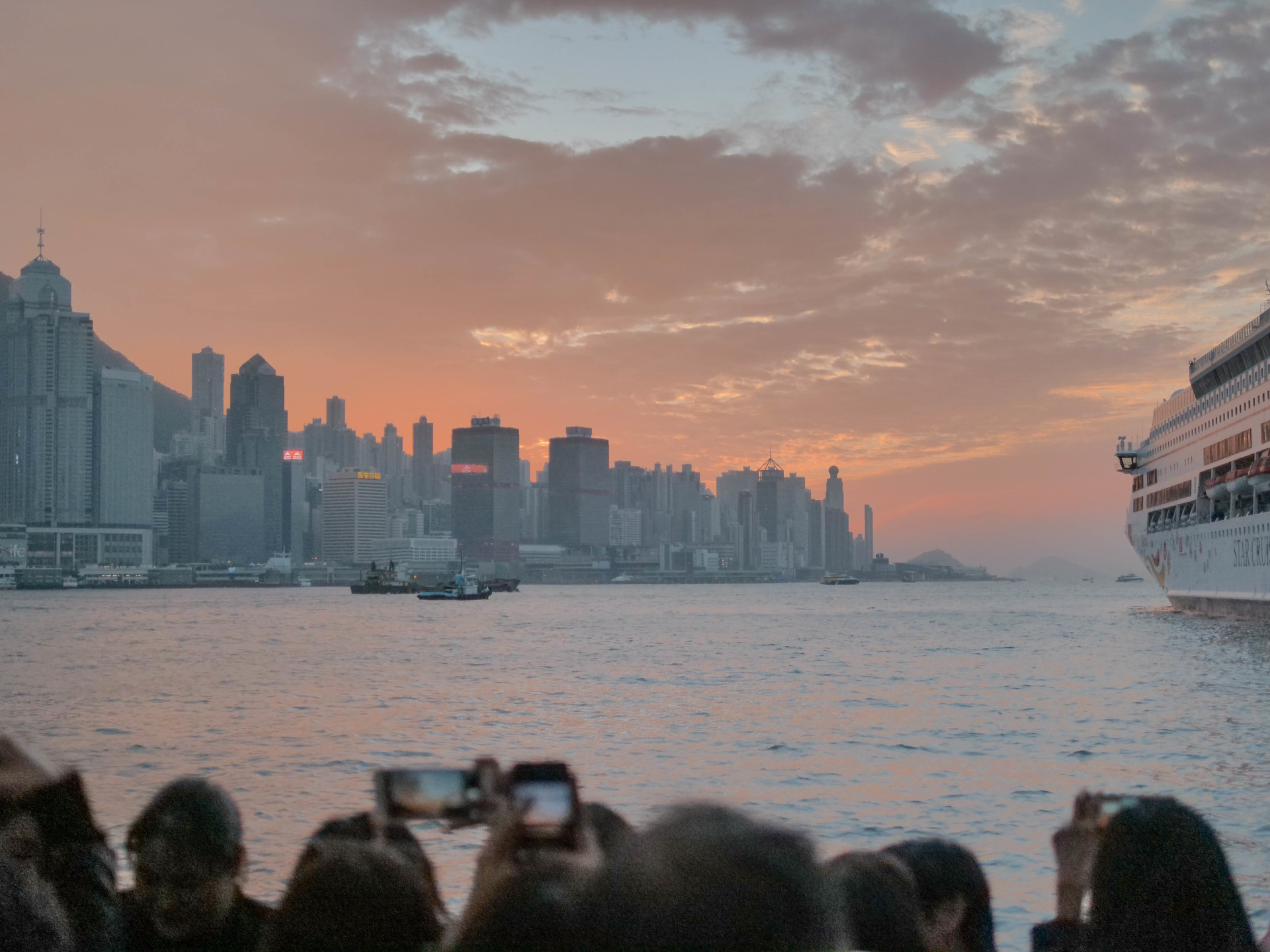 I am still blown away by the fact that bamboo is strong enough to be used to make scaffoldings. In Europe, as far as I know, people use poles made out of metal. That thing really stood out for me.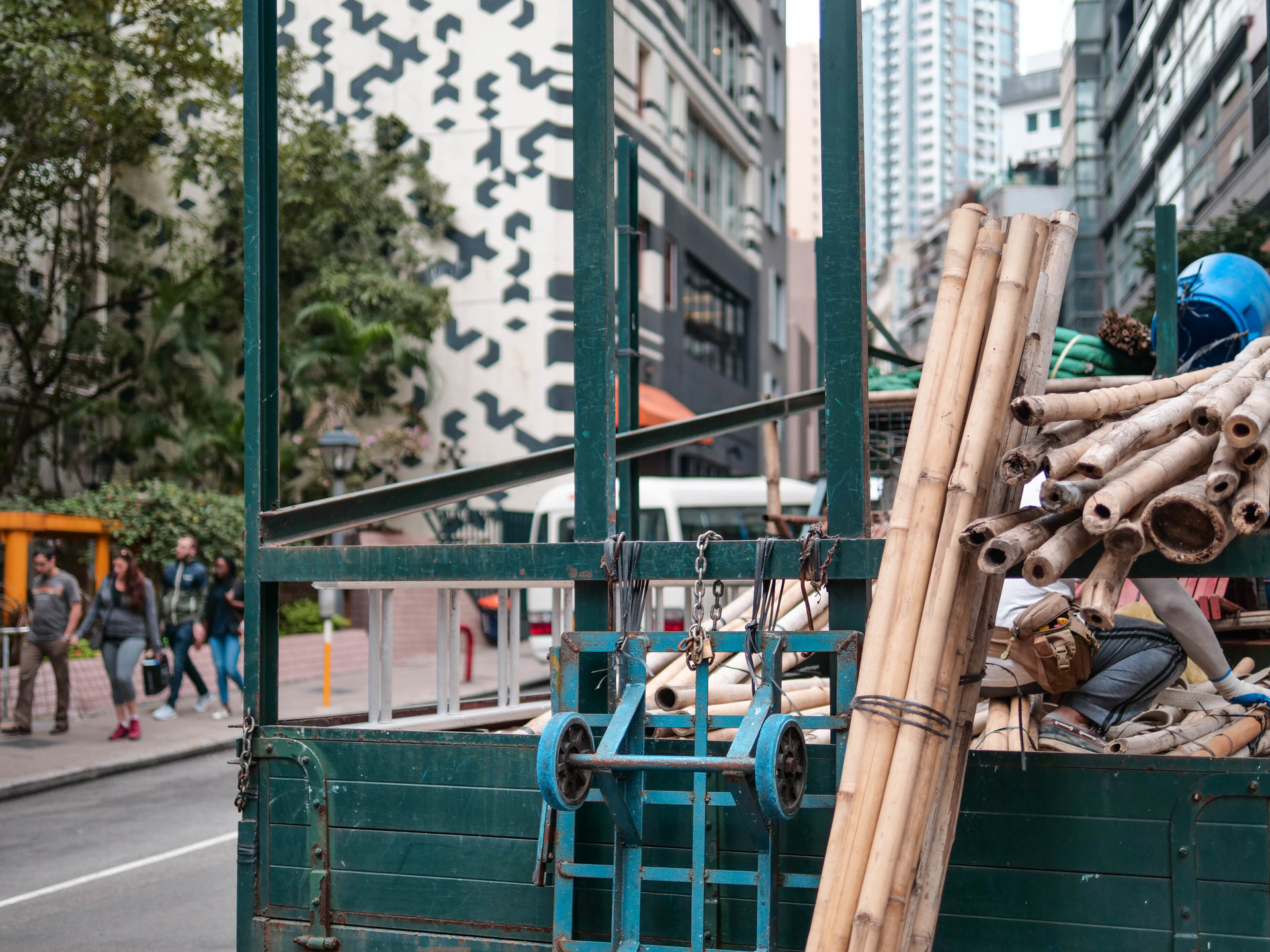 Foods.
Some say that Asian food is delicious and there is nothing to worry about, and some others recommend to be careful. After seeing how food is displayed and exposed to third parties at markets, I can see why people told me to be careful and not get food poisoned, on the other hand though, I did not get any stomachache while I was in Asia, plus the food was amazing! And no, I did not try snake or insects, thank you, next. I tried as many foods as possible. One of my favourites was the Pineapple bun with butter, followed by any kind of noodle soup, chicken, egg tart, milk tea, bubble tea, and so on.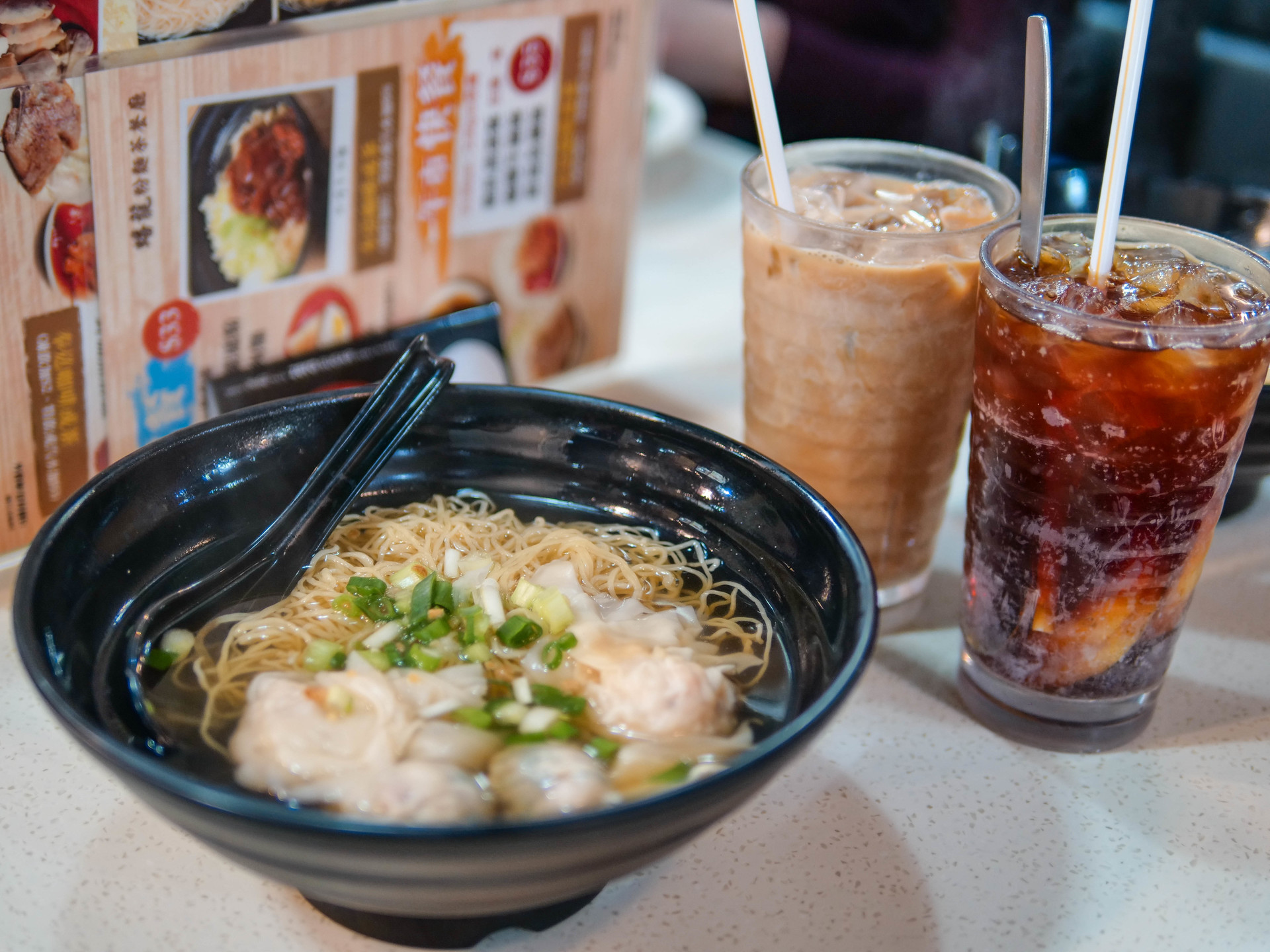 I even tried some street food that, according to my new friends from there, it is really hard to find, but I do not remember what the name of it is, so here's a picture of it: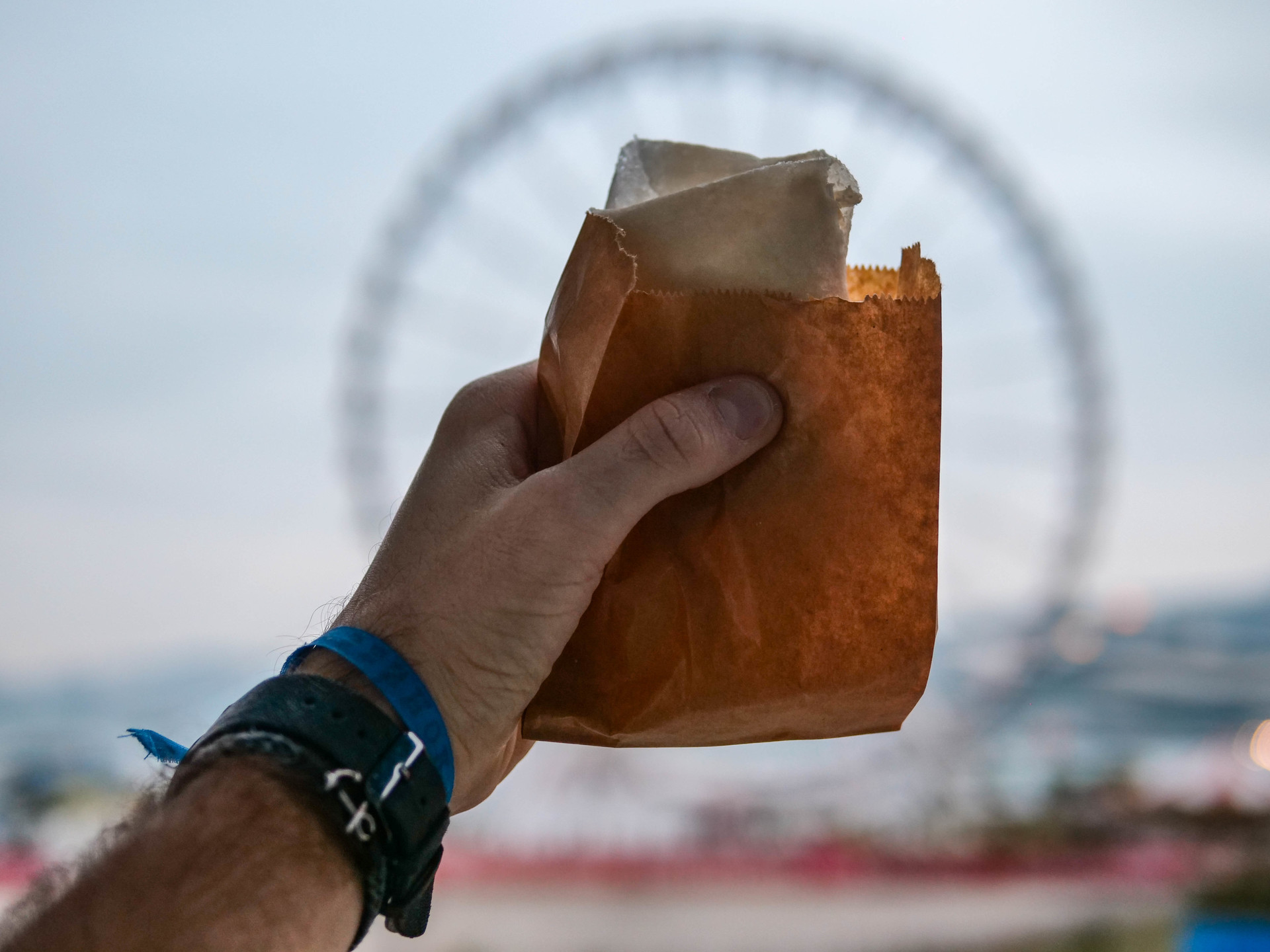 I was just bored with my hotel breakfast after one week because every day it was the same. They even served noodles for breakfast, which for me was a little bit different given the fact that I normally eat sweet stuff, like a croissant with my cappuccino.
Culture. 
Experiencing Hong Kong as a foreigner is very interesting. It is hard to understand what Hong Kong really is because even if the United Kingdom gave it back to China in 1997, people from Hong Kong do not feel like they are Chinese. First of all, they speak Cantonese and not Mandarin, and second of all, you can still visually see that they have been influenced by the Brits.
Things to See.
Hong Kong is a complex of different islands, so it may be confusing to remember in which area of the city something is, therefore I suggest to create an itinerary prior to departure. Remember to create a plan for your trip that fits you best, which is why I am not going to tell you what to see first and what to see last because it all depends on where your hotel will be located. Here is a list of things that I believe are worth seeing:
Tai Kwun, which is a cultural centre where many events such as exhibitions and concerts are held all year round;
Mong Kok is one of the busiest areas in the world, which is why I highly recommend to avoid it on a Sunday.
Choi Hung hosts the rainbow residences, so it is nice for your Instagram feed, haha.
Visit some of the temples. I've seen a couple but I cannot remember their names. One of the most famous attractions is the Big Buddha but I did not have enough time to go see it;
Victoria Harbour, which connects mainland Hong Kong to HK Central;
Victoria Peak, which unfortunately I did not have the time to see myself;
The Monster Building, which is probably the most photographed building in the city. I did not see this either because we thought it would be disrespectful to the people that live there since it is a private building. Many tourists decide to go see it, the choice is yours.
I am sure that if I had more time I would have seen much more and tried even many more foods, but I will leave it for my next trip to Hong Kong. 
- Cristian
---
Photo gallery
---
Want to have your own Erasmus blog?
If you are experiencing living abroad, you're an avid traveller or want to promote the city where you live... create your own blog and share your adventures!
I want to create my Erasmus blog! →