Experience in Grenoble, France by Lison
Architecture and landscape

10 / 10 points

Entertainment

8 / 10 points

Culture and customs

6 / 10 points

Transport

10 / 10 points

Gastronomy

8 / 10 points

Prices

6 / 10 points

Party

8 / 10 points

Weather

8 / 10 points
---
What is it like to live in Grenoble? Would you recommend it? What is the city like?
Living in Grenoble is never annoying, either about the landscapes, either about the activities the city offers. When you arrive in the town you are kind of surrounded by the beautiful mountains, that is what I saw at first and it still marks me every time I raise my eyes because everywhere you look far away there is a gorgeous mountain set up there. I would recommend living in Grenoble because it's either for those who love cities and those who like nature, that's why I never get bored of my town. You can escape the noisy city by taking a break in the forests and the mountains.
The city has a pretty big center with a lot of shops, bars, clubs, beautiful old buildings for those who like architecture. And then around the center there are long boulevards, you can feel that the city stretches out.
What is the student lifestyle like in Grenoble?
I love being a student in Grenoble. The appartement prices could be more affordable but it's alright if you manage to find a good deal. Once you're set in, everything is reachable by public transports: so you can go wherever you want to go in Grenoble and its surroundings.
Then the campus is also easily reachable. By the way, we have the biggest campus of France in Grenoble! And it's true, I have been studying at this university for 3 years and I've not discovered the whole campus yet, I think I know maybe 1/2 of it!
For everything about the nightlife in Grenoble, I've never been disappointed. Even if the bars are closing around 1-2am maximum, the nightclubs still here! There are so many bars that I keep discovering some of them after 3 years in the city.
Grenoble is a city where there are a lot of students, and you feel it when you take the public transports or when you go out in the evening, you can meet new people the whole year and I love this.
How much does it cost to live in Grenoble?
For the basics like doing the food shopping, the prices in Grenoble are affordable for students. If you want to eat outside, the prices on the campus are affordable too, but it's getting complicated in the center, I advise you not to eat out at every meal if you want to survive until the end of the month!
The prices of the accommodation are kind of high for a student profile. I mean, you won't find something that costs less than 300€/month if you search for a one person studio (or you'll find but it'll be something very very small I think), so I advise you to live in a shared appartement with some roommates! The prices will be more affordable.
Is it difficult to find accommodation in Grenoble? Is there any advice you can give?
If you begin to search for an accommodation 2 weeks before coming in Grenoble it will be complicated to find something nice and quickly. But if you start to search a few months before you arrive, you'll find something! I advise you not to rent a flat which is proposed by an agency because you'll have to pay the cost of a whole month of rent to the agency because it's « thanks to them that you find the flat »: those taxes are called « honoraires ». But it's really not very grave, if you find the flat of your dreams offers by agency, then go for it! I also advise you to take a shared appartement with some roommates for more fun and better prices!
And if you're are studying on the campus you should take an appartement next to these tramways lines : on the line C from Foch Ferrié to Hector Berlioz, on the line B from Alsace Lorraine to Les Taillées and on the line A from Alsace Lorraine to Albert 1er de Belgique (personally I find that these are the best spots for a student profile, because if you live further it can quickly be complicated to reach the campus or the center easily!)
What is the food like? What are your favourite dishes?
The food is similar to every city in France I think. There are some fast food, French and others nationalities restaurants, some coffee and tea rooms, a lot of bakeries (which are very tasty, and personally it's where I prefer to take some food to take-in or to takeaway)
What places would you recommend visiting in Grenoble?
The whole city center is very interesting to visit for its beautiful buildings. But it's also interesting to walk around the center to see the street art paintings on the walls. I think there certainly is a street art painting on every street corner if you look well. Then the different parks are interesting, but it does not equal the beautiful hikes and walks through the mountains that surround Grenoble. « La Bastille » is a nice walk to do by starting from the city. When you arrive to the end of the walk, you are overhanging the whole city of Grenoble and the view is amazing, much more in the sunset.
Is it good to eat out in Grenoble? Can you tell us your favourite spots?
Eating out in Grenoble is very nice and not very expensive. But I don't eat that much out in Grenoble, except in the bakeries or the fast food most of the time.
Is the nightlife good in Grenoble? Where is good to go?
I love Grenoble's nightlife. As it's a city where there is a lot of students there are always some interesting people in the bars or the clubs. Each bar has a different atmosphere, but I love our Irish pubs, they are putting some very nice music.
What advice would you give future students heading to Grenoble?
I advise you to prepare you to search for your future accommodation on time in order to not be surprised! Then take some warm clothes for the winter because the cold is not kidding in Grenoble, but also some summer clothes because the heat isn't kidding neither! Don't hesitate to go out in the evening to the bars to meet some people! Then do some hikes because it really worths it! Enjoy!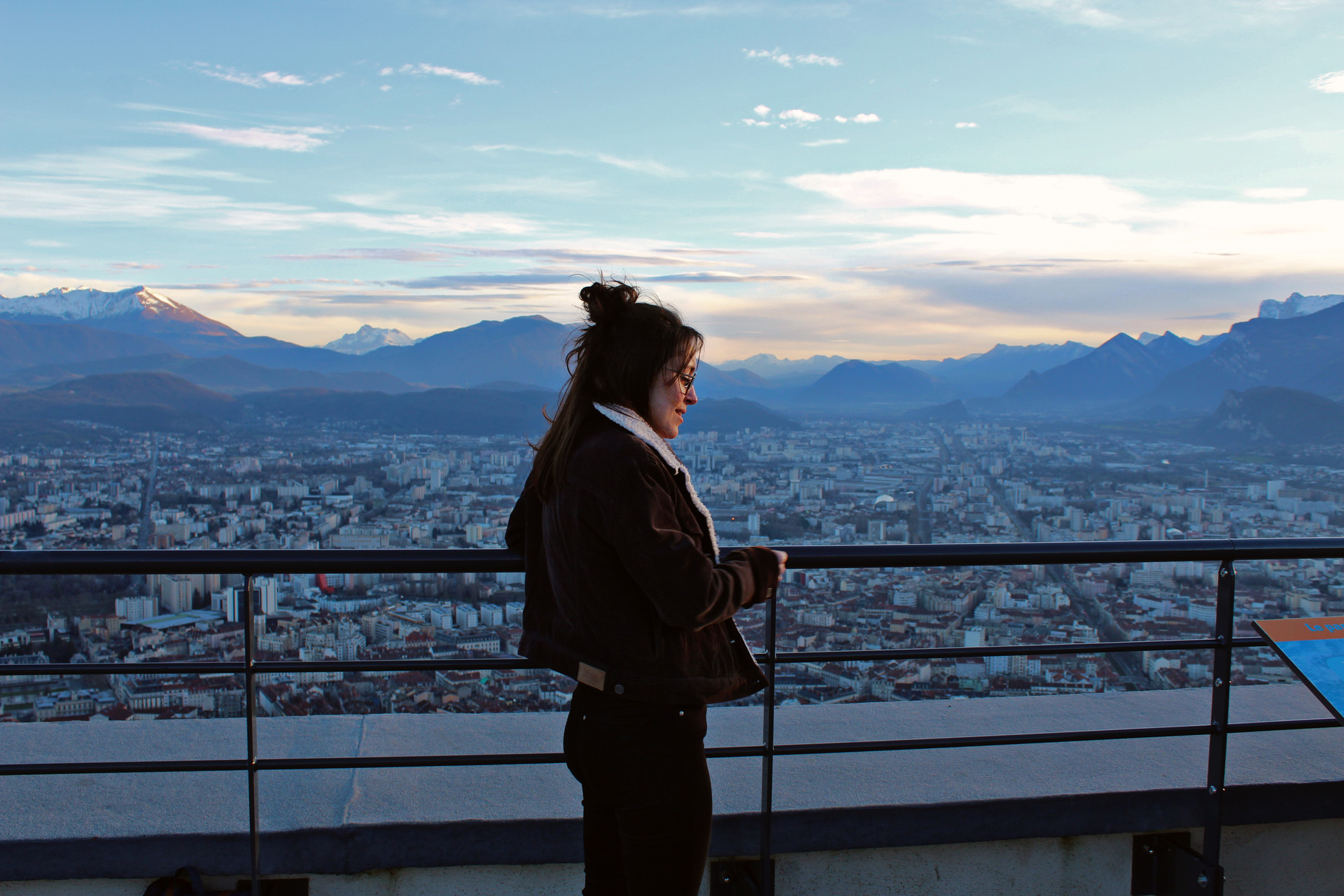 ---
Photo gallery
---
---
Content available in other languages
Share your Erasmus Experience in Grenoble!
If you know Grenoble as native, traveler or as exchange student... share your opinion on Grenoble! Rate different characteristics and share your experience.
Add experience →