Erasmus in Dublin! What I would have liked to have known before going
Architecture and landscape

10 / 10 points

Entertainment

8 / 10 points

Culture and customs

8 / 10 points

Transport

6 / 10 points

Gastronomy

6 / 10 points

Prices

4 / 10 points

Party

8 / 10 points

Weather

4 / 10 points
---
Are you going to Dublin for Erasmus? Surely you will have some questions about what your stay in Ireland will be like. After living in this capital city for nine months, I would like to share a little with you about what I have learned. Here I will tell you about the things that I would have liked to have known before I went: how to find accommodation, my favourite (not touristy! ) places, how to travel by yourself, the university etc. I hope that it will come to help you!
It might also interest you if you are going to live, or are already living, in the city currently.
From the airport to the centre
Bus:
Urban bus: price of about 2 - 5 euros. Try to have the right amount of money because the bus drivers don't give you change. Look up your route on Google Maps, there are many options available throughout the day (there aren't night services).
Aircoach: price of about 7 euros (10 euros there and back). You can pay on one bus and the service runs for 24 hours. There are various routes that run every half hour throughout the day, and approximately every hour throughout the night. Find your route on https://www.aircoach.ie
Taxi: they often cost around 20 euros.
*If you are going to study at Trinity College Dublin, you can request a meet-and-greet service. A student will wait for you at the airport to answer your questions and accompany you to your accommodation.
Mobile phone
With roaming you should have no problem, however, you can buy a SIM card with an Irish number in the Spar supermarkets. The card costs 20 euros, if I am remembering correctly, and it can be activated with different deals in the same supermarket (call options, SMS, and 3GB).
Getting there:
Where did I stay? The first thing to take into account when spending time abroad is accommodation. In the case of Dublin, and as you may already know, this is the main problem of the city due to high demand and price inflation, but do not despair! With a little patience and determination, you will find a good place that suits you.
Even so... Take care with what is offered online, sometimes there are scams so it is recommended that, before making any payment, you see the place in person. Many blogs recommend that you search for accommodation once you're in the city itself. From my experience, this is a very good option. A couple of weeks before classes began I was staying in Abigail's hostel in the centre of Dublin and, as well as having a really good stay there, thanks to the people I met and that were in the same situation as me, I found my room. (Another hostel that is very recommendable is Gardiner House).
From my experience, there are three things to consider when looking for accommodation in Dublin: good location, good price and a private room. Unfortunately, in the Irish capital it is difficult to find a room with those three characteristics, so I would advise... that you be flexible and part with one of them. (All prices mentioned from this point on will be per person).
Personally, I decided to share a room, something that I had never originally planned to do, and I believe it was a good decision. I payed 675 euros rent a month, and I lived more or less in the centre, which I was enormously grateful for (I will talk about public transport later on). You could find prices that were a little better, but I was content. Every new experience is beneficial. You could end up meeting the person that will become your best friend on Erasmus.
If, on the contrary, you are sure that you could not live without your own space then do not worry, the city can also offer you some alternatives. The price to rent a private room, about a 30-40 minute walk from O'Connell Street (central Dublin), is approximately 800 euros.
Another option would be the residences, all of which are practically new and quite central. However, they aren't very equipped. You would probably have to get your own cutlery, pans, sheets, blankets etc. Prices are a bit higher, around 1, 000 - 1, 200 euros per month. (There is also the option to share a room in the residences).
What your university has to offer. Among the residences of the Trinity College there is one on the campus itself. If you decide to find a room in a residence, be quick to send them a message! Living in the Trinity College is amazing but the rooms in the residence are very quickly occupied.
There are other such as Broadstone Hall. Make friends with somebody that lives there and that has a stunning balcony.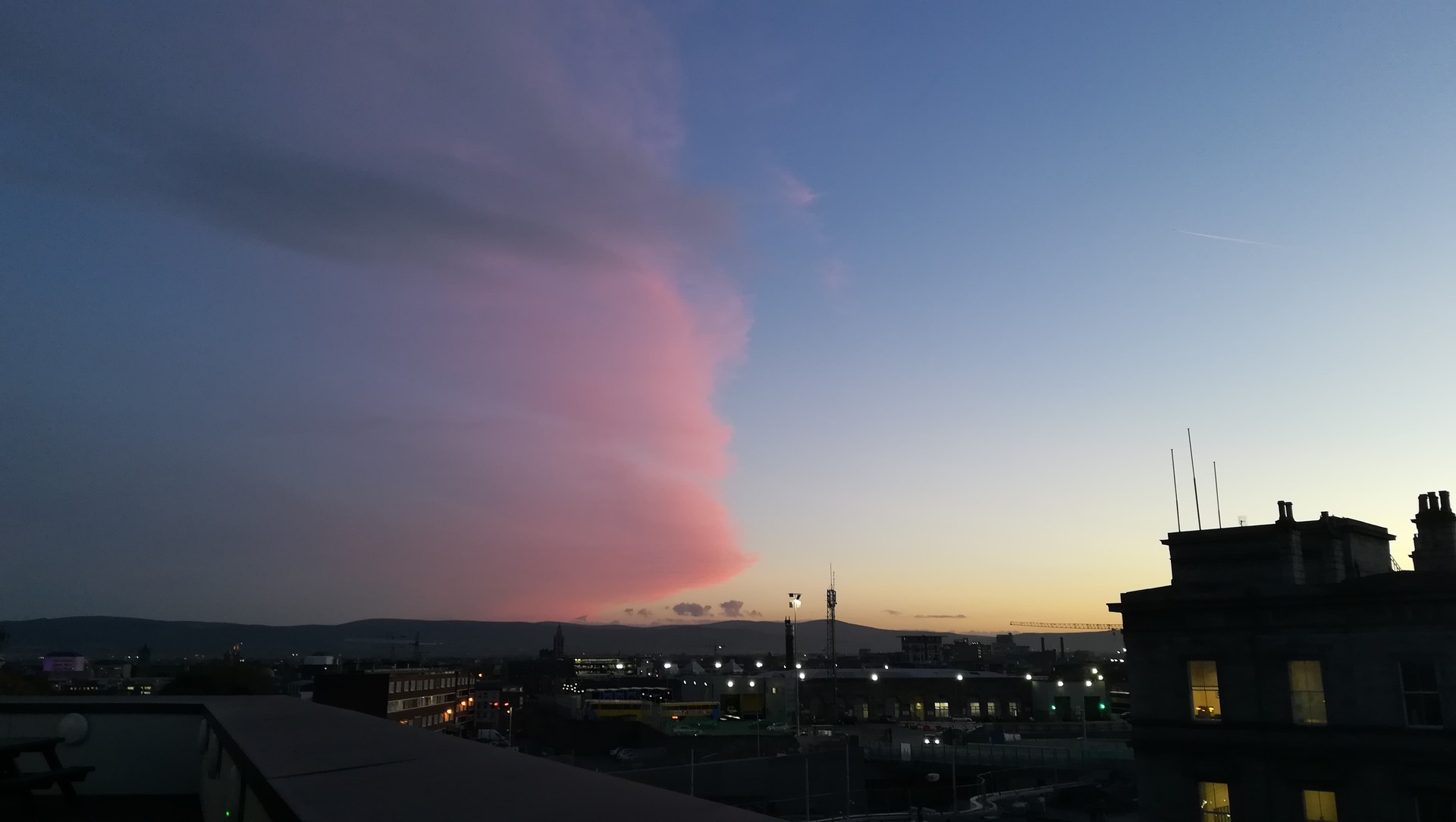 Broadstone Hall terrace (October, 2017)
Deciding to not live in the centre is the third option. If you are a very diurnal person then this will be perfect for you because Dublin's public transport is very active during the day and you can save some money on the rent.
However, in my opinion, this is the least recommendable option. Keep in mind the price of public transport is high; you can end up spending around 80 - 100 euros per month if you use it every day (even with the student discount). Furthermore, if you like to go out at night you will have to use taxis (many people look for people in their neighbourhood through Facebook groups to share taxis on weekends). If you choose this option, also take a look at the Luas stops, as the Luas was built this year (2017/2018) and I think it is something that's cheaper and more comfortable than the bus. If you like to ride a bicycle, also keep that in mind as there are many places that sell second-hand bicycles.
Finally, many students look for other students to share flats with. Don't forget about Facebook groups. They are very useful and you can find many people in the same situation as you. You can also look online on websites such as rent.ie, daft.ie, the ideal flatmate or even erasmusu.
In regards to zones, the city is divided into districts (there are around 24). In addition, people talk about the north and the south and different areas. The northern zone is more industrial, and it's only good for if you're going to study at Trinity College. The southern zone is convenient for Trinity students, but also for those that study at UCD (University College Dublin) or DCU (Dublin City University), for example. District 4 is the most important. It is central and a somewhat wealthier district, but you can also find student apartments.
Favourite places:
My first recommendation is to visit the spire (the most famous point of the city, in O'Connel Street) as soon as you arrive and go on one of the famous free tours, such as the one with the yellow umbrellas (there is one in the southern zone every day at 11:00). It lasts for a couple of hours and will help you to get a mental picture of the city and of the most emblematic places.
Also, make a list of places that you would like to visit and try to take some time out each week to avoid postponing everything you want to do to the last month (the month of exams).
In my opinion, one of the greatest attractions of Dublin is that it is a beach city. Take a bus or a dart (Dublin Area Rapid Transit rail system) from the center and explore the outskirts of the capital. From watching the sunset to swimming in the Dublin sea, the water is freezing but worth it. One of my favourite places is Dun Laoghaire. I advise you to go on a day when there is good weather and to take a walk from the port until a place called Forty Foot (here there is a rock that you can jump into the water from). And on the way there you will pass by a small and gorgeous beach.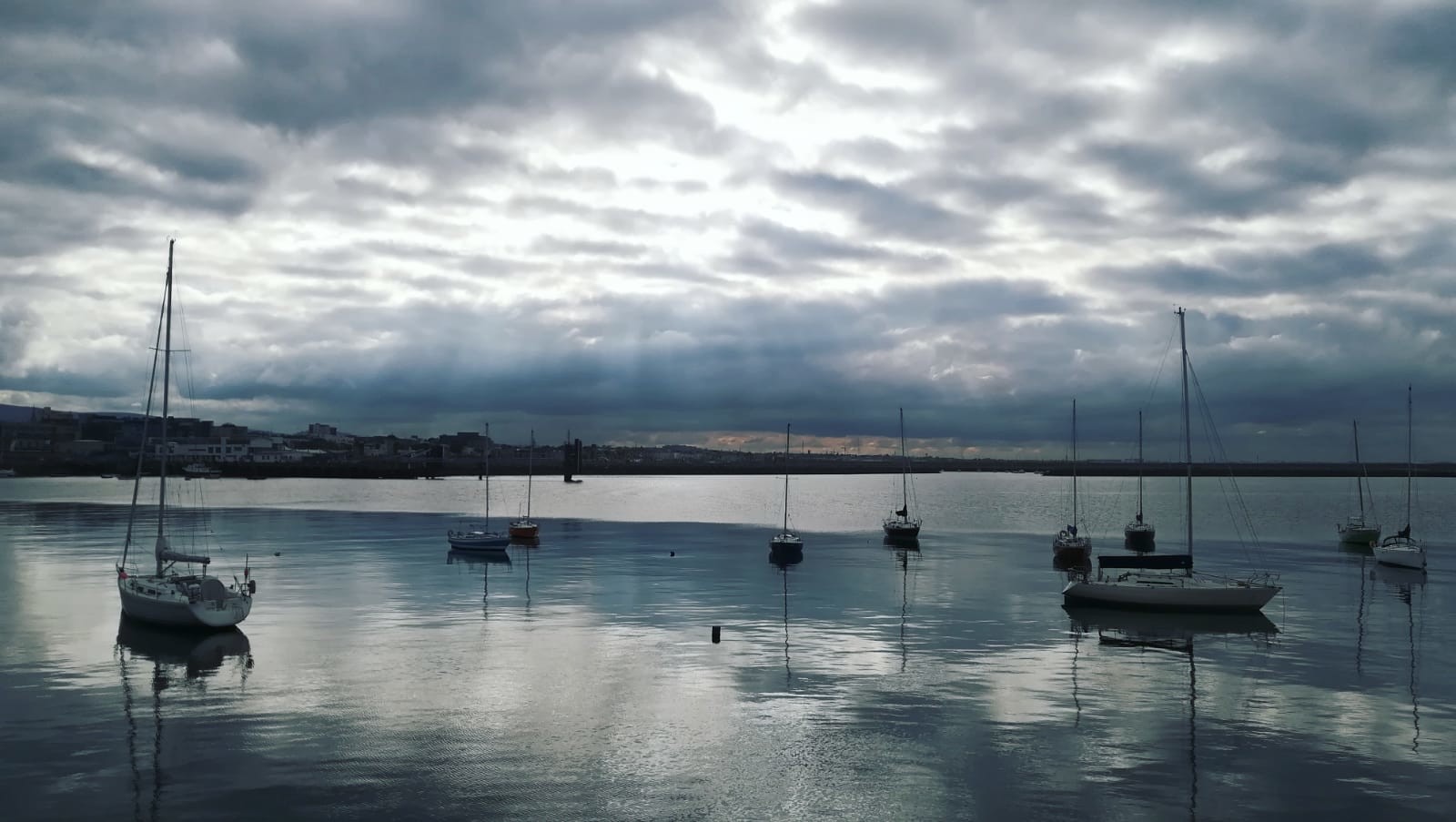 You can easily get to Wiclow Mountains, ideal place for hiking, by public transport. Check out places like Glendalough or Sugar Loaf.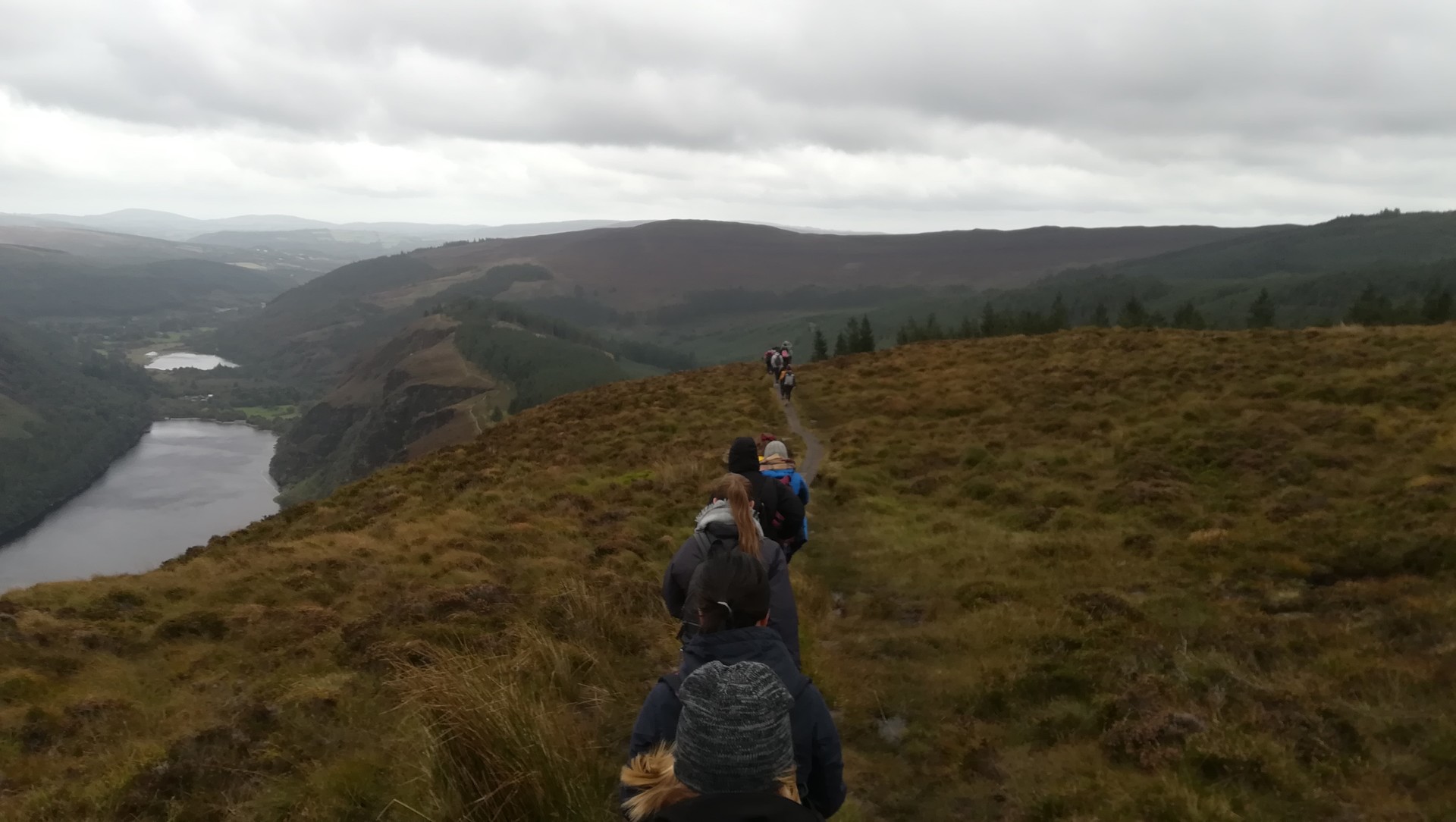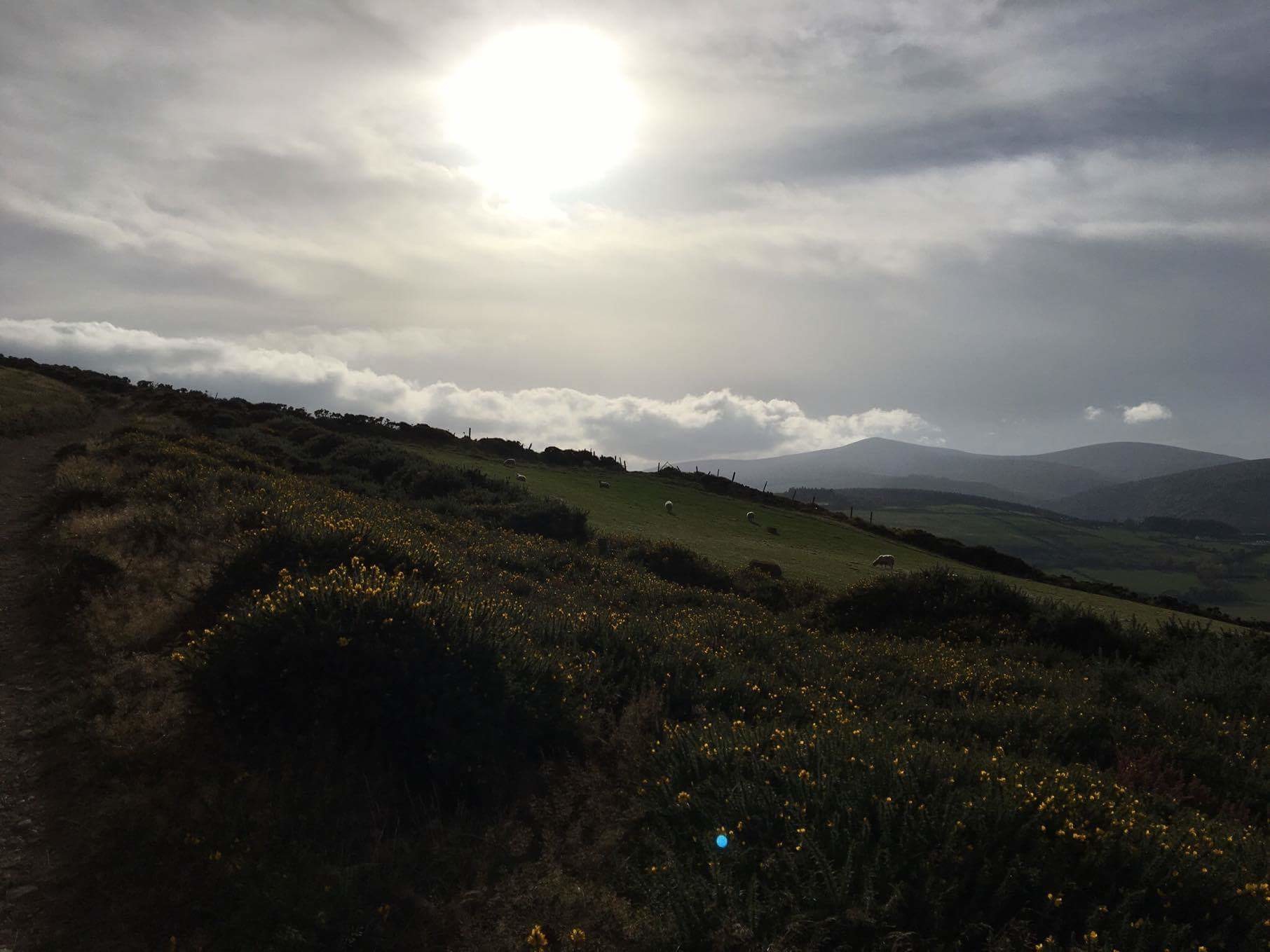 Another of the city's secrets are the high places. Where are they hidden? It is extremely difficult to find a place with a panoramic view of the city. As I mentioned, the terrace of Broadstone Hall residence is one of them, the other is the parking lot of the Saint Stephen's Green shopping centre, which can be accessed from the top floor. This shopping center is also of interest to tourists because of its architecture.
Don't forget to go to the Dublin City Gallery The Hugh Lane, not as well known but my favourite.
Lastly, visit Sweny's Pharmacy. A pharmacy that has lasted from the 19th century. Located on one of the streets surrounding Trinity College, it is also one of the places dedicated to the memory of the writer James Joyce and his novel The Ulysses. According to this piece of his work, it is here that the protagonist, Leopold Bloom stopped to buy lemon soap, the exact same soap that you can still buy today. The museum-pharmacy is preserved thanks to a group of volunteers who will surely be happy to show you around the place. Especially the manager of the organisation, the most lovely person I met in Dublin. You should definitely meet him. And, if you are lucky, you can even enjoy a mini concert in Gaelic. Additionally, if you are interested in literature like I am, Ulysses readings are organised every week (both in Spanish and English).
Cinema, theatre and concerts:
I didn't spend much time in theatres but the Irish film institute is especially interesting: they organise many cycles of independent cinema, conferences with current directors... In addition, it has a shop where you can buy films that are not as well-known or are not easily found.
In regards to the theatres, I recommend the Abbey Theatre, with shows performed by professional companies, and the Lir Academy, a theatre school in which students premiere their works.
If anything were to characterise Dublin it would be its live music, which is available for almost 24 hours in the Temple Bar area. However, if you are interested in other kinds of music, like jazz, Sweetman's Bar organises jam sessions every Thursday. Check out the Grand Social as well.
There are many singing concerts and international groups. They usually go to the big stadiums but they do also go to a small theatre on Dame Street, one of the main streets of the city. This is the Olympia Theatre that, in my opinion, is worth a visit.
Sports:
The Irish are big fans of every sport. A match is an excuse to go to a pub (anything is an excuse to go the the pub, really). You will see that when there is a final the city practically stops, everyone is on the streets and wearing their team's shirt. Even if you don't really enjoy watching matches, try to go at least once to see a Gaelic football match It's a sport with very complex techniques and rules. It will surprise you!
Outside of Dublin
Do what you want, but you have to go to the Cliffs of Moher, my favourite place on earth. And if it is possible, spend a day at the Aran Islands (where you can rent bicycles and go to the beach). Kerry County (Dingle Peninsula, National Park and Ring of Kerry) is also very impressive.
In addition, I suggest visiting Belfast and Giant's Causeway the same day and on your own:
6:30 Take and Aircoach bus to Belfast from O'Connel Street (20 euros for a return journey).
8:50 Arrive at Belfast. The bus will stop in front of the Europa Buscentre bus station.
9:20 Wait until the last moment to buy you ticket for Route 221 that will take you to Giant's Causeway, because then the discount begins (12. 50 pounds sterling for a return journey).
9:30 Get on to the bus heading to Giant's Causeway.
11:15 Arrive to The Nook at Giant's Causeway. Follow the tourists or ask somebody how to get to the exact location. It's very easy as it's very close! In regards to food, you can eat there but I would advise you to bring your own food so that you don't lose even a second of time that could be spent enjoying the views.
14:45 The 221 bus leaves for Belfast.
16:20 Arrive at Belfast. Now you have the whole afternoon to enjoy the city and visit the wall, the town hall and the Titanic Museum (at this time it will be closed, but some parts can be seen from outside). Have a pint in Kelly's Cellars, the oldest pub in Belfast and in which the Republic Revolution was organised.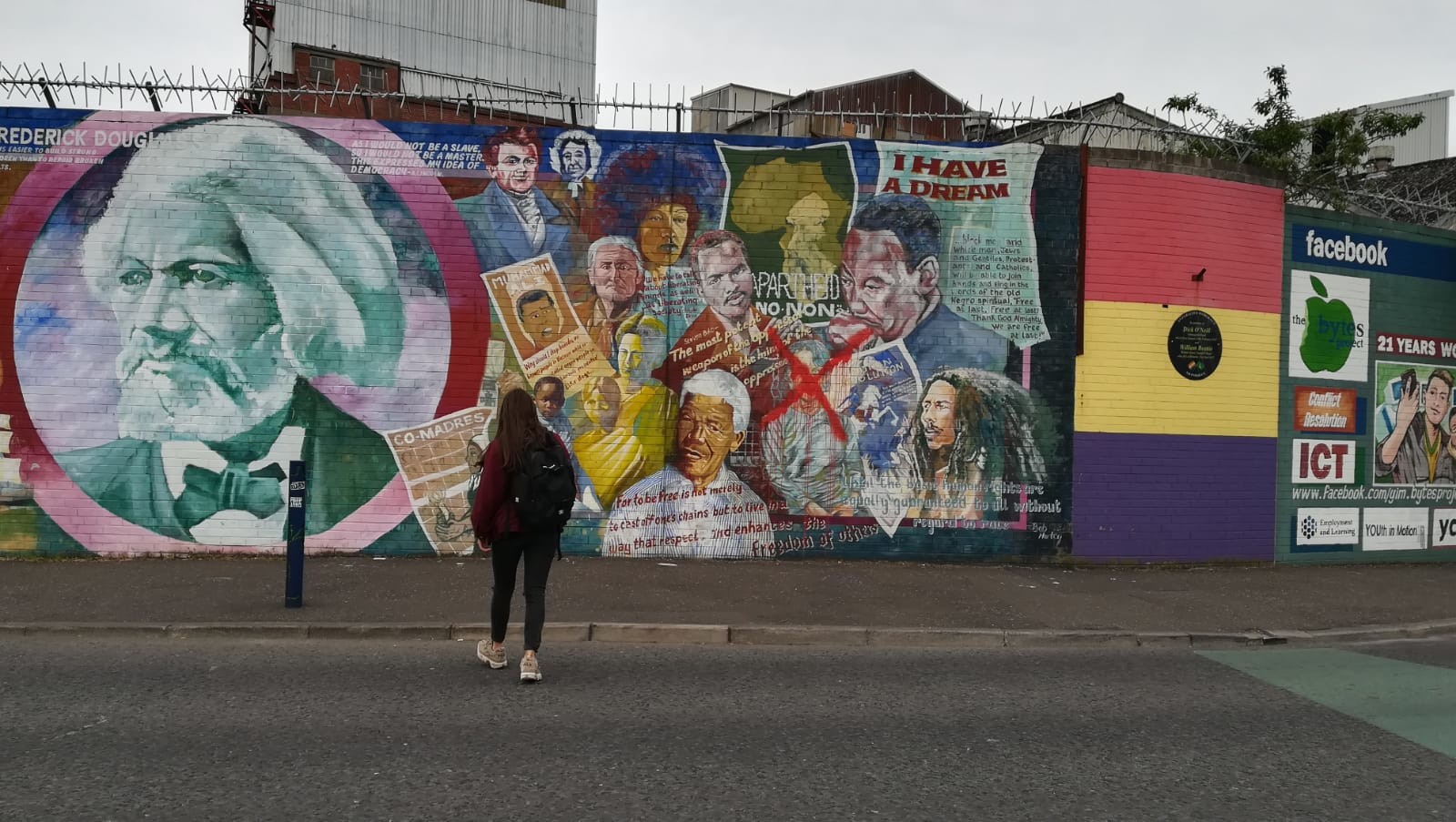 You get onto the return bus to Dublin from the same place as where you arrived, in front of the Europa Buscentre (departure times: 20:30, 22:30 and 00:30).
You can look up the timetables on https://www.aircoach.ie
Due to its sad recent history, Belfast is a city of great interest. Find out about the civil war that it suffered during the 90s and the current situation before you visit.
Take advantage of Dublin Airport and the price of flights with Ryanair. You can find flights to London, Edinburgh, Liverpool, Manchester, Poland... For 20 euros there and back. Furthermore, with the erasmus card that you can get at the University College Dublin you can get discounts on the flights and luggage. You will spend more on a weekend in the city so pack your bags and... enjoy!
Bars and clubs:
The star places are Temple Bar and the Latin bars such as Diceys (famous for its 2 euro pints). However, I recommend you take a look at:
Clubs:
Workman's: free entry. Decorated as though it were an apartment. It has food stalls inside. It offers music alternatives to raggaeton or techno but it still plays music you can dance to.
Fitzsimons: free entry. With four floors and a terrace, this is the club that I know closes the latest. It has an after-party on floor -1, where you can stay until approximately five o'clock in the morning. (In Dublin, the most common thing is for clubs etc. to close at around three to four o'clock in the morning).
The Glove: free entry. Music from Abba and other hits of the 80s (and sometimes reggaeton). What more could you want?
The George: 8 euros entry. It is the club that is known for being LGBTQ+ friendly. It has performances from Drag Queens.
Berlin: techno bar. If you go during the day, you can play Tekken 3 (an arcade game)!
Voodoo Lounge: for the lovers of techno music. They organise events for psytrance, reggaetec... I don't think they advertise much, but you can always find out about it by asking around.
Rooftop parties: these are organised through Facebook.
Pubs:
O'Donoghue's (on Merrion Row Street) is my favourite. The bar where The Dubliners began to play. A very local atmosphere, good music and a very cosy patio.
Porterhouse: there are many. Beer of the day costs 4 euros.
There is a Facebook event for everyone that passes through Dublin, so use them!
The ball: they say that this is the most exclusive event in Europe. Trinity College Dublin organises it every year. There are concerts with very famous artists, and the campus is closed for the occasion. The price? 90 euros. In my opinion, it is a little overpriced.
Where can you eat when you go out to party? The big question! It would seem as though the only thing that is open in McDonald's. However, the Spar supermarket on Dame Street sells affordable sandwiches. There is also a pizzeria (DiFontain's Pizzeria) on Parliament Street, which closes at 3 a. m. Additionally, Dicey's also sells food.
To eat:
My three favourites would be:
Mongolian BBQ: 7 euros until 16:30, open buffet for 14 euros all day. A huge abundance of food.
Yamamori noodles: the best Chinese food that I have tried. Very cheap (around 13 euros) before 17:30. A calm restaurant and it plays old films.
The Church is also a tourist attraction. Before becoming a bar-restaurant it was a church. The price is around 18 euros for a plate, but the food is exquisite. At 21:00 there is often an Irish dancing show.
University food: honestly, there aren't many cheap options... There's the Trinity College cafeteria, KF Peaches or Cornucopia but all three are more expensive than university food halls in Spain. I recommend bringing your own food.
Coffee: I am a coffee addict, so I bent over backwards trying to find places that were both good and cheap. Finally, I recommend:
9th Degree: in the the centre, high quality, fantastic staff and a discount for students. All coffees cost two euros!
Another option that I recommend is buying the Trinity College travel mug. With it, the filtered coffee in the cafeteria costs only one euro.
The university, Trinity College:
Generally, the timetable is very flexible. If you take advantage of them, you could use your free time to study topics that interest you personally and/ or work.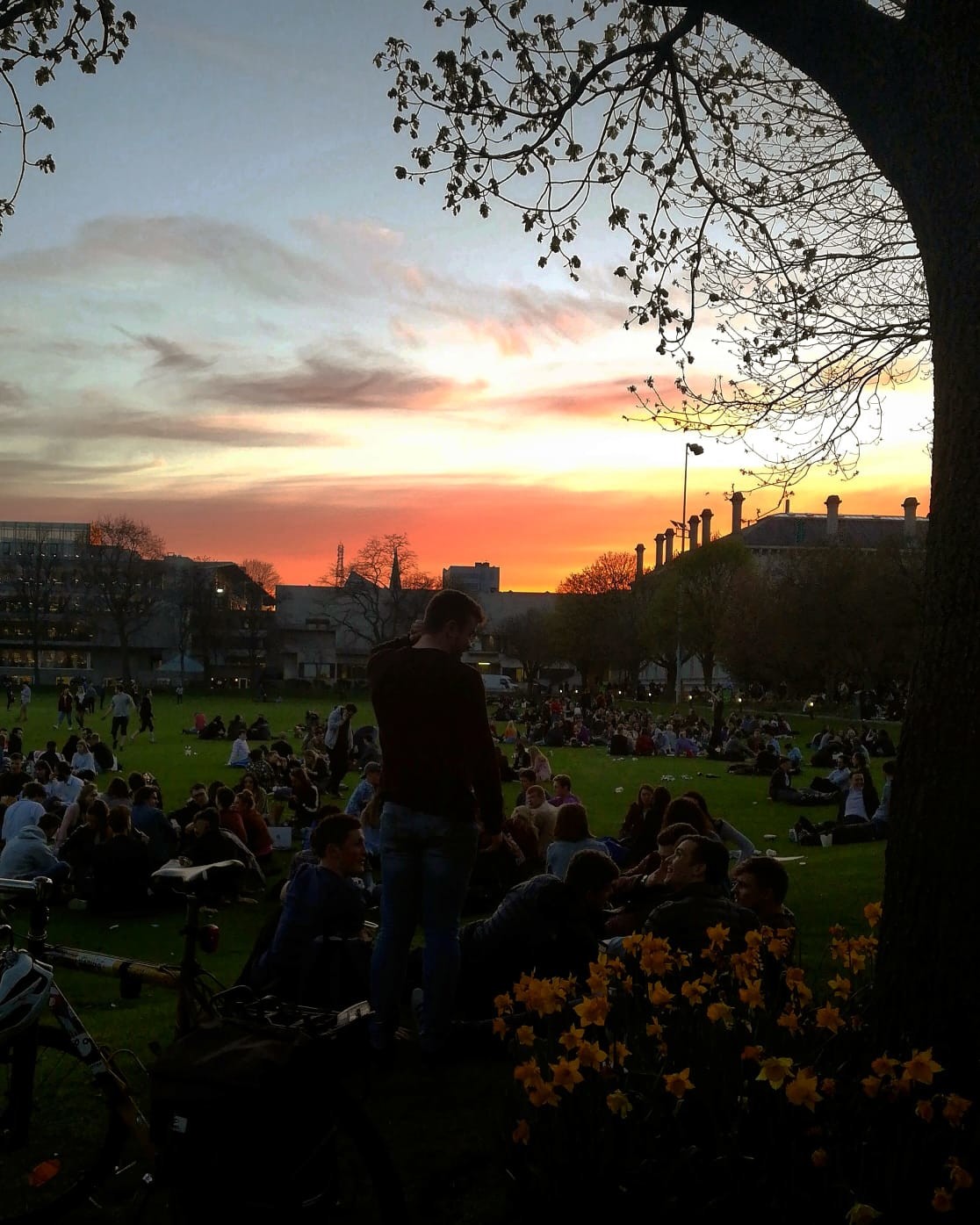 The social life is incredible. There are always events to go to. The first week of term is the week when societies (groups that organise common activities) present themselves to students. A piece of advice, don't go running to sign up to everything. There is time to do so throughout the term. Choose a couple that actually interest you and follow the rest on Facebook. Follow them so that you are kept up to date with events and so that you don't worry about meeting up with them. Everyone is welcome!
And those are my recommendations. I hope you really enjoy your Erasmus experience in Dublin! If you have like this, please share. It would help me a lot!
---
Photo gallery
---
---
Content available in other languages
Share your Erasmus Experience in Dublin!
If you know Dublin as native, traveler or as exchange student... share your opinion on Dublin! Rate different characteristics and share your experience.
Add experience →